Seychelles, located on the east coast of Africa, is known for its beauty and for being expensive. The white sandy beaches, turquoise blue water, and abundant greenery come at a hefty price. However, that doesn't mean you have to spend a fortune to plan a vacation in Seychelles. In fact, it can be easily managed on a budget.
Yes, you heard me right! Sure, if you stay in resorts and eat at high-end restaurants, you will end up spending a lot of money. But one of the best things about planning a vacation in Seychelles is that you can easily do it frugally, on a backpacker's budget.
In this Seychelles Travel Guide, I will share all the details on how my entire Seychelles trip cost me just 1000 USD (75,000 INR) for 15 days (including the return flights) and how you can do it too. So, get ready to plan one of the best trips of your life.
Seychelles Travel Guide: Planning a Vacation in Seychelles
How to Reach Seychelles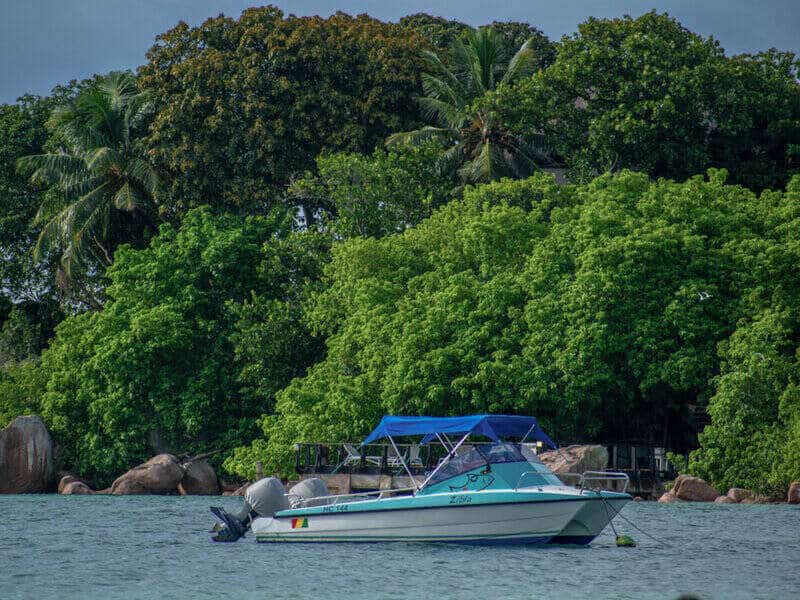 Although Seychelles is an island nation, there are a few different ways that you can consider to reach here.
By Air
For people who are planning to travel from India to Seychelles, the most convenient and cheapest mode of transportation is a flight. Seychelles has two major airports: Seychelles International Airport (SEZ) and Praslin Island Airport.
Out of these two airports, Seychelles International Airport in Victoria is the primary entry point for Seychelles and welcomes travelers from around the world. The airport lies on the outskirts of Victoria city and is the main hub for the national carrier, Air Seychelles. Apart from that, it also serves international airlines such as British Airways, Qatar Airways, Sri Lankan Airlines, Etihad, Emirates, and so on.
Seychelles is connected to several major destinations in Asia, Africa, and Europe via long-haul flights.
Traveling from India – You will find direct flights from Mumbai to Seychelles which take around 4.5 hours to complete the journey. There are no direct flights from Delhi to Seychelles but you will find connecting flights with a layover in Mumbai or other cities.
Generally, connecting flights offered by a carrier will make a stop in their home nation but that is no need for concern for you. From the airport, you can easily find taxis or buses to reach Victoria city to begin exploring places in Seychelles.
From India, a return flight from Mumbai to Seychelles can cost you between 20,000 INR and 35,000 INR (270 USD – 500 USD).
By Sea
If you wish to travel to Seychelles by sea, it is possible and it will undoubtedly be a memorable journey. There are several cruise operators that offer an amazing sea voyage to these islands including several inexplicably beautiful sights on the way. If the journey is as important as the destination to you, then you can take a cruise to explore the gorgeous islands in Seychelles.
While there is no direct cruise from India to Seychelles, you will find several cruise options available from Europe and Africa to the main seaport in Victoria. These cruises can last anywhere between a month or six months and can be quite expensive.
So, if you are looking for a budget-friendly trip then a cruise to Seychelles is not the right option for you.
By Road
It is not possible to reach Seychelles via road unless you are on the African continent. If you are starting from the African continent, then you can reach a seaport where you will find ships and cruises heading towards Seychelles' islands.
You can get a ticket for one of these and take your car with you on a few of these ships as well. However, you will end up paying a hefty fee if you choose to transport your car to the islands too.
Visa and Customs Information
The good news about Seychelles is that it is a visa-free country so you don't need to apply for a visa when traveling to this country. However, you do need a visitor's permit to enter Seychelles that can be obtained on your arrival. This visitor permit is only provided to people who are on a holiday, business, or visiting some relatives or friends over here.
The tourist permit is applicable for 30 days of visa-exempted stay which can be extended to 3 months for free. Furthermore, you can choose to stay for a year in Seychelles but the permit needs to be applied in a 3-months block.
Checklist for Getting the Permit
As mentioned above, you don't need a Visa to enter Seychelles but you need a Tourist Permit that can be obtained on arrival. For this, you do need to carry your passport or other travel document that is recognized by the Seychelles government to enter the country.
Here is a list of criteria that you need to meet to obtain this entry permit:
You should not be a prohibited immigrant.
You shouldn't have a permit that allows you to reside in Seychelles.
A passport that is valid till the date of departure and has two or more blank pages available.
Valid return ticket or ticket for onward journey.
Confirmed booking accommodations with contact details(for at least three nights)
Sufficient funds for the duration of the stay (minimum 150 USD or equivalent per person for a day).
Guidelines for Arrival in Seychelles
Here are a few important guidelines to keep in mind when you are waiting for your entry permit:
Follow the entry criteria mentioned above as there are several spot-checks carried out on arrival.
You can show proof of funds in form of cash, credit cards, or traveler's check.
The visitor will be automatically issued an entry permit if all the documents are presented. No need to request for the permit in advance.
An immigration form will be handed by the flight crew before landing that needs to be duly filled and presented at the time of the entry.
Vaccination Requirements for Seychelles
You don't need to get any vaccination as long as you are not traveling from a yellow fever endemic country. For such travelers, a proof of Yellow Fever vaccination is a must.
Accepted Currency in Seychelles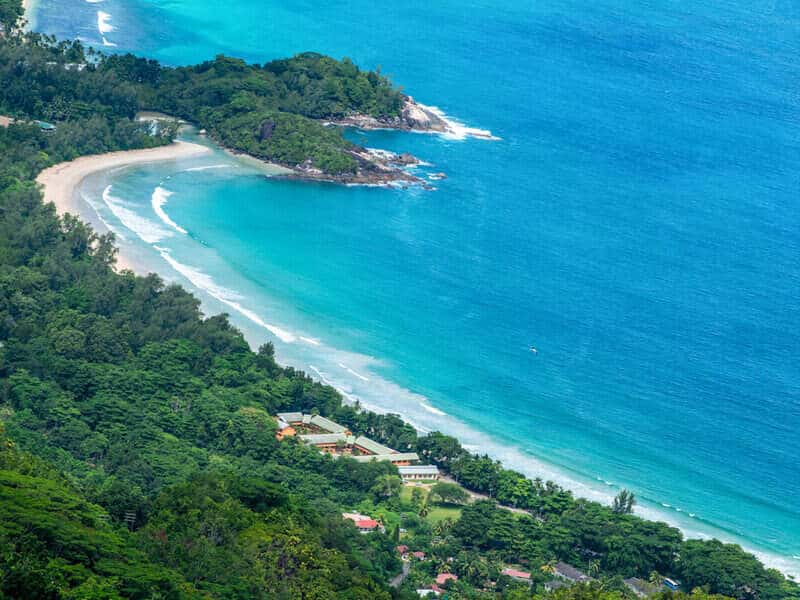 Now, let's discuss the currency that you will need to carry here on a trip.
Seychellois Rupees (SCR) is the national currency that is used here by locals on almost all the islands. You will need this currency to pay for the buses, local shops, food, and so on.
The best way to avail Seychellois Rupees is by exchanging the currency at a bank or authorized exchange dealers. You can carry USD or Euro and then get it exchanged at one of these places. Make sure that you don't exchange it with anyone else as it is a criminal offense to perform illegal currency exchange.
Apart from the Seychellois Rupees, USD and Euro is also widely accepted foreign currencies here. Euro is more favored in the country and will be used in most major transactions including activity tickets, accommodation, ferry tickets, and so on. In Seychelles, it is the law that tourists should pay for these services in the form of foreign currency or credit card.
You can also bargain down the prices wherever Euro is mentioned including places such as small hotels. So, make sure you carry sufficient Euro in the form of cash, Forex card, or traveler's cheque to make the transactions here.
Approximate Conversion Rates
1 SCR = 0.056 USD (United States Dollar) or 1 USD = 18 SCR
1 SCR = 0.043 £ (Pound Sterling) or 1 £ = 23 SCR
1 SCR = 4 INR (Indian Rupee)
ATMs in Seychelles
The main bank in Seychelles is Barclays and Seychelles Commercial Bank that have several ATMs scattered around the islands of Mahe, Praslin, and La Digue. However, these ATMs don't accept cards from other countries so you need to carry a VISA card to be able to withdraw cash here.
Moreover, you will be able to withdraw only Seychellois Rupees from these ATMs and will have to pay a bank fee on every withdrawal as well.
However, if you are traveling from India, the wiser choice would be to withdraw the local currency and carry the Euros with you. This way, you won't be hit with double exchange charges when you try to change from INR to Euro/USD to Seychellois Rupees.
Mobile Network in Seychelles
In Seychelles, you will primarily find two mobile network options: Airtel and Cable & Wireless.
Here is a quick breakdown of how you can avail of the Internet connection and Mobile Network on your vacation in Seychelles.
Get International roaming
If you are an Airtel user, then you can enable International Roaming on your number and enjoy connectivity in Seychelles too. Currently, Airtel has different IR plans that range between 799 and 2999 INR for a 30-day trip.
This service will not only provide you with Internet services but limited calls to India as well, making it an economically viable option. If you are on a budget, you can choose the cheaper package and skip the hassle of getting a local sim card.
Get a Local Sim
On the other hand, for users who don't have Airtel connection or don't wish to enable International Roaming, there is an option of buying a local sim too. You will find kiosk for both Airtel and Cable & Network at different locations throughout the island including the Seychelles International Airport.
For 100 SCR (425 INR), you will get the sim card and 25 SCR (105 INR) credit.
You can choose between the two mobile networks by considering your budget and use. Airtel offers amazing speed and connection but it has slightly expensive recharges. On the other hand, Cable & Network have a decent connection but it is more affordable and it is easier to find a recharge for it.
WiFi Access
You will also get free WiFi access at several spots on the islands including the Victoria Bus Station and several restaurants. Many hotels also provide WiFi access but they can often charge extra for it.
How to Travel in Seychelles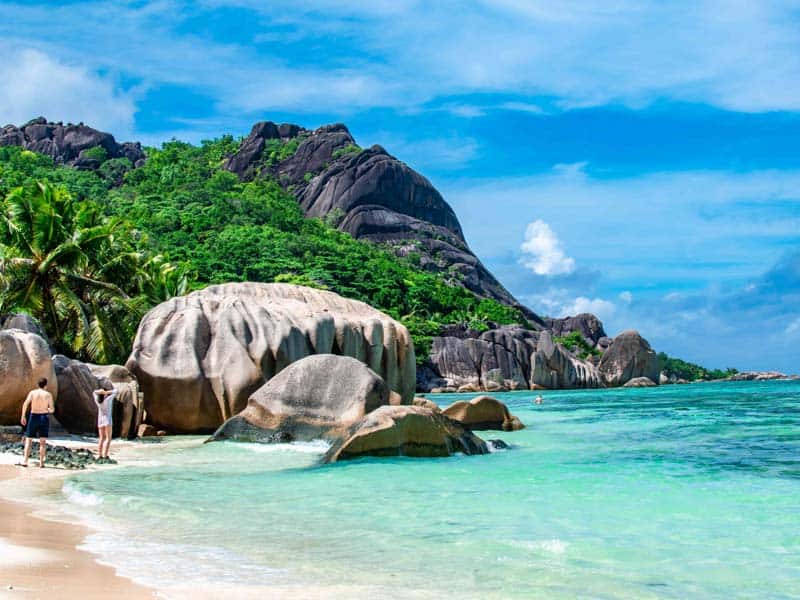 Once you have reached Seychelles, it is important to decide on your mode of transportation while exploring the islands. Your chosen transportation will decide whether you are able to manage a budget-friendly trip or not here.
Mahe Island
On Mahe Island, you will find primarily three types of transportation options.
Seychelles Public Transport Corporation (SPTC Buses)
Although Seychelles is an island nation, you will find that there is 400 km of road network laid down in Seychelles. As a result, you will find buses connecting different destinations on the Mahe Island, making it convenient to travel for backpackers a swell.
There are several different bus routes available on the Mahe Island so you can check out the timetable and the route information on the official SPTC website. Just search the origin and final destination for your journey and you will be presented with information on the route number and the platform number at the Victoria Bus Station.
The buses usually run between 5:30 a.m. and 8:30 p.m. and cost around 7 SCR (30 INR) for a ride. This price is constant regardless of which stop you get down at which makes it an economical mode of transportation.
How to Find the Bus Stop
You will find a bus stop wherever there is a seating or bus shed area. While this type of bus stops are not available at every destination, you also have a large BUS STOP sign written on the road to help you find the bus stop.
Generally, you will find a bus stop at every 2-3 km in Mahe.
How to Get Down from the Bus
One interesting thing to know about SPTC buses is that they don't stop at every bus stop unless someone is waiting on the bus stop to get on the bus or someone has to get down on that stop. So, to get down at a stop, you need to let the bus driver know that it is your stop.
For this, you can press the buzzer/button that is available next to each seat on the bus that alerts the bus driver that the next bus stop is your stop. So, they stop the bus at the coming bus stop and you can smoothly get down from the bus. If you forget to press the button, you can miss your stop and will have to wait for the next stop to get down at.
Cabs
Apart from the local buses, you will also find a lot of cabs here that can help you explore the island. You will find cabs available around Victoria city and can also get the number of a cab operation to book radio taxis for yourself.
However, a cab will cost you 10 times of what you pay for a bus ride and might not be the best option if you are on a budget trip. A cab from the Seychelles International Airport to Victoria will cost you around 90 SCR (360 INR) while the same journey can be completed in a bus in just 7 SCR (30 INR).
Self-Drive Rental
As mentioned earlier, due to the availability of the road network, it is possible for users to explore the main islands by driving around. For Mahe Island, you will find car rentals available at the airport itself along with a few options new Beau Vallon.
So, you can simply hire a self-driving car and then explore the island at leisure.
Note: Make sure you carry International Driving License to hire the car rentals here.
Cycling/Hiking
Finally, you can also hire bicycles on Mahe Island to explore the island at leisure. These can be quite a thrilling mode of transportation and will be quite cheaper as well.
Apart from that, walking is a great way to explore the city and the beaches on this island. So, you can walk around Victoria city to enjoy your beautiful surroundings and make the most of your vacation in Seychelles.
Praslin Island
Praslin Island is smaller than Mahe Island so you have fewer modes of transportation available here.
Self-Drive Rental
Similar to Mahe Island, Praslin Island is great for driving around as well and offers amazing coastal road views and forest views. However, there are fewer car rental options available here so you might have a little trouble finding a self-driving car here.
Cabs
One of the most popular modes of transportation on Praslin Island is cabs that usually are expensive but a necessity here. You can easily book cabs through your hotel or guesthouse and can find cabs near the Jetty Area as well to take you to your hotel.
Seychelles Public Transport Corporation (SPTC Buses)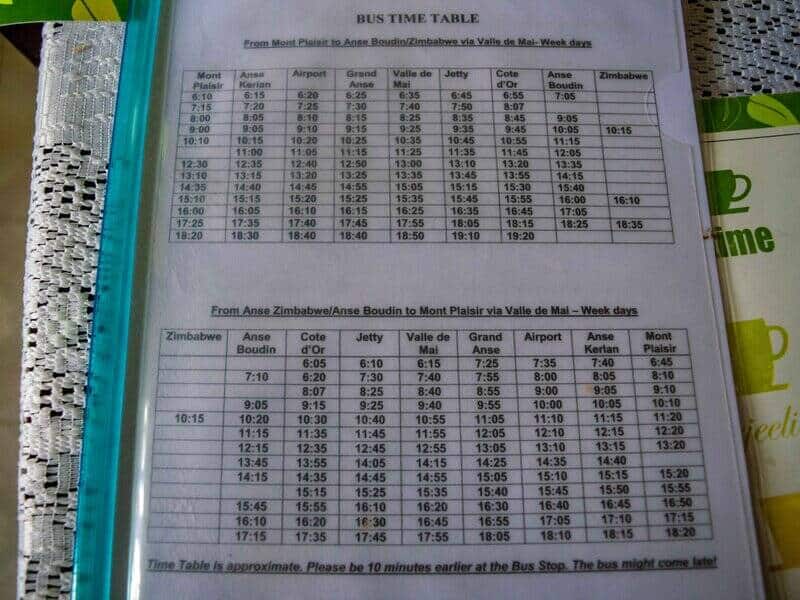 One of the cheapest ways to travel in Praslin is by taking the SPTC buses. However, the buses here run only from 06:00 a.m. to 06:30 p.m. After that, you have to either choose a taxi, a car rental, or a cycle to go around.
The cost of the bus rides is the same as Mahe Island at 7 SCR (30 INR) and there are only two bus routes available on this island. So, it is easier to plan your vacation in Seychelles by using the SPTC bus timetable for Praslin that is available on their official website.
Cycling/Hiking
Finally, you can even rent a bicycle or choose to walk around to explore the island. There are lots of amazing hikes here as well including the hike from Anse Lazio beach to Anse Georgette. So, you can end up covering a lot of the island on foot.
La Digue Island
La Digue is smallest of the three main islands and has an area of just 10.08 km². As a result, there are different transportation options available here that suit the size of the island.
Cabs
Yes, you still find a few cabs but the number of cabs available here is lesser than Praslin or Mahe Island. Also, you don't need to use cabs as much over here as ost of the places are close by.
So, the only time when you might need a cab here is when you are going from the Jetty area to your hotel or vice versa.
Cycles
One of the most popular modes of transportation in La Digue is bicycles that you can rent for a day for 100-150 SCR (400 – 600 INR). The roads are well-built in La Digue and are perfect for cycling around is undoubtedly the best way to explore the island.
Perfect for adventure seekers, cycles allow you to enjoy the views as well and can be quite good for your health too while you are vacationing here.
Golf Carts
In La Digue, you will also find hotels and resorts using golf carts to transfer the passengers and help their guests explore the island. You can also hire a golf cart for an entire day and stay protected from the sun.
However, golf carts are not cheap and will easily cost you around 100 SCR (400 INR) for 1 hour of service. So, choose carefully.
Walking
Personally, my favorite way to explore La Digue was on foot as it is easy to cover a lot of beaches together. There are several amazing hikes to beaches such as the Anse Cocos hike and Petite Anse hike that allows you to ditch the crowd and enjoy some secluded views.
Also, since there aren't many cars around here, walking is quite pleasant and undoubtedly a lot of fun.
How to Travel to Different Islands in Seychelles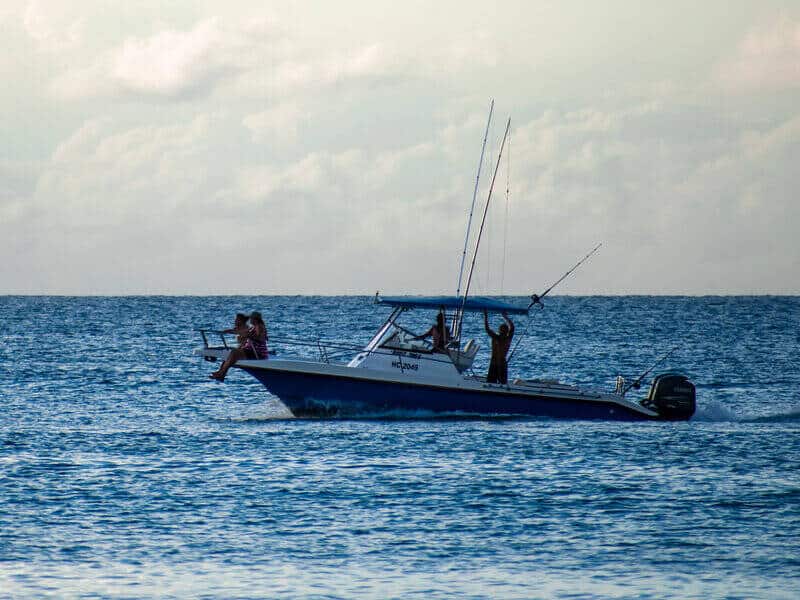 Of course, once you land in Seychelles, you are likely to explore several islands apart from Mahe Island. So, here are a few efficient ways in which you can reach other islands to enjoy your vacation in Seychelles.
Ferries
One of the most economical ways to travel between the islands of Mahe, Praslin, and La Digue is by taking ferries. There are two Ferry Companies that service these islands: Cat Cocos and Inter-Island Ferry that are capable of transporting 150 – 350 passengers at a time, depending on the vessel size.
You have the option of choosing a seat in the main deck, upper deck, and business class to suit your requirements. You will find several on-board entertainment and food services as well. So, you can buy snacks and drinks for yourself during the ride using the local currency or Euros.
How to Book a Ferry
Cat Cocos offers several ferry departures in a day between Mahe and Praslin Island and the ferry tickets can be booked online on their official website. A ticket for one-sided ferry for this route costs around 50 Euros and you need to take a printout of the e-ticket to be presented at the counter before boarding.
Once you show the ticket, you will be given your boarding pass that you have to show at the time of boarding the ferry. It takes around 1 hour to complete this journey.
The Inter-Island Ferry offers several departures between Praslin and La Digue Island and costs 14 Euros for a one-sided journey. It takes 15 minutes to reach and you can book the tickets online for this route as well.
Finally, you also have the option of booking a ferry from Mahe to La Digue but there is no direct ferry for this route. You will still have a layover at Praslin Island and will need to take care of your luggage. So, it is better to simply stay a few days at Praslin before heading back to Mahe Island.
What if you Book the Wrong Dates?
It is possible that you might end up booking wrong dates for the ferry service but worry not. You have the option to modify the date once before the departure of your ferry but you need to make this change 48 hours before the actual departure.
Flights or Chartered Planes
As mentioned earlier, Seychelles has two major airports: Seychelles International Airport and Praslin Island Airport. Air Seychelles manages flights between both these airports making it convenient and quicker to reach Praslin from Mahe Island. It will take you just 15 minutes on a domestic flight to reach Praslin.
And there are weekly flights between Mahe and other smaller islands as well such as Bird Island, Denis Island, Alphonse Island, and so on. Apart from that, you can also hire private chartered planes to explore the islands around here.
More on Seychelles: When is the Best Time to Visit Seychelles
Helicopters
Another possible air travel option is helicopter rides around the main or surrounding islands. These rides can take around 15-30 minutes to reach other islands but it can be an extremely expensive business.
However, the experience is quite thrilling and memorable. So, if you aren't on a tight budget and can afford to spend money then this is a great way to explore the islands.
Boat Tours
Another option for exploring the nearby islands is by taking a boat tour that usually last for half a day or full day. These island tours usually cost around 45 – 60 Euros and include food and drinks as well along with a guide.
You can visit several islands such as St. Pierre Island, Cousin Island, Curieuse Island, and so on via boat tours. Apart from that, you will also find chartered boats that can take you on a private tour of the islands farther away. But this will certainly cost you more than a simply boat tour or a ferry service.
Food Options in Seychelles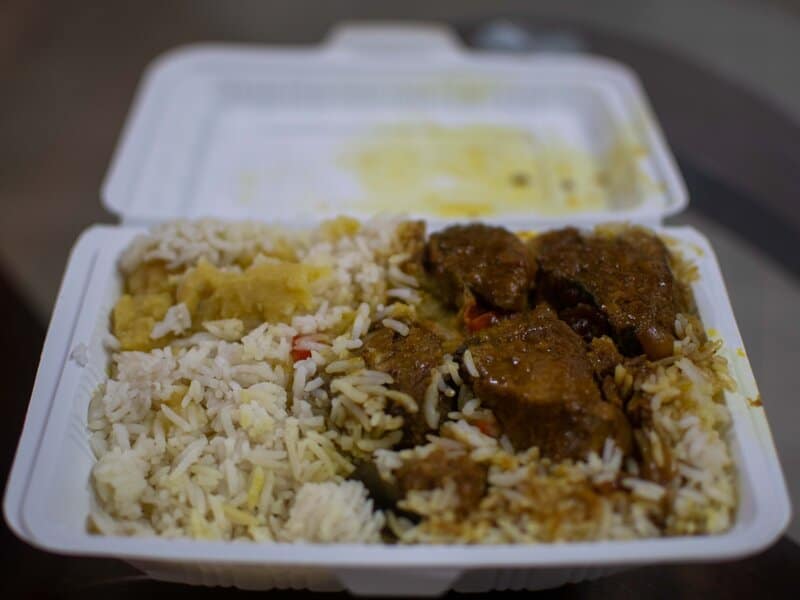 Seychelles' food and drink culture is greatly influenced by different regions of the world. As a result, the Seychellois Creole cuisine is a combination of Indian and Asian dishes, Orient flavors, and European culinary culture.
Since Seychelles is surrounded by water, it uses natural ingredients to prepare the dishes and is predominantly famous for its fish and seafood dishes. You will find both grilled and other types of fishes here with coconut chutney, Creole tomato, or chilli sauce that are just delectable.
Apart from that, chicken and pork is quite famous here too. You will also find a lot of rice dishes available here with vegetables and spicy sauces too that are served as side dishes. For dessert, a few items that you might want to try here are caramelized pineapples, coconut chocolate, and cooked banan in coocnut milk.
You have vegetarian options as well but there will be fewer options available here.
Takeaway Vans and Shops
If you are on a budget, then one of the best and cheapest places to eat in Seychelles are the Takeaway vans. There are several cheap takeaways open on all major island where you can purchase rice/noodles with vegetables, sauces, and samosa.
Apart from that, you will also find here fried meals such as cooked chicken or sausages with frees and so on. The cost of these filing meals ranges between 30 SCR (120 INR) and 80 SCR (360 INR).
Restaurants and Hotels
If you would like to escape the afternoon heat for lunch, then you can always enjoy a meal at a beach restaurant or back at your hotel. Since Seychelles is a popular tourist destination, you will find here restaurants that serve cuisines from all over the world.
From Creole to pizza, grills to Asian dishes, you will find a diverse range of cuisine to try here. So, you can choose to enjoy grilled fish at these restaurant or a nice salad, it is up to you. Generally, the restaurants are a little pricey, even the most inexpensive ones.
Also, you would need to dress smartly to enter these restaurants not to mention the VAT and Service fee that you would need to pay at a few establishments.
So, if you are on a budget Seychelles trip, then dining at a restaurant might not be the best option for you.
Snack Shops
There are many mini-markets and snack shops also available in Seychelles where you can purchase cheap food for snacking. You can get the Indian samosas here too along with various kinds of rolls, bread, and other baked goods. These mini-markets are perfect if you are on a tight budget and don't have time to look for a takeaway shop.
Plus, you get a taste of the local snacks and you just shell 5 SCR (20 INR) – 25 SCR (100 INR) for the snacks over here.
Casinos and Bars
Although admittedly there aren't many casinos and bars here, there are a few where you can hang out to check the local party scene and fill up on some food. The drinks and the snacks will be costly though but you will surely be entertained as everyone is grooving to the music here.
Self-Cooking
Finally, one of the most economical ways to feed yourself is by cooking your own food in the guesthouse or the self-catering apartment. You can choose to take the spices with you to Seychelles or just buy them at the local Victoria market.
There are several grocery stores here as well where you can purchase food to cook and you can buy vegetables and fruits here as well. This way, you won't end up spending more than 80 SCR (360 INR) – 100 SCR (400 INR) on meals every day and can end up saving a lot of money.
Where to Stay in Seychelles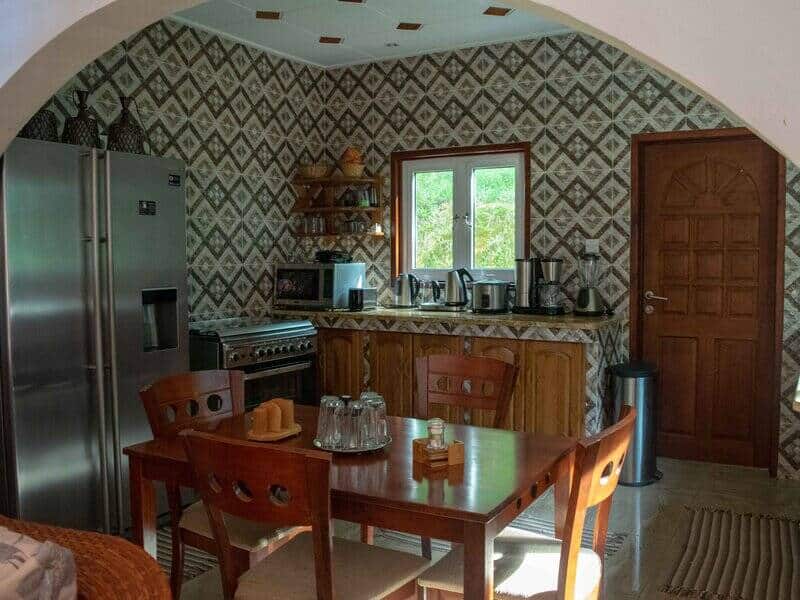 Now, let's discuss the accommodation options that are available here in different budget ranges.
It is no surprise that hotels and resorts in Seychelles are expensive. So, if you are planning a budget trip here, then you have to consider other options for your stay.
Couchsurfing
Well, one of the most popular although not an easily available option for stay during your vacation in Seychelles is to find a Couchsurfing host for yourself. Couchsurfing is a popular way to stay with locals where you share your culture and traditions and learn a little about the country through the eyes of the locals.
You will find a few hosts on both Mahe and Praslin Island but barely any on the La Digue Island. Apart from that, you will also find a few hosts on different resort islands so you can stay with them as well.
The general idea of Couchsurfing is that you don't have to pay for your stay. However, it is good to take a gift for your hosts or help them with the chores at their homes. Also, you will need to request them for your stay in advance and wait for their response. Make sure that you are clear with your dates and draft a polite message letting the host know about you and why you wish to stay at their home.
There are chances that you might not find any host so always be prepared with a backup option.
Self-Catering Apartments or Guesthouses
One of the best ways to enjoy your trip in Seychelles is by staying in a guesthouse or a self-catering apartment. These places are usually run by a Seychellois family which is a great way to gain insight into the local lifestyle.
These guesthouses often include complimentary breakfast and water with the stay. And sometimes, they also provide you access to the kitchen for self-catering. This way, you can save a lot of money because you can cook your own food and don't have to keep buying water bottles as well.
Generally, a decent guesthouse or self-catering apartment will cost you around 500 – 600 SCR (2000 – 2800 INR) for a night. Personally, I stayed in guesthouses and self-catering apartments during my stay here and it was a truly lovely experience.
Also Read: What to Do in Mauritius
Small Hotels
Of course, you also have the option of staying in small hotels in Seychelles which are expensive but still affordable. One of the best hotels in Seychelles is the Sunset Beach Hotel on Mahe Island. This hotel is slightly secluded and has a private beach area where the guests can relax and enjoy the views.
And the sunset from here is completely magical.
Usually, the hotels in Seychelles will cost around 50 – 100 Euros for a night, depending on when you travel to Seychelles. Sometimes, you might find good deals and discounts on these hotels too.
Resorts
One of the best resorts in Seychelles in Beau Vallon area is The H Resort Beau Vallon Beach that offers a magnificent view of the Beau Vallon beach and sunset over here. Yes, it is expensive but you get the best service and can enjoy getting pampered here.
There are several other resorts in Seychelles scattered over different islands that you can consider. If money is not a concern for you, then you can also choose to stay on one of the resort islands that have been formed here.
10 Budget-Friendly Tips for Your Seychelles Trip
Here are a few tips that you can follow to reduce the cost of your trip and plan a budget-friendly solo trip to Seychelles.
One of the best ways to save money is by looking for flight deals and being flexible with your dates. Check the prices on major flight websites such as Kiwi and Skyscanner and try out different date combinations for the same.
Plan a trip during the transition period as the flights are cheaper during that time and look for any flight credits or points that you might have. I was able to find a return trip from India – Seychelles – Mauritius to Seychelles in just 49,000 INR. So, if you are patient enough, you can easily find such a deal too.
Choose Cheap Guesthouses or Self-Catering Apartments
As I have mentioned several times in this post, Seychelles doesn't offer a lot of budget accommodations. However, you can find Airbnb rentals and guesthouses here from Booking.com that will charge you around 2000 – 2500 INR per night.
To keep the costs low, look for a place that offers complimentary breakfast or self-catering services so that you can cook your own food.
Well, eating in restaurants is going to set you back a lot, especially since it would be normal food that you usually eat in your home country too. However, there are many takeaways in Seychelles that offer amazing food at decent prices.
So, for just 150 – 250 INR, you can easily enjoy a meal with a rice, chutney, and a salad. You can also find fried food options and Chinese options here.
Use Buses to Travel Around
Cabs and car rentals are insanely expensive here unless you are traveling in a group. This is why the cheapest way to travel in Mahe and Praslin is by taking buses that cost 7 SCR (30 INR) only. You will easily find buses for almost all destinations here, you just need to wait a while at the bus stop as the buses are infrequent.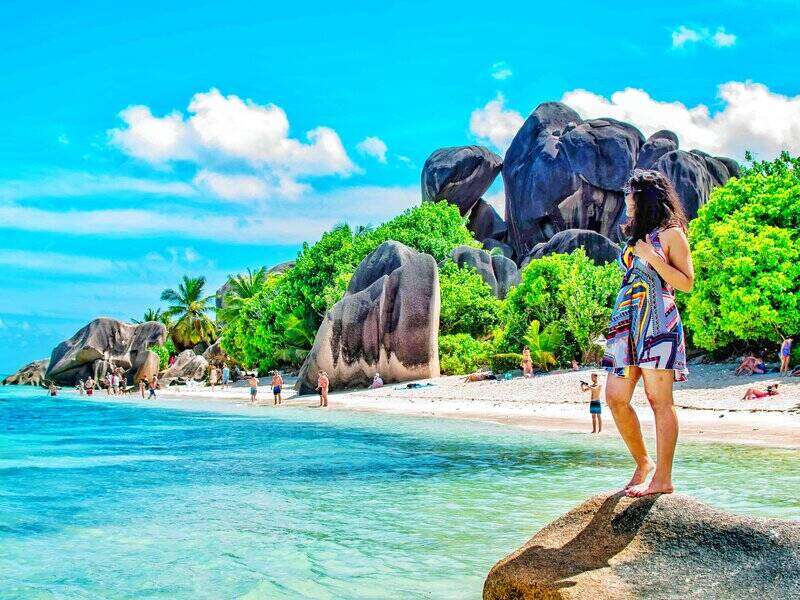 One of the best things about Seychelles is that most of the beaches on Mahe, Praslin, and La Digue Island are accessible to public. So, you don't need to stay at a resort to enjoy these beaches.
Some of the best beaches to visit in Seychelles is Anse Lazio, Anse Georgette, Beau Vallon, Anse Cocos, and so on.
The only beach that charges for entry is the Anse Source d'Argent where you have to pay 125 SCR (500 INR) to enjoy an entire day at the beach and the surrounding attractions. You can swim to the beach by starting to swim from just outside the park gate. But then you would have to swim back too because they check the ticket while returning as well.
Indulge in Free Activities
Another great thing about Seychelles is that there are a lot of free activities to do here. You can enjoy Barbecue on the beaches and enjoy fishing, kayaking, boogie boarding, etc. here.
Apart from that, there are several hiking trails here as well that you can make use of to enjoy stunning views of the coast and the islands. You can enjoy the beautiful sunsets here and go for a swim in the azure colored water, there is no shortage of things to do when in Seychelles.
Avoid Purchasing Water Bottles
Since Seychelles in a hot and humid country and the tap water is not safe for drinking, you will spend the most on water bottles here. However, you can reduce this cost by using a refillable water bottle that you can refill at your guesthouse or apartment.
another option is to carry a bottle with a built-in filter so that you can drink the tap water without worrying about your health. This can tremendously save you money as a single bottle of 2 L costs 15 SCR (60 INR) here.
As mentioned above, ATM Withdrawals usually end up in heavy charges being levied by the ATM bank. This is different from the charges levied by your own bank and the foreign exchange fees and very few bank accounts refund this fee.
One of the best ways to reduce these charges is by consciously withdrawing money to limit the number of withdrawals. Also, use MCB ATMs instead of Barclay ATM for withdrawal as the former doesn't charge you any withdrawal fee.
Don't Purchase Internet Packs
Internet Packs in Seychelles are quite high and can end up costing you around 2000 INR for a 1-week trip. So, if you don't have to work and can enjoy being away from social media for a week, then choose to not buy an Internet pack here.
You can always use the free WiFi at the guesthouses and the Victoria Bus Station for a few messages to your loved ones. But try to enjoy this social detox and make the most of your trip here.
Bring your Own Snorkel and Mask
One of the best things about Seychelles is that you don't need to take a boat to a specific spot to enjoy snorkeling here. There are several beaches that are perfect for snorkeling and offer a wide range of coral reefs and underwater life for you to explore.
While you can rent a snorkel and mask here, it can become expensive which is why it is best to carry your own.
Seychelles Trip Cost Breakdown
While it is possible to have a budget trip in Seychelles, it mainly depends on when you are visiting Seychelles and the type of activities and experiences that you are opting for here.
Here is a detailed breakdown of the cost breakdown for a vacation in Seychelles based on my experience of the trip.
Accommodation – 500 SCR (2000 INR) per night (including breakfast and water)
Food – 100 SCR (400 INR) per day
Transportation – 50 SCR (200 INR) per day
Entry Fee for Attractions – 125 SCR (500 INR)
Ferry to Different Islands – 128 Euro (11,500 INR) for Mahe, Praslin, and La Digue Island
Boat Tours to Other Islands – 50 SCR (200 INR) per trip
Now, I also took soup and snacks from India so there were many days when I didn't spend money on food. Also, since I was lucky enough to find a Couchsurfing host during my stay on Mahe Island, I saved accommodation cost for around 6 days.
But this is an estimate of what you can expect to spend in Seychelles on a budget trip. If you are going for a luxurious vacation in Seychelles, it will easily be 5 times or more of the above-mentioned prices.
Also Read: Top Places to Explore in Mauritius
Summary
Planning a vacation in Seychelles on a budget is not hard if you are careful with your expenses. And while most people visit Seychelles with their significant other, it doesn't mean that you cannot visit this paradise on your own or with your friends too.
Trust me, my solo vacation in Seychelles was nothing short of magical. I met so many people and became friends with many solo travelers. And the best part is that I was able to explore this expensive country on a budget so I never regretted this trip.
If you also wish to enjoy your time in Seychelles, then do check out my tips mentioned in this Seychelles travel guide and plan your trip frugally.