Seychelles is a wonderful destination that is full of natural splendors. From the white sparkling beaches to lofty mountains, you can find it all here. And besides these absolutely gorgeous landscapes, there are a lot of amazing things to do in Seychelles to make your trip fun and exciting.
You can choose to rock climb, hike the rugged trails, explore the rich flora and fauna, and do a lot more during your stay here. So, if you are planning a vacation in Seychelles soon, then here are a few of the best things to do in Seychelles for an unforgettable experience.
Don't worry, not everything will set your back on your trip budget. There are many things that you can indulge in here without spending a penny.
Things to Do in Seychelles
Now, before you get confused about what things to do here, here is a detailed list of all the amazing activities that you can do here.
Take a look at these activities and plan your own trip to Seychelles with fun things you wish to do here.
Explore the Islands Like a Local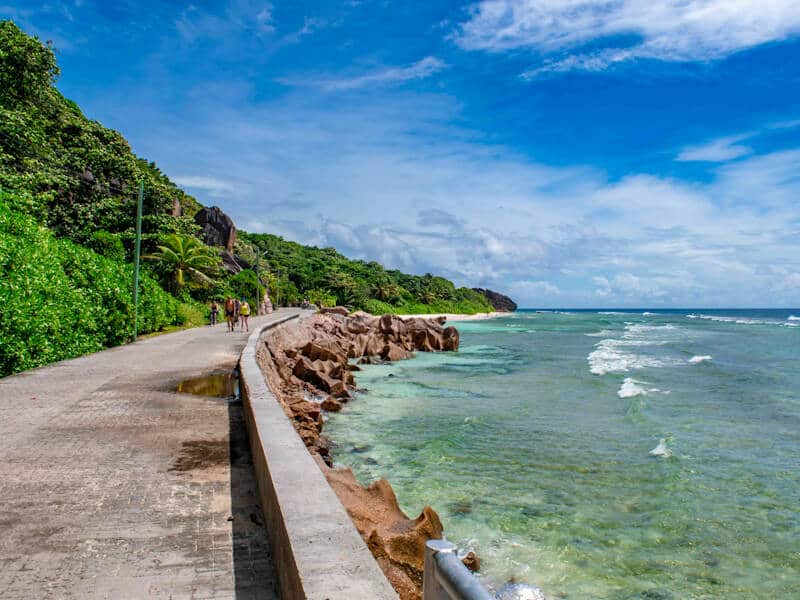 One of the best ways to experience Seychelles is by doing what the locals do here – walk, cycle, or use buses to travel around. This will not only help you save some considerable amount of money but will give you a glimpse into the culture that is not possible if you are using a cab or a self-drive rental.
You will find that most locals use the public bus here to travel around which costs 7 Seychellois Rupees for a journey, regardless of your stop. On the bus ride, you end up talking to the locals and are able to learn what do they do, how is life in Seychelles, and a lot more.
Another great way to get insight into the Seychelles lifestyle is by walking and cycling around the islands. You will be able to enjoy the views that you might normally miss in a car.
Try the Local Creole Cuisine
As a foodie, one of my favorite things to do in Seychelles was to try out the Creole cuisine and expand my culinary taste. And since the local cuisine here is a blend of European, African, and Asian flavors, it was a treat to taste such unique dishes.
From Carotte Bananas to Indian Samosas, you have a wide range of diverse dishes to try out here. So, don't miss out on this opportunity.
One popular meal that you have to try here is the traditional Creole meal that comprises of curry, rice, and vegetables. This curry can be a vegetarian curry or a meat-based curry, it usually depends on the diner. And it costs just 30 – 50 Seychellois Rupees (120 – 200 INR) for a meal. You can easily get this dish on any takeaway or snack shop in Seychelles.
Apart from that, do try Carotte Banana which is a local dish that is prepared by wrapping a banana in banana leaves, honey, and vanilla. Then, it is left to dry up and the end result is pretty delicious. You will also find banana cooked in Coconut milk over so you can try that too.
Discover a Secret Waterfall in Praslin
Are you someone who loves adventure and finding new cool spots?
If yes, then one of the best places to visit in Seychelles is the secret waterfall in Praslin. Yes, there is a beautiful waterfall here which is not mentioned in most guide books and there isn't much information on Google as well. You won't find any signboard here as well to indicate the location of the waterfall so you might have to take a local to help you find the waterfall.
This place is just a few minutes away from the UNESCO Heritage Site – Vallée de Mai and it definitely worth a visit. Plus, since it is not well-known, you will find it secluded and can truly enjoy yourself here.
How to Reach: From Vallée de Mai National Park, make your way to the Grand Anse beachside. There will be a waterworks that you will encounter on the way, stop there and begin an uphill walk from the entrance. Voila! You will come across this beautiful yet hidden waterfall.
Enjoy a Swim in the Clear Ocean Water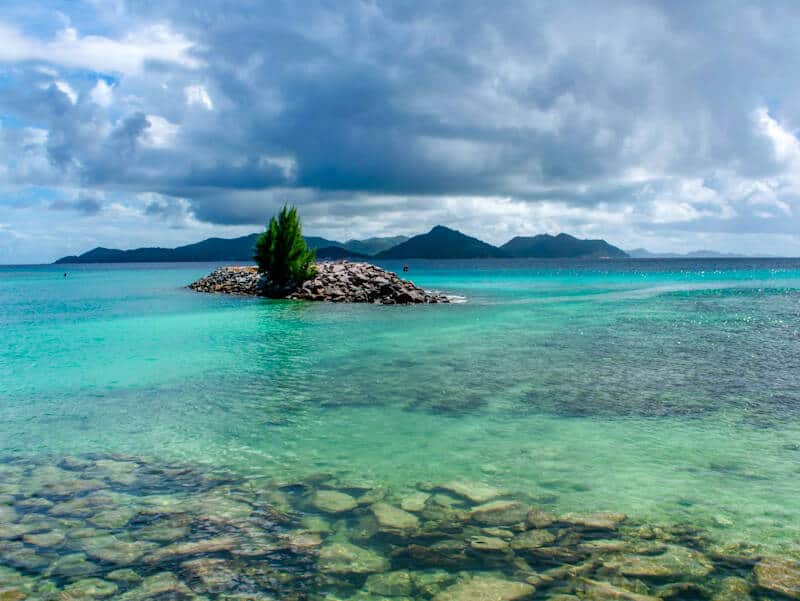 Of course, if you are exploring Seychelles, it only makes sense that you explore the water here too. A nice swim near the beaches can be quite refreshing as the water here is clean and crystal clear.
You can easily spend your days swimming around here and make the most of your stay. But remember, there are a few beaches that are unsuitable for swimming due to the strong ocean current. So, be careful when you are swimming here and inform at least one person before you venture out to swim in the turquoise-colored ocean here.
A few popular beaches that are safe for swimming are Beau Vallon, Anse Forbans, Anse Lazio, Anse Reunion, and so on.
Try your Luck at the Casino
One of the most exciting things to do in Seychelles is to try your luck at Casino here if you have never experienced it before. For me, it was my first time and it was a lot of fun.
Yes, you could end up losing a lot of money if you aren't careful. But to experience it, you don't have to spend a lot of money. You can play with just 50 Seychellois Rupees and try your luck at one of the gaming slots here. And it offer free entry to all, so you might as well have some fun here.
Just don't go overboard and gamble away all your money.
Taste the Famous Takamaka Rum Here
If you are an alcohol connoisseur, then it might interest you to know that Seychelles produce a local rum which is known as the Takamaka Rum. You can get a bottle of this rum from the local shops at 180 Seychellois Rupees and party hard at night!
You also have the option of choosing one of the two flavors – Chocolate and Coconut. So, buy a bottle, head out to the beach with friends, and enjoy everything that Seychelles has to offer.
Spend Time Watching Endemic Birds on the Islands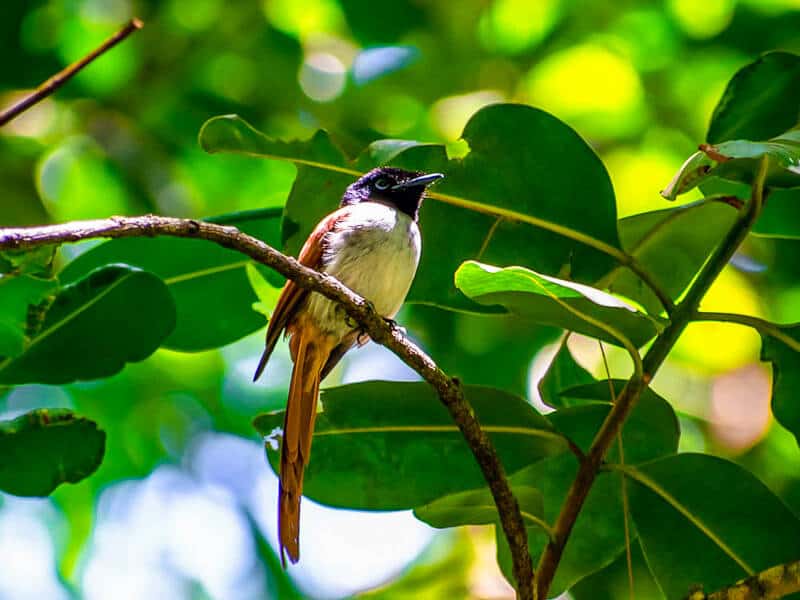 Seychelles is home to over 200 bird species, a large majority of which are endemic to these islands. Due to this island nation's unique and rich flora and fauna, thousands of tourists and researchers arrive here every year.
So, one of the best ways to enjoy Seychelles (that won't cost you a penny) is to spot the endemic birds on different islands that you visit. You will easily be able to spot a few birds such as the Seychelles Flycatcher, Magpie Robins, Blue Pigeon, and so on.
All you need a map and binoculars to sight these birds. A few places that you can try out for bird watching are Veuve Reserve (La Digue), Fond Ferdinand (Praslin), and Vallée De Mai (Praslin).
Enjoy Cycling around the Island at the Night
One of my most cherished memories of my Seychelles trip is the night when I was cycling around La Digue Island with two newly-made friends. At just 10 p.m., the roads were completely empty and the entire island was soundless. Most of the tourists and locals were already asleep or just enjoying in their room or apartments.
We were cycling beside the coast and would watch the beaches pass by us as the moon and the stars lit up the ocean. The cool, night breeze was refreshing and honestly, it was the most peaceful feeling ever to cycle around the island at night.
Get Pampered at a Classy Villa or Resort
If you are looking for a luxury stay in Seychelles, then one of the best things to do is to stay in one of the classy resorts in Seychelles. There are so many gorgeous resorts in Seychelles with heavenly views and super luxurious rooms that you won't forget your stay for a long time.
In these resorts, you can get elegant rooms facing the ocean, enjoy the infinity pool at the premises, or enjoy a stroll on the private beach. A few resorts in Seychelles that you can try are Cerf Island Marine Park Resort, Hilton Seychelles Labriz Resort & Spa, and so on.
Sunbathe on the Gorgeous Beaches of Seychelles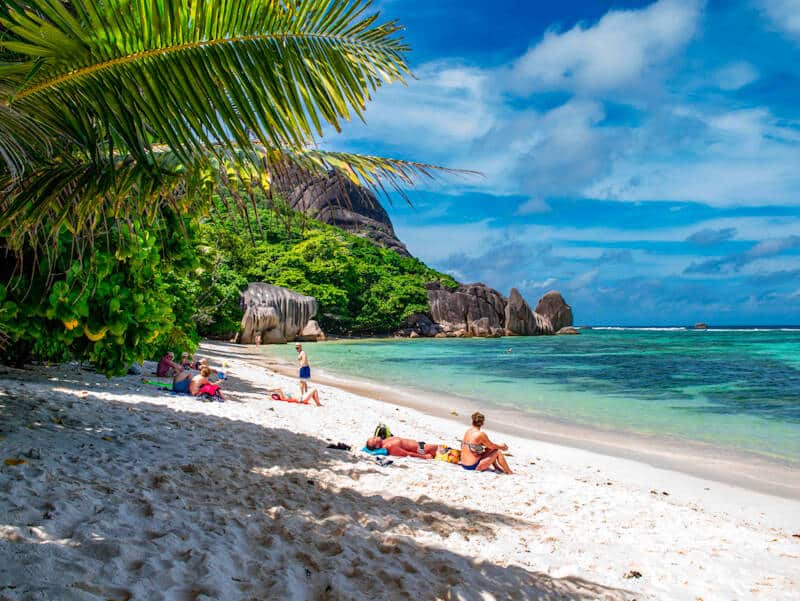 Well, this one goes without saying but if you are visiting Seychelles then you have to make the most of the beaches here. And one of the best ways to do that is by heading to the white sparkling beaches here and sunbathing beside the blue shoreline.
Trust me, surrounded by Takamaka trees and sparkling ocean water, you will feel as if you are relaxing in paradise. A few of the best beaches for sunbathing are Beau Vallon, Anse Lazio, Anse Georgette, and Anse Source d'Argent.
And the best part is that this activity is completely free of cost! All you need is a nice, secluded beach, a few towels to lie down, sunscreen, a hat, and a pair of sunglasses and you are all set.
Enjoy Gorgeous Sunsets Every Day During your Stay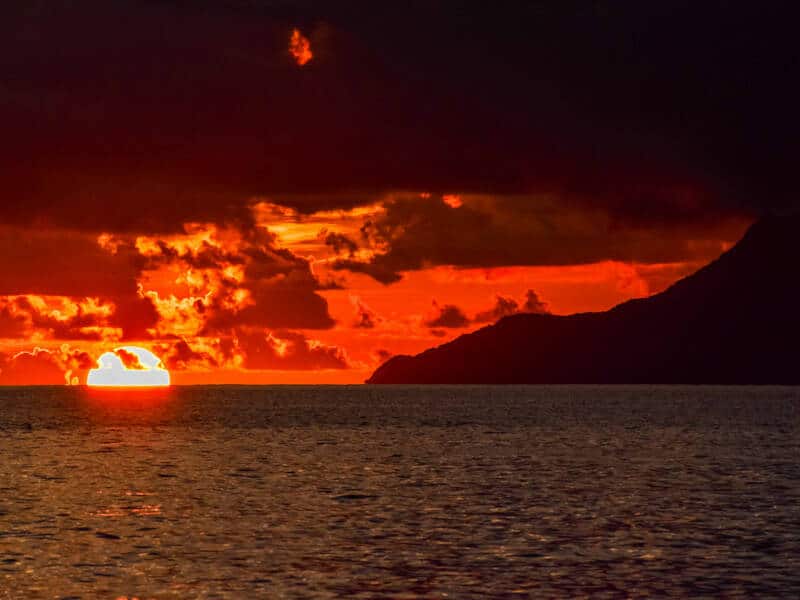 Seychelles is home to the most gorgeous sunsets ever and no, I am not exaggerating one bit. During my two-week stay here, I watched so many glorious sunsets that I have even lost count now. But yes, I still remember those sunsets and that feeling of watching them as if it happened yesterday.
The entire sky would turn a beautiful shade of orange then pink then blue and you can admire as the big, red sun slowly gets engulfed by the vast ocean.
Honestly, there is nothing better than watching a sunset here and you can thank me when you have witnessed the most beautiful sunsets in your life over here.
Meet Other Travelers and Make Amazing Memories
Yes, that's right! One of the best ways to enjoy Seychelles is to open to meeting new people here and exploring the islands along with them. During my solo trip to Seychelles, I met several other solo travelers here and had a lot of fun hanging out with them.
I remember the German girl in Praslin who was in my guest house and we would walk around to get dinner at night or visit the nearby beaches. Then, there was a Malaysian solo female traveler who I met on Anse Lazio and we headed to Anse Georgette together.
In La Digue, I met Philip from Germany and Ola from Poland and we had the most amazing time here. We watched sunset on the beat, tried the local rum together, and then cycled around La Digue at night so that I could reach my guesthouse. Trust me, meeting people and making friends in Seychelles is one of the best ways to enjoy this nation.
Also Read: Top Things to Do in Mauritius
Interact with the Locals to Learn About their Culture and Lifestyle
Personally, I believe that the best way to explore a place is with a local because they know spots that you never would have read about.
And that's not all, interacting with locals gives you a little insight into their culture and their lifestyle and can help you learn more about the destination you visit.
So, if you wish to truly experience everything that Seychelles has to offer then meet the locals around here and talk to them. During my Seychelles trip, I met so many locals who told me different wonderful stories about their life, their home, and everything.
I learnt that a lot of Seychellois people visit India for shopping because clothes and spices are cheap here. Now, isn't that interesting?
Learn About the Heaviest Seed in the World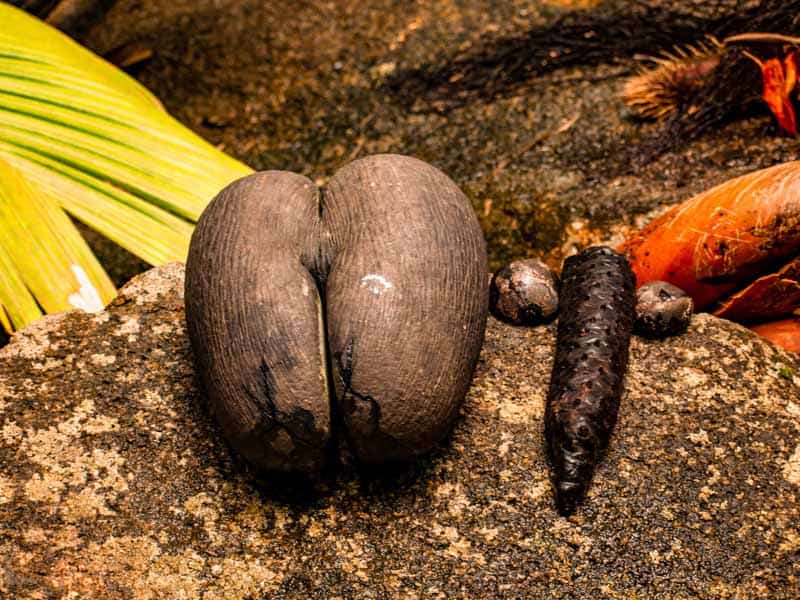 One of the absolute best things to do in Seychelles is to visit the UNESCO Heritage Site, Vallée de Mai, or another reserve, Fond Ferdinand to learn about the indigenous black parrot and Coco De Mer plant.
Coco De Mer is a rare species of palm tree that is endemic to Seychelles islands. Sometimes, the nuts and seeds of this palm tree would wash up on distant lands of India and Maldives where no one recognized it. As a result, a lot of legends arose on the arrival of this 'coconut of the sea'.
In 1700s, when the real Coco De Mer trees were discovered in Sechelles by French, Praslin was nicknamed the Garden of the Eden as described in the Bible. It was believed that this was the forbidden fruit of the tree of knowledge of good and bad.
And this all belief is due to the shape and process of the Coco De Mer plants. The fruits only grow on female trees and needs to be pollinated male palm tree nuts.
The male trees have fruits in the shape of a phallic while the female trees have the fruit in the shape of a buttock and due to these erotic shapes, so many legends and beliefs have been formed over the years.
So, if you are fascinated to know more about this exotic fruit, then one of the best things to do in Seychelles would be to take a tour of one of these reserves here.
Take a Look at the Bird that Saved an Island
Yes, I know, this sounds ludicrous, but it's still true. In Seychelles, there is Cousin Island which was a popular coconut plantation for a long time.
However, the discovery of the endemic Seychelles Warbler on this island, which at the time of discovery were only 26 in number, changed things for this small island.
It was bought by the BirdLife Internationa organization in 1968 and the coconut trees were removed to restore the native flora. And in 1975, the island was declared a Special Reserve where ornithologists and bird watchers visit to observe and learn about the Seychelles Warbler.
Apart from the Seychelles Warbler, you can also find Seychelles fody, Seychelles magpie-robin, Seychelles sunbird, Seychelles blue pigeon, Malagasy turtle doves, and so on. You can easily arrange a boat trip from Praslin island to this reserve and explore this wonderful island.
Visit the Local Party Spots and Clubs in Seychelles
While Seychelles is no Bali or Phuket, the nightlife in Seychelles is not all that drab that it seems out to be. There are a few pubs and casinos here where you can party hard during the weekends with the locals that frequently visit this joint.
One interesting thing about nightlife in Seychelles is that the locals usually party during the weekends so you will find the few clubs in Seychelles to be empty during the week. However, weekends are when the fun is just getting started.
If you wish to enjoy the nightlife in Seychelles to the fullest, then here are a few places that you should check out here – Katiolo (Dance Club in Mahe), Grand Kaz Entertainment Center (Casino) in Mahe, Level 3 Bar (Mahe), and The Jungle at Grand Anse (Praslin).
Feed and Spend Time with the Majestic Aldabra Giant Tortoises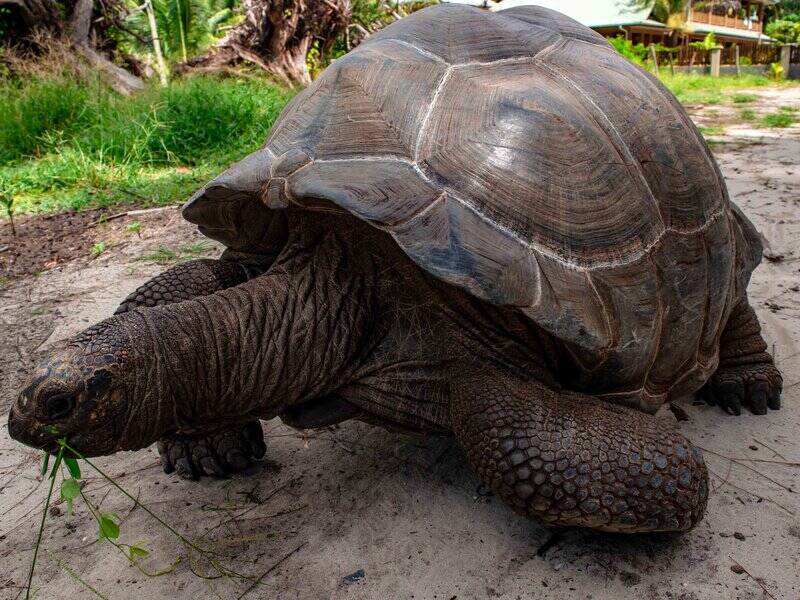 One of the most unique activities to do in Seychelles is to spend time with the native Aldabra Giant Tortoises. You will find these majestic animals in large numbers on Curieuse Island and La Digue Island but there are a couple of them available on Praslin Island and Mahe Island too.
On Curieuse Island, you can walk among these tortoises and interact with them in the open which is a great experience.
And on La Digue, there is a enclosure where these tortoises are kept inside the L'Union Estate and you can feed them the leaves that are kept there for the visitors. There is also a small nursery here where you can watch the small Aldabra tortoises going about their day.
Overall, this is one thing that you definitely cannot miss out on when you are traveling in Seychelles.
Enjoy Snorkeling and Scuba Diving at the Most Beautiful Location
Of course, when you visit Seychelles, you have to go snorkeling or scuba diving in the crystal-clear water here. Seychelles is surrounded by the majestic Indian Ocean and has a rich marine life which is why it is a hotspot for scuba diving.
Thousands of people arrive here every year to explore the underwater world here and look at the gorgeous coral reef and fishes that live in this region. And the best thing is that there are several good beaches for snorkeling here so all you need is your snorkeling mask and you are good to go.
If you are interested in scuba diving here, then you will find a few Scuba Diving centers here as well where you can learn scuba diving. A guided snorkeling trip will cost you 20 – 25 Euros while a Tandem Scuba Diving trip will cost you around 80 – 100 Euros.
Go Rock Climbing on One of the Islands
For all the adventure junkies out there, one of the best things to do in Seychelles has to be to go rock climbing. Now, whether you are an experience rock climber or an amateur, Seychelles has perfect rock climbing spots for everyone here.
While you can climb almost all rocks here, there are few special areas that include graded routes and are a lot more fun. In fact, many resorts have developed their own climbing centers in the jungles so that the guests can enjoy rock climbing over there.
If you love rock climbing, then you can easily find lots of amazing rock cliffs here to climb without having to pay anyone a penny. However, be careful when you do so and take the necessary safety equipment with you.
Enjoy a Drive to the Beautiful Viewpoints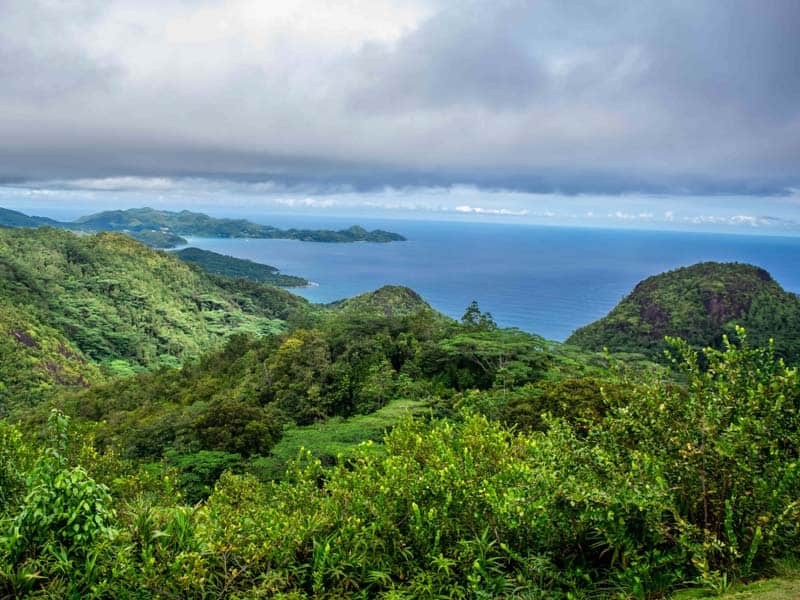 If you rent a car in Seychelles, then one of the best things to do is to drive to the scenic points around here to enjoy the views. One such viewpoint is the La Misere Viewpoint that offers a gorgeous view of the Eden Island and Victoria City in the distance.
Apart from that, there is also the Mission Lodge Viewpoint that can be reached via a car as are there several other viewpoints on Praslin and La Digue Island too. So, drive around to enjoy the beautiful coastal views when you are in Seychelles.
Spend a Night on a Beach Under the Clear Sky
If you have ever spent a night on a beach, you would know how beautiful and peaceful it is. This is why one of the best things to do in Seychelles has to be to spend a night, enjoying the peace and solitude, on a beach. You will be surrounded just by the palm trees and the sound of the ocean waves as the moon slowly makes it way to the sky.
And the moonlight will lit up the ocean beneath and make it an ethereal sight for you. Honestly, watching a full moon on an ocean or a star-filled sky near an ocean is the best feeling ever.
Just be careful of the crabs that get out in the night and start scrambling around the beach.
Head on the Copolia Trail for an Adventure
If you are a hiking enthusiast, then one of the most popular trails to try out in Seychelles is the Copolia Trail is Mahe. This hiking trail offers a breathtaking view from the top of a granite mountain where you can enjoy the view of the white sandy beaches and the blue Indian Ocean.
That's not all, the trail also offers you access to the unique flora in the region and is pretty much easy hike for anyone. Also, it is one of the free tourist places in Seychelles so it won't affect your budget too.
Capture Tons of Photographs to Remember the Trip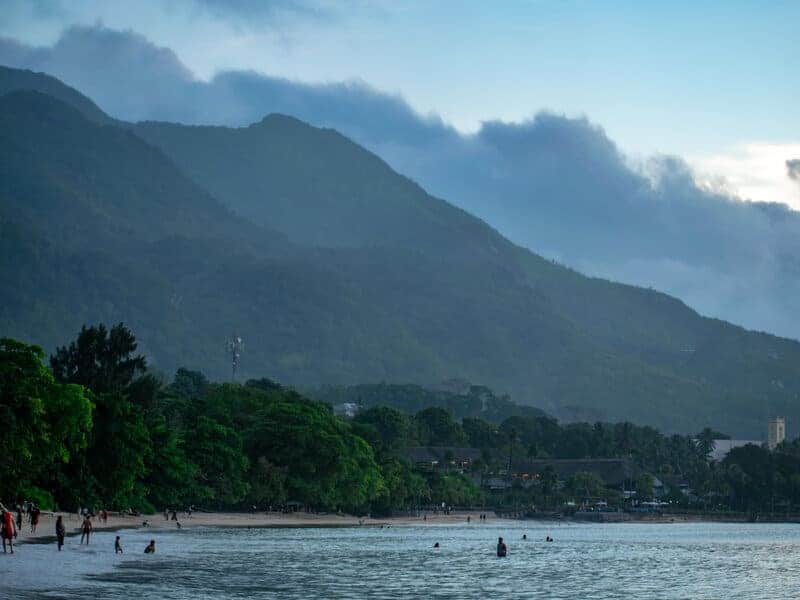 One of the best and inexpensive ways to make the most of your trip to Seychelles is by taking a lot of pictures around here. Honestly, you won't find such stunningly beautiful landscapes anywhere else in the world. The giant granite boulders surrounding a white sparkling beach beside the sparkingly blue ocean does have its own charm.
Honestly, I just couldn't stop clicking away pictures during my stay here. And now, when I look at those photographs, I get to relive my trip and remember my precious memories of that trip.
So, take a good camera and click away, my friend!
Visit the UNESCO Heritage Site – Vallée De Mai
While this is not a free activity but if you truly wish to experience the best in Seychelles then you have to take a tour of the Vallée De Mai National Park. This is a UNESCO Heritage Site on Praslin Island where the rare Coco De Mer grows in its natural form.
This is also a paradise for bird watcher's as you can spot many endemic species here such as Seychelles bulbul, blue pigeon, Seychelles Warbler, black parrot. and so on. Apart from that, there are several hiking trails here to explore as well along with guided walks that one can take to learn about the diverse flora and fauna here.
The entry fee for this reserve is 300 Seychellois Rupees for a person.
Visit the Stunning Islands – Curieuse, Cousin Island and St. Pierre from Mahe
It is no hidden knowledge that Seychelles is home to some of the most beautiful islands. And a lot of people explore these islands on boats, kayaks, or pedal boats. However, if you truly want to enjoy these islands, then the best way to do that is by taking a cruise in Seychelles.
Such cruises from Mahe give you a chance to enjoy the stunning topography, lush greenery, and exotic beaches of islands such as Cousin Island, Curieuse, and St. Pierre. However, this can be a costly affair and is definitely not recommended for budget travelers.
Explore the rich Flora and Fauna at Morne National Park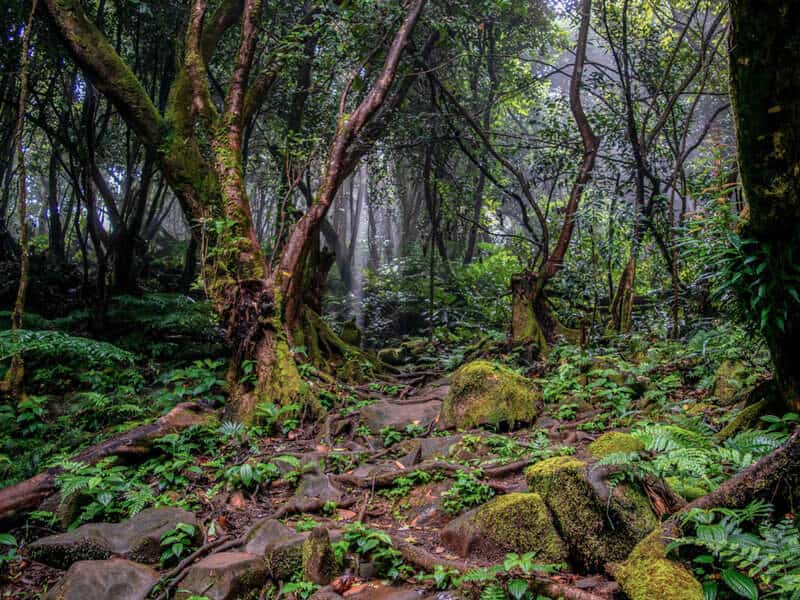 Comprising of 20% of the total land area in Mahe, Morne Seychellois National Park is rich with diverse flora and fauna that stretched from the coastal mangrove forests to the highest peak of Seychelles, Morne Seychellois. Covered in a thick forest, this mountainous region can only be reached on foot as there are several trails laid out here.
There are around 12 trails here that one can explore on full-day or half-day trips in this national park. On these trails, you can see some gorgeous landscapes and the ruins of the cinnamon distilleries. So, if you would like to get away from the chaotic world for a while then a walk through this national park is the perfect way to do that.
And again, this activity is completely free of cost!
Visit the Vintage Plantation House on La Digue
One of the most popular things to do in Seychelles is to visit the vintage plantation house that is a part of the LÚnion Estate in La Digue. A famous national monument now, this 300-hectare area displays the history and culture of La Digue.
In the LÚnion Estate, you have a few other places to visit such as the coconut plantations, coconut oil mill, old cemetery, Copra house, and a Giant Aldabra Tortoise closure and nursery too. This is also the home to the famous Anse Source d'Argent beach and an entry ticket costs 125 Seychellois Rupees here.
Play a Game of Golf with an Awesome View
Another fun thing to do in Seychelles is to enjoy a game of golf here while overlooking an amazing view. You can head to the two golf clubs in Seychelles – Seychelles Golf Club and The Lemuria Champions Golf Course to have some fun.
These golf courses are pretty challenging and offer a nice view which makes playing golf here all the more fun.
Spend a Day Barbecuing at a Beach or on a Boat Tour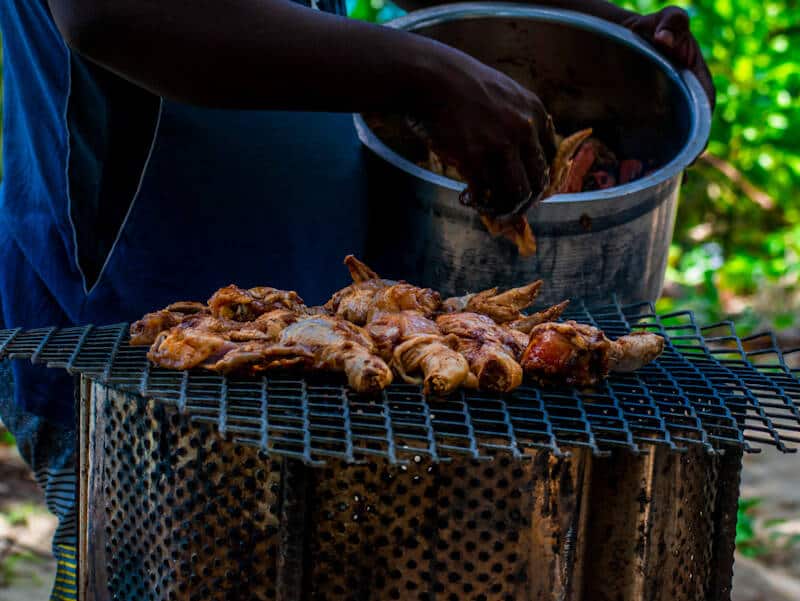 One of my personal favorite activities to do in Seychelles was to enjoy a BBQ at a beach. Since I was staying at a local's house in Mahe Island, I was invited to their monthly BBQ party and it was a lot of fun. Swimming in the ocean, chilling on the beach, eating BBQ food, it was a completely new experience for me.
Another option is to take a full-day boat tour of Therese Island which is one of the most fun things to do here. On this boat tour, you get to snorkeling on the beach, relax, and enjoy authentic Creole BBQ.
Take an Island Hopping Tour
Honestly speaking, there is no shortage of things to do in Seychelles. And one such activity that you can include in your list is island hopping in Seychelles. Since this island nation is an archipelago of 115 islands, there are a lot of islands to explore over here.
You can admire the topography of Silhouette Island, enjoy a day at La Digue Island or Denis Island, go for a tour at Bird Island to spot the endemic birds here, and do a lot more. The majestic mountain ranges, sparkling beaches, and unique biodiversity make island hopping a lot of fun in Seychelles.
See the Best of the Islands on a Helicopter Ride
Are you looking for an even more fun way to explore Seychelles?
If yes, then you have to take a helicopter tour over the islands to get the best views of these pristine islands. Trust me, the view from above is just something else entirely. You will see the vast Indian Ocean stretching on all sides with these small islands splattered across the ocean with lush greenery, white sparkling beaches, and a unique topography.
A view of the islands from a helicopter ride will definitely be a sight to behold.
Visit the Most Gorgeous Beaches of Seychelles – Anse Lazio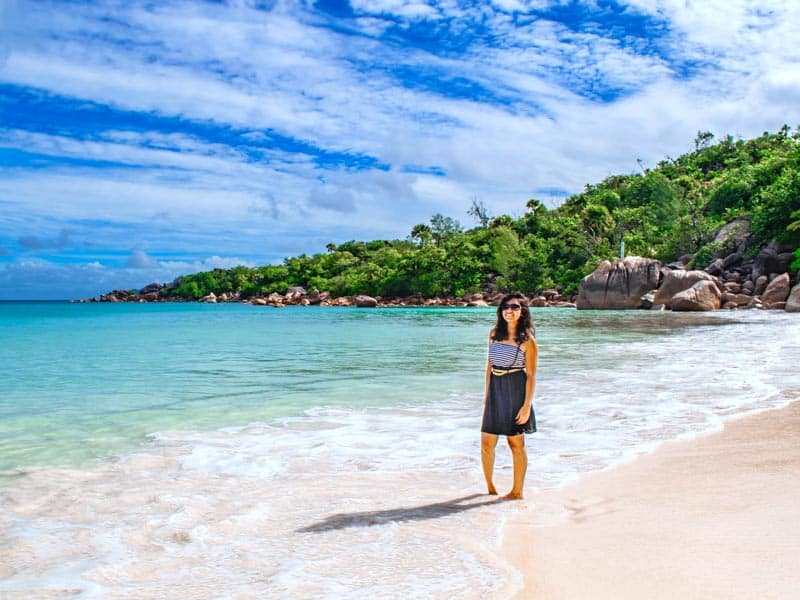 Due to the presence of golden sandy beach, huge granite formations, and crystal-clear azure colored water, Anse Lazio is known as the most beautiful in the world.
This means that it can become quite busy during the tourist season in Seychelles but if you plan well, you can enjoy the beach when it is secluded.
Here, you can swim and snorkel as it is full of fishes and there is generally a lifeguard around here to make you feel safe when you venture out in the ocean.
There are several shops and restaurants here when you can enjoy a meal with a view and can easily spend an entire day chilling or swimming on this beach.
And as a plus point, there are no charges for visiting the beach and taking advantage of its beauty.
Spend a Day at an Unexplored Beauty – Moyenne Island
One of the best islands in Seychelles and top tourist place to visit, Moyenne Island is known for the giant rocks and the wide range of flora and fauna. So, a walk on Moyenne Island could be a great way to relax and rejuvenate as you fall in love with this island.
You can also enjoy some tasty food along with some refreshing drinks here. This is a popular island visited by both solo travelers and couples in Seychelles.
Enjoy the Beautiful Forest Views while Zip lining
Another fun activity to try out in Seychelles is Ziplining that will offer you amazing views of the forest canopy and the unique flora and fauna here. SMAC Adventures is the zip-lining center that is located at the Constance Ephelia Resort at Port Launay, Mahe.
They have 8 zip lining options there ranging between 85 meters and 120 meters. And the best thing is that all ages can participate in this activity. So, you can come here to enjoy a view of the massive granite boulders and lush greenery when zip lining.
Take Lots of Photographs at the Most Photographed Beach in the World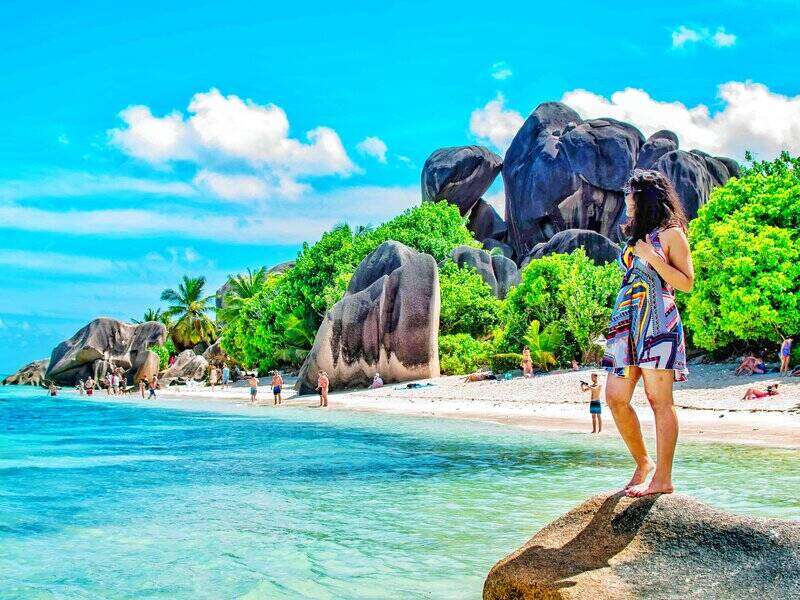 Have you ever wanted to visit a place that looks straight out of a postcard?
If yes, then you have to visit Anse Source D'Argent Beach on La Digue in Seychelles. This is the most photographed beach in the world and I am not surprised after seeing the gorgeous setting here myself.
The entire beach area is covered with palm trees, coves, and pink granite boulders that are believed to change their color.
And you will see this setting in a lot of wedding photographs and advertisements because its mesmerizing beauty enraptures everyone.
In fact, during my visit, I watched at least three wedding photographers here creating the perfect setting for the married couples.
Explore the Lively Victoria Market
If you are staying in Seychelles for a few days, then you have to spend time at the most happening market for shopping in Seychelles, Victoria Market. This lively market is filled with vendors that are selling here everything from vegetables to souvenirs and at an extremely affordable prices.
You shop and bargain here till you are tired and hungry and then you can enjoy authentic Creole dishes at a few of the food outlets that are available here.
Visit the Beautiful Hindu Temple in Seychelles
Another popular thing to do in Seychelles is to visit the only Hindu Temple, Arul Mihu Navasakthi Vinayagar Temple which was built in 1992.
With a gorgeous backdrop of green hills, this temple is situated near Victoria city's center and has a very elaborate and colorful ornate tower.
The temple has been named after the Hindu god of safety and prosperity, Lord Vinayagar, and is a great place to visit to relish some peace of mind.
Also, the beautiful carvings on the temple make it a sight to behold and will take away your breath when you first lay your eyes on it.
Hike Around the Beautiful Anse Georgette Beach
One of the best things to do in Seychelles is to cover the hiking trail near Anse Georgette Beach. This trail is known as Mont Plaisir Georgette trail and is quite a popular trail on Praslin as it offers you panoramic views of the ocean.
This is a 2-3 hours hiking trail that starts from Anse Lazio and offers incredible views of Pralin's north point. If you don't have sufficient time, then you can simply start the trail from Lemuria Hotel and enjoy the views then head back the same way. And the best part is that this hiking trail is free of cost, so you can enjoy amazing views without having to pay a penny.
Enjoy the Specialty Seafood in Seychelles
As Seychelles is surrounded by sea, you will find a lot of seafood dishes here that are just so yum. You can either opt to embark on street food tour to taste the delicacies here or enjoy meals in proper restaurants, that is completely upto you.
However, a few things that you cannot miss out here are grilled fish, octopus curry, shark chutney, octopus salad, and so on. Personally, I tried the Octopus curry for the first time here and it was pleasantly nice in taste. They use a blend of spices, curry powder, and coconut milk to make this food and it is every bit as delicious as you can imagine.
So, if you eat seafood then you should definitely try the fresh seafood dishes here.
Explore the Ruins of the Leprosarium
If you love historical places with great significance then you should check out the Curieuse Island that is home to the ruins of Leprosarium. While Curieuse Island has a distinctly beautiful coastline with the carved granite boulders in reddish color, what's interesting about this island is the sad history behind the place.
There is a building here in ruins where many years ago people were quarantined because they had contracted leprosy. This leprosarium was a quarantine home for the lepers and was the first one to be constructed in the British Indian Ocean Territory in 1829. The lepers were kept in terrible condition and this building was mostly filled with Mauritian and Seychellois slaves.
It was closed down in 1965 since leprosy had been more or less eradicated from the country by that time. But a walk down these ruins can definitely send chills down your body.
Hike on the Amazing Trails in Seychelles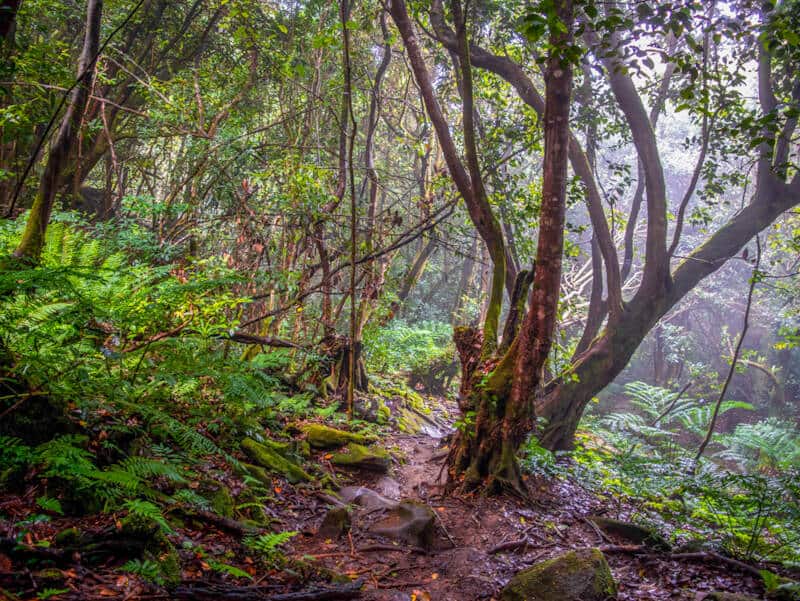 Now, we have mentioned a few hiking trails already in this article but that isn't even close to describing what Seychelles has to offer to the hikers and adventure enthusiasts. There are more than 100 hiking trails all over the islands that take you to either an amazing viewpoint through a forest or to a hidden beach.
And most of them can easily be taken without hiring a guide too. So, if you love hiking, then make sure you pack your hiking shoes and set out on some amazing fun out here.
Visit the Untouched Aride Island Nature Reserve
One of the best islands in Seychelles, Aride Island is a hidden jewel of the Indian Ocean and is also one of the most important National Reserves here. Due to the natural abundance, this island has stayed beautiful and wild all this while and is currently managed by the Island Conservation Society.
Home to more than 1 million seabirds from 10 different species, here a few of the endemic birds live such as the Magpie Robins, Brush Warblers, Fodies, Blue Pigeon, etc. Also, there are several endemic plants that can be found here too including wrights Gardenia, Turtle Beaches, and so on.
Since this is a protected reserve, no vessel from the outside is allowed to land on this island but you can join tours to this amazing island to witness the rich flora and fauna here. If you plan to include this island in your Seychelles itinerary, then the the ideal time to visit Seychelles is November to February as you can spot migratory birds here.
Enjoy a Tour of the Secret La Misere Exotics Garden Center
If you are a botany enthusiast then one of the best things for you to do is to head to the garden that is located on a slopey land and has a lot of staircases, pathways, and trails to lead you to the property. This garden is home to over 300 plant species and there are a total of 50,000 flowers and other plants growing on this land.
Hidden in the middle of Kennedy Road, this botanical garden is a must visit on your trip to Seychelles. The park is open from Monday to Saturday and there is a cafe available inside the establishment to offer refreshments too.
Visit the Artificial Island Located close to Victoria City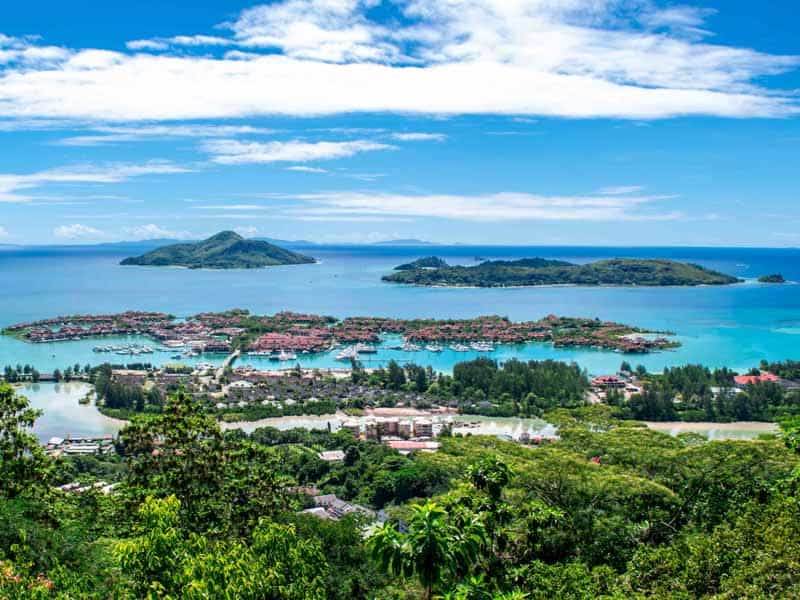 Although an artificial island, Eden Island is no less beautiful and is located just 3.5 km from Victoria city. This island was formed in 2000s and is mainly known for tourism as it is home to many protected beaches and bays.
If you are looking for a more secluded spot for staying in Seychelles, then Eden Island is perfect for you as it is home to some of the best hotels near Victoria. You can even rent an apartment here for a longer stay and take advantage of your beautiful surroundings.
And if that doesn't interest you, then you can always plan a day trip to visit this famed island from Mahe.
Visit the Hidden Anse Marron Beach with a Local
A remote beach on La Digue Island, Anse Marron Beach is a perfect place to chill and relax as it is secluded most of the time. There are several shallow saltwater pools here where you can take a dip or paddle around. Since these pools are surrounded by large granite formations, the beach looks completely scenic.
But it is not easy to find Anse Marron beach on your own which is why most tourists hire a tour guide to visit this place. While the path leading to the beach is slightly slippery and dangerous, the effort is worth the beautiful view that you are greeted with once you reach the beach. The beautiful, golden sand beach that is covered with large granite boulders and several shallow saltwater pools is a sight to behold.
While the ocean here is not recommended for swimming due to a lack of coral reef and deep ocean water, you can still take pictures here and spend time on the beach.
Enjoy a Sunset Cruise at Mahe Island
Another amazing thing that you can do in Seychelles is to book a Sunset Cruise from Mahe Island to explore the private shores and have a magical evening. While this is a popular activity for couples as these cruises can be seen as romantic, this doesn't mean that you cannot join a sunset cruise on your own or with your friends.
Enjoy the delicious food on board, drink a glass of wine, sway to the onboard music, and simply relax while you are here. And if you are lucky, you might even see dolphins dancing around the boat or even a flock of flying fish. Trust me, this is one amazing experience that you will never forget.
Stay on a Beachside Hotel for an Amazing Experience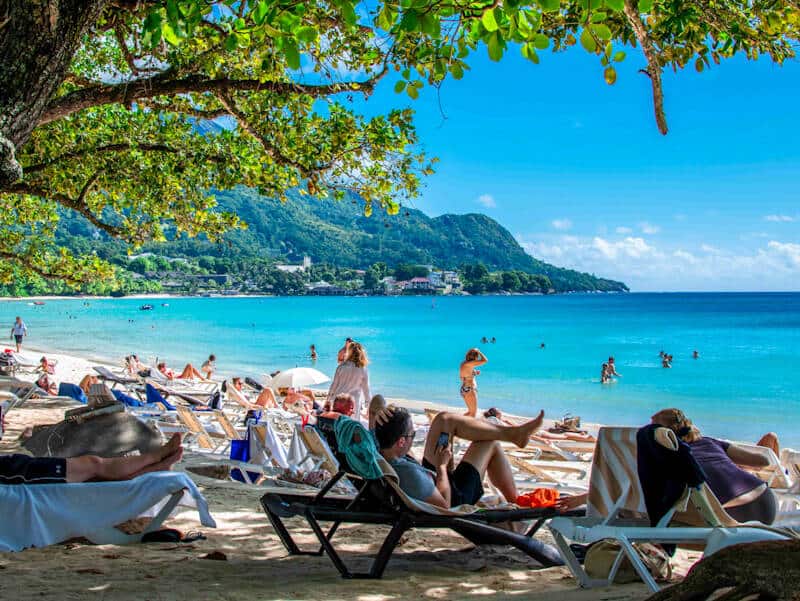 If you truly wish to make the most of your stay on Seychelles, then one of the best things to do is to choose hotels in Seychelles that are located beside a beach. You will find lots of such hotels in Seychelles in Mahe, Praslin, and even La Digue.
These hotels offer amazing views of the ocean and will offer you beautiful sunrises and sunsets as well. And since these hotels are located beachside, you don't have to venture far away to find a nice spot for sunbathing or swimming in the ocean.
And you get to use the sunbeds free of cost and can certainly lay down on the beach, all day long without any worries.
Enjoy Other Water-Based Activities in Seychelles
If you have already completed snorkeling and scuba diving in Seychelles, then here are a few other activities that might interest you. There are several beaches and resorts here that conduct water-based activities such as windsurfing, paragliding, water skiing, and so on.
You can rent the equipment by the hour of the activities. A few hotels also offer these activities for their guests without any charges.
Also Read: Must Visit Places in Mauritius
Go On Teddy's Glass Bottom Boat Tour in Mahe
Another great activity to try here is the Teddy's Glass Bottom Boat Tour for people who aren't comfortable with underwater activities. This boat tour happens with Teddy and his crew who show you the underwater world through the glass bottom of the boat.
You will be able to see the coral reef, rainbow fishes, and other water creatures through the glass. Then, if you wish, you can choose to snorkel and see them even closer. After this, you will be taken to a secluded shore to relax and enjoy followed by a delicious BBQ meal.
Explore the Stunning Landmarks and Monuments Here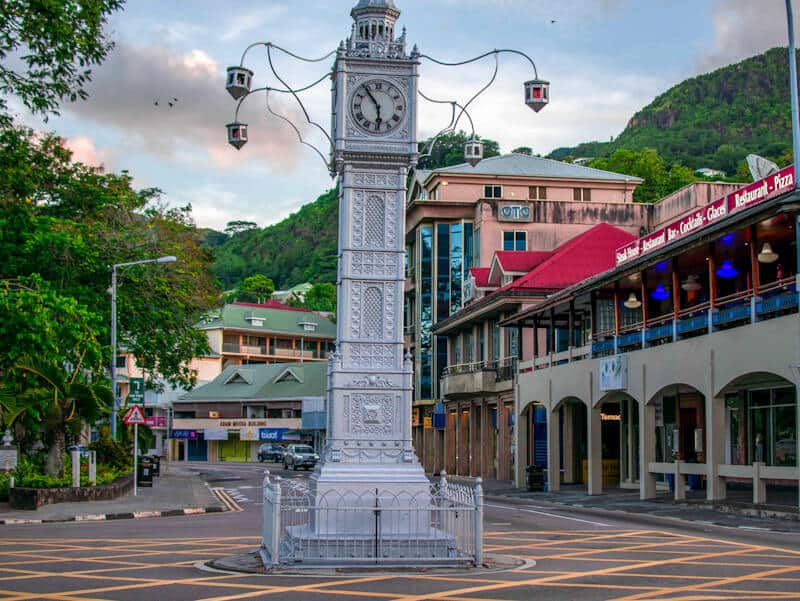 As Seychelles was colonized for over two centuries, there are several gorgeous monuments here that are worth a visit. There are around 30 monuments on this island nation that are protected due to their historic, architectural, or archaeological significance.
You will find most of these landmarks and Creole buildings on Mahe Island including the famous Clock Tower, Old Courthouse, Bicentennial Monument, State House, Mission Lodge, and so on. So, if you are looking for a chance to learn about the history of Seychelles, then one of the best things to do in Seychelles is to visit these monuments and learn the story behind their construction.
Summary
Seychelles is a beautiful country and I cannot emphasize how extremely gorgeous and full of stories it is. So, make sure that you spend sufficient time during your trip here and try to do as many activities as you can to get a proper feel of this magical place.
And if you are on a tight budget, then no problem because you can easily choose the activities that are free or won't cost a fortune. In the end, it is all about making memories and Seychelles is the best place to do that.