If I say Mauritius, what is the first thing that will come to your mind? Beaches? Resorts? Honeymoon destination? I know that Mauritius is often portrayed as this cliched vacation destination for couples and is deemed to be really expensive which is why a lot of us miss out on exploring this gorgeous country. But there are a lot of things to do in Mauritius for solo and budget travelers as well.
When I planned to celebrate my Mauritius trip, I heard all kinds of comments on how it is a couples' vacationing spot and how I should wait till I get married to actually visit here.
Yeah right, as if that was going to happen. Especially, since I got such an amazing flight deal through which I got to visit both Seychelles and Mauritius in just 49,000 INR.
Yes, you heard me right! I got my flight tickets for a journey of Mumbai – Seychelles – Mauritius – Mumbai in just 49,000 INR and I made the most of my time here both solo and with my best friend.
In this Mauritius travel guide, I will explain in detail about this African country and the budget so that you can plan an epic Mauritius trip and explore lots of places here on a budget.
Things to Do in Mauritius
Well, I would start the introduction of Mauritius by informing you that it is often known as 'Mini India' due to its 60% population being Indian. Apart from that, Bhojpuri is one of the predominant languages spoken here.
This country is the largest producer of sugar due to the numerous sugarcane fields that are planted here. This is so because this island is prone to frequent cyclones and only sugarcane plants fare well against them.
Mauritius was previously captured by the Dutch, French, and then finally the English but finally gained Independence in 1968. So, while 60% of the population is Indian, rest is made up of South Africans, French, Chinese, etc.
Most importantly, Mauritius is not just famous for its beaches but also has some magnificent waterfalls, hiking views, and unique attractions which makes this a popular island to visit.
Another great thing about Mauritius is that it is one of the safest countries in Africa, so you can easily travel here solo or with just a couple of friends. Trust me, once you land on this island, you wouldn't want to return at all.
Best Time to Visit Mauritius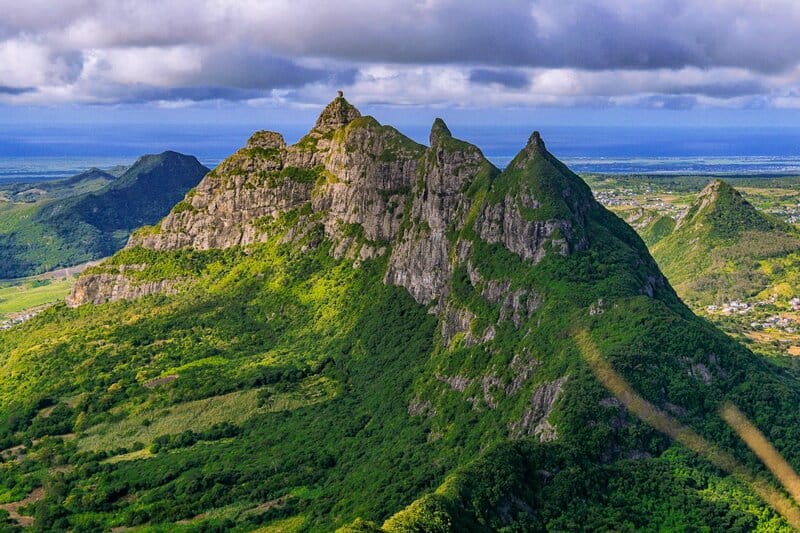 Although Mauritius is a year-round destination, it actually depends on what kind of landscapes you are hoping to witness. If you want to see Mauritius in its full glory, with colorful flowers and leaves covering all the trees then Summer (November – April) is the perfect time to visit. However, the temperature can be quite hot during this time so you have to be careful.
If you don't mind skipping the colorful season and would like to save some extra bucks, then plan your Mauritius trip during the winter season (May – October). The temperature remains cool and comfortable and you can indulge in most activities without too much effort. Just keep in mind that winter also means frequent rainfall in the area.
Now, for people who want to actually visit the various waterfalls in Mauritius, you will need to visit the place during the monsoon period, i.e., February and March.
12 Best Things to Do in Mauritius
Total Expenses: 600 MUR (1200 INR) for Snorkeling + 1300 MUR (2600 INR) for Dolphin Tour + 225 MUR (450 INR) for Chamarel Entry Fees
Snorkeling at Blue Bay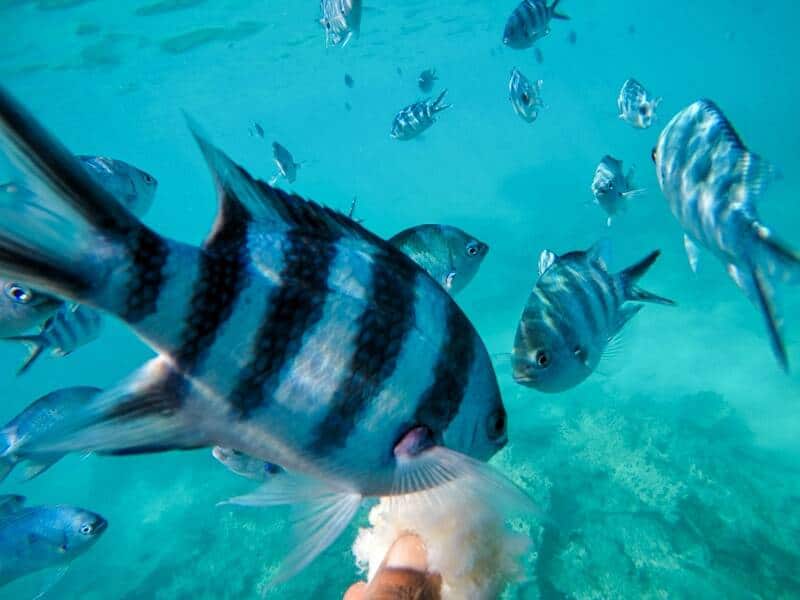 One of the best things to do in Mauritius is to experience Snorkeling in the Blue Bay area where you go in a glass bottom boat to witness the beautiful corals and fishes here. Trust me, this place is just filled with amazing, colorful corals and fishes which you would certainly enjoy.
Also, it costs 600 MUR per person for Snorkeling while two people can take the entire boat by paying a total of 1000 MUR.
Checking out the Flic en Flac Beaches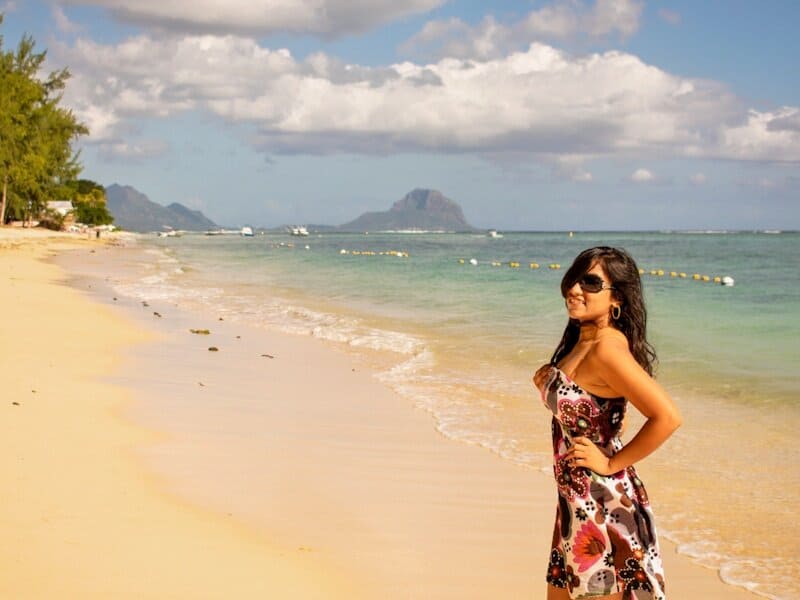 One of the most popular beaches in Mauritius is the Flic en Flac beach where you can easily spend a day just walking around. From here, you can walk to the Tamarin beach or just witness a gorgeous sunset.
Watch Wind Surfing and Kite Surfing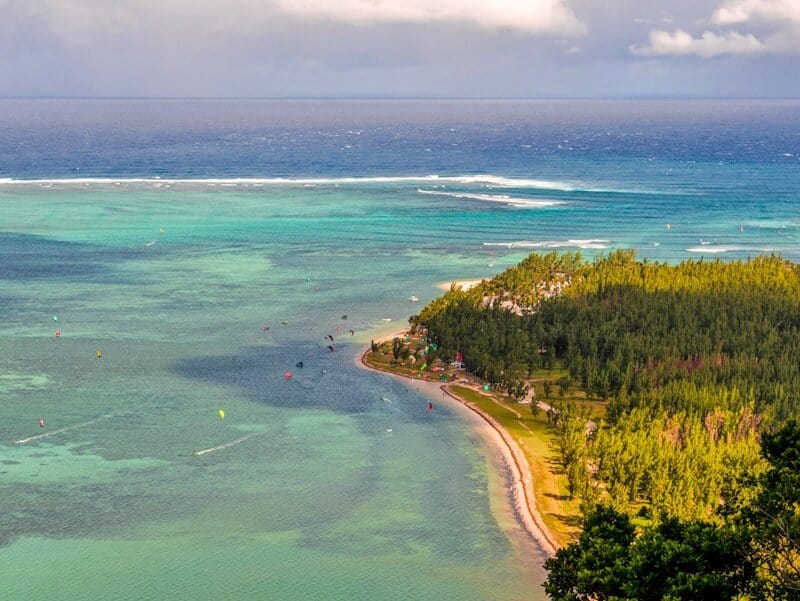 If you love water sports then you absolutely have to try Kite Surfing at the Le Morne Beach. If you don't know how to surf, then watching others surf is a great way to entertain yourself too.
This is one of the top things to do in Mauritius and you definitely don't want to miss out witnessing this amazing activity here.
Go for the Full-Day Dolphin Tour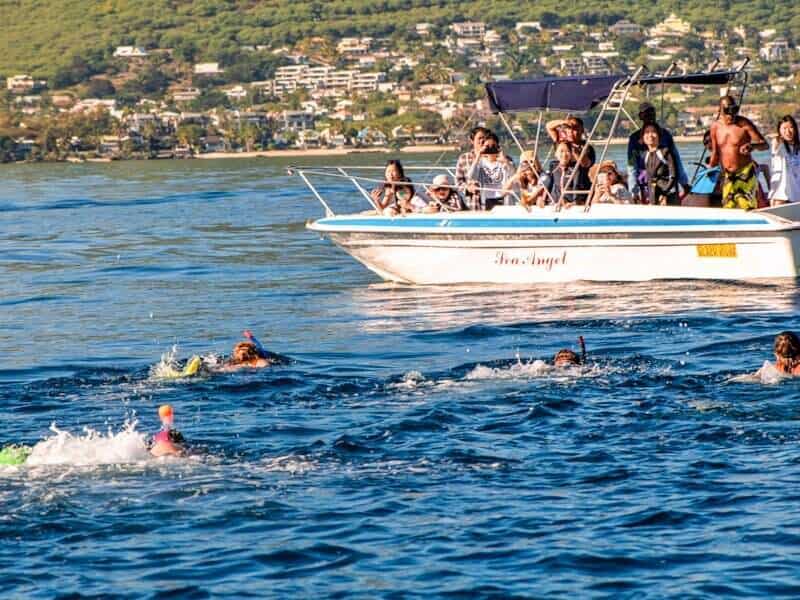 Another popular activity in Mauritius is to go for Dolphin Watching in which you get to look at different kinds of dolphins. If you are a good swimmer, then you can simply jump in the ocean and swim with the dolphins too.
A few packages also offer you snorkeling experience, island tour, and a BBQ lunch at the Bentiers island after the Dolphin watch. Trust me, this is a package that you have to take to experience a proper ocean day.
Chase Some Waterfalls on the Island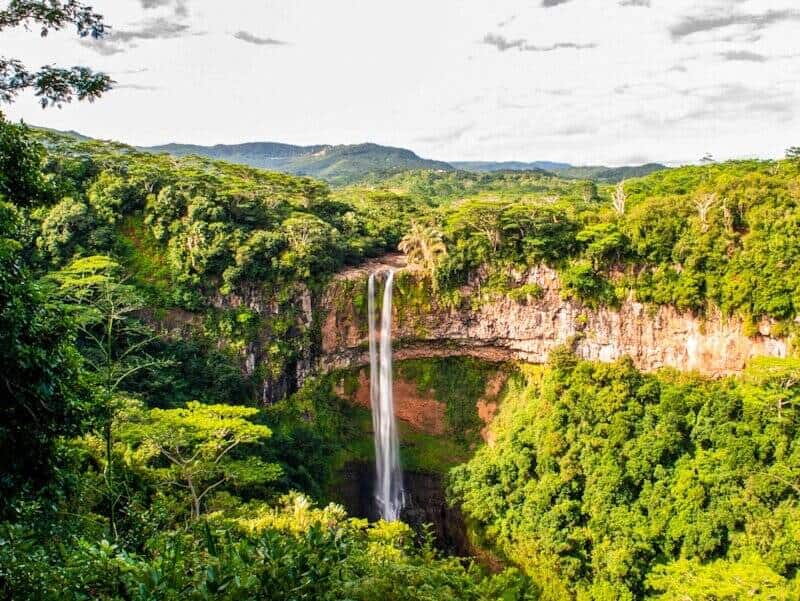 Yes, Mauritius is known to have many amazing waterfalls that you can explore and spend time at. There are Rochester waterfalls, Chamarel waterfall, Tamarind waterfall, Eau Bleue waterfalls, and so on.
One of the best things to do in Mauritius is spend a day hiking to these waterfalls and taking some gorgeous photographs. So, don't miss out on an opportunity to explore the most gorgeous waterfalls ever!
Party on a Weekend at the Grand Baie or Flic en Flac
If you love partying, then you have to head out to the Grand Baie during the weekend and truly experience the nightlife for yourself. Trust me, you are not going to be disappointed.
Hike to the Various Mountain Tops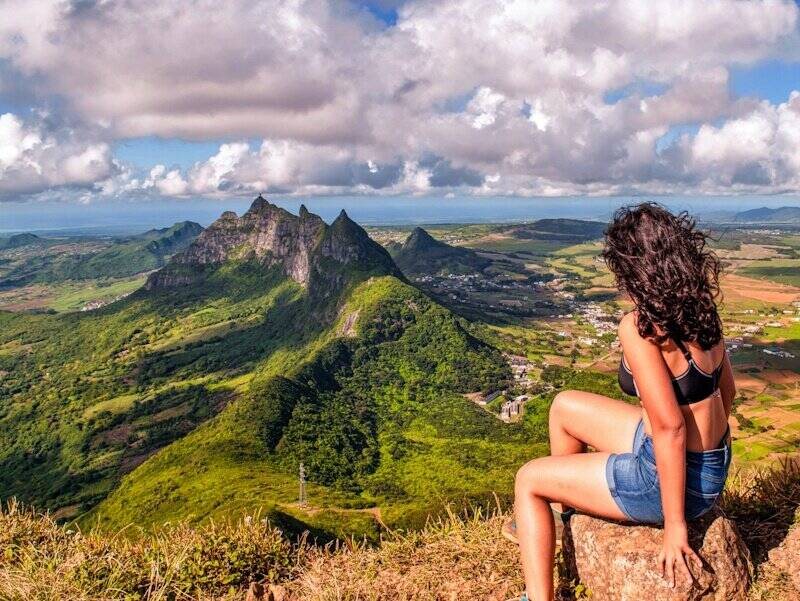 Apart from partying and beach hopping, Mauritius is also home to some amazing mountains peaks which can be easily hiked. We hiked to the Le Pouce (Thumb Mountain), Black River Peak (Highest Mountain Peak in Mauritius), and the Le Morne Mountain.
Trust me, you would love the hiking the view from the top which is why it is one of the most popular things to do in Mauritius.
Spend Some Time in the Sugarcane Fields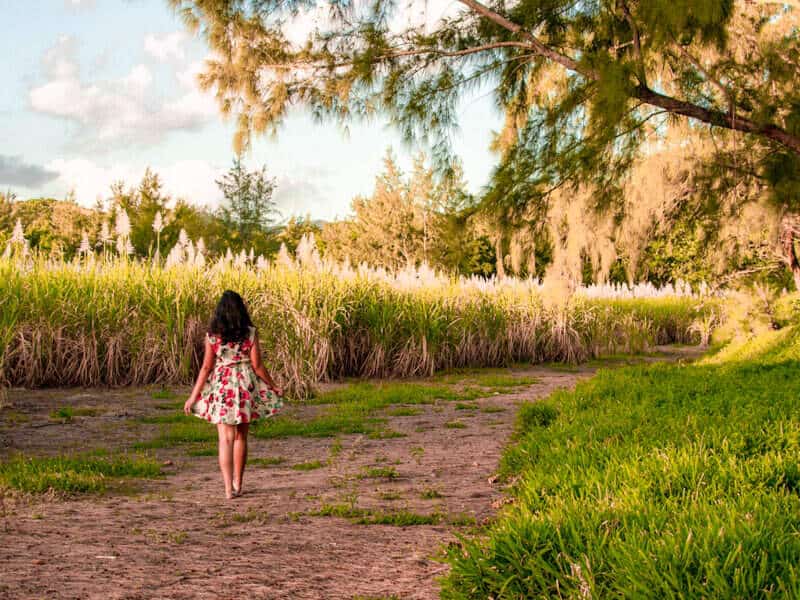 Mauritius is just filled with sugarcane fields so you wouldn't find it hard to enter one and just roam around a little. I, personally, loved just running through these fields and just twirling around. If you love it too, then you have to try it here. winks
Walk along the Volcanic Crater of Trou Aux Cerfs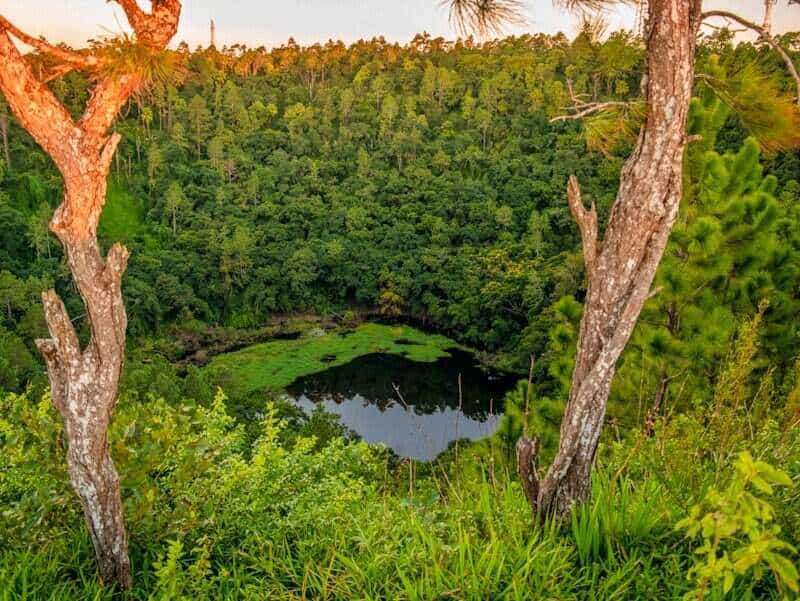 Yes, that is right! Mauritius has several dormant volcanoes that you can access and check out. One such popular volcanic crater is Trou Aux Cerfs, situated in Curepipe, which you can access by walking. From here, you can watch the sun going down too which is really enchanting.
Drive along the Coast Lines of the Island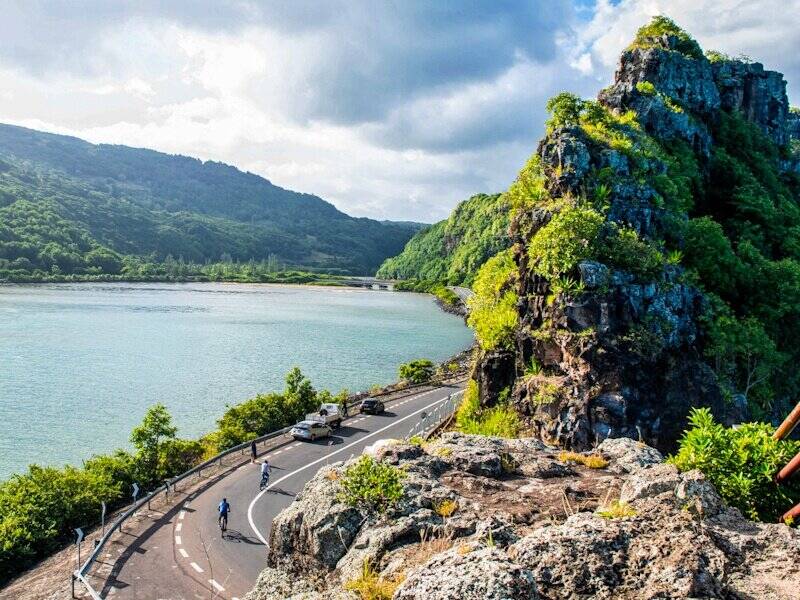 One of my favorite things to do in Mauritius was driving along the coastal area and enjoy the gorgeous ocean views on the way. Trust me, there is no better feeling than just driving along the coastline while watching the ocean pass you by.
So, if you have a car or a scooty rented here, make sure that you just go for a drive along the coast to truly enjoy this island.
Visit the Seven Colored Earth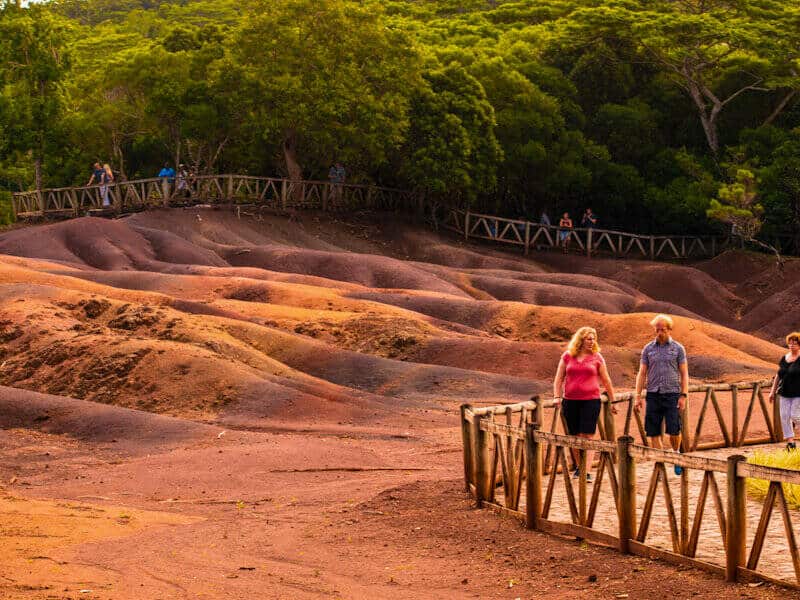 A unique activity that you can do in Mauritius is to visit the Seven Colored Earth, aka the Chamarel Land. Here, you will see the land with stripes of yellow, orange, red, violet, indigo, green, and blue which makes this place really gorgeous to look at.
Watch the Underwater Waterfalls From a Helicopter
Most importantly, if you ever visit this place, make sure you check out the Underwater waterfalls with the help of a Helicopter package. Yes, it will be expensive but it is so worth it. We were unable to do it because we didn't have the time but we highly recommend this activity to everyone else.
Also Read: What to Do in Seychelles
Visa and Currency Information
Total Expenses: ATM Fees (Approximately 500 INR)
Visa and Customs
Travelers from most of the countries don't need a Visa to enter this country but there are still many countries that need to get a visa prior to their arrival. People of a few countries can also get VOA for 60 days, you can find more information on this over here.
Since Indians don't require a visa to enter Mauritius, the whole process is fairly simple. You should just have the following information with you to present to your immigration officer:
Return Flight Ticket Details
Address and Phone Number of the place where you are staying in Mauritius
Purpose of your travel
When you are at the immigration counter, you are likely to be asked a lot of questions pertaining to your travel. Don't worry, they are just trying to determine if you are planning to settle there or not.
Apart from the customs declaration form, you will also get another Health Declaration Form. In this form, you will need to declare any illness or disease that you might be suffering through, especially Malaria.
Note: Since Mauritius has completely eradicated Malaria, they are quite strict about their health code.
Once you clear the customs and everything, you can proceed to your accommodation.
Next day, your place of stay will get a call regarding your Malaria test and a government official will come to take your blood sample for the same. They will verify that you have no Malaria, if you do then they will deport you back.
Currency Accepted Here
The official currency used in Mauritius is the Mauritius Rupees which is used all over the island. This is the only currency which is used here so you can either get your currency exchanged or you can simply withdraw the money from a local ATM.
ATMs Availability in Mauritius
There are several ATMs in Mauritius, all over the island which dispense the local currency. You will most prominently come across MCB (Mauritius Commercial Bank) ATMs which accept the Visa cards for withdrawal of money.
Sim Card and Internet Options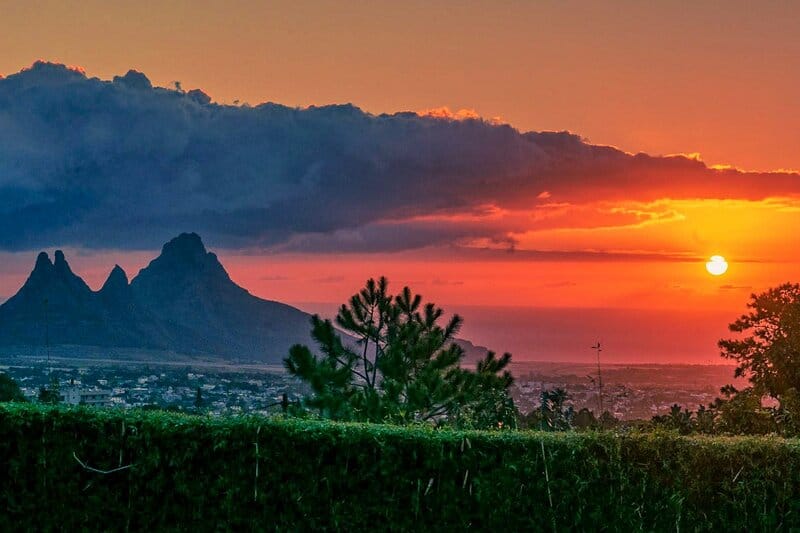 Total Expenses: 50 MUR (100 INR)
Sim Card Options in Mauritius
You will find two widely used Sim card options in Mauritius: Matrix and Emtel. Personally, I got an Emtel Sim card from my Couchsurfing host which was lying around uselessly so, I didn't have to purchase it. I just needed to activate it with a 50 Rupees recharge and I was all set for the coming month.
If you purchase an Emtel Sim card, it will cost you 100 MUR (200 INR) including 87 MUR talk time. You can then recharge it from any of the local Emtel vendors.
Where to Get the Sim Cards
You have two options for getting your sim cards: at the airport, or from a local Emtel store.
Outside the arrival section, the Emtel seller will be available where they would request a copy of your ID to issue you a Sim card and activate it.
Note: If you don't wish to purchase it from the airport, then you can simply go to any shop which has an Emtel board stuck to its front door to buy the Sim card.
Internet Availability in Mauritius
One good thing about Mauritius is that you will come across Free WiFi at numerous places on the way. Most of these open WiFi networks don't require a phone number and can be accessed by everyone.
However, a few WiFi networks like Mauritius WiFi require you to enter your Mauritius phone number to access the Internet.
You will get free WiFi at eating places like Pizza Hut, Mc Donald's, KFC, etc. and bus stops that can be used by anyone.
Food Options in Mauritius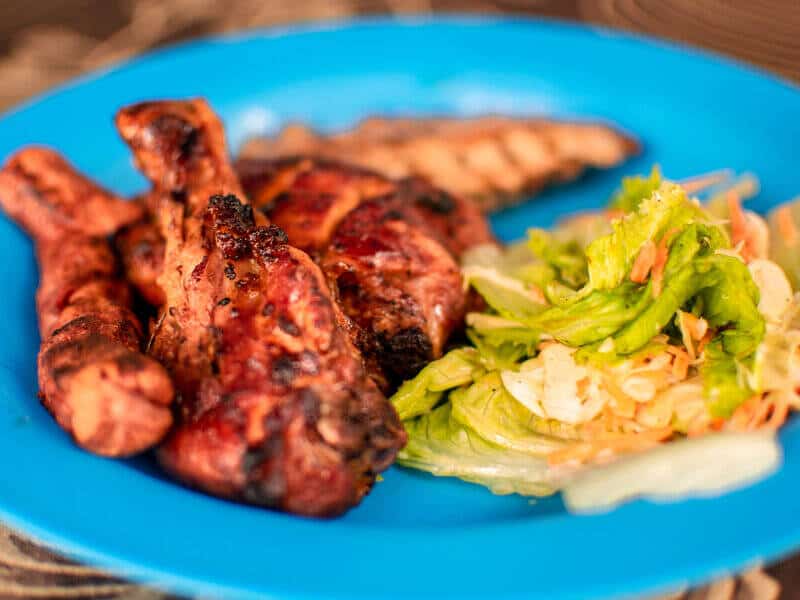 Total Expenses: 3500 MUR (7000 INR) approximately
In Mauritius, you will find both vegetarian and non-vegetarian options so you don't have to fret too much. You will find all kinds of food here but if you want to try the Mauritius cuisine, then you have to try the Curries here.
Restaurants
There are several restaurants here which serve Chinese, Indian, and other Continental cuisines but most of these places will be expensive. A decent meal here would cost you about 350-500 MUR per person.
Takeaways
If you are visiting Mauritius on a budget then getting takeaways will certainly be a smarter option. In takeaways, you will get curries with rice or you will get Roti Rolls.
Roti Rolls are quite popular in Mauritius and will cost you barely 15-30 MUR per roll while being extremely filling.
Another popular dish that you would find in Mauritius is boiled or fried noodles which will cost about 60-70 MUR depending on the place.
Snacks
You will also get different kinds of snacks here like Samosas, Dal Puri, Gajak, Sweet Potato Cakes, and so on. All of these things are delicious and some are also of Indian nature so, make sure you try them. These snacks would be cheap and would cost you about 5-10 MUR per piece.
Self-Cooking
If you want to further save some money then cooking your own meals here would be certainly a great way to do that. You can purchase the groceries from the supermarket or take some ingredients from your country itself.
We saved a lot of money by preparing food ourselves and was able to spend just 1500-2000 MUR for my entire stay (25 days) on this lovely island.
Where to Stay in Mauritius
Total Expenses: 750 MUR (1500 INR)
To be honest, I guess the best way to save is by choosing your accommodation carefully. Luckily, I had found Couchsurfing hosts for my entire stay on this island so I saved on the accommodation costs. However, if you are unable to find a host, don't worry because there are other ways to reduce your accommodation cost here.
Couchsurfing
As I mentioned earlier, I found great hosts here who let us stay for the 25-days duration so we didn't have to spend anything for our stay. Mauritius has many Couchsurfing hosts so you shouldn't find it hard to get one for your own stay over here.
Self-Catering Apartments
In case, you don't get a Couchsurfing host then you can always check out self-catering apartments. This is a great option for people who are traveling in groups or with their families as you get an entire apartment for just 1500 MUR.
Here, you can cook your own food to save some additional bucks. We booked anapartmentt for a one-night stay in Grand Baie and it cost us 750 MUR each.
Airbnb
Another great option would be to check out a place via Airbnb. I remember that when I was searching for a place to stay in Mauritius, I had come across several properties which charged 700-800 MUR per night.
Hotels/Resorts
Frankly, I didn't come across a lot of hostels in Mauritius so I can't really recommend it to you. However, there are numerous hotels and resorts here which could cost you about 1500 MUR per night if you book them during a low season and a few months prior to your arrival.
But, if you are looking for a budgeted vacation then I would advise you to stay away from hotels and resorts and instead, opt for Airbnb.
How to Travel Around Mauritius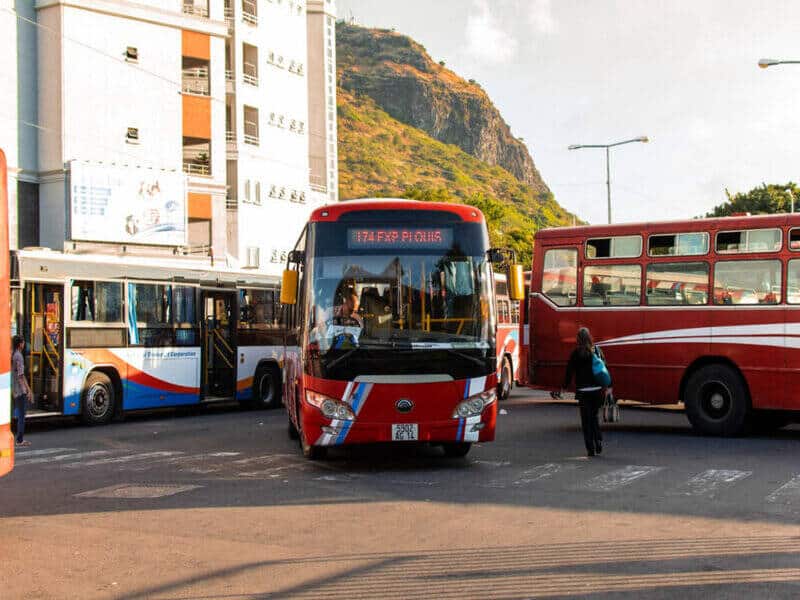 Total Expenses: 500 MUR (1000 INR) for Scooty + 200 MUR (400 INR) for Petrol + 800 MUR (1600 INR) for Buses
The entire length of the Mauritius island is about 65 km which makes it easy to reach from South to North in about an hour. There are several modes of transport available here which makes exploring this island quite convenient.
Public Transport
The best way to travel around Mauritius is by taking buses which cover almost the entire island. You will get buses for all the four directions and their official Mauritius Bus website can help you find the route and the bus timings.
Curepipe is the center point of the island so you will get buses to all the directions from this place. From Quatre Bornes, you will mostly get buses for East, Curepipe and Port Louis.
From Port Louis, you will get buses to the North and the North East side.
Also, remember that Port Louis has two bus stands. One consists of buses for North direction while the other consists of buses for South and Center direction. A bus will cost you about 35-40 MUR for the last bus stop but it will take longer to reach the destination.
You will need to press the buzzer before your bus stop to signal that you need to stop here.
Cabs and Taxis
You will also get several taxis and rental cabs here for exploring the island but these are going to be really expensive. They will cost you about 2000-3000 MUR per day, at the very least.
Renting Cars/Two-Wheelers
If you have a valid driving license then you can also rent a scooter/car here. You will find several rental shops on the North side or online.
For scooty rental, you can check out Scooter shop near Flic en Flac beach. Here, a scooty for a day will cost you 500 MUR with 3000 MUR deposit.
Make sure you check the Insurance papers thoroughly before renting the vehicle.
Hitchhiking
Yes, you can totally hitchhike here and save some money. Most of the people here are friendly and don't mind dropping you on their way and you can learn more about their culture and life this way.
Also Read: What to Explore in Seychelles
Important Tips for Traveling in Mauritius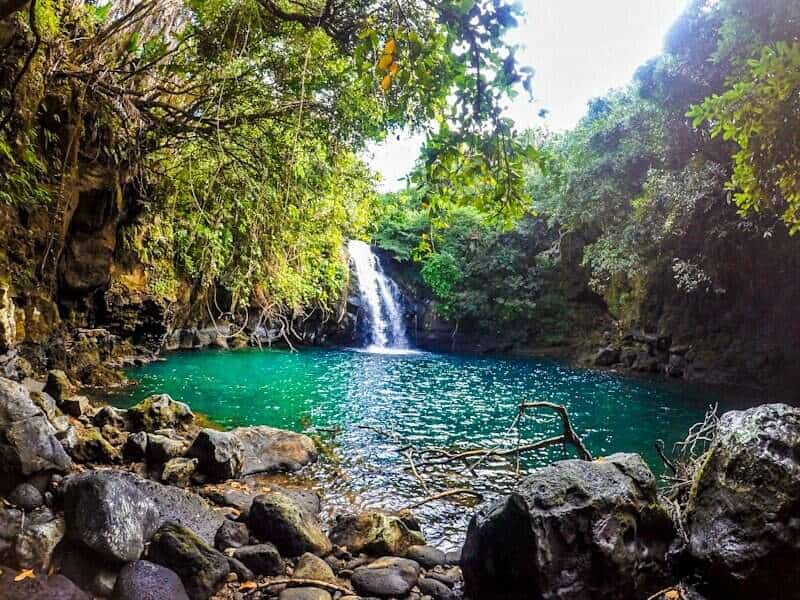 Here are a few tips that can help in making your Mauritius travel smoother.
1. Download the Offline Maps for Easier Navigation
Mauritius can be easily navigated with the help of Offline maps if you don't wish to get a Data Pack. Just download the Offline Maps app and save the Mauritius map. Then, turn on your Location setting and explore the island safely and conveniently.
2. Get a Jacket for Winter Season
During the wintertime, the temperature can fall down to 10-15 degrees Celsius in the center of the island. So, make sure that you carry a jacket to protect yourself from the cold temperature.
3. Get a Sunscreen to Protect Your Skin
Since Mauritius is situated at the Tropic of Capricorn, the sun tends to stay in the sky for a longer time. As a result, your skin will suffer more if you don't take the necessary precautions. So, it is important that you take a sunscreen to protect yourself from the harmful UV rays.
4. Avoid Riding a Scooty During the Night
Tropic Another important thing to note is that there are barely any street lights on the coastlines or the mountain roads here. So, during the winter season, driving the scooty at night can be slightly cumbersome. Try to reach your area by 6.30 p.m. to avoid having to drive in pitch darkness.
5. Don't Speed While Driving Here
Yes, this is really important because most of the roads here are curvy and speeding could end up in a fatal accident. So, be careful while driving here and try to maintain a normal speed so that you don't face any trouble while braking.
6. Bargain Before Purchasing any Souvenirs
You will come across amazing goods and products in Mauritius but if you aren't adept at bargaining, then you will end up losing a lot of money. You can buy here coral, pearl, wooden, etc. products but practice bargaining skills before you venture out to the market.
7. Get a Good Travel Insurance
A good long term travel insurance is important if you are planning to stay here for a long time. Make sure that your insurance covers thefts, delays, medical issues, etc. And do read the document carefully before purchasing the insurance. If you don't, you might end up being stranded and money-less in another country.
8. Check Out Different Rentals and Excursion Companies
Similar to bargaining in the market, don't hurry and book the first package or rental that you come across. Do a thorough research and only select the company which provides the best features to you. For our dolphin watching package, we consulted 3-4 different excursion companies before selecting the one which cost 1300 MUR for the entire day.
9. Take Energy Drinks and Bars while Hiking
There are numerous hiking spots in Mauritius and some are more secluded than others. This is why it is always better to carry some drinks and protein bars with you to keep yourself hydrated and energized. You won't find any food stall in at the top of the peak so, be prepared when leaving your house.
Mauritius is a gorgeous and highly affordable country which we definitely recommend you to visit. Want us to add something else in our Mauritius travel guide? Then, let us know if the comments below! 😀