When I first planned to visit Mauritius, I didn't think too much of it. All I was focused on was my trip to Seychelles as I had seen amazing pictures of this place. This is why I didn't spend too much time planning Mauritius. Well, I got my first surprise 30 days before the Mauritius trip when I stumbled upon images of Chamarel and the Underwater Waterfall. That's when I realized that there are some amazing places to visit in Mauritius that I didn't know about.
That was the first time I realized that well, maybe, Mauritius wasn't a bad idea at all. Still, it was nothing compared to the joy and satisfaction that I actually felt once I was on this island. The moment I landed here I knew that this is a special place. The clear blue sky, the long highways, and the sugarcane fields on both sides of the roads made this place unlike any I have seen before.
Mauritius, in my opinion, is one of the most underrated places in the world because it has been termed as a honeymoon spot. What people don't realize is that there is a lot to do in Mauritius other than beaches and coastline.
So, in this article, I have listed some of the most amazing places to visit in Mauritius so that you can make your Mauritius trip a wholesome experience.
Best Places to Visit in Mauritius
I have listed down the best places to visit in Mauritius including the ones which stole my heart and made it extremely difficult for me to return.
I hope you add these places to your Mauritius itinerary too when visiting this gorgeous island.
Trou Aux Cerfs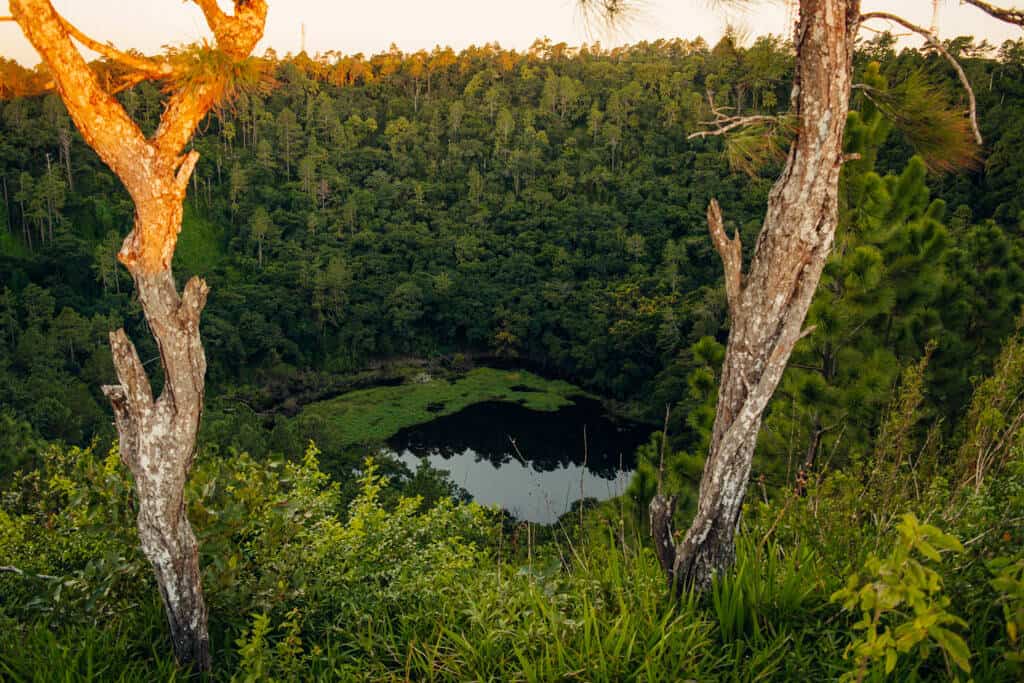 One of the most popular places to visit in Mauritius, Trou Aux Cerfs is a dormant volcano in the Curepipe region. Lucky for us, we were staying just 1 km away from this place so, we were able to walk here several times during our stay.
The air is cooler around this area and this crater forms the highest platform in the central region of Mauritius. As a result, you can witness some really gorgeous sunsets and landscapes from here. A lot of people come to this crater for jogging or walking around and spend some time looking at the city from here. You can also hike to the bottom but apart from the lake, you won't find anything else here.
We have included this place in our post because it is a great place for just walking about and watching the evening sky.
Blue Bay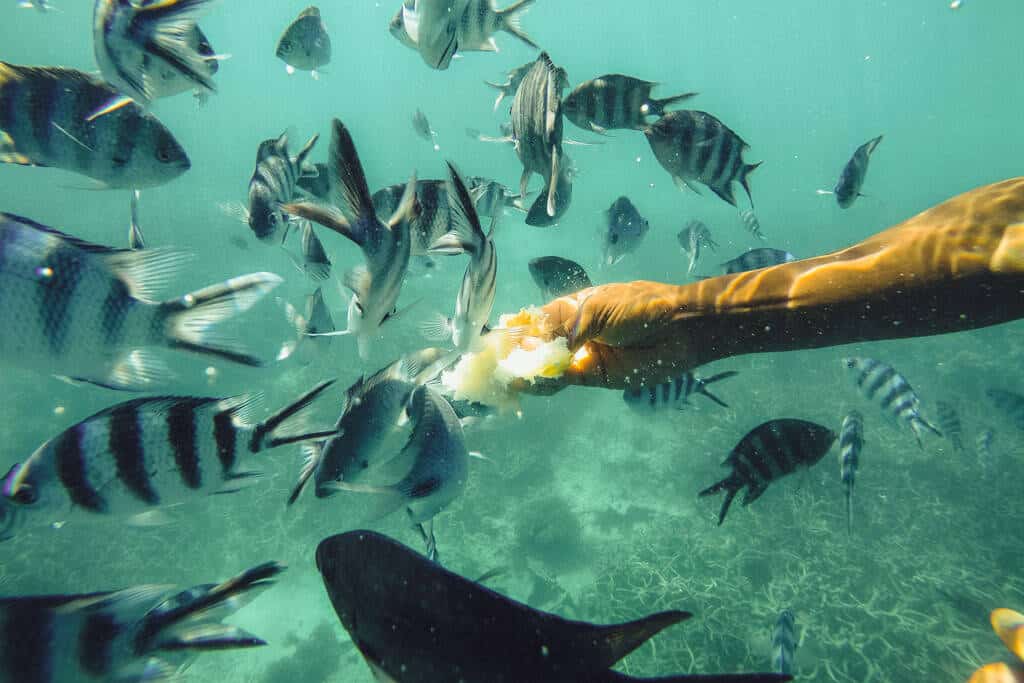 The next place to visit in Mauritius on our list is the Blue Bay waters which are famous for the Glassboat trips and Snorkeling trips. Here, you will come across a huge variety of corals and underwater animals which will leave you completely mesmerized.
The cost for two people on an entire boat is 1000 MUR while it is 600 MUR if you share it with 2 other people. You can easily spend 3-4 hours here, just looking and swimming with the fishes and looking at the beautiful corals that cover the seabed here.
This place lies in the East of the island and is barely 10 km from the Mauritius International Airport.
Pointe d'Esny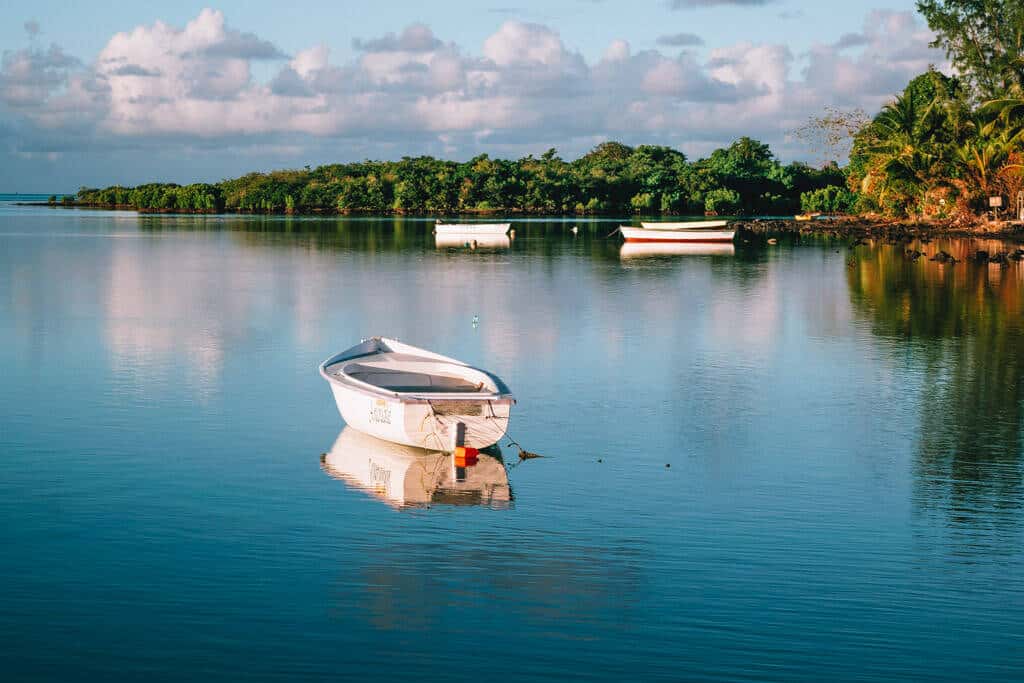 Another one of the popular places to visit in Mauritius that you cannot miss out on is the Point D'Esny. It is undoubtedly the most gorgeous beach stretch and the water here is pristine and clear. In fact, Flic en Flac doesn't hold a candle to the clearness of the water here which makes it a great spot for swimming.
So, if you are looking for some quiet time in the sea where you can see the ocean bed clearly then Point d'Esny is the place to go.
Rochester Waterfalls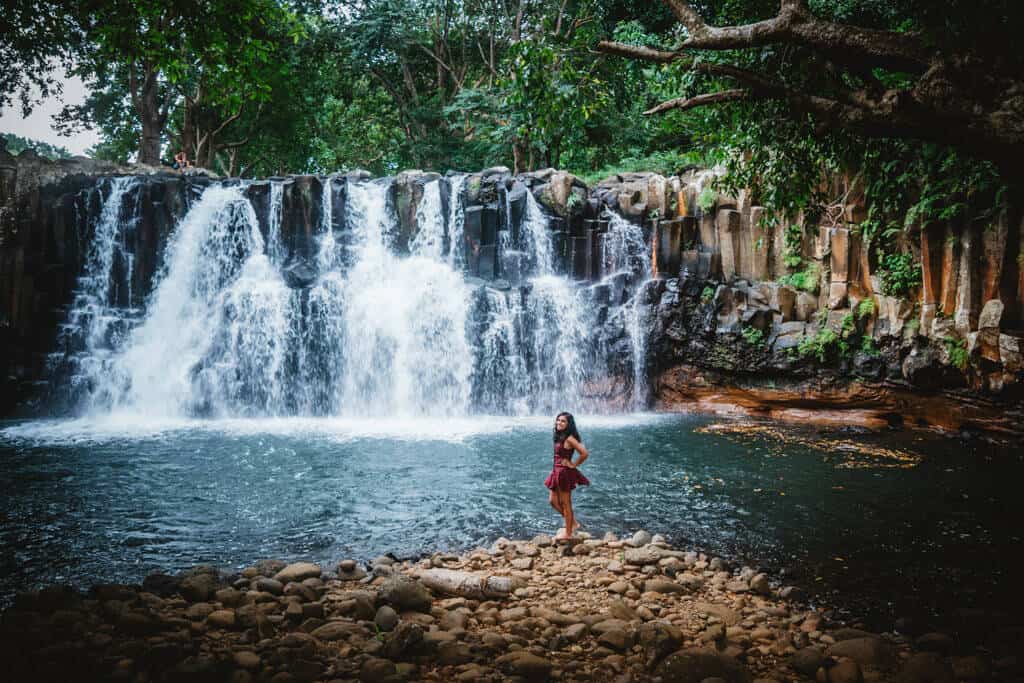 One of my favorite waterfalls and the top places to visit in Mauritius is the Rochester waterfalls, a quiet place to spend an entire day at. Reaching this place is slightly tricky but completely worth the effort. You can trek to the top of the waterfall and just walk on further to see the water flowing.
You can also take a dip in the cold, clear water at the foot of the waterfalls. If you are into photography, then you would love to take some really amazing long exposure shots with your camera equipment.
Le Morne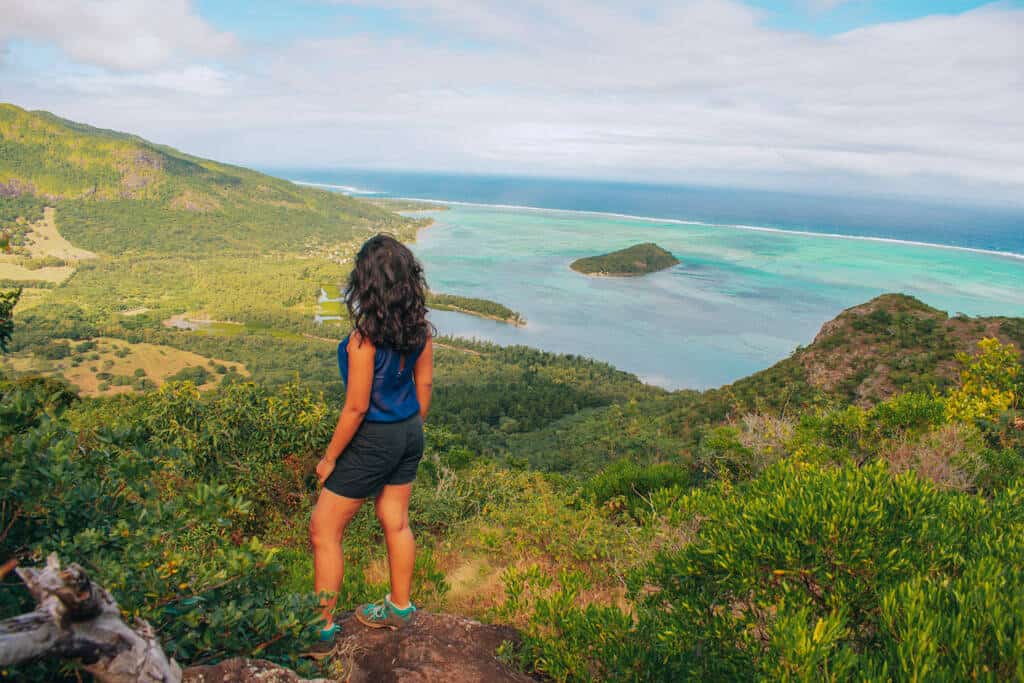 One of the UNESCO Heritage sites in Mauritius, Le Morne is one of the best places to visit in Mauritius if you love mountains or beaches. For the mountain lovers, you have an exciting hike which will take you to the top from where you can see the Underwater waterfalls on a clear, sunny day.
If you are a beach lover then fret not, because there is a really amazing beach here too where you can see people doing kitesurfing or windsurfing. You can spend an entire day here, first hiking the mountain then watching the sunset at this beach in Mauritius.
This is why it has a special spot on our list of best places to visit in Mauritius.
Eau Bleue Waterfalls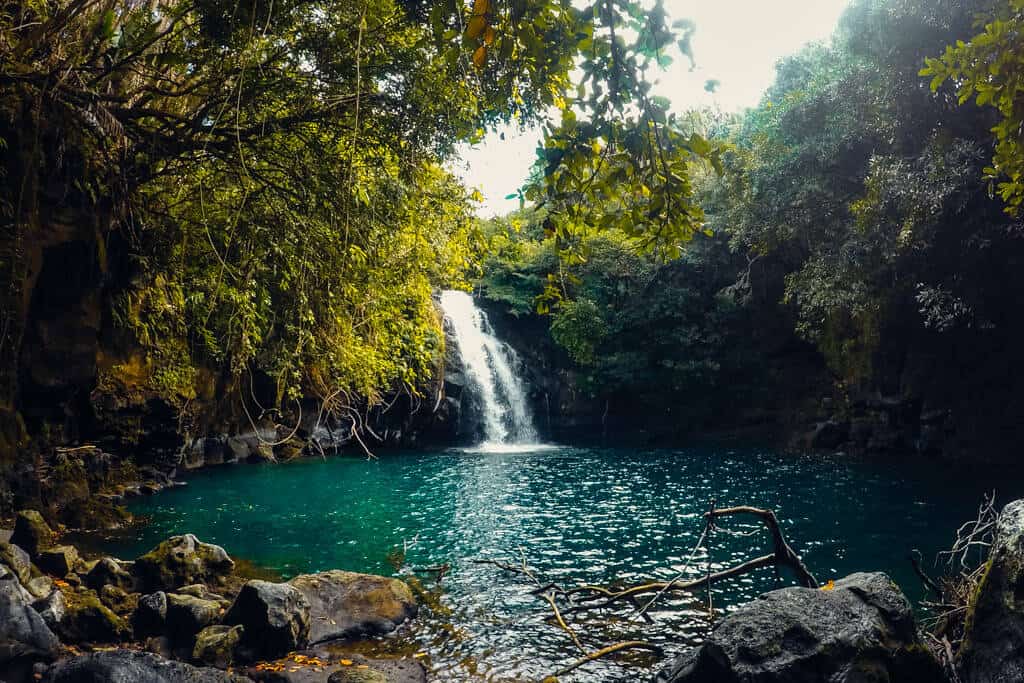 This is one of the offbeat places to visit in Mauritius which is why we were absolutely in love with it. In order to reach here, you have to take a bus to Eau Bleue and then walk 1.5 km. Then, suddenly there are a few steps in the mud that will lead you to this waterfall. It is not easy to find this place but once you do, it is completely worth the hike and the walk.
Here you will find 4 waterfalls, if you are lucky and if there was a great monsoon period. You can hike to all 4 waterfalls and just relax on the rocks around it. The water is seriously turquoise blue here which makes this place even more gorgeous and magical.
Trust me, you don't want to miss this place in Mauritius at any cost.
Flic en Flac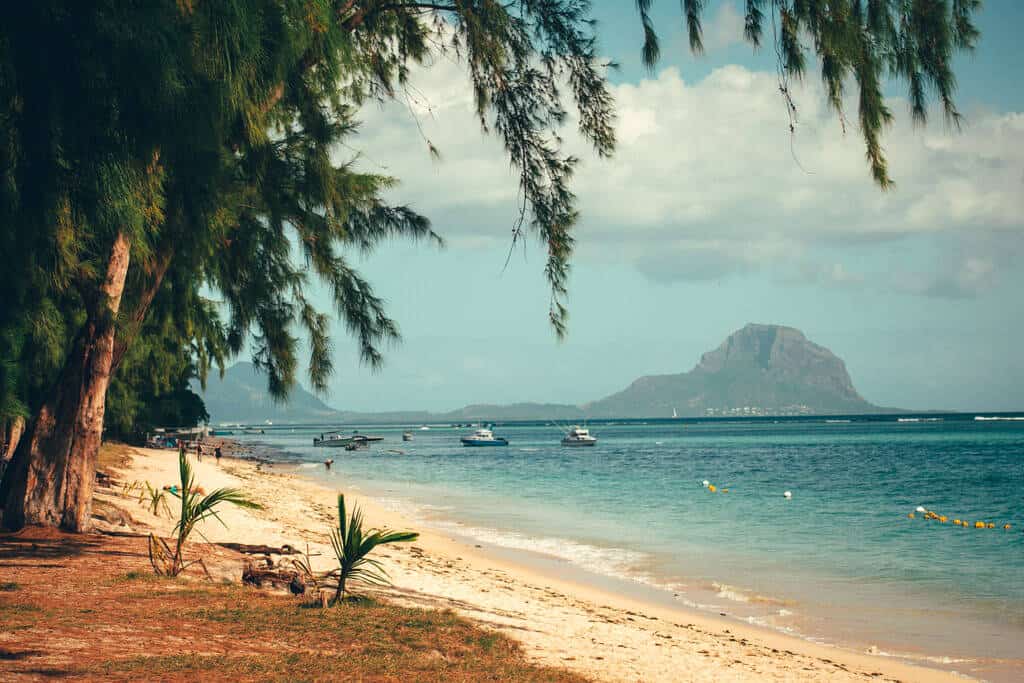 Flic en Flac beach is one of the best beaches in Mauritius and is known to be the second most popular tourist destination after Grand Baie. Here, y0u will find many amazing beach resorts and h,otels and is a great spot to watch the sunset.
You will also find here many excursion companies which will offer you a Dolphin full-day package which will include watching the dolphins, BBQ lunch, trip to the Bentitiers island, and swimming around the Crystal Rock. Trust me, this package is completely worth it and we got it for 1300 MUR per person.
So, do spend some time here and indulge in some water excursions to enjoy Mauritius completely.
Chamarel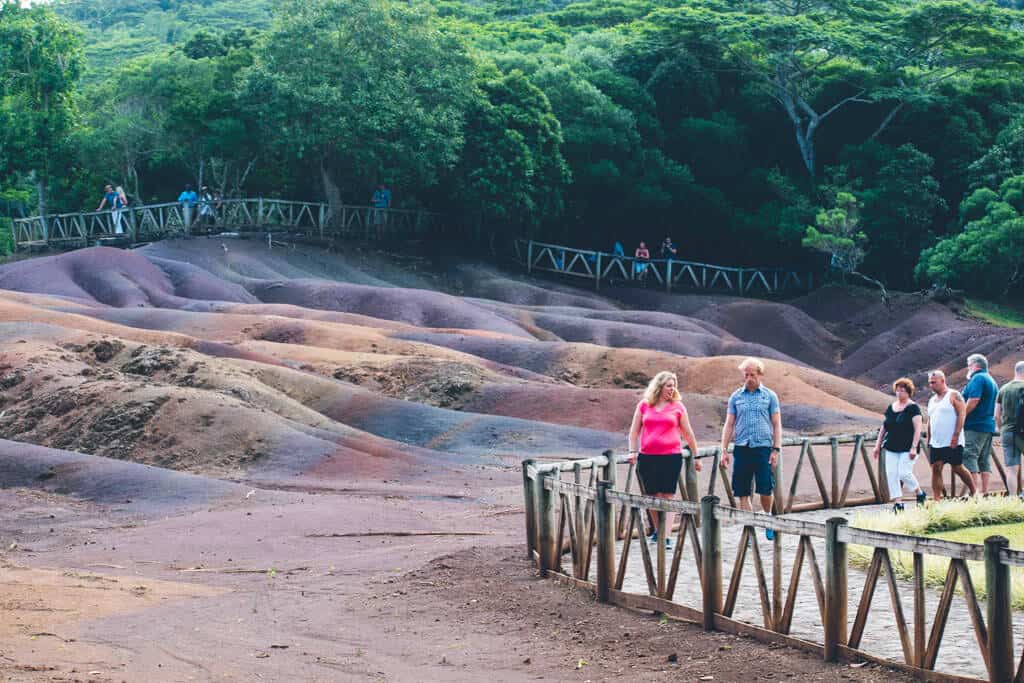 Another interesting place to visit in Mauritius is the Chamarel Seven Colored Earth enclosure. Here, you can actually see the land displaying 7 color shades which looks extremely magical and beautiful. The entrance fee for this place is 225 MUR per person and you can find a direct bus to this place which makes it easily accessible.
Apart from the Seven Colored Land, you can also check out the Chamarel waterfall which is 272-ft high and looks really magnificent from the upper deck. You can also hike to the bottom of this waterfalls but you would need an experienced guide to accomplish this feat.
Bel Ombre, Savanne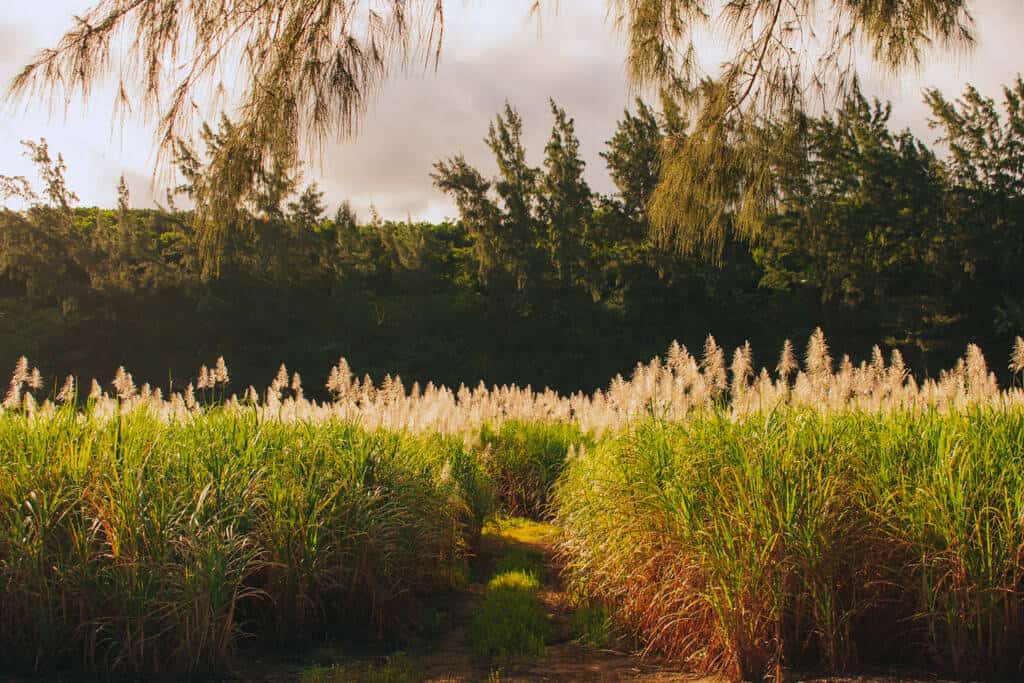 If you are a nature lover then exploring the sugarcane fields in the Bel Ombre region is a must. I don't even need to tell you the exact location of this place because you would recognize it yourself. Just drive along the South Coast of Mauritius and you will come across a stretch of palm trees and sugarcane fields.
This place looks especially beautiful during the evening because the sugarcane plants reflect the sunlight and turn a beautiful shade of grey. You can just picnic here for a while and explore the sugarcane fields to get a real fairytale feel.
Black River Gorges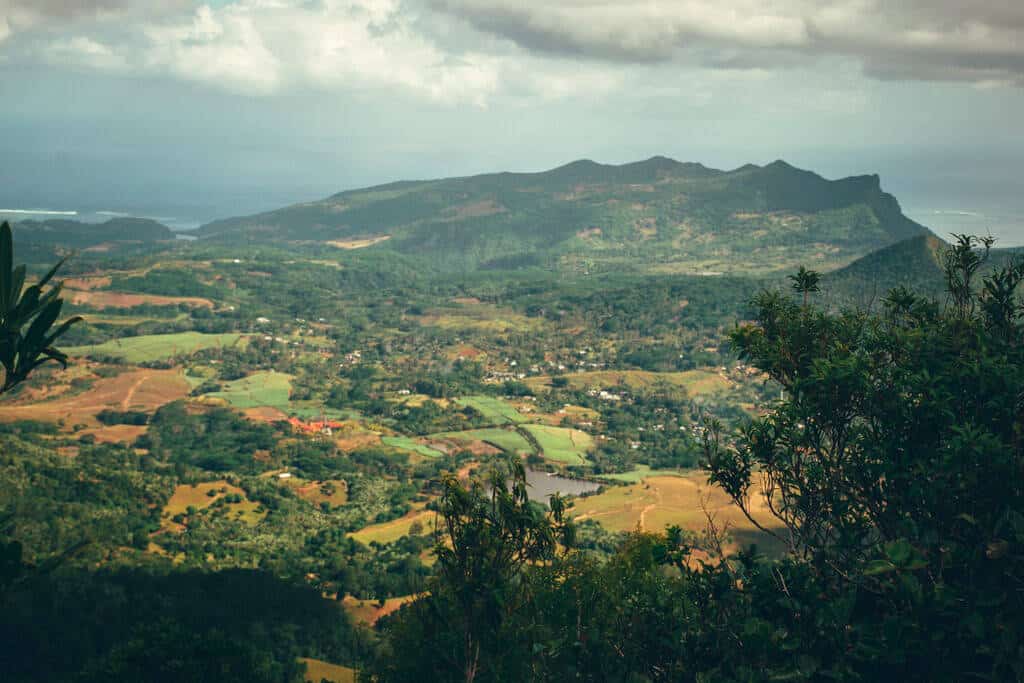 Black River Gorges is one of the most prominent mountain ranges in Mauritius and covers nearly 1/3rd of the island. This is one of the best places in Mauritius for all the hikers as you have so many mountain peaks to cover. The highest mountain peak is the Black River Peak. From there, you can see the entire mountain ranges and the Le Morne mountain as well.
The hike to this peak is actually easy and can be accomplished by first-timers too so, don't hesitate to give it a try. However, make sure that you have proper trekking shoes as you need to climb with the help of ropes at the end of the hike.
Le Pouce Mountain
This is one of the most exciting hiking places in Mauritius because the end part requires actual rock climbing skills. This mountain is shaped like a thumb which is why it is also known as the Thumb Mountain. So, while 3/4th of the hike is a piece of cake, the end stretch will definitely test your determination. However, once you reach the top, you would be able to witness one of the most amazing views ever.
The wind will blow hard but everything will be worth the effort. So, if you aren't afraid of the height then this is the perfect mountain to hike.
Grand Baie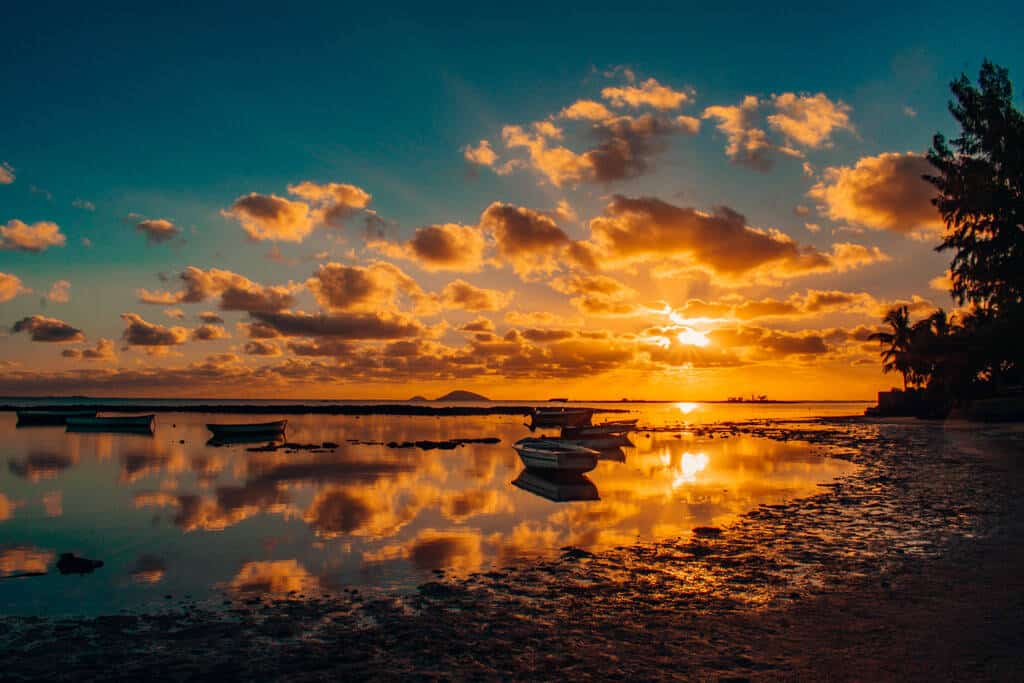 One of the most popular places to visit in Mauritius, Grand Baie is the main spot for tourists. This is the place where everyone comes on the weekend to just party and shop. So, if you are looking for some exciting nightlife then head to this place over the weekend.
Apart from the amazing nightlife, this place is also a great spot to view the sunset. But, you would need to get up early in the morning and take a bus to reach the northmost beach in Mauritius.
Summary
Frankly, by the end of my Mauritius trip, I didn't feel like returning at all. All these places in Mauritius just made me fall in love with this small island, making it hard to leave. I hope that you do visit a few of these places and experience the beauty of this island for yourself.
Also Read: Amazing Places to Explore in Seychelles