Mahe is one of the most scenic places to explore in Seychelles and is undoubtedly the biggest one too. If you wish to enter Seychelles then you will need to land at Mahe and then make your way to the other islands which are a part of Seychelles.
While I might not describe it as the most gorgeous island in Seychelles (La Digue would be the clear winner here!), it certainly has more activities for travelers to indulge in and places to visit.
With the help of this itinerary, you can explore Mahe to the fullest and can be sure not to miss out on an amazing experience.
Mahe Island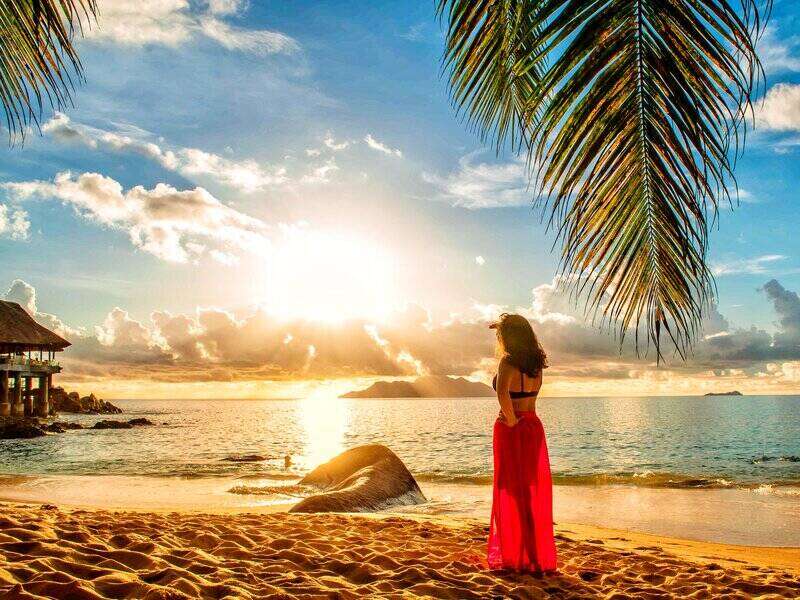 One of the major islands in Seychelles' archipelago of 115 islands, Mahe accommodates 86% of the total population of this nation.
With an area of 157.3 km square, it is also the largest island of Seychelles. And it is the home to Victoria City which is also the capital of this nation.
Named after a French governor of Mauritius, Mahe Island also houses the Seychellois International Airport which was opened in 1971 for tourists to arrive via flights here. And there is a huge variety of places to visit here which will easily take the better part of a week.
Mahe Island 7-Day Itinerary
From rewarding viewpoints to hiking trails to white-sand beaches, Mahe has a lot to offer in terms of activities. This is why you should definitely put aside 2-3 days in your Seychelles itinerary to explore this major island.
And here is how you can make the best of your time here if you only have 1 week at hand.
Day 1: Reaching Seychelles and Exploring Victoria City
On your first day of Seychelles Itinerary, the main focus is on reaching here and then exploring the capital city. As I mentioned earlier, Mahe is home to the Seychellois International Airport so this will be the first stop on your journey here.
There are many flights all over from Europe, Asia, Middle East, etc. to Seychelles. So, you can easily find one in your budget. Once you have reached Mahe, you need to check-in to your hotel/hostel. After that, spend the day just exploring the capital city of Victoria.
The best thing about Mahe is that everything is connected by a good bus network. So, you can take a direct bus to reach Victoria City from the airport. The cost for this journey is just 7 Seychellois Rupees which will take around 40-45 minutes.
There are also taxis and cabs here to take you to different corners of Mahe Island but they will obviously be expensive.
Note: The bus doors in Seychelles are small. So, if you have huge luggage, you might face difficulty in boarding it. This could get you some evil looks from the other passengers who might not want you to board with your huge luggage.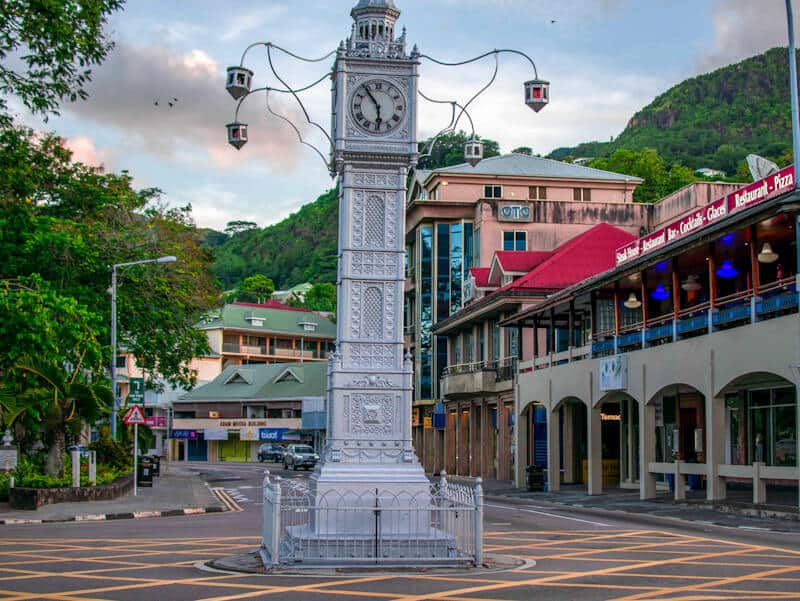 Victoria City
After you have checked-in to your accommodation and freshened up a little, you can head to Victoria City to spend a day here. Established by the British to govern Seychelles, Victoria City is best known for its vanilla, coconuts, coconut oil, fishes, etc.
You can reach Victoria City from any part of Mahe Island as ultimately all the buses have Victoria Bus Stand as the stop.
Once you reach here, you can walk 500 m to Market Street. Here, you will get a feel of the colorful and lively Victoria City Market. You can buy a variety of food items here including fresh fish varieties and several native fruits as well.
After spending sufficient time here, you can head to the Albert Street. From here, walk for another 400 m to get a glimpse of the Victoria Clocktower. This clocktower is based on the model of a clocktower in London and is one of the most popular tourist attractions here.
Next, you can head to the National History Museum to learn about the history of Seychelles. Established in 1964, Seychelles National Museum is located right next to the post office. There are different exhibits on zoology, anthropology, botany, and geology. And you can also learn about the history of the Seychelles People's Liberation Army, People's Militia, and so on.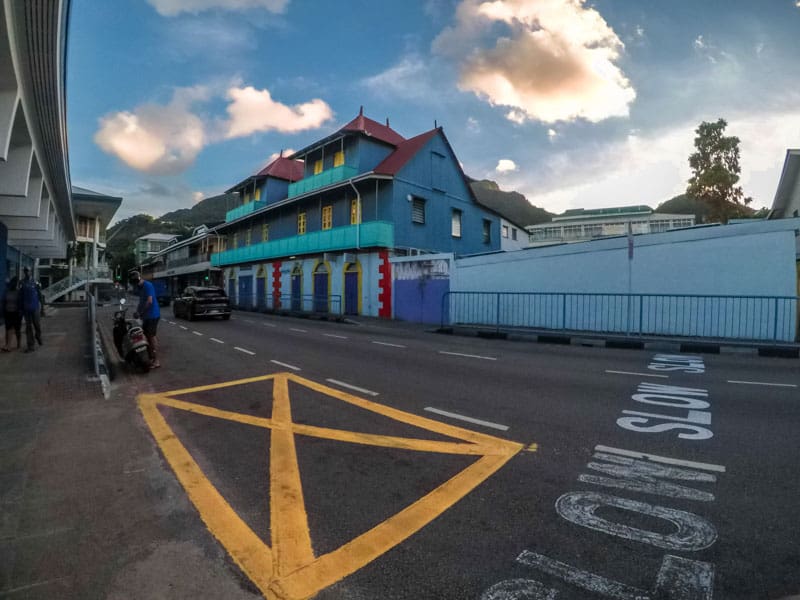 Apart from that, you will also find here the oldest map which was drawn in 1517, the smallest statue of Queen Victoria, and so on. The entrance fee for this museum for non-residents is SCR 15. The museum stays closed on Sundays and public holidays and is partially open on Wednesday and Saturday.
Then, make your way to the Jetty area where you will find many colorful boats lined up together. This is where the Cat Cocos Ferry serves the route between Mahe and Praslin. So, you can walk to this point and watch a glorious sunset in front of you.
There is another place La Riviere Anglaise near the Seychelles Yacht Club. Here, you will see several small boats and yachts lined together. There are a couple of deck-side restaurants as well where you can eat and enjoy the view.
In front of this jetty area, there are also a couple of casinos as well. If you have never played before, then it is the perfect time to try your hands on a few slot machines. You can spend the rest of the time exploring the streets of Victoria and get to know the locals here.
Note: Make sure you reach Victoria City Bus Station before 7 p.m. every day. The last buses from Victoria to various parts of Mahe leave between 7 – 7.30 p.m.
Day 2: Take a Tour of the North Mahe
La Misere Viewpoint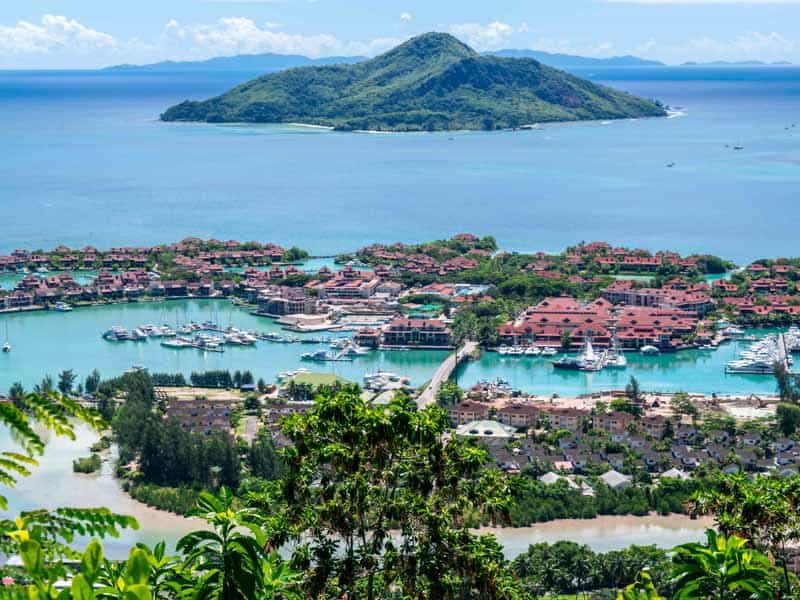 Start your second day in Seychelles by heading to one of the best viewpoints in Mahe. La Misere Viewpoint is the perfect vantage point to observe the Eden Island and Victoria City.
Since it is located slightly away from the city, there aren't many tourists around here. As a result, you can enjoy some quality quiet time here while admiring the gorgeous Eastern coast.
It is open throughout the day so if you have your own vehicle, then you can visit this place at night too. And the view of the entire Victoria City will dazzle you as the entire place is lit up at night. During the night time, you won't find many people around here apart from a couple of love also who are chilling here.
If you are traveling with a group of friends, this could act as the perfect place for night chilling scenes where you can see the entire lit up the shoreline.
For the day time, you will get a bus to La Misere Viewpoint from the Victoria Bus Station. Choose the bus which goes to Port Launay via Plaisance road. It is around 5.5 km from the Victoria Bus Station and takes around 15-20 minutes by bus. The cost is a constant of 7 Seychelles Rupees wherever you get down.
North Coast of Mahe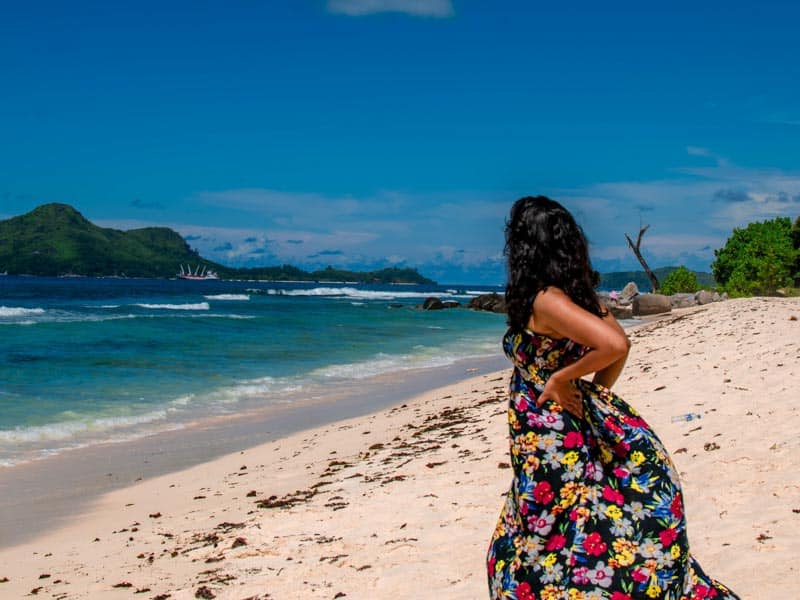 Next, you can start by exploring the Northern Coast of Mahe Island. Here, you won't find a lot of tourists so there are many secluded beaches here with amazing views.
Plus, you will find that more locals hang out here on the beaches than the tourists so it is a good way to get the real feel of Seychelles.
Make sure that you get down at the Nord Est Beach here which can be reached via a bus. This beach is generally empty and you would only see local families enjoying some quality time here.
You can walk around and sit under the shade of tree canopy or you can just apply a coat of sunscreen, place your towel on the beach, and lay down to enjoy the warm sunshine.
After this, you can take a bus to the other places in North Mahe. I would actually advise you to take a complete bus ride covering all the stops in North Mahe. This is a great way to see all the spots and then spend time on the ones which you found interesting.
Another such spot which I liked a lot in North Mahe is the Sunset Beach.
This is next to the Sunset Beach Resort but don't worry, you don't have to stay here in order to enjoy the view. You will easily get the bus for this beach but you would need to switch on your GPS to track your stop.
Undoubtedly, this has been one of my favorite sunset points on the Mahe Island.
Day 3: Enjoy a Full Day of Hiking Here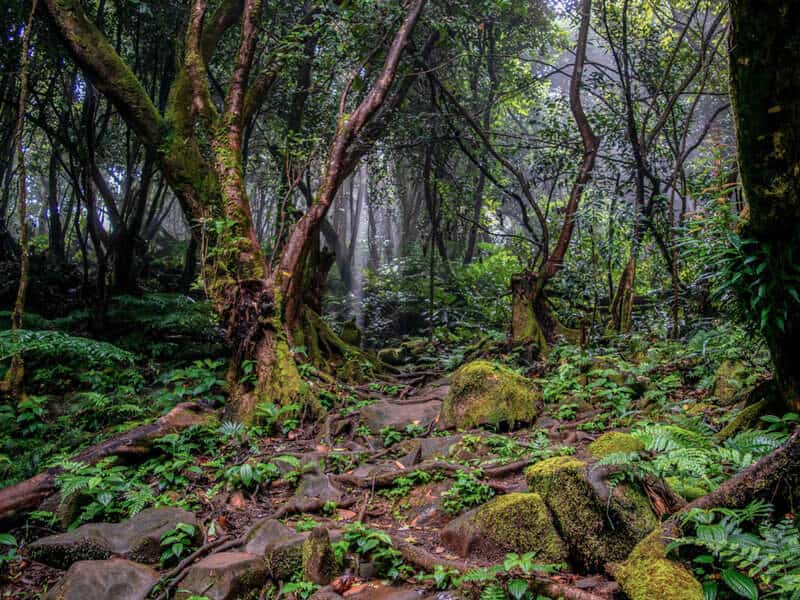 Mahe Island is full of amazing hikes that offer you amazing views of the coastline and the mountains here. If you are an adventurous person, then you could spend day 3 hiking on this island.
Yes, this island offers several amazing hiking trails to the visitors which are so worth the effort. You can hike to the highest point of Mahe or you can hike to a nice waterfall to relax for a while, it is completely up to you.
Most of these trails are clearly marked so you don't even need to take a guide with you. Just take your energy bars, a bottle of water, and some shades and sunscreen and you are all set to explore.
One of my personal favorites was the Morne Blanc Viewpoint hike that takes you through the Morne Seychellois National Park to offer stunning views of the western coastline.
To reach the start of this hiking trail, there is one bus to the start every 30-40 minutes so be careful. This is not a widely used route so you might find it hard to get buses quickly. Once you reach the starting point, be ready for a hike through the forest.
It is a 1 or 1.5-hour uphill hike where you will cross old tea plantations, moss-covered forest, etc. that will lead to a platform perched atop a cliff, offering panoramic views. Also, there are camouflaged caves and holes in this area due to jungle overgrowth so be careful.
After you have reached the platform you can spend some time here enjoying the views. You might also spot endemic birds here such as the Seychelles bulbul, the swiftlet, the sunbird, and more. Next, head back to the road which will take you around 45 – 60 minutes.
You can choose to do other hiking trails in this region to explore waterfalls or if you are tired then you can go back to your hotel.
Day 4: Relax on the Beach of Beau Vallon
Beau Vallon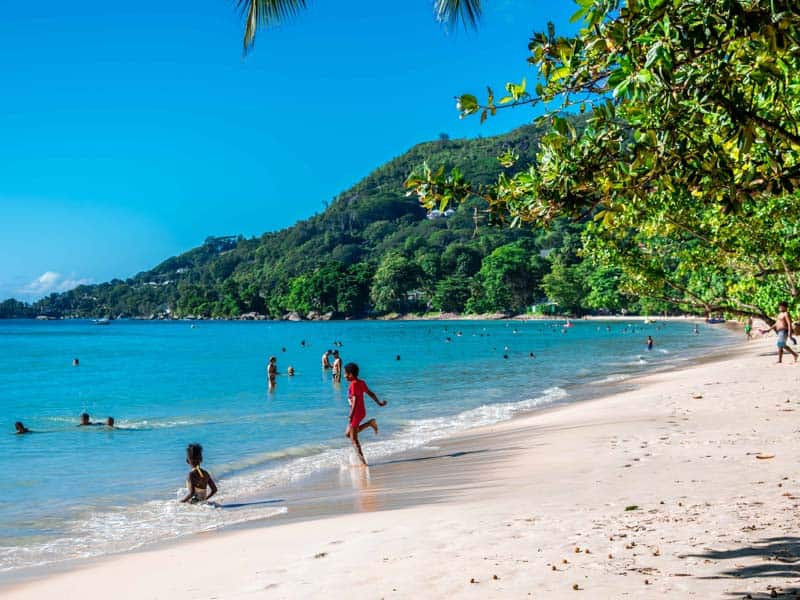 After you have paid a visit to one of the best viewpoints in Seychelles, it is time to head to one of the most popular beaches on Mahe.
Beau Vallon is actually an entire region where you will find several amazing hotels, resorts, souvenir shops, adventure sports centers, and so on. It is on the opposite side of La Misere Viewpoint but it is just 8.3 km from there.
If you have rented a vehicle, it should take you a maximum of 20 minutes to reach Beau Vallon. You will have to park the car outside and then walk for 10 minutes to reach the beach and the shops area.
For people traveling by public transportation, you can take the bus back to Victoria City Bud Station. From here, take another bus which goes to the Beau Vallon region. But do keep your GPS on because the bus will leave you at the junction from where the right path goes to the Beau Vallon beach.
One of the most frequented beaches in Seychelles, Beau Vallon should definitely be a part of your Seychelles Itinerary. Why?
Because here you can enjoy a day of snorkeling and scuba diving in the clear ocean water. Plus, there is a lot of shade here on the beach so you can relax on a sunbed and read a book or just get tanned.
The sunset here is particularly mesmerizing and on a good day, you can see various shades of colors here.
Apart from the beach, you can also take a walk around here and try local foods which are sold on the nearby stalls. There are also many souvenir, clothing, and accessories stalls here where you can indulge a little.
You could spend a day here or just a couple of hours but make sure that you do visit Beau Vallon once.
Day 5: Spend Time in West Mahe
On your 5th day, you can head to the West coast of Mahe to enjoy some other hiking and water adventures.
Mission Lodge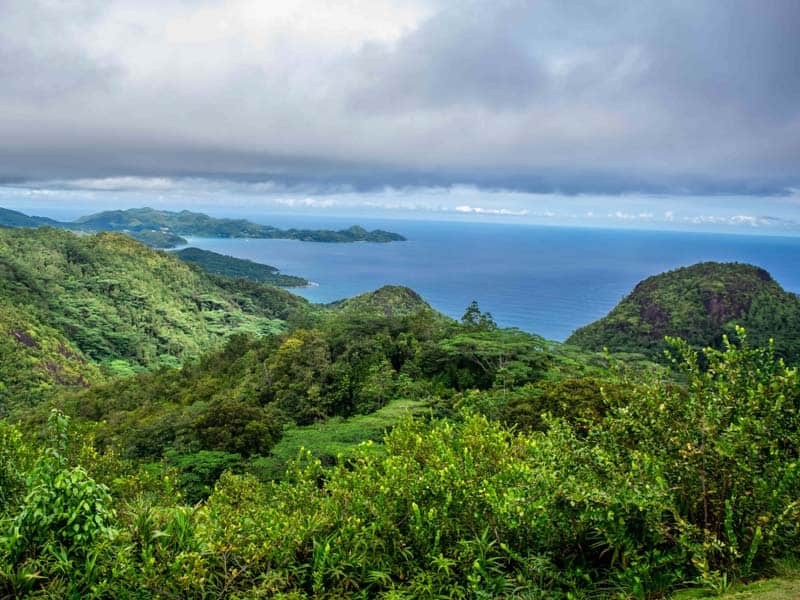 Make the first stop at the Mission Lodge site which offers a kick-ass view and is also a historic site.
A part of the Morne Seychellois National Park, Mission Lodge site is the place where the London Missionary Society built a school for slave children after the abolition to slavery in the 19th century.
Also, there is a small pavilion here where Queen Elizabeth II used yo enjoy her tea in 1972 while admiring the views.
Mainly, this site is a reminder of how Seychelles stamped out slave trade in the area after the abolition of slavery in 1834. And the views of the coast along with the mountains offers a beautiful feel to this viewpoint.
There is no entrance charge for this site so you can enter and spend as much time as you like here.
You can take your own vehicle or a bus to reach this site. There is 1 bus leaving every hour for Port Launay via Sans Souic road which will drop you at Mission Lodge site on the way.
Port Launay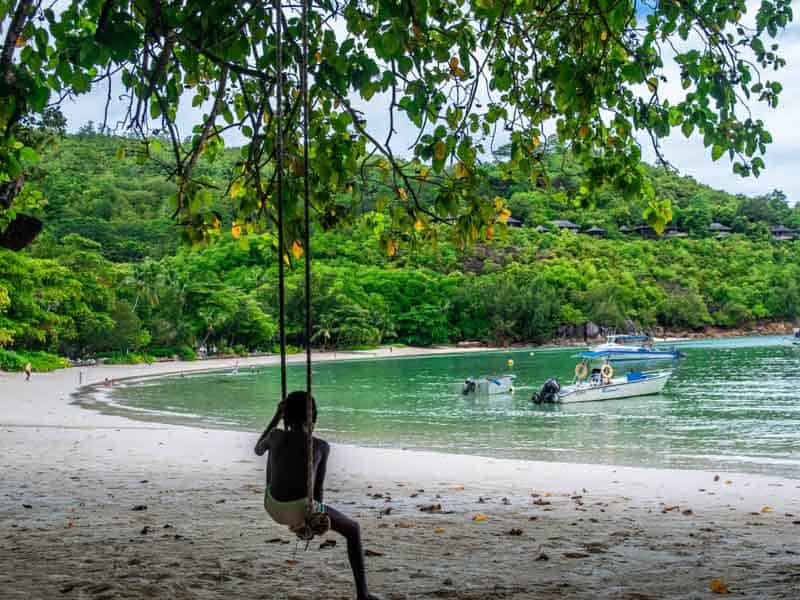 Finally, you can head to the Port Launay beach which is another 7-8 km from Mission Lodge. You can take the bus to the beach which will take around 20-25 minutes.
Port Launay Beach is located on the west coast of Mahe and is also a Marine National Park.
If you are interested in snorkeling or swimming then this is the perfect place as you will find a wide range of colorful fishes around here. This white-sand beach is quite large and has plenty of trees to offer you shade from the sunlight.
Apart from swimming and snorkeling, there are other water sports available here as well. You can try kayaking, scuba diving, canoeing, or you can go on one of the sunset cruises if the time And money permits.
It is also next to the Constance Ephelia Resort but that doesn't mean you cannot enjoy or relax here.
However, do take some snacks with you as there aren't many food options here unless you want to splurge and have a meal in one of the high-end restaurants here.
Day 6: Spend a Day Exploring the South Mahe Beaches
Once you have covered the other sides of Mahe Island, it is time to discover what South Mahe has to offer you. This part of Mahe Island is where most of the locals come on the weekends to chill and barbecue.
Police Beach
Police Beach, one of the wild beaches on Mahe Island, is a popular beach on this island for scuba diving and surfing. The bay is filled with rocks, coral formations, and vegetation, giving it a unique look.
Due to the deep waters and tall waves of this bay, this beach is quite popular among families and swimmers. You can come here during the day to swim, relax on the beach, and enjoy some delicious BBQ food here.
You will find lots of families here during the weekends who are enjoying themselves and spending time with their loved ones.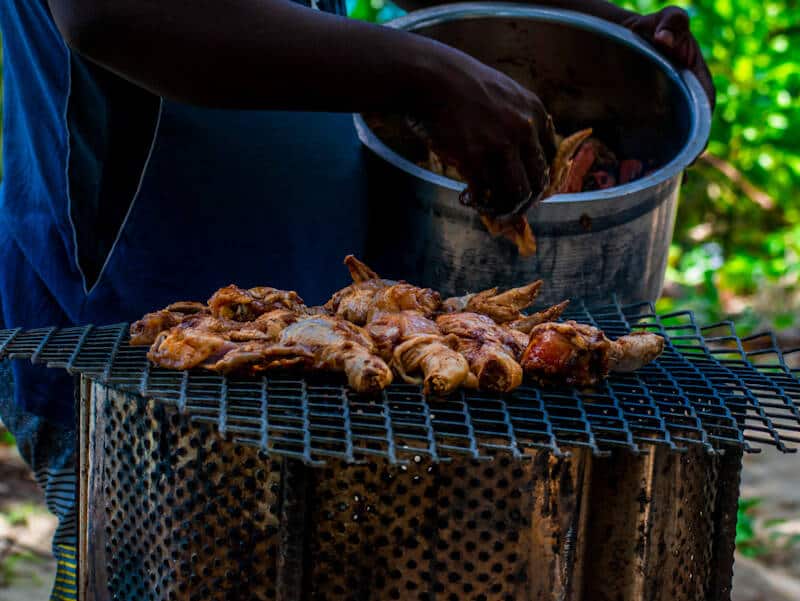 Anse Intendance Beach
After you have spent sufficient time at the Police Beach, you can make your way to the Anse Intendance Beach. This beach is known for the white sand, mountain backdrop, and granite formations, making it a truly picturesque beach.
This is one of the most beautiful beaches on Mahe and is great for taking photographs and simply relaxing. It can get deep very quickly here so, it is not the best beach for swimming but you can spend some time admiring the views here.
Exploring these two beaches is likely to take you a whole day including the commute. However, if you still have time, then do go to Anse Capucins Beach which is a hidden gem. You need to hike from Anse Marie Louise via lush forest for an hour to reach here. But it will be worth it.
After spending 6 days in Mahe, you can move to Praslin island next and enjoy a couple of days there or continue to La Digue Island on your itinerary..
How to Travel Around Mahe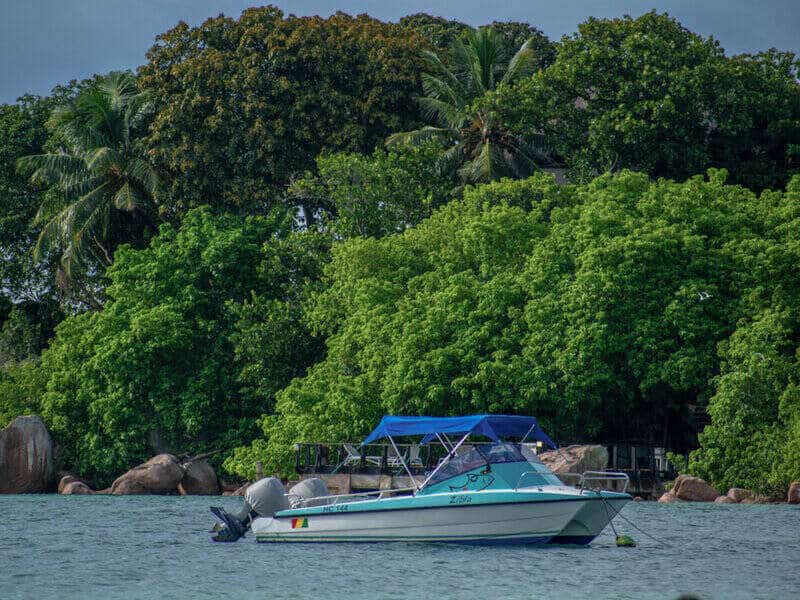 Traveling around Mahe is quite easy and cheap, especially if you are cool with public transport. You can also go for a road tripin Mahe by renting a car here.
Public Transport
The most effective and convenient mode of transportation in Mahebis via public buses. You have a bus going in every direction which will cost you 7 Seychellois Rupees for every bus ride.
You can get the entire bus schedule and route information from the official Seychelles Public Transportation website.
Note: Buses don't stop at every bus stop so, if you want to stop the bus then you have to press the buzzer/bell button to make it stop.
Cabs and Taxis
Apart from buses, you can also hire cabs or taxis if want to cover a lot of places in a day. This will be obviously more expensive but will offer you more comfort and convenience.
You can hire a cab from the airport or you can simply contact a taxi agency for packages.
Hitchhiking
Another great way to travel in Mahe is through hitchhiking. People are super friendly and helpful here so you will find that a lot of people will readily give you a lift if you so desire.
Other Guides: What to Do in Mauritius?
ATMs in Mahe
There are many ATMs throughout the Mahe island which will dispense the local currency. If you want an ATM to withdraw money from your Visa card, then look out for Barclays or Seychelles Commercial Bank ATM.
Food Options in Mahe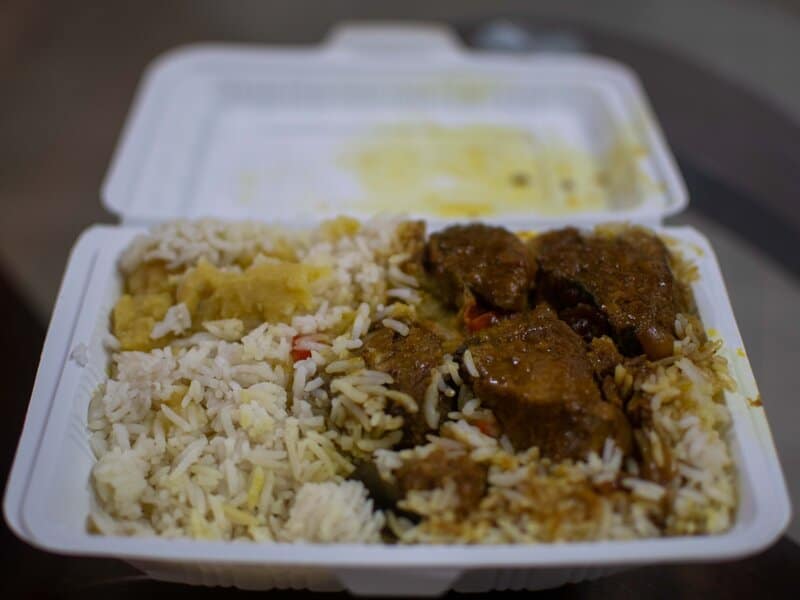 Creole is the local cuisine of Seychelles which usually comprises a curry and rice. Apart from the local cuisine, you will find chips and meat options in abundance here.
If you are a non-vegetarian then do try the Octopus Curry here, it is lip-smacking delicious.
Takeaways
If you are looking for the cheapest and authentic food option in Mahe, then takeaways are your best friend. It will cost you anything between 30-60 Seychellois Rupees per meal and will be quite filling as well.
You will find curries, chicken pieces, sausages, chips, etc. in these takeaways.
Restaurants
Every meal in a restaurant will cost you a minimum of 500-1000 Seychellois Rupees which can be really costly if you are on a tight budget. However, you will find all kinds of options here, from steaks to Chinese, so you can certainly check them out if you want.
Snack Shops
Another convenient and cheap option for food would be the snack Shops where you will get rolls, sandwiches, etc. These snacks would cost you somewhere about 20-30 Seychellois Rupees, depending on the dish.
If you like cooking then preparing your own food is certainly the best option in Mahe.
Accommodation Options in Mahe
You will find all kinds of accommodation options, from really cheap to extremely expensive. So, it is up to you the kind of place that you would like to stay in.
Hotels/Resorts
You will find numerous hotels and resorts here which will easily cost you 100-150 Euros for a night but will also offer you free breakfast and WiFi options.
If you are looking to plan a budget trip to Seychelles then I would advise you to stay away from such hotels and resorts.
Self-Catering Apartments/Couchsurfing Homes
One of the best ways to save money in Mahe is by finding a Couchsurfing host who will let you stay at their place for free. This will easily help you save a couple hundreds of Euros which you can then later use for some water activities.
If you are unsuccessful in securing a Couchsurfing host, then booking a self-catering apartment is the next best option. Many of these places serve free breakfast and cost just 30-35 Euros for a night.
Hostels
Another great and cheap accommodation option would be a bed in a hostel dorm. It is likely to cost you somewhere about 30-40 Euros for a night and might also give you the option of cooking your own food here.
Important Tips to Remember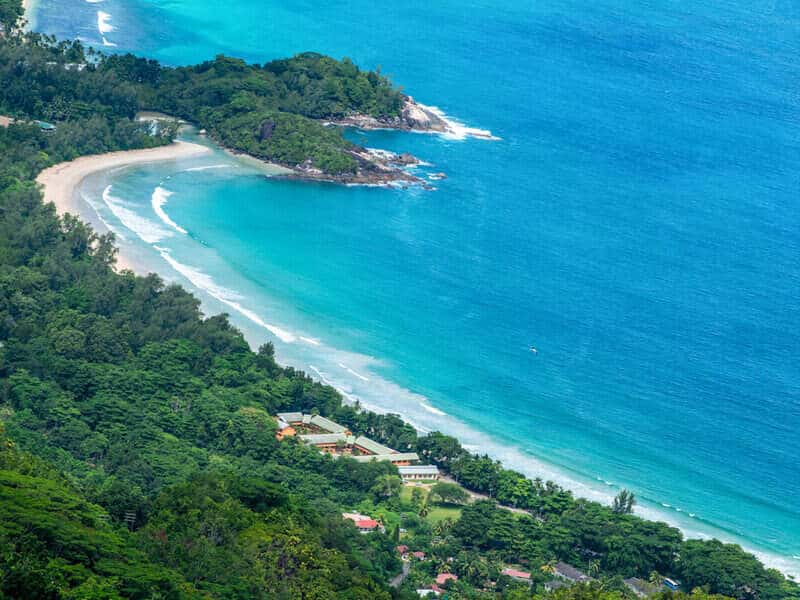 1. Check the Bus Schedule and Route Before Heading Out
Always make sure that you understand the route and the bus number before getting on a bus. You can always ask the locals for help if you don't understand the bus route or don't know how often a bus will arrive. Frankly, the SPTC bus schedule helped me a lot in planning my days in Mahe.
2. Click the Buzzer When you wish to Stop at a Bus Stop
As mentioned before, buses don't stop at every stop unless someone is waiting to get on the bus. So, if you wish to get down at a bus you will need to press the buzzer so that the driver can stop at the next available bus stop.
If you don't find any button or buzzer, then holler for the driver to stop.
3. Carry a Sunscreen at all Times
Since Seychelles is situated at the Equator, the sun is really harsh over here. So, unless you want skin burn, I would advise you to apply a liberal amount of sunscreen every day. You can visit Seychelles in the winter months to get respite from the hot climate.
4. Carry an Umbrella or a Raincoat
If you are visiting Mahe during monsoon season, i.e., from May to July, then you better carry a raincoat/umbrella. This is because the weather becomes quite unpredictable and it could suddenly start raining after a sunny day.
5. Purchase Local Water Bottle from Takeaway or Snacks Shops
Water bottles in most grocery stores will be expensive so avoid buying it from here. Instead, you can purchase the water from a takeaway shop.
6. Avoid Buying the Internet Pack Here
Like I said before, Internet packs are really expensive here so avoid purchasing them. If you can stay without internet for most of the day, then skipping Internet packs is a great option. You can always use free WiFi at Victoria Bus Terminal for daily home calls and stuff.
Did you like our Mahe Island itinerary? Let us know in comments if you would like us to add or improve something in the guide! 🙂