One of the Islands on my list of places to see in Seychelles was La Digue Island and exploring it like a local is an experience you do not want to miss out on.
So from traveling to the island like a local, eating like a local to the reserves, farm, and beaches, you'll go gaga over on your visit,. Check out this 4-day Itinerary for La Digue to plan your time well on this island..
La Digue Island
La Digue is one of the smallest major islands of Seychelles with the length and width of just 5 km. It is the third most populated island in Seychelles and lies east to the Praslin Island.
With an area of just 10.08 km square, Seychelles still happens to be the fourth largest granitic island and the fifth largest island by area. As a result, it is easy to explore La Digue on foot and cycling is a popular activity here.
It is said that this island got the name from a French explorer's ship when he visited Seychelles in 1768. The locals of La Digue are called Diguois who arrived on La Digue in 1798 after being exiled from Bourbon.
Currently, La Digue is one of the most popular islands in Seychelles and brings a lot of tourism to this island nation.
Anse Source D'Argent and Grand Anse are the two most popular beaches and tourists easily spend an entire day exploring this gorgeous island on foot.
La Digue Island 4-Day Itinerary
Although La Digue is small in size, it consists of many amazing places that you can't afford to miss out on your Seychelles trip. Most of the places on this island offer free access so, you don't have to worry about the price too.
Here are a few places that I covered during my itinerary and would definitely recommend you to visit if you have a few days with you.
Day 1: Reaching La Digue Island and Spending the Day at the Most Photographed Beach
L'Union Estate and Anse Source D'Argent Beach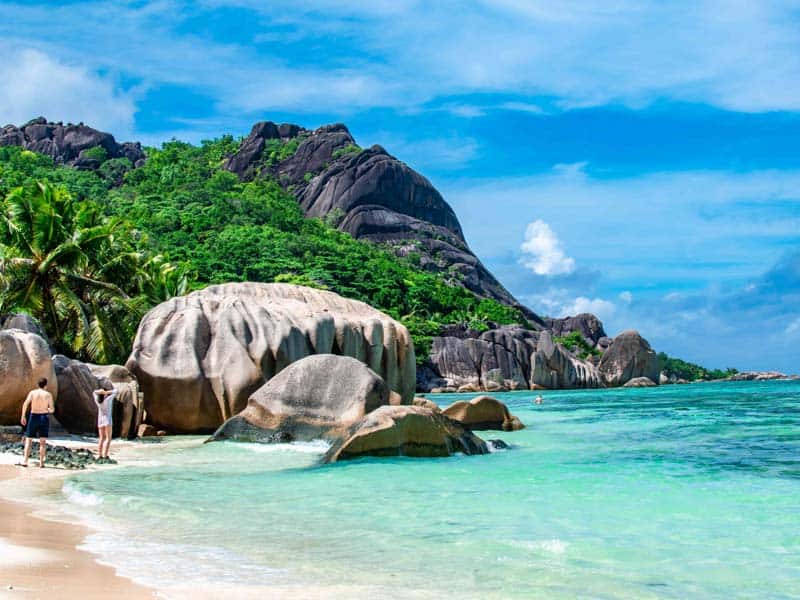 After you have cycled around the island, you can start by exploring the L'Union Estate which will take easily half part of your day. Previously, La Digue mainly focused on coconut farming which was carried out at the L'Union Estate coconut plantation.
Presently, L'Union has become a heritage site where you can visit the Old Plantation House, vanilla plantations, a Giant Tortoise nursery and pen area. That's not all though, they also have a boatyard and a colonial-era graveyard here. Plus, this is your entrance to the most photographed beach in the world, Anse Source D'Argent.
An entry ticket for this place will set you back by 115 SCR but it is valid for the entire day. You can learn a lot about the history of coconut farming here and can easily spend 5-6 hours here.
Earlier, coconut was grown in fields and copra was produced. Now, you can see how copra is made here which is, in itself, a unique experience.
Another significance of this site is that the first settlers of La Digue were buried in the graveyard here. And the Plantation house which you will find here is one of the oldest forms of French Colonial Architecture.
This plantation house was once the home of a Mauritian family who became rich later on. Also, the house is made of precious wood and is covered with palm leaves which makes it look really inviting.
It is easy to reach L'Union Estate on foot or cycle. You can take the cycle inside the site and then park it near the plantation house, giant tortoise pen, beach parking area, etc.
Day 2: Cycling Around the Island to Explore the Beaches
You can rent a cycle for 100-150 SCR a day and take around around the island. It should take you a maximum of 2 hours to cycle from one end to the other end as a majority of the land here is covered with granite boulders and can only be accessed via hiking.
Anse Fourmis Beach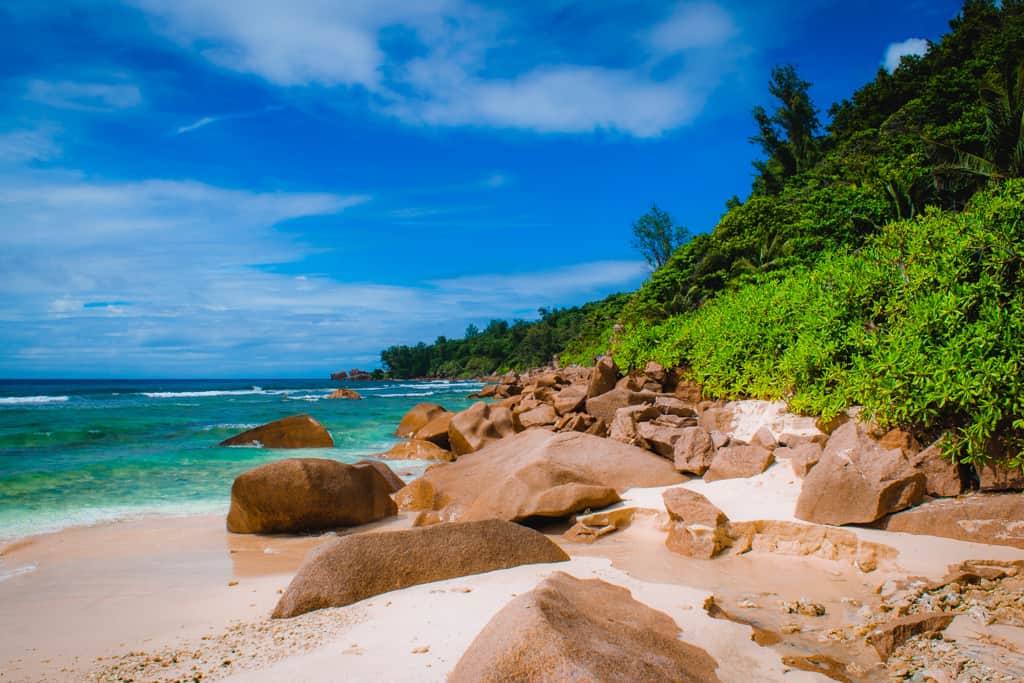 Start your day by visiting another beautiful beach in La Digue that also happens to be one of the last beaches.
This is the ending beach on the La Digue island, after which you will reach Anse Cocos by hiking. You can cycle to this place and enjoy some quiet, alone time while looking out the beach.
The path to this beach is gorgeous so, make sure you don't miss this beach in La Digue.
But, what is even more interesting about this beach is that you will find a low-hanging palm tree here which you can climb. There are countless pictures of people climbing this magnificent tree so, if you want one too then you know where to head out now.
Anse Reunion Beach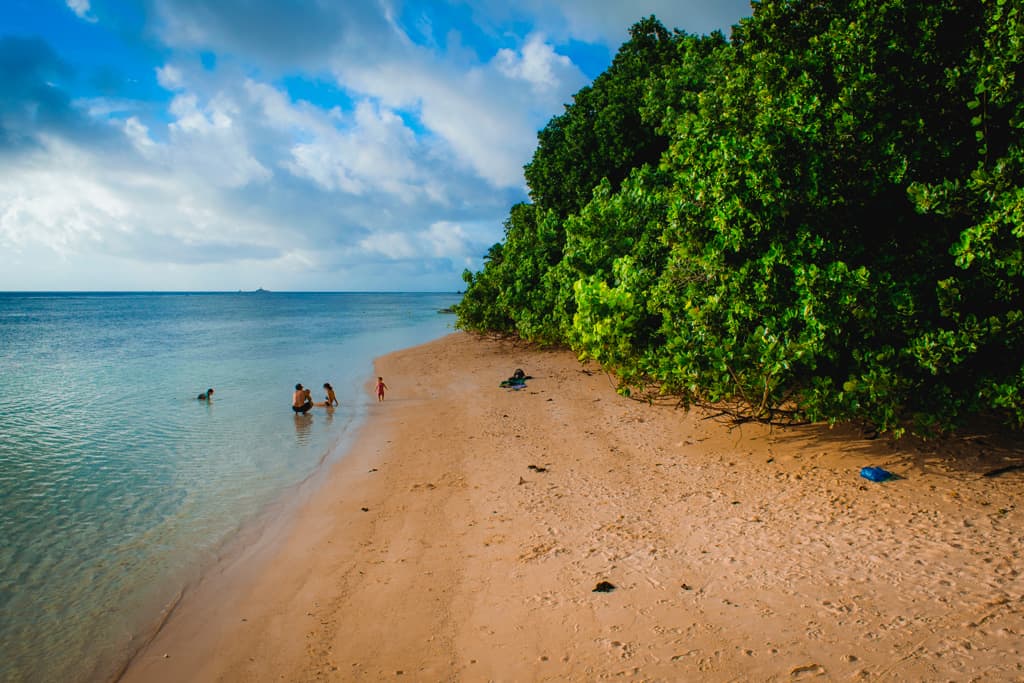 Lying next to the L'Union Estate is the Anse Reunion Beach which is a long beach passing through several guesthouses in La Digue. It is easy and safe to access and you can easily secluded spot here since it is so long.
Perfect for swimming, this beach is family-friendly as well and is a great place to snorkeling as well.
Protected by coral reefs, this beach is safe for children as well. And the numerous shops and restaurants on the road will make sure that you don't stay hungry for long. There are snorkeling rental shops here as well so you can enjoy the blue, clear water here.
But if you don't wish to venture in the ocean then that's fine too. You can simply sit under one of the trees here and just watch the calm tidal waves.
This beach is particularly good for watching a beautiful sunset so make sure that you pay a visit here in the evening.
Anse Severe Beach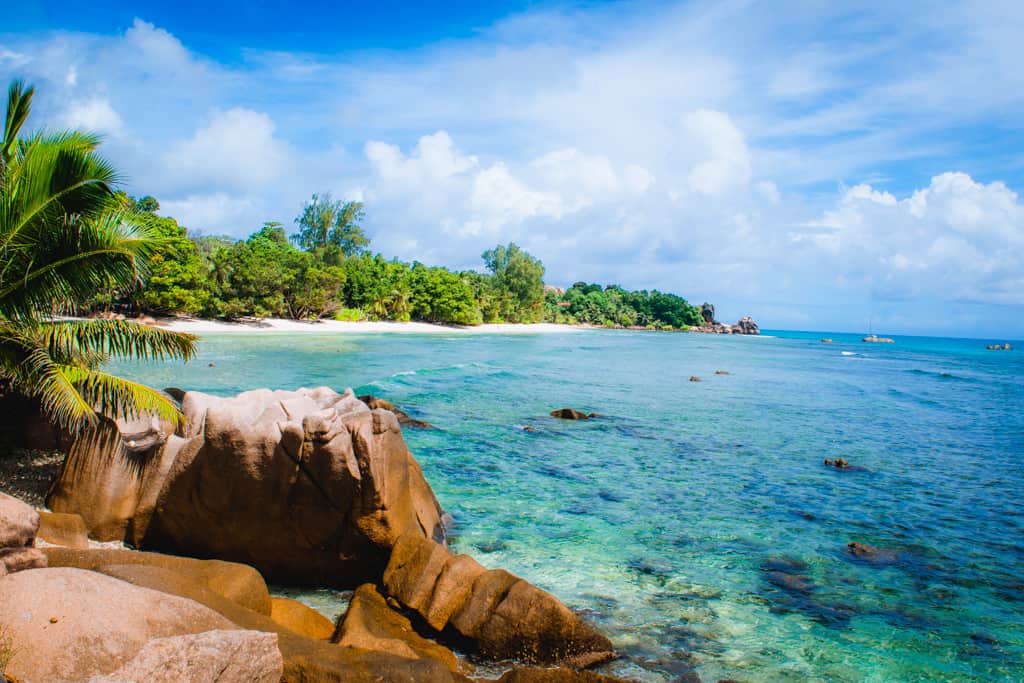 Another beach to include in your Seychelles Itinerary is the Anse Severe Beach which lies in the north of La Digue island.
During high time, you might find it hard to locate this beach but otherwise it is perfect for relaxing and enjoys a calm and even sea flow.
Similar to Anse Reunion Beach, it is easily accessible as it lies right next to the road. And there are many accommodations nearby so you will find a lot of tourists here. But that doesn't make it any less beautiful.
Personally, I loved to cycle by this beach, especially during a full moon night. The beach becomes empty at night so you can enjoy the night sky peacefully here which indeed looks quite magical.
Day 2: Exploring the Veuve Reserve and Grand Anse Beach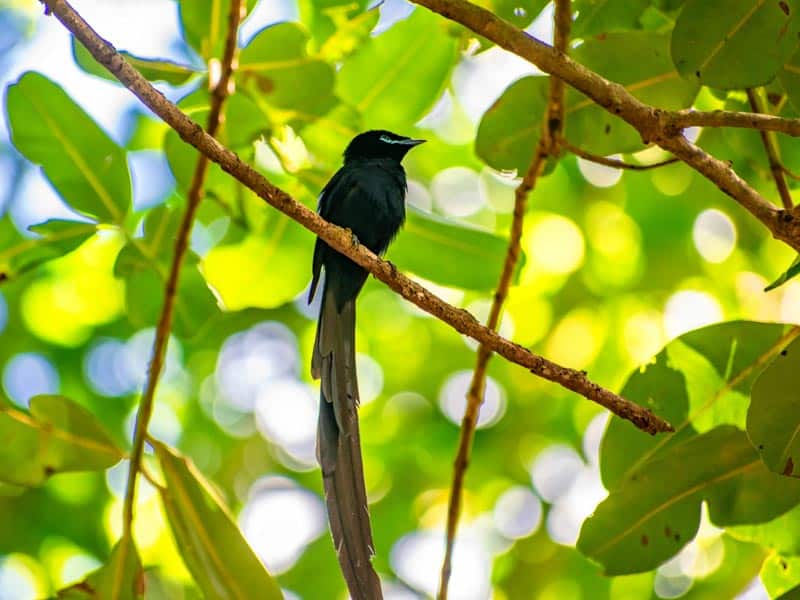 Veuve Reserve
If you happen to love nature and just enjoying a pleasant morning or evening walk, then Veuve Nature Reserve is the place for you.
You can spend about 1-2 hour here, just walking and enjoying the woods and if you are lucky, then you might even notice Seychelles Paradise Flycatcher here.
Grand Anse Beach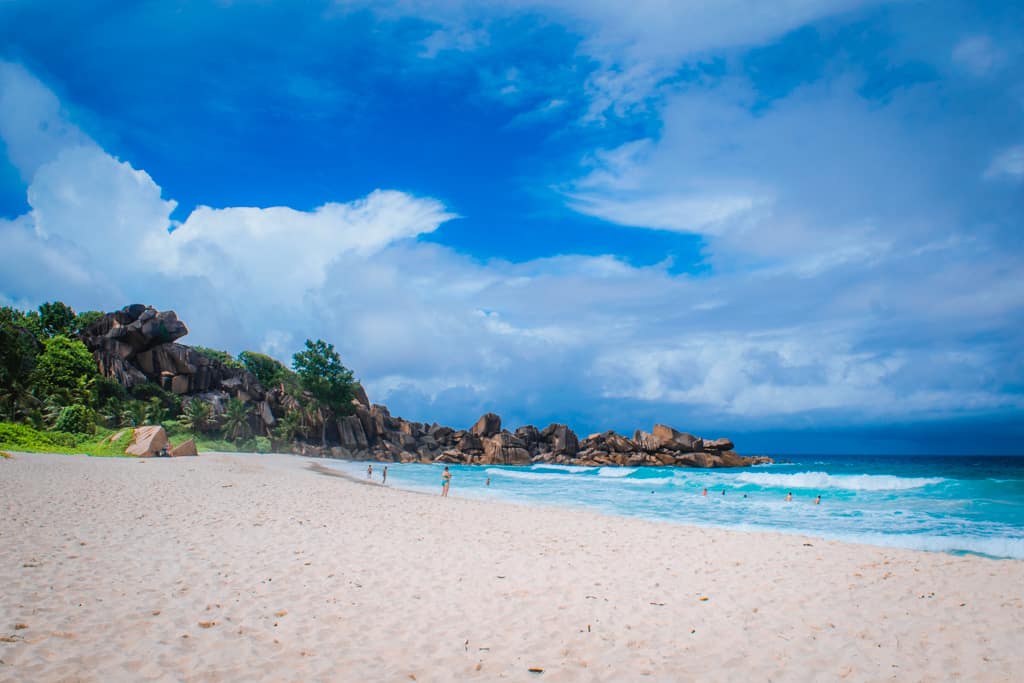 One of the second most popular beaches in La Digue Island, Grand Anse Beach is a gorgeous beach which receives huge waves. This is why it is not recommended to swim here and there are also signboards with danger warnings.
Situated on the southeast coast, Grand Anse Beach is actually perfect for relaxing on the beach and tanning yourself a little. But there is no shade here so if you want to laze around without getting sunburned, you will need to stay near one of the restaurants here.
You will also see fewer tourists around here as this is on the opposite side of the Jetty. But if you are planning to spend some time at the Anse Cocos and Petite Anse Beach then this beach should definitely be in your Seychelles itinerary.
You can reach here by cycling or by taking a taxi which will charge you around 200-300 SCR from the jetty area. In my opinion, cycling would be better as you can enjoy the route to the beach as well.
Day 3: Taking a Snorkeling/Scuba Diving Tour to the Ile Cocos Marine Park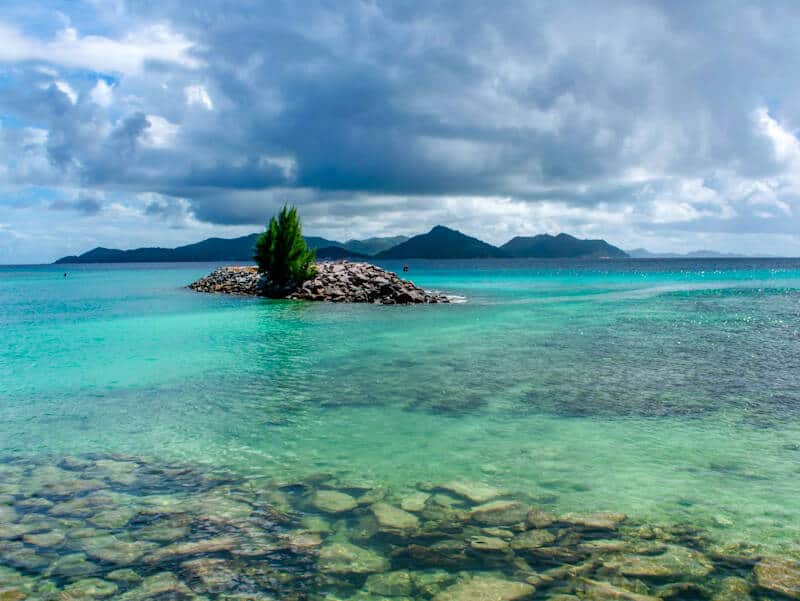 Of course, a visit to La Digue without trying out snorkeling or scuba diving is a trip incomplete. There are many beaches around La Digue Island that are good for snorkeling but for the best experience, you should head to Ile Cocos Marine Park.
Located 7 km from La Digue Island, Ile Cocos has been declared a marine park since 1996. It is one of the best spots for snorkeling and scuba diving and is a great day trip from both Praslin and La Digue Island.
This marine national park is a set of three islets – Ile Cocos, Ilot Plate, and Ile La Fouche in turquoise blue water surrounded by coral reefs, making it the best snorkeling spot in Seychelles.
To reach this Marine National Park, you will need a ticket that can be bought from a local tour operator or a boat charter. It will cost you around SCR 200 for a trip to Ile Cocos Marine Park that will usually consist of your transportation, food, and guided tour of the marine park.
You can easily spend half a day here, snorkeling or scuba diving in the clear blue water and then exploring the islets.
Day 4: Hiking to the Remote Beaches on La Digue Island
Next day, you can cover the remaining beaches in La Digue which would require you to hike a little. So, make sure that you pack your hiking shoes if you don't want to miss out on an amazing experience!
Anse Cocos Beach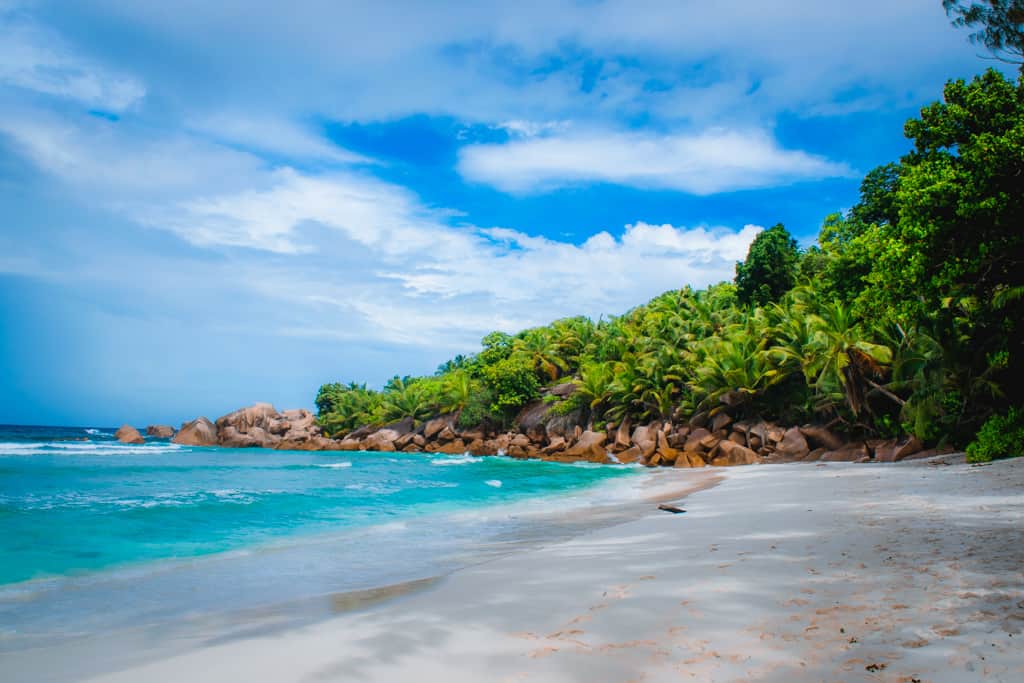 After chilling on the Grand Anse Beach, you can start hiking on the jungle trail which leads to the Anse Cocos beach. It is a 45 minute easy walk but make sure you have enough drinking water with you as there are no streams on the way.
There is a small path on the left of the Grand Anse Beach which will take you to Anse Cocos beach. And the hike will be completely worth it as you will come across a secluded beach with a surreal landscape.
There is a natural pool of crystal clear water as well which you can enjoy. And the tide is normal here, so if you are a confident swimmer then you will definitely enjoy it.
Here you have a lot of trees for shade so you can even put up your hammock to chill here. Anse Cocos was the first settlement on La Digue and copra was produced here. You will still see done abandoned buildings and kiln for drying the coconuts here.
There aren't any bars or restaurants here as well. So, if you wish to enjoy a lunch or some light snacks, get it with you from Grand Anse or someplace else.
Petite Anse Beach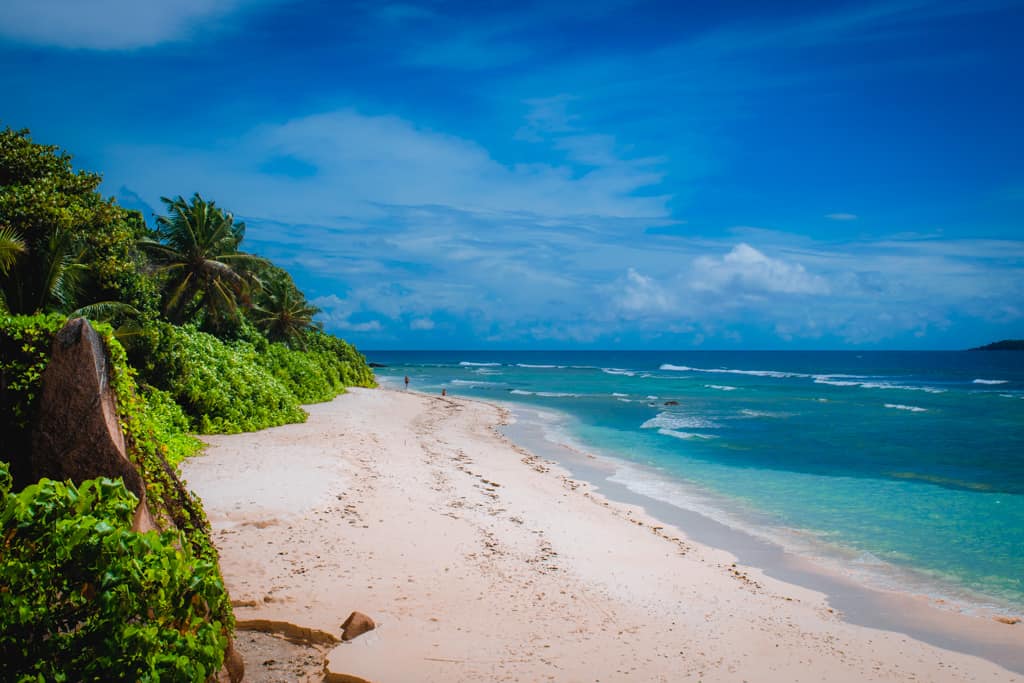 Finally, on the way back from Anse Cocos beach, you can stop at the Petite Anse Beach. This beach is just a 5-minute walk from the Grand Anse Beach and can be reached via the same jungle trail that leads you to Anse Cocos.
A less than 300 m Sandy Beach, Petite Anse doesn't have many tourists around due to a lack of shaded area. Also, the current is quite strong here so it is not safe for swimming as well.
But if you want to enjoy a quiet evening at a place then Petite Anse is a good place to br included in your Seychelles itinerary.
After exploring La Digue, you can head back to Mahe Island using the ferry. A ferry ride from La Digue to Mahe will cost around 64 Euros. Also, you will need to change the ferry at Praslin Island once.
Note: There are no direct ferries from La Digue to Mahe. The ones which come up as a booking option will also have a layover at Praslin Island.
How To Reach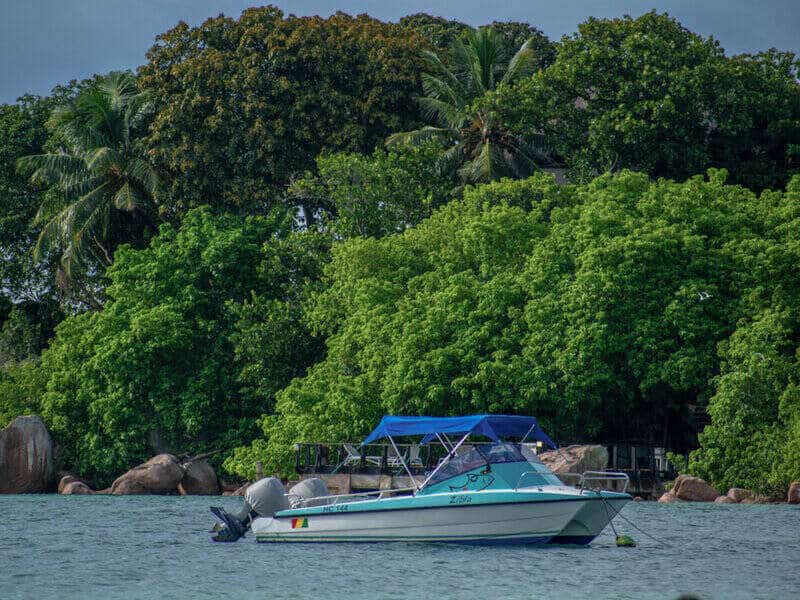 There are two ways in which you can reach La Digue, depending on your budget and convenience. However, there is no flight available for this place, direct or indirect, as it doesn't have an airport.
You can take either a ferry or a helicopter to reach the place or could contact several tour operators offer day-trips too.
Ferry
One thing to keep in mind is that, in reality, there is no direct ferry from Mahe to La Digue. You will have a connecting ferry from Praslin to La Digue which would take about 2 – 2.5 hours in total.
It takes about 1.30 hours to reach from Mahe to Praslin and about 15 minutes from Praslin to La Digue.
It would cost you somewhere around 128 Euros for the entire ferry connection if you book it online. However, if you get the tickets issued with the help of a local then the cost is considerably lower.
Helicopter
There are also helicopter services to this island from Seychelles Airport so you can opt for that too if you are looking for a quick transportation. However, keep in mind that this will definitely be costly in comparison to the ferries.
Jetty to Accommodation
Once you have reached La Digue, you can hire a bicycle to reach your accommodation if you have light luggage. However, if you have a lot of luggage then it would be advisable to take a golf cart which will cost you approximately 100-150 Seychellois Rupees (500 – 750 INR). Taxis are really expensive here and won't go for less than 250 Seychellois Rupees (1250 INR) so, try to avoid them.
How to Travel Local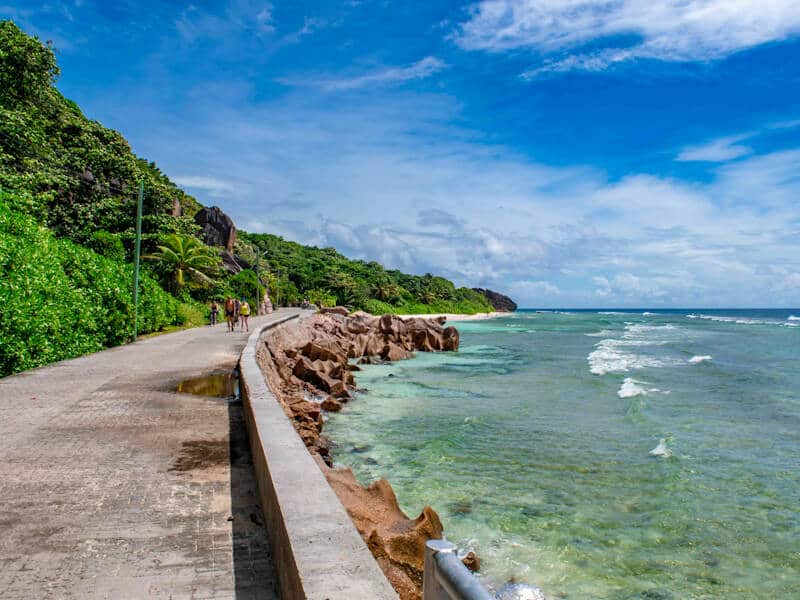 Now, you might be wondering how to go about on this tiny island. Well, traveling on La Digue is quite simple and easy so you don't have to worry too much.
Cycles
One of the most popular modes of transport on this island is cycles which cost 100 – 150 Seychellois Rupees (500 – 750 INR) per day. Cycles are the best way to cover the island as it hardly takes you any time and you don't get exhausted too much. Plus, the view and the roads are really nice so you are likely to enjoy cycling around here.
Walk
If you don't mind then you can walk here too. It might take a little more time than cycling but you can easily reach the places in just 30-40 minutes.
Golf Carts
There are many hotels and resort golf carts available too so if you want to transfer your luggage or belongings from jetty to the hotel or vice versa, then you can use them. They may charge you anywhere between 100 – 200 Seychellois Rupees (1000 INR), depending on the distance and your negotiation skills.
What and Where to Eat
While you might find fewer eatery options in La Digue, you certainly won't die of hunger. Here are a few options that you can check out for eating.
Takeaways and Snacks Shop in La Digue
There are not many takeaway options in La Digue, like Mahe but you will still find 4-5 takeaway shops on the main road. There is Gala Takeaway which is quite popular and several snack shops from where you can purchase food too. It will cost you somewhere around 50 Seychellois Rupees (250 INR) per meal and you will find a wide variety of options here, from fried rice to curries.
Restaurants and Cafes in La Digue
Apart from takeaways, you will also come across several restaurants and cafes here which will not only offer you an amazing beach view but free WiFi too. However, food at these places will be expensive and will not come less than 300-500 Seychellois Rupees (1500 – 2500 INR) per meal.
Prepare Your Own Food
One of the most economical and convenient options for food in La Digue would be to cook yourself. This can be easily done if you are staying in a self-catering apartment as you just need to get the ingredients and then use the kitchen to cook something else for you. I was able to keep my food cost to about 200-300 Seychellois Rupees (1000 – 1500 INR) for the entire duration that I stayed in La Digue.
Other Guides: Best Things to Do in Mauritius
Accommodation Options in La Digue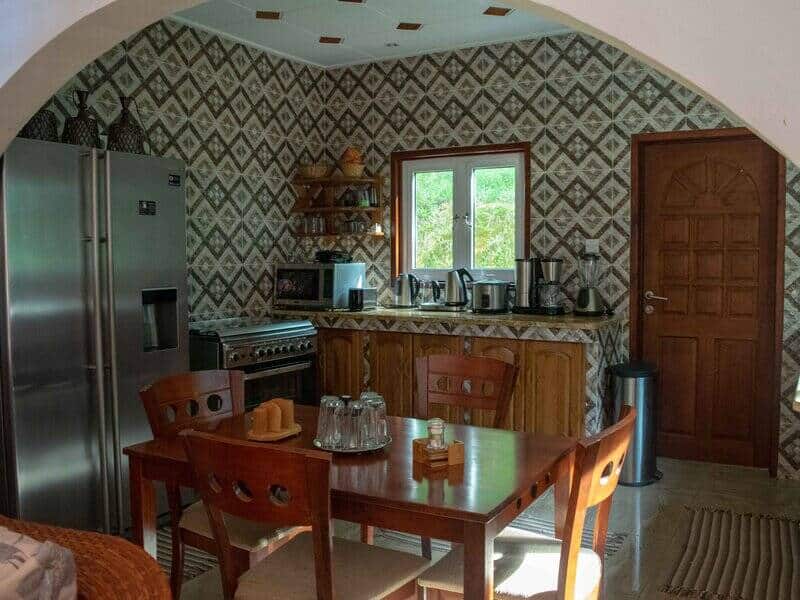 If you are wondering about accommodation options in La Digue, don't worry. I have covered that too below.
Hotels in La Digue
There are a lot of hotels and resorts in La Digue that you can book for your stay which will cost you 50 – 70 Euros for a night. Some are more expensive so be cautious when booking your stay. If you have some apps then you might find some deals too which could bring the cost lower to 40 – 45 Euros for a night.
Self-Catering Apartments and Guest Houses in La Digue
If you are looking for a more economical option then choosing a guest house or a self-catering apartment would certainly be better.
There aren't any hostels here so you might have to shell a few extra bucks, but self-catering apartment could be a great way to reduce your overall travel cost.
You will easily find a self-catering apartment for 30 – 40 Euros per night which can help you in cutting your food and water cost too.
Weather and Climate Conditions
La Digue is a tropical island so you will experience a hot and humid climate throughout the year. However, the monsoon starts in May here so you might experience intermittent rainfall throughout May, June, and July.
Usually, the days are warm and sunny here which makes it a perfect place to relax on the beaches. The rest of the year, you will experience warm and sunny weather and fewer rainfalls.
Other Guides: Places to Explore in Mauritius
Tips for Traveling on La Digue Island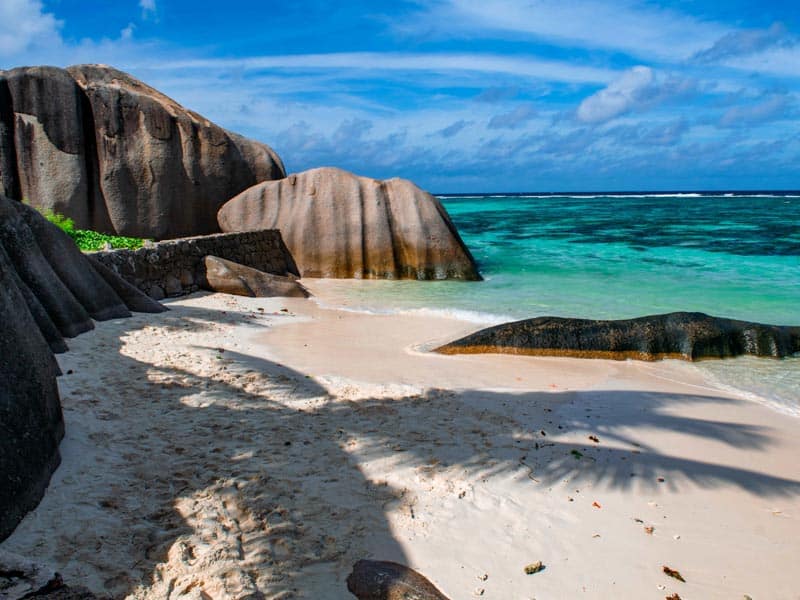 Apart from all the detailed information provided above, here are a few tips to help you out.
1. Avoid Renting Cycle Near the Jetty
If you don't want to end up paying a lot of money for renting cycles, then I would advise you to refrain from renting it from the rental shops near Jetty. Instead, ask around a little and ask your hotel or accommodation place too before you rent it. There could easily be 50 Rupees (250 INR) difference that you could have avoided by being careful.
2. Buy Alcohol and Food from Local Grocery Shops
You will find huge supermarkets and several grocery shops here which would sell you things at a different price. If you want to be sure that you are paying less then always buy food and drinks from a local, small grocery store instead of a big supermarket.
3. Opt for Takeaways or Prepare your Own Food
Dining in a restaurant might sound like a nice idea but it can be really heavy on your pocket. Instead, you can get food from the takeaway stores where it will be cheap and filling too. Love cooking? Even better because you can simply buy the ingredients from the store and prepare your own food, which will be healthy and economical.
4. Choose a Self-Catering Apartment for Staying
As I said earlier, self-catering apartments are the best way to reduce your overall trip cost. You get not only a nice and clean place to stay but can prepare your own food. Also, don't forget the free water that you will get.
5. Keep Aside a Day for Hiking to Anse Cocos and Petite Anse
While it doesn't take a lot of time to hike to Anse Cocos and Petite Anse, it is better to keep an entire day aside. This will allow you to enjoy properly. Trust me, you wouldn't want to reach those beaches only to return back in just 15 minutes.
6. Don't Worry About Missing your Ferry to Praslin
This doesn't mean that you would miss your ferry intentionally. It basically means that local ferries from La Digue to Praslin aren't too strict. So, if you have a ticket and you miss your ferry, you can simply catch the next one, without paying any additional cost. Also, if you happen to reach 5 minutes late to the Jetty, then the ferry will turn back to pick you up. So, don't sweat it too much.
7. Take a Mosquito Repellant with Yourself
Since it is a tropical island, La Digue is swarmed with mosquitoes which will bite you all night long. So, it is better to take a mosquito repellant to protect yourself from all the mosquito bites.
8. Take a Torch for Cycling after Sunset
If you plan to cycle at night then make sure you have a torch with you. Most of the roads are dark and without any street lights. This will ensure that you don't fall off the edge, directly into the ocean.
9. Carry a Sunscreen With You
Since La Digue is situated at the Equator, the sun rays are quite strong and could really damage your skin. So, you better
La Digue is a gorgeous island and certainly resembles a paradise. You should definitely visit this place if you ever travel Seychelles.