One of the few offbeat treks in Himachal that can be done as a weekend trip from Delhi is the Rajgundha Trek. This trek takes you through the Dhauladhar mountain ranges to a valley with a clear sky and no pollution. In this valley, you can watch stars at night and can even spot the milky way galaxy as clear as day.
And if you are lucky then you might be able to observe the planets and meteors from here too! Doesn't that sound amazing? Well, that's what you get by embarking on this amazing yet unexplored trek. I have been to other treks in Himachal as well such as Prashar Lake trek, Kheerganga trek, etc., but none of them give you the feels like Rajgundha.
This is a fairytale land and the trek to reach here couldn't be simpler. So, if you wish to explore this beauty too, then read on to know everything about Rajgundha Valley and the trek.
Rajgundha Trek
About Rajgundha Valley
Nestled amidst the Dhauladhar mountain ranges, Rajgundha Valley consists of several small villages that are slightly disconnected from the rest of the world. This is one of the reasons why this Bir Billing trek is more famous among the locals than the tourists that visit Bir. The trek to Rajgundha goes through a forest and offers some amazing views that make it perfect for nature lovers and trekking enthusiasts.
Situated at a height of 8900 ft. (approximately), Rajgundha Village along with Kukkar Gundha village enjoys a pleasant climate and landscape. Since these villages are a part of the valley, you can witness some gorgeous sunrises and sunsets from here. And the best thing about this valley is that the only way to travel to other villages is by walking on the trail or using a mule.
Life is simple in Rajgundha Valley as people are self-sustained here and believe in the old traditional ways of living. They mainly farm here and sell the produce in the markets of the towns in Himachal Pradesh. Since they have enough produce, they use it to prepare their own food which is healthy and nutritious.
How to Reach Rajgundha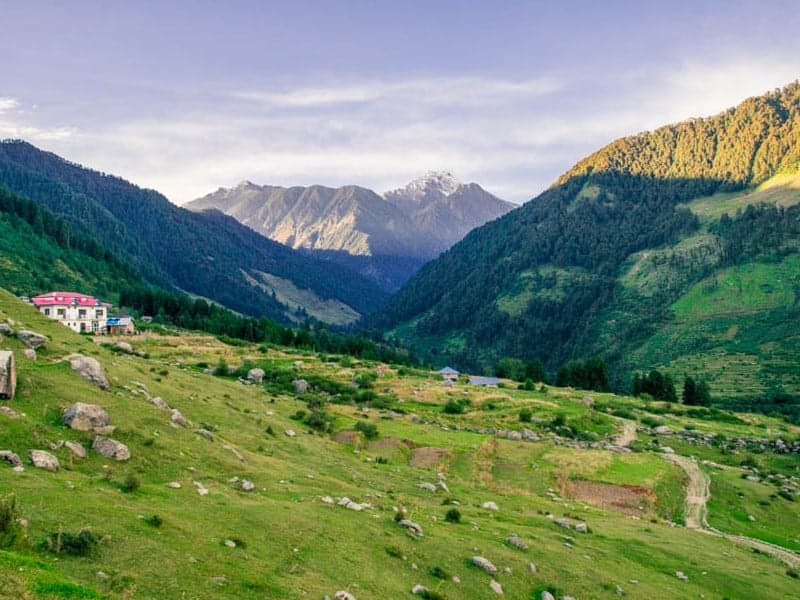 One of the most frequently asked questions about Rajgundha trek is how to reach the starting point of the trek. This trek has two starting points – Barot Valley and Billing Paragliding Takeoff Site.
So, you just need to reach Billing or Barot Valley first. Here is everything you need to know to reach any of these two hill stations in India.
How to Reach Bir Billing
One of the best ways to reach Rajgundha is to reach Bir as it is a popular Bir Billing trek. Since Billing is one of the best paragliding sites in Asia, there are several modes of transportation available to reach Billing.
Here is how you can plan to reach Billing, regardless of where you start from.
Air
The nearest airport to Billing is the Kangra Airport (Dharamshala), situated at a distance of 67 km. You can take a flight to reach Dharamshala and then take a private taxi or bus to reach Bir or Billing directly.
If you reach Bir from Dharamshala via bus, then you can take a shared cab or private cab to reach Billing from here.
This is an expensive option though and the flights to Dharamshala are limited. So, check the flight schedule before you choose this option.
Rail
The nearest railway station to Bir Billing is Pathankot Junction and is around 142 km away. And Pathankot station is connected via trains to several major cities like Amritsar, Delhi, Ahmedabad, and so on. So, you can take a train to Pathankot first and then reach Bir Billing from here.
A general train ticket from Delhi to Pathankot costs 175 INR and takes around 6-7 hours to reach. From Pathankot, you have several transportation options available to reach Bir or Billing.
The cheapest way to reach Billing would be to take a toy train from Pathankot to Baijnath station. This journey will cost you around 50 INR and will take 6-7 hours to complete.
From Baijnath, you can get a taxi to Billing for 700 – 1000 INR and can reach in 1.5-2 hours.
Another option is to take a bus from Baijnath to Bir that will leave you at the Chougan junction. There is a local bus named Anurag that leaves for Bir at every half an hour and costs 20-30 INR. From Bir, you can take a taxi or a shared cab to reach Billing.
If you don't have 7 hours to spare for the toy train, then you also have the option to take a bus from Pathankot to Baijnath. You will find several buses for Baijnath for 150 INR and it will take you around 3-4 hours to reach.
From Baijnath, you can take a bus to Bir or you can hire a cab to take you to Bir/Billing.
You can also get a private taxi from Pathankot to Billing that will cost you around 3500-4000 INR and will take approximately 4 hours. This is perfect if you are traveling with a group of people and can divide the cab cost among yourselves.
Road
You can reach Bir Billing by road too as it is connected to several major cities like Dharamshala, Palampur, Delhi, etc. The road is decent as well and you will find both public/private transportation options for this route.
One of the most convenient ways to reach Billing (if you are traveling from Delhi) is to take a Volvo bus to the Tibetan colony. There are HRTC Volvo buses available for 1500 INR and a few private buses that cost 900 – 1200 INR.
These buses can take anywhere between 11 – 13 hours and can be booked through online booking portals such as Paytm, Redbus, etc.
If you are traveling on a budget, then the best option would be to take an HRTC bus to Baijnath and then a local bus to Chougan. An ordinary HRTC bus from Delhi to Baijnath will cost you around 650 – 700 INR.
If you don't get a bus to Chougan, you can take the bus to Joginder or Mandi and then get down on the Bir exit. From Bir, you will need to take a taxi to reach Billing.
Another option is to take a taxi from Baijnath to Billing as suggested earlier.
Finally, you also have the option to rent a car from Delhi if you are starting your trip from there. If you own a car, then you can always plan a road trip to Billing. There is a safe parking spot here where you can park your car when you are on the trek.
Bir Billing to Trek Starting Point
From Bir, Billing is around 14 km away and takes 40 – 60 minutes to reach in a car.
You can take your own car and park it at the Billing Takeoff site. There is a parking fee but your vehicle will be safe.
You also have the option to take a private cab to the Billing takeoff site which will cost 600 – 1000 INR for a cab. This is a good option if you are traveling with a group of friends. However, if you are traveling alone, then you can join a Paragliding group to Billing and share the cab cost with them.
From Billing Takeoff site, the trek to Rajgundha begins.
How to Reach Barot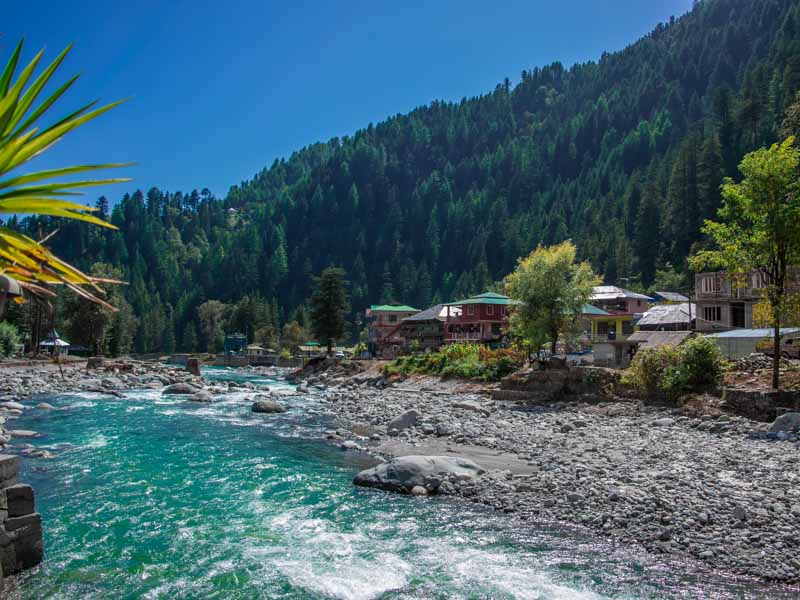 Another place from where you can start your Rajgundha trek is Barot Valley. Here are a few ways that you can choose to reach Barot.
Air
The nearest airport to Barot is Kangra Airport only in Dharamshala. So, you will need to reach Dharamshala first and then take a shared cab or bus from Dharamshala to Barot. It will take around 4-5 hours to reach Barot and it is undoubtedly one of the most expensive ways to reach this hill station.
Rail
The nearest railway station to Barot is Pathankot Railway Station. So, you can take a train to reach Pathankot first, and then you will need to reach Palampur. You can take a bus from Pathankot to Palampur that will take 3-4 hours to reach and will cost around 75 – 100 INR.
From Palampur, you will find several local buses to Barot that will take around 3 – 4 hours to reach and will cost around 75 – 100 INR.
Road
One of the most convenient ways to reach Barot is by taking a bus to Palampur first. There are several buses from Delhi to Palampur that take around 12 hours and cost around 600-700 INR.
From Palampur, you can take a private taxi or a bus to reach Barot.
If you have your own car, then you can simply drive to Barot (depending on your origin-destination). The roads are decent and there is parking space in Barot to keep your car when you go for the trek.
However, if you choose this option, you won't be able to experience the 360-degree trek and will have to return from the Barot side only.
Barot to Bada Graan Village
Once you reach Barot village, you need to reach Bada Graan village as that is the starting point of the trek. Bada Graan village is around 20 km from Barot and you can take a private cab for 800 INR.
It will take you around 30-40 minutes to reach Bada Graan village from where you can start the trek.
Best Time to Visit Rajgundha
Since Rajgundha has a pleasant climate throughout the year, you can visit this valley anytime you want. To help you choose the best time to visit Rajgundha, I have shared detailed information on what you can expect to find here in each season.
Summer Season
One of the best time to visit Rajgundha, the temperature here is an average 25 degrees Celsius which makes it a pleasant trek and stay here. That's not all, even the Barot Valley temperature is quite pleasant so you can enjoy the complete 360-degree trek during those months.
This is a great time to visit to escape the summer heat in the plains. And if you still feel hot in the valley, you can always spend time near the Uhl river to keep yourself cool.
This is also a great time for fishing in Barot Valley and you can even try paragliding in Billing. During this season, you can try other treks around here such as Palachak trek, Thamsar Pass trek, and so on.
Winter Season
The best time to visit Rajgundha during winter seasons would be the months of October to December. During these months, the valley is bursting with colors and is cooler yet pleasant.
Rajgundha trek can also be done as a winter trek and looks completely magical at that time. However, make sure you have proper snow trekking gear and do hire a guide to help you out on this trek.
You would find very few villages during the winter season in Rajgundha. Most people shift to the villages or towns that are situated at a lower altitude to avoid the snow and cold. However, once the snow melts, the villagers come back to the valley to farm and resume their life here. So, it can be peaceful to visit here during the winter months too.
Monsoon Season
Monsoon is probably not the best time to visit Rajgundha due to frequent landslides and flooding in the area. The Uhl river bridge collapses during this time so the 360-degree trek through Billing and Barot valley won't be possible.
Avoid planning your trip to Rajgundha during the monsoon season as you might be disappointed. Plan a trip post-monsoon once the rainfall and landslides have subsided a little.
Rajgundha Trekking Routes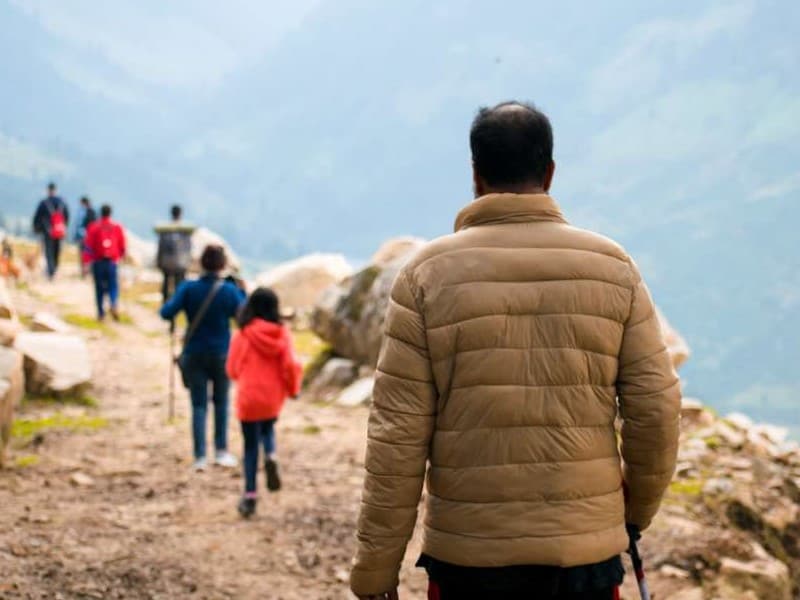 Unlike Kheerganga trek, Rajgundha trek is actually quite easy and doesn't need any experience as such. The trail is easy to follow and won't leave you too tired or hot, regardless of the weather.
And you have two trekking routes to choose from. If you don't mind walking 14 km at a steady pace then the trek from Billing is perfect for you. However, if you want to reach Rajgundha quickly then trek from Barot is the right choice for you.
Here is everything you need to know about both the trekking routes.
Billing to Rajgundha
Rajgundha is a popular Bir Billing Trek and is a 14-km trek from the Billing side. The trek starts from Billing, near the Paragliding Takeoff site. This trek takes around 5-6 hours to complete and is mostly a straightforward trail.
If you wish to reach Rajgundha before the sunset, then make sure that you start early from Billing around 10 a.m. Once you start from Billing, you will come across a few food stalls and a sitting area. Besides this will be a stone trail that you need to follow that goes uphill slowly.
After another 5-10 minutes of slow climb, you will come across the second takeoff site. From here, people who are learning paragliding will be practicing their take-off. You need to walk another 5-10 minutes before you come across an area where you will be surrounded by colorful prayer flags. From here, you can still see the takeoff site and a few houses near the site.
Once you have crossed the prayer flags, you will be walking through a narrow trail amidst trees. After that, you have a slightly steep ascent of 5 minutes and then you reach the dirt road. From here, the trail to Rajgundha is simple without any ascents or descents.
On the way, you will cross green forest areas where you can find oak trees, deodar trees, and rhododendron trees. You will also pass the highest point of the trek – Channa Ghat (2700 meters). From this point, you can view both Rajgundha and Kangra valley.
When you are halfway through the trek, you will come across a small dhaba. Here, you can take a break and have your lunch. If you are carrying your own food, then you can sit outside the dhaba and enjoy your lunch and order some hot tea from the vendor. If you don't have lunch with you, then you can always get Maggi, eggs, etc. cooked here.
From Billing, it will take you around 2.5 – 3 hours to reach this dhaba and from here, Rajgundha is just 5 km away. It will take you another hour or two to reach Rajgundha village from the dhaba. Also, if you are trekking post-monsoon, there might be a few muddy patches due to the landslides.
When you are close to Rajgundha, you will come across the famous elephant tree too. As the woods clear, you will notice a valley on your right-hand side. This means that you are close and Rajgundha is just 2-3 turns away.
Barot to Rajgundha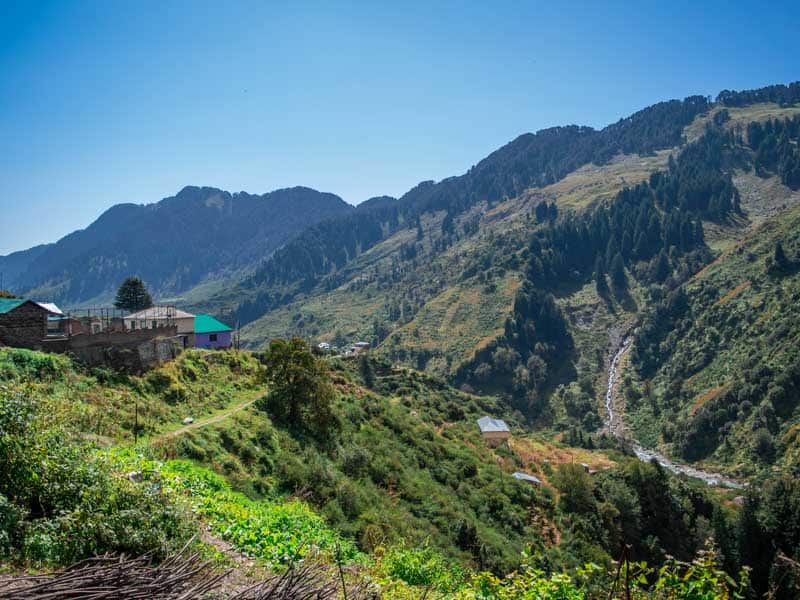 If you are looking for a shorter and adventurous trek route then the Bada Graan trek route is perfect for you. From Bada Graan village, Rajgundha is 6.5 km away and usually takes around 2-3 hours to complete due to several ascents and descents.
Also, if you are trekking after the monsoon, the track will be muddy so you need to be careful while trekking here. Once you start from Bada Graan village, it will take you around 5 – 10 minutes to cross the entire village. Then, you will mostly be walking beside the cabbage field for some time.
After 30 minutes of hiking, you will be able to see Rajgundha on the left-hand side. From here, it will take you another 2 hours to reach the other side of the village. You will be mostly walking on a narrow trail for an hour before you come across a steep descent.
This descent will take you to the Uhl river bridge crossing. This bridge is made of wood by the villages and is a great place to rest and enjoy your lunch too. Once you have crossed the river and rested for a while, you need to climb uphill for 15-20 minutes.
Be careful on this route as there are several itchy plants here with spikes. Avoid touching them else you will end up itching yourself for the next few hours. After you have climbed uphill and reached the dirt road, you simply need to walk to the left.
After 20 minutes of walk, you will notice the valley in front of your and several traditional houses on your left side. You have successfully reached Rajgundha village and have completed the trek!
Solo Trek Vs. Guided Trek
One of the most important things to remember on this trek is whether you should do this trek without a guide or not. If you are trekking from the Billing side, you definitely need a guide as there are many wild animals on this trail.
So, do take a local with you when doing this trek from Billing side. On the other hand, if you are trekking from Bada Graan village, you don't need a guide. The trek is just 6 km long and you will meet a lot of villagers on the way so you won't get confused on the path.
Suggested Itinerary for Rajgundha Trek
Here is a suggested itinerary that you can follow for this trek.
Day 1: Delhi to Barot
If you are starting from Delhi, then you can take an overnight bus to Palampur and then a local bus/taxi to reach Barot.
You will reach Barot by 10 – 11 a.m. the next morning.
Day 2: Barot to Bada Graan to Rajgundha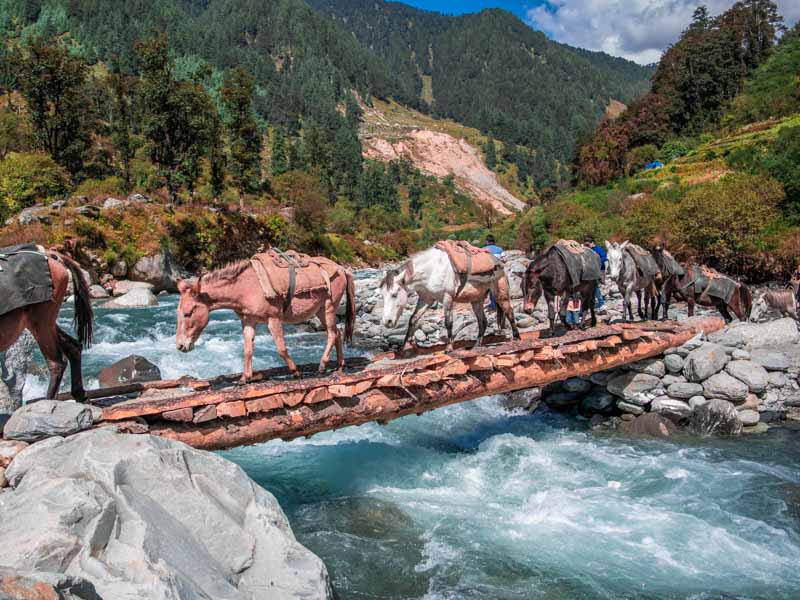 Once you have reached Barot, freshen up a little and then take a cab to Bada Graan and start your trek around 12 p.m. From Bada Graan village, the trek to Rajgundha will take around 2.5 – 3 hours and on the way, you will cross the Uhl river too.
You can spend some time at the Uhl river as Rajgundha is just 45 minutes from the bridge. So, you will reach Rajgundha village by 4 – 5 p.m. mostly and can relax for the day here.
Day 3: Explore Rajgundha and Short Hikes
Spend a complete day in Rajgundha and go on a few small hikes and treks here to enjoy the gorgeous mountain views.
You can also choose to relax and just chill by the river without exerting too much energy. Check out the below Things to Do section to get ideas on what all you can do around here.
Day 4: Rajgundha to Billing Takeoff Site Via Channa Pass
The next day, start your trek to Billing a little early if you wish to do paragliding from the takeoff site. You can leave Rajgundha by 9:00 a.m. as it will take around 5-6 hours to reach Billing.
On the way, you will cross the Channa Pass from where you can admire the panoramic view of Thamsar Pass. Once you reach Billing, you can do paragliding which takes around 20 minutes and land directly at Bir landing point.
You can choose to leave Bir the same night by booking a Volvo bus to Delhi.
Day 5: Bir to Delhi (Optional)
On the next day, you can explore the monasteries and waterfalls in Bir. There are several amazing cafes to try here as well. If you are feeling adventurous, you can rent a mountain bike to explore the mountains here.
In the evening, leave from Delhi using a Volvo.
Note: You can also leave Bir earlier by booking a flight from Dharamshala or a train from Pathankot station.
Things to Do in and Around Rajgundha
If you decide to spend a few days in Rajgundha, then here are a few things that you can do to make the most of your time here.
Admire the Dhauladhar Mountain Ranges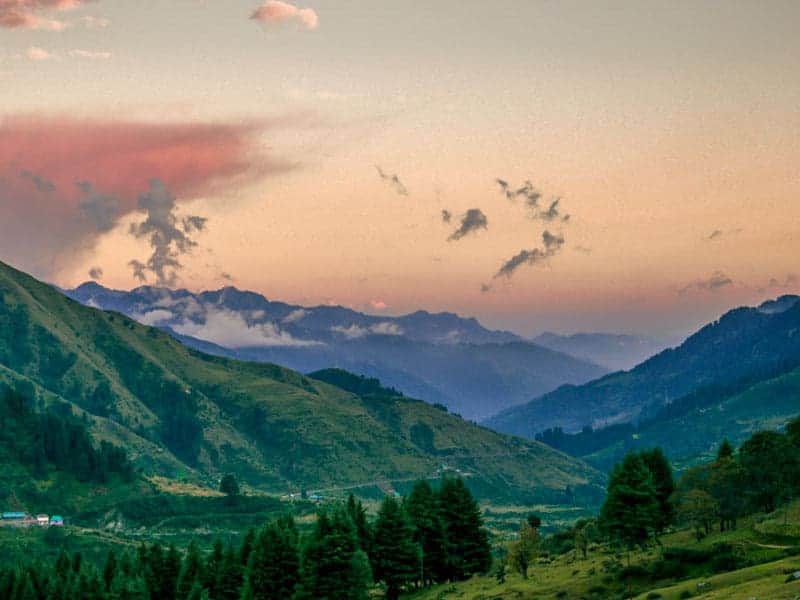 As I have mentioned before, Rajgundha is surrounded by Dhauladhar mountains and offers magnificent views for you to enjoy. So, you can simply walk around, meet the locals, and enjoy the enchanting views here.
The sunset and sunrise views from this valley are even more magical from here. So, make sure you stroll around at the right time and keep your camera ready to freeze those beautiful moments so that you can cherish these views forever.
Enjoy the Clear Night Sky
One of my absolute favorite things to do in Rajgundha was to stare at the night sky because it was completely gorgeous. The sky will be filled with stars and you could even make out the Milky Way Galaxy here.
That's not all, if the sky is clear then you could even see the planets from afar. Rajgundha offers a beautiful night sky for stargazers to admire and is perfect for astrophotography as well!
Explore the Chhota Manali Area
Another great thing to do in Rajgundha is to explore the small forest enclosure which is known as Chhota Manali. Here, you will find tall, pine trees covering the area and you can take a walk here to enjoy the peaceful environment or read books here while enjoying the solitude.
The moment you reach this enclosure, you will get overpowered with the pine tree smell. And honestly, it will be difficult to head back because it is just so quiet and amazing here.
Dip Your Feet in the Cool River Water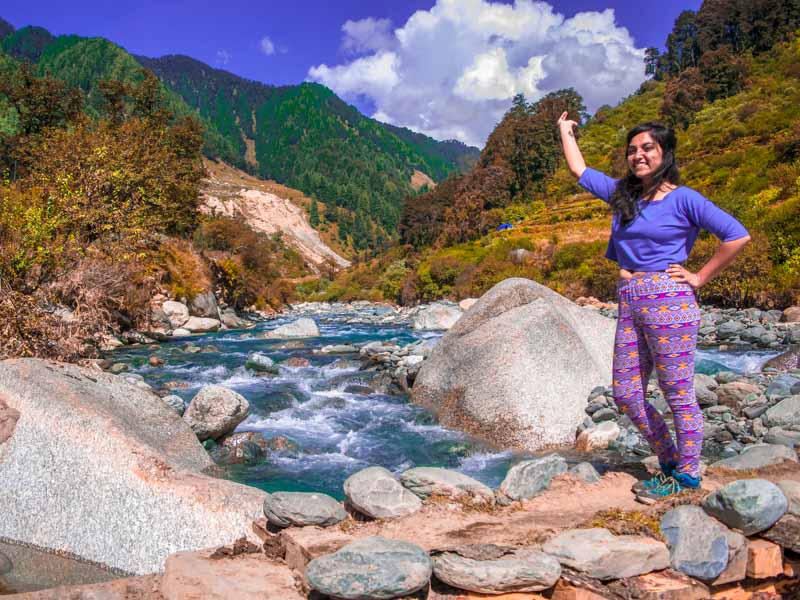 One of my absolute favorite things to do in Rajgundha was to hike to the Uhl river and dip my feet in the cold water. The river is just a 10-minute walk from Rajgundha village and is a great place to spend a major part of your day. It is quite relaxing and a cool breeze will keep you refreshed at all times.
Make sure that you don't spend too much time in the water because it is extremely cold. There are shallow water pools here too where you can take a bath. But be careful near the river as the current is quite strong and you could get dragged into the river.
Note: Avoid going near the river when it is raining because the river water can overflow.
Explore the Short Hikes in the Valley
There are several short hikes that you can explore in this valley to make the most of your stay here. You can trek to Thamsar Pass or Palachak which are easy, day treks, and explore more of the valley.
There are several other hikes and treks that take you to amazing viewpoints that you can take around here. All you need to do is keep your day pack ready and ask directions from the villages and enjoy your time to the fullest here.
Experience Paragliding from Billing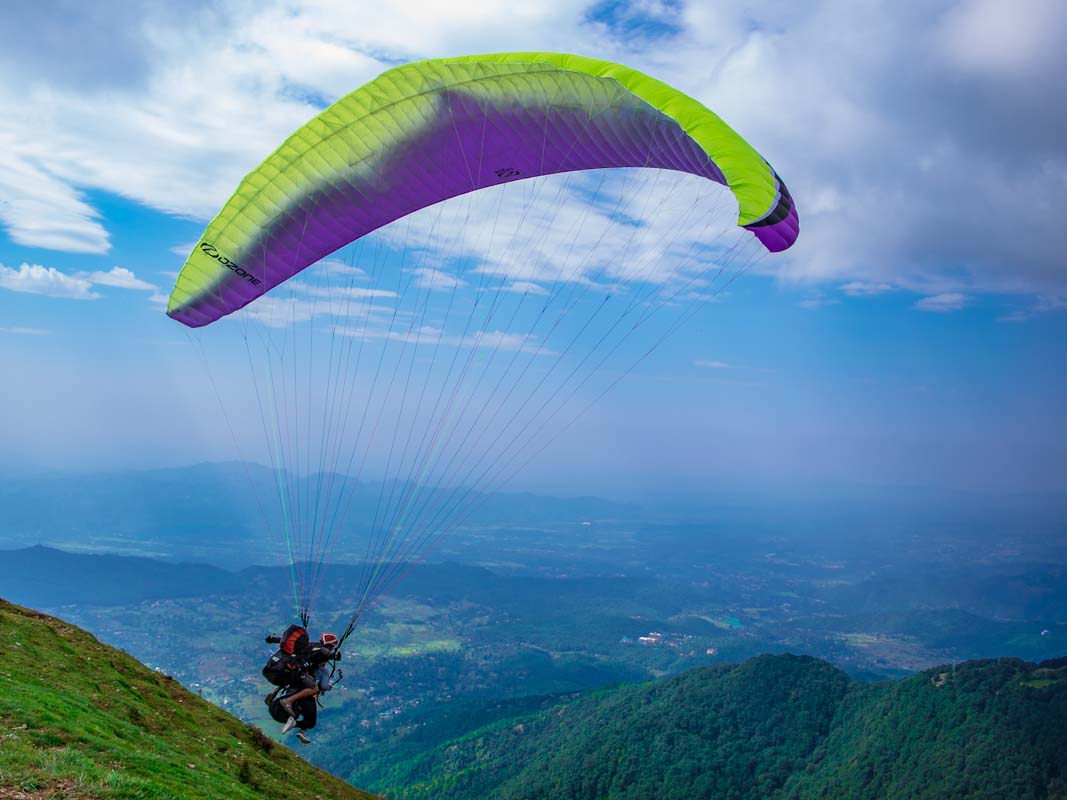 Of course, one of the best things to do on this trek is to experience paragliding when returning from the Billing side. This is a great way to make the most of your weekend and combine trekking with paragliding.
Paragliding costs just 2000 INR from here and you get to enjoy some gorgeous views of the nearby mountains. You can also opt for a GoPro footage for an extra 500 INR and trust me, it is completely worth it!
Go for Fishing in Barot
If you can spend some time in Barot, then do that. The Barot valley temperature is pleasant so you will enjoy staying a day here and can explore the Hydroelectric plant here or experience trout fishing here.
You will need to get a license for fishing that costs 100 INR and then you can check out one of the trout farms here for fishing. If you don't have enough time, then you can simply enjoy a meal in Barot consisting of trout fish that are freshly caught and served to you.
Where to Stay in Rajgundha Valley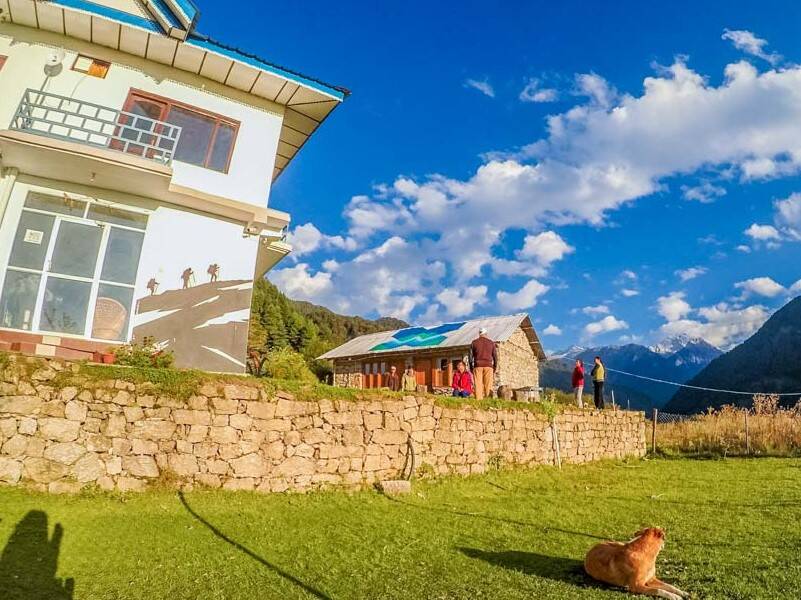 The villagers usually stay here throughout the year except for winters due to the excessive snowfall. And since they live in traditional houses made of mud and stone, they move to the villages at the lower altitude to escape the cold.
So, while you would find a lot of stay options available in the summer, monsoon, or autumn season here, the options greatly reduce during the winter season.
Guesthouses and Homestays
You will find a few guesthouses here that will charge you 500 – 1000 INR per room for a night. These guesthouses are usually clean and also provide you with a clean blanket to stay warm at night.
Apart from a comfortable stay, you can also get meals here for 100 – 300 INR. All the meals prepared in these guesthouses are delicious and made from freshly cut ingredients so you will definitely enjoy it.
Camping Tents
If you are looking for a more adventurous stay, then you can even stay in a camping tent here. There are several campsites here where they offer you a tent stay for 500 – 800 INR per tent.
You are also provided with sleeping bags, sleeping mattresses, tent rain cover, etc. during your stay in these tents. And you can enjoy a quiet and relaxed night under the starry night sky.
Bring Your Own Tent (BYOT)
You also have the option of bringing your own camping equipment to Rajgundha and spend a night under the starry sky. There are several guesthouses that allow you to camp within their premises and may charge you 200 – 300 INR for the same. You can also buy meals for them for a free stay here.
Remember to camp inside a fenced area at all times because jackals roam around during night here. So, you don't want to get into any accidents by camping outside the fence.
Where and What to Eat in Rajgundha
Grocery Store and Food Shops
There aren't many food stores available in Rajgundha so you have many limited options here. If you want particular biscuits, noodles, chips, etc. then you would need to get them from Bir or Barot.
There are a couple of small shops here that offer limited supplies and don't have a lot of different brands to offer. However, this can turn out to be good for you as you can reduce the intake of junk food here and lead a healthy lifestyle.
Guesthouses and Homestays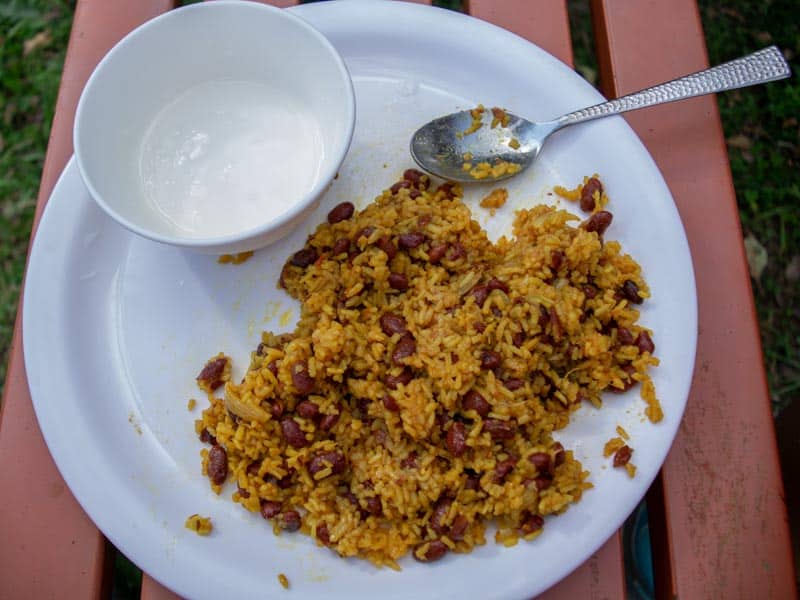 During my stay in this valley, I would enjoy freshly-cut vegetables and pulses here. Frankly, it was one of the best meals I have ever had in my entire life. From Rajma to cabbage, they procured everything fresh to cook highly nutritious food.
There are a few guesthouses and homestays here where you can pay for fresh meals and enjoy some delicious food. Each meal can cost you anywhere around 100-300 INR and is cooked with fresh ingredients so it is quite healthy too.
One of my favorite dishes to try here was the Rajma Khichdi that is extremely delicious and filling. Since the locals grow their own Rajma, potatoes, etc. without using pesticides, the food tastes amazing here.
ATMs in Rajgundha
Of course, this should not come as a shock but there are no ATMs available in this valley. The closest ATMs available are in Barot or Bir which can be turn out to be cashless during long weekends too.
So, it is advisable that you withdraw cash before reaching Bir or Barot and have enough for sustaining a couple of days.
Mobile Network in Rajgundha
The only mobile networks available in Rajgundha are Airtel and Jio. You will get an intermittent signal on the trek and no signal on Vodafone, Idea, or other networks.
Once you reach Rajgundha, Jio and Airtel will work but it won't be smooth and there are chances of no network when it is raining or snowing here. So, make sure you make all your important calls and texts before leaving Bir or Barot. A trek to Rajgundha is a kind of social media detoxification and can be good for you for relaxing and enjoying your surroundings.
Please note that there is a co-working hostel available in Rajgundha that offers WiFi services. However, WiFi stops working when it snows or rains here so plan accordingly.
Essential Things to Carry on the Trek
Here is a list of things that you should carry when going on the Rajgundha trek.
Bag
For the complete 3-day trek, you would need a good rucksack or backpack to carry all your essential items. In this, you will be able to store your clothes, warmers, camping equipment, trekking equipment, and so on.
You should also take a small day pack of around 20 liters that you can take with you while hiking around the valley. In this bag, you can keep your power bank, water bottle, energy bars, etc. to keep you hydrated and energized.
Clothing
Warm clothes
Muffler
Woolen Socks
Gloves
Since the temperature in Rajgundha stays cool throughout the year, you would need warm clothes to keep you comfortable and cozy during your stay here. Make sure you pack woolen sweaters, fleece jackets, inners, etc. to keep yourself toasty at night when it is considerably colder than the day time.
You would also need several pairs of woolen socks, a pair of gloves, and a muffler to keep your feet, hands, and neck warm.
Trekking Equipment
Hiking Shoes
Refillable Water Bottle
Raincoat/Poncho
Trekking Pole
You will also need good trekking equipment to enjoy a comfortable trek, especially if you aren't doing it with any trekking company. Carry a good pair of hiking shoes that are waterproof so that your feet remain warm and comfortable at all times.
Also, carry a refillable water bottle with you so that you can fill it up from the river streams and keep yourself hydrated on the trek. You can get a carbon-filter water bottle that gets rid of germs and bacteria and makes water safe for drinking.
Depending on when you trek, it is a good idea to take a raincoat or poncho to keep yourself warm during rainfall or snowfall. You can also get a trekking pole so that you don't exert pressure on your knees while trekking.
Camping Equipment
Camping Tent
Tent Rain Cover
Sleeping Bag
Sleeping Mattress
Now, if you wish to camp in Rajgundha then you would also need to carry your camping equipment with you. You would need a camping tent that can fit 2 or more people, depending on how many trekkers are with you. Also, take a tent rain cover so that you don't get drenched while sleeping inside the tent and remain warm and comfortable.
Also, you will need a suitable sleeping bag to keep your warm and toasty so you can sleep soundly inside the tent. Get a sleeping mattress also so that you have good insulation and padding when you sleep.
Summary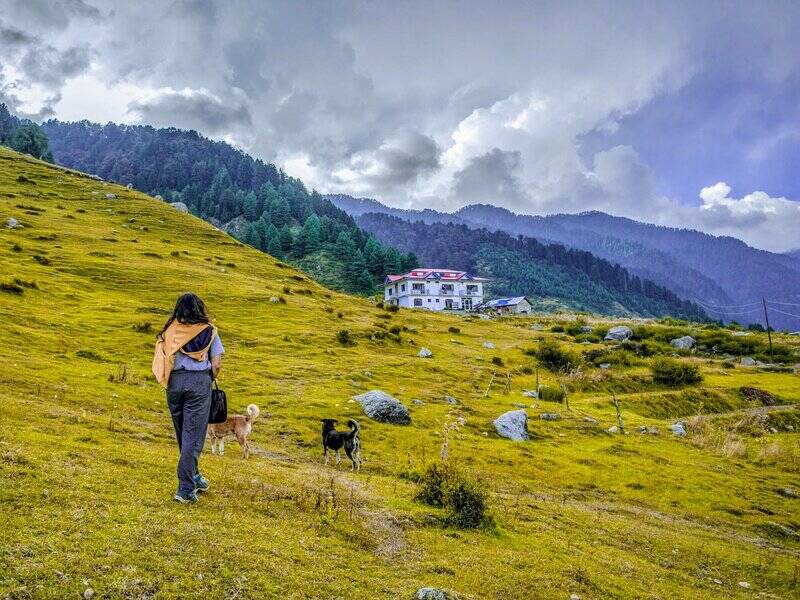 One of my favorite things about Rajgundha valley is that it offers clear sky and clean air to breathe. This is because there aren't any roads connecting the main towns like Barot or Bir Billing to this place. So, when you stay in a healthy environment, you can see all its benefits on your body and mind. It makes you relax and helps you in attaining a fit body which is usually hard to maintain in the towns and cities.
Honestly, I am not a trekking enthusiast or much of a mountain person. But my stay at Rajgundha did make me fall in love with the mountains. Waking up early to watch the sunrise, hiking to the river, watching the Milky Way Galaxy with naked eyes. Ah! And not to forget the delicious Rajma Khichdi.
My stay here was nothing short of memorable. So, if you are looking for a break from the city life, then Rajgundha treks is one of the best way to do that.