I have wanted to do Paragliding in Bir Billing for a long time but never really got the chance. So, when I got a chance to volunteer for Zostel (More about it later) in Bir, I took the opportunity to make my dream come true.
I am actually terrified of heights and climbing tall structures. But I still wished to do paragliding once. So, I decided to overcome my fear of heights and experience paragliding in the 2nd best paragliding spot in the world. And it was certainly one of the most exhilarating feelings ever and I would definitely love to do it again.
If you are planning to experience this thrilling adventure too then here is everything that you need to know.
Also Read: Amazing Restaurants and Cafes in Bir Billing to Explore
Bir Billing Paragliding
Where is Bir Billing?
Bir lies around 70 km from Dharamshala and is close to many other amazing hill stations like Barot, Palampur, Mcleodganj, etc. It is a relatively lesser-known location so it isn't as commercialized yet.
Here, you can enjoy a tour of the beautiful monasteries, watch mesmerizing sunsets, or trek to some beautiful but offbeat locations, the choice is yours. But the one thing which Bir Billing is most famous for is the Paragliding activity.
Bir Billing is said to be one of the best Paragliding spots in Asia and second-best in the World. So, it is only fair to be curious about it and wonder if it is actually worth all the hype. This is exactly why I decided to try paragliding in Bir Billing and honestly, I am quite happy with my decision.
What is Paragliding?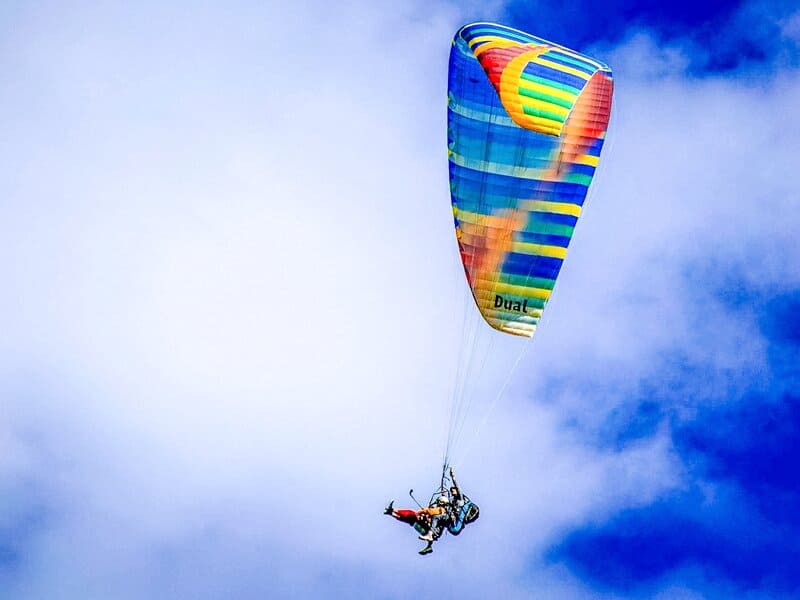 Paragliding is a type of recreational sport in which the pilot flies in the sky like a free bird. You just need a glider, a flying suit, and some boots to get you started. If you are paragliding for the first time then you can only do tandem paragliding.
However, if you do the course and get the certification then you can do solo paragliding as many times as you want.

But you would need your own glider for the same which can be slightly costly. On average, you can expect to spend around 1.25 – 1.5 lakhs on the paragliding equipment. This will include the gliders, harness, reserve, etc. And you will be able to use the glider for at least 200-300 times before you would need to replace it.
Also, the course itself will cost you around 35,000 – 40,000 INR so be sure that this is what you want before proceeding. Because paragliding is a serious investment, you cannot do it half-heartedly.
One important thing to keep in mind about paragliding is that it is based on the thermals and air current. So, if the climatic conditions aren't suitable or if it is too cloudy then you might not be able to glide until it clears up. But the wait is always worth it, especially if you love heights.
Because that feeling of flying in the sky, with a magnificent view to accompany you is simply indescribable.
Why You Should Do Paragliding in Bir Billing?
Now, there are a few sites in India where you can do Paragliding like Goa, Kamshet, Yelagiri, etc. So, why such a big fuss about Paragliding in Bir Billing?
Well, this is because Bir Billing is Asia's best Paragliding site and offers the best flying conditions. As a result, thousands of people come to Bir Billing from all around the world. Some come with their own paragliding equipment and end up spending a month here.
Did you know that the First Paragliding World Cup held in Asia was actually in Bir Billing? Yes, that's right! This World Cup was held in 2015 in which around 140 flyers had participated, making it one of the most popular events to be held in Himachal Pradesh till date.
Another reason why you should try paragliding in Bir Billing is that it is a major paragliding hub in India. Here, you will easily find numerous learning schools and licensed pilots who can help you become a pro in no time. And almost all of the pilots and schools have appropriate license and certifications so there is no issue about safety as well.
Also, since Billing is at a height of 2430m, it is a suitable spot for solo flying as well. Here are a few other reasons which will convince you to do paragliding in Bir Billing:
1. Good Cloud Base
For flying high in the sky, one needs higher cloud base which is readily available at Bir Billing. So, it is easier to maintain your height and climb higher while flying in this valley.
2. Decent Air Current
As mentioned earlier too, Bir Billing receives adequate air current flow which allows you to take longer flights here as well.
So, one can easily enjoy a 15-20 minute of Tandem Flying here. But it majorly depends on the weather conditions so don't beat your instructor for bad weather.
3. Awesome Views from Landing/Take Off Sites
Lastly, you get to observe the most gorgeous views from the Billing take off-site. And not only that, paragliding during sunset time is even more magical. Bir is home to one of the most beautiful sunsets ever which helps in enhancing your paragliding experience.
So, trust me, you won't regret flying here ever! And if you come here during the winter season then you will also be able to look at the snow-capped mountain which, in turn, is inexplicably beautiful.
Different Flying Options for Paragliding in Bir Billing
There are three types of flying possible in Bir Billing:
Tandem Flying
In Tandem Flying, there is one pilot and one guest flying together. In this type of flying, the pilot will be handling the controls while the guest will just enjoy and take in the view. Tandem Paragliding is open to everyone as you don't need to be trained it. A trained pilot will accompany you to manage the paraglider while you enjoy the flying.
This is a good option for people who aren't likely to get trained in Paragliding or aren't sure if they would like to do it. A Tandem flight usually lasts anywhere between 10 – 25 minutes, depending on the climatic conditions and the wind direction. If the sky is clear and the air current is good then you can easily enjoy 20-25 minutes up in the air.
However, if it is slightly cloudy and or there is some unexpected turbulence then you might have to land after just 10 minutes of flying.
The cost of tandem paragliding in Bir Billing is 2500 INR (Without GoPro footage) and 3000 INR (With GoPro footage). This is the cost during the peak season for paragliding in Bir Billing.
If you choose to do paragliding in Bir Billing in low season, then it will cost you around 2000 INR (Without GoPro footage) and 2500 INR (With GoPro footage).
Solo Flying
In Solo flying, only licensed pilots are allowed to fly alone in the sky. They can fly for as long as they want but only if they have the proper certifications to show. To get the proper certifications, one needs to train for 12-15 days and complete all the Paragliding courses. After that, you can fly solo for practice purpose and to complete your practical training.
Bir Billing is a famous destination for Solo Flying as well. So, you would see pilots from all over the world coming here to do Solo Flying. Since October-November is a good month for solo flying, it is the peak season in Bir Billing as well.
And unless you have an advanced booking, getting a place to stay here might pose an issue.
A lot of flyers book rooms or apartments for a month's time here. This way, they can make the most of the magical winds at this time and go for flying almost every day.
Long Flights
For people who would like to spend more time flying in the air, there is an option of Long Flights as well. This usually lasts between 40 – 60 minutes and can cost you anywhere between 6000 – 8000 INR.
Also, there are flights available from Billing to Manali which can be completed in 5-6 hours. But it will easily cost you somewhere about 15,000 – 20,000 INR. You can inquire more about these after reaching Bir Billing.
Bir Billing Paragliding Courses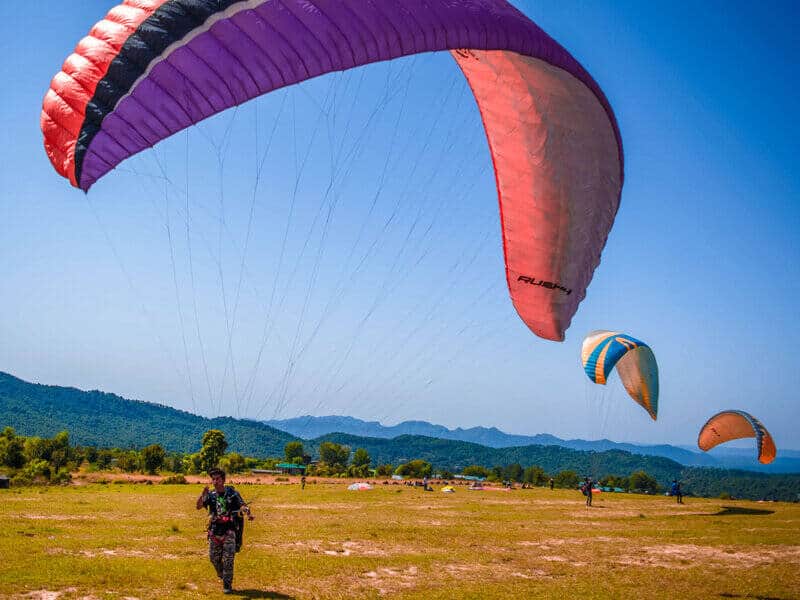 In Bir Billing, apart from the Tandem Flying, you can also take the Paragliding Courses (P1, P2, and P3) to learn how to fly solo. Usually, the entire duration of the three courses is 15-20 days. And once you have completed it, you get a Course Completion Certification which you can use for Solo Flying.
This certification is valid in a few countries. But if you wish to Paraglide in some other country, you will need to apply for a license from the Fédération Aéronautique Internationale.
Here is a detailed breakdown of the Paragliding Courses that you would need to complete in order to be eligible for Solo flying.
P1+P2 Paragliding Pilot Course in Bir Billing
This is the basic course that you need to complete to be eligible for your first Solo flight. In this course, you will perform ground training first. Once you have mastered it, you will move to flight training.
This course will cover basics like canopy handling, inflation, stabilization of the wing, take off practice, how to make turns, how to land, and so on.
Duration: 6-8 days (Depending on the weather conditions)
Cost: 20,000 INR – 25,000 INR
P3 Paragliding Advanced Course in Bir Billing
Once you have completed your P1 and P2 Paragliding Courses, you are eligible for the P3 Advanced Course. In this course, you will learn Advanced Flying techniques.
This course will cover advanced launch techniques, Soaring Flights, 360-degree turns, top landings, planned approaches, and so on.
Once you have completed your P3 Certification, you can start Solo Flying anywhere in India.
Duration: 5 – 7 days (Depending on the Weather Conditions)
Cost: 15,000 INR – 20,000 INR
Best Time to Do Paragliding in Bir Billing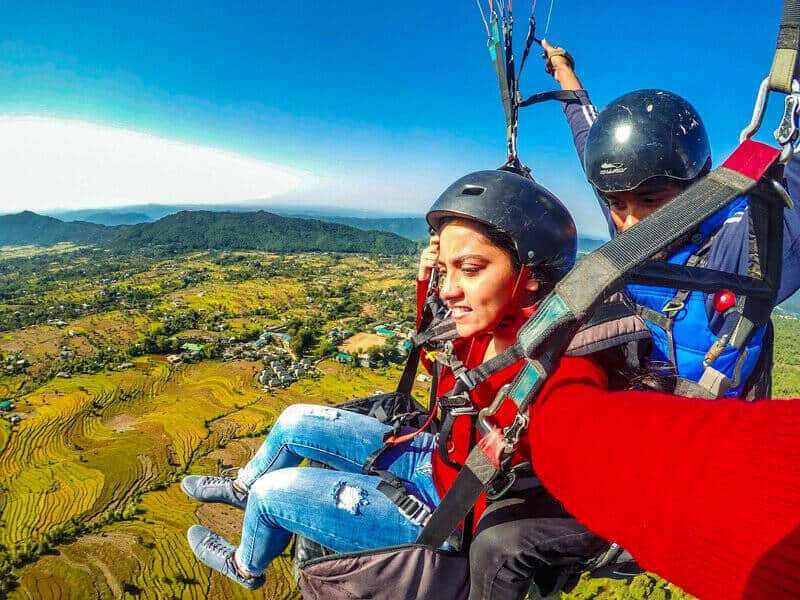 Paragliding in Bir Billing is open throughout the year, except for the monsoon season. However, that doesn't mean that you will experience good climatic conditions here for the rest of the year.
So, here is a detailed break down of everything that you can expect in Bir Billing in different seasons.
Summer Season
Starting from the month of March till the end of June or mid-July, you have the Summer season in Bir Billing which is a good time for long flights.
However, due to strong winds and occasional storms, paragliding in Bir Billing is not certain at this time. It can also get occasionally canceled due to bad weather. But if you have a couple of days at your hand then it shouldn't be an issue really.
Monsoon Season
From mid-July till mid-September or sometime later, Bir Billing experiences the monsoon season. During this time period, Paragliding is shut down in Bir Billing.
There is no exact date as to when the Paragliding will shut down or restart for the year. It majorly depends on the rainfall that year. If you have any doubts though, you can always call up Zostel Bir to ask about paragliding season.
There are several Paragliding companies as well to confirm if Paragliding is open yet or not.
Winter Season
In all honesty, winter time is the best time for Paragliding in Bir Billing. During this time, you have clear skies and good air current.
This is an ideal time for both Tandem Paragliding and Solo Flying in Bir Billing. And you might also witness people training on the ground who are taking the Paragliding courses.
Winter months start from October and last till the end of February, making October-November the ideal time for Paragliding. Paragliding in Bir Billing is open in the months of December, January, and February as well. But you would need to trek 1-2 km in the snow to reach the Take off Site.
But the view in the winter months is completely worth the effort.
Is Paragliding Safe in Bir Billing?
As is the case with most adventure sports, you can never be too careful while Paragliding. All the pilots are licensed and have practiced this for numerous hours before being made your Tandem Flying pilots. However, sometimes the climatic conditions or some accidental damage can often cause problems when you are flying.
The important thing is to keep calm and let the pilot do his job. Avoid panicking as it can make it difficult for the pilot to land you both safely on the ground. Also, remember, if something happens to your paraglider, they always have a reserve for such occasions. So, there is absolutely nothing to worry about.
Just know that all these pilots are highly trained. They routinely make checks before letting anyone go flying. So, it is as safe as it can be to do Paragliding in Bir Billing.
Things to Keep in Mind While Paragliding in Bir Billing
Here are a few things to keep in mind while Paragliding in Bir Billing for a safe and fun experience.
1. Don't sit down while running for Take Off
A lot of people make this mistake of sitting before they have run off the edge of the mountain. As a result, accidents happen and people get injured.
So, make sure that when you are about to take off, you don't stop running and sit down. This is because it causes an imbalance and the pilot can end up hurting himself and you.
Just run for 30 seconds and before you know it, you will be flying.
2. Keep Running until you are in the Air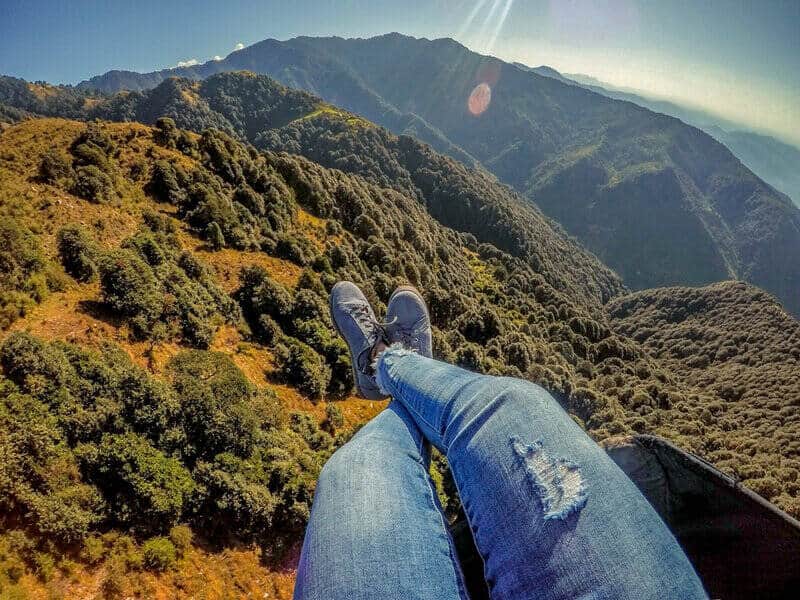 For a smooth take off, it is important that you keep running till your legs don't touch the ground anymore. Trust me, it barely takes you 5 steps before you are already flying into thin air.
3. Don't Lean Forward in Your Seat Too Much
While it is okay to be curious and want to see around, don't lean forward too much. This can make it difficult for your pilot to maneuver the glider and can pose a lot of risk to your life as well.
So, just sit back and relax and enjoy the ride in the sky.
4. Wear Something Warm for Early Morning Flights
If you are planning to fly during the Winter months, make sure that you dress properly. This will ensure that you won't feel cold up in the air as it can become quite cold during winters, especially during morning hours.
Wear something warm to keep yourself snug in the sky. Try to cover up as much of your body as you can if you don't want to shiver while paragliding in Bir Billing.
5. Avoid Eating Something Heavy Before the Flight
If you suffer from vertigo or motion sickness then it is advisable to not eat anything before the flight. While the flying isn't scary, your nerves could end up making you barf if you had a heavy breakfast just 30 – 45 minutes before the flight.
6. Don't Panic When You are Paragliding
The most important thing to remember is to not panic if you feel turbulence while flying. You are flying with a highly trained pilot so let them do their job.
Your panicking won't help the situation at all. Just relax and calm yourself down while your pilot does his job.
7. Relax and Enjoy the View
Also, don't forget to enjoy yourself while flying. I know that flying for the first time can be slightly nerve-racking but once you are in the air, you will see that there is nothing to worry about. It feels just so peaceful and amazing and the views from the top are too good to be true.
I was slightly nervous before taking off but once my feet hit off the ground, I felt calm and zen. And trust me, it was the most amazing feeling in the world to see the mountains from up so high.
8. Always Listen To Your Pilot's Instructions
Lastly, pay attention to what your pilot is telling you. If he tells you to sit straight or not put too much weight on one side then listen to him.
They are highly trained pilots and know how to manage the glider well. So, if he is saying something to you, it will be for a good reason.
Honestly, I had a blast and was nervous for just 5 seconds before taking off. But once I was in the air, I didn't feel scared at all and actually loved the feeling of gliding. So, do give it a try at least once!
If you have a couple of days, then you can also head for the Rajgundha Trek from Billing Site.