Kheerganga trek, a perfect trek for beginners, was my first trek ever. And while it was an easy trek, there is a lot that I didn't know about before starting the trek. As a result, I faced a lot of issues but in the end, our destination was completely worth it.
We planned our Kheerganga trek from Delhi and struggled a lot while reaching because there weren't many articles on Kheerganga 4 years back. Luckily for you, if you are contemplating if you should go on this trek or not, this guide will help you plan the trek.
In this guide, I have noted down all the information on this trek including the distance, temperature, accommodation options, and so on.
Kheerganga Trek
Situated at an altitude of approximately 3050m, Kheerganga is a small village nestled amidst the Parvati Valley.
According to the local legends, Lord Shiva meditated here for around 10,000 years, making it an important religious site.
Also, Kheerganga was given the name because of the milky white Parvati river that flows beside the valley. You will find an ancient temple dedicated here to Lord Shiva as this places is said to be the abode of Lord Shiva and is considered a spiritual site.
One of the top treks in Himachal, apart from the Prashar Lake Trek, Kheerganga is particularly famous for its hot springs. Yes, that's right! You will find hot springs here at the completion of this trek (something that's a must to relax those aching muscles and joints).
The natural water from these hot springs is milky white and a bath in it is found to be meditative and sacred.
There are separate pools for women so, you don't have to worry about your privacy as well while taking a dip in it.
A lot of people even trek to kheerganga in December to enjoy the snow-covered trails and the snow-capped mountain views. However, if it is your first trek, then avoid trekking in December or join a trekking group as it is not advisable to go on a snow trek alone.
How to Reach the Starting Point of the Trek – Barshaini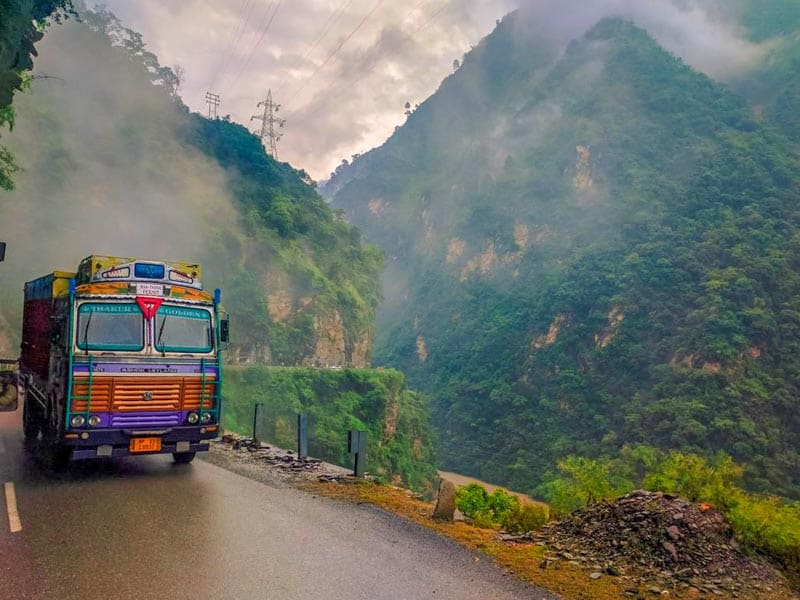 The starting point of this trek is the village of Barshaini which is the last motorable road in the area. So, your goal is to reach Barshaini and then start your trek from here.
Reaching Bhuntar
To reach Barshaini, you will need to reach Bhuntar first and the time taken to reach Bhuntar depends on where you are starting from. Here are a few ways that you can choose to reach Bhuntar, regardless of where you are starting from.
Air
The closest airport to Bhuntar is the Kullu Manali airport at a distance of approximately 1.5 km. You get flights from Delhi, Shimla, and Chandigarh to this airport, and the frequency of these flights is slightly low.
However, if you are short on time and don't mind spending the extra money to reach Bhuntar, then taking a flight from one of these destinations could be a good choice.
Rail
The closest railway station to Bhuntar is the Pathankot railway station at a distance of 245 km. From Pathankot Railway station, you can take a bus or taxi to reach Bhuntar or you can take the passenger train to Joginder Nagar which is around 95 km from Bhuntar.
From Joginder Nagar, you will find local buses or cabs to reach Bhuntar.
Road
If you are planning to start the Kheerganga trek from Delhi, then one of the best ways to reach is to take a private Volvo bus or local HRTC bus to reach Bhuntar. You can find HRTC buses for 500 INR whereas the private Volvo buses will cost around 800 – 1000 INR and there will be several buses available in the evening to take you to Bhuntar.
The buses will take around 10-12 hours to reach Bhuntar from Delhi.
Reaching Barshaini from Bhuntar
Once you have reached Bhuntar, you need to reach Barshaini to begin the trek. Barshaini is situated around 46 km from Bhuntar and will take around 2-3 hours in a private cab or local bus.
You will find regular buses to Barshaini from Bhuntar that will charge you 50-75 INR and will take 2-3 hours to reach. You can even take a private cab for 2000 INR (divided by 4 passengers) to reach Barshaini.
Note: While you are waiting for the bus, enjoy some breakfast in Bhuntar as it will be a long ride to Barshaini village.
Note: The last bus to return from Barshaini to Bhuntar leaves around 2 – 3 p.m. so be careful when planning your return ticket from Bhuntar.
Kheerganga Trek Route Map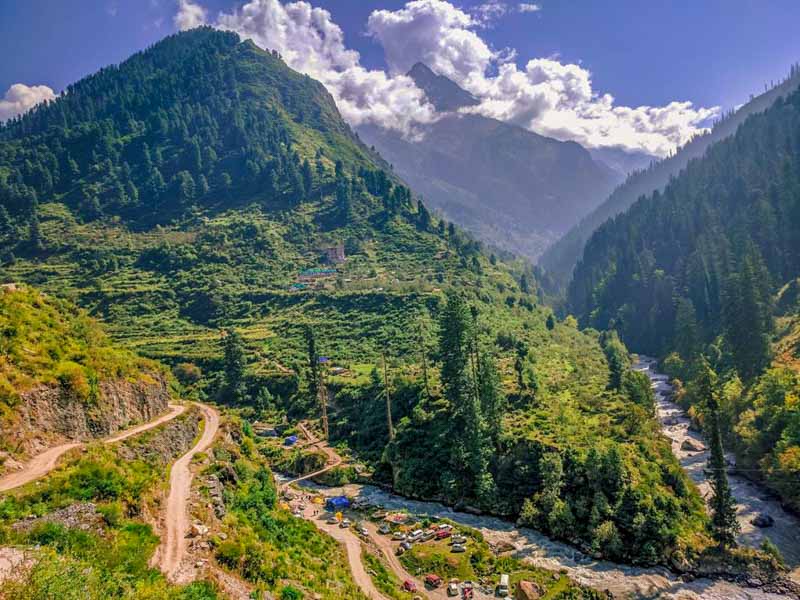 Trekking Routes to Kheerganga
The complete Kheerganga trek distance that you have to complete is 18 – 20 km (both ascent and descent) regardless of which route you choose. This trek distance is counted from Barshaini and is differs only slightly for the three trekking routes available.
From Barshaini, you walk to the bridge and then take the left turn and make your way to Nakthan Village. You can ask the locals for the directions for the Nakthan village and Kheerganga and they will help you out. This is the shortest route and takes around 3-4 hours on average. This route lies on the left side of the Parvati river and is well-marked with a lot of food stalls and waterfalls on the way.
If you are staying in Tosh, then you can take the Tosh route to reach Nakthan village and continue with the route 1. This is perfect for people who are staying in Tosh for the night and wish to trek early morning to Kheerganga.
From Barshaini, if you take the right turn from the bridge, you will reach Kalga village. Kalga Village route is quite different and passes through a dense forest and can be a little confusing. However, there are usually many people on this route so you should be good. Also, this route joins the main route midway.
I used route 3 while reaching Kheerganga summit and route 1 while descending back to Barshaini village.
Through Kalga Village
You need to turn right from the bridge of the Barshaini village and follow the path till the road ends. Then, you need to climb up, the first few steps will be a little steep but you would have a few rocks at your disposal to take support.
Once you have climbed a little, you will see an open enclosure with a small hut. You can rest here for a while or you can hike for another 10 minutes to reach the first food stall point of this route. The trail will be straightforward to this food stall point.
After hiking for another 2-3 km, you will see a small waterfall and a bridge over this waterfall. You carry on for another 2 minutes on this path and you will find the second food stall point of this trek route.
Keep hiking further, now you will come across a steep 1 km stretch which you need to carefully ascend. Once you cross it, you will see a huge waterfall and a small café here named Shalom Waterfall Café where you can enjoy a hot plate of Maggi and tea. You can also fill your water bottle from here as the water is clean here.
The trekking trail will become slightly difficult after the waterfall and is a continuous uphill climb. Also, the trail is properly marked and you can enjoy the forest scenery while making your way on it. It can become a tiring but you are shaded from the sunlight so the cool air helps you relax. Make sure you have sufficient water for this stretch.
After 2 km of hiking, you will come across another small waterfall and café. From here, the summit is just another 2-3 km and will take around 45 – 60 minutes to complete.
Through Tosh and Nakthan Village
If you are looking for a more scenic and shorter route for this trek then the Nakthan Village trail would be perfect for you.
Take the left turn from the Barshaini village fork and climb downhill to cross the river and reach Nakthan village. The first 1-2 km of the trail will be covered in stones and you will simply need to cross it.
After that, you will reach the Nakthan village, which is located on the right side of the Parvati river. Nakthan village is known for its small wooden houses and offers a few cafés as well where you can relax or eat something.
After crossing the village, you will come across the Rudranag Temple and a peaceful waterfall nearby. There is also a Dharamshala near this temple where you can stay and a couple of cafés. You can also fill your water from this waterfall and enjoy the pine forest views close to the mountain peaks.
After another 1-2 km, you will come across a bridge on the right that crosses a big waterfall stream. Here, you will have a basic dhaba offering staying facilities as well.
Once you cross the bridge, keep moving uphill and in another 1-1.5 km, you will reach the small waterfall and café. This point joins with the other route through the Kalga village.
From here, the path is similar to the other route and you will reach the Kheerganga summit in another 45 – 60 minutes.
Planning the Trek Details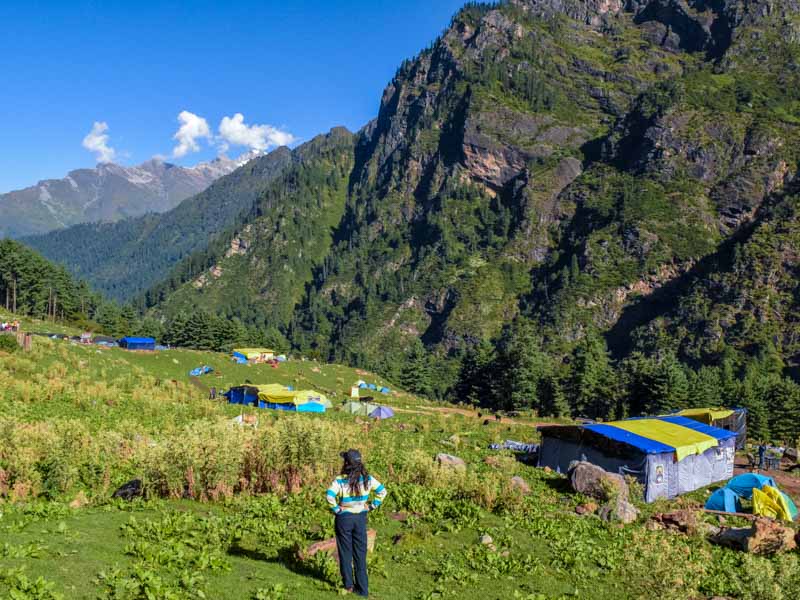 As mentioned above, the total kheerganga trek distance is around 20 km, so you can choose to make it a day trek or camp for one night at the summit and return the next day. As for the trek difficulty, it is moderately easy regardless of which route you choose.
While the Nakthan Village is simpler and more straightforward, it lacks cover against the sunrays. And the Kalga village offers the forest cover but can be a little steep at times. So, it is up to you which trek route you would like to choose.
Ideally, it takes around 4-5 hours for the ascent and 2-4 hours for the descent.
Day Trek
Yes, it is possible to do this trek in a day but you would need to leave early for that. This is not possible if you are reaching Barshaini around 11 a.m. – 12 p.m. So, you would need to stay the night at the Barshaini village and then start the next day around 5 a.m.
This way, you will reach the summit around 9 a.m. – 10 a.m. You can spend 2-3 hours at the summit and then reach Barshaini back by 2 p.m. to catch the last bus to Bhuntar. You can choose to spend more time at the summit and enjoy the hot springs as well, this way you will reach Barshaini by 5 p.m.
Two-Day Trek
On the other hand, if you choose to camp at the Kheerganga summit for the night, then you can leave for Barshaini once you reach from Bhuntar. It will take 4-5 hours so you should reach Kheerganga at around 5 p.m.
You stay the night and enjoy the sunrise the next day. The next day, you can start around 12 p.m. for Barshaini and you will reach back in time to catch the last HRTC bus to Bhuntar.
Note: You would need to book a trekking package if your plan to reach Kheerganga in December, January, or February due to the snow.
Best Time to Visit Kheerganga
One of the best things about this trek is that it has a pleasant temperature throughout the year. So, the best time for the trek is throughout the year, even in winter.
If you wish, then you can trek here in the winter months too but you will have to plan well for this journey.
Below is a breakdown of what you can expect to find in Kheerganga in different months:
March to June (Summer Season)
Summertime is undoubtedly the best time for this trek if you wish to escape the summer heat. In fact, most people plan the Kheerganga trek from Delhi during these months to relax and chill in pleasant weather.
However, since Kheerganga is at a high altitude, the temperature stays cool throughout the trek in summers as well. This is why you need to carry warm clothes on the trek during the summer months as well.
July to September (Monsoon Season)
Although trekking to Kheerganga in monsoon months can be a little tricky, it is quite rewarding as well. During these months, the entire valley is covered in lush greenery which can be a magical sight.
However, it will be colder at the summit so pack warm jackets and thermals to wear at night. Also, the trek trail is muddy and slippery at this time so, pack good waterproof hiking shoes for your trek.
October to February (Winter Season)
Finally, you can even trek here in the winter months but you need to be more careful. Kheerganga in October and November is still manageable and would simply require you to pack more warm and woolen clothes.
However, if you want to trek to Kheerganga in December, January, or February then you would need to hire a local guide and porter. You can also find a winter trek group and join them because trekking on your own to Kheerganga in winter months is not easy.
What and Where to Eat on the Trek
At the Kheerganga Summit
You won't find any proper food establishment at the summit but the camping vendors do offer basic meal facilities. Although it will be quite expensive, so you might want to carry your own food for camping up at the top.
Please make sure that you don't litter including any food waste or water bottles at the summit.
On the Trek
You will find several cafés and food stalls on the trek to Kheerganga summit on every trekking route. You can get Maggi, Parathas, Fruits, Packaged Foods, etc. in these food stalls. However, if it is a long weekend then most of these food stalls empty out early in the day. So, it would be better if you purchase snacks from the base itself and carry it with you.
You don't have to worry about purchasing water bottles as there are several clean river streams and waterfalls on the way. Just carry a refillable water bottle with a carbon filter and you are all set for the trek.
Note: If you are trekking to kheerganga in December, then check from the base villages whether you will find food on the way or not.
Where to Stay during the Trek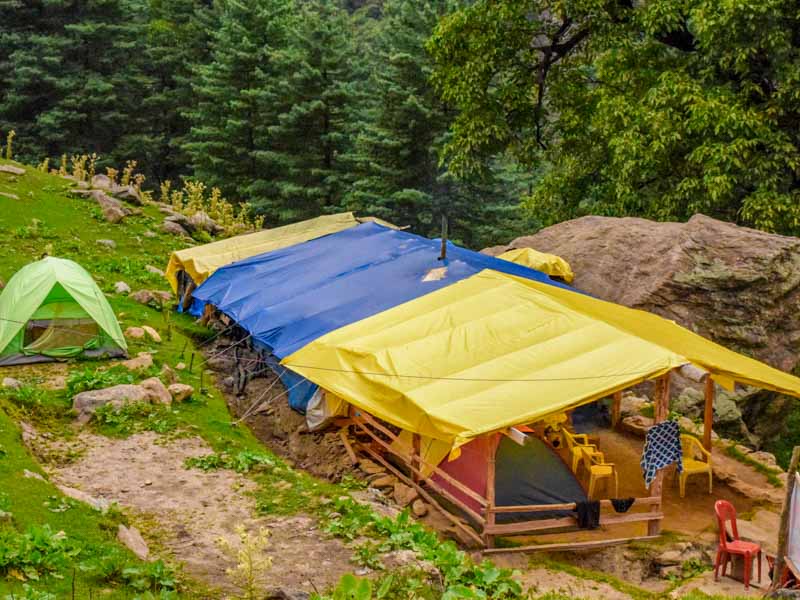 Depending on which route you choose and when you start to trek, you have a few accommodation options available that you can choose from.
Barshaini and Tosh and Kalga
Barshaini
As mentioned above, Barshaini is the last motorable road in the valley and is a small town with a few staying options in the form of homestays. So, if you are planning to start your trek from Barshaini, then you can stay in Barshaini for the night and start early the next day. In Barshaini, you will find a few basic dhabas and grocery stores to buy food and other essentials.
Tosh
From Barshaini, a road diverges for Tosh village and the village is around 3 km away. Since Tosh is a popular destination, you will find a lot of accommodation options available here. From hotels to homestays, you will find everything here which be a little pricey since Tosh is a popular tourist destination.
There are several cafés here where you can enjoy some delicious meals while enjoying the Parvati valley view.
Kalga Village
Another option is to stay at Kalga village where you will find a few cheap and basic homestays. There will be in-house cafés as well where you can eat.
Ideally, the cost of stay at any of these villages should be around 200-400 INR per day per person.
Kheerganga
In 2018, the High Court of India had banned camping in Kheerganga and shut down all the shops and stays here. This was done in an attempt to stop the littering in the area and preserve the natural beauty of this place.
While this was an amazing idea for the preservation of nature, it did leave a lot of adventure travelers high and dry as they couldn't spend a night at Kheerganga.
However, that is not the case anymore. We have received updates from the locals that only the permanent structures have been removed from here. You will still find several camping vendors in Kheerganga, at the summit.
Is camping allowed in Kheerganga?
Yes, you can camp in Kheerganga and can easily rent a tent for 300 – 500 INR from one of the camping vendors here. They will also prepare meals for you for which you need to pay more.
Also, the strict no-litter policy has been implemented here so, make sure you carry your litter with you to the base and throw it in a garbage bin.
Can you take your own camping equipment for camping here?
Yes, you can also take your own tent to camp at Kheerganga. However, you would need a permit from the HP Forest Department, Shamsha that is around 1 km from Bhuntar.
A Must Take Trek: Valley of Flowers Trek in Under INR 2500
ATMs near Kheerganga
There is no ATM near Kheerganga or around Tosh, Barshaini, etc. as well. In Kasol, you will find a single ATM that is usually out of cash for most days. There are a few ATM vendors in Kasol but they tend to charge a high fee for withdrawing the amount.
Apart from that, you will find a few ATMs at Manikaran too but most of the time, these ATMs don't have enough cash in them.
So, it is advised that you withdraw cash before starting your trip.
Network Availability on the Trek
Barshaini is the last point where you might get a signal on a BSNL sim but the chances of catching network on other Network providers are quite dicey. On the trek, the BSNL network works intermittently but there is no signal at the top of the trek.
Make all your important calls before starting the trek, possibly in Kasol or Bhuntar.
Essential Things to Carry on the Trek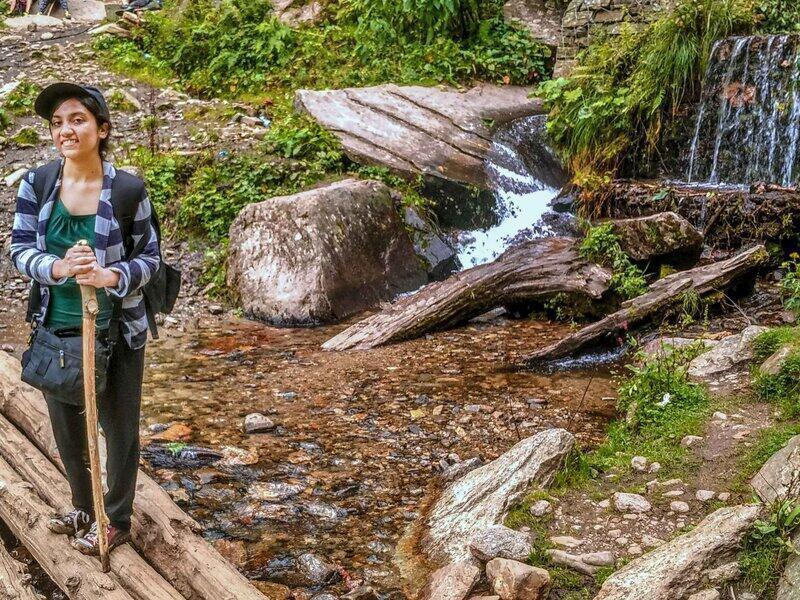 When I first trekked to Kheerganga, I had no idea about what I should carry so it was quite uncomfortable for me. So, make sure that you do carry these essential items when trekking to Kheerganga.
Clothing
Warm Clothes
Woolen Socks
Gloves
Woolen Cap
Thermals
Warm Jacket
Swimwear
As I have repeatedly mentioned above, Kheerganga's temperature stays cool throughout the year. And while during the trek, you won't need to wear a lot of warm clothes as you will automatically feel the heat due to trekking, you would need warm clothes for evening and night.
Make sure you carry 2-3 pairs of thermals with you to keep yourself warm at night. Apart from that, you would also need multiple pairs of woolen socks, a woolen cap, and a warm jacket.
Also, if you are planning to take a dip in the hot spring, then do carry a swimwear with you too.
Note: If you plan to trek to Kheerganga in winters, you would also need a waterproof jacket and a few waterproof clothes so that the snow doesn't drench you wet.
Accessories
In the afternoon, it can be quite sunny here so you will need sunglasses and a hat to keep your eyes and face protected from the sun rays.
Trekking Equipment
Hiking Shoes
Trekking Pole
Day Pack
Backpack or Rucksack
Raincoat or Windcheater
Another important thing to carry with you is the essential trekking gear for this route. You definitely need to buy or rent a good pair of hiking shoes (waterproof and non-slippery) along with a trekking pole for an easies and more convenient trek to the summit.
If you are trekking to Kheerganga in August or September then you would also need to carry a raincoat or a windcheater to protect yourself from the rainfall.
And most importantly, carry a day pack of 10-20 liter for the day trek and a backpack/rucksack for a longer trip.
Other Essentials
Power Bank
Torch
First Aid
Snacks
Energy Drinks
Finally, as advised, make sure that you carry sufficient snacks for you for the trek and do carry a few energy bars and drinks as well.
Apart from that, you should carry a First Aid Kit for unexpected accidents. You would also need a torch to see your way at night and a power bank to keep your phone recharged for the descend.