An offbeat trek in Himachal Pradesh, Prashar Lake trek was my second trek and was worth all the effort. This trek has a gorgeous trail that lies in the valley of the Dhauladhar range and is one of the perfect weekend trips from Delhi.
On this trek, you will not only encounter some thick, lush forests but also views of snow-capped mountains. That's not all, one of my best parts about Prashar lake trek is also the temperature and the views at the night.
Camping beside the Prashar lake, surrounded by ultimate darkness, with the stars and moon lighting up the sky for you. Honestly, the night sky is breathtaking here and so is the sunrise. There was just something magical about watching the sunrise slowly from behind the Himalayan mountains and I can assure you that you would love every moment of it.
So, to help you prepare for this ultimate trek, I have prepared this guide. From the temperature at Prashar Lake to traveling from Mandi to Prashar lake, you will learn everything you need to know about this trek in this post.
Prashar Lake Trek
Perched at an altitude of 2730 meters, Prashar Lake is located in the Mandi district. Since Prashar lake has a pleasant temperature throughout the year, this is one the treks that you could do throughout the year, making it the perfect weekend getaway from cities like Delhi, Chandigarh, so on.
The trek takes you through the Dhauladhar mountain range and even offers views of Kinnaur and Pir Pinjal mountain ranges from the summit. With gorgeous meadows, majestic views, and the enchanting Prashar Lake at the summit, this trek has everything.
So, if you are looking for a little seclusion while enjoying amazing vistas then trekking to Prashar lake is the best choice.
Why Should You Visit Prashar Lake?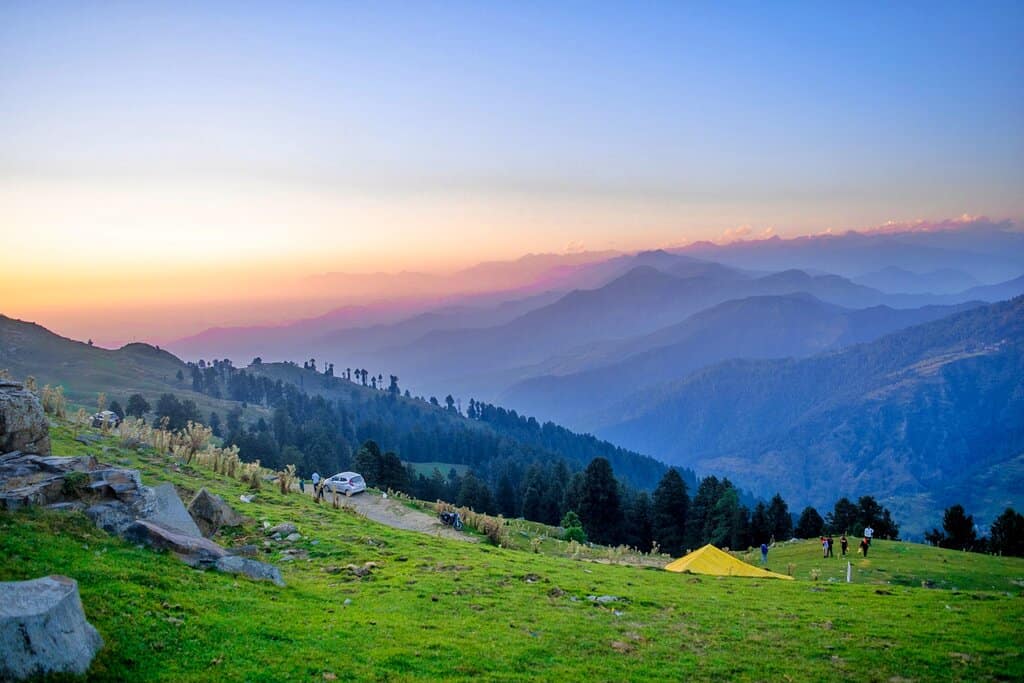 Unlike the Kheerganga Trek (also in Himachal), most people haven't heard about Prashar lake because it is not a popular tourist destination. So, you might be wondering what is so great about Prashar lake that you should plan a trekking trip here.
Well, there are a couple of reasons actually.
With its cobalt blue water, Prashar lake makes an enchanting sight for most people. Also, one of the most fascinating things about Prashar Lake trek is that you will encounter the Phumdi island in the lake. This is a floating mass of greenery that keeps changing its location in the lake.
On our 1-day stay itself, we saw this floating island make a complete round of the lake and it was quite fascinating to watch.
Apart from the lake itself, the views are quite astounding here. Both sunrise and sunset are quite magical to watch and will make you feel like you are in paradise. Plus, the night sky is really marvelous here as you can see the stars and the milky way galaxy due to low light and air pollution.
So, if you are a nature lover and are looking to spend some time away from the distractions of a city, then a visit to the Prashar lake is the best decision for you.
History of Prashar Lake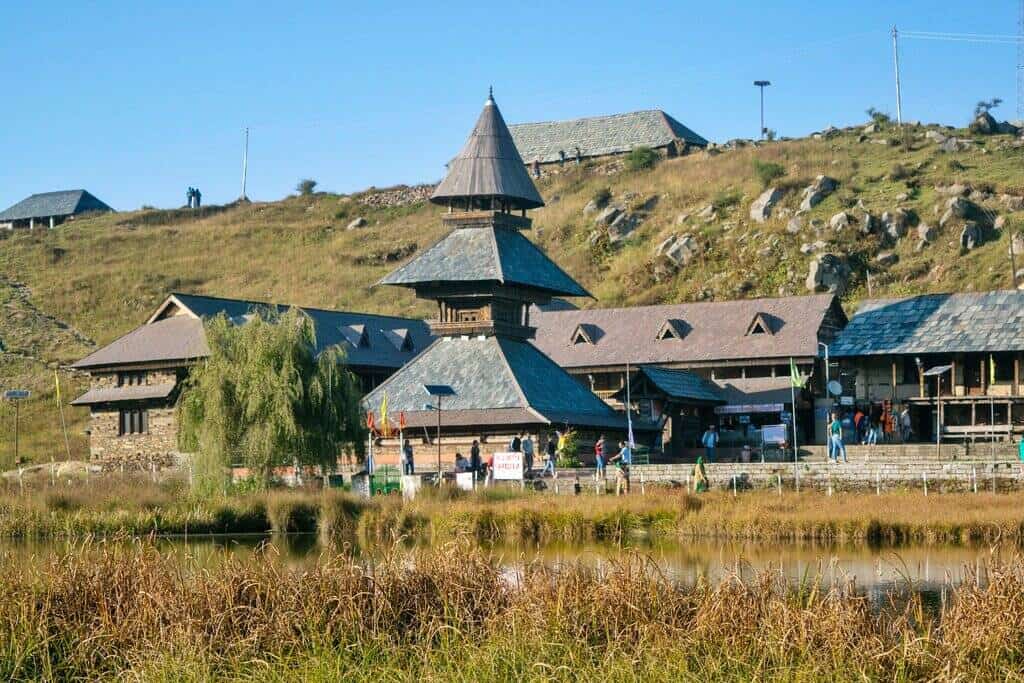 At the summit, you will also find a 13th-century temple built which was built by Raja Bank Sen of Mandi. The temple was built in honor of Prashar Rishi and uses traditional Himachal architecture and is the perfect place for meditating.
Legends about Prashar Lake
There are two popular legends regarding the lake that is often told by the locals.
In one version, it is believed that Prashar lake was formed by one of the Pandava brothers – Bheema when they were returning back from the war of Kurukshetra. It is said that they were accompanied by Lord Kamrunag who fell in love with this valley and decided to live here.
So, Bheema used his elbow to form a lake here which is why it is said to have the shape Bheema's elbow and the valley is often known as Kamru valley.
Another fascinating version is that sage Prashar used to meditate here in ancient times and this lake a barrier to keep the demons away from the human world. One day, the water of the Prashar lake started overflowing for a few days and threatened to drown the entire region.
In order to stop the demons once and for all, a devotee volunteered to go into the lake and defeat the demons. He stayed inside the lake for a couple of days and no one knew if he was alive or not. Finally, on the 5th day, he came out of the lake, and the lake water receded to its original location.
Prashar Lake Weather
Prashar lake has unpredictable weather so you can experience unexpected rain or snow anytime due to the dense forest region. The temperature at Prashar lake usually ranges between -8 degrees Celsius and 25 degrees Celsius but you can go on this trek throughout the year.
So, when you are trying to get an idea of the weather for the trek, you simply have to take a look at the weather predictions in the Mandi region. This is why you need to be always prepared when planning for the Prashar lake trek as the weather can unexpectedly change here.
Best Time to Visit Prashar Lake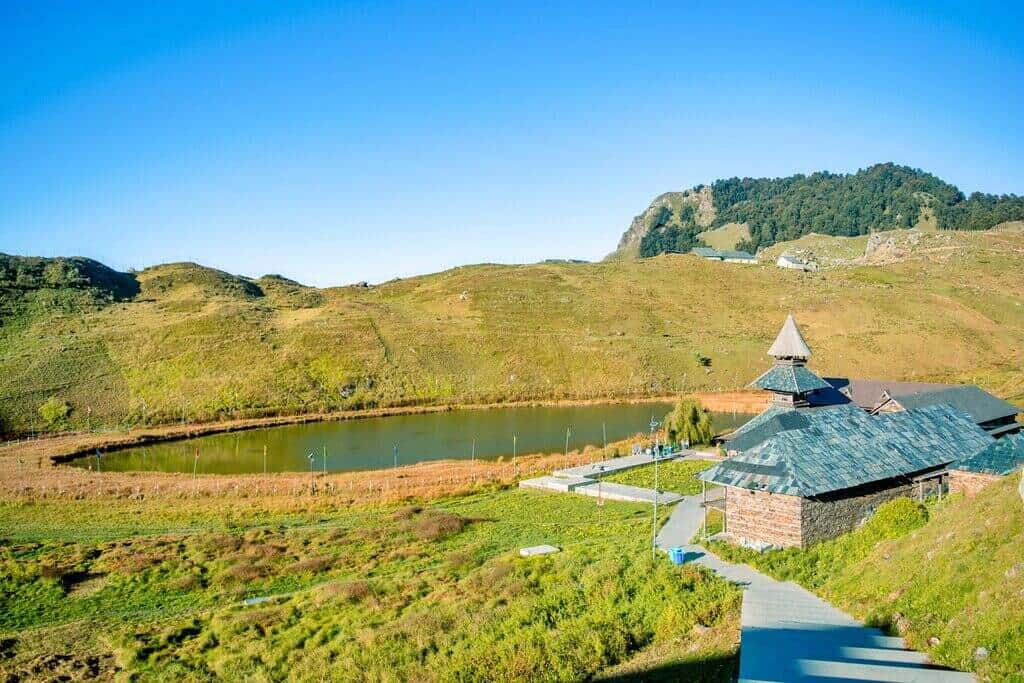 While Prashar lake has a pleasant temperature throughout the year, each month will offer you a different experience on this trek. Take a look at what you can expect weather-wise on the trek in each season.
Summer Season (March to June)
Ideally, the temperature in Prashar lake is pleasantly warm although the nights are still cold. So, if you wish to escape the heat of the northern plains then this is definitely a good time to plan the trek.
You can even set up your tent beside the lake and enjoy the cool, pleasant breeze. However, make sure you carry some warm clothes as you will experience a cool temperature at night when camping beside the Prashar lake. Also, carry sufficient water for the trek as you won't find any spots to fill water on the trail.
Winter Season (October to February)
The trek is still possible in winters as a snow trek but you need to be prepared for the cold weather. The temperature at Prashar lake drops at night and it often snows at the lake at night time. This is especially true for the months of January and February and you will experience freezing weather during these months.
Yes, that's right! Due to heavy snowfall, the entire lake freezes at times. And if the weather becomes worse around Prashar lake, then the valley gets cut off from the main district till the weather clears up.
You would definitely want a local guide if you plan to do the trek in winters and also good winter trekking boots along with other essentials. So, plan the trek carefully during the winter months.
Monsoon Season (July to September)
For people who don't mind rainfall, monsoon season could be the perfect time to do the Prashar lake trek. The entire valley will be covered in lush greenery and the lake itself will look extremely gorgeous. Plus, the weather will be cool and pleasant.
Personally, I find September to be the best month to visit Prashar lake because the rainfall isn't as prominent and the weather is still cool and nice. So, if you wish to experience green mountains but sunny skies then September is the perfect time to do the trek.
How to Reach Prashar Lake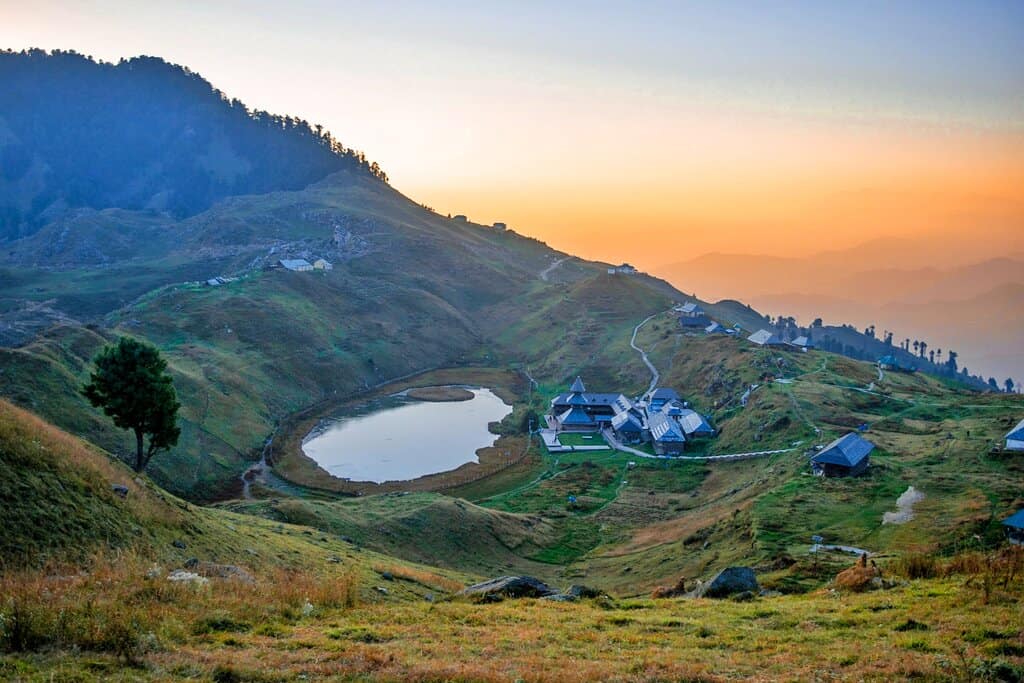 Well, one of the most important things to note is that there are two routes to reach Prashar Lake in Mandi district. Here are the two routes that you can usually follow:
Mandi – Bijani – Kamand – Bagi – Prashar Lake (50 km)
Kullu – Bhuntar – Bajaura – Shayari – Bagi – Prashar Lake (65 km)
If you are planning to do a weekend trip from Delhi to Prashar lake, then you have both the routes available. Mandi is located around 426 km and Kullu is located around 495 km from Delhi. So, it will take you almost the same amount of time to reach any of the two destinations and then make your way to Bagi village which is the starting point of this trek.
Another important thing to note is that if you are getting your own vehicle from Chandigarh or Delhi, then you can drive to the Prashar lake. There is a well-constructed road that leads to Prashar lake and can be used to reduce your trek time as well.
Reaching Mandi
Mandi is located around 50 km from Prashar lake and is your first main stop, regardless of where you start from.
Since Mandi is a major hub in Himachal Pradesh, there are several travel options available for you:
Air
The closest airport to Mandi is the Kullu Manali Airport, at a distance of 60 km. You get several flights from Delhi, Shimla, and Chandigarh. If you are short on time, then you can take a flight and then reach Mandi. However, if you aren't interested in exploring Mandi, then you can directly reach Bagi village.
From the airport, you can take a local taxi to reach Bagi village which is around 44 km from the airport. A taxi will cost you around 700 – 1000 INR for this journey.
Rail
The closest railway station to Mandi is the Joginder Nagar Railway Station, at a distance of 55 km. You will get regular trains from Chandigarh to Joginder Nagar and you will get trains from the rest of India to Chandigarh.
From this railway station, you can take a taxi to reach Mandi which will cost around 700 – 1000 INR.
Road
If you are planning the trip from Delhi to Prashar lake, then you will be following the route to reach Mandi: Delhi – Sonipat – Panipat – Kurukshetra – Chandigarh – Sundernagar – Mandi.
Private
You can choose to take your own vehicle to Mandi and will be able to cover the distance between Delhi and Mandi in just 9 hours. On the way, you will come across several good dhabas where you can stop for some delicious and filling meals.
At Bagi, you can safely park your vehicle and don't have to worry about it being getting stolen.
You will experience a smooth road till Kiratpur Sahib, after that the roads will be a mixture of bad and average until you reach Mandi.
Public Transportation
A better option would be to take a bus from Delhi or Chandigarh to reach Mandi. You will find both HRTC and private buses for this route as all the buses to Manali stop at Mandi on the way. From non-AC to semi-sleeper to Volvo buses, you will find all options available on this route.
Personally, I always use HRTC buses as they are cheaper and safe and will cost anywhere between 550 INR and 1400 INR for Delhi to Mandi route. From Delhi, it will take you around 12 hours to reach Mandi and 6 hours from Chandigarh.
Mandi to Prashar Lake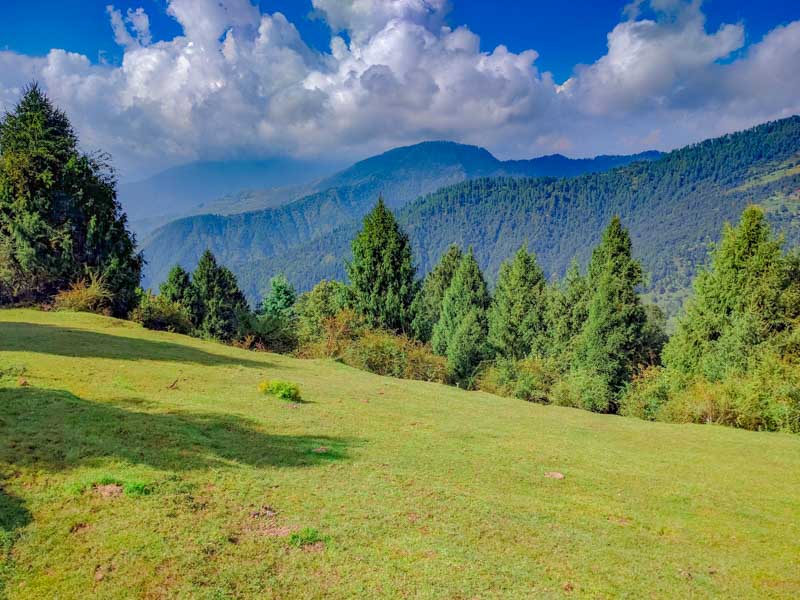 You can cover the distance from Mandi to Prashar lake in several different ways. If you are planning to trek to Prashar lake, then you need to reach the starting point of the trek which is Bagi village. Bagi is approximately 40 km from Mandi and takes around 2 – 2.5 hours via road.
Buses
One of the cheapest ways to reach Prashar Lake from Mandi is by taking the direct bus from Mandi Bus Stand at 7:45 a.m. This bus usually arrives between bay 1 and bay 2 and you can always ask the local bus conductors about the status of this bus. The cost of this bus ticket is around 88 INR and there is no way to get advance tickets for this bus.
It will take you around 3.5 – 4 hours on this bus and you will get a 15-minute rest stop on the way.
For people who wish to trek from Bagi to Prashar lake, you have the option of taking this bus to Bagi village. It will take around 3 hours to reach the village and then you can get down to start the trek. The bus ticket will cost you around 60 INR for this journey.
Cabs
From Mandi, you can easily get a taxi to Bagi village for 800 – 1000 INR. So, if you end up missing the early morning bus to Prashar lake, then you can simply hire a taxi to take you to the starting point of the trek.
If you don't wish to trek, then you can always hire a taxi to take you to Prashar lake for 1100 – 1300 INR. It will take you around 3 hours to reach in a cab. You could also book a roundtrip for 2000 – 2500 INR and save yourself a lot of trouble.
Kullu to Prashar Lake
From Kullu, Bagi village is around 54 km. So, if you are reaching Kullu first, then you can take a local cab to reach Bagi village or Prashar lake. A taxi will cost you around 800 – 1000 INR for Bagi village and around 1200 – 1400 INR for Prashar lake.
You can even book a roundtrip cab for Prashar lake for 2500 – 3000 INR.
Suggest Itinerary for Prashar Lake
Although you have the option of taking the road to reach the Prashar lake via driving, it is definitely more fun to trek to the lake. Here is a suggestive itinerary that you can follow to make the most of your time here:
Day 1: Delhi to Mandi
If you are starting from Delhi for Prashar lake trek, you can take an overnight bus to Mandi. Another option is to take a cab or drive yourself to reach Mandi by 5 – 6 a.m.
Day 2: Mandi to Bagi Village to Prashar Lake
From Mandi, you can catch the 7.45 a.m. bus to Prashar lake that takes around 4 hours to reach. If you are planning to do the trek from Bagi village, then you can get down at Bagi. From here, Prashar lake is only 1 hour via road.
From Bagi, you can start hiking on the Prashar lake trail and it will ideally take you 3-4 hours to reach the lake, depending on your fitness level.
At Prashar lake, you can camp for the night and enjoy the gorgeous views in this valley.
Note: If you have an extra day, then you can also head to the nearby Sukhasar lake which is just 2 km away from the Prashar lake. The views around this area will not let you get bored so you can visit the lake on a long weekend as well.
Day 3: Prashar Lake to Mandi to Delhi
The next day, you can start the trek back to Bagi village after enjoying breakfast and then take the 2.15 p.m. bus to Mandi. Another option would be to just enjoy your time at Prashar lake and then take the 1.15 p.m. bus leaving from Prashar lake to Mandi.
You will reach Mandi by 5 p.m. from where you can take a local or Volvo bus to reach Delhi, Kullu, or Chandigarh.
Prashar Lake Trek Route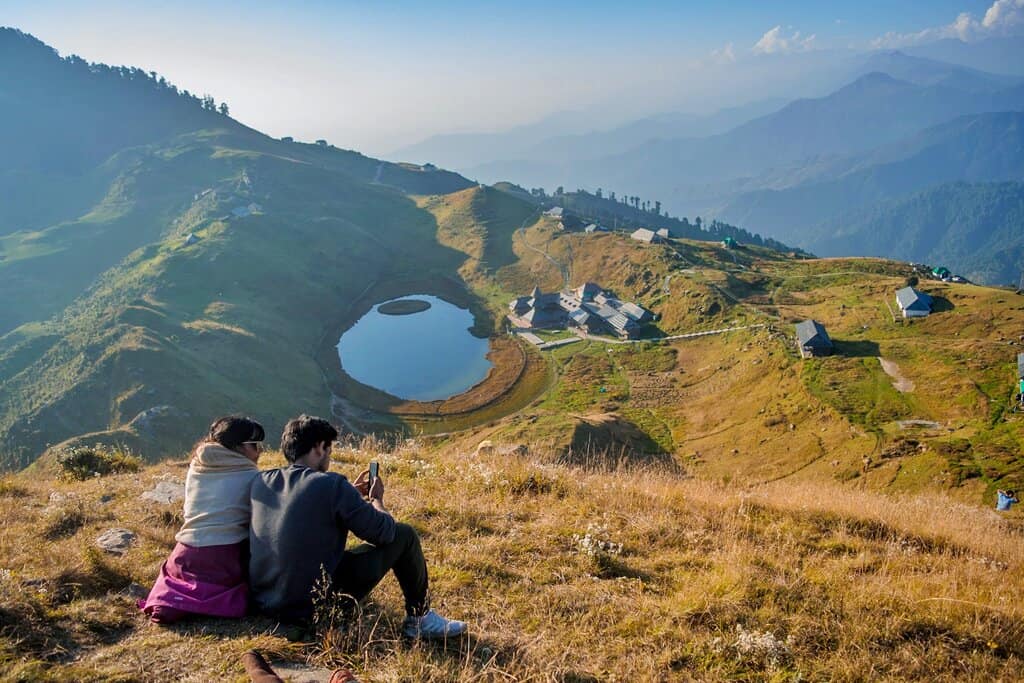 From Bagi, the forest trek route to Prashar lake is around 6-7 km and will take approximately 4 hours to complete. This is mostly an uphill trek route so it can be a little tiring. It would be advisable to take a local guide as you can easily get lost in the forest.
Here is the detailed route map of this trek so that you don't face any difficulty.
The trek starts along the river basin which is a little rocky. You will have to walk on this path for around 15-20 minutes and then you will come across the sole water point on your trail. Fill up your water from here, if needed.
From this point, your trail will divert from the river and you will need to move uphill. You need to keep climbing uphill for 3-4 km through the forest region. Remember, it is always an uphill path and not the simpler trail that you will see in front of you.
After completing 3-4 km, you will come across a beautiful meadow. From here, you will be able to enjoy the view of the surrounding mountain peaks. You can rest for a few minutes here. After crossing the meadow, you will re-enter a short forest region and will be climbing continuously for 10-15 minutes.
After completing the climb, you will see a few settlements in the form of huts and fields. From here, Prashar lake is only a 15 to 20-minute walk. Keep moving in the direction of the huts and you will see the Prashar road in the distance.
You need to walk for 5-10 minutes on this road and you will reach the Prashar lake enclosure. The trek is finally complete and you can camp beside the lake for the night to enjoy the views.
More Treks: Valley of Flowers Trek 2021
ATMs in and Around Prashar Lake
There are no ATMs near Prashar lake or even Bagi village so, make sure you carry a sufficient amount of cash with you. If you wish to withdraw cash for the trek then Mandi is the best option as there are several ATMs available there.
Personally, I would advise you to withdraw money from your home city.
Mobile Network in and Around Prashar Lake
You won't find any mobile network on the trek but that can be fun so, no worries. Also, to keep yourself from getting lost, make sure that your GPS is working as it will let you see if you are moving in the right direction or not.
At the Prashar lake, BSNL, Jio, and Airtel provide decent connectivity so you can easily make calls. However, you might experience an intermittent Internet connection over there.
Where to Stay near Prashar Lake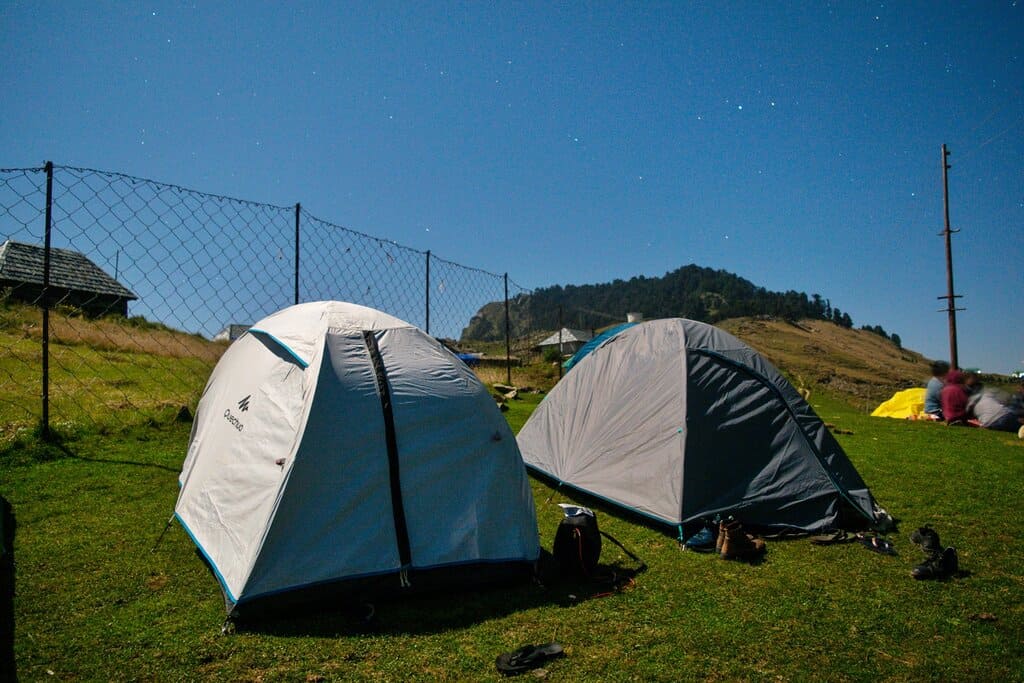 Although when I went for this trek, it wasn't as popular but slowly, it is gaining recognition. As a result, there are several accommodation options available near Prashar Lake.
Here are a few options to consider when planning your weekend trip to Prashar lake.
Camping Near Prashar Lake
In recent years, several camping sites have cropped around Prashar lake that offer great views, good food, and will offer you warmth and comfort at night. These camps can cost you anywhere between 1000 – 2000 INR per person including all your meals.
There is a public washroom available on the site that you can use to brush wash yourself a little.
There is a campsite, Krishna Camps, that has its private washroom and toilet but it is located 2 km away from the lake. So, if you don't mind being a little away from the lake then this is a great place to stay at.
Apart from that, you could always take your own camping equipment and set up a tent for yourself in the designated independent tents area, outside the lake enclosure
Prashar Temple Dharamshala
If you are looking for a super cheap mode of accommodation then the Dharamshala by the temple is perfect for you. They have dormitory-type rooms and you can talk to the locals at the temple to open a room for you to sleep at night.
One major disadvantage of staying in the Dharamshala is that you have no idea when they last cleaned and washed the place, including the blankets. Plus, if there are more travelers looking for a sleeping place, they will end up sharing the room with you. Toilets are again a huge problem as you will be left to your own devices to find a suitable spot in the nearby forest to do your business.
Guest Houses
Recently, I traveled to Prashar Lake again and found that new accommodation sites are now available inside the enclosure. There are a few guest houses that offer good view of the lake and will provide you with a private room with bathroom and meals. So, if you wish to stay beside the lake, this is a good option for you too.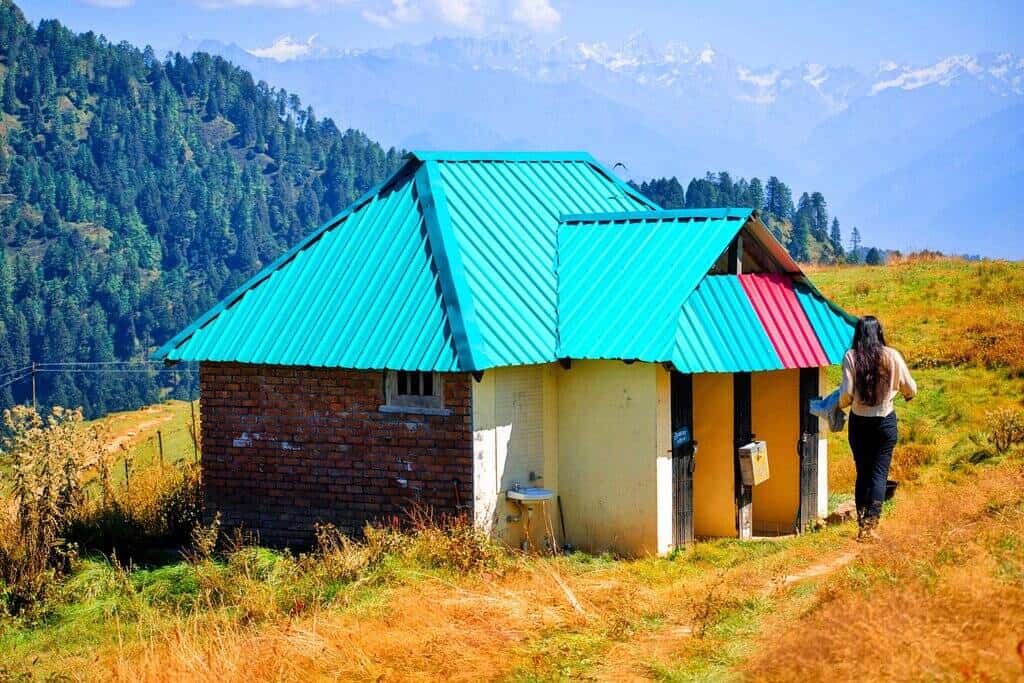 PWD Rest House and Forest Reserve Guesthouse
You will find that PWD Rest House and Forest Reserve Guesthouse are the best accommodation options available near Prashar lake. This is because the rooms are clean and tidy and they have clean washrooms with hot water accessibility for you to use as well. However, these guest houses need to be booked in advance and cost a minimum of 1000 INR per room, the prices can vary depending on the season.
These guest houses are just a 10-minute walk from the Prashar lake and offer the best views. Here is how you can book these guest houses in advance:
You can contact 01905-222151 or email at 01905-222151 to book a room at the PWD guest house.
For the forest guest house, you can reach out to the DFO office Mandi at 01905 – 235360 or RFO Kataula at Tel: 01905 – 269469.
Hotels near Prashar Lake
There have been a few new hotel developments close to the Prashar Lake itself. So, you can contact them in advance to book a clean and hygienic room for yourself.
These hotels and homestays are just 7-10 km from the Prashar lake and can be reached via trek or a drive. You will find information on how to book these hotels when you search for hotels on Google.
Food Options in and Around Prashar Lake
There are no food options on the Prashar lake trek route. So, make sure you pack lunch for yourself and enough snacks and water to keep you energized. The last village where you could buy food and some snacks is the Bagi village.
At Prashar lake, you will find a few dhabas and camping sites around the lake. However, the food options at these dhabas are usually limited to Maggi, Rajma Chawal, etc. and costs around 70 – 150 INR for a meal. You could try your luck at the campsites here but there is no guarantee of food if you are not camping with them.
Complete Cost for the Prashar Lake Trip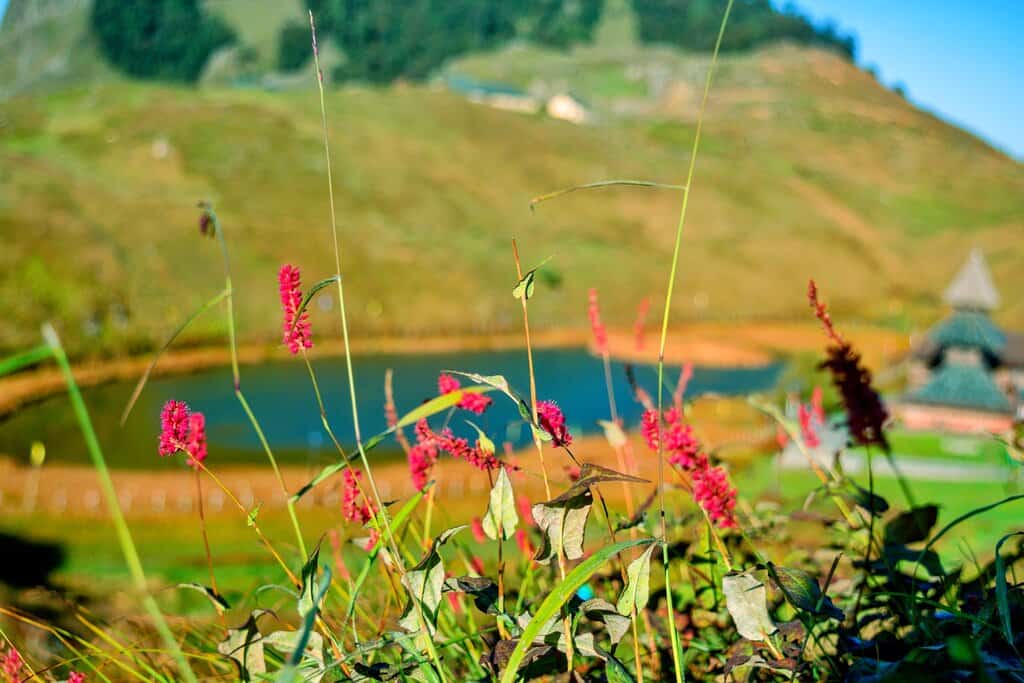 A 2-day weekend trek to Prashar lake will cost you between 2000 and 4000 INR.
The ordinary HRTC bus from Delhi will cost you around 550 INR. So, you can keep 1100 INR aside for the to and fro travel from Delhi to Mandi.
From Mandi, if you take the bus to Bagi village and then back to Mandi, then you will spend at most 180 INR.
A taxi will cost you 250 INR per person (5-seater) if you miss the bus to Bagi village. At the Prashar lake, you can rent a tent for at most 500 INR and a meal will cost you at most 150 INR.
So, the total trek cost will come out to be 1100 + 250(taxi) + 90 (bus back to Mandi) + 500 (tent) + 150*5 = 2200 INR.
I did the entire Prashar Lake trek in just 1800 INR as I took my own camping equipment and snacks for the trail.