One of my most cherished trips to Himachal Pradesh has been from Delhi to Bir Billing. Why? Because I was able to stay here for a month as a Zostel volunteer and was able to enjoy the different views and activities that this place has to offer.
While this place is predominantly famous for the paragliding activity and the Tibetan monasteries that can be found here, there is a lot more to do over here. You can trek to the amazing Rajgundha valley, spend a day chilling beside the Gunehar River, hike to the nearby waterfalls, and do a lot more.
In this article, I will share all the details with you to plan your own Delhi to Bir Billing trip and how to make the most of your time over here.
Delhi to Bir Billing Trip
About Bir Billing
Although Bir Billing is a twin destination that is often mentioned together, they are actually two different villages that are located at a distance of 14 km from each other. Bir is a small village located in Kangra district, Himachal Pradesh, and is full of unique and amazing activities to indulge in.
This is the Paragliding Capital of India and one of the reasons why Bir Billing is often termed together by people all around the world. You see, Bir is the landing spot and Billing is the takeoff spot for paragliding so, they are incomplete without each other. It is Asia's second-best Paragliding spot which is why lots of paragliding enthusiasts visit this destination almost every year.
Another interesting thing about Bir is that it is also home to Tibetan refuge settlement so there are many Buddhist monasteries around here to explore. As a result, Bir is not only equipped to satiate your adventure thirst but is a great destination to take a break from the monotonous city life as well.
Here, you get a chance to reconnect with yourself and your loved ones and do some exciting activities such as hand gliding, trekking, hiking, and so on.
How to Reach Bir Billing (From Delhi)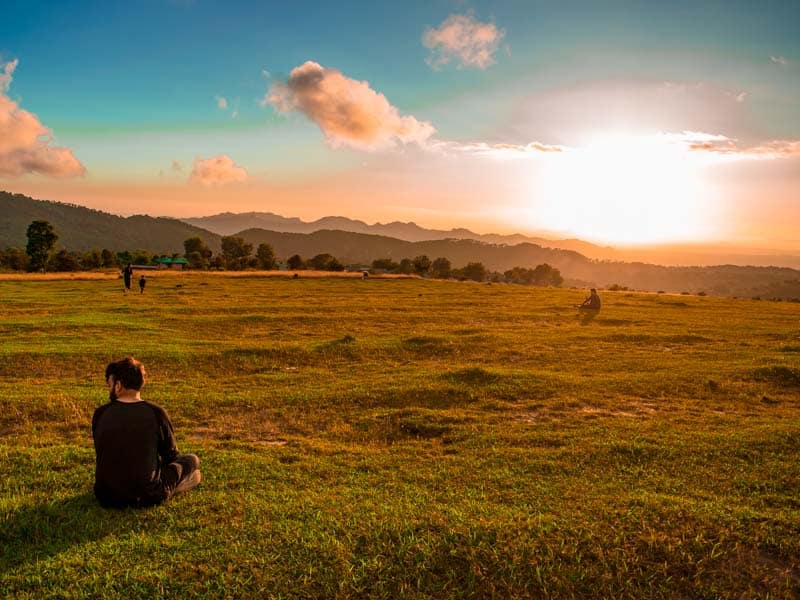 Now, you might be wondering that how can you plan your trip from Delhi to Bir Billing and reach this gorgeous location. Well, since it is a popular paragliding location in India, there is good connectivity to this village and several transportation options to choose from.
Air
The closest airport to Bir is the Kangra Airport in Dharamshala at a distance of 67 km. The frequency of flights to Dharamshala is limited so, do check the schedule beforehand. Also, the flights cost a lot so if you are on a budget-friendly trip, then this might not be the ideal option for you.
You can reach from Dharamshala to Bir Billing by taking a bus to Bir or hiring a private taxi for 2000 INR. The distance from Dharamshala to Bir Billing takes around 4 hours to cover.
Rail
Another option is to take a train to Pathankot Junction which is 142 km from Bir. You will find trains to this station from several major destinations such as Delhi, Amritsar, Ahmedabad, and so on.
The cost of a train ticket from Delhi to Pathankot is around 175 INR for a general ticket. And this journey lasts for around 6-7 hours when the train is on time.
Once you reach Pathankot, you can reach Bir using various modes of transportation that are available here.
If you have time, then one of the most exciting ways to reach Bir is by taking the toy train from Pathankot to Baijnath station. This journey will cost you around 50 INR and will take 6-7 hours to complete.
From Baijnath, you can either take a local bus or private taxi to reach Bir. A private taxi will cost you around 700 INR whereas the local bus (Anurag) will cost you 30 INR.
Another option is to take a local bus from Pathankot to Baijnath for 150 INR and reach in 3-4 hours. From Baijnath, you can take a local bus or private taxi to reach Bir.
If you are looking for a more convenient mode of transportation, then you can take a private taxi from Pathankot to Bir for 3500-4000 INR. This journey will take around 4 hours to complete and is great for a group of friends or family.
Road
Since Bir Billing is connected to major cities like Delhi, Shimla, Amritsar, etc. by road, it is possible to reach here via road as well. Here are a few road options to consider on your trip.
One of the best ways to travel from Delhi to Bir Billing is by taking a private bus. You will get many buses to the Tibetan Colony in Bir Billing that are in the cost range of 900 and 1500 INR.
These Delhi to Bir Billing buses take around 11-13 hours to complete the journey and are quite comfortable as well. And you can easily book them through online bus booking portals such as Redbus, Paytm, and so on.
If you are looking for a budget-friendly option, then you can travel from Delhi to Bir Billing in HRTC buses too. You will get an ordinary bus from Delhi to Baijnath for 600-700 INR which will take around 12 hours to reach.
From Baijnath, you can take a local bus to Bir or a private taxi.
Finally, one of the most convenient ways to reach Bir is by renting a car in Delhi or taking your own car from Delhi to reach Bir Billing. A road trip to Bir Billing can be a lot of fun and will make it easier for you to explore other places around Bir as well such as Barot, Dharamshala, etc.
How to Travel in Bir Billing
Now, you might be wondering that after reaching Bir Billing, how are you going to travel around here. Well, thankfully, there are a few ways to move around here.
Mountain Biking
One of the best ways to explore Bir and the monasteries around here is by hiring a mountain bike. The charges of renting a mountain bike for a day is 500 INR and you are able to cover a lot of distance in a single day.
If you are interested, there are several mountain biking tours organized here as well that you undertake to explore Bir and learn more about it.
Cabs/Taxis
If you are looking for a convenient way to travel and explore around Bir Billing then hiring a cab or taxi is the best way to do that. You can hire a cab for around 2000-3000 INR per day and can explore at your own pace.
Trekking and Walking
Finally, if you are on a tight budget, then a great way to explore around Bir is by walking or trekking around here. You can reach the monasteries, sunset point, Tibetan colony, waterfalls, River Gunehar pool, and a lot more on foot.
You can plan several short treks in a day to make the most out of your Bir Billing trip.
Best Time to Visit Bir Billing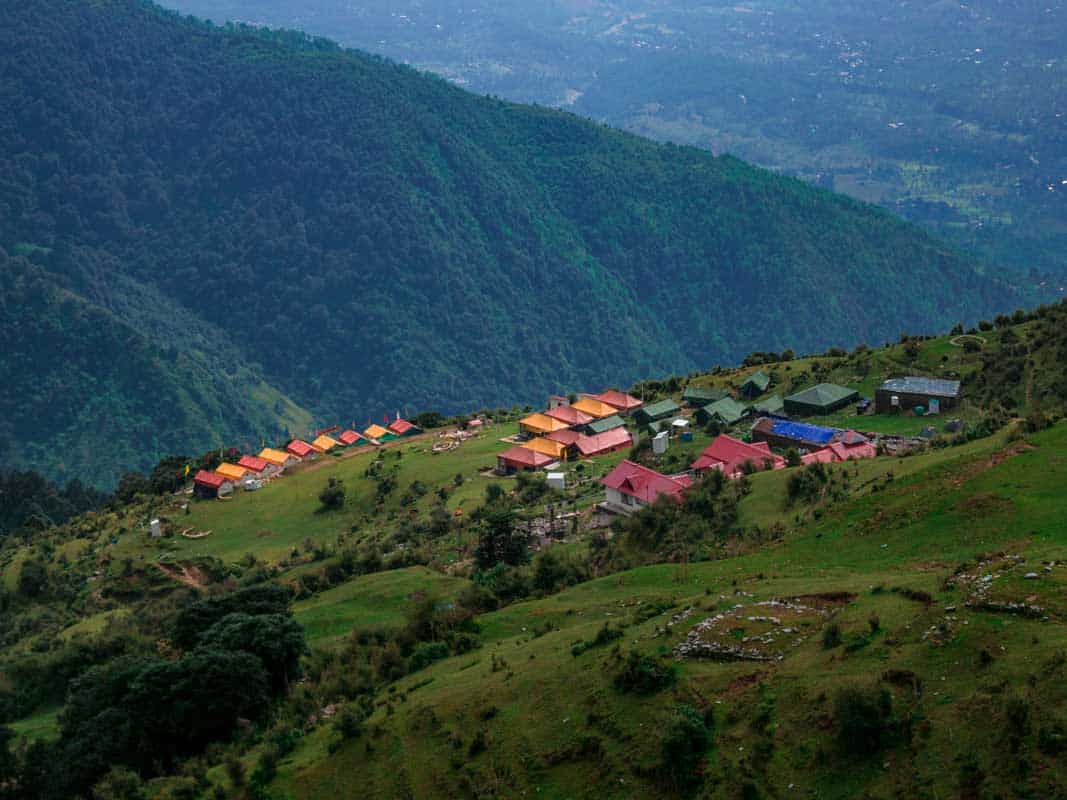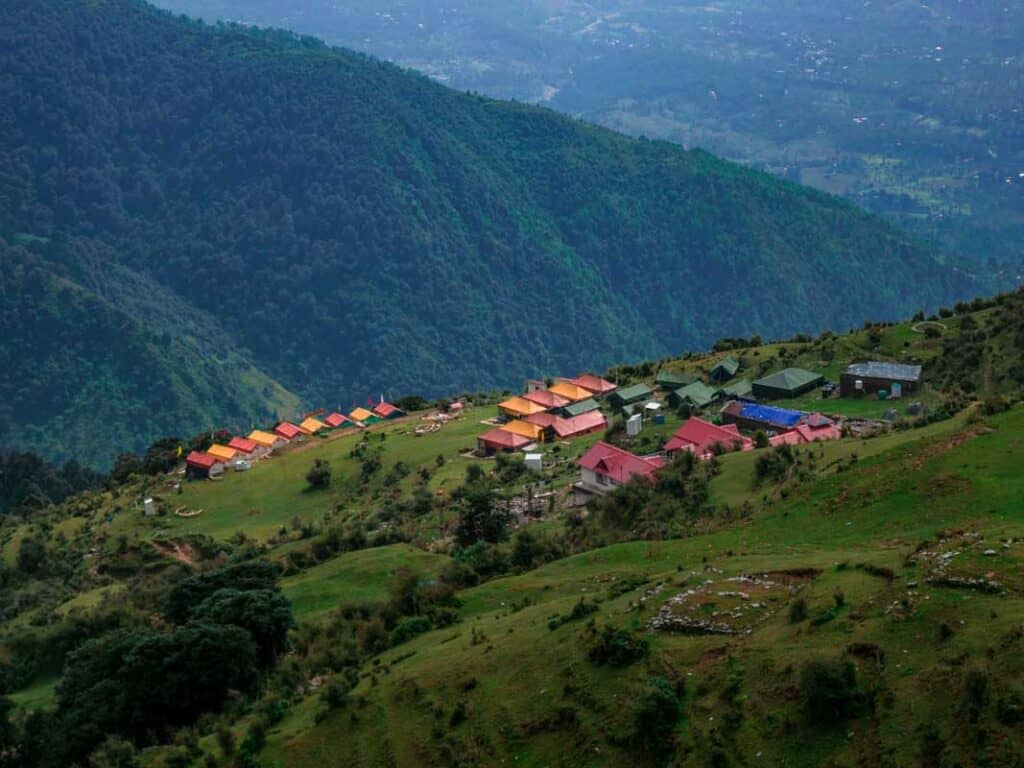 Although Bir Billing is a year-round destination, different months are best-suited for different activities. Here is a detailed breakdown of what you can expect to find here in different seasons.
Summer Season (April to July)
If you are planning a getaway from Delhi to Bir Billing to enjoy the cool weather, then summer is the best time to visit. The weather is great during the summer months and it is perfect for paragliding and trekking as well.
This is the best time to visit Bir Billing if you are looking for an adventurous trip in Himachal Pradesh.
Monsoon Season (July to September)
For people who wish to get away from the monotonous city life and don't mind a little rainfall, monsoon is a good time to visit Bir Billing. Usually, monsoon starts from mid-July and ends around mid-September in Bir.
This is a great time to hike to the nearby waterfalls and river pools as you have water to actually enjoy in it. Also, the entire place looks green and fresh which will make your visit even more amazing here.
Post-Monsoon Season
If you would like to go out and don't want the rain to put a damper on your plans then the time period between mid-September and mid-October is a great time to visit. During this time, you can enjoy the lush green valley and can go for hikes, treks, etc. without worrying about the rainfall.
Paragliding also starts around October first week so you can enjoy amazing views of the green mountains around you.
Winter Season
If you wish to see snowfall or enjoy paragliding then winter is a great time to visit Bir Billing. In the months of November and December, the wind conditions are perfect for long flights.
And by December end, it is snowing around here so you can admire the snow-covered valleys from the sky too.
15 Amazing Places to Visit in Bir Billing
Take a look at some of the most amazing places to visit in Bir Billing to make the most of your trip.
Chokling Monastery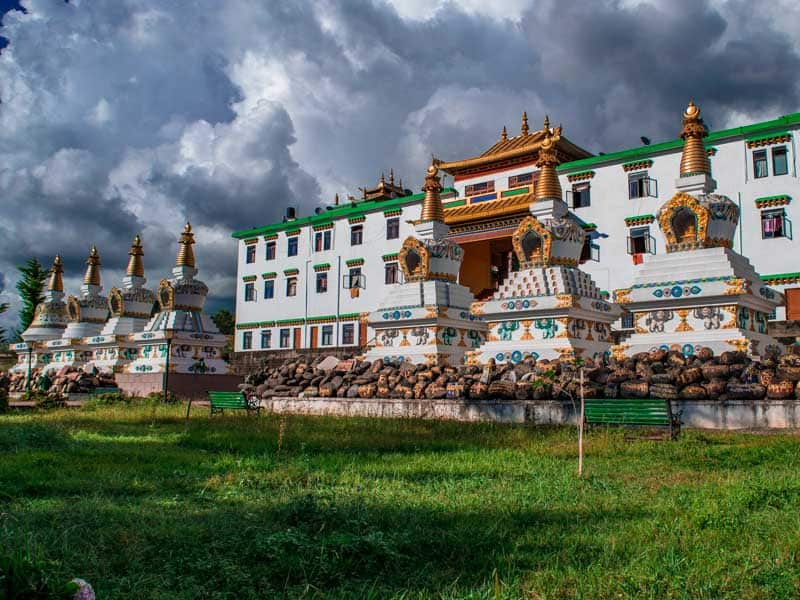 One of the most popular monasteries to visit in Bir is the Chokling Monastery that is located in Tibetan Colony. Painted in white, this monastery is decorated with bright colors that make it look absolutely gorgeous. There is also a stupa and a statue of Padmasambhava here and the peaceful atmosphere allows people to meditate here for a while.
You can admire the view of the surrounding mountains and can occasionally observe gliders as well since this monastery is located close to the Bir Landing Site.
Nyingyang Monastery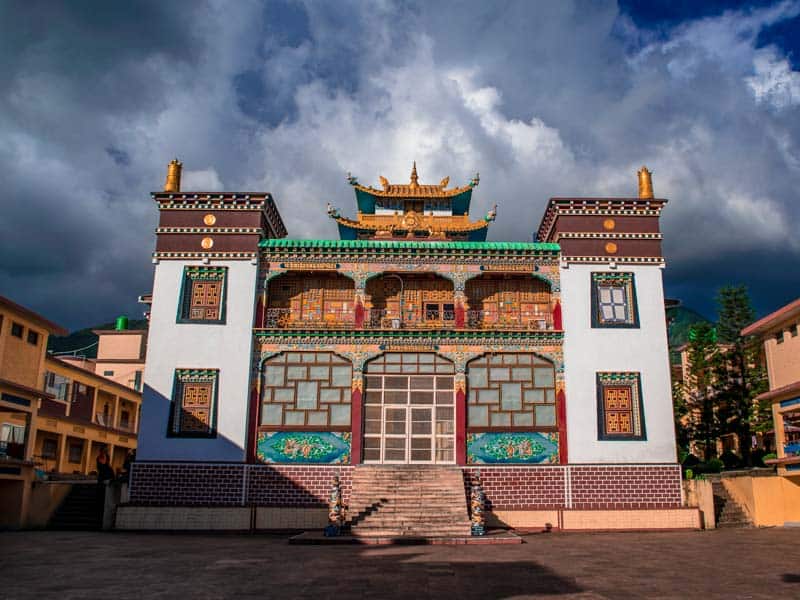 Located in the middle of Tibetan Bir Colony, Nyingyang Monastery is a small, quaint monastery that offers a peaceful and serene environment. The main building of this monastery is brightly painted and intricate designs adorn the priest quarters that depict the Buddhist ritual and culture.
You can visit this monastery during the prayer time to soak in the positive aura here and can spend some time reflecting on your thoughts.
Palpung Sherabling Monastery
One of the biggest monasteries in Bir, Palpung Sherabling Monastery is located around 7.5 km from Bir. This monastery is home to some gorgeous Buddhist temples, stupas, and gompas. Their main prayer hall has a two-storey golden statue of Maitreya and the sound of the monks praying inside offers it an auspicious and spiritual aura.
The monastery is located in the Bhatu forest and has amazing Himalayan mountains as a backdrop. If you are inquisitive about monasteries or are spiritually inclined, then you should definitely pay a visit to this monastery in Bir.
Dharmalaya Institute
You can also visit the Dharmalaya Institute which is a eco-friendly campus where they teach you about the importance of green living. Here, one can register as a volunteer to work at the institute or attend one of the many workshops and classes that are held here.
In these workshops, you learn about important topics such as organic farming, green building, sustainable living, and a lot more. They also conduct yoga and meditation courses to help people become more balanced in life and get in touch with their spiritual calling.
You can take a guided tour of this institute every day except for Mondays to learn how they incorporate the teachings in real life.
Tsering Jong Monastery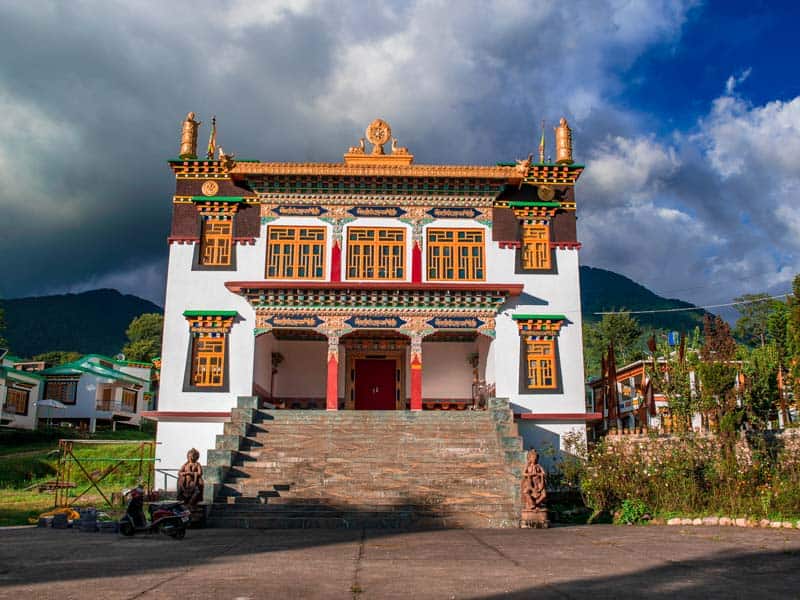 Tsering Jong is another popular monastery to visit in Bir that is just a 15-minute walk from the market. With a gorgeous and colorful architecture, the monastery resides in an enclosure and is surrounded by residential complex for the monks and parks too.
The monastery is decorated with colorful flowers and trees and has an amazing mountain backdrop that makes it even more majestic to look at. You can also enjoy a beverage and some snacks in a cafe that is located inside the monastery premises.
Gunehar River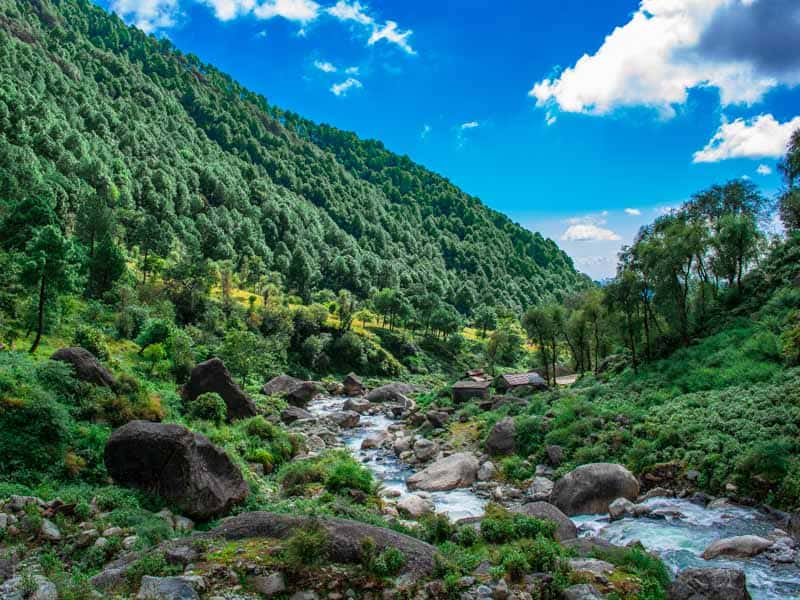 One of the hidden attractions in Bir, Gunehar River is located beside the Gunehar village and is definitely one of the best places to visit around here. What I loved the most about this river is that it offers you a fairytale-like setting as it flows between the mountains, covered with lush greenery.
You can choose to take a taxi to reach this river or go on a 1-hour hike from Tibetan Colony to reach this place. Whatever you choose, this place is completely worth it and offers postcard-worthy pictures to you.
Bangoru Waterfall
Bangoru Waterfall is one of the small waterfalls that can be found around Bir and is just 4.5 km from Tibetan Colony. It is a calm waterfall that makes its way between the rocks and you can even follow the waterfall to find the lagoon where you can swim easily. However, this lagoon is not easily visible to tourists so you need to take a guide or local to help you find it.
It is not a popular tourist spot so you can enjoy a nice, quiet picnic at this waterfall. You can go on a small trek to reach this secluded spot and refresh yourself by dipping your feet in the cool, clear water.
Sunset Point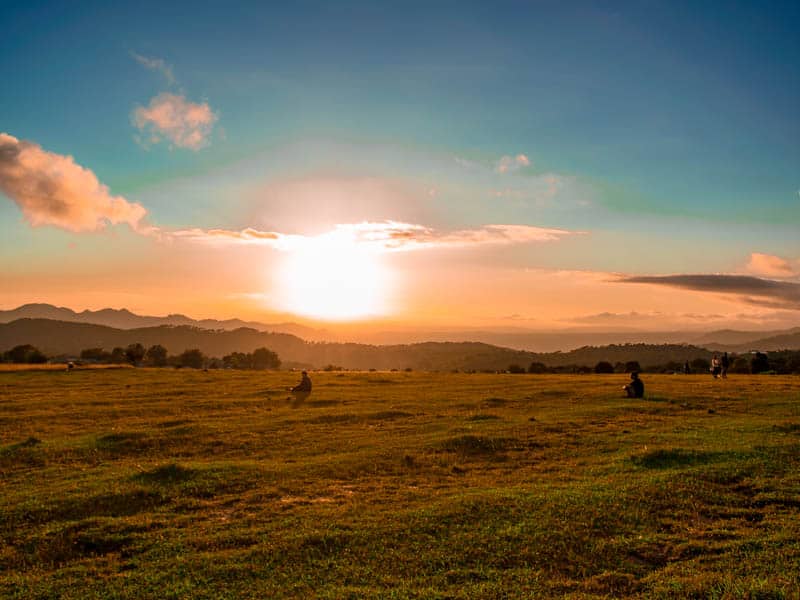 One of the best places to visit in Bir is the Landing Site, aka Sunset Point. This place is located around 600 – 700 meter from Tibetan Colony and offers gorgeous views of the surrounding mountain ranges. This is a popular picnic spot for locals so you will see them coming here in the evenings with their family to enjoy some quality time with their loved ones.
Apart from that, you can watch people paragliding throughout the day here which is quite mesmerizing to watch as well. There are a few cafes and restaurants here too from where you can enjoy the sunset views.
Billing Takeoff Site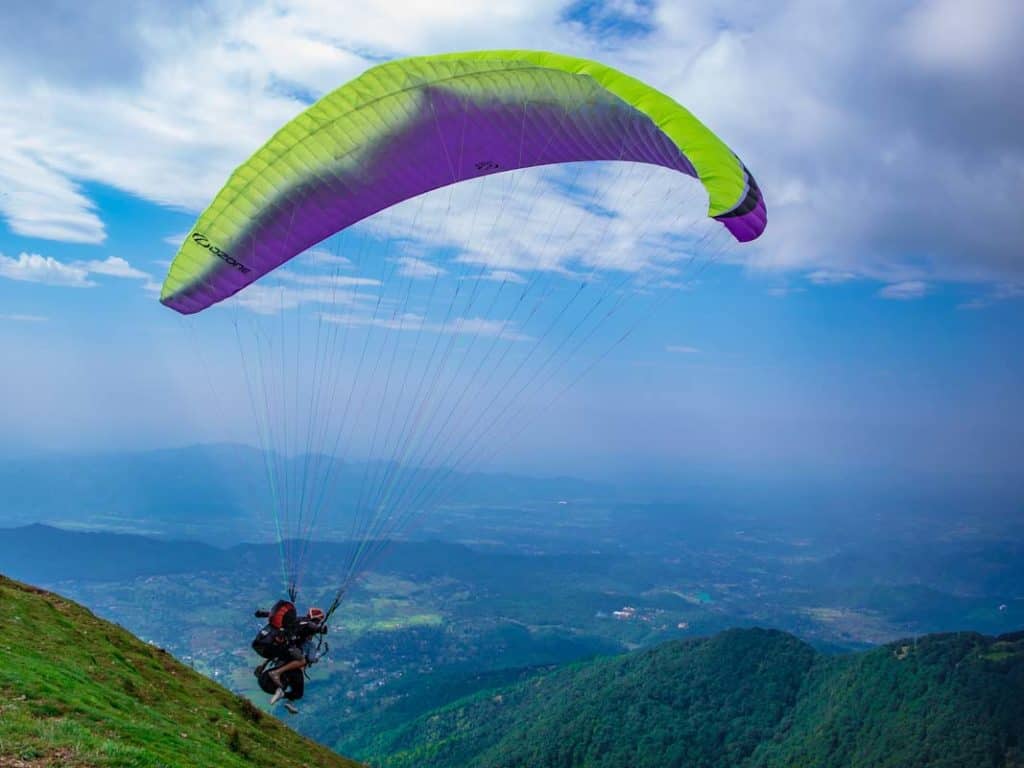 You can also head to the Billing Take-Off Site to enjoy the mountain views and the views of Bir from a height. That's not all, it is also fun to watch people paragliding from here and one can even spend a night in a camp here.
Deer Park Institute
Deer Park Institute is a popular place to visit in Bir where you can learn about the traditions of Buddhism, Indian Science, Philosophy, and Arts. There are several workshops held here as well that anyone can enroll in and you can even meditate inside the monastery here.
This is a good place to relax and enjoy the peace and you can catch some gorgeous sunsets from here too.
Tibetan Colony
If you would like to learn more about Tibetan culture and lifestyle, then you can take a stroll in the Tibetan Colony. There are lots of shops, monasteries, and restaurants here to explore. You can even buy some Tibetan souvenirs to take home from this place and can try out delicious Tibetan cuisine around here.
Rajgundha Valley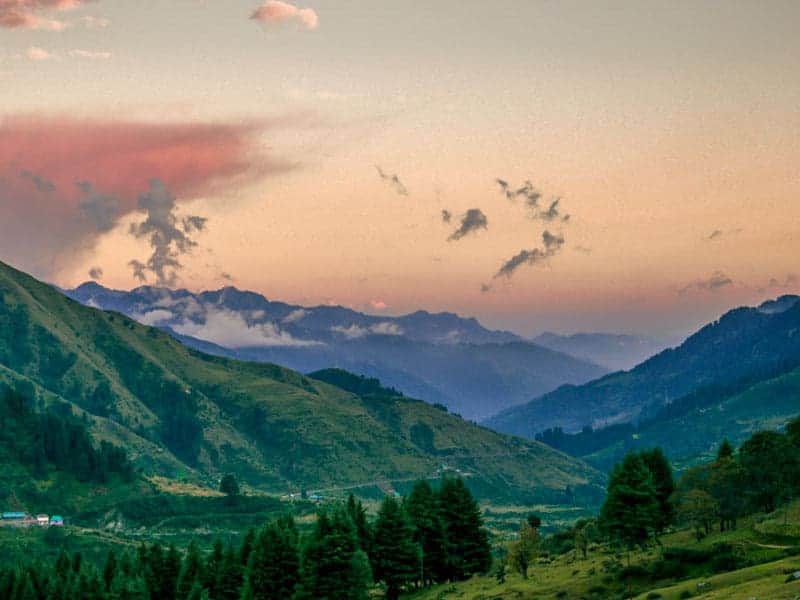 One of my favorite places to visit from Bir is the less explored Rajgundha Valley. This destination lies between Billing and Barot and offers mesmerizing views of the Dhauladhar Mountain ranges.
You can reach this small village by trekking from Barot or Billing and can spend a couple of days around here to enjoy the solitude. If you want a break from city life, you can even spend a couple of months working from here and stay at the Zostel's Co-Working Space that is located here.
Barot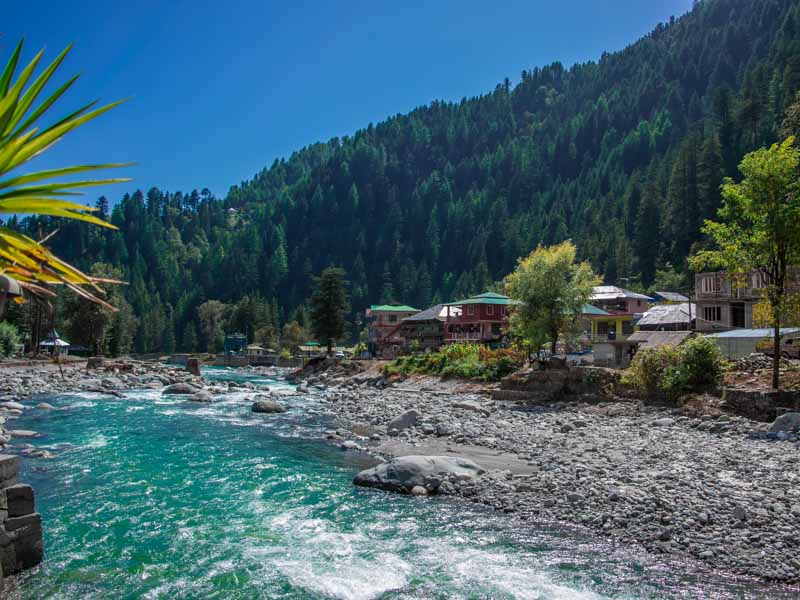 If you have extra time at hand, then you can also head to Barot Valley which is around 53 km from Bir. There are many treks around Barot that one can do such as Winch Camp. Apart from that, Barot is primarily known for its Hydel Project and is a popular hub for trout fishing.
So, you can plan a day trip from Bir to Barot and explore the lakes, wildlife sanctuaries, and temples around here.
Baijnath Temple
Baijnath Temple is located at a distance of 13 km from Bir and is another popular to visit around Bir Billing. This Nagara-style Hindu temple was constructed in 1204 AD and holds both historical and architectural significance.
Dedicate to Lord Shiva, you will find a Shiva Lingam secured inside this temple. Apart from that, you will notice inscriptions and wall carvings all over the temple. These inscriptions are written in the Sharada script and Takri script and give an insight into the construction of this temple.
Palampur
If you are traveling from Delhi to Bir Billing, then make sure that you spend some time at Palampur as well. Palampur is a quiet little hamlet and is only 30 km from Bir so you can easily plan a day trip to this hill station.
Palampur is mainly famous for its tea gardens and the gorgeous mountain views so you can explore a little here. For a more relaxed trip, you can opt for a stay in Palampur as it is less frequented by the tourists.
Top 11 Things to Do in Bir Billing
As I mentioned earlier, there are a lot of amazing things to do in Bir Billing to keep you occupied. Here are a few that you can include in your Bir Billing itinerary too.
Try Tandem Paragliding in Bir Billing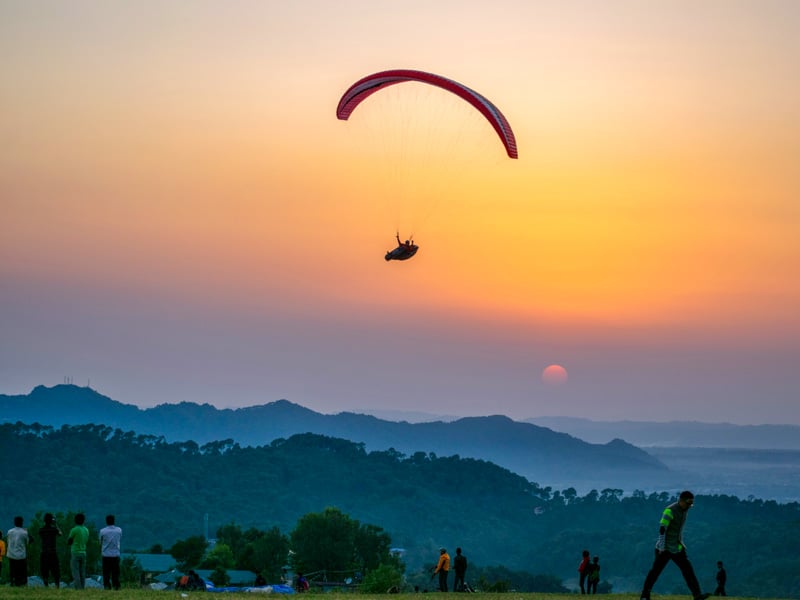 Of course, one of the best things to do when traveling from Delhi to Bir Billing is to make sure that you don't miss out on the paragliding adventure here. Bir Billing is the best paragliding spot in India and offers mesmerizing views of the Kangra Valley.
Generally, the cost of paragliding here ranges between 2000 – 3000 INR, with or without GoPro video. And the paragliding session lasts for 20-25 minutes, offering you a chance to look at Bir from an aerial view.
Honestly, it was one of the best feelings in my life and I would definitely recommend others to try tandem paragliding in Bir too.
Visit the Himalayan Film School
If you love watching movies, then you should definitely spend some time in the Himalayan Film School and attend one of the workshops here. You can learn how to make movies here and several interesting techniques to improve your cinematography and videography as well.
There are several film festivals held here too that you can attend if you are interested in it.
Hike to the Nearby Waterfalls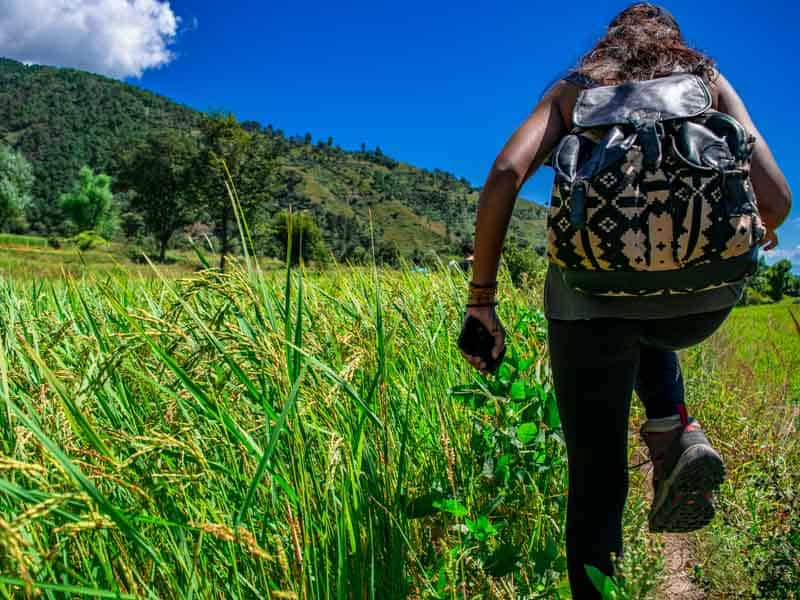 Another great thing to do in Bir Billing is to hike to one of the many waterfalls here. Most of these waterfalls are under 10 km radius from Bir and offer a nice, water pool where you can relax after the tiring hike.
These waterfalls look particularly enchanting during monsoon season and one can easily spend a few hours, taking a swim around here.
Take a Dip in the Gunehar River pool
If you are tired of treks and want to do something more relaxing, then a walk beside the Gunehar River is the best way to accomplish that. You can enjoy the sound of the gushing river while being surrounded by lush greenery.
Also, there are several river pools near the shore where you can take a dip and enjoy the cool, river water. Just make sure to carry your swimwear and towel with you.
Experience the Enchanting Toy Train Ride
One of the most unique things to do in Bir Billing is enjoy the toy train ride that starts from Joginder Nagar. This train ride is like a dream come true as it offers amazing Dhauladhar mountain ranges as the backdrop for the ride.
That's not all, you also come across several charming villages, river streams, and wooden bridges on the train ride. You will find these tour trains regularly plying on the route so you just need to buy your ticket and enjoy the ride of a lifetime.
Enjoy a Tour of the Bir Tea Factory
Bir is filled with gorgeous tea gardens and there is a tea factory located in Bir Bazar here where they harvest the tea leaves. Since the climate of Bir is ideal for tea plantations, there are different kinds of tea grown and then processed in the Bir tea factory.
You can easily notice the locals in the tea gardens here, plucking the leaves and storing it in the big basket that is tied to their heads.
Explore the Amazing Cafes in Bir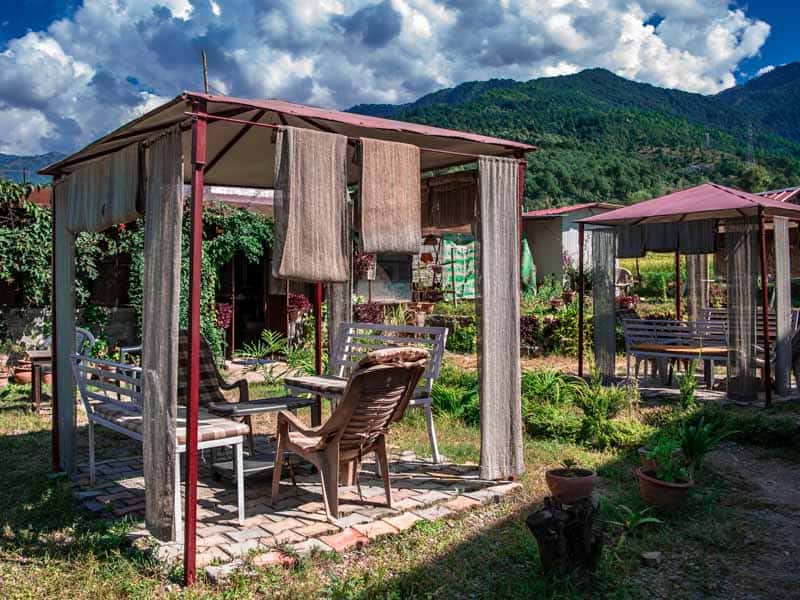 Bir is home to some of the most amazing cafes where you can enjoy a nice beverage and dessert while enjoying the views. What I loved about these cafes is the Dhauladhar mountain ranges as the backdrop while you nibble on delicious food here.
And trust me, there is no shortage of amazing cafes that you can try here. So, be sure to bring the foodie side of you when visiting Bir Billing.
Indulge in a Hand Gliding Lesson
Another exciting activity to do in Bir Billing is hand gliding. Unlike tandem paragliding, this aero-sport requires training so make sure you choose a good operator and take your lessons seriously. You also need to by physically fit so you will have to start training a month or two in advance of your trip.
Hand Gliding also starts from Billing and ends at Bir and you get to enjoy beautiful vistas beneath you. If you wish to enjoy better views around you then opt for this activity during sunset time for a beautiful sky and vista.
Enjoy a Mountain Biking Tour
One of the most adventurous sports to try in Bir Billing is mountain biking which can be quite tiring as well. You can enjoy the gorgeous views around you on the bike and will have to make a lot of twists and turns around the hill station to stay on the path.
You can rent out the bikes from agencies and rental shops in Bir Bazar. There is also the option of taking a tour with experienced mountain bikers to make the most of this activity. Honestly, navigating the rocky mountain roads on your bike is an amazing experience that you are going to remember your entire life.
Watch Gorgeous Sunsets in Bir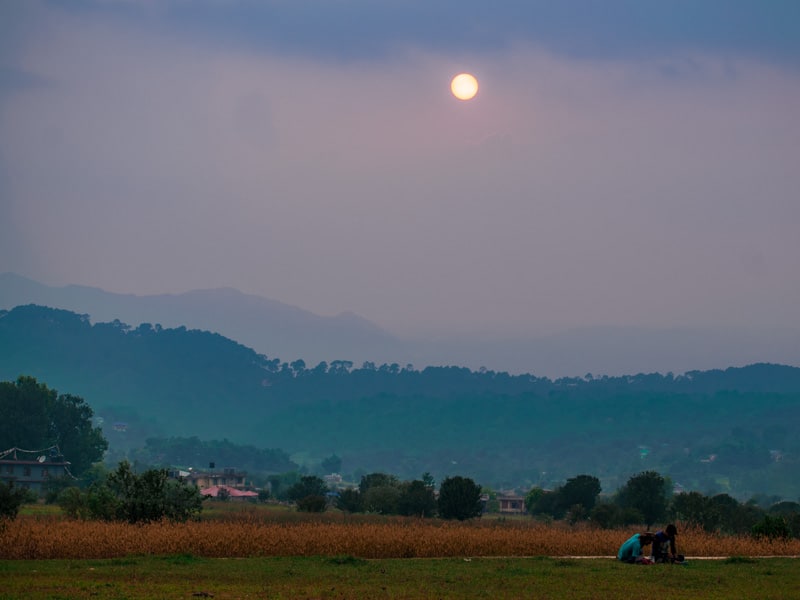 One of my absolutely favorite things to do in Bir was to watch sunsets almost every day here. A popular sunset watching spot is the Bir Landing site but there are other places that give you amazing view of the sunset too.
What I really enjoyed about Bir was how each sunset was different from the other. During my 1-month stay, I captured around 10-15 sunsets and they were quite unique and charming.
Spend a Night Camping in Bir Billing
Finally, if you wish to truly enjoy your Bir Billing trip then make sure you don't spend your entire time inside a luxurious hotel. Enjoy your vacation amidst the natural scenery by spending a night camping around here.
You will be able to enjoy the scenic beauty of Bir Billing without any interruptions. And you will be able to enjoy the peace and serenity that can only be achieved by camping away from the popular hotels and villages.
Suggested Bir Billing Itinerary for 3 Days
If you don't have a lot of time, then you can plan a 3-day Bir Billing itinerary and try to make the most out of it. Here is a suggested itinerary that you could follow:
Day 1: Reach Bir Billing and Tour Around
If you are traveling from Delhi to Bir Billing, then start the evening before so that you reach Bir around 8 a.m. – 9 a.m. the next day.
Check in to your hotel/hostel and freshen up a little. Then, start with the Palpung Sherabling Monastery and Dharmalaya Institute that are situated around 8-10 km from Bir.
After that, enjoy a nice lunch in Bir and head to other monasteries in the Tibetan Colony area. You can cover Chokling monastery, Nyingyang monastery, and Tsering Jong monastery. Later, in the evening, head to the Bir Landing site to witness a perfect sunset here.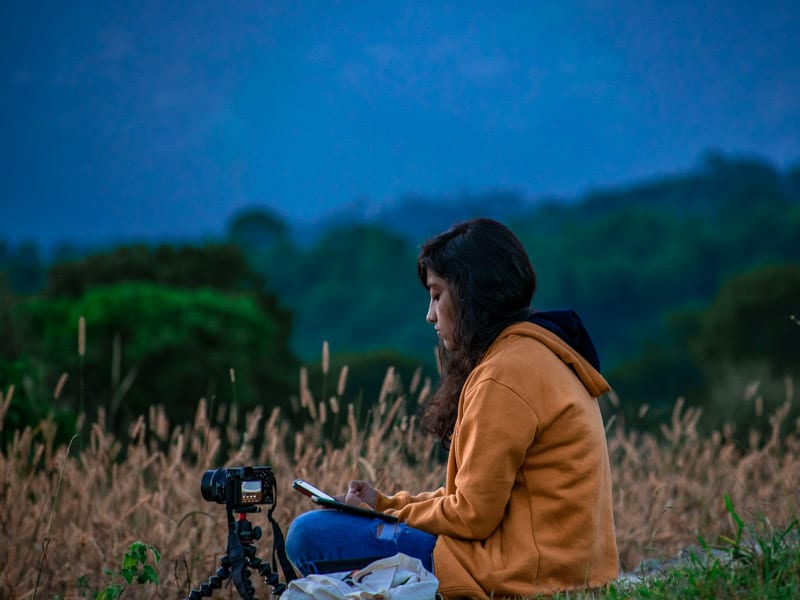 Day 2: Hike to the Nearby Waterfall and River
Next day, start an early trek or take a cab to reach Bangoru waterfall and Gunehar River pool. You can spend some time here and take a dip in the cool water as well.
This will mostly take your entire day if you are trekking to these places. If not, then you can plan a half-day visit to Baijnath temple from Bir as well.
Day 3: Paragliding and Leave from Bir Billing
Finally, on day three of your Bir Billing itinerary, go for paragliding in the morning and enjoy the views from Billing. Once you are done with paragliding, check out from the hotel and leave your luggage with them.
You can now explore Palampur till your bus timing or if you have your own vehicle, then you can drive back to Delhi and stop on the way at Palampur.
ATMs in Bir Billing
There aren't a lot of ATMs available in Bir Billing so carry sufficient cash with you when you are traveling here. There are 1-2 ATMs in Chougan and a couple in Upper Bir as well. However, chances are that they will be out of money on most weekends.
You will find many ATMs on the Bir Manali highway so make sure you withdraw cash before reaching Bir.
Mobile Network in Bir Billing
Since Bir Billing is slightly developed, you get good Network Connectivity for Airtel, Jio, Vodafone, and BSNL over here. However, the network may be a little patchy when you go for treks and hikes in Bir so be prepared for that.
Where and What to Eat in Bir Billing
Bir is a paradise for foodies as there is a wide range of cuisine available here for you to taste and enjoy. Here are a few dishes and restaurants in Bir Billing that you cannot miss out on.
Restaurants and Cafes to Try in Bir Billing
Nyingma Kitchen
If you want to try authentic Tibetan dishes then Nyingma Kitchen is the best place to try. Here, you will get an assortment of Tibetan dishes such as momos, thupkas, fried rice, and so on.
Personally, I loved their Devilled Momos and Honey Chili Potato.
Garden Cafe and Restaurant
If you are looking for continental cuisine then Garden Cafe and Restaurant is the best place for foodies. From salads to pancakes, you will get it all here and it has an amazing ambiance too.
My favorite was the Chocolate Pancake here which cost around 110 INR and kept me full for the entire breakfast time.
99 Not Out
For Indian food, you can try out 99 Not Out. They serve amazingly delicious curries and vegetables and have a reasonably priced menu as well.
Glider's Pizzeria
One of the best pizzas in Bir Billing are definitely at Glideria's Pizza although it is a little expensive. However, if money is not an issue, then you should definitely visit this place for its amazing ambiance and food.
Ram Bahadur Fast Food
Finally, if you love street food and aren't looking for a fancy restaurant or cafe to dine at then Ram Bahadur Fast Food shop is perfect for you. From noodles to momos, they serve it all here and you can get takeaways too.
Top Dishes to Try in Bir Billing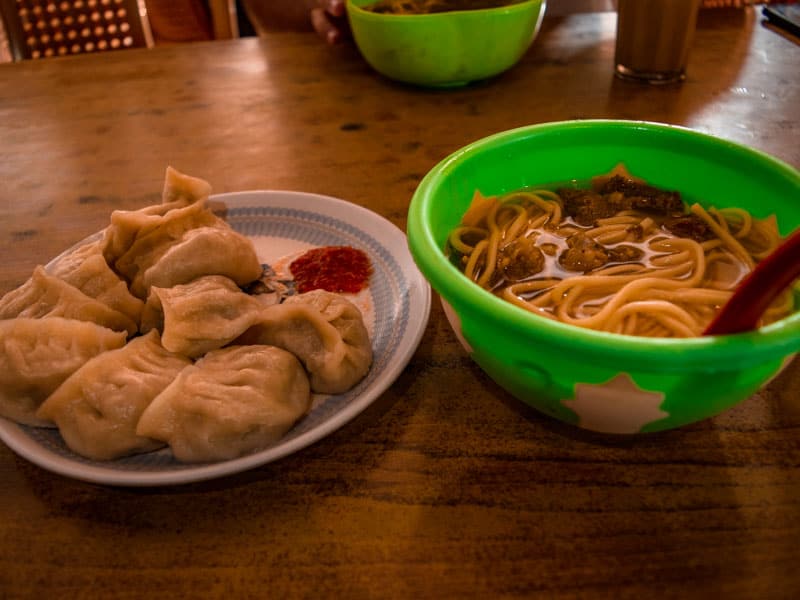 A few popular dishes that you have to try during your stay in Bir Billing are:
Thupka
A traditional Tibetan dish, Thupka is a noodle soup that is available in different variants and tastes absolutely amazing. A single serving will fill you up easily and can be found in most restaurants and cafes in Bir Billing.
Personally, I found Nyingma Kitchen's Thupka the best so you can try it out there. The average cost of this dish is somewhere around 100 INR but trust me, it will keep you full for at least 4-5 hours.
Momos
Of course, when we are discussing the local cuisine in Bir, momos are one of the most popular dishes that can be found here. You will find veg momos, chicken momos, and even mutton momos around here and it is absolutely delicious.
The cost of a plate of momos consisting of 8 pieces is around 60-80 INR and is quite filling as well. You can try momos at any small food joint or restaurant here.
Gyurma
Although it was a little too strong for my taste, Gyurma is one of local non-vegetarian dishes that you can try in Bir Billing. This Tibetan dish consists of blood sausages made from yak or sheep's blood. And spices and flour are added to make it tasty.
Sha Phaley
One of my favorite dishes in Bir Billing was Sha Phaley which is basically a bread stuffed with cabbage and meat. It is similar to patty/puff and is definitely one of the tastiest Tibetan food ever.
Where to Stay in Bir Billing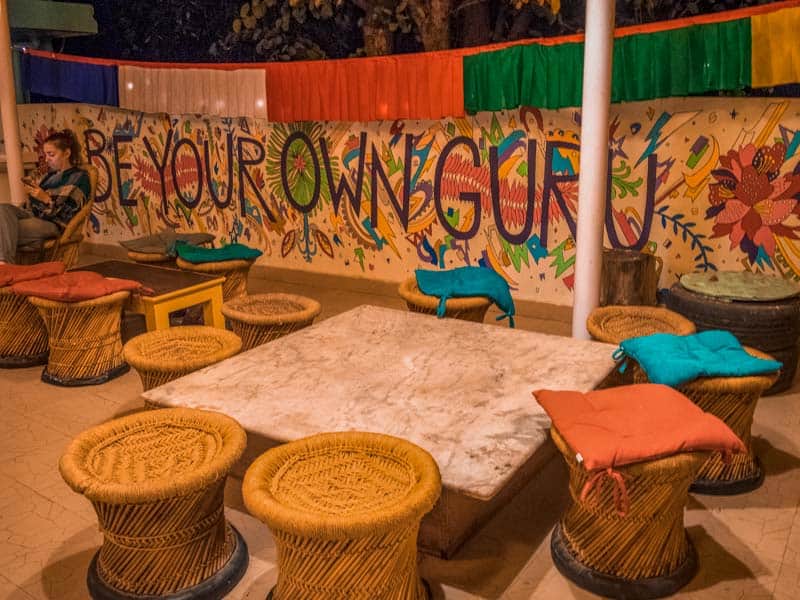 You will find a lot of accommodation options available in Bir that are well-suited for your budget range.
Hostels
A couple of years back, there were only 2-3 hostels available in Bir where you could stay on a budget. However, in the last few years, a lot more hostel chains have opened up here so finding a budget-friendly accommodation isn't a task anymore.
You will find several hostels available here to book your stay including Zostel, GoStops, The Hosteller, The Bunker, Monkey Mud Cafe & Camps, and so on.
These hostels usually charge 250 – 500 INR for a bed for a night and a few of them even provide you with complimentary breakfast. So, you save money and you end up meeting new people and traveling with them too.
Hotels and Guesthouses
If you are looking for convenience and privacy, then you can choose to stay in a hotel or a guesthouse here. There are a lot of options available in Chougan, Upper Bir, etc. and the charges usually vary between 800 – 3000 INR per night, depending on the services and facilities.
A few hotels worth mentioning are the Colonel's Resort, Tatva Bir Resorts, Bir Nest, Hotel Sagarmatha, and so on. You can book these hotels using an online booking portal such as Booking.com
Camping Tents
For the adventurous souls out there, one of the best ways to enjoy a trip to Bir Billing would be by staying in a camping tent here. There are several camping sites in Bir and Billing that offers amazing sunrise views and are great to be away from the touristy crowds.
These camps usually charge around 1000 – 2000 INR with basic facilities and meals.
Summary
Overall, Bir and Billing are really amazing places to visit and offer activities for all kinds of travelers. You can enjoy the sunsets and landscapes here or visit the monasteries to observe some peace and quiet.
And if you are an adrenaline junkie, then you can try activities such as trekking, mountain biking, paragliding, and a lot more over here. Personally, I loved Bir Billing and am so glad that I was able to enjoy a whole month here.
If I had to choose a favorite hill station in Himachal Pradesh, then Bir would be my first choice.
Frequently Asked Questions
How can I go to Bir Billing from Delhi?
There is no direct flight or train connectivity for Delhi to Bir Billing but you can take a direct bus. The bus journey will take around 12-14 hours and will cost you anywhere between 1000 – 2000 INR.
When is the best time to visit Bir Billing?
Although you can visit this Himachal town throughout the year, the best time to visit Bir Billing is from March to June. During this period, the weather is pleasant and the wind conditions are ideal for paragliding.
How many days are enough for Bir Billing?
To explore Bir Billing properly, you would need at least 4-5 days. There are lots of monasteries, waterfalls, and hikes to explore around this small town that cannot be covered in a day or two.
How much does paragliding cost in Bir Billing?
A paragliding session in Bir Billing can cost anywhere between 2500 – 6000 INR depending on the duration of the flight and the paragliding company. You can also get a GoPro video and photos of your flight that will be charged extra.
Is there snowfall in Bir Billing?
Generally, Billing experiences snowfall in the winter months, making it a great winter destination for visitors. You can expect 3-4 feet of snowfall and enjoy paragliding until the end of December.