While my favorite destination in Himachal Pradesh has to be the gorgeous Rajgundha Valley, Tirthan Valley comes at the second spot. This secluded and pristine hill station offers a completely different experience than its sister cities in Himachal.
Nestled amidst the mountains and perched at a height of almost 1600 m, Tirthan Valley is nothing less than a paradise. With clear skies, majestic mountains, and a pristine river flowing through the valley, Tirthan Valley is a great place to escape the city life and immerse yourself in nature.
In this guide, I have included all the essential information that you need to know in order to plan a successful trip here. From stay to food to network, this post covers it all.
But if you want to travel to Tirthan Valley, make sure you travel responsibly. There are many guidelines for visiting this place which the locals are really strict about. So, be respectful of their home and follow these Guidelines for visiting the Tirthan Valley.
Delhi to Tirthan Valley Weekend Getaway
Tirthan Valley is at an altitude of 1600 m and is surrounded by mighty Himalayan mountains. This riverside retreat is a famous weekend getaway from Delhi due to all the adventure-related activities that one can do here. It is also the main gateway to the Great Himalayan National Park (GHNP), a UNESCO heritage site, which is why it has become so popular recently.
Deriving its name from the Tirthan river, this valley is located in the Kullu district. And the river which gave its name originates from Hanskund peak in the Great Himalayan National Park (GHNP). Now, isn't that fascinating?
Its unparalleled beauty and the simplicity of the people and the valley itself makes it a welcome respite from all the other destinations in Himachal Pradesh. Yes, it has now become more popular among travelers but it can still be counted as an offbeat destination when compared to places like Kullu, Manali, Kasol, and so on.
One thing which sets this valley apart from other Himachal destinations is the quaint Himalayan villages which still adopt traditional architecture. And the people themselves are very kind and down-to-earth and go to great lengths to make you feel at home here.
Another great thing about this place is that there isn't too much noise around here, so you can actually hear the sounds of nature. From the gushing river water to the calling of the birds, you hear it all without any effort which is absolute bliss.
And there are so many amazing day hikes to waterfalls and viewpoints here. So, there is no chance of you getting bored here. In fact, the mountain air is going to do some good for your body and will make you fit and healthy again.
How to Reach Tirthan Valley
Now, let's come to the most important section of our trip: how to reach the Tirthan valley. Since Tirthan Valley is located in the hills, the only way to reach here is by road which is not very difficult. The road connected to Tirthan is pretty good and is well-connected to the rest of the country.
The best way to travel to Tirthan Valley is by your own vehicle but if you cannot do that, then there are several public transportation options available too. In this section, we will be covering all the routes and transportation options available for you to reach Tirthan Valley.
Routes for Reaching Tirthan Valley
There are mainly two entry points for Tirthan Valley and can be easily reached in a car or a bike. Both the routes are quite scenic and you can even travel on this circuit for an epic road trip. However, one route is easier than the other so keep that in mind when choosing your road trip route.
One route will take you via Shimla and Chandigarh while the other route will take you via Manali. For simplicity sake, I will assume that you are traveling from Delhi to Tirthan Valley but the information shared below holds true for other places as well.
By Air
The nearest airport to Tirthan Valley is at Bhuntar which is at a distance of 48 km from Tirthan Valley and will take around 2 hours to reach. There are a few flights connecting the rest of the Indian cities to Bhuntar but flights can be slightly costly. From Bhuntar, you can take a bus till Aut and then follow the options suggested above or you can get a direct taxi which will cost around 2500 – 3000 INR.
You can also choose to take a flight to Chandigarh which is around 134 km from Tirthan Valley. From Chandigarh, you have buses and taxis which will take you to Tirthan Valley in just 7-8 hours.
By Rail
The nearest railway station to Tirthan Valley is Chandigarh Railway Station at a distance of 250 km. There are several trains connecting Chandigarh to all parts of India like Mumbai, Kolkata, Hyderabad, Kochi, etc. so, you will easily find a train.
Once in Chandigarh, you can choose a normal or Volvo bus for Tirthan Valley which will take around 7-8 hours. The normal bus will cost around 450 – 500 INR while Volvo will cost around 900 INR. A private taxi to Tirthan Valley from Chandigarh will cost around 5000 INR.
By Road
Delhi to Tirthan Valley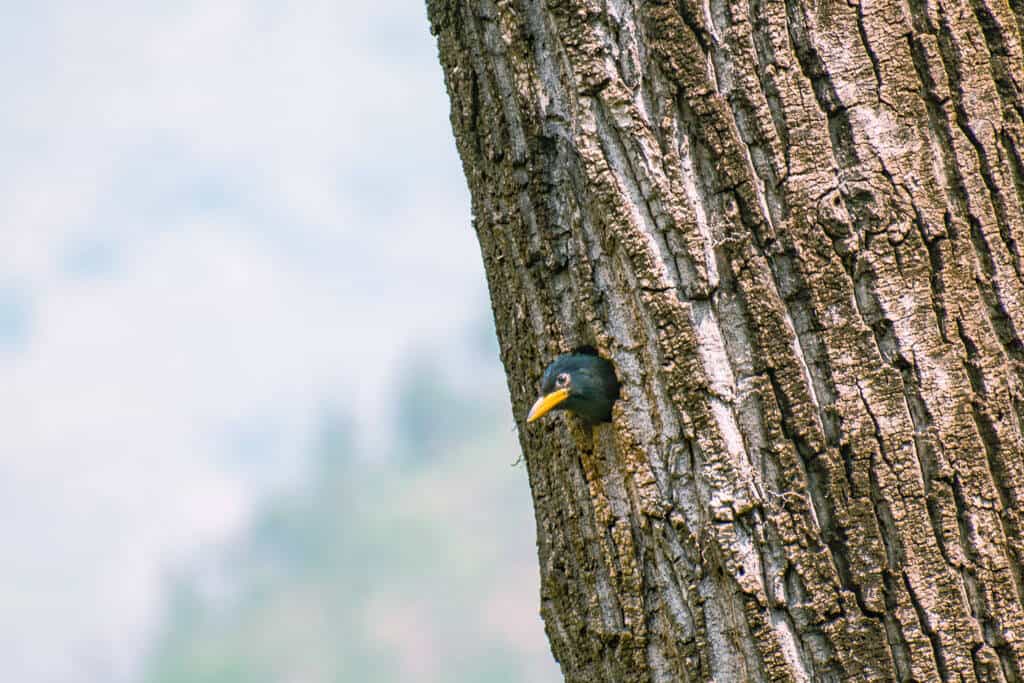 Tirthan Valley is at a distance of around 500 km from Delhi and takes 12 – 14 hours to reach, depending on your mode of transportation. Here are a few options for people who are leaving from Delhi to reach Tirthan Valley.
If you use your own vehicle, then you will be following this route from Delhi to Tirthan Valley:
Delhi – Panipat – Ambala – Chandigarh – Swarghat – Mandi – Pandoh – Aut – Larji – Gushaini
One of the easiest and most convenient ways to reach Tirthan Valley from Delhi is to take your own car. It will take around 13 hours for the entire journey but make sure you have two drivers with you. Don't attempt to ride the entire way yourself and rest periodically so that you don't tire yourself out.
Depending on where you are starting from, taking a bus or driving yourself are also available options. If you are traveling from nearby places like Chandigarh, Haryana, Mandi, Shimla, etc., then you can always drive yourself to Tirthan Valley.
Since we are considering Delhi as the starting point for this article, your first destination on the road trip will be Chandigarh. You can take the NH1 and pass through Karnal and Ambala on the way. Now, just before you reach Chandigarh, take the bypass to exit on the Chandigarh Manali highway. After a while, you will start climbing the hills and will pass Bilaspur and Sundernagar to arrive at Mandi.
Once you reach Mandi, drive for another 38 km to the Manali side and take the right turn from the Aut tunnel. Don't enter the tunnel as that will take you to Manali. From the Aut tunnel entrance, it is a 26 km pleasant ride to Tirthan Valley via Larji.
Larji is just 2 km from the tunnel entrance from where you need to take a left for Banjar. The right side road will take you to Sainj valley so avoid that. From Larji, you need to go 20 km straight where you will find two road options. Take a U-turn and go on the left road as that leads to Tirthan Valley.
In another 10 minutes, you would have reached your location
Also Read: When is the Best Time to Visit Tirthan Valley?
Shimla to Tirthan Valley
The second route to reach Tirthan Valley starts from Shimla via Narkanda and is slightly longer than the other route. If you are traveling from Delhi, then you will need 2 days to reach Tirthan Valley via this route and you will have to spend a night at either Shimla or Narkanda.
This is the route that you will follow:
Delhi – Panipat – Ambala – Chandigarh – Shimla – Narkanda – Khannag – Jalori Pass – Shoja – Jibhi – Banjar – Gushaini
The distance from Delhi to Tirthan Valley is 530 km in total and while it doesn't seem longer, it will take you more time to complete. If you wish to do this route in a single day, then you will need to drive for 20 hours and will have to cross Jalori Pass (high-altitude pass) around nighttime as well.
Once you start from Delhi, you need to make your way to Chandigarh and then climb uphill to Shimla. From Shimla, you will reach Narkanda in 2-3 hours and can stay for the night before starting again the next morning.
Narkanda to Tirthan Valley
The next day you will be driving for about 6-7 hours and can even explore around Narkanda for a bit. Check out Hatu Peak in the morning before making your way to Kingal which is a little downhill. From Kingal, you need to climb up the Jalori Pass and drive straight to Gushaini.
On the route, you will cross villages such as Shoja, Jibhi, etc. that you can explore if you have time.
By Bus
If you are planning to travel in buses, then opt for the Manali route and not the Shimla route. You can also travel to Tirthan via Mandi route and then return back via Shimla route as it will be easier for you. You will get both HPTDC and private buses going till Aut, which is on the way to Manali. So, all the buses for Manali will definitely stop at Aut. You will get an ordinary HPTDC bus for 648 INR while a Volvo will cost 1450 INR. Check the latest price of the buses on the HPTDC website.
From Aut, you can take another bus to Banjar, which is around 25 km from Aut. It will take you around 1.5 hours on the bus to reach Banjar. From Banjar, you will have to reach Gushaini village which is the nearest village to Tirthan Valley. You can take a local bus or taxi to Gushaini.
Another option is to get down at the road where it forks between Banjar and Gushaini. And walk the 5 km to Tirthan Valley from here. Honestly, this is not the most convenient option but it is the best way to reach Tirthan Valley for backpackers. It will cost you around 50 – 90 INR to reach Tirthan from Aut.
Another option is to take a bus till Aut and get down before the Aut tunnel. From here, you can get your homestay owner to send a taxi for you which will charge approximately 1200 – 1500 INR for a 7 seater. It will take you just 1 hour to reach in the taxi and you will be dropped off at the exact location of your homestay.
Shimla to Gushaini Bus
If you wish to travel from Shimla to Tirthan, then you will have to divide your journey into several smaller legs. First, you will need to reach Shimla. You will get Volvo buses from Delhi to Shimla that cost around 600 INR or you can take a train from Delhi to Kalka and then the toy train/bus to Shimla.
After reaching Shimla, you can get a bus to Banjar but remember, there is only one bus running on this route every day. So, you will have to essentially spend a night in Shimla and then board the bus the next day to reach Banjar. You will be dropped off at Banjar in the evening from where you can get a local bus to Gushaini or Jibhi for 30 – 50 INR.
Banjar to Shimla Bus
Now, if you are planning to return to Delhi via Shimla or wish to some other place, then you would need to divide your journey into smaller parts again. From Gushaini, you need to reach Banjar for which there are several shared taxis and local buses available.
There is a daily bus from Banjar to Shimla that you can take another bus to get down at Kingal. From here, you will need to board another bus or take a shared taxi to reach Shimla.
Road Conditions in Tirthan Valley
When you are traveling from Delhi to Tirthan Valley, you will find the road in great shape from Delhi to Manali. This is because this is the highway road so it is regularly maintained by the government. From Aut, the road is a little narrow but still in decent condition so you will be able to navigate it without much difficulty.
There are just one or two rough patches on this route so you can easily drive in your own vehicle here.
However, if you are planning to go to Tirthan Valley from Shimla side, then you will have to pass Jalori Pass on the way. The conditions of this pass depend on the weather and vary greatly. If you are traveling around monsoon, then the road will be messy and muddy from Shoja to Jalori Pass and a few villages further along such as Ani, Khanag, etc.
Due to the mud, it is a little difficult to cover the climb to Jalori Pass. Do remember that the path around Jalori Pass remains challenging throughout the year. So, be prepared for the same.
Best Vehicle for Exploring Tirthan Valley
As I said earlier, the best way to travel from Delhi to Tirthan Valley is by taking your own bike or car. Any vehicle will work as long as it has been serviced and is in good condition. In fact, a lot of locals drive around Tirthan Valley in Maruti Alto so you don't need any specific SUV or 4×4 vehicles to travel around here.
And if you have a bike of 125cc, then you are good to ride to Tirthan Valley.
Tirthan Valley Itinerary for 4 Days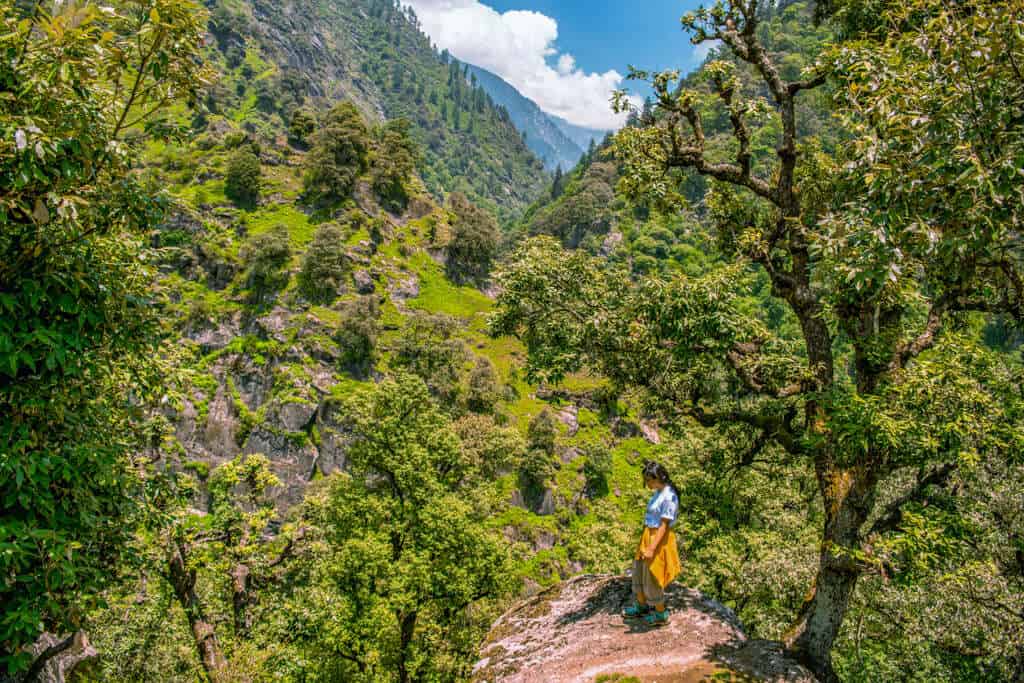 Although you can easily do a trip to Tirthan Valley in 3 days, it would be better to extend a day or two more so that you can relax and take in the views around you.
So, if you are planning a trip from Delhi to Tirthan Valley, then keep aside 4-5 days so that you can include other nearby places as well. You can include Jibhi, Jalori Pass, Kasol, Manikaran, Narkanda, etc. in your Tirthan Valley trip as well.
Day 1: Travel from Delhi to Tirthan Valley
Start from Delhi in the evening or night, depending on your mode of transportation, and reach Gushaini/Banjar next morning. You can choose to book a seat in a Volvo bus that is running between Delhi and Manali daily.
Another option would be to leave early in the morning in your own vehicle so that you reach Tirthan by evening.
Day 2: Trek to Nearby Waterfall or Villages
If you reach Tirthan by bus, then relax for a while before heading out again. You can spend some time beside the Tirthan River and go for short village walks. If you are looking for something more adventurous, then you can head to the nearby waterfalls such as Chhoie waterfall and make the most of your day here.
Day 3: Tirthan Valley Trek
Start your day early today and trek to the Great Himalayan National Park. This will be a 5-6 hour trek to and back from the GHNP gate. Make sure you carry enough snacks and food with you as there will be very few dhabas on the way.
After reaching back, you can just sit beside the Tirthan River and enjoy a scrumptious meal followed by a deep and pleasant sleep.
Day 4: Relax and Depart for Delhi
On the last day, you can sleep in for a while before checking out in the noon to leave back for Delhi. If you have your own vehicle, then you will be able to reach Delhi by 11 p.m. and can rest before going to work tomorrow.
However, if you are traveling by Volvo, then you will reach the next morning and will have to bear a tired day at work. A weekend trip to Tirthan Valley is possible from Delhi but it will be a little hectic.
Optional
If you have a couple more days at hand and can plan at least a week-long or 10-day long trip, then you can also include Shimla and Narkanda in your itinerary.
Begin your trip from Delhi to Shimla then spend a few days exploring the sights that this beautiful hill station has to offer. Ride the famous Kalka-Shimla toy train, shop at Mall Road, and enjoy the views of Shimla. After that, you can take a local bus or drive on to Narkanda which is a popular skiing destination in Himachal.
From here, you can continue your journey toward Tirthan Valley and spend a couple of days in this quiet haven.
Local Transport in Tirthan Valley
The connectivity in Tirthan Valley is good but the options for traveling around are quite limited. If you are short on time, then you would either need to hire a cab or take your own vehicle to explore the area.
For people who are traveling on a budget, buses and shared cabs are good options but there is a lot of waiting time involved in it. Moreover, the frequency of the local transport in Tirthan Valley is not good. So, you will find a bus or two from Banjar to other villages during the day.
The most convenient way to explore around Tirthan Valley is by hiring a private taxi for the day. You will find a lot of cabs in Banjar.
ATMs in Tirthan Valley
There are a couple of ATMs in Gushaini but don't be dependable on them, withdraw cash beforehand. In case, you run out of cash, then you can check out the ATMs at Gushaini or Banjar which is 10 km from Gushaini. There are a couple of ATMs at Aut too so you can withdraw from there on the way.
It would be best to withdraw cash from your home city before leaving for Tirthan Valley or Aut itself. Don't leave withdrawing till the last moment because quite often, the ATMs in these small towns turn out to be dysfunctional or empty.
The last major town or city where you can withdraw cash on your trip to Tirthan Valley is Mandi or Kullu.
Network Availability in Tirthan Valley
Most mobile networks will work till Gushaini but Airtel and JIO will give you the best signal. Vodafone is patchy at best in Tirthan Valley and there are very fewer chances of you being able to make a call with it.
BSNL is one of the best mobile networks in Tirthan Valley and will also work in the remote villages and on the treks here. So, if you are looking for a mobile operator with good Internet connectivity, then Airtel and JIO are the best. For making phone calls, the BSNL network is the best.
Where to Stay in Tirthan Valley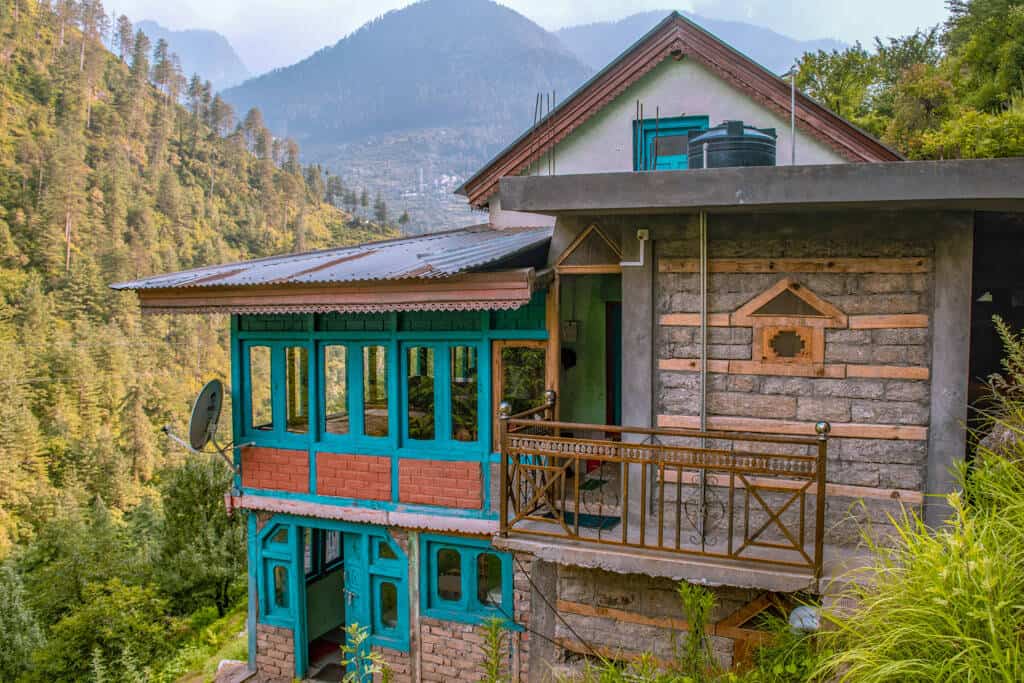 Earlier, Tirthan Valley was not developed, so there were limited options to stay here. However, in the last couple of years, a lot of new options have cropped up in this area due to the increased tourism.
From hotels to homestays, you will find all options available for comfortable and relaxing stay in Tirthan Valley.
Popular Villages and Towns in Tirthan Valley
Also, since Tirthan Valley comprises of several small towns and villages, here are a few places that you can consider finding a stay for your trip:
Jibhi – If you love staying in old-style wooden cottages, then you should check out homestays and hotels in Jibhi. You will be blown away by the beautiful Victorian-style buildings here and will have a lovely time interacting with the locals around this region.
Gushaini – One of the most popular villages to stay in Tirthan Valley is Gushaini. This is why you have a lot of hotels and homestay options available here. Personally, I have stayed in a few camps and homestays in Gushaini and absolutely loved the hospitality and the views.
Banjar – A large town that offers several hotels and homestays, Banjar would be an ideal base for most travelers coming to Tirthan Valley.
Sai Ropa – In Sai Ropa, you have a Forest Guest House that is a great place to stay at. It is budget-friendly and comfortable but you need advance booking to stay here.
Shoja – Finally, there is another small place named Shoja where you can find a couple of stay options for your trip. Personally, I would recommend you to stay in the Banjara Retreat here.
Also Read: Other Amazing Hill Stations in India
Homestays
Personally, I would suggest you stay in a riverside homestay or cottage to get a proper feel of Tirthan Valley. This way, you will understand their lifestyle and their culture and will have so much to take back home with you. Also, the locals are really friendly here so they will also help you in planning the activities around here plus the food is super amazing.
A homestay can cost you anywhere between 1000 – 15000 INR, depending on the homestay location, room space, and whether you opt for meals or not. I stayed in Khem Bharti Homestay and Sunshine Himalayan Cottages in Tirthan Valley. Both of these places are quite different from each other but offered amazing food, views, and services.
Homestays to Consider: Raju Bharti's Guest House, Sunshine Himalayan Cottages, Kudrat – A Boutique Homestay, River View Cottages.
Camps
There are a few camps here as well where you can stay beside the river and enjoy a night under the starry sky. They also make provisions for a bonfire, some activities, etc. and offer delicious food options as well.
A stay in a camp can cost you anywhere between 1000 – 5000 INR, depending on your tent type.
Campsites to Consider: Anand Tirthan Camps, Tirthan Nature Camps, Sunshine Himalayan Camp, and Tirthan Holidays Camp.
Hotels and Resorts
Finally, there are a couple of resorts here where you can stay for 3000 – 5000 INR per night but this won't include your meals. The resorts are really expensive and won't give you the feel of the authentic Tirthan Valley.
Hotels to Consider: Tirthan Bliss, Sharda Resort, The Riverwalk.
Hostels
Although back in 2018, when I first visited Tirthan Valley, there were no hostels but that is not the case anymore. You can find several hostels in Tirthan Valley presently that will charge you anywhere between 1000 – 2500 INR per person per night.
There are still not many hostels which is why the few available options charge a higher fee compared to other destinations in Himachal Pradesh. However, if you can book in advance, you can easily get a good price for your stay in the hostels here and make new friends as well.
Hostels to Consider: Earthlings Backpacker Den, MOZO Hostel, The Hosteller Shoja, Cloudwalker Inn.
Self-Camping
If you are looking to save some extra bucks and wish to experience an adventurous trip, then you can always take your own camping gear too. There are a lot of spots available beside the river where you can pitch your tent and enjoy your stay in Tirthan Valley.
Where and What to Eat in Tirthan Valley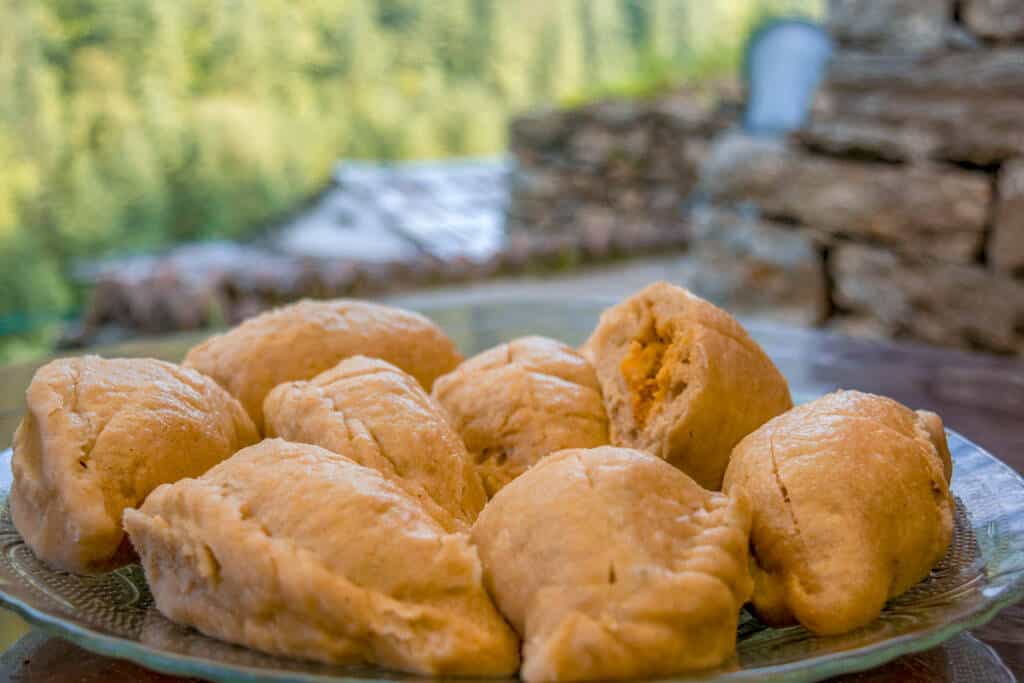 There aren't many stand-alone restaurants in Tirthan Valley so hotels and homestays are basically your only options. If you are staying in a homestay, then your food will be included in the price and you will be served some delicious Himachali cuisines. You will also get to taste the local snacks Siddus and the local sharbat made out of Rhododendron flowers.
In hotels, you can get food for a price of 300-500 per meal but I would suggest you stick to the homestay food or eat out at a local dhaba in Banjar.
If you are going for a nearby Tirthan Valley trek, then you might need to carry some packed lunch with you. There are a couple of food stalls on the way which will serve Maggi and tea mostly.
Carry some snacks and fruits for the trek as well and don't take plastic with you.
Note: If you do take plastic bottles or bags, don't throw it on the trek route and get it back with you.
Summary
Tirthan Valley is a gorgeous Himachal destination and it is still relatively less-explored. So, if you are looking to relax and unwind in an offbeat destination then this is the perfect place for you. Go on life-changing Tirthan Valley trek or just enjoy the cold river lagoons, there is a lot to do here.
Perfect for people who want a break from their regular life, you can finish your long-forgotten novel here or focus on your fitness or just simply admire the surrounding around you. This place is ideal for all kinds of travelers and will have something for your interests too.