As is the case with most Himalayan destinations, there are a lot of exciting things to do and places to visit in Tirthan Valley. From spending time beside the river to going on numerous day treks, there is definitely no time to get bored here.
In fact, during my 4-day trip to Tirthan from Delhi, I remember getting up early in the morning to leave and coming back late in the evening. And still, I missed out on so many amazing things to do here. So, I would definitely suggest that you take out sufficient time to this amazing destination.
I have mentioned a few top things to do in Tirthan Valley below so that you can plan your trip well and don't miss out on things like me.
Places to Visit in Tirthan Valley
Why should you Visit Tirthan Valley
Before I share with you more about this beautiful hill station and everything to explore here, I am going to share with you why you should visit Tirthan Valley. Yes, Tirthan Valley is beautiful and charming but so are most other towns and villages in Himachal Pradesh. So, why choose Tirthan Valley? Well, because Tirthan Valley is an offbeat destination and is slightly remote so its beauty is raw and untouched.
Apart from being remote, Tirthan Valley is also well-connected to major towns and cities. As a result, Tirthan Valley is comfortable for families to visit as well. And the best thing about Tirthan Valley is that you will find beautiful sceneries and several activities to do around here but it won't be as crowded as the touristy places like Manali, Shimla, etc.
Moreover, it is quite easy to reach Tirthan Valley, especially from Delhi, as you have a perfectly driveable road that stays in good condition for the most part of the year. Since it is an offbeat destination, it hasn't been completely commercialized till now and is great for budget travelers.
The gorgeous mountains, quaint riverside villages, and the peaceful scenery are definitely going to make you fall in love with this place. And with a plethora of activities to do here such as fishing, camping, trekking, photography, and so on, you aren't going to get bored at all during your trip here.
Places to Visit in Tirthan Valley
Great Himalaya National Park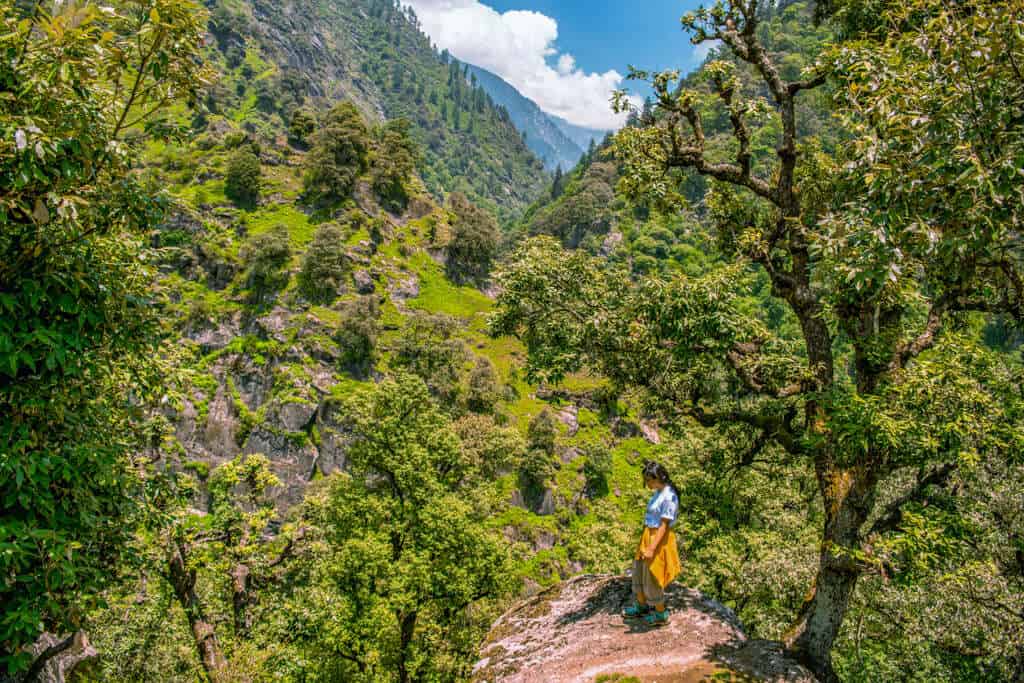 Although Great Himalayan National Park was built in 1984, it was finally recognized as a national park in 1999. Located in the Banjar division of Kullu district, GHNP is a UNESCO heritage site with diverse flora and fauna. This national park was created with the help of four valleys – Sainj, Tirthan, Parvati, and Jiwa Nal and covers an area of 754 square km.
Great Himalayan National Park is located at an elevation of 1500 – 6000 m and is home to over 180 species of birds, 31 species of mammals, and 375 species of animals. You will come across several villages inside this national park and can enjoy the local culture of the people around here.
If you are a nature lover and have an interest in trekking, camping, bird watching, etc. then you should definitely visit GHNP from Tirthan Valley.
Jalori Pass
Jalori Pass is a high altitude pass at an elevation of approximately 10,570 ft. that can easily be explored as a day trip from Tirthan Valley. One of the least explored passes in Himachal Pradesh, Jalori Pass or Jalori Jot is around 5 km from Shoja and can be reached both by car or by a trek.
The path to this pass is steep and narrow and is generally in bad conditions during the monsoon months. But if you like adventurous rides, then you are going to love reaching this pass in your own vehicle.
Sirolsar Lake
A beautiful and enchanting lake that is located just 5 km from the Jalori Pass, Sirolsar Lake is one of the top places to visit in Tirthan Valley. Since there is no motorable road leading to this lake, one needs to trek here from Jalori Pass. However, it is all worth it because the natural scenery around this lake is simply enchanting.
The lake is placed in the middle of the jungle and has clear, still water which is said to have medicinal properties. There is also a temple named 'Budhi Nagin' located next to the lake that is considered sacred and mystical by the locals.
Gushaini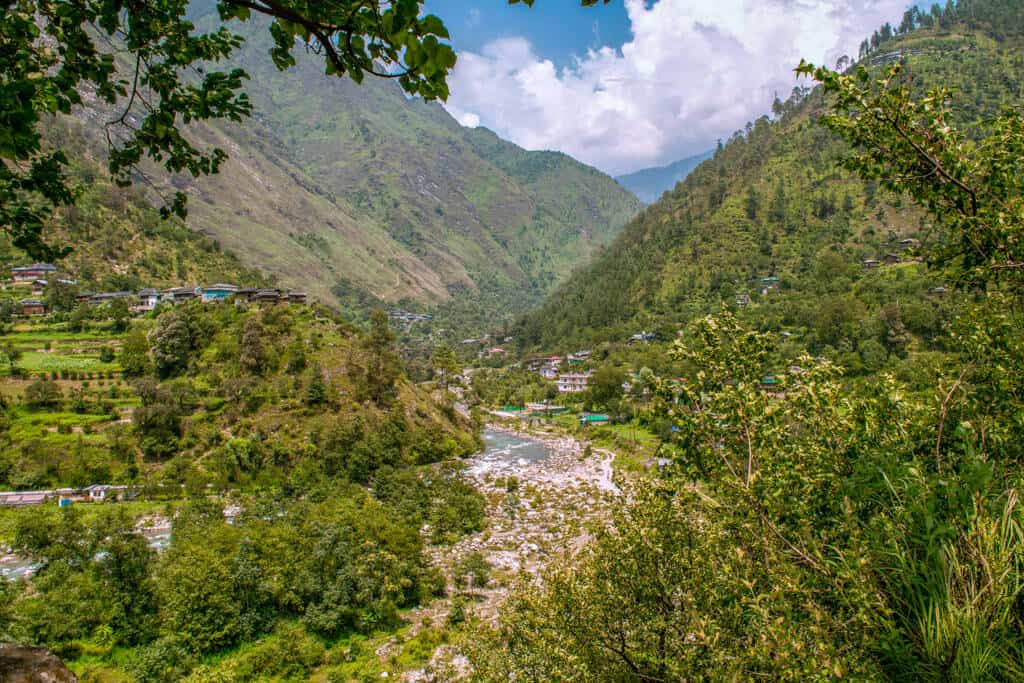 One of the most popular places to visit in Tirthan Valley is the Gushaini village as it is your gateway to many treks including the Great Himalayan National Park. This small, charming village is located on the banks of Tirthan River and is surrounded by green vistas and fruit orchards including apricots, pears, apples, and so on.
You have a lot of activities to try out in Gushaini including bird watching, river crossing, hiking, camping, and so on.
Banjar
One of the largest towns in the Banjar Valley and Tirthan Valley, Banjar is the district HQ and is around 27 km from Aut. If you are planning a trip around Tirthan Valley and Jalori Pass, then Banjar would be the ideal place to make your base as you can visit both the places from here.
Gushaini is just 10 km from Banjar and can be reached in just 15 minutes in a car. And the valley views in Banjar are as beautiful as you could possibly imagine.
Sainj Valley – Shangarh
A beautiful valley located around 45 km from Kullu, Sainj Valley is a gorgeous wonderland and is one of the least heard places in Himachal Pradesh. This valley is at an altitude of 1200m and starts close to the river. Here, you will find lots of amazing places to explore such as Shangarh, Panihar, Dehrui, etc. where you will find secluded and comfortably homestays to stay in as well.
Slowly, Sainj Valley is becoming popular as an offbeat destination to visit near Tirthan Valley. So, if you are bored of going to the same tourist spots in Himachal, then you can plan a visit to Sainj Valley as well.
Sai Ropa
Situated between Banjar and Gushaini, Sai Ropa is the entry for Great Himalayan National Park. This is the place from where you can get the entry tickets and permits for GHNP trek. So, if you are planning a trip to Tirthan Valley and go on a trek in the Great Himalayan National Park, then this is one of the first places to visit in Tirthan Valley.
There is a Forest Reserve House here where you can stay but you need an advance booking for that.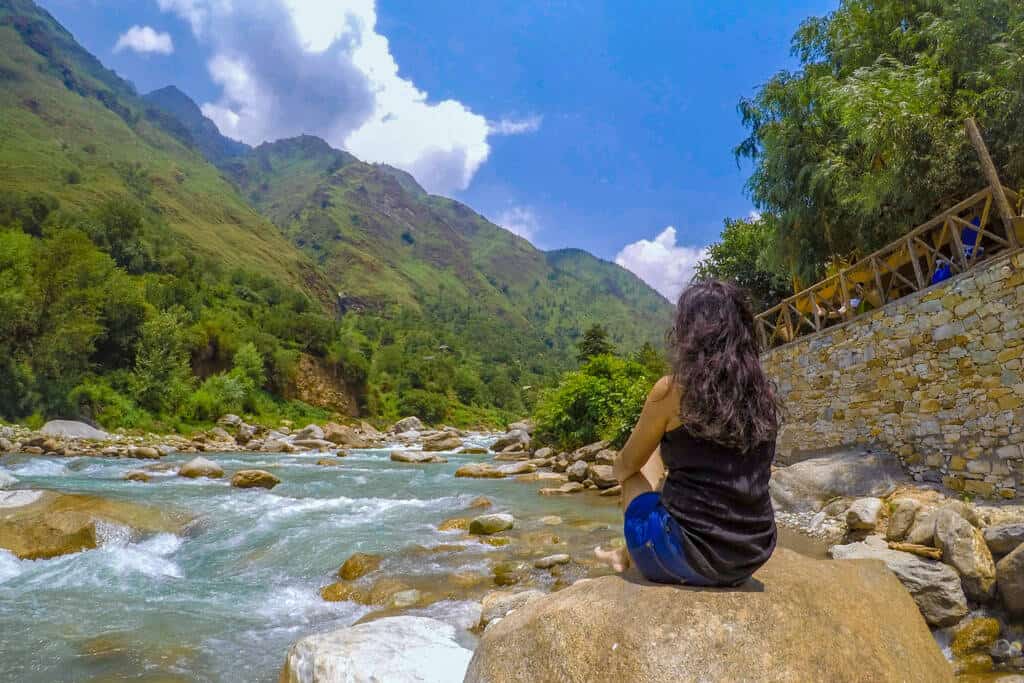 Jibhi
One of the most popular places to visit in Tirthan Valley is Jibhi which is around 8 km from Banjar and 20 km from Gushaini. Jibhi is known for its Victorian-style cottages and dense pine forests so you can easily plan a day trip from Tirthan Valley.
If you are interested in staying here, then you will find several good homestays to experience the local culture of this village as well.
Shoja
Shoja is a small, quaint village that is located near Jalori Pass top and is a great place to enjoy some peace and serenity in this valley. If you are looking for an offbeat staycation, then Shoja is one of the best places to visit in Tirthan Valley. You can stay in the Banjara Retreat cottage here for a comfortable stay with mind-blowing views.
Things to Do in Tirthan Valley
Go for the Famous Tirthan Valley Trek to the GHNP Gate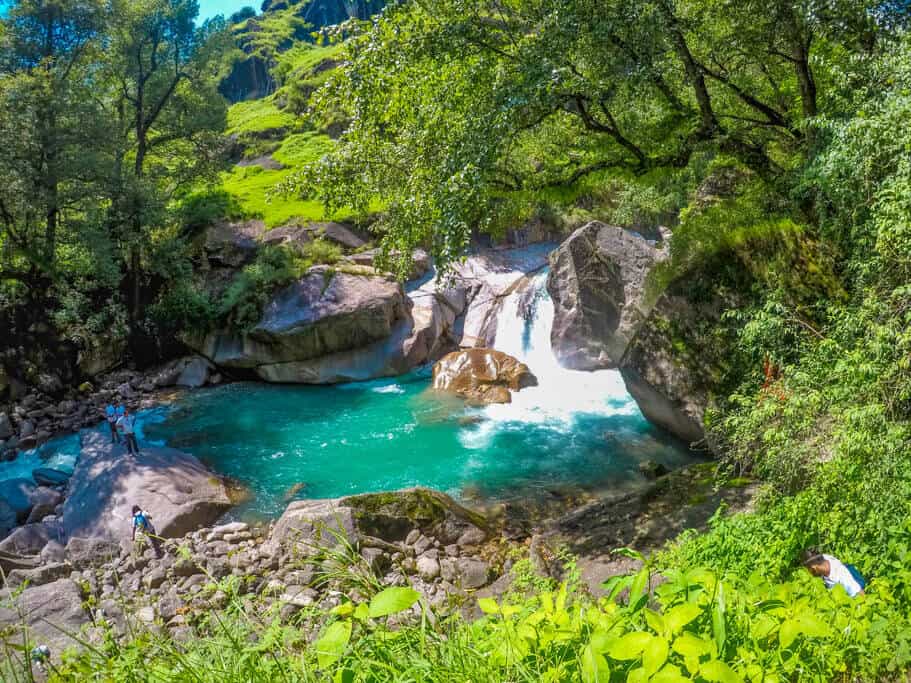 One of the most popular things to do in Tirthan is to go for the GHNP trek which is a 1-day trek (only till the GHNP gate).
The GHNP trek starts from Gushaini which is around 8 km from the GHNP gate and takes around 2-3 hours to reach. For this trek, you don't need any permission and you can easily complete it in a day. On the way, you get to enjoy some amazing river and mountain views and also some beautiful waterfalls.
If you plan to go for a multi-day trek to the GHNP ecozone then you would need a special permit. The permit can be availed from the forest range office in SaiRopa (Tirthan Valley), Ropa (Sainj Valley) or Shamshi (the Head office). The fee for the depends on your reason of trekking and the days and can be learned about on the GHNP official website.
But if you don't have enough time to go to the ecozone, then don't worry. The trek to the GHNP takes only 6-7 hours, return. And on the way, you get some amazing viewpoints, waterfalls, etc. which you can enjoy. One such waterfall is the Hippo Waterfall which is just 200 m before the GHNP gate. And another 1.5 km before, you have another small waterfall beside the wooden bridge which is completely secluded and a great photography spot too.
Spend Time Relaxing Beside the Tirthan River
One of the top things to do in Tirthan Valley is to reconnect with yourself and forget all your worries while sitting beside the most pristine rivers in India, the Tirthan River. This is the only river in Himachal Pradesh whose flow isn't obstructed by a dam so you can witness it in all its glory.
It is also home to several varieties of fishes including brown trouts, rainbow trouts, and so on. And the water is so cold that the locals use it as their freezer to keep their local drinks fresh and cold. How amazing is that?
Try Fishing/Angling in the Tirthan River
If you have always wanted to learn fishing then one of the best things to do in Tirthan Valley is to try angling/fishing in the Tirthan River. The crystal clear water of Tirthan River is home to the famous rainbow and brown trouts. And also has rich aquatic biodiversity which is why there are no dams built on this river.
As a result, it is a paradise for people interested in angling and trout fishing. You need to take a permit to fish here from the Himalayan government which is not difficult to obtain.
Trek to the Famous Prashar Lake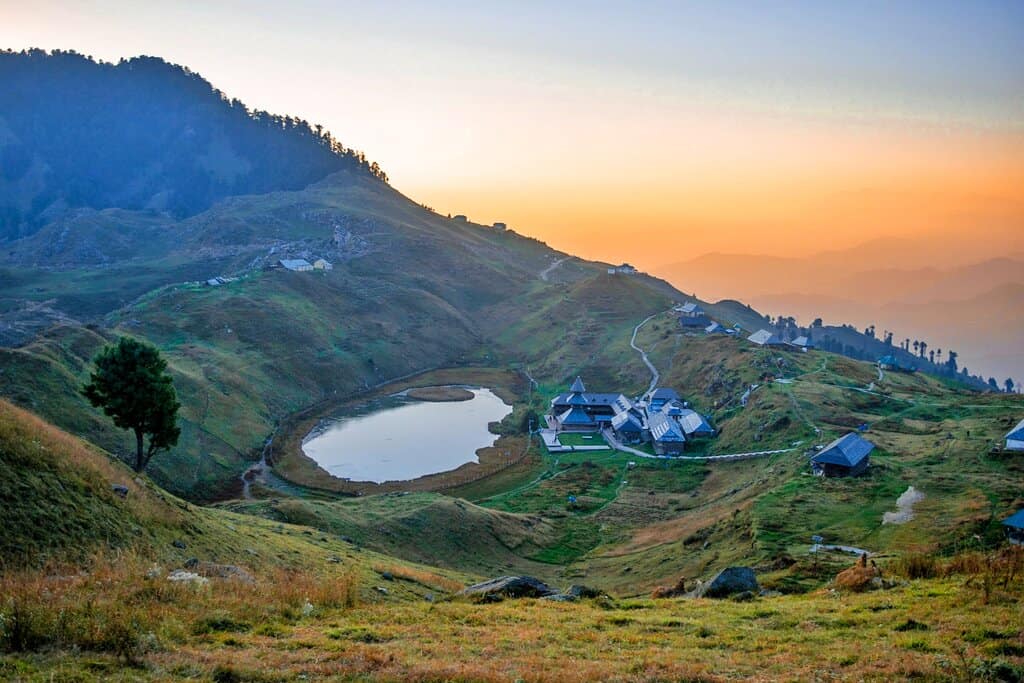 Another top thing that you can do in Tirthan Valley is to go for a day trek to the famous Prashar Lake. One of the best getaways from Tirthan Valley, Prashar Lake is a beautiful secluded lake by the Prashar Temple which was built in the 14th century.
This amazing pagoda-styled temple was built as a dedication to the famous Rishi Prashar who meditated here. There are several fascinating tales related to this lake which you can learn about once you visit this place. It is just 3.5 hours away from Tirthan Valley and can be easily reached by vehicle.
Enjoy the Delicious Local Himachali Cuisine and Drinks Here
One of the most amazing things to do in Tirthan Valley is to taste the local cuisine and enjoy the Rhododendron drinks here. They make their own sharbat out of Rhododendron, Litchee, etc. which are sweet and delicious. They taste a little like Roohafza but are so much better and healthier than it.
Apart from the specially curated drinks, you should also try the Himachali cuisine which you will find in abundance here. You will be able to taste delicacies like Khatta Sabji, Meetha Chawal, Siddus, and so much more. All the vegetables used in their meals are grown organically in their own farm and taste so much better than the city vegetables.
Trust me, when in Tirthan Valley, you have to taste the authentic Himachali food in one of the homestays or cottages here.
Go For Village Hopping in Tirthan Valley
You can walk and explore the nearby villages of Gushaini, Shoja, etc. or you can drive to villages like Pekhri, Sharchi, etc. for some amazing views. You will be able to see an amazing view of the snow-capped Himalayan peaks of the GHNP from the Pekhri and Sharchi village.
In the other villages, you will learn more about the traditional architecture used in the building of the village homes. And everything about their age-old lifestyle. How they prepare their food with a wooden gas or how their temples are decorated with wooden carvings, you will end up learning a lot in these villages.
Camp Beside the River Under the Starry Night
One of the most popular things to do in Tirthan Valley is to spend a night camping beside the river, under a starry night. There are many river-side camping areas here where you can enjoy the night and immerse yourself in nature.
Trust me, the bonfire and the gushing sound of the river coupled with the clear, starry night make for the best experience ever.
Spend a Day at the Majestic Chhoie Waterfall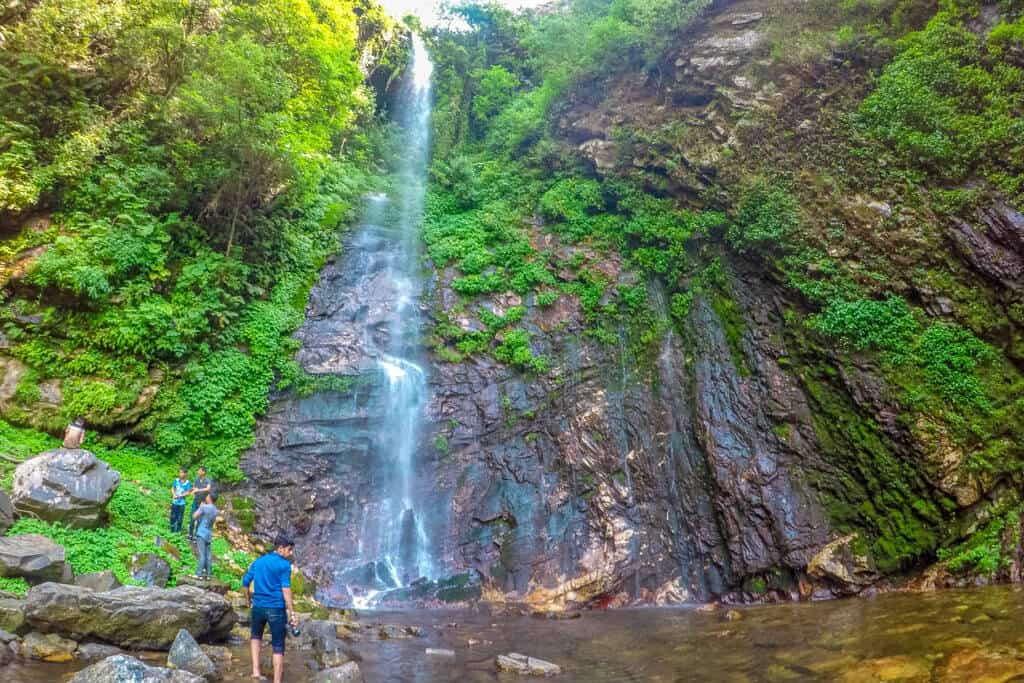 Another popular activity to do in Tirthan Valley is to hike to the secluded Chhoie Waterfall. This waterfall hike is a 45-minute hike which starts from the Mata Buddi Nagin Temple which is just 1.5 km from Tirthan Valley. So, you can walk to the starting point of the trail and then hike for the next hour to reach the waterfall.
The hike includes a few steep ascents on the way which could be tiring. But it doesn't require any special fitness and can be undertaken by people of all ages.
And once you reach the waterfall, you will be completely blown away by its awesomeness. The waterfall is quite tall and has a good flow of water even in the summers so you can enjoy a shower under it. Plus, the water is freezing cold.
Make sure you get an extra pair of clothes to change if you plan to wade in the water. Remember, there is no changing room here so you will most likely have to change behind a rock. But trust me, you cannot miss out on spending time beneath the waterfall.
Tip: Do take a Local with you to guide you to the waterfall else you might get lost.
Meet the Locals and Learn About their Lifestyle
The locals in Tirthan Valley are really sweet and will talk to you quite openly if you show interest. And you will end up learning so much about their lifestyle and their adventures in this beautiful valley.
Tirthan Valley promotes eco-tourism which is followed by the locals quite diligently. They employ organic farming and help each other as a community to grow and prosper. Honestly, you can learn so much from them if you are willing to take some time to listen to them to talk about their daily life.
Head to Jibhi and Jalori Pass from Tirthan Valley
One of the top things to do in Tirthan Valley is to plan a day trip to Jibhi. You can hang out at one of the river-side cafes here or you can go for a short hike to the Chehni Village. Here, you will find the tallest free-standing building in the Western Himalayas which currently has 10 floors.
It is a 1500-year old structure built in the traditionally Himachali style which makes it grander. And if you start early in the morning, then you can also drive to the famous Jalori pass. From here, you can do the famous Serolsar lake hike.
Jalori Pass too offers some mind-blowing mountain views and the Serolsar lake is quite magical to look at. It can take the entire day for you to cover Jibhi, Jalori Pass, and the Serolsar lake together, making it the perfect day tour from Tirthan Valley.
Observe the Varied Range of Flora Available Here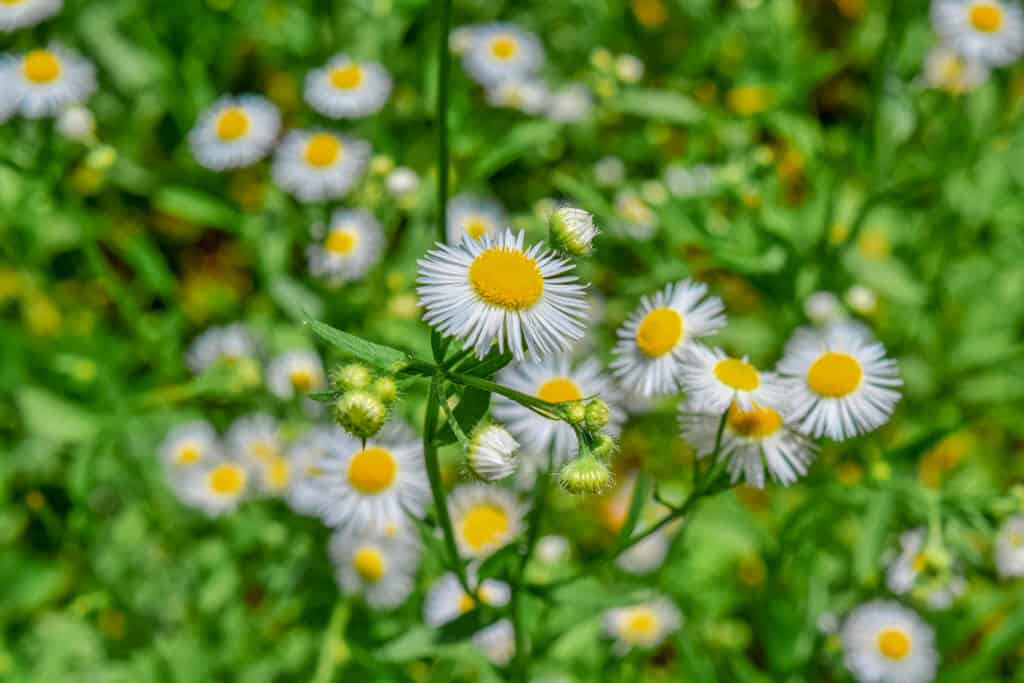 Tirthan Valley has a rich flora and fauna so you will find a wide variety of plants and flowers here. Apart from that, there are many different types of birds and animals found here. This includes Plum-headed Parakeet, Black Bulbul, Black Bear, Snow Leopard, and so on.
This valley is home to around 180 species of birds and at least 6 different types of vegetations. In fact, the Great Himalayan National Park (GHNP) which covers an area of around 754 km square is home to a wide variety of trees and plants.
So, if you wish to learn about the different types of flora and fauna currently existing in the Himalayas then Tirthan Valley is a good place to start.
Purchase Local Products From Here
The local women here make a range of items like apricot jam, woolen socks, gloves, apricot oil, and so on. There isn't a proper market area but they do sell these items in their home or in small shops. So, if you want to purchase one of these items, just tell your homestay owner. He will introduce you to the women who make these items.
This way, you get some cool items to take home and you promote women empowerment in Tirthan Valley as well.
Go on Local Day Treks
Since Tirthan Valley it the gateway to the Great Himalayan National Park, it offers a lot of treks to explore around here. As a result, it is a trekker's paradise as you will find both short and long treks that differ in ease and duration. If you love trekking, then you can even reach 4000+ meters in the region on treks else you can stick to some local, short day hikes and treks.
There are a lot of trails around here and waterfalls also to which you can trek and make the most of your stay in Tirthan Valley.
River Crossing
One of my absolutely favorite things to do in Tirthan Valley is crossing the river Tirthan River with the help of a cable. A cable is attached on both the sides of the river and then you are attached to the cable so that you can slide from one end to the other. As you slide along this cable, the river water gushes past beneath you and you are able to experience a thrilling ride over the river.
Trust me, you get an amazing adrenaline rush when you indulge in this activity and the picturesque view of the valley makes the trip even more worthwhile.
Bird Watching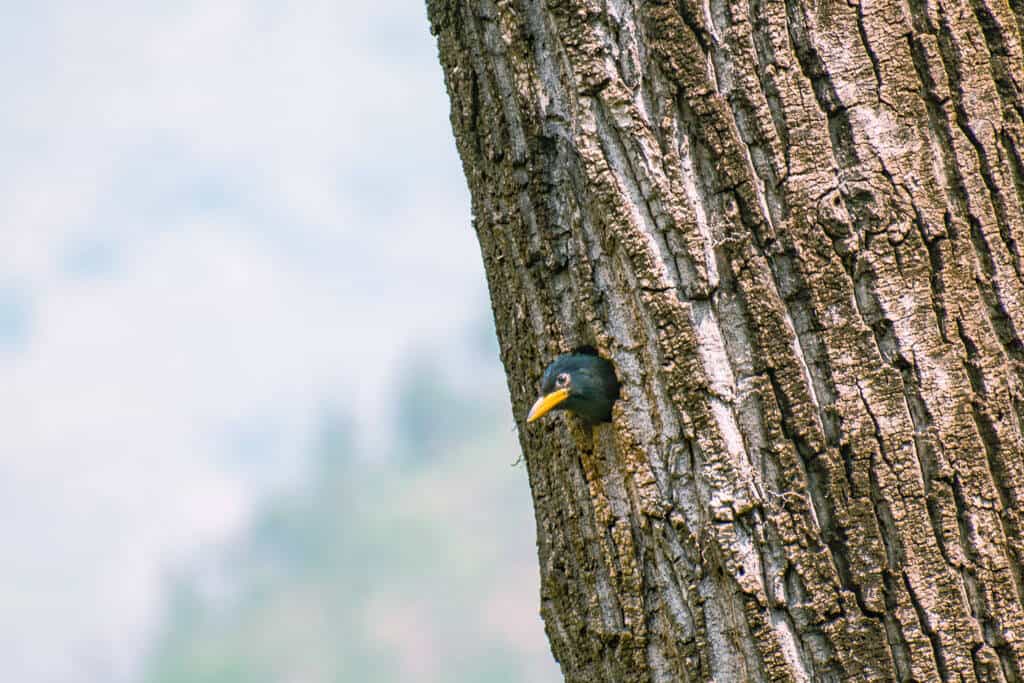 One of the most popular things to do in Tirthan Valley is to watch a diverse range of birds that are available in the region. Here, you will find some rare bird species such as Crested Kingfishers, Redheaded Bullfinches, Asian Paradise Flycatchers, and so on. In fact, the Great Himalayan National Park is home to over 180 bird species so if you love bird watching or take photographs of birds, then this is the perfect place for you to visit.
You will hear these birds chirping around the valley, hidden amidst the dense forests. There are several mountain trails here where you will encounter more birds so you can plan for those with an experienced guide too.
Rock Climbing
If you love adventure sports, then you can also try rock climbing in Tirthan Valley. There are several different rock climbing spots around Tirthan Valley where the local operators provide you with the experience of rock climbing. It is not an easy activity but it can be a lot of fun.
Make sure you choose a good and experienced rock climbing instructor so that you are properly protected with a harness at the time of the activity.
Attend a Local Festival here
Kullu is known as the valley of Gods which is why you will find a lot of temples, sacred grounds, shrines, etc. scattered around in Tirthan Valley. In fact, each village in Kullu has a local devta who has an interesting history and is considered an essential part of the village affairs.
You can also attend a festival in Tirthan Valley during which a mela is held and the celebrations last for a couple of days. Local deities from different villages are brought together at this time and several local songs and dances are performed in traditional dresses.
While there are festivals and deity processions conducted around here throughout the year, you should definitely witness festivals like Dussehra and Maha Shivratri over here. The grand celebrations and the decorations during these festivals are just too amazing to miss out on.
One of the best festivals to check out in Tirthan Valley is the Phagli festival that is a 4-day festival. In this festival, everyone wears masks and dances around, enjoying each other's company.
Relax and Breathe in the Fresh Mountain Air
Honestly, you don't even need to do anything to enjoy Tirthan Valley. One of the simplest things to do in Tirthan Valley is to do nothing. The atmosphere, the views, everything is magical that one can easily get lost in its beauty for hours at a time.
And all you have to do to enjoy this beauty is just step outside your room and look above. Just sit down beside the river or take a stroll near your accommodation. And just breathe in the fresh mountain air. Listen to the gushing of the river, the chirping of the birds, and the whistling of the trees. You will actually feel your body and mind cry out in joy.
Tirthan Valley Weather
Since Tirthan Valley is located at a high altitude, the weather in Tirthan Valley remains cold for the most part of the year. The average temperature of Tirthan Valley is around 25 degrees Celsius in summers which is the perfect time to visit this place. The winter season starts in the valley from November and stays till March. During this time, Tirthan Valley's weather is freezing cold as the temperature drops below zero.
In spring, the tourist season begins in the valley and guests can enjoy moderately cool and pleasant weather in the months of April, May, and June. The monsoon season begins from July and stays till August during which time Tirthan Valley receives sufficient amount of rainfall. During this time, there are chances of landslides as well and the roads can be blocked so plan your trip carefully.
Apart from that, the incessant rainfall traps you indoors so you won't be able to explore around much. However, this is also the time when the entire valley blooms with flowers and becomes colorful. September is also a good time to visit Tirthan Valley weatherwise and there is a lot of colors and greenery around. October brings the onset of autumn and November marks the arrival of winter season again.
It can also snow in Tirthan Valley from mid-December to mid-February and the average temperature is around 5 – 10 degrees. The weather is extremely cold at this time so, make sure you pack layers of clothing if you plan a trip during winters.
Best Time to Visit Tirthan Valley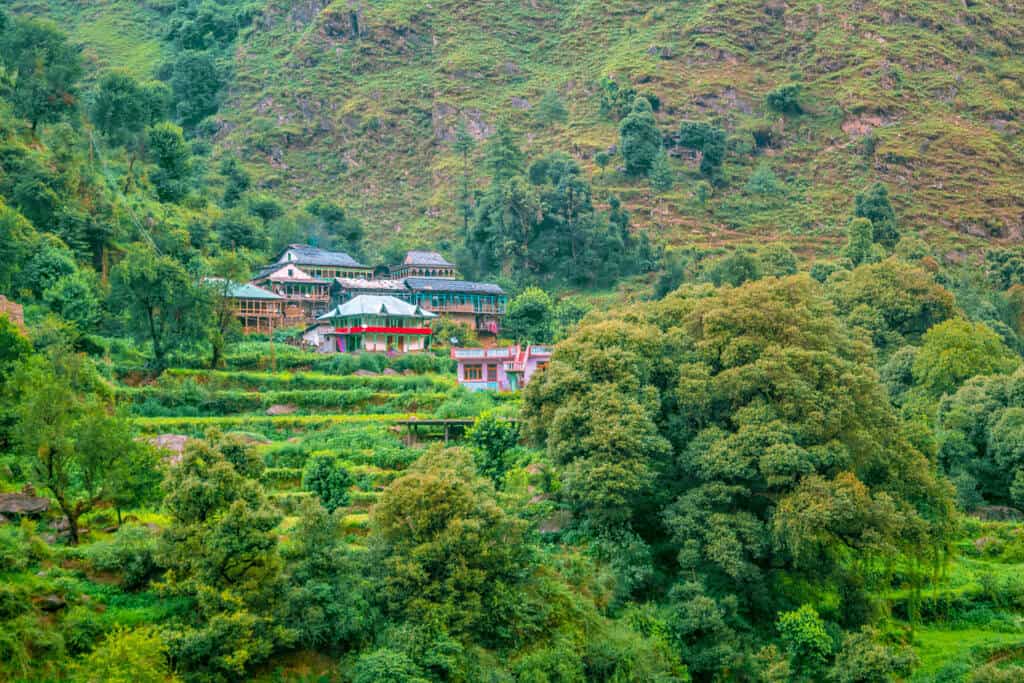 So, when is the best time to visit Tirthan Valley?
Ideally, there is no singular best time to visit Tirthan Valley as it is a year-round destination, except for the monsoons. But each season brings a different list of activities and experiences with it. You can check our article on the best time to visit Tirthan Valley for a detailed breakdown of what you can expect in each month and season.
So, depending on what you are interested in, you can plan a visit to Tirthan in the following seasons.
Summer Season (March – June)
For people wanting to escape the summer heat, the summer season is the best time to head to Tirthan Valley. The temperature is cool here and the valley is beautiful for exploration as well. And during this time, you can head to the beautiful waterfalls and treks nearby to have an amazing time.
This is also a good time to enjoy the Tirthan River and dip your feet in the cold, fresh river water. Plus, camping beside the river is a lot of fun at this time too. So, if you are interested in cool weather while enjoying some adventure activities, then summer is the best time to visit Tirthan Valley.
Monsoon Soon (July – September)
Definitely not the best time to visit Tirthan Valley because the risk of landslides increases during the monsoons. But if you love the smell of fresh rain on the alpine trees then it could be considered. You can head to this place in early July when the monsoon period is just starting and enjoy this not-so-crowded destination in Himachal.
However, if you want to enjoy the Tirthan rains then make sure that you have a couple of days with you. And do check the weather forecast before you start your journey. Also, make sure to count some buffer days for your trip if you happen to get stuck in Tirthan Valley because of the roads and landslides.
While I wouldn't suggest you to risk it, the monsoon is definitely the best time to visit Tirthan Valley if you like rains and lush greenery.
Winter Season (October – February)
One of the best times to visit Tirthan Valley is in winters, from the month of October to December. This is the time after monsoon so the entire valley is blooming with greenery and colors and makes for an amazing view.
And this is also the best time for the Tirthan Valley trek like the GHNP trek, waterfall trek, and so on. Also, if you are lucky, then you might witness snowfall here too which is another magical sight.
Clothes to Pack for Tirthan Valley
Depending on the month of your visit, you will need to pack your clothes for your trip to Tirthan Valley. If you are planning to visit Tirthan Valley in the winter months such as January, February, or December, then you need to take thick, woolen clothes along with snowproof boots with you. Also, keep a windproof and snowproof jacket with a hoodie to protect your face and neck from the cold.
You would also need a good pair of woolen gloves, moisturizer, etc. during the winter months. Moreover, a pair of shoes with good grip is necessary if you don't want to be falling down on the snow all the time.
On the other hand, if you plan a visit during other months like March, April, October, and November, then you would need good woolen clothes but no requirement of snow boots. In the summer months of May, June, and September, you can carry light woolen clothes, cotton clothes, and a good windproof jacket with you.
And if you are planning a monsoon trip, make sure you have waterproof jacket and clothing with you. Opt for nylon and polyester clothes that tend to dry faster after getting wet.
Summary
Honestly, I wish I had spent more time in Tirthan Valley. Every day, I would sleep listening to the sounds of the river and wake up to the same sound. In the morning, I would head out to the verandah and feel the cool, fresh mountain air while the birds chirp and the river gushes beside me.
It was like a dream, like I have stepped into a fairyland. In fact, I was so sure that one of the birds was about to sing and make me realize that indeed it is a fairytale. But in the end, it wasn't. It is a real place, as real as me and you. And it offers a lot to the people who deserve it.
So, if you love doing adventurous activities and spending time in nature then don't worry. There are a lot of things to do in Tirthan Valley, you just need to plan well.