Himachal Pradesh is home to some really gorgeous hill stations and trekking trails. However, a few popular destinations in Himachal have now become extremely commercialized and crowded. The trekking trails at these popular destinations are lined with shops and filled with garbage and have lost their essence. But that is not the case with the Tirthan Valley trek.
Filled with scintillating views, majestic mountain peaks, and a wide range of flora and fauna, Tirthan Valley treks are perfect for nature and trekking enthusiasts. In this guide, I have mentioned a few Tirthan Valley treks that you can do to escape the monotony of your life while enjoying your solitude in the mountains.
So, read on to know more about these treks and how you can visit them on your trip to Tirthan Valley.
Tirthan Valley Treks
Why to Visit Tirthan Valley
Now, I am sure that you might be wondering why you need to visit Tirthan Valley. What's so special about it? Well, Tirthan Valley is an offbeat Himachal destination and it is quite easy to reach here and explore around the valley by road. So, you get everything that you need as a tourist or a traveler and you don't have to fight with hordes of the crowd around here. Sounds blissful, right?
Another reason to visit Tirthan Valley is that it is a major hub for trekking enthusiasts. This valley is a base for several treks such as the Serolsar Lake trek, the Great Himalayan National Park Trek, the Jalori Pass trek, and a lot more others.
Since Tirthan Valley is the gateway to the Great Himalayan National Park, it is a top destination for nature enthusiasts as well. You have a whole another world to explore around here on your trip. And last, but not least, you can also trek to the source of the Tirthan River which is at an altitude of 13,780 ft. Tirth Peak trek is a 7-day trek and is one of the best adventures to indulge in in the valley.
Best Tirthan Valley Treks to Check Out
As mentioned earlier, there are lots of treks to explore around Tirthan Valley depending on the number of days that you have. From short day hikes to challenging week-long treks, Tirthan Valley is full of adventurous activities for travelers to check out.
Some of the popular treks to do in Tirthan Valley are mentioned below.
Great Himalayan National Park Trek (GHNP)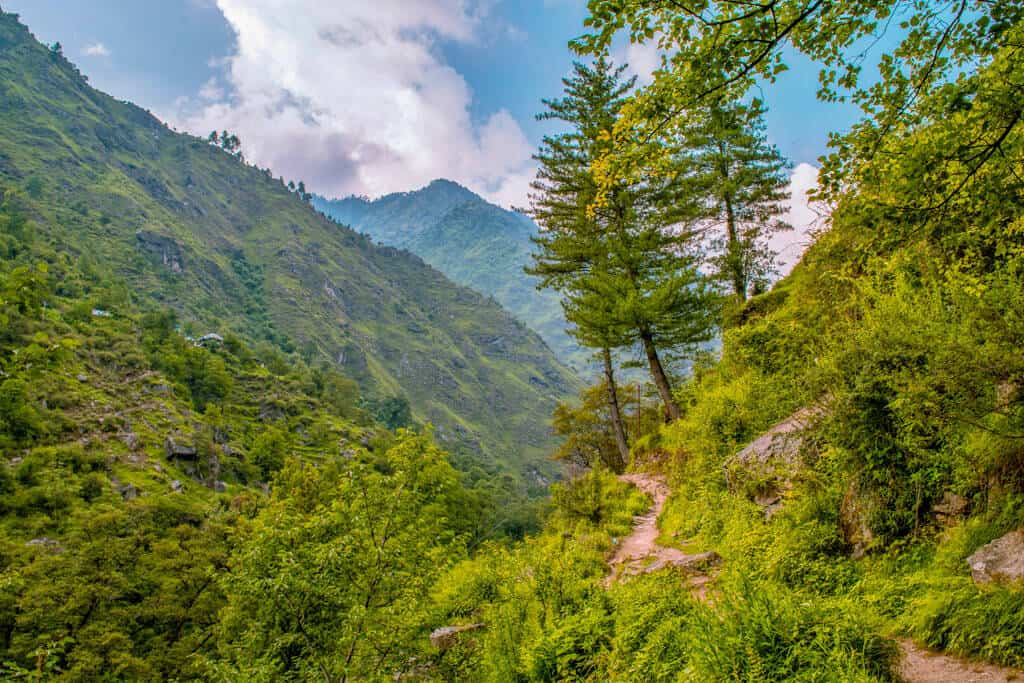 One of the best treks in Tirthan Valley is the Great Himalayan National Park trek but if you don't have the time, then you can trek to the GHNP gate itself. This is also an amazing hike and can be easily completed in a day. Starting from Gushaini, the hiking trail takes the guests along the Tirthan Valley and passes through the traditional village of Ropa. You can rest here for a while and interact with the locals to learn more about their lives and culture.
The best thing about this hike is that it is perfect for all kinds of travelers, regardless of their fitness level. The ascent from the Gushaini village to the GHNP gate is just 480 m and you are rewarded with gorgeous mountain views. There are two amazing waterfalls as well on this trek where you can relax and enjoy a short dip in the cold water.
Jalori Pass – Serolsar Lake Hike
A beautiful lake that has several amazing folklore associated with it, Serolsar Lake is just a 90-minute drive from Gushaini village in Tirthan Valley. Located near the Buddhi Nagin Mata temple, this lake looks gorgeous surrounded by towering trees. According to folklore, whenever a leave falls on the lake surface, one of the two birds guarding the lake picks it up to remove it.
The hike to Serolsar Lake from Jalori Pass is a popular one that can be completed in just 3 hours. There are a few campsites on this trail as well where you can enjoy a comfortable stay and meal if you wish to spend a night near the Serolsar lake.
Chhoie Waterfall Hike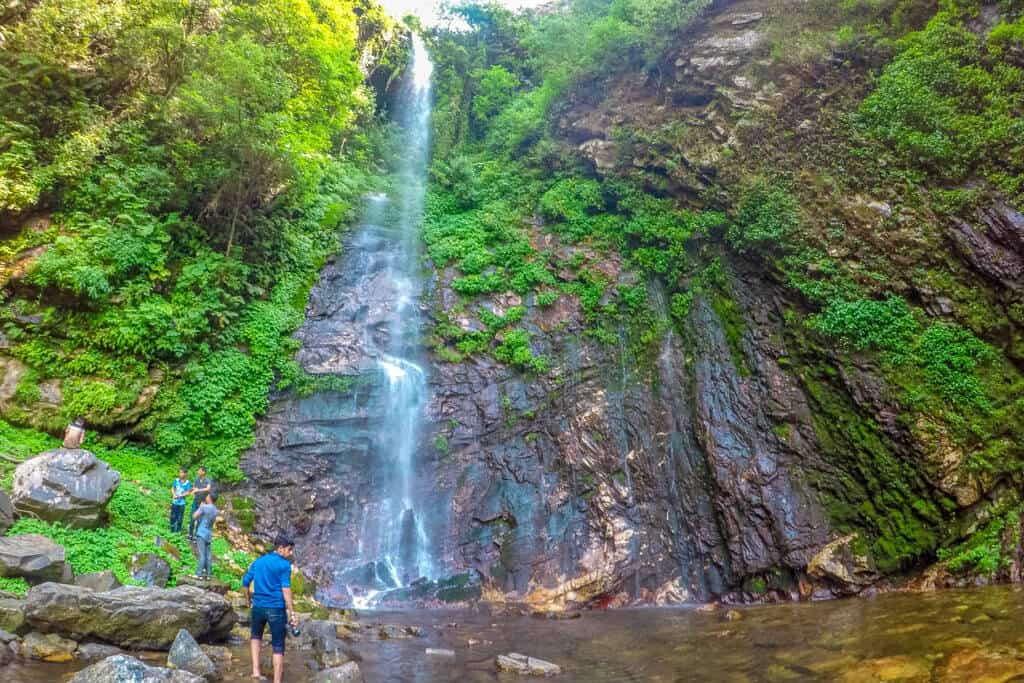 If you are looking for a short hike in Tirthan Valley and are staying near the Tirthan River, then you can hike to the Chhoie Waterfall. This is also known as the Sai Ropa waterfall and you don't need any vehicle to reach this waterfall.
The trek starts from the road between Nagini and Sai Ropa and you also cross a beautiful village and a forest before you reach the waterfall.
Tirath Trek
If you are looking for a challenging trek then the Tirath trek is one of the best ones to embark on in Tirthan Valley. As you must have deduced by the name, this trek will take you to the source of the Tirthan River that flows through the entire valley. This is a long and moderately difficult trek and can take anywhere between 7-10 days to complete, depending on your stamina and trekking experience.
It is a 30 km trek that is filled with amazing campsites so you can stop and take refuge in them at night time. The summit is at an elevation of 12,319 ft. and will be the perfect trek for adventure enthusiasts.
Gushaini to GHNP Gate Trek Route and Details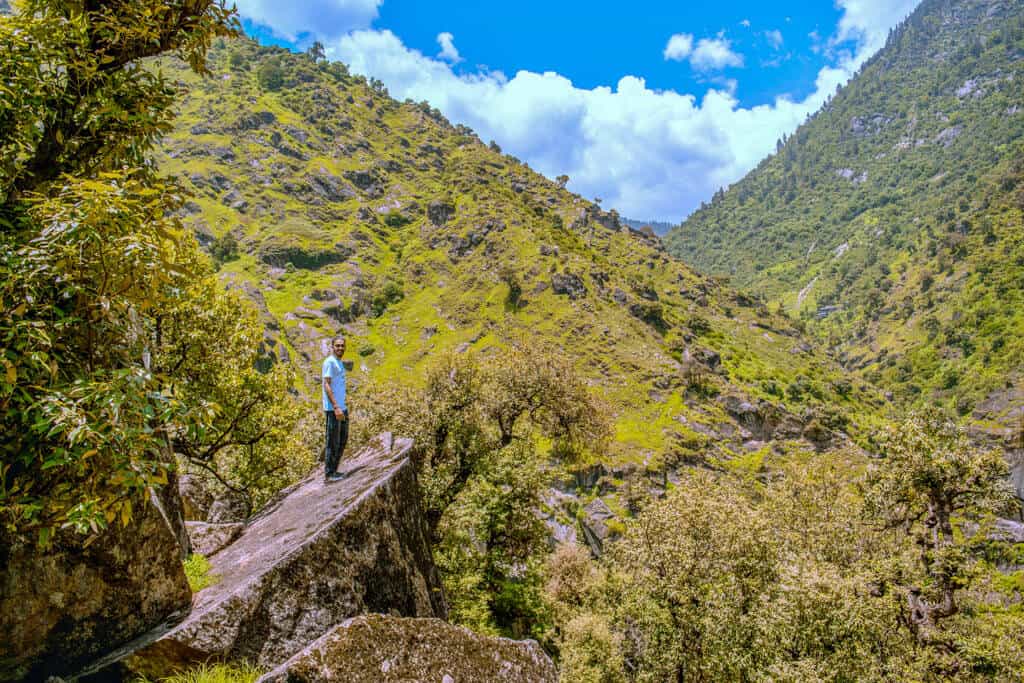 For people who have just a day or two in Tirthan Valley for trekking, the trek to the GHNP gate is one of the best options. A lot of people also make it into a 2-day trek by going further to Rolla and Shilt hut. But if you don't have that much time, then you can do the 1-day trek to the Great Himalayan National Park Gate.
This trek begins from the road-head Gushaini and passes through the ecozone of the park beside the Tirthan River. There are no steep ascents on this trek but the hiking path does go up and down through the forest.
After 1.5 hours of trekking, you reach Ropa village where you can rest for a while and can buy snacks and other things too. From Ropa, it is another 1.5 hours to the GHNP gate. On the way, you cross another small village named Kaunch where you will find a few small food shops to enjoy Maggi, omelet, and so on.
After that, it is a straight path before you comes across a scenic stop where the above picture has been taken. Here, you can spend a while enjoying the views and taking photographs before making your way to the gate.
Now, you will be passing through a forest and will be descending a little. Here, you will cross a small wooden bridge and come across a small waterfall on your right side.
After another 15-20 minutes on this path, you will reach the GHNP gate beside which is the Hippo Waterfall. You can spend some time at the Hippo Waterfall but be careful to not slip over here or you might injure yourself. If you are trekking to Rolla, then it is another 30 minutes from this gate.
The trek back to Gushaini is through the same route only and will barely take you 1.5-2 hours to complete.
Note: This is an easy trek and can be done by people of all fitness levels.
Chhoie Waterfall Trek Route and Details
As mentioned earlier, the trek to Chhoie Waterfall is an easy half-day trek and starts from close to Gushaini village. First, you need to cross the Sai Ropa village and reach Gai Dhar village which is the starting point of the Chhoie Waterfall trek. You will need to first climb a few stairs near the shops of this village.
After that, you just need to follow the trail and make your way to the waterfall. At one point, there will be two trails in front of you, choose the one which is more elaborately visible.
On this trek, you will walk uphill for around 40 – 50 minutes and then downhill for 20-30 minutes. You will have amazing mountain views to keep you company on the right side so don't miss out on those.
Once you reach Chhoie waterfall, be careful as the stones are slippery here. The trek back to the village will take you around 45 – 50 minutes too so if you wish to enjoy the sunlight on the trek, do start your trek around 9 – 10 a.m.
Note: You don't need a guide for this trek but it is easy to get lost on the trail, so do get a local to go with you.
Tirthan Valley Trekking Itinerary
You can follow the below-mentioned itinerary if you wish to do a few treks in Tirthan Valley on your trip.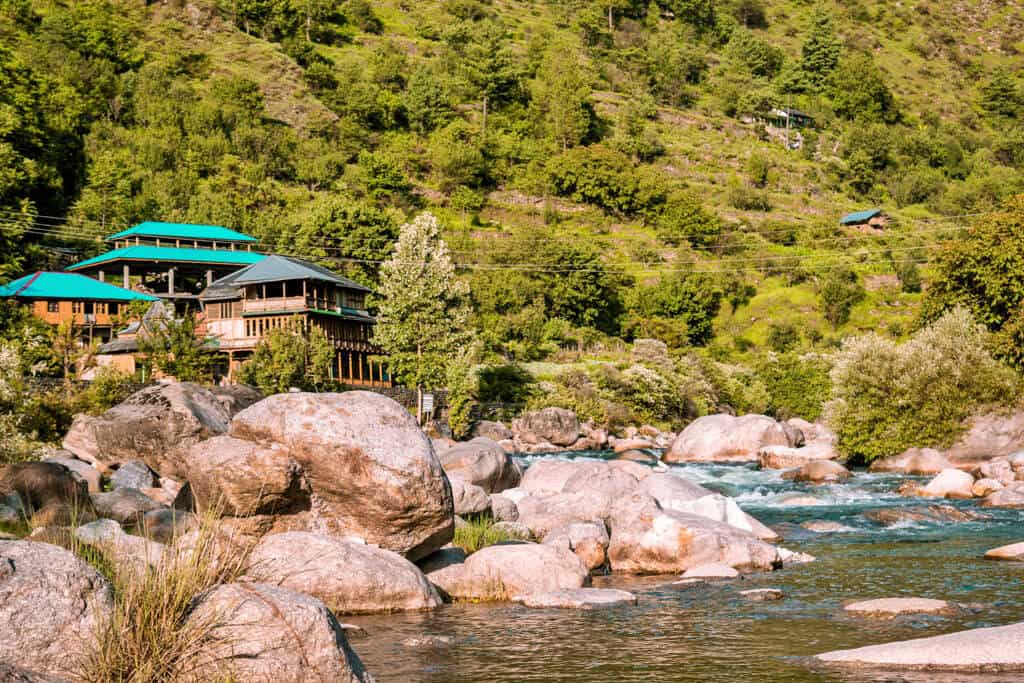 Day 1: Reach Tirthan Valley
Reach Aut in the morning and then drive to Gushaini village in Tirthan Valley. Stay in a beautiful resort or homestay in Tirthan Valley amidst the scenic landscape.
Once you reach, rest for a while and enjoy a delicious breakfast followed by a local village walk to learn about ecotourism concept in Tirthan Valley and how it is being followed. Enjoy a lunch by the river and indulge in a river crossing activity.
Relax for the rest of the day and enjoy a scrumptious meal at night. Sleep soundly while listening to the therapeutic sound of the river.
Day 2: Chhoie Waterfall Trek
Wake up in the morning and enjoy the sunrise in Himalayas. Enjoy a short yoga or meditation session followed by a nice breakfast. After this, walk to the starting point of the Chhoie waterfall trek and enjoy the beautiful trek to this secluded waterfall.
Have lunch beside the waterfall and take a dip in the pleasantly cold waterfall here. After that, head back to your homestay and spend some time beside the river, enjoying the views.
Day 3: Jalori Pass and Serolsar Lake Hike
On day 3, get up early and drive to Jalori Pass after having a filling breakfast. From Jalori Pass, you can trek to Serolsar Lake which is at a distance of 5 km, and enjoy the views of the Pir Panjal range. Spend some time at the lake and enjoy lunch here before heading back to Jalori Pass and then Gushaini.
Day 4: Gushaini to GHNP Trek
Again, start your day early and reach the starting point of the GHNP gate trek in Gushaini village. From here, it will take you around 2-3 hours to reach GHNP gate where you can spend some time at the Hippo Waterfall and enjoy a delicious lunch too.
After that, head back to Gushaini village while enjoying the mesmerizing mountain views. Rest in your homestay and enjoy the riverside ambiance.
Day 5: Depart from Tirthan Valley
On the last day, get up as you wish and laze around a bit before checking out from your homestay. Depart from Tirthan Valley by road in a bus or your own vehicle with some beautiful memories to accompany you.
Best Time to Visit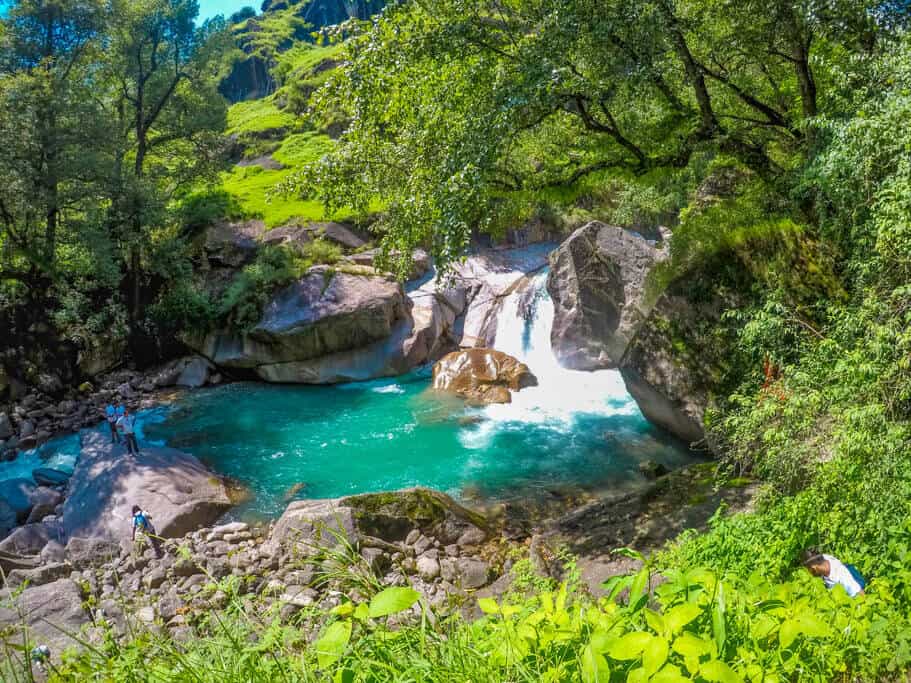 Since Tirthan Valley witnesses pleasant weather throughout the year, you can visit any time you like. Different months and seasons offer different activities for the guests to enjoy in the valley. If your main agenda for visiting the valley is trekking, then April to June is the best time to visit Tirthan Valley. You will enjoy warm days and pleasantly cool nights during these months and there are minimum chances of rainfall too.
On the other hand, if you love a challenging trek and have sufficient experience, then you can try snow treks in Tirthan Valley as well. You will have to pack well but you are going to love the winter treks around here.
Spring and autumn is also a good time to visit Tirthan Valley. However, be warned that the valley experiences light rainfall during these months which can hamper your trekking plans. And monsoon is definitely not the right time to visit Tirthan Valley for trekking as the place experiences heavy rainfall at this time that can often result in landslides and road blocks in the area.
How to Reach Tirthan Valley
Tirthan Valley is well-connected to several major cities and towns in India so you can find several travel options to reach here. Delhi to Tirthan Valley distance is approximately 336 km and one can easily reach this destination by road.
Reach Tirthan Valley by Air
The nearest airport to Tirthan Valley is Bhuntar airport at a distance of approximately 50 km. One can easily take a flight to Bhuntar and then take a local bus or cab to reach Tirthan Valley.
Reach Tirthan Valley by Train
The nearest major railway to Tirthan Valley is Chandigarh railway station. You will find several trains connecting Chandigarh to major cities in India. From Chandigarh, you will find lots of buses and cabs going to Tirthan Valley. Joginder Railway station is also an option which is around 120 km from the valley but there aren't a lot of trains stopping at this station.
Reach Tirthan Valley by Road
One of the best ways to reach Tirthan Valley is by road. You can choose to drive your private vehicle on the Delhi – Tirthan Valley or Chandigarh – Tirthan Valley route or even hire a cab for the same.
Apart from that, you also have an option to take a bus from Delhi or Chandigarh to Aut. From Aut, you can get local buses to Tirthan Valley. You also have the option to hire a taxi from Aut to Tirthan Valley that will cost you around 3000 – 4000 INR for the entire taxi. You can learn in detail about different routes and modes of transportation to reach Tirthan Valley on our other blog.
Where to Stay in Tirthan Valley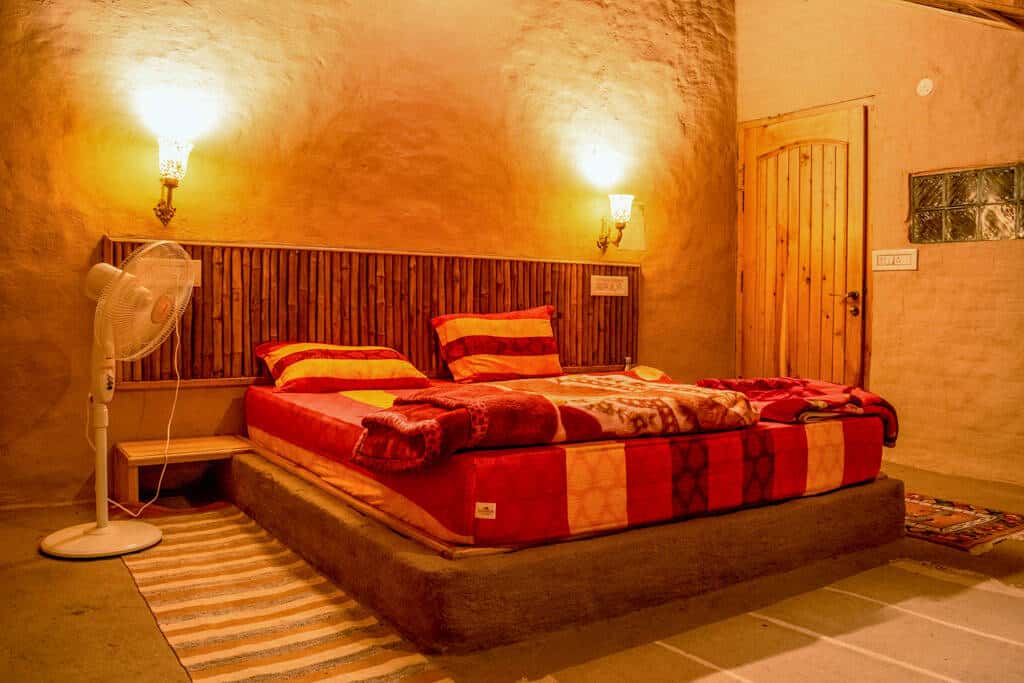 As Tirthan Valley is emerging as a popular offbeat destination, more locals are opening up hotels and homestays in the area at extremely affordable rates. If you wish to experience a unique stay during your trip to Tirthan Valley, then you can stay in Victorian-style cottages in Jibhi.
You will find several cheap accommodation options in Banjar as well. And if you wish to stay in riverside cottages or resorts in Tirthan Valley, then there are many places in Gushaini including Sunshine Himalayas Cottage where I stayed during my Tirthan Valley trip. These campsites and cottages also offer you meals in their packages and can cost a little more than hotels in Banjar or other towns. However, you do get amazing riverside views and meals included in this price which makes it completely worth it.
When you are going on the Tirthan Valley treks, you will obviously not be staying in resorts in Tirthan Valley and are more likely to stay in campsites around here. You can always carry your own tents to pitch them on your trek. And if you don't own a tent, then you can always hire an adventure company to plan the trek for you and guide you on the way.
There are a few Forest Guest Houses in Tirthan Valley as well that offer comfortable and affordable stays. However, you need to book them in advance as there are very limited rooms available in these rest houses.
What to Pack For the Tirthan Valley Trek
Clothing
It can become very cold in the evening and night, so make sure you carry warm clothing. Also, carry multiple pair of clothes if you are planning to go to the waterfalls here.
And if you are trekking during the winter time, you will have to be extra careful. Make sure you carry with you a pair of warm socks, a jacket, gloves, and mufflers.
Make sure you cover your neck properly during the winters with a muffler.
During the winter season, you can carry a pair of woolen gloves. But if you are trekking during snow, then make sure you get synthetic gloves instead.
Carry a pair of merino wool socks during the winters as they are very warm. And, make sure you use two of them to layer your feet during the night time when the temperature drops significantly.
Bags
If you are planning to stay even for a single night in Tirthan Valley, then you need a good rucksack. It should be durable and comfortable and make sure it includes a rain cover as well. Personally, I suggest:
Once you reach Tirthan Valley, you will need a small day pack for the day hikes and stuff.
Camping Equipment
If you are planning to do the GHNP trek and camp there, then make sure you carry the camping equipment. Yes, you can also rent it out but if you are a frequent trekker, then buying your camping gear makes more sense.
One of the most important things to carry is a good tent which will protect you from wind and cold. And don't forget to choose one which is sturdy and durable. Sure, it will be slightly costly but it will be a one-time investment.
Another important thing to carry with you is a good, durable sleeping bag which will keep you warm throughout the night. Do make sure that it is suitable for the lowest temperature of GHNP before you buy it.
If you want to sleep comfortably, then you would also need a sleeping mattress for your tent. It will not only offer comfort but will also provide padding and more insulation.
Finally, do make sure that you carry a rain cover for your tent if you won't want to end up cold and shivering in the morning. It might rain or snow during the night and a rain cover will be your best chance against getting wet.
Additional Things to Carry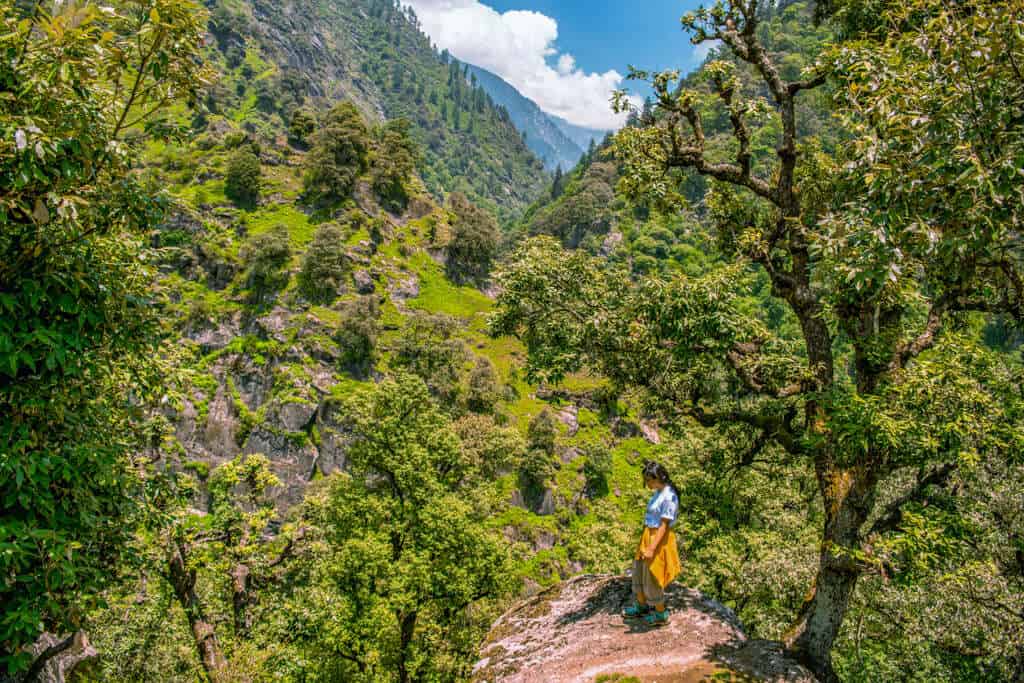 Take a good pair of hiking shoes which will protect you during winters as well. Make sure they are high ankle shoes and are waterproof too.
You won't find many shops on the trek so make sure you carry a water bottle with you. There will be a couple of waterfalls on the way where you can fill your bottle. Mostly, the water is fresh and clean but if you aren't sure, you can purchase a Steri Pen or a Purifying bottle.
On the treks, you won't find many food stalls so, make sure you carry some snacks. You can also carry a lunch if you are planning to trek to the GHNP gate.
If you are planning to trek during the winters, do carry a raincoat or a poncho with you.
Toiletries
Tissue Papers
Brush/Paste
Sunscreen
Moisturiser/Lip Balm
Sanitizer
Summary
Tirthan Valley isn't just limited to hiking and trekking adventures, you can do other activities here as well such as rappelling, water rafting, and so on. If you haven't every tried fishing, then you can even experience trout fishing or angling here which is a popular activity in this region.
There will be no shortage of things to do around here or places to visit in this valley. So, if you do come here for the Tirthan Valley treks, then do keep some additional time in hand to experience everything else that the valley has to offer you.