If I were to choose one place as my favorite then that would have to be the Big Almaty Lake in Kazakhstan. Even before we got our Kazakhstan visas, I was looking forward to this trip.
We had no clue what all the amazing places existed in Central Asia. But once we typed Kazakhstan in Google and saw pictures of gorgeous blue colored lakes coming up, we knew. We had to visit this place even if it left us broke.
But one thing which I really loved about the Big Almaty Lake is that it didn't disappoint us. When you are traveling, you often come across amazing photographs of a location but the places aren't that beautiful in real life.
However, this is not true for the Big Almaty Lake. It is as mesmerizing and gorgeous in real life as it is in the pictures. And as someone said to us a while ago 'If you haven't seen Big Almaty Lake in Kazakhstan, then you haven't seen anything in Kazakhstan'.
So, we visited Big Almaty Lake twice because the lake was frozen the first time during our visit. But honestly, each visit left us more in love with this place.
In this post, we have jotted down all the ways that you can reach this lake from Almaty along with some other important information.
Big Almaty Lake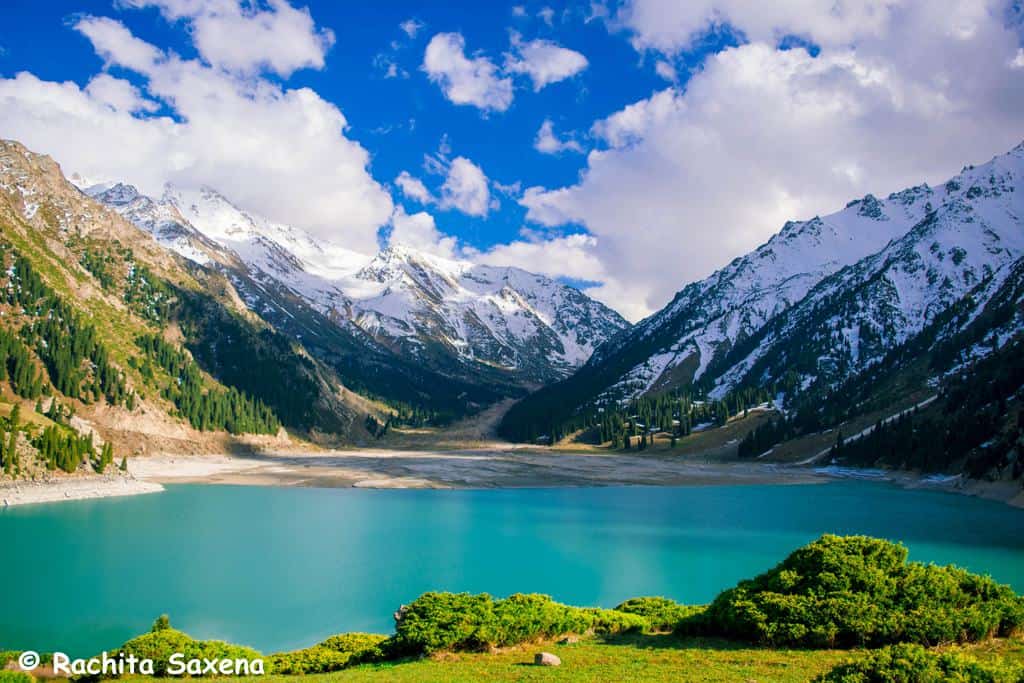 A part of the Tien Shan mountains, Big Almaty Lake is one of the most important and popular lakes to visit in Kazakhstan. Situated at a distance of 30 km from Almaty City center, it can easily be done as a day or a half-day trip from the city.
One of the most scenic places to visit, this lake is a good place for a drive. An important thing to note about this lake is that it is the major source of drinking water for the Almaty region. As a result, swimming or walking near the lake is prohibited.
The lake was formed due to multiple earthquakes and it is situated at an altitude of 2511 m. There are three major peaks surrounding the lake: Sovetov, Ozyorny, and Turist. And the entire landscape can be witnessed easily from the northern side of the Almaty River dam.
This lake is made up of the glacial water. So, the water level is at a minimum in February and at a maximum in August. With 1.6 km length and 1 km width, it is not the biggest lake in Kazakhstan. But it is definitely one of the most beautiful ones and the lake changes its color between turquoise blue and light-green, throughout the year.
The maximum depth of this lake is 40 m and since it is located at a high altitude, the temperature here stays cool throughout the year.
How to Reach Big Almaty Lake
If you are planning to stay a couple of days in Almaty, then you can easily plan a day trip from here to this lake.
And the best part is that there are so many options available from the city to reach here.
Finding a Big Almaty Lake Tour
If you aren't on a tight budget but have limited time then a tour could be the best option for you. You will find both group and private tours for this place to choose from. These tours will usually include other sights as well including a hike to the Big Almaty Peak.
You can either find a tour online or you can head to a Tourist Information Center in the Almaty City. The center will update you about any upcoming tour to Big Almaty Lake and will also book a seat for you. You can expect to pay around 5000 KZT for a group tour. As for the private tour, the prices vary between 75 to 250 USD.
Note: You can also look for some events on Couchsurfing for the Big Almaty Lake. You would just need to share the taxi costs in it with other travelers.
Taking a Bus
For budget travelers, there is also the option of taking a bus and then taking a taxi or hitchhiking the remaining way. For taking the bus to the gate, you will need to reach First President's Park first. This park is at the corner of Al-Farabi and Navoi street and can be easily found on Maps.me or 2gis apps.
Once you have reached the park, you need to wait at the bus stop next to the park gate. It will be on the road to Almarasan so you can search for it on the maps. From here, you need to take Bus Number 28 which will take you up this street.
This bus will take you to the last bus point which is just after the entry to the park. It is around 10-12 km before the Big Almaty Lake. The cost of the bus is just 150 KZT for one side or 80 KZT if you have the Onay Travel Card.
From the last bus point, you can get a taxi for 5000 KZT to the lake or 8000 KZT for the return trip, including 1-hour wait. But if you are patient then you can also hitchhike to the lake.
Ordering a Taxi/Cab
Another popular and convenient way to reach Big Almaty Lake is by using a taxi or cab services. A taxi from Almaty city will cost you around 15000 KZT for the taxi. This will include the to and fro journey and will also include a wait time of 1-1.5 hours.
If you are a group of people, this could be a really good option. The taxi will pick you up from your hostel/hotel and will drop you off there as well. For this, you can choose to find a taxi on your own or you can contact the Tourist Information Center in Almaty to get a taxi for you.
Yandex Taxi
Another option is to book a Yandex Taxi which will pick you up and drop you at the desired location. Usually, a Yandex Taxi will cost you around 13000 – 15000 KZT for the return journey.
This won't include the wait time so you will have to pay extra for that.
Renting a Car
For people who have an International driving license, renting a car is a great way to reach the lake too. You can rent a car for a day and can head to Big Almaty Lake, Kok Tobe, Central Park, and other places in the city as well.
The cost of a rental car in Almaty city is around 20,000 KZT for a day. There are many car rental websites for Almaty that you can check out to rent a car here. If you are taking a rental, then you will also need to pay 200 Tenge per person at the entrance gate.
Cycling to Big Almaty Lake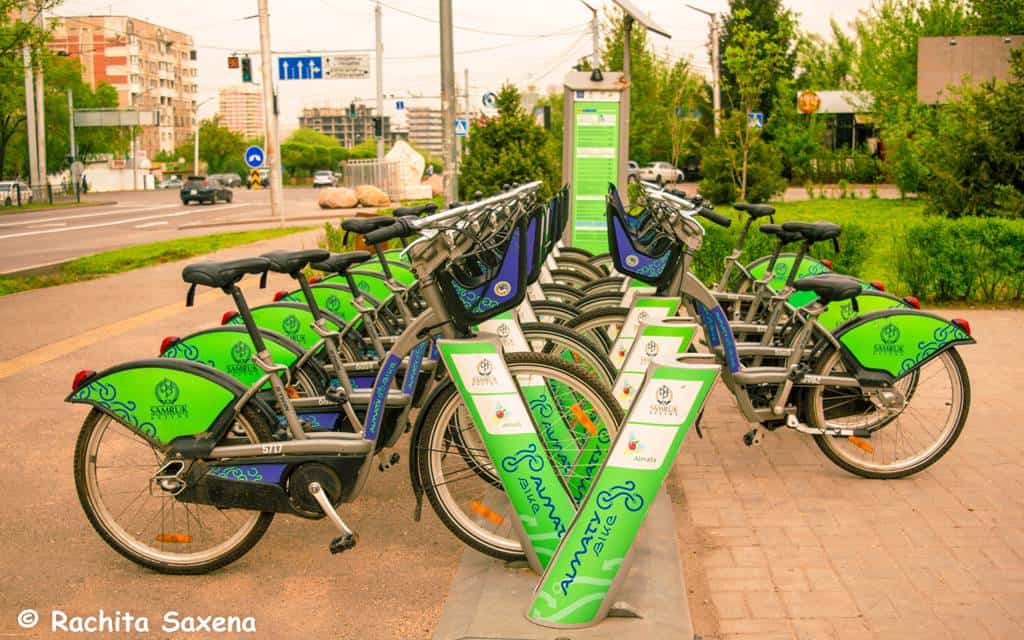 If you are an adventurer and a cyclist then cycling to Big Almaty Lake could be an option too. One of the best things about Almaty City is that they have provided rental bicycles on the streets for you to use. So, you can rent a cycle for a day or a couple of hours and enjoy exploring this city.
If you have good stamina and have cycled in the mountains before then you can cycle to the lake too. It will take you around 2 hours to reach the lake and then 1 hour to return back to the city.
The return is actually more fun as you get to enjoy the cool, fresh air without having to pedal too much. The cost of renting a bicycle depends on the duration but won't cost you more than 500 KZT for 3 hours use. You can also rent the bike for the entire day for 3500 KZT.
Hitchhiking to the Big Almaty Lake
Finally, if you believe in saving money and meeting new people on your trips then hitchhiking is definitely a good option to consider. Hitchhiking is actually quite common in Kazakhstan but you need to have a lot of patience and time at hand.
You can start by asking a lift to the First President's Park in Almaty City. And once you reach the park, you can try to stop cars and ask them a lift to the Big Almaty Lake or the last bus point. It might take some time but you will find a few lovely souls who would be willing to help you out. And you will also end up making a new friend in this process.
Best Season to Visit Big Almaty Lake
As I mentioned above, the lake changes its color depending on the season. So, you might witness a milky blue lake in the springtime and a light green shade in the autumn time.
Here is a breakdown of what you can expect in Big Almaty Lake in each season.
Winter Season (December – March)
If you don't mind the snow and the frozen lake then you could visit Big Almaty Lake in winters. But honestly, this is not the best time to visit Big Almaty Lake as you cannot see the colors of the lake.
Also, the temperature tends to be much colder at this time. And you will also not be able to hike to the Big Almaty peak. There are also chances that the road to the lake will be covered in snow.
So, overall, winter is definitely not the best time to visit Big Almaty Lake.
Spring Season (April – May)
Although the lake stays frozen in April, it unfreezes in the first week of May. This is the best time to visit the lake as you can actually see the lake unfreezing. Also, the bluish-green color of the lake is visible under the ice in April.
However, you will be hard-pressed to find a sunny day in April as it tends to rain a lot.But if you do, you won't be troubled by locals or tourists as almost no one visits the lake in April.
If you truly want to enjoy the colors and the weather near the Big Almaty Lake then May is the best time to visit. The weather is sunny and pleasant and the lake is a gorgeous bluish-green color. So, you will definitely enjoy a day beside this beauty.
Summer Season (June – August)
Although summers are a good time to visit Big Almaty Lake as the lake has completely unfrozen by now. But it is also the busiest season to visit the lake. You will find people from all over Kazakhstan coming to relax and enjoy this beautiful place. And there will be a lot of foreign tourists at this time as well.
Plus, the locals from the Almaty city will be driving here every day for a quick getaway from the heat. So, make sure you visit in summers only if you don't mind the tourist influx.
Autumn Season (September – November)
Autumn season is definitely the best time to visit Big Almaty Lake. During this season, the lake water turns into a shade of turquoise blue which looks completely magical. Also, the glacier melts by this time so the lake has more water and the scenery looks quite hypnotizing.
The autumn colors of the nearby trees give off a beautiful and surreal look to this lake. And you will get completely lost in the beauty of this lake and the landscape.
Best Time to Visit Big Almaty Lake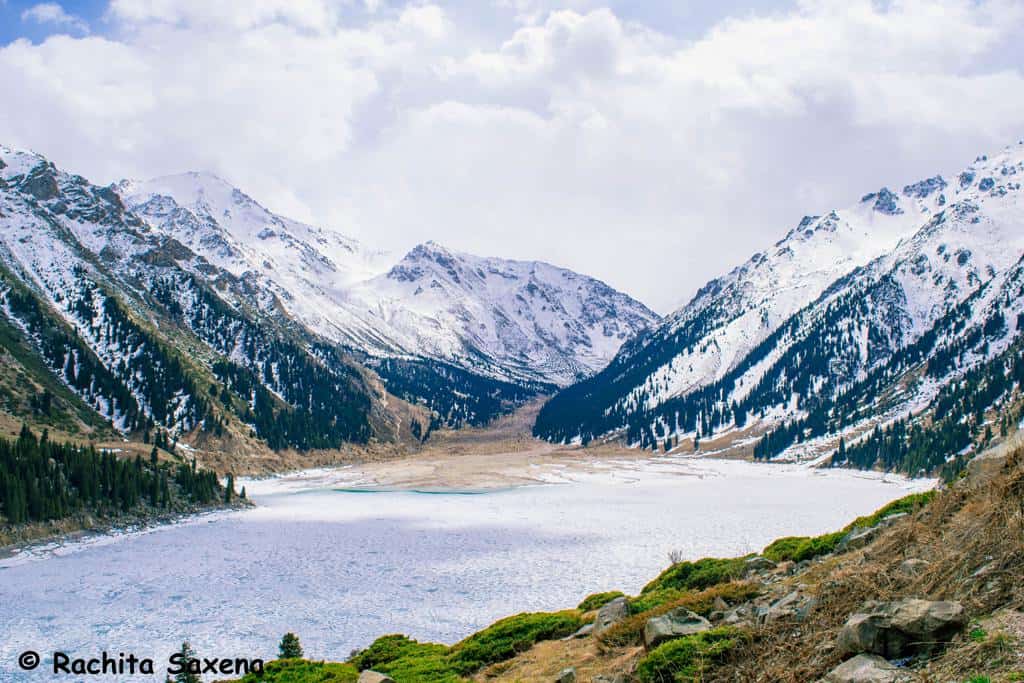 Now, I have talked about the best season for visiting Big Almaty Lake. But apart from that, you also need to visit the lake at the right time during the day to enjoy it the most.
Morning
If you want to experience the lake without any crowds then morning is a good time to visit. You can reach here around 8-9 a.m. and enjoy some quiet, peaceful time beside the lake.
You will also have more time to explore the area surrounding the lake. Plus, you can make a trip to the Big Almaty Peak and the abandoned Astronomical observatory as well.
Evening
Personally, I feel that the evening is the best time to visit Big Almaty Lake. This is because the sun is not in front of the lake and the mountains so you can sit down and gaze upon the lake as long as you want.
Also, this is a good time for clicking photographs. The sun rays will perfectly light up the subject and the lake for you. Trust me, during the evening, the lake looks completely magical as the sunlight reflects off its surface.
Afternoon
If you want to enjoy a nice picnic near the lake then the afternoon is a good time to visit. There are fewer people here in the afternoon as well. And honestly, you will love the feeling of the warm sun along with the cool mountain breeze.
Note: Avoid a trip to the Big Almaty Lake during the weekends. This is because all the locals come here during the weekends for a short picnic and it can become quite busy.
Things to Do Around Big Almaty Lake
Here are a few things that you can do here to pass a couple of hours.
Click Amazing Photographs
Big Almaty Lake is a paradise for photographers and Instagrammers. A blue colored lake with majestic snow-covered mountains as your backdrop, this place is perfect for taking kickass pictures.
So, if you are a landscape or a portrait photographer, you will have a lot of fun framing creative shots around this lake. Do make the most of this opportunity and take some memorable photographs.
Hike to the Big Almaty Peak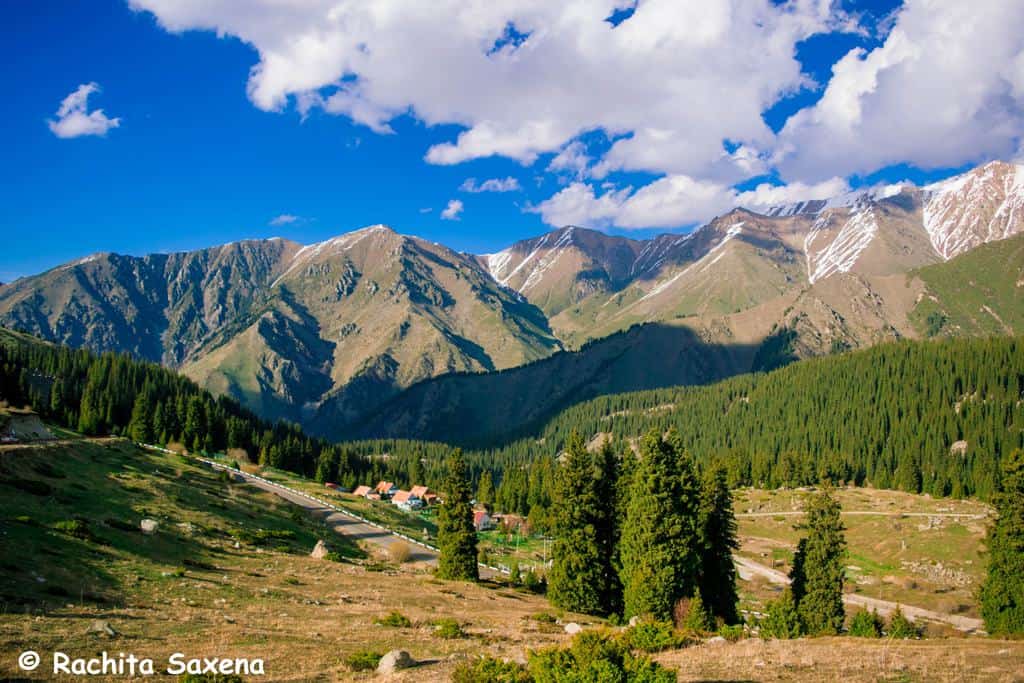 Another popular thing to do on a day trip to the Big Almaty Lake is to hike to the Big Almaty Peak. This is a 4-hour hike from Big Almaty Lake. The peak is at a height of around 3500 m and the hike is not for beginner trekkers.
On the way, you will also cross the Astronomical Observatory where you can stop for a few minutes. The last few meters to the peak are steep but once you reach, you can enjoy a gorgeous view of the Big Almaty Lake. So, do go on this hike if you have time and stamina for the same.
Relax Beside the Lake and Enjoy the View
Obviously, one of the best things to do here is to simply sit down and take in the view. You can choose to stroll around the lake and admire it from different angles. Or you can simply get a book and picnic set-up to enjoy a few hours of sunshine beside the lake.
But make sure that you aren't too close to the lake border as it is not allowed. There are border guards patrolling the area so, be careful.
Go to the Astronomical Observatory
Finally, if you aren't interested in the hike, you can still make your way to the Astronomical observatory here. The Tien Shan observatory is just 3 km from the lake and can be reached in 10 minutes in a vehicle or in an hour by hiking.
Here, you will see 2 parts of the observatory with limited military guards and staff. If the guards are amiable, you might get a chance to take a tour of the observatory. If not, you will have to be satisfied by looking at it from the outside.
Earlier, it was possible to spend a night here and watch the stars but not anymore. The second observatory is empty due to the earthquake damage. However, it still works as a weather station for the region.
What to Wear for Big Almaty Lake
It is very cold at Big Almaty Lake and I know this because I visited twice here. Once when the lake was frozen and once when it wasn't.
Although you won't feel too cold if it is a sunny day and if you are visiting during the daytime. But it is always a good idea to carry warm clothing, just in case.
For Photography
If you are a photography enthusiast or an Instagrammer, then I am sure you would like to take great photographs here as well. In that case, make sure that you wear bright colors near the lake.
Since the lake gives off a turquoise blue or bluish green color, wearing shades of red, yellow, or black is a good idea.
Avoid wearing blue or green as you will get camouflaged with the surrounding. And do not wear white if you are likely to be witnessing a frozen Big Almaty Lake.
For girls, dresses and skirts will work well as you can be really creative with your poses. But make sure you carry a warm overcoat and leggings with you to wear if you feel cold in the mountains.
For Casual Visit
If you are visiting just for a picnic or hiking or just reading a book near the lake then you don't have to worry about the colors. Just make sure you warm 2-3 layers of clothes that you can easily shed if you feel hot.
Also, if you are planning to hike here then do wear good trekking boots. And get a warm blanket or bed sheet with you to cover the ground for a picnic and lying down.
Things to Take With You on a Day Trip to Big Almaty Lake
When you are planning a day trip to the lake, make sure you carry these essential items with you. I have also provided a shop link for a few items for you to purchase if you don't already own it.
Passport – One of the most important things to carry with you is your passport. Often times, the border patrol guards will ask to see your passport and not having it can cause big problems for you.
Reusable Water Bottle – Another important thing to carry with you is a reusable water bottle filled with water. There is no food or water provision at the lake so you need to carry your own water. Avoid buying water bottles to reduce plastic wastage.Instead, you can purchase a sports water bottle to carry with you. Check out the prices of reusable bottles here.
Snacks – Don't forget to bring some food along with you. As I mentioned earlier, there is no food provision around Big Almaty Lake. So, you need to carry your own lunch and snacks if you don't want to stay hungry.
Where to Stay in Almaty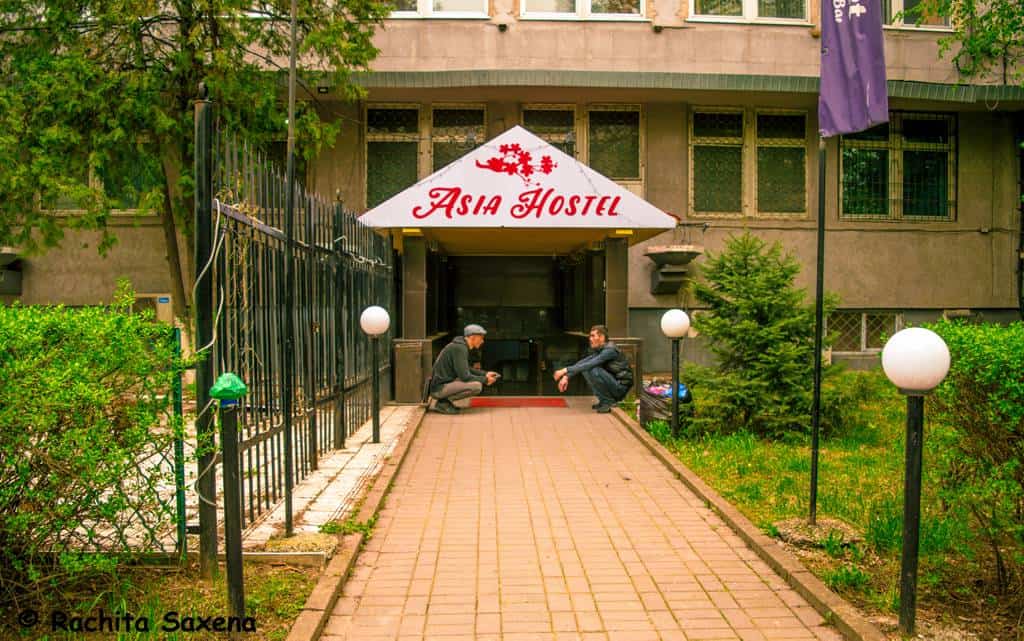 The best thing about Almaty is that since it is a major Kazakhstan hub, there are many accommodation options available here. And you can find something in all kinds of budget.
Low-Priced Accommodation
If you are looking for a decent but cheap hostel in Almaty then NordPeak hostel is a good option. They have separate dorms for girls and guys and offer several amazing facilities. You have a washing machine and iron to wash and iron your clothes.
And they also give you a locker to keep your valuables. You can also use their kitchen to prepare your own food and can use the free WiFi here.
Mid-Priced Accommodation
For people looking for a decent and mid-ranged option, Interhouse Almaty is a great choice. They offer both dorms and private rooms and also offer continental breakfast every day.
The best part is that this place is perfect for both solo and family travelers.
High-Priced Accommodation
If you want a good stay and money is not an issue, then Renion Park Hotel is the best place to check out. They offer a range of rooms to the guests. So, you can find Single Rooms, Twin Rooms, Suites, and so on.
This hotel also offers facilities like a spa, fitness center, terrace, and so on. So, it feels like your own personal apartment. It is just a 10-minute walk from Panfilov Street so you are in the middle of the party spots. And all the rooms are equipped with a flat-screen TV, fridge, desk, electric teapots, and so on.
If comfort is what you want then this is the place for you.
Summary
I truly believe that if you want to see the true beauty of Central Asia or Kazakhstan for that matter, then a trip to Big Almaty Lake is a must. Truly, it is one of the most gorgeous lakes I have ever visited.
A visit to this lake will make you feel like you have been transported into a fairyland. And it will truly make it hard for you to leave Kazakhstan the way it did for me.
I hope this guide helps you plan a day trip to this absolute marvel. Do let us know in the comments if you liked our post or have any questions for us on visiting this lake.