If you are planning an Indonesia trip soon, then you should definitely include a visit to Mount Bromo.
While Mt. Bromo is not a city but basically an active volcano that resides in the Bromo Tengger Semeru National Park, this is one of the most amazing places that we have ever been to in our life till now. This place is quite cold and offers one of the most magical views ever!
Once you reach this place, you won't even realize that you are in Indonesia anymore. So, if you like unique places or if you have always wanted to visit an active volcano, then you should definitely plan a trip to Mount Bromo.
In this article, I will be sharing everything you need to know about this place. From how to reach, where to stay, to what to do in Bromo, this guide covers it all.
A Complete Guide for Visiting Mount Bromo and Nearby Places in 2023
About Mount Bromo
An active somna volcano, Mount Bromo is a part of the Tengger mountains and is located on Java Island. This volcano is a part of Bromo Tengger Semeru National Park and while it is not the highest peak, it is definitely one of the most popular ones on this side.
Visitors can visit this peak from a nearby mountain village known as Cemoro Lawang. From here, Mount Bromo is only a 45-minute drive away and can easily be reached on a motorbike, car, or a guided tour.
Although it last erupted in 2011, there was seen some activity in 2015 post which visitors were barred from 1 km proximity of the volcano.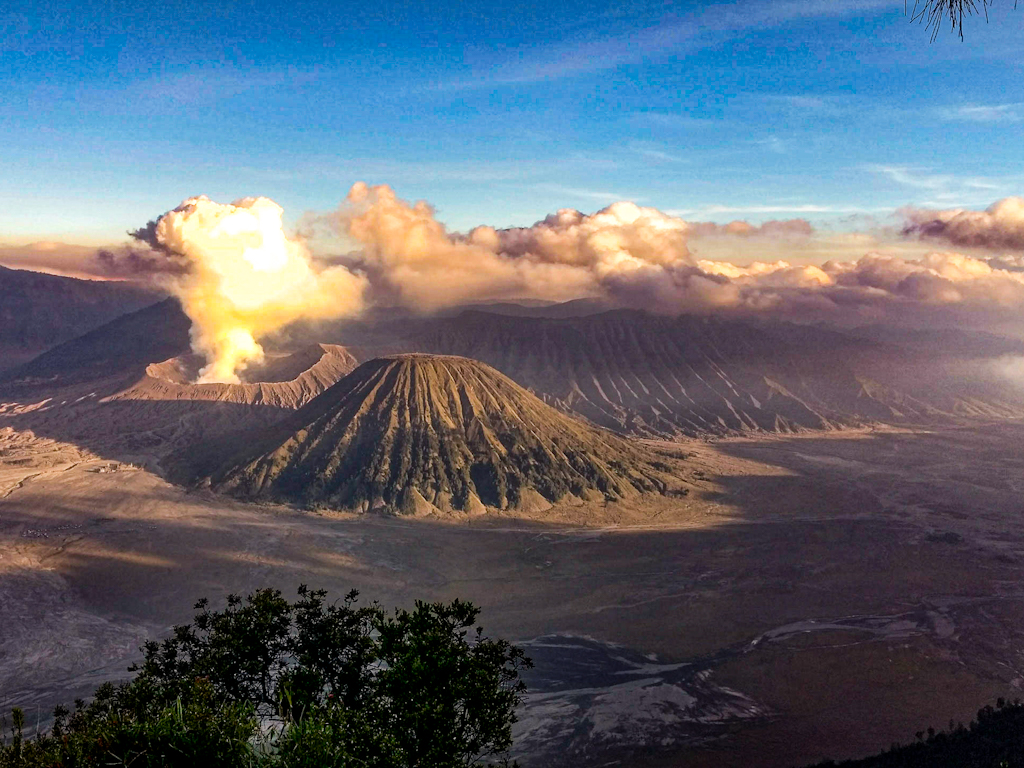 Things to Do in and Around Mount Bromo
Hiking to Mt. Bromo's Top
This is probably the most obvious thing to do when you are visiting Bromo Tengger Semeru National park. You will see that a lot of tourists and locals tend to hike to Mt. Bromo's top every day and spend some time looking at the desert-like landscape surrounding it.
The hike to Mt. Bromo isn't tough and takes around 30 minutes for ascent and descent. You can also take a horse ride to the top or you can walk, the choice is yours.
The fee for entering Bromo Tengger Semeru National Park is around 300,000 Rupiah (1400 INR).
But if you wish to save the entrance fee, then you can take a shortcut to enter this park. Just avoid traveling through the main gate. You can ask some locals to help you out with this and they will show you the shortcut to avoid the entrance fee.
View Bromo from Mt. Penanjakan
Another popular activity that a lot of people tend to do in Bromo is to watch the sunrise near Mt. Bromo while sitting on the top of Mt. Penanjakan. Once you reach the top of Mount Penanjakan, you will see Bromo and surrounding volcanoes covered with cloud layers.
As the sun starts rising, you will witness one of the most beautiful sights ever.
However, since this is a popular activity in Bromo, you will find that Mt. Penanjakan is often crowded in the morning. So, if you are looking for a quiet place to watch the sunrise, you would need to explore a little.
Witnessing the Sunset from Mt. Penanjakan
Another amazing thing to do in Bromo is to watch the sunset from Mt.Penanjakan.
Trust me, this is one of the most beautiful sunsets ever. You feel as if you have been transported straight to heaven.
You will see a lone volcano in the middle and the clouds surrounding it. It will resemble a white carpet with the sun setting behind the volcano top. And the sky is colored with a shade of orange, yellow, and blue.
This mountain is also located in the Bromo Tengger National Park. You would need a motorbike or jeep to reach the top. It turns quite cold here in the evening so make sure that you wear warm clothes here.
Go for Horseriding in the Sea of Sand
Yes, the Sea of Sand is truly magnificent and one can enjoy it the most while riding on a horse.
Due to the volcanic eruptions, the land around Mount Bromo is covered with sand. So, the wind tends to often blow it around, giving you an illusion of traveling in a desert. There are many horse riders here who take you around for a ride to show you around.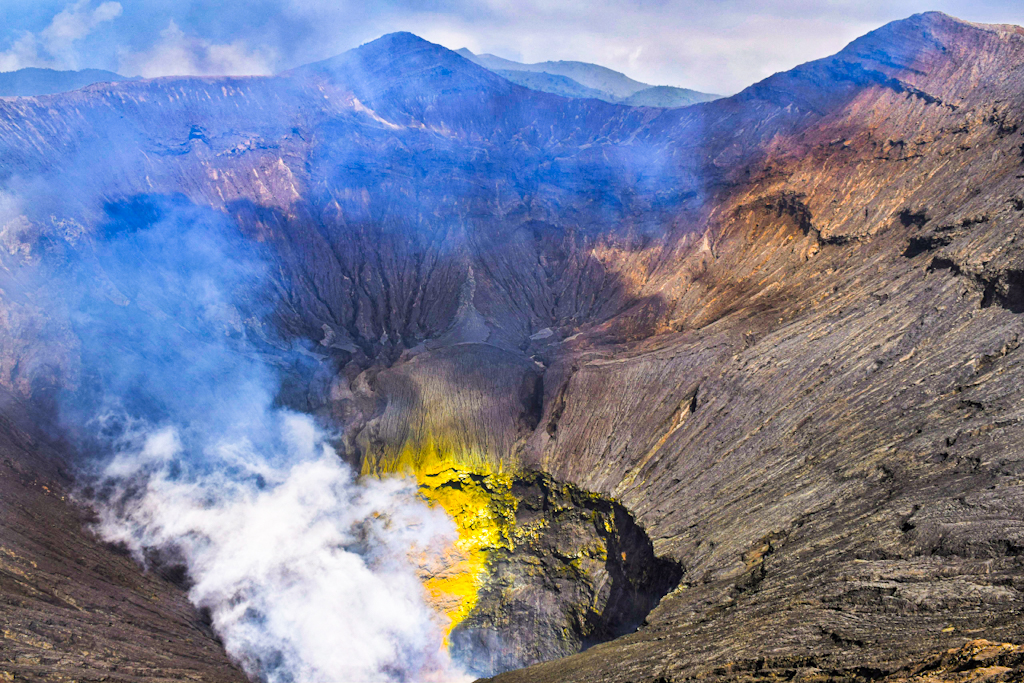 How To Reach Bromo Tengger Semeru National Park
You can reach Bromo from any place in Indonesia. But first, you will need to reach Probolinggo.
Flight
In case, you want to reach Bromo quickly and would like to save time, then you can take a flight to Surabaya. IT is the nearest airport to Bromo at a distance of 65 km. From Surabaya, you can take a bus or train from to Probolinggo.
It would take you around 2-4 hours to reach Probolinggo from Surabaya. A bus would cost you around 20,000 – 50,000 Rupiah (100 – 250 INR) and will take 2-3 hours to reach.
On the other hand, a train would cost you 30,000 – 200,000 Rupiah (150 – 950 INR) and will take around 1.5 hours to reach.
Buses
Another quick and cheaper way to reach Probolinggo is by taking a bus to Probolinggo directly. There are many bus services from Yogyakarta, Surabaya, Bali, etc. which stop at Probolinggo.
It will cost something around 320,000 Rupiah (1600 INR) from Bali and 20,000 – 50,000 (100 – 250 INR) from Surabaya. An executive bus is quick and will take around 12 hours from Bali and 2-3 hours from Surabaya.
Cabs
You can also take a cab/taxi service from any place in East Java. It would cost you more but you can use it to reach Bromo and tour around Bromo National Park too.
Trains
You can reach Probolinggo by taking a train from Surabaya, Yogyakarta, Bali, Jakarta, and so on. The ticket price depends on your starting location.
A train ticket from Denpasar would cost you around 200,000 – 300,000 Rupiah (1000 – 1500 INR) and a train ticket from Yogyakarta would cost you around 90,000 – 150,000 Rupiah (450 – 750 INR).
Probolinggo to Cemoro Lawang
Once you have reached Probolinggo, you need to take transportation to Cemoro Lawang, which is the nearest village to Bromo.
From Probolinggo's bus station Terminal Banyuangga(More like from the outside of this bus station), you can take a small bus (blue colored) to Cemoro Lawang which takes around 1.5 hours and will cost you 30,000 Rupiah (150 INR) per person.
There are no fixed times for this bus, it starts as soon as all the seats are filled.
If you do not wish to wait, then you can take the whole bus and pay around 300,000 – 350,000 Rupiah (1500 – 1700 INR) for it.
Make sure that you bargain before fixing a price. Usually, a lot of people head over to Bromo in the afternoon so if you can wait, you can easily save some 250,000 Rupiah (1250 INR).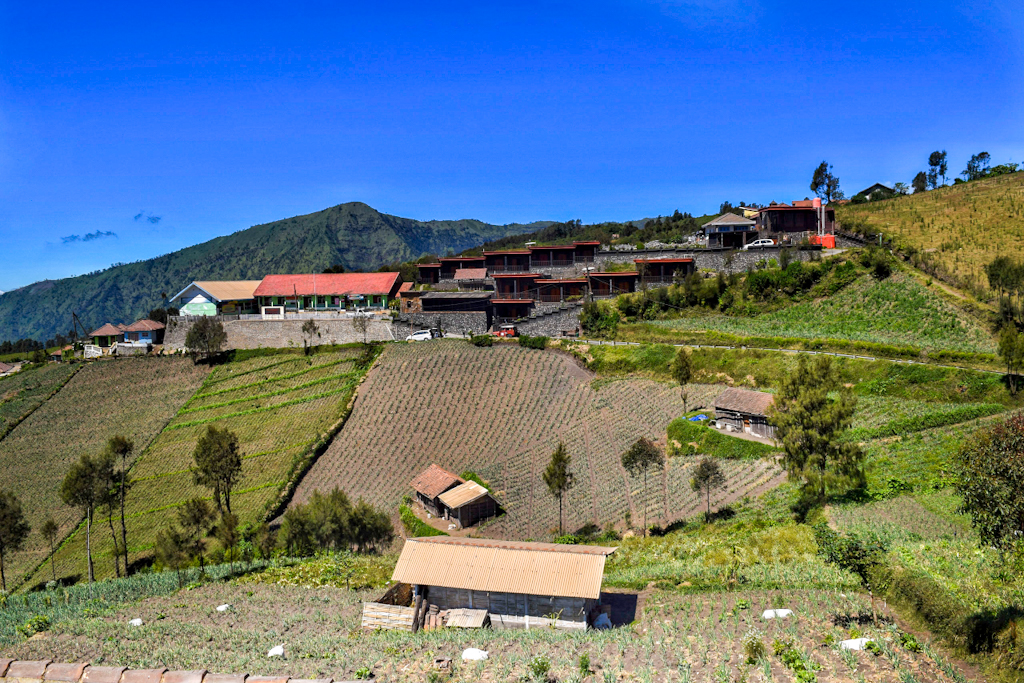 How to Travel in Bromo Tengger Semeru National Park
For touring around Bromo, you will find that there are a lot of shared jeeps available for hire or you can take motorbike rides from the villagers. A motorbike ride for two people will cost around 50,000 Rupiah (250 INR) to the foothill of Mt. Bromo.
If you wish to see Mt. Bromo from Mt. Penanjakan, then you can hire either a jeep or a motorbike ride. A jeep would cost you around 350,000 Rupiah (1700 INR) while a motorbike ride for two people will cost you around 200,000 Rupiah (1000 INR).
Note: It gets really cold up in these mountains so if you take a motorbike up there, make sure you have a warm and cozy jacket to protect yourself from the cold.
Where to Stay
There are a lot of homestays in Cemoro Lawang that charge around 50,000 – 100,000 Rupiah (250 – 500 INR) per room for a day and offer an amazing view of the mountains.
Most of these homestays provide you with basic facilities and often don't have a water geyser too. You can easily find a place to stay here without booking in advance, so there is no need to pre-book it. However, if you wish to avoid any surprises, then you can easily find a suitable stay on Booking.com.
What to Eat
Of course, if you selected a guided tour, then they would include snacks or in some cases breakfast and lunch as well. But if you are traveling on your own, then make sure to pack some snacks for Bromo. There are not many options available here so people can feel hungry and thirsty when visiting the volcano.
You will find a few options in Cemoro Lawang, especially if you are staying in a homestay. However, the best place for eating is Probolinggo as there will be lots of restaurants and snack shops available.
Summary
Overall, Mount Bromo is one of the top places to visit in Indonesia, especially if you love hiking and mountains. This is a relatively safe active volcano to visit and the entire topography is quite unique here.
When you visit this national park, it feels like you have been transported to some other planet. The best part is that it is not particularly expensive to visit this volcano, especially if you know how to ride a scooty.
If you have some time, then do include the Ijen volcano tour in your Indonesia itinerary as well to make the most of your trip to this amazing country!