Are you planning a trip to Yogyakarta Indonesia soon? Wondering what you can cover in this beautiful destination in Indonesia? If yes, then this guide is perfect for you!
One of the most underrated places to visit in Indonesia, Yogyakarta is home to some amazing attractions. From marveling at the architecture of the Borobudur Temple to watching the sunset at the Prambanan Temple, there are a lot of things to do in this magical city.
If you want to learn more about how to reach Yogyakarta, where to stay, local traveling, and more, then you can check out this article.
In this guide, we cover everything about the top places to visit in Yogyakarta and how to plan a trip to this wonderful land.
The Ultimate Guide for a Trip to Yogyakarta Indonesia in 2022
About Yogyakarta
One of the most historically and culturally rich cities of Indonesia, Yogyakarta is famous for its history and beautiful Buddhist and Hindu temples.
Also known as 'Jogjakarta', this city is known for its cultural heritage and is located on Java island. A small city in Java, this is a place that is in close proximity to the famous Borobudur and Prambanan temples.
While it is not a popular place like Bali, it is equally amazing and has a lot to offer in the cultural aspect. One can easily spend here a day or two, getting to know the Indonesian people and learning more about the history of this place.
You can also head out to Borobudur, which is a huge complex in itself and can easily take up a day of your time.
Another thing that makes Jogjakarta a must place to visit is the surrounding Volcanic mountains. This place is situated near 2-3 major volcanoes, which are still active and tend to erupt every few years.
You can trek to the top of these volcanoes and witness the beauty of it or you can just observe it from afar and marvel at its magnificence.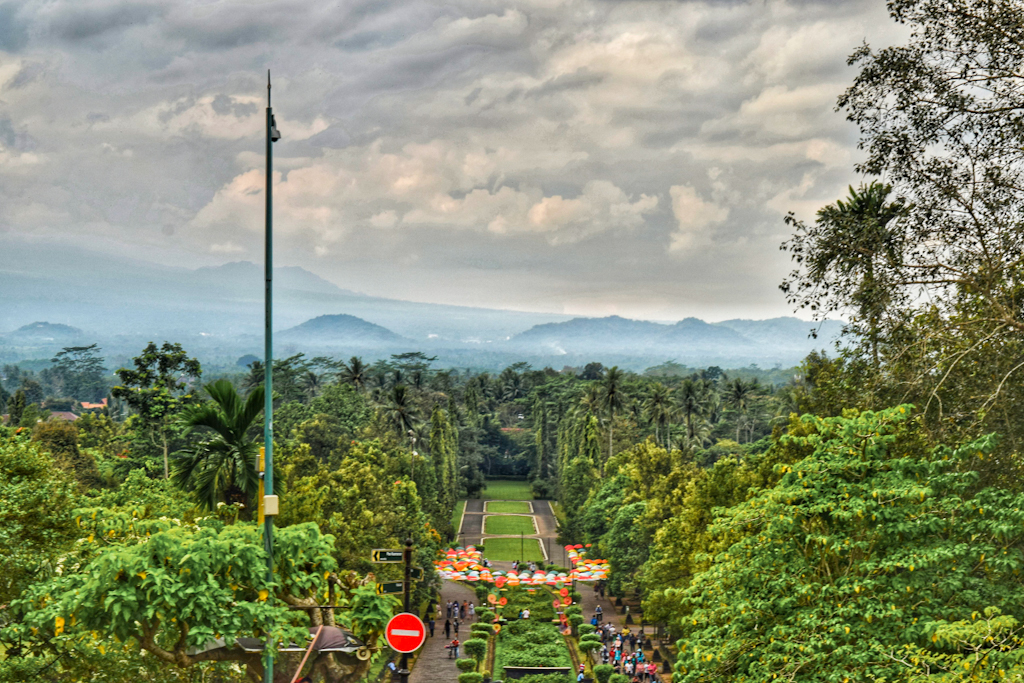 Things to Do in and Around Yogyakarta
Now, let's come to the activities that you can do in these places and all places can you see here.
Visit the Borobudur Temple Complex
One of the most amazing and peaceful places to visit near Yogyakarta is the Borobudur temple, which is a UNESCO World Heritage Site. It is a Mahayana Buddhist temple that is located in Magelang.
Also known as the world's largest Buddhist temple, this place is surrounded by magnificent volcanoes and mountains which provide a great backdrop to this spectacular structure.
It is said that sunrises at Borobudur are extremely magical when it isn't cloudy but even if you aren't able to visit this place during the sunrise, it would still dazzle you with its architecture and charm throughout the day.
The entrance fee for this temple is around 325,000 Rupiah (1500 INR). You can buy tickets for both Borobudur and Prambanan from one of the temple complexes.
Witness the Sunset at the Prambanan Temple Complex
Another magnificent place to visit is the Prambanan Temple in Indonesia. This is another UNESCO World Heritage Site that was built in the 10th century.
It is said to be the biggest Hindu Temple in entire Southeast Asia and was built for the famous three gods of Hindu mythology i.e., Brahma, Shiva, and Vishnu.
There are many fascinating stories associated with this temple and how it came to be and it offers one of the most beautiful sunset locations for you to watch.
Initially, there were 240 temples that were built in this complex but due to corrosion and frequent volcanic eruptions, most of its temples are in ruins now. Trust me, this is one place that you shouldn't miss out on when visiting Yogyakarta.
The entrance fee for this temple complex is 325,000 Rupiah (1500 INR). If you buy both Prambanan and Borobudur Temple's entrance tickets together, then you have to pay just 520,000 Rupiah (2500 INR).
Go on the Merapi tour
Another exciting thing that one can do here is to take the Merapi volcano tour.
You have the option of taking a jeep tour or a hiking tour and witnessing the beautiful sunrise from the peak of this active volcano. It is an active stratovolcano that lies in between Central Java and Yogyakarta and is said to have actively erupted since 1548.
On the Merapi tours, you get a chance to summit the top of the volcano and enjoy a panoramic view of the surrounding mountains and landscape.
This tour usually costs something around 300,000 – 600,000 Rupiah (1400 – 2900 INR) depending on your tour type and route.
Trek on the Merbabu Volcano
Another popular thing to do is to hike to the top of the Merbabu volcano.
This is another active volcano that is said to be a little more dangerous than the Merapi volcano and is said to erupt every few years.
The trek to the Merbabu volcano is a little steep and tough so if you are looking for some adventurous activity, you should definitely try this.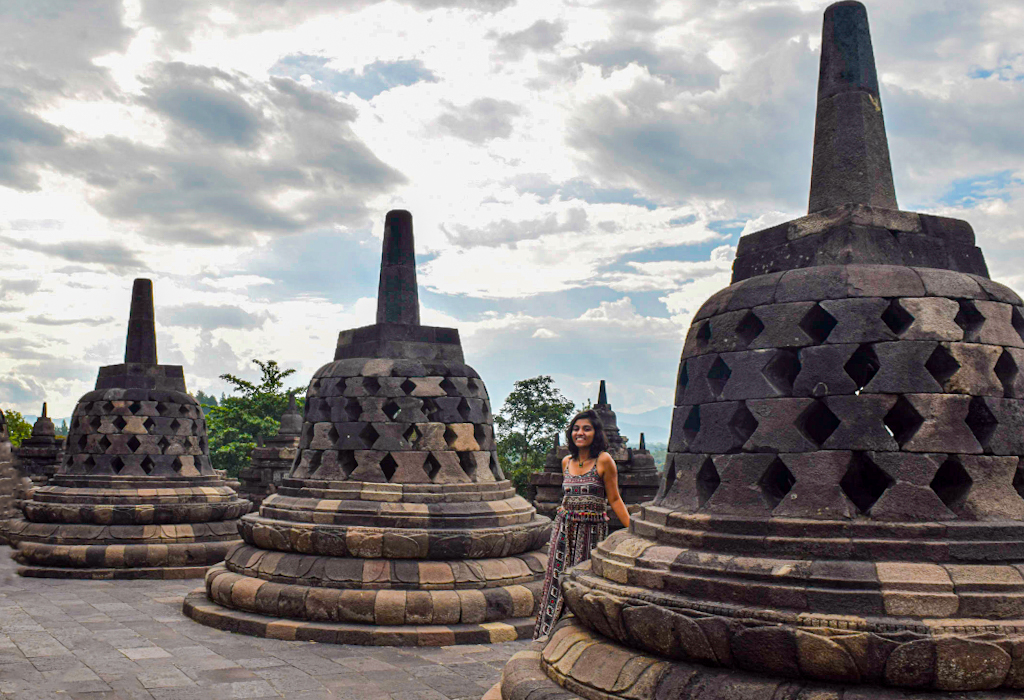 How to Reach Yogyakarta
There are numerous ways to reach this city, depending on where you are coming from and what is your next location.
Flight
India to Jakarta round trip: 18000 – 25000 INR
If you are flying from your respective country to Java first and not really looking forward to spending some time in Jakarta, then you can skip that airport and take a direct flight to Yogyakarta.
If you don't see any direct flight to Yogyakarta, then take a flight to Kuala Lumpur and then book a flight from Kuala Lumpur to Yogyakarta. It would cost you similar to what a direct flight would have cost you and you save a lot of time and money by directly reaching the city.
If you are getting a cheap flight to Jakarta which you don't want to give up on, then no worries. You can book a flight to Jakarta and from here, you can again book a flight to this city.
If booked in advance, a flight from Jakarta to Yogyakarta would cost you around 450,000 – 500,000 Rupiah (1500-2000 INR) for a one-side flight ticket and would take around 1.25 hours to reach.
Train
Another common mode of transport to reach here from Jakarta or any other location is a train.
There are around 10-15 trains every day from most main cities like Jakarta, Surabaya, and so on. A train ticket would cost you around 350,000 – 500,000 Rupiah (1700 – 2500 INR) and will take around 8 to reach.
For more details on train timings and costs, you can check out tiket.com.
Bus
You will also find a lot of private and public buses to the city from most locations like Jakarta, Surabaya, Bali, and more. The executive buses are quite comfortable and often have a toilet attached to them and include dinner and snacks.
These buses cost around 300,000 – 450,000 Rupiah (1500 – 2200 INR) and take around 10 hours to reach from Jakarta city.
If you go for public buses, it would cost you a little less but not much. In our opinion, you should consider a bus only if you have a lot of time to spare. If you don't then make sure you avoid taking buses.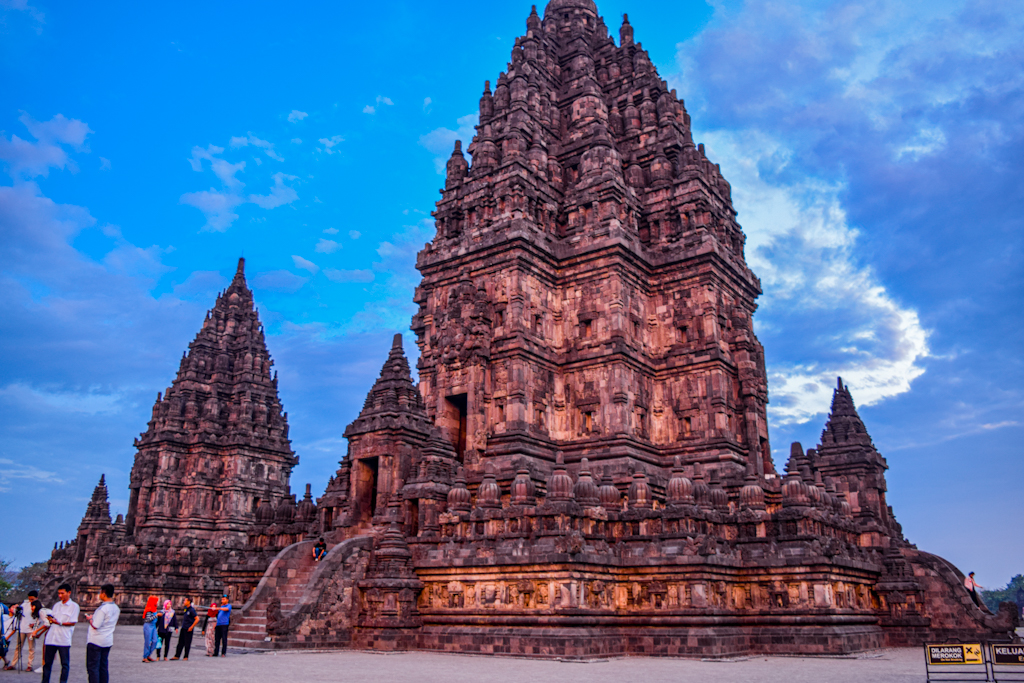 How to Travel Locally
This is not a travel-friendly city really and is more of a residential city which will make it hard for you to find many transport options here.
Cabs are the main mode of transportation here or you could go for buses. However, buses don't have good connectivity inside the city and can take really long. So, unless you have an adequate amount of time, it would be difficult to figure out the bus stop and the next bus to your desired location.
The best transport option in Yogyakarta would be to book a Go-Jek cab or an Uber cab. Usually, these cabs are cost-friendly but if you hire a cab without these apps, chances are you would end up paying more. So, always make sure you book a car through one of these apps for a safe and cheaper ride.
We were lucky enough to find a Go-Jek cab whose driver agreed to take us on a tour around Yogyakarta for 470,000 Rupiah (2300 INR) and then dropped us at the airport too!
Where to Stay
You will find a lot of hotels and homestays for staying which would cost you around 50,000 – 100,000 Rupiah (250 – 500 INR) per night for one person.
You can either look for a place to stay by directly reaching Yogyakarta or you can book in advance through Booking.com or Goibibo.com. Personally, I stayed in a homestay that I booked through Booking.com but it is not available anymore.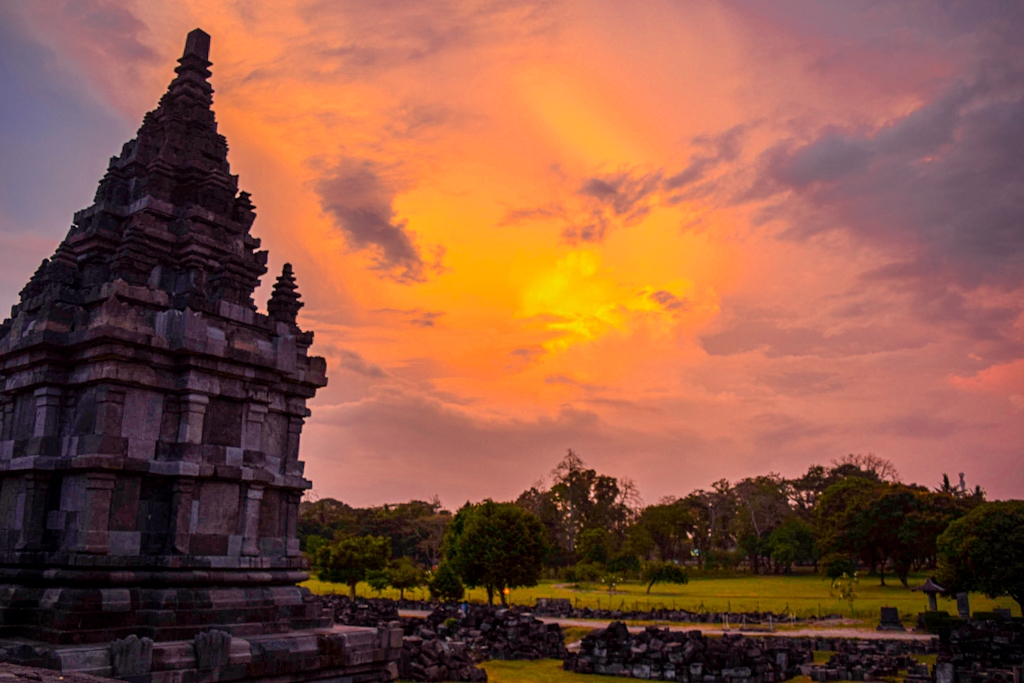 What and Where to Eat
Cost: 150,000 Rupiah (750 INR) approx. for two people per day
In Yogyakarta, there aren't a lot of places for Vegetarians but there are a few street stalls that sell breakfast which includes soup and dumplings for just 6,000 Rupiah (30 INR).
You will find a lot of stores and marts here from where you can stock up on snacks and drinks. In Yogyakarta, you might still find a decent Fast food joint with the help of the Go-Jek app.
On average, you might spend around 100,000 – 150,000 Rupiah (500 – 750 INR) on food and snacks in these both places.
Summary
Overall, Jogjakarta is a beautiful city with lots of adventure tours and historical destinations for you to explore. So, whether you are looking for a volcano hike or a visit to one of the Buddhist temples, this place is perfect for you.
You might face a little trouble communicating with the locals but Google Translate does go a long way. So, if you are planning a trip to Indonesia, then do include this amazing city in your itinerary.