In 2019, when I was traveling in Central Asia, we started our journey in one of the major cities of Kazakhstan, Almaty city. This popular tourist destination offers so much to do and happens to be one of the cities I am completely in love with.
Why? Because this Central Asian city will make you feel like you are in a European continent. The city is not only well-developed, but it is also quite green and offers a lot of amazing activities as well. And the best part is that it has a little something for all kinds of travelers.
If you love the outdoors, then you can go on a day hike to one of the peaks in the Ile Alatau National Park. Love to ski? Then, head to Medeo and Shymbulak resort which are just 15 km from the city.
Interested in history? Then, learn about the art and history of Kazakhstan in one of the museums here. Want to just stroll around a park or enjoy a day out? Well, you have numerous parks here to choose from.
Honestly, there isn't any lack of places or things to do in Almaty! And traveling itself in this city is super easy and convenient. So, if you are planning a trip to Kazakhstan anytime soon then do include Almaty in your itinerary.
You can easily spend a week here and explore the gorgeous locations in and outside the city.
Almaty City Guide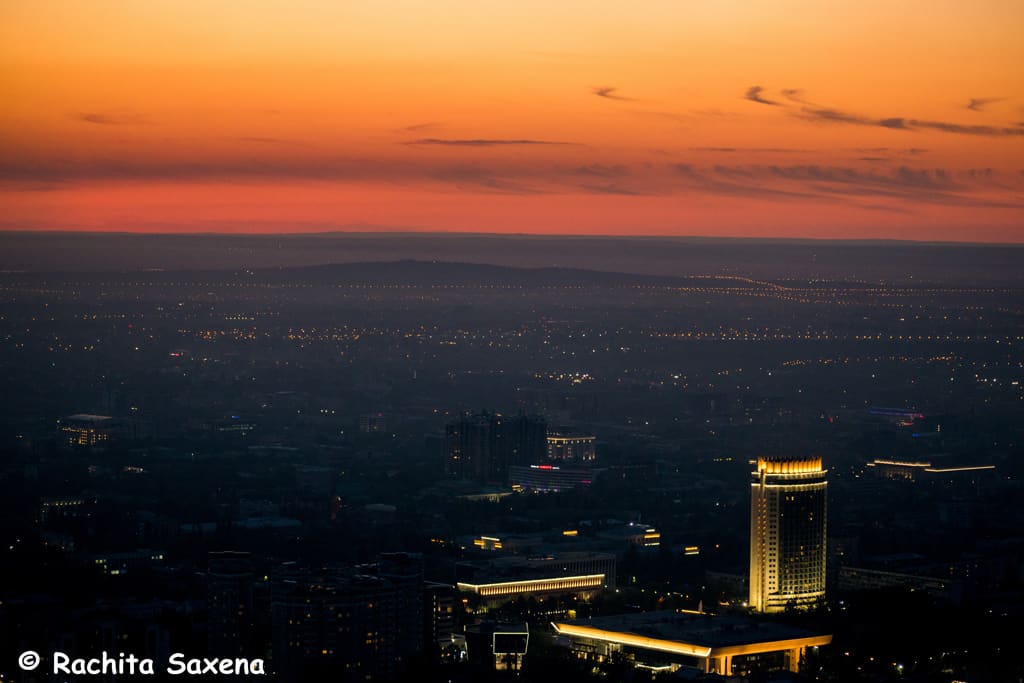 One of the major cities in Kazakhstan, Almaty is basically the 'apple of the eye' of this country. The city got its name from an old name 'Alma-Ata' which translates to the father of apples. This is because the best apples, Apport, grow in this area.
This city is constructed in the form of a grid and you will find tree-lined streets in the center of the city. One of the best things about Almaty is that it is surrounded by the Tien Shan mountains on the south side. So, one can observe some gorgeous mountains while traveling in the city itself.
That's not all though. One of the best things about Almaty is that it offers a range of activities to the visitors. You can hike or trek in the summers or enjoy skiing or snowboarding during the winter. Although Almaty is small in size, it is quite developed and is an interesting place to stay in.
From shopping malls to traditional bazaars, you would find it all here. Plus, there are several Soviet buildings here as well which make for a good excursion. Almaty is also the major hub for many amazing day trips to national parks here.
From here, you can head for weekend or day tours to places like Charyn Canyon, Kolsai Lakes, Kaindy Lakes, Altyn Emel National Park, and so on.
But there is a lot to do in Almaty itself. And its European look will definitely make you fall in love with this mountain city.
Best Time to Visit Almaty City
Ideally, you can visit Almaty city throughout the year as the weather in Almaty is usually cool and pleasant. But the best time to visit Almaty city depends on the activities that you are interested in.
Here is a breakdown of what you can do in different seasons here.
Spring Season
If you want to enjoy Almaty city before it is crowded with tourists then the best time to visit Almaty is in the spring season.
During this time, all the snow in the city has melted and even the mountain peaks are in the process of melting. As a result, the entire city looks quite green and fresh and the temperature is cool but bearable.
Although if you don't have a long time at hand then make sure you don't visit Almaty in March or April. It rains a lot in these two months and most of the national parks are inaccessible at this time.
May is a good time as almost all the snow has melted nearby and you can easily enjoy a trip to Big Almaty Lake, Ile Alatau National Park, and so on.
Summer Season
Summer season is the time when the tourist season actually starts in Almaty. Since the ice has melted by now, a lot of the mountain areas have become more accessible via roads and hikes.
So, if you are an outdoor enthusiast then summer is the best time to visit Almaty. However, the summer season means that the temperature will be 30-40 degrees for the most part which can be quite hot.
Also, the Shymbulak skiing arena is closed off during this time due to a lack of snow.
Autumn Season
Autumn Season is the best time to visit Almaty City for colors and sightseeing. During this time all the lakes are full of water and all the hiking trails are open.
The snow has completely melted by now so you can actually hike to most of the place which you couldn't in Springtime. Moreover, the weather in Almaty is cool and pleasant during this time so you can thoroughly enjoy yourself.
And the autumn colors leave Almaty looking beautiful and magical. So, if you want to see a different and vibrant side of Almaty city then autumn is definitely the best time to visit.
Winter Season
For people who are interested in snow activities like skiing, snowboarding, etc., winter is the best time to visit Almaty city. During this time, you can enjoy some time in the Medeo skiing rink or you can head to the Shymbulak resort for an actual skiing session.
The prices are low during the skiing season as well so you won't spend a fortune. Also, the entire city is covered in snow and looks gorgeous from the Kok Tobe viewpoint. However, keep in mind that the weather in Almaty during the winter season is exceedingly cold so carry several warm layers with you. Also, if you want to enjoy the Big Almaty Lake, Kaindy lake, etc. then this is definitely not a good time.
How to Reach Almaty City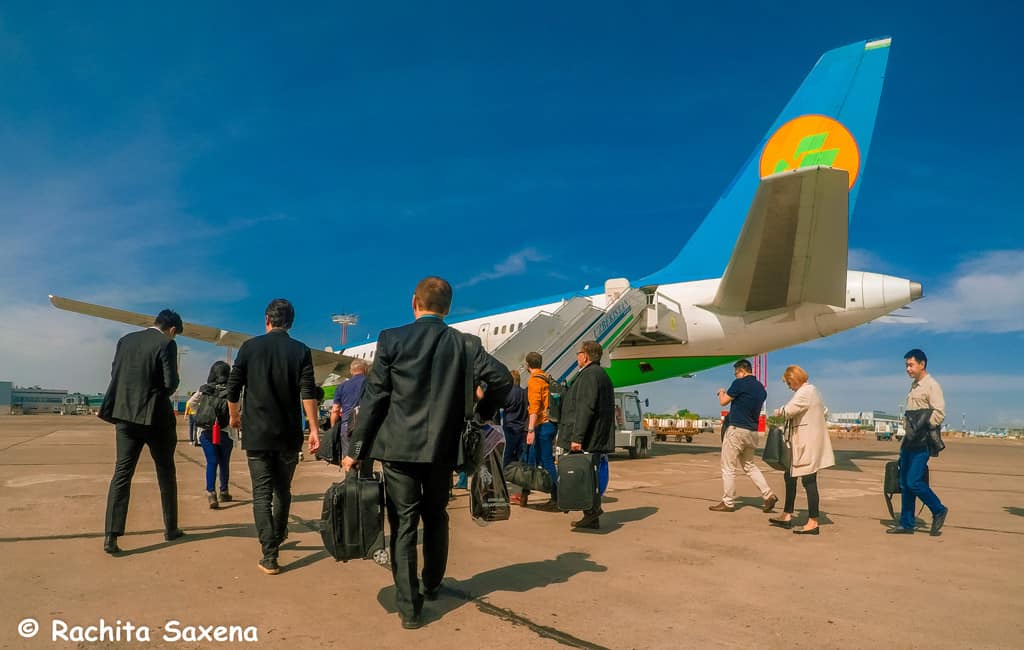 Reaching Almaty is quite easy, both by land and air. And it is super easy to cross the border as well. So, depending on where you are starting from, you can choose the appropriate mode of transport for yourself.
Air
There is one international airport, Almaty International Airport, which is situated around 25 km from the city. Several airlines serve this airport including Air Astana, Lufthansa, Uzbekistan Airways, and so on.
And you will easily get a flight to Almaty from most European, Middle East, and Asian countries. In fact, there are regular flights to Almaty from cities like Moscow, Delhi, Bangkok, Amsterdam, and so on. We got a connecting flight from Delhi to Tashkent to Almaty which took around 24 hours to reach.
However, if you choose Air Astana, you will get direct flights which will take 4-5 hours mostly.
Airport to the City
From the airport, it is actually quite easy to reach the city center. You can either take a bus or get a cab to take you to the center.
A Bus will cost you around 150 Tenge and will take around 30-40 minutes to reach the city. You will find the bus immediately outside the airport and there are proper boards to point you in the right direction.
If you wish to reach quickly and more conveniently then you can always hire a taxi here. You will get many taxis from the airport which will quote 1000 – 1500 Tenge. Another option is to call a Yandex or Uber taxi to pick you up from the airport.
You just need to download the app and use a number (it could be Kazakhstan number or your home town number) to login to the app.
Road
Almaty can also be reached from the road from countries like Uzbekistan, China, Kyrgyzstan, etc. So, you can easily plan a road trip to this city. You will find buses, shared taxis, or marshrutkas leaving for Almaty from these cities.
But you would need to check the borders which allow the entry and the Visa rules in order to attempt this route.
Rail
Finally, if you are leaving from Russia or China, you can also take a train to Almaty. There are two train stations here: Alma-Ata 1 and Alma-Ata 2. Most of the trains end up at Alma-Ata 2 which is located in the city center.
So, you can easily take a train from Russia or China to reach here.
Visa and Custom Information for Kazakhstan
A lot of European citizens don't require a VISA to enter this country. But there are still a few countries who need to apply for a Visa and need an LOI for the same.
How to Travel in Almaty City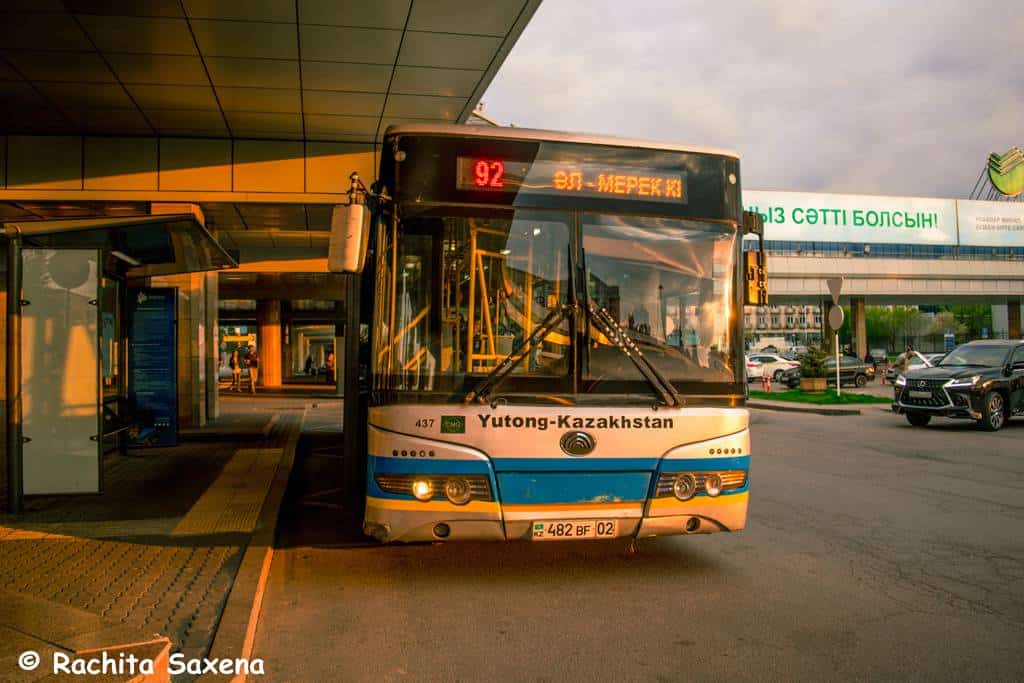 Once you have reached Almaty City, you have numerous options of traveling around in the city.
So, depending on your budget and time constraints, here are a few ways to explore the Almaty City.
Walking
One of the best ways to get a true feel of Almaty city is by walking on the pedestrian path. And most of the happening locations are situated nearby so you won't find it hard to cover on foot as well.
You can also go on a walking tour of Almaty city where you can cover places like Central Mosque, Green Bazaar, Panfilov Park, Ascendas Cathedral, Zhibek Zholy Street, etc. All these places are located nearby and would take around 4-5 hours to cover on foot.
If you are interested, there are several free and paid walking tours around Almaty as well.
Trust me, walking around Almaty is such an amazing feeling as the entire city is filled with trees, parks, and good roads.
Cycling
Another popular way of exploring the city is by renting the Almaty bikes which can be found all over the city. And the process of renting these bikes is quite easy as well. You will find the bike stations all over Almaty city so once you have your subscription in place, it is easy to get a bike,
There are two options for renting a bike: using the Club Card or SMS. The tariffs for both the facilities are different so check before choosing an option. Getting a club card is the best option as it also allows you to rent the bike for a short amount, free of cost.
How to Use Bike Club Card for Renting Bikes
Follow these steps if you wish to use the Bike using a Club Card.
Go to the Sales Department of Almaty Bike Rental with an Identity Card (or Passport).
Get your Club Card and Fill it up with 500 Tenge balance.
Next, find a Bike Station near you and choose a bike. Make sure that you check that it is working fine before taking it.
You will see an 'OK' button on the bike panel. Click on it.
Place your Card on the bike and enter the PIN. You will hear a beep after which you can pull the bike and take it with you.
For returning the bike, you need to head to the nearest bike station and place your bike on an empty slot. Wait for the beep sound and the message 'Return Ok'.
One interesting thing to note about this system is that if you return the bike to a bike stand in under 30 minutes, you won't be charged.
And there are bike stands throughout the city, so you can easily enjoy a ride while paying barely anything.
How to Use SMS for Renting Bikes
If you use the SMS method, then you have an option of subscribing the bike for 1 day, 3 days or 7 days. You can find the tariff for the same on their website.
Follow the below steps to register for Almaty Bike Rentals via SMS.
Register on Almaty Bike Rental website.
Choose your Subscription plan and pay using your Credit Card details.
You will get a message on your mobile number with your Identification code and Pin.
Find the nearest bike station and choose a good bike for yourself.
Choose the SMS identification method on your bike after clicking 'Ok'.
Enter your Identification code and PIN and then wait for the sound signal before pulling out the bike.
Returning the bike is similar to the card method.
Buses
If physical activity is not your thing and you don't have time to walk or cycle around then buses are a good way to explore Almaty city. However, make sure that you have 2gis and Almaty City Bus app downloaded on your mobiles if you don't want to get lost.
2gis app can help map a route and find the bus numbers which you can take for your destination. As for the Almaty City bus app, it will show you the current location of your bus and give you an idea of how long you need to wait at the nearest bus stop.
The cost of a bus ride is 150 Tenge, regardless of your stop. So, you could get down at the first stop or the next stop but the cost remains constant. You will need to pay the conductor the money and get a ticket from him from the same. On the other hand, if you have an Onay card then you can simply swipe this card for your bus ride and pay just 80 Tenge for a ride.
Note: The bus passengers are checked regularly for tickets so don't try to get a free ride. If they catch you, they will make you pay for the ride or even fine you for the same.
Metro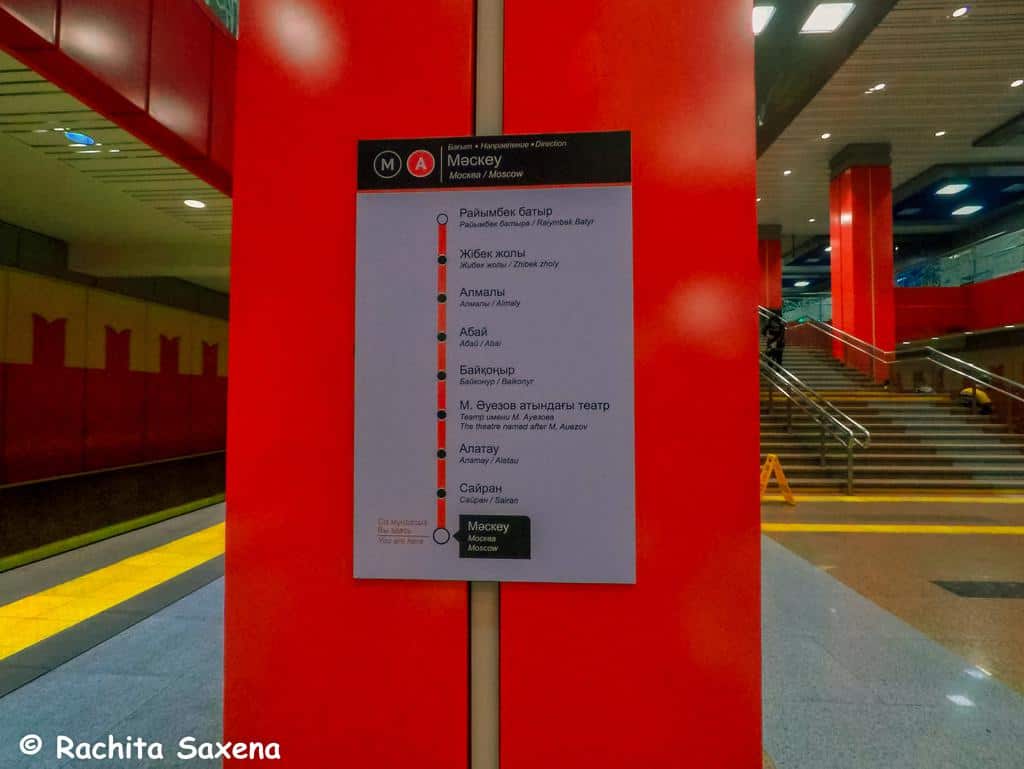 Almaty city has only a single metro line which connects 9 stations around the city. But it is a great way to reach the most popular destinations if you stay near a metro station. The line runs from Moscow to Rayimbek and the cost of each ride is just 80 Tenge.
Moscow and Raiymbek Batyr are the last stations of this metro line. If you wish to go to the Sayakhat bus station or Alma-Ata 2 Railway station then you can take the metro to Raiymbek Batyr station.
This metro line connects stations like Sayran, Alatau, Auezov Theatre, Baikonur, Abay, Almaty, and Zhibek Zoly as well. The first metro starts at 6.20 a.m. in the morning and the last metro runs at 11.30 p.m. at night.
For children aged 7 to 15, the cost of the metro token is 40 Tenge and for the children below 7 years, the ride is free. But you need to carry their ID as an age proof.
Yandex/Uber
Another popular and safer option for exploring Almaty City at night is by ordering a Yandex/Uber cab. Yandex is definitely cheaper than Uber in Almaty and is quicker as well. So, you can simply download the app and order a taxi for yourself, 24 hours.
You have an option of paying by cash or credit card as in Uber. But the best thing about Yandex is that there is an option to chat with the driver as well. And this chat is automatically translated into Russian/English, depending on the user.
So, it is quite easy to communicate with the driver and let him know your location. You can also order a Yandex cab for the return journey and can add multiple stops on the way. This will increase the fare but it is a great way to reach Big Almaty Lake as well.
Taxis
Apart from Yandex and Uber, you also have normal taxis loitering around here. So, if you know good Russian then you can try to haggle the prices with them.
If not, then you always have Yandex or Uber to rescue you.
ATMs and Currency Conversion in Almaty City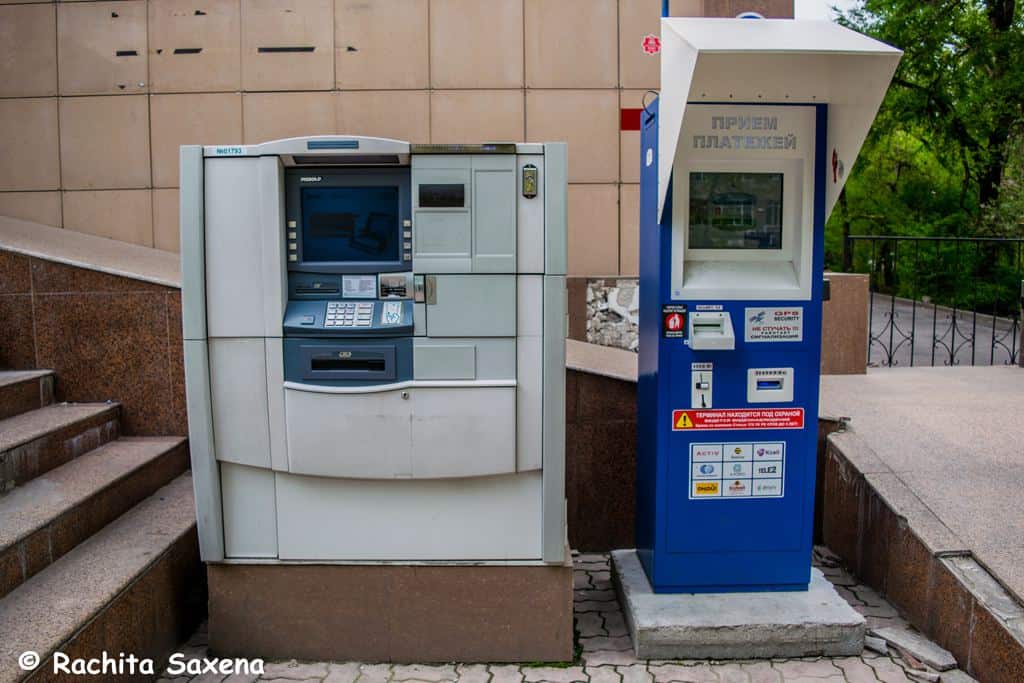 You will find ATM easily in popular areas like Dostyk, Zhibek Zholy, Abay, etc. However, if you are in some other part of the city like near the Moscow station, you might find it difficult to get an ATM.
You can always check on Maps.me for the nearest ATM. But make sure you withdraw sufficient cash for day trips from Almaty. You will find ATMs that accept Visa, Maestro, or Mastercard easily on the major streets. So, you can easily withdraw cash from these ATMs.
You can choose to buy a token every time you take the metro ride or you can use your Onay card for paying for the metro rides as well.
There will be a few ATMs which won't be available in English. You can skip these ones and look for the ones which also have the English language as an option.
Most of these ATMs will dispense cash in Tenge while a few might also give you USD. You can find information about the currency on the BTA bank website.
Currency Exchange Counters
You will find currency exchange shops at almost every major street. And the rates will definitely differ so make sure you check around a little before exchanging the money. The rates are higher at the airport but you will get a good deal at one of the local shops in Almaty.
The main currencies which you can exchange in Almaty are USD, Euros, British Pound, Kyrgyz Som, Russian Rouble, and Chinese Yuan.
Traveller's Cheque
You won't find much use of the traveller's cheque in Kazakhstan as it is not usually accepted here.
Keep the Change
Make sure you always have change in coins to give to the local vendors, bus drivers, etc. If you don't have the change, you will often end up giving more money. This is because most shops and bus drivers don't have change.
You can buy some items at the supermarket to get change for bigger currency notes.
Current Currency Exchange Rate
Here is the latest currency exchange rate to remember for Tenge. All these values are an approximate range
1 USD = 379 KZT
1 Euro = 425 KZT
1 British Pound = 482 KZT
1 INR = 5.5 KZT
1 AUD = 262.5 KZT
1 CAD = 282 KZT
Getting the Sim Card in Almaty City
If you are traveling for a week in Almaty, then a local Sim Card can truly help you out here.
And the best part is that you can easily get a Sim Card here for a week or a month, depending on your trip duration.
Sim Card Options Available Here
Well, most of these Sim cards will work well in Almaty city. But there is no guarantee once you leave the city.
So, choose a Sim card depending upon your budget and duration and trip itinerary. There are 4 major operators here: KCell, Beeline, Tele 2 and Activ.
Tele 2
One of the top Mobile networks in Kazakhstan is Tele2 which you can get for a month here. It is the cheapest network for Internet connection and works in most of the places, both inside and outside Almaty.
The Sim card cost can vary depending on the number you choose. You will find a Sim card number for 300 KZT, 400 KZT, 500 KZT, and so on.
And there are different plans for you to choose from which vary between 1000 – 1500 KZT. I chose a 1250 KZT plan which offered me 5 GB of internet for the entire month's duration. And it gave me 10 minutes local call which came in handy when I tried to book taxis or contact the hostels.
So, in total, I paid 1550 KZT for a 1-month mobile subscription.
Beeline
Beeline is one of the best mobile operators in Kazakhstan so you can get their Sim Card easily. You can get a Beeline sim card easily for 200 – 300 Tenge.
You can get a monthly subscription for this one at around 1800 Tenge which will offer 12 GB data. To learn more, you can go to their official center in Almaty. There are 4 centers throughout the city.
Activ
Another option is to get an Activ Sim Card for 300 Tenge and get a 1-week subscription for 400 Tenge. However, we aren't too sure of this option as we couldn't find it online.
So, I would not suggest you get it. Plus, we had to recharge it every week which came up to be more than Tele2 subscription.
Where to Get the Sim Card
Now, the main question is where can you get the Sim Card from. Well, there are two options to consider.
Almaty Airport
If you are in urgent need of a Sim Card then you can get it from the Almaty International airport. There are a few food shops here which sell the Sim Card but they are generally not reliable.
They can often give you inaccurate information and fraud Sim cards. So, it is best to avoid them and get a Sim Card from the city itself. Also, you don't need Sim Card for reaching your hotel/hostel in Almaty city.
Make sure you have 2gis and Maps.me apps downloaded and find a taxi from the airport or take the public bus.
Almaty City
In the city, you will find centers for all mobile operators. So, you can go to these centers and get a Sim Card with the desirable package.
You can find the mobile operator centers on the maps quite easily. Plus, the entire process is quite simple and it will take you just 15 minutes to get a working Sim Card.
Where to Get ONAY Travel Card
One of the most convenient ways to travel in Almaty is by getting the travel card – ONAY here. You can use this travel card to pay for your bus by passing it in front of the terminal panel which is placed near the bus doors. If the light blinks green then the card worked and your fare has been paid.
You can also use this ONAY card for your metro journeys. All you have to do is pass it at the metro barriers and the light will blink green to let you pass through. But the question arises where can you buy this ONAY travel card from?
Well, you can purchase this travel card at airports, railway stations, and bus stations. You can choose to go to the ONAY office to get the card or you can get it from the nearest metro station.
The cost of an ONAY card is 400 Tenge. This includes your 1-time fare for a public transport (80 Tenge) and the refundable amount of the travel card (320 Tenge). You can return the ONAY card at the official address or at the Alma-Ata 2 Railway Station.
Note: You will get a refund only if you return the ONAY card within 6 months of purchase.
How to Top Up Your ONAY Card
You can top up your ONAY card at any QIWI kiosk. Follow these steps to top up your card at QIWI.
First, choose the first option which will look something like this: Оплата услуг.
Next, you need to choose the 3rd option from the left and 2nd option from the top which will read something like транспорт. This will also have a symbol of movie reel with it.
Then, you need to choose the option which resembles the symbol on your ONAY card. This will be the 3rd option from the left and 2nd option from the top.
After that, click on the first option and you will see 4 cards being displayed.
Choose the black ONAY card and enter the last 8 digits of your ONAY card. You can find this information behind your travel card.
Now, you need to enter the note for the recharge. Make sure you feed only the amount which you want your ONAY card to be recharged with. We don't know if QIWI gives the change back so avoid feeding a larger currency note. You will need to feed the note where there is a blinking light in the machine.
Once the notes are entered, you will see that the new amount is displayed on the monitor. Click on the right-side button which is highlighted in orange.
Your travel card is now recharged successfully and you can start using it for transportation. There are other options as well which you can use to recharge your ONAY card, you can find them on their official website.
Language Spoken in Almaty City
Kazakh and Russian are widely spoken in Almaty. So, if you know Russian, you will find it easy to navigate around here. If not, you can always down the Google Translate App on your Mobile Phone and communicate with the locals here.
What and Where to Eat in Almaty City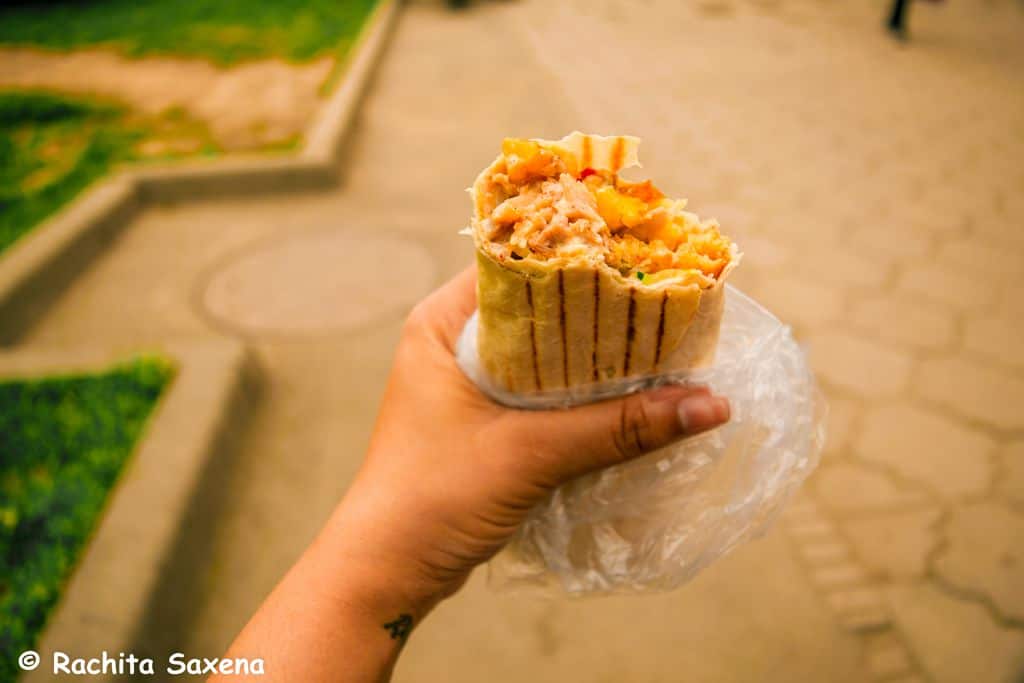 One of the major concern for people traveling to Kazakhstan is food, especially if you are a vegetarian. Well, in this section, we have outlined in detail what you can expect in Almaty City and how to make the best of it.
Let me start by telling you that this is mostly a non-vegetarian city. So, if you are a vegan or a vegetarian, you will struggle a lot to find delicious, filling food for yourself. However, it is not impossible to find vegetarian food here.
Things to Eat in Almaty City
One of the top things to do in Almaty is to try the local cuisine when you are traveling here. There is such a nice variety of kazakh dishes for the food lovers that will leave your mouth watering everytime you see them.
Before we get into vegetarian restaurants and dishes, here is a list of Central Asian dishes that you should try (if you are non-vegetarian).
There are a few dishes which are also found in the vegetarian variant like lagman, shawarma/doner, manti, pirozhki, samsa, etc. You can read more about them below.
Beshbarmak
The main dish of Kazakh cuisine, Beshbarmak translates to 'five fingers' as it is popularly eaten by using hands. This dish usually consists of a broth made up of meat along with rectangle-shaped pasta. The meat can be of camel, horse, lamb, or cow and tends to be quite chewy.
Not a dish for the faint-hearted, Beshbarmak is usually served in large quantities and can easily be eaten by 2 people at a time. One of the best and reasonable places to have Beshbarmak in Almaty city is at the Kishlak Restaurant. The cost of Beshbarmak from a good restaurant is around 1800 – 3000 Tenge.
Lagman
Another popular Central Asian dish to try in Almaty is Lagman which consists of noodles, meat, and vegetables. It is a kind of flavorful noodle soup and tends to be really heavy. But the best thing about this dish is that it is also available in the vegetarian variant.
So, if you want to try the Vegetarian version of this dish, just tell your waiter 'No meat' or 'Bes meat'. And they will only put vegetables in your noodle soup without any meat. Lagman can cost around 700 – 1000 Tenge, depending on where you are ordering from.
Manti
Quite similar to the Tibetan momos, Manti is a type of dumpling which is a popular Turkish dish. It can be either boiled or steamed and usually consists of meat as a filling. However, there are a few places which also sever pumpkin manti so if you are vegetarian, this could be a good option for you.
Pirozhki
If you are looking for some light snacks while exploring Almaty, then do try Pirozhki. You will find it at any street vendor or small food stall in Almaty. Pirozhki, also known as Piroshki, is a type of puff pastry which consists of fried buns filled with different fillings.
You will find fillings of meat or vegetable filling like mashed potatoes, cabbage, mushrooms, etc. You can usually find these snacks for 150 – 300 Tenge in Almaty.
Samsa
Another popular Central Asian snack to try in Almaty is Samsa. This is a baked meat pastry that usually has a filling of minced onions and lamb. However, you also get it with chicken, beef, and cheese filling. And the cost of a Samsa ranges between 100 – 300 Tenge.
Shawarma/Doner
I am sure most of you are familiar with the famous middle eastern dish, Shawarma. Well, it is also quite popular in Central Asia and is actually called Doner in Kazakhstan. A doner consists of a flatbread that is rolled with fillings of meat, mayonnaise, vegetables, and french fries inside it.
Larger than average shawarma, a doner is quite filling and costs just 150 Tenge at most places. And the best part is that you can ask them to not add meat and just use vegetables and french fries to prepare a vegetarian doner for you. How awesome is that?
Baursok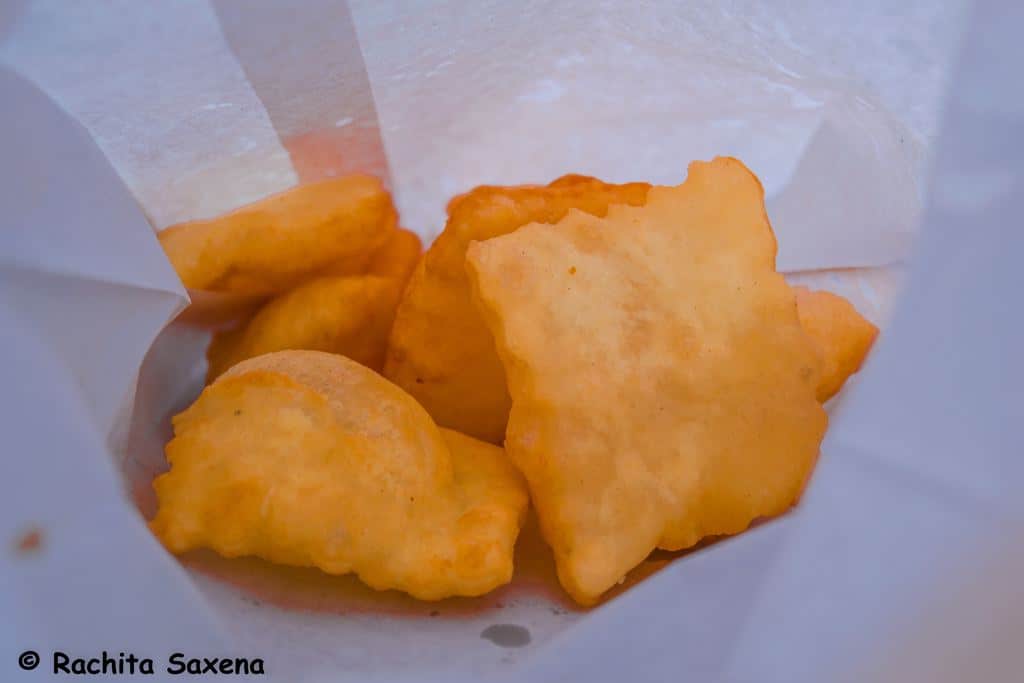 Another popular snack in Central Asia, Baursok is basically fried dough food. It is made in the shape of a rectangle or sphere and consists of flour, eggs, salt, milk, etc.
It is frequently eaten as a dessert along with honey or jam and can be found all over Almaty. Expect to pay around 100 Tenge for a plate of baursoks in most shops.
Kazakhstan Chocolate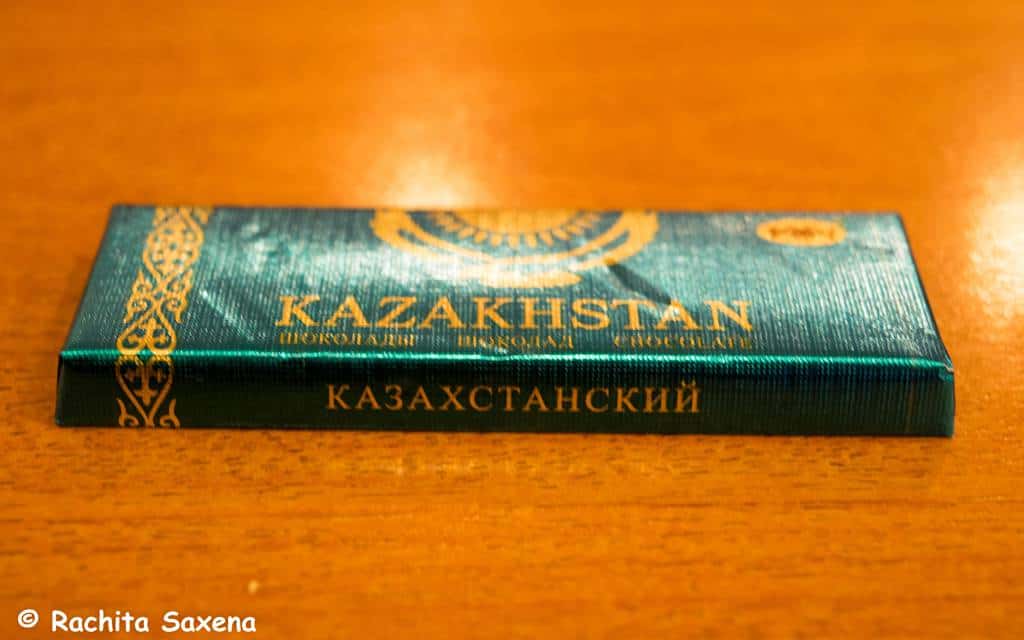 Finally, for chocolate lovers, Kazakhstan chocolate is a kind of dark chocolate which you can easily find in Almaty. It costs around 100 Tenge for a small bar and you can get it from most grocery stores.
Places to Eat in Almaty City
Here is a list of places that you can try in Almaty for delicious food.
Sultan Canteen
One of the cheapest and most reasonable places to try in Almaty is the Sultan Canteen. This place is quite famous on Panfilov Pedestrian Street. And you get a huge variety of dishes here. From pizzas to rice dishes, they have it all.
And the best part is that they even have a couple of vegetarian dishes here. A meal here will cost you around 500 – 1000 Tenge per person.
Shirin Hotel
If you want to try affordable Central Asian dishes then Shirin Hotel is the perfect place for you. They have a nice ambiance and make a mean Lagman. But they also serve pizzas and other cuisines so you have many options.
A meal here can cost around 1000 Tenge per person including a drink.
Degiremen
Degiremen is a restaurant chain which has several branches in Almaty city. Here, you can get continental or you can try the Central Asian dishes.
From doner to kebabs to lasagna, they have it all. And a meal here will set you back by just 500 – 800 Tenge per person.
Kishlak Restaurant
Kishlak Restaurant is one of the most amazing places to try in Almaty for Central Asian food. Apart from the delicious food, they also have an amazing decoration which will take you back by centuries.
With an elaborate Central Asia setting and atmosphere, a meal here can allow you to tap into the Kazakh culture. A meal here will cost you around 1500 – 2500 Tenge but will be completely worth it.
Chukotka Restaurant
Finally, if you are looking for a change from the Central Asian food then try the Chukotka Restaurant. You can find this restaurant in Panfilov Park, near Zenkov Cathedral. It is also a popular party place in Almaty and offers a range of dishes to the customers.
You will get Burgers, Pizzas, Platters, etc. here quite easily. A meal at this establishment will set you back by 1000 – 2000 Tenge per person.
Vegetarian Food Places in Almaty
In all honesty, we didn't get time to try all the Indian restaurants in Almaty. However, we heard the most about these two Indian restaurants in Almaty.
Out of the two, we did try the Spice Mantra and found it satisfactory in terms of Indian taste.
Tandoor Restaurant
Tandoor Restaurant is one of the most popular Indian restaurants in Almaty. We were suggested by several people to try out the food here. But due to time and budget constraints, we couldn't give it a chance. We did check their website and menu and found they had good food variety.
For vegetarians, it is a paradise as you will get the likes of aloo gobhi, aloo matter, etc. here. But we feel the prices are slightly high. However, that is to be expected in Almaty. So, if you don't mind spending a little, Tandoor could be a good place to try out.
Spice Mantra
Another Indian restaurant which is quite popular in Almaty is Spice Mantra. Again, you will find both vegetarian and non-vegetarian Indian dishes here. But this place is slightly cheaper than Tandoor Restaurant, although there isn't a huge difference.
The food is good and you will find a lot of Indians hanging around here. But the service is really slow, we had to wait almost 30-40 minutes for a plate of dal fry and rotis. An average meal here will cost around 2500 – 3000 Tenge per person.
Where to Stay in Almaty City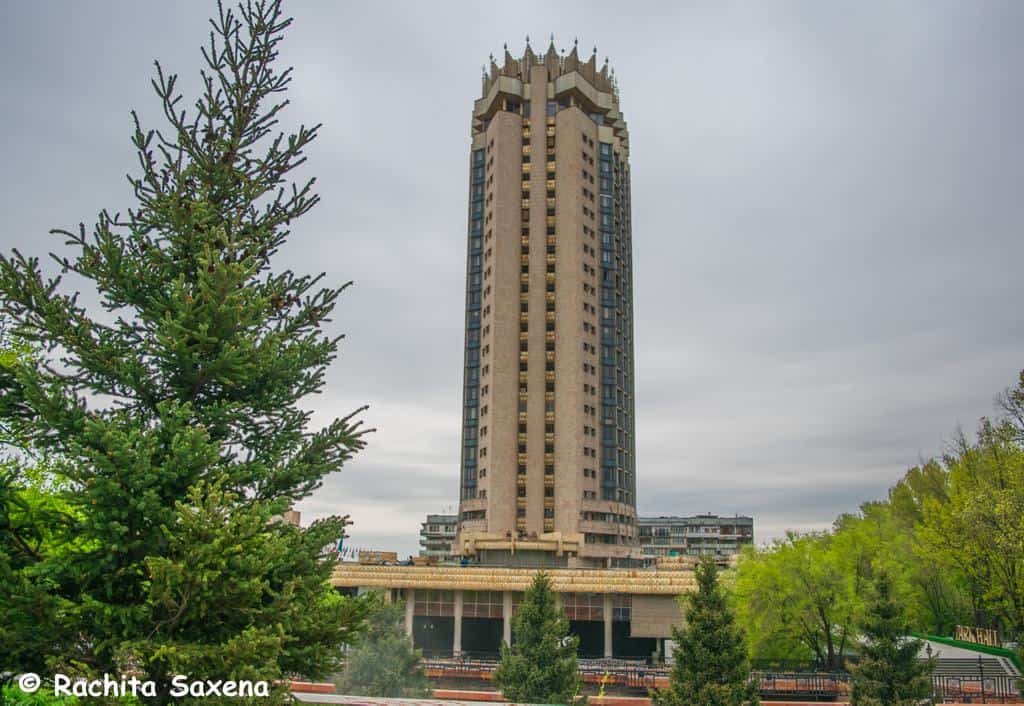 Almaty City is quite a popular tourist destination in Kazakhstan. As a result, there are a lot of accommodation options available here.
For backpackers to luxury travelers, everyone can easily find suitable accommodation in their budget. Here are a few accommodation options which we explored here which we found to be really good.
Low-Priced Accommodation
If you are backpacking across Central Asia, then there are several cheap stay options for you.
Couchsurfing
For people who would like to know more about the local culture, Couchsurfing is a great stay option in Almaty City. And since it is such a popular tourist spot, there are many Couchsurfing hosts which will be more than happy to host you.
But as I have mentioned before, this shouldn't be seen as a free stay option. Sure, you get a free stay but Couchsurfing is more of a way to learn about the locals and their lifestyle. So, make the most of this opportunity and learn more about the Kazakh culture.
Cost: Free
Hostels
In case Couchsurfing is not your thing or if you don't find hosts, there are many affordable hostels here as well. There are numerous hostels like Asia Hostel, NordPeak, etc. which you can check out.
Most of these hostels are decent and offer facilities like laundry, kitchen, hot water, WiFi, etc. You will find the option of both Mixed dormitories and Male/Female-only dorms as well.
If you are in Almaty for a short time then I would suggest you get a dorm near Dostyk Avenue. This is the main hub and most of the popular places are within walking distance from here.
Personally, we stayed in 3 different hostels during our stay in Almaty. Two of these were Asia hostels at a different location and NordPeak hostel. Out of all the three, we found NordPeak to be best both location and price wise.
Cost: 1200 – 2000 KZT per bed
Mid-Priced Accommodation
For people traveling in groups or with families, hostels and Couchsurfing might not be the best option. Don't worry, there are several other reasonable options for you to explore in Almaty.
These places will definitely be more comfortable than a hostel but be prepared for paying a higher price as well.
Guesthouses/Appartments
You will also find guesthouses and apartments here for staying here. These places are best for groups and families as you get private rooms/houses for yourself.
Personally, I think renting out an apartment will be a better option if you are a group of 4. This way, you get the entire place to yourself and can cook or do whatever you want in the house.
Plus, if you are a group of friends, then the cost gets divided and comes up to how much you would have paid in the hostel.
Cost: 8000 – 20,000 KZT
Hotels
Apart from apartments and guesthouses, you will also find a few decent hotels in the same price range. If you are looking for a budget-friendly option with simple facilities then Hotel Shugla is a good choice. It is located near the Almaty Railway Station and is close to Panfilov Park, Green Bazaar, and other attractions.
Each room includes heating and Air-conditioning and the guests are provided with complimentary toiletries. They also provide Free WiFi and Parking facilities and the rooms are decent and clean.
Two hotels which I really liked the best in Almaty in the mid-priced range are the Renion Hotel and the Parasat Hotel.
Both the hotels are located in close distance to major attractions and offer a range of amazing facilities to their guests. They both offer sauna to their guests and Parasat Hotel even has a swimming pool that you can use. They offer all the basic facilities and much more so you will feel quite pampered on your stay here.
Cost: 6000 – 20,000 KZT
High-Priced Accommodation
For people who want to truly enjoy and don't feel money is an issue, the below-mentioned places are the best options.
Hotels
For people who want to truly enjoy and don't feel money is an issue, the below-mentioned places are the best options. The Dostyk Hotel and Hotel Kazakhstan are two of the best hotels in Almaty. And well, this is why they cost more than all other options as well.
But honestly, you won't regret taking a room in one of these hotels. Their interiors, facilities, everything will make you fall in love with these two properties. You will find an option for both regional and international foods here as well.
And Hotel Kazakhstan also offers an amazing view of the Almaty City and the Alatau mountains from the top floors. So, if you would like to pamper yourself and just relax on your trip then these both are good options to consider. As for The Dostyk Hotel, breakfast is included in their rooms. So, you can enjoy a nice morning meal to start your day.
Cost: 50,000 – 85,000 KZT
Summary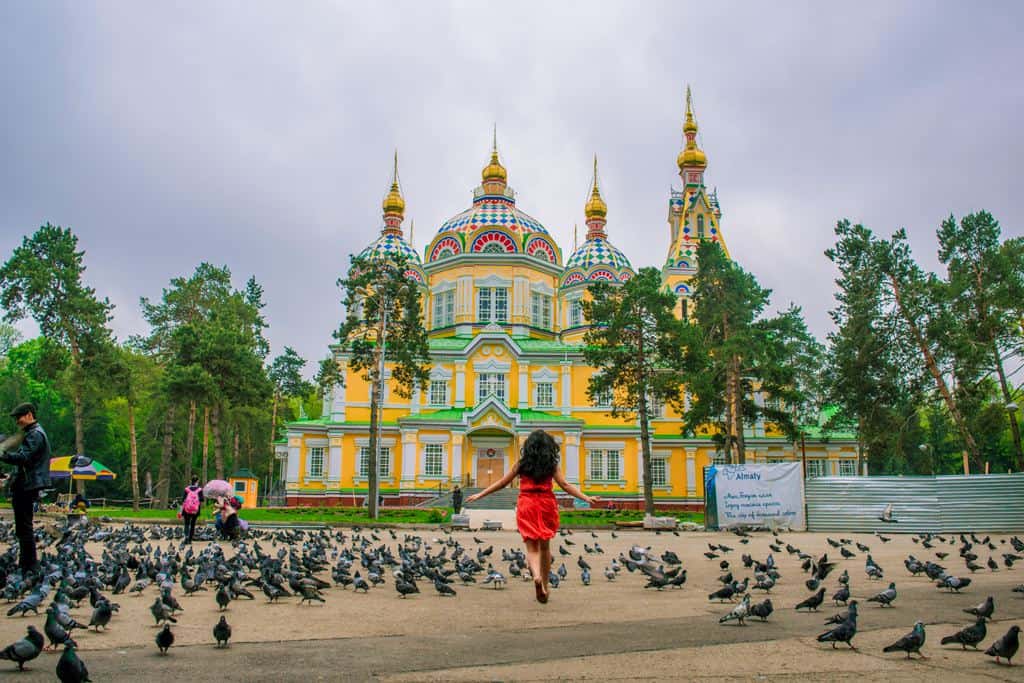 Almaty City is definitely one of the most beautiful cities I have ever been to. And if you have always wanted to go to a European destination but haven't been able to due to Visa or money constraints.
Then, Almaty is the place for you. You can plan a trip here and enjoy a comfortable vacation here or you can backpack around this city, it is up to you. This city caters to all kinds of travelers so you will always find something or the other to do here.
We definitely love the vibes of this city and the places near it. And we sincerely hope to return here someday soon.
Hope this article was useful in planning your trip and do let us know in the comments if you have any questions.