Planning a trip to Jaipur soon? What is the best time to visit Jaipur? Should you plan a trip in December?
Well, these are just a few questions that most of us ask when planning a trip to some new destination. And thankfully, I have the perfect answer for you. Till date, I have been to Jaipur numerous times now, as a weekend getaway or for a longer vacation and each time I have been pleasantly surprised by my experience here.
So, after visiting Jaipur in different seasons and months, here is my take on when you should visit Jaipur to enjoy your trip to the fullest!
About Jaipur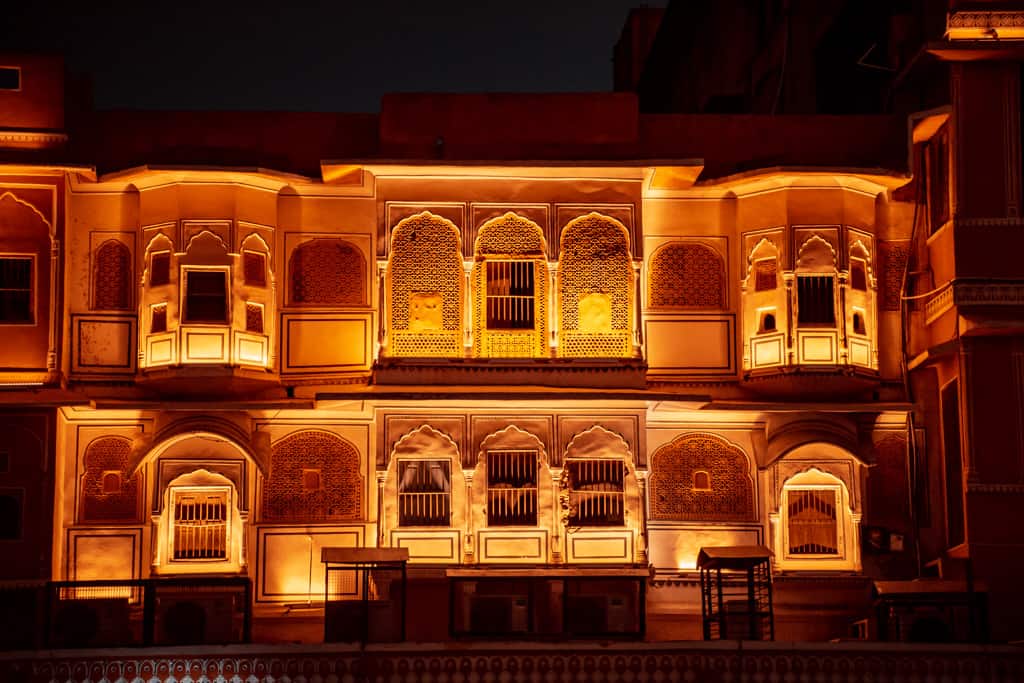 Popularly known as the Pink city of Rajasthan, Jaipur is home to beautiful palaces, colourful bazaars, majestic forts, and a vibrant lifestyle. The rich culture and heritage of this city attracts tourists from all over the world and makes it one of the best tourist destinations in India. You can make your way through this city and get lost in the past while enjoying your present day adventures here.
This city is the ultimate holiday destination and offers a wide range of activities to experience the culture, heritage, and history of this city. Surrounded by the Aravalli ranges, this city also serves as a gateway to other popular destinations in Rajasthan such as Udaipur, Jodhpur, Jaisalmer, and so on.
What is the Best Time to Visit Jaipur?
There are a lot of things that you need to consider when you are deciding the date and month for your weekend trip to Jaipur. From budget to the activities available during the month, you have to consider a lot of possibilities and then decide on the time that suits you best to visit this heritage city.
To help you out with your dilemma, we have listed down the best time to visit Jaipur according to your budget or your desired activities.
Best Time for Sightseeing
Ideally, the average temperature in Jaipur through most part of the year is between 25 and 35 degrees Celsius. But since the climate of Jaipur is affected by its desert location, it can become too hot or cold here at times. If you visit the city in summers, then the temperature can easily rise to 45 degrees Celsius and it can become a little unbearable to explore the city during the daytime.
Jaipur in monsoon is a good time to visit as the entire city is covered in fresh and lush green but the continuous rainfall can make it somewhat harder to sightsee. And winters in Jaipur is the peak season so, the entire city will be crowding with tourists at that time, including international tourists.
If you wish to explore Jaipur without the crowd, then I feel that September to November or March to April is a good time to visit Jaipur for sightseeing purposes.
Best Time for Weather
Of course, weather plays a major role in deciding when to visit Jaipur, especially seeing that it can be extremely hot in the summers here. This is why November to March is the best time to visit Jaipur if you wish to enjoy a cool temperature but no incessant rainfall to accompany it. During the winter months, the days are cool and pleasant while the nights can be a little chilly, so be prepared.
Also, December and January are the peak months to visit Jaipur due to the Christmas and New Year celebration. So, if you wish to avoid the crowds, then plan a visit in November, February, or March.
Best Time for Budget-Travelers
For all the backpackers and budget-travelers out there, money is a huge factor when planning their trip to Jaipur. After all, no one wants to spend more than their allocated budget on a trip and end up being broke by the end of it.
As per my experience, summers and monsoon in Jaipur are the off season as it is either too hot or too wet. So, tourists don't opt to visit Jaipur during the months of May – September. There are a lot of businesses shut during the monsoon so, plan accordingly. Moreover, you will be able to get good deals on flights and hotels during these months as there are barely any tourists for the locals to indulge.
Best Time for Activities
From going on a jeep safari to enjoying a hot air balloon ride, there are a lot of fun activities to do in Jaipur. You can even do tandem paragliding, boating in Ramgarh lake, camping, and a lot more during your trip to this gorgeous city. However, these activities are not accessible throughout the year so, you need to choose the time of your visit wisely to experience them.
For most part, you can visit Jaipur anytime between October and June to enjoy most of these activities.
Best Time for Festivals
A great way to learn more about Jaipur city is by attending a festival or event here to interact with the locals and witness the festivities. There are five major festivals or events conducted in Jaipur that you might wish to witness – Elephant Festival, Teej Festival, Kite Festival, Jaipur Literature Festival, and Gangaur Festival.
Most of these festivals take place between October and April so, you can plan your visit to coincide with the festival and experience something new here.
Also Read: When to Visit Udaipur?
Jaipur Travel Seasons
Now, there are ideally three travel seasons in Jaipur: peak season, shoulder season, and off season. Here is everything you need to know about these seasons to plan your trip to Jaipur.
High Season (December-February)
Are you looking to meet other people and explore the magnificent forts and palaces of Jaipur? Or maybe you like partying at night? Or just someone who loves to experience adventure activities but not in a hot or humid climate?
If your answer to the above questions was a yes, then the best month to visit Jaipur is between December and February. And of course, the reason why so many people prefer this time is because the weather is cool and pleasant.
With the monsoons being over, the temperature in Jaipur during these months ranges between 5 and 20 degrees Celsius and the chances of rainfall are quite slim as well. As a result, it is the perfect weather to enjoy your vacation.
Jaipur's weather in December and January is particularly perfect for the vacation as they are the most happening months as well. Due to Christmas and New Year, there are many cafes here that are beautifully decorated and the party scenes are completely lit at the time.
Oh, and this is the perfect time to enjoy activities such as paragliding, hot air balloon ride, camping, and on as well. Another thing that might make you stick around in January is the Kite Festival that is held for three days every year and is such a lively affair. Apart from that, you can always attend the Elephant Festival or the Jaipur Literature Festival that are held during the winter months as well.
However, do remember that the prices for taxis, hotels, flights, etc. are quite high in comparison to the off-season or the monsoons.
Shoulder Season (March, October-November)
Honestly, shoulder season is my favourite time to visit Jaipur. This time is perfect for anyone who loves clicking photos (Instagram influencers, I got you!), anyone who avoid crowds, or if you are planning a budget solo trip or with friends. This is because the forts, bazaars, and palaces are mostly empty during these months so, you have the place to yourself.
And if you are looking to experience something unique, then March is a great time as the Gangaur Festival and Elephant Festival is held during this month in Jaipur. During the Elephant festival, you get a chance to paint these amazing creatures using organic colors, wash them, and feed them. Doesn't that sound absolutely charming?
But the best part about visiting in this season is that the flight tickets, food, cabs, etc. is quite cheap. However, do keep in mind that it can be a little warm and humid at night but overall, it is bearable with temperature staying under 30 degrees Celsius at all times.
Low Season (April-September)
Jaipur in monsoon and summer is a big No-No and is also considered the off-season to visit this destination. The summer months of April to June can be a little brutal with the temperature rising as high as 40 degrees Celsius. And while monsoon season does bring a little respite from the heat, it is definitely not ideal for tourists who are sightseeing. This is because in monsoon, water logging is quite common so, it can be difficult to move around.
Furthermore, a lot of amazing activities such as jeep safari, paragliding, hot air balloon ride, etc. are not operational at this time. Wait, so does this mean that Jaipur is not worth visiting in monsoons?
Well, it depends a lot on what you wish to see and experience. If you want to see Jaipur in its fresh and blooming phase, then monsoon is definitely a great time to visit. It won't be as much fun without partying or adventure activities in monsoon, but you can still visit the forts, try the local cuisine, shop in the bazaars, and do a lot more. As for the summer months, it will be a little hot but you can still enjoy the adventure activities such as jeep safari, paragliding, etc. so that's a win.
Both summer and monsoon season can be a little hard to visit Jaipur but there are perks as well. So, it ultimately depends on what kind of experience you are looking for.
Other Guides: Places to Explore in Udaipur
Climate of Jaipur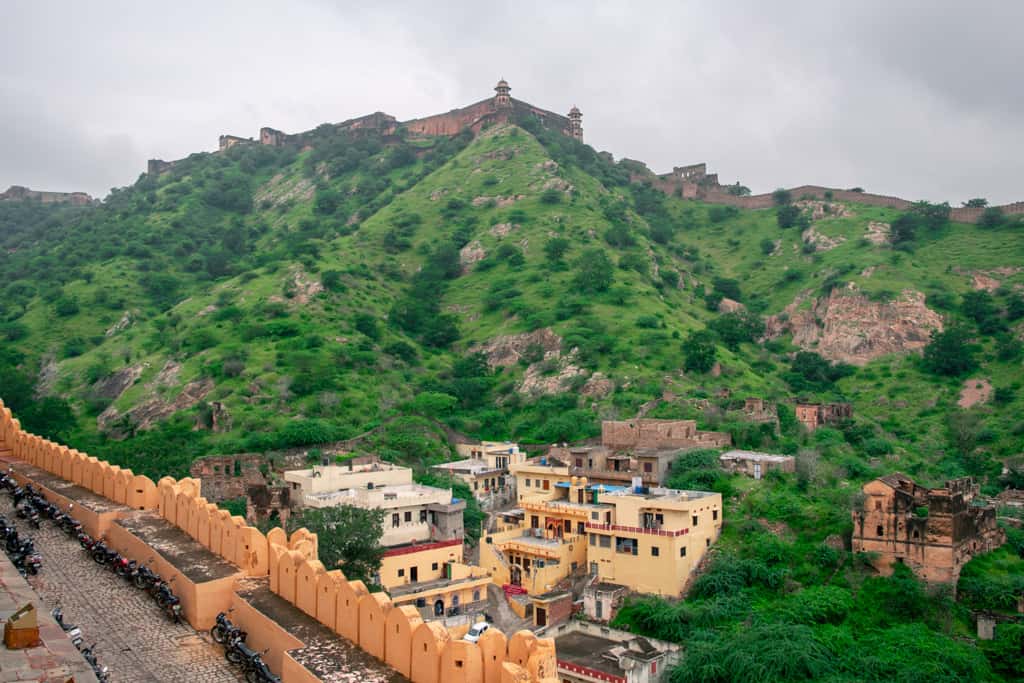 Climate of Jaipur can be segregated into three major parts: Summers, Winters, and Monsoon. Each climate offers different activities and opportunities to the visitors that we will be covering below.
Jaipur in Summer
Starting from April and ending in June, Summers is the hottest and driest time to visit Jaipur. The average temperature during this time is around 45 degrees Celsius with the hot winds blowing throughout the day, making it difficult to explore the city.
But it is a good time to visit if you want to avoid crowds and you can end up getting great deals on flights, hotels, taxis, etc. as well. Just remember to wear light, cotton clothes and drink lots of water and juices throughout the day. Also, carry a pair of sunglasses and a hat for sightseeing.
Jaipur in Monsoon
Most people would advise you against visiting Jaipur in the monsoon season but I personally find it a great time to visit. The entire city looks fresh and vibrant after the rainfall and shows you a different side that you won't witness in winters or summers.
You can plan a visit in September as the rainfall reduces considerably by that month so, you can explore around without too many tourists and enjoy the reduced prices at everything as well.
Jaipur in Winter
Winters, from October to March, is undoubtedly the best time to visit Jaipur. During the day, the temperature remains around 20-25 degrees but the night can turn a little chilly with temperature dropping to 5 degrees Celsius or below. But it is a good time for exploring and enjoying jeep safari, paragliding, etc. activities in Jaipur.
A lot of amazing events such as Kite Festival, Elephant Festival, Jaipur Literature Festival, and so on are also conducted during this time, not to mention Christmas and New Year Celebrations. However, make sure you pre-book everything because this is the peak time to visit Jaipur and if you delay, the prices might rise.
Monthly Breakdown of Weather in Jaipur
Here is a breakdown of what you can expect to do in Jaipur in each month.
January
One of the peak months to visit Jaipur, the weather in January is cold and dry with average temperature ranging around 20 degrees Celsius during the day time. It can become a little chilly at night as the temperature drops down to 8 degrees Celsius or less so, pack accordingly.
This is a great time for attending festivals and shopping and you could even choose to celebrate New Year here. But beware, the prices of flights, hotels, etc. skyrocket at this time.
February
If you wish to enjoy the cool, dry climate of Jaipur with fewer crowds, then February is the best month to visit Jaipur. You can enjoy the outdoor attractions, attend the festivals, and indulge in some adventure activities during this month.
March
The last winter month to visit Jaipur before rainfall and heat starts picking up is March. It is still a good time to visit for outdoor attractions, festivals, and activities. Moreover, there are fewer tourists around so the price of the flights and hotels also reduce slightly during this month.
Other Guides: Amazing Places to Travel to in Jaisalmer
April
This is the onset of summers in Jaipur and it can become a little hot and dry during this time. The hot winds start to blow as well but if you are planning to visit Jaipur for the activities and sightseeing, this is still a decent month to consider.
May
May is definitely hot with temperature soaring above 40 degrees Celsius during the daytime and it becomes more humid as well. As a result, visitors find it slightly hard to explore and lots of businesses shut down during this time as well. If you just wish to visit the forts, palaces, etc. in Jaipur, then you can still plan a visit and enjoy the low prices on hotels, flights, and everything.
June
June is the start of the monsoon season so, while the temperature still stays in the range of 40 degrees Celsius, there is occasional rainfall to bring you some relief. You can expect thunderstorms and increased humidity during this month which makes it not-so-ideal for visiting Jaipur. But you do get amazing deals during this time.
July
In July, the rainfall and humidity increases in Jaipur but it is not as worse as the Mumbai rains. You might encounter flooded streets which can make it difficult to travel around. However, you will also get cheap hotel and flight tickets so if you are planning a budget trip, then this is a good month to consider.
August
August is the wettest month in Jaipur with temperature ranging around 30 degrees Celsius. Due to the heavy downpour, it is difficult to explore the city and many businesses have shut down completely during this time. But the hotel prices are the cheapest and the weather is slightly bearable for sightseeing too.
September
This is the end of the monsoon season but you can expect regular rainfall for half of the month. The temperature increases a little during the daytime but the nights are cool and water-logged roads might affect your plans for exploring around.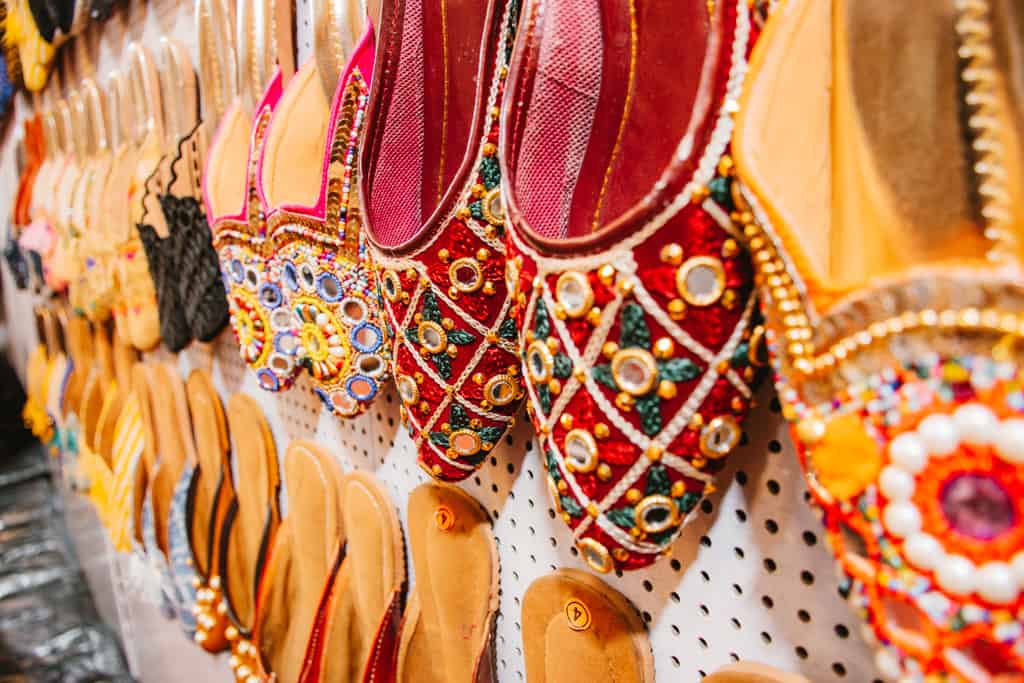 October
October is the shoulder season so it doesn't rain anymore and the temperature is below 30 degrees Celsius, making it a pleasant weather for exploring. Many businesses have reopened in this month and there are fewer tourists around.
If you want to enjoy Jaipur in its blooming state, then October is a great time to visit.
November
November is the start of the dry winters and is one of the best months to visit Jaipur. The temperature stays below 25 degrees Celsius during the daytime and the nights can be chilly. You can indulge in all kinds of activities and attend the local festivals as well.
But since this is the peak season, expect to pay higher prices for the hotels, flights, cabs, etc.
December
December is one of the best times to visit Jaipur as the temperature stays below 20 degrees Celsius, making it the perfect weather for exploring in the city. There are lots of festivals, bazaars, and activities to experience during this month but book everything in advance.
Due to Christmas and New Year rush, everything tends to sold out quickly and can be a tad bit expensive too.
More Guides: Bharatpur Places to Explore
Verdict
Well, now you know that the weather, activities, flight and hotel costs, and so on tends to vary in Jaipur, depending on the season. This can make it slightly difficult to know the best time to visit Jaipur but with this guide, I am sure you won't have that trouble anymore.
If you want to meet people and enjoy the different activities offered in Jaipur, then plan a visit in the months of October – March, with December and January being the best. Summer is great to avoid crowds and enjoy the activities and sightseeing in Jaipur.
And if you want to see the other side of Jaipur with lush greenery, then monsoon would be perfect time to visit.
Still confused? Feel free to comment below your questions and I will try to answer at the earliest!