Do you love spending time in nature and scenic surroundings? Does wildlife sighting bring you unbounded peace and satisfaction? If yes, then you might want to pay a visit to the amazing Keoladeo National Park, aka Bharatpur Bird Sanctuary, in Rajasthan. And that's not all, there are several other places to visit in Bharatpur on a weekend trip over here.
From the gorgeous palaces and forts to the wide range of fauna, there is a lot to explore over here. And I did just that by planning a 2-day weekend trip from Delhi to this offbeat paradise.
In this article, you will find everything you need to know to plan a trip here including a list of the most awesome places to visit in Bharatpur to make your trip legend-wait for it-dary. Legendary!
Places to Visit in Bharatpur
Where is Bharatpur?
Now, I understand that if you don't live in Rajasthan or Delhi, you might not be familiar with Bharatpur. A frequent question asked to me whenever I tell someone about Bharatpur Bird Sanctuary is that 'Where is Bharatpur?'.
Bharatpur is actually located in Rajasthan and is situated close to some major cities like Jaipur, Delhi, Agra, and so on. This small city in Rajasthan is barely around 180 km from Delhi and is considered a part of the National Capital Region (NCR). Known for its diverse flora and fauna, this city has an amazing history as well and was earlier known as the Eastern Gate of Rajasthan.
While now this place is famous for the Keoladeo National Park, once it was home to the impregnable Lohagarh Fort and was the pride of Rajasthan. So, there are many places to visit in Bharatpur to learn the historical significance of this place and indulge yourself in the natural surrounding.
Best Places to Visit in Bharatpur and Nearby
Keoladeo National Park (Bharatpur Bird Sanctuary)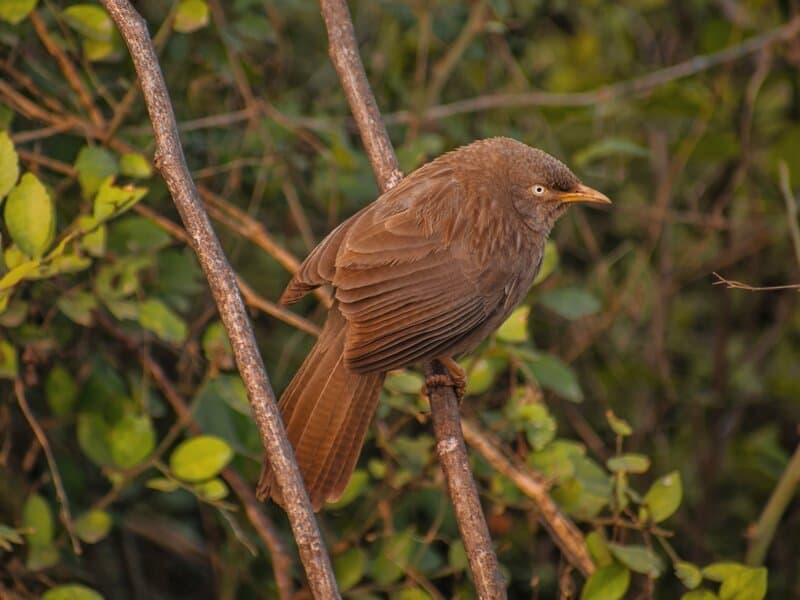 One of the top places to visit in Bharatpur is the Keoladeo National Park aka Bharatpur Bird Sanctuary which is perfect for nature lovers. Although, you will find more than 280 bird species here, this park had a diver flora and fauna that makes it so famous among the casual tourists too.
You can spend time in the calm, serene nature while listening to the sounds of the nature. A walk in this park will offer the much-needed relaxation to refresh your mind and soul. You can enjoy the chirping of the birds, magical sunsets and sunrises, list mist during the winters, and a lot more during your visit here.
And if you are a bird photographer, then this place is a paradise for you with its 366 species of birds.
Dholpur Palace
Dholpur Palace, also known as Raj Niwas Palace, is a heritage site that is best known for its red sandstone work. This beautiful palace was built around 1876 to welcome HRH Albert Edward during the British rule and has been home to generations of Royals. With a rich and vibrant history, this palace will transport you back in time as it still reflects the Rajasthani architecture of that era.
More magnificent that ever, Dholpur Palace was refurbished and turned into a lavish accommodation in this region. The exterior or Red Stone and the interiors that are a blend of Indian and European architecture, especially the Dutch ceramics will leave you speechless when you set foot here.
The garden of this palace is 13 acres and is full of the birds from the National Chambal Sanctuary and the national bird of India, Peacock. You can opt to stay in one of the 40 rooms that are offered here and get pampered like a royal yourself during your stay here.
Bharatpur Museum (Government)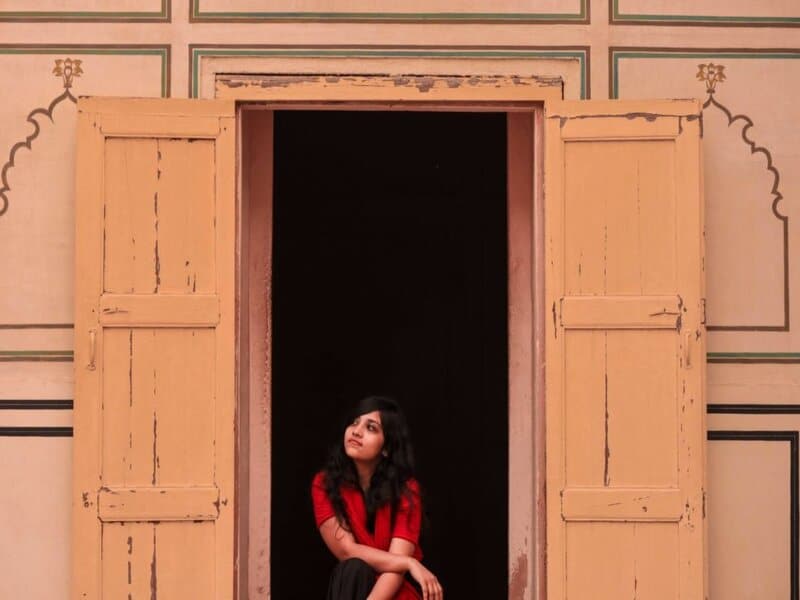 One of the best things to do in Bharatpur is to visit the Bharatpur Museum which is managed by the government. This museum is located in Lohagarh fort and was established in 1944 to showcase the history and culture of Bharatpur.
At Bharatpur Museum, you will find sculptures from old village excavations such as Bayana, Noh, Mallah, and so on. These villages existed between the Kushan period (1st century AD) and the 19th century and have a fascinating tale to tell.
Apart from that, you will also find weapons here that were used in the battles during the medieval period along with several manuscripts, paintings, local crafts, etc. You will also find an art gallery in the Bharatpur museum where you can see the paintings of Maharajas and miniature paintings of mica, peepal tree leaves, and lithopapers.
Timing: 12:00 – 20:00 (Tue to Sat); 09:00 – 20:00 (Sun)
Entry Fee: 20 INR (for Indians), 100 INR (for Foreigners)
Deeg Water Palace
Situated approximately 38 km from Bharatpur, Deeg Water Palace is another great place to visit on your Bharatpur trip. A place of architectural signification, Deeg was established by Maharaja Badan Singh in 1755 who founded the Jat kingdom and built the summer palace in Deeg.
There is also an adjoining Deeg Fort here and the Palace itself is divided into several complexes by the successors of Maharaja Badan Singh. These palace buildings lie together beside a central garden which is flanked by two large reservoirs.
You have the Gopal Bhavan, Suraj Bhavan, Hardeo Bhavan, Krishna Bhavan, Keshav Bhavan, and a lot more buildings inside this palace. And the large sprawling garden offers a nice, peaceful environment to enjoy while exploring the numerous palace buildings here.
Timing: 09:00 – 18:00
Entry Fee: 20 INR (for Indians), 250 INR (for Foreigners), and 20 INR (SAARC Visitor)
Chawad Devi Temple
One of the best things to do in Bharatpur is to visit the peaceful Chawad Devi Temple in Bharatpur which is a symbol of history, culture, and traditions of Bharatpur. Since this temple is not often visited, one can enjoy the solitude here and rejuvenate in a serene environment.
If you have time, then plan a visit to this temple early morning and you will have a blissful experience here.
Lohagarh Fort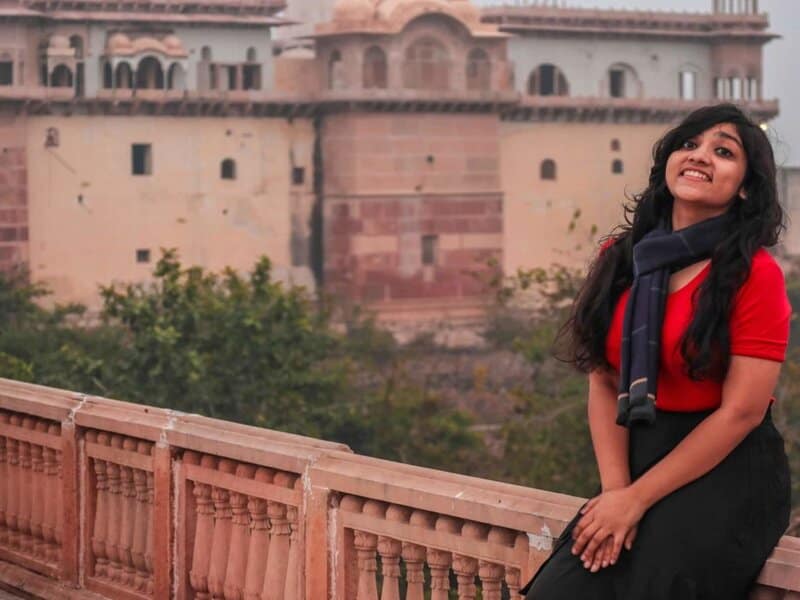 One of the top places to visit in Bharatpur is the Lohagarh Fort which was built in the 18th century by Maharaja Suraj Mal. This fort was one of the strongest forts ever built in India and has withstood several attacks throughout the years.
One of the finest architectures in Rajasthan, Lohagarh Fort isn't flamboyant and instead boasts of unassailable strength. There are two towers built within the fort to celebrate Maharaja Suraj Mal's victories over the British and the Mughals.
There are two gates in the fort, the north gate is known as Ashtdhaatu (eight-metal) gate and the south gate is known as the Chowbhurja (four-pillared) gate. Inside the Lohagarh Fort, you will find some interesting monuments like Mahal Khas, Kishori Mahal, Koti Khas, and Moti Mahal.
Surrounded by a deep moat, Lohagarh Fort is impregnable and is living proof of the bravery and chivalry of the Jat rulers that ruled in Bharatpur.
Banke Bihari Temple
Banke Bihari Temple is one of the most famous places to visit in Bharatpur as it is one of the seven temples dedicated to Lord Krishna. The architecture of this temple was inspired by Vrindavan's temple and has a Rajasthani style that makes it very attractive to look at.
The main hall of the temple is decked with the idols of Lord Krishna and Radha. The adjoining verandah is filled with gorgeous paintings that narrate the childhood of Lord Krishna.
Every day, the temple sees a lot of devotees that come here to pray to Lord Krishna by chanting his name and spend some time basking in the auspicious environment of this temple.
Laxmi Mandir
Another popular shrine in Bharatpur is the Laxmi Mandir which is said to be around 400 years old. A tribute to Laxman, Lord Ram's brother, this temple is situated the market of Bharatpur and hosts several Hindu festivals throughout the year.
It is believed that Saint Dass inspired the King of Bharatpur to built this temple to quench the King's thirst for victory in battles. The temple is home to the idols of both Laxman and his wife, Urmila and was made using a combination of 8 metal known as 'Ashtdhaatu'.
As a result, it attracts a lot of attention and the marble and sandstone used in the temple with the Rajasthani architecture just makes this temple more mesmerizing to look at.
You will also find smaller idols of Bharat, Ram, Shatrughan, and Hanuman here.
Bharatpur Palace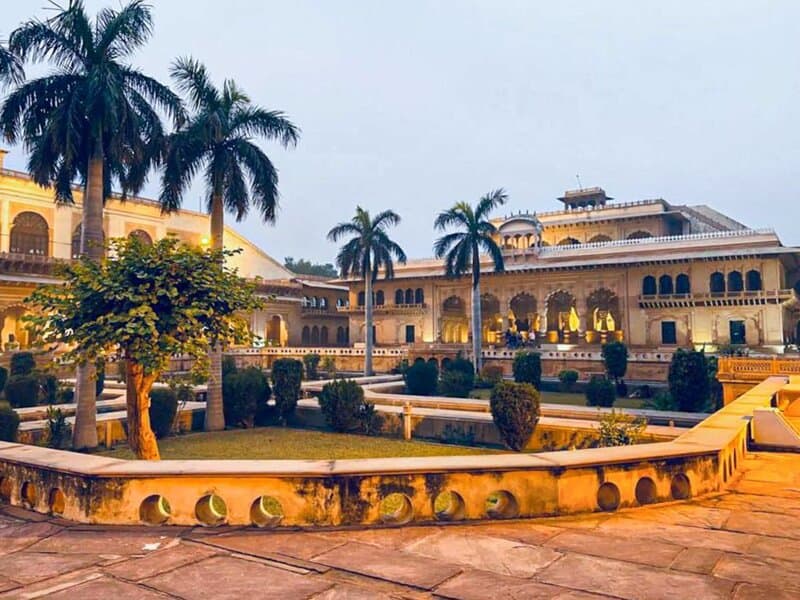 If you want to make your Bharatpur trip more memorable, then one of the best things to do in Bharatpur would be to visit the Bharatpur Palace. Bharatpur Palace, built in the 2nd century, displays the rich legacy of Rajasthan and is one of the best places to visit in Bharatpur.
This magnificent palace offers an insight into Bharatpur's culture and also has a museum, Kamra Khas, where you can take a look at the wide range of antiques. This palace was made using a blend of Mughal and Rajput architectural styles. Made out of white marble with richly patterned floors and walls, this palace has been converted into a heritage hotel now.
So, make sure that you either plan to stay here for the night or set aside a few hours to explore this grand and majestic palace in Bharatpur.
Shri Ganga Maharani Ji Temple
One of the most beautiful temples in Rajasthan, Shri Ganga Maharani Ji Temple is situated in the heart of Bharatpur and is a sight to behold. Made from pristine white marble, this temple was built by Maharaja Balwant Singh who requested all the prosperous residents of the city to donate their one month salary to aid in the creation of the temple.
The architecture of this temple is unique and the almond-color Bansi Pahadpur stone used in the construction lends it an ethereal quality. This temple is magnificent with its sculptures, carvings, mosaic work, engravings, and geometrical perfection that no other temple in the region can challenge the architecture of this temple.
Fatehpur Sikri
Built by Mughal Emperor Akbar between 1572 and 1585 AD, Fatehpur Sikri is a fortified city that was the capital of Mughal Empire for 15 years. Situated at a distance of 23 km from Bharatpur, this city of red sandstone is one of the top places to visit in Bharatpur.
Also known as the City of Victory, Fatehpur Sikri was declared a UNESCO World Heritage in 1986 due to the brilliant architecture and heritage of the city. It was a blend of Persian and Hindu architecture and was mostly made using red sandstone. This city is also home to some historic monuments like Jama Masjid, Buland Darwaza, Jodha Bai's Palace, Tomb of Salim Chisti, and more.
Each building here is significant and gives a glimpse into the Mughal rule. Here, you will also find three palaces for Akbar's favorite wives who were from different religions. Fatehpur Sikri is undoubtedly an Indo-Islamic masterpiece and looks completely magical during a sunset.
Agra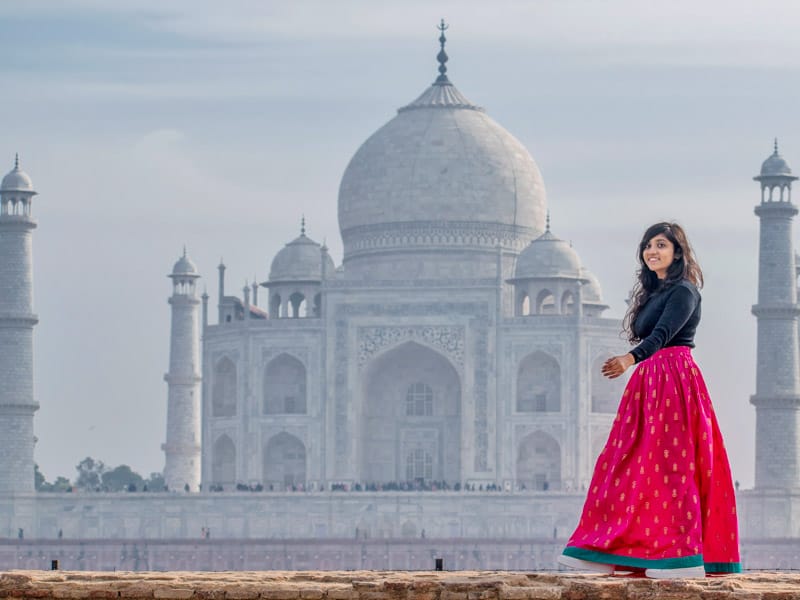 A popular tourist destination, Agra is located at a distance of 56 km from Bharatpur and makes for a great day trip from this city. The city is located on the banks of Yamuna and is home to one of the seven wonders in the world – Taj Mahal.
Agra will give you a sneak peak into the architecture and culture of the Mughal Empire and is home to two other UNESCO Heritage Sites – Fatehpur Sikri and Agra Fort. With its long and rich history, this city is quite popular among tourists and is a paradise for history buffs and architecture enthusiasts.
You can easily spend a day here admiring the handiwork on the historical monuments here and then enjoy a peaceful sunset on the banks of Yamuna river.
Mathura
Another great place to visit from Bharatpur is the sacred city of Mathura which is the birthplace of the beloved Lord Krishna. Situated at a distance of 40 km from Bharatpur, Mathura is home to many temples that were built during different time periods and is a popular pilgrim destination.
The city stretches beside the Yamuna river where you can find 25 ghats to enjoy the dawn and dusk here. At dawn, you can witness the locals or the tourists a holy dip in the river followed by an Aarti (prayer) that is performed every evening after sunset here.
If you truly wish to experience the culture of Mathura, then plan a visit during Janmashtami (Lord Krishna's birthday) or Holi here and you will understand the culture and traditions of this city.
Vrindavan
Another holy city that you can visit from Bharatpur is Vrindavan which is located around 14 km from Mathura. This is one of the oldest cities on the banks of Yamuna and is another popular spot for Lord Krishna devotees as it is said that he spent his childhood here.
You will find several temples of Lord Krishna and Radha here which are surrounded by lush greenery and look quite magical. You can also visit the famous Banke Bihari Temple and the world-famous ISKON Temple here.
Also Read: Which are the Best Places to Visit in Udaipur
Best Time to Visit Bharatpur
The best time to visit Bharatpur is between the months of October and March as you are able to witness the migratory birds at the Bharatpur Bird Sanctuary. The migratory birds start leaving this place around February end so if you don't plan a visit during these months, you could miss out on a spectacular viewing.
It is also a great time to visit this city in Rajasthan as the temperature is quite pleasant at the time. Here is a breakdown of what you can expect to see here in different seasons:
Winter Season (October – February)
If you are planning a quick getaway to Bharatpur then the ideal time to visit would be October. By this time, the rainy season has subsided and the temperature varies between 21 and 34 degrees Celsius. As a result, it is quite pleasurable to explore this city.
The best time to visit Bharatpur is between November and January as during this time, you can view over 300 bird species in the Keoladeo National Park. There are several other places to visit in Bharatpur too that you can explore as the temperature is pleasant for outdoor excursions.
You can also plan a visit to this city in February as you can attend the Brij Festival in that month. The entire city comes to life and you can watch the amazing Raslila performance which depicts the courtship of Lord Krishna and Radha.
Summer Season (March – June)
Rajasthan is the driest state in India and experiences harsh summers. So, a trip here during the summer months should definitely be avoided as it becomes extremely difficult to explore. The average temperature in Bharatpur in summer is around 40 degrees Celsius which will make it unbearable to set foot outside.
Since Bharatpur is to be explored on foot, you won't be able to do anything here during the summer. And worst of all, the migratory birds are long gone by this time so your trip in the scorching heat would be a complete waste.
Monsoon Season (July – September)
During the monsoon season, the temperature in Bharatpur varies between 25 and 33 degrees Celsius. And the rainy season offers a lush green surrounding that many tourists might enjoy. While it is slightly humid during these months, the Keoladeo National Park springs to life during the monsoon season.
If you don't mind a little rainfall and are planning a budget trip, then this is a good time to visit. You will find hotels and guesthouses at a discounted price here although there will be no migratory bird sighting during this season here.
History and Culture of Bharatpur
History of the City
Now, let's discuss the history of Bharatpur that makes it so fascinating to visit this place.
Bharatpur's history dates back to 5000 BC during the time of Pandavas. It is said that Bharatpur was earlier ruled by the Matsya Kingdom, an ally of the Pandavas in the Kurukshetra battle. Also, Pandavas are believed to have spent their 13th year of exile in this place
Another popular story about Bharatpur is that the city was named after Bharat, Lord Rama's younger brother. Also, Laxman was considered the family deity which is why you will find his name appearing on the state steels and the coat of arms over here.
Historically speaking, Bharatpur was the capital of Jat kingdom and was ruled by Sinsinwar Maharajas who were part of the Indo Scythian tribal community that entered India in 100 AD.
In 1733, Maharaja Suraj Mal defeated Khemkaran and then built the city that we currently know as Bharatpur. Since he was really excited about expanding his empire, he built a lot of forts and palaces around here for his subjects and courtesans. The city was well-fortified under his rule and was impregnable.
British troops tried to siege Bharatpur four times but were ultimately defeated. In 1804, the Jats and the British signed a treaty so that the city could be restored under the rule of Jats. A year later, Britishers made the same treat with Marathas and the region was under Marathas rule again.
Culture of Bharatpur
Bharatpur has a vibrant culture with extremely friendly people. Most people stay in joint families here and celebrate the colorful festivals together. One of the most important festivals celebrated in this region is the Braj Festival that is just a few days before Holi.
Bharatpur Bird Sanctuary Details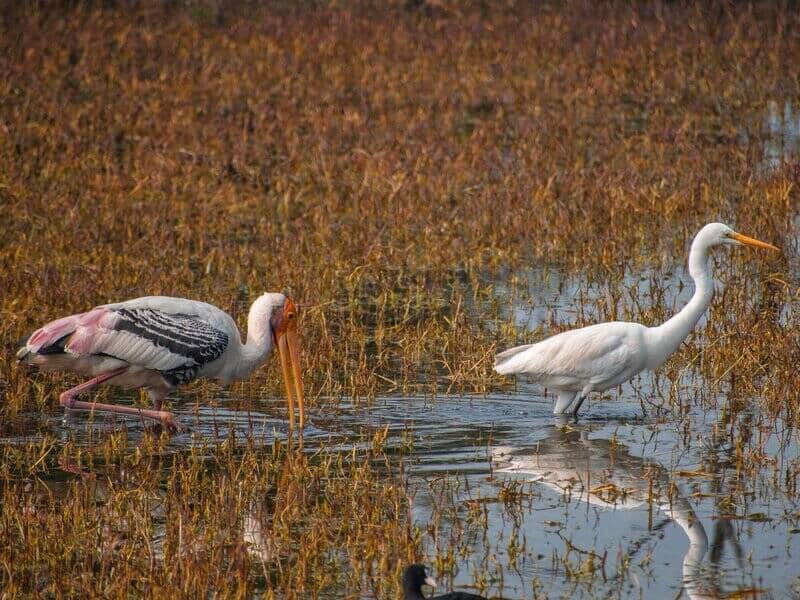 A protected sanctuary, Keoladeo National Park or Bharatpur Bird Sanctuary is home to over 230 bird species. This is a man-made wetland that is made up of woodlands, grasslands, woodland swamps, and wetland swamps.
The reserve is locally known as Ghana and the diverse habitat is home to 366 bird species, 50 species of fish, 7 amphibian species, 7 turtle species, 13 snake species, 5 lizard species, and 379 floral species. And every year, thousands of migratory birds visit this park for wintering and breeding.
This is one of the richest bird sanctuaries in the world and is famous for both nesting resident birds and migratory birds.
History of Bharatpur Bird Sanctuary
Speaking of the world's best bird sanctuary – Keoladeo Ghana National Park or Bharatpur Bird Sanctuary, there is an interesting story behind this marshland. A Bharatpur rulers let the area get flooded a couple of centuries back to turn it into a marsh.
This man-made wetland started attracting a lot of migratory birds every year which is why it is such a popular place to visit among the ornithologists and avid bird watchers.
Earlier from the 1850s to 1982, the area of Keoladeo National Park was used as a duck shooting reserve by the city's Maharaja. In 1976, it was renamed to Bharatpur Bird Sanctuary and was declared as a World Heritage Site by UNESCO in 1985 due to the diverse flora and fauna.
In 1982, the government completely banned grazing here to make this a safe haven for birds and animals living here.
Best Time to Visit for Bird Watchers
For Bird watchers and photographers, the best time to visit Bharatpur Bird Sanctuary is December and February.
Usually, these months offer good light and a clear environment that makes it easier to sight birds and capture photographs. There are a few days when there might be light to thick mist but this could offer a moody tone to your photographs.
January is usually too foggy making it difficult to see the migratory birds or take photographs and same is true for December end. So, make sure that you check the weather in advance before planning your trip.
November and March are not good months to watch the migratory birds. However, if you cannot plan in other months, then March would be better than November.
Entry Fee and Other Charges
Park Entry Fee: 75 INR per person (For Indians), 500 INR per person (For Foreigners)
Video Camera Fee: 600 – 90,000 INR (depending on the camera type)
Guide Charges: 250 INR per hour
Bicycle Rent: 50 – 100 INR per day (approximately)
Cycle-Rickshaw Rent: 150 INR per hour
Park Timings
Keoladeo National Park is open to public throughout the week, except for the months of May and June. The timings of visiting this park are:
06:00 – 18:00 (Summer Season)
06:30 – 17:00 (Winter Season)
Where to Sport Birds and Mammals
There are several amazing places inside the park that will give you better opportunities to spot different birds and mammals.
At the beginning of the park, there is a Sunrise point from where you can enjoy the sunrise and spot a Peafowl as well. Another popular spot inside the park is the Painted Stork Colony where you can watch the Painted Storks nesting, breeding, and feeding their young ones.
Finally, there is the Sunset Point which can often be crowded but offers an amazing view of the sunset, especially if you find a bare tree for photography purpose.
During the right season, you can spot several bird species here such as Indian Darter, Sarus Cranes, and a large varieties of Egrets and Herons.
Transportation Options Inside the Park
There are 4 main modes of transportation inside the park that you can opt for, depending on your fitness level and how much time do you have for exploration.
Explore the Park on Foot
One of the best ways to explore Bharatpur Bird Sanctuary is by walking on the paved path inside the park. The trail in 11 km long and can be really tiring if you are not used to it. In the first 5 km, you see the most migratory birds and then you reach a canteen where you can relax and enjoy some snacks or drinks.
You can further venture inside the park to observe other species of birds and mammals that reside in this park. But remember, if you choose to walk till the canteen, you will be walking a total of 10 km, 5 km going to the canteen and 5 km coming back.
Explore the Park on a Bicycle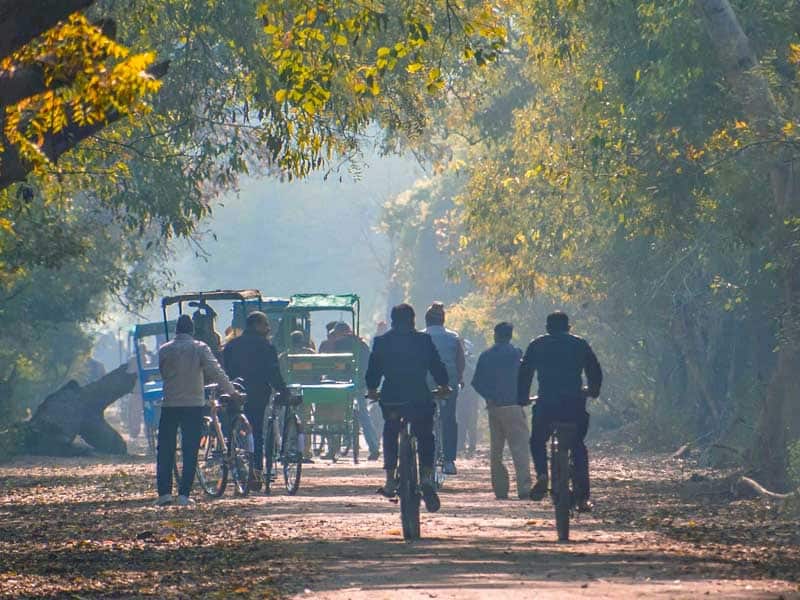 Another great option for exploring the park is by renting a bicycle from the gate and is perfect for both solo travelers and couples. You can make your way around the park at your own pace and enjoy the exploration.
If you are a bird photographer with lighter equipment, then this is the best option for you as you can stop anytime you see a bird you wish to photograph.
Admire the Nature on a Cycle-Rickshaw
If you are a tourist or a bird photographer with heavier lenses, then the best way to explore this park is by hiring a Cycle-Rickshaw.
The government has set the price of the cycle-rickshaw at 150 INR per hour and these rickshaw pullers also act as your guide. So, you won't have to hire a guide separately to explore the park and identify the birds here.
However, if you are a group of more than 10 people, then you have to take a guide with you. It is compulsory and will cost you around 250 INR per hour.
Enjoy a Family Ride in a Horse Carriage
Finally, you can also consider a ride in a Tonga (Horse Carriage) for 150 INR per hour. This option is perfect for families, especially for people who are short on time as you will be able to cover more of the park on a horse carriage in a short duration.
How to Reach Bharatpur
Once you have decided to visit Bharatpur, you need to start planning logistics and choose how you are going to reach this city. Here are a few modes of transportation that you can consider to reach here.
Air
The nearest airport to Bharatpur is in Agra at a distance of 55 km. There are several flights connecting Agra to major cities like Mumbai, Delhi, Varanasi, and so on. From Agra, it is just a 1.5 hour drive to Bharatpur and you will find both buses and taxis available for this route.
Another option would be to go to Delhi or reach Jaipur via train or flight and then hire a cab to reach Bharatpur. This city is well-connected by roads and it will take you around 3 hours to reach from Jaipur and 4-5 hours to reach from Delhi.
Rail
One of the cheapest and most convenient ways to reach Bharatpur is by train. There is a railway station situated in the city, Bharatpur Junction, that is connected to several major destinations such as Jaipur, Delhi, Mumbai, etc.
You will roughly pay around 600 INR for an A.C Chair Car when traveling between Delhi and Bharatpur.
Road
As mentioned earlier, Bharatpur is well-connected by roads so it is possible to drive to this city. So, if you are traveling for a weekend getaway, then you can plan a road trip to this destination.
You can also hire a taxi from either Jaipur or Delhi to reach Bharatpur. A taxi from Jaipur will cost you around 4000 – 5000 INR and a taxi from Delhi will cost you around 5000 – 6000 INR.
Another option is to take the public buses or private buses to reach Bharatpur. There are buses plying from several nearby cities including Delhi and Jaipur so you won't find it troublesome to find a bus. The bus will be economical too if you are on a budget trip.
ATMs in Bharatpur
You will find many ATMs in Bharatpur, both inside and outside the fort. There are a few ATMs present near the entrance of the Bharatpur Bird Sanctuary as well. You won't face any issues while trying to withdraw cash in this city.
Mobile Network in Bharatpur
In Bharatpur, Airtel is the best mobile network provider as it gives the most coverage. The other mobile networks such as Vodafone, Jio, Idea, etc. offer intermittent service in the region so don't depend on them.
If you are an Airtel user, then you would be able to make calls and send emails while staying in Bharatpur. For other mobile network users, it would be better to inform your office and family beforehand about the low connectivity here.
Where to Stay in Bharatpur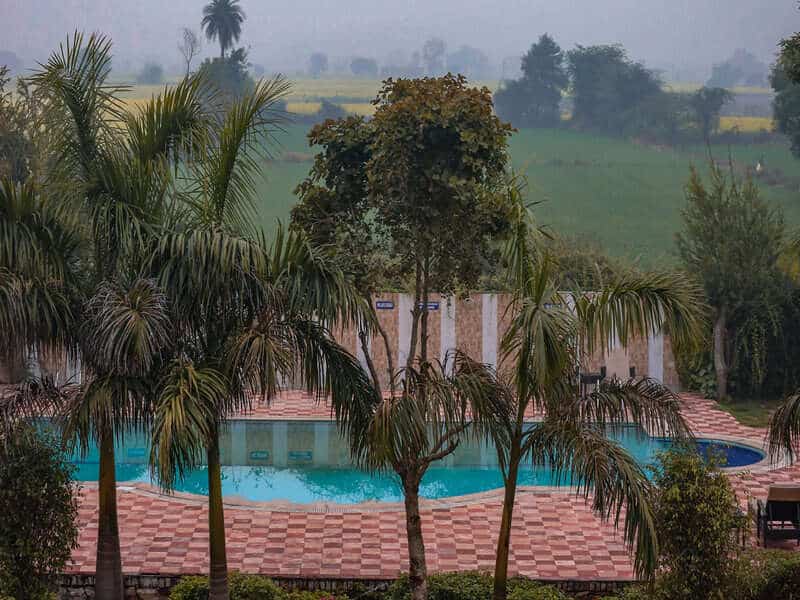 There are several stay options available in Bharatpur, depending on your budget and requirements.
Guesthouses and Lodges
If you are on a budget trip and looking for budget-friendly stays close to Bharatpur Bird Sanctuary, then you can check out nearby guesthouses and lodges. There is an Iora Guesthouse, Kiran Guesthouse, etc. located close to the park.
These guesthouses are clean and the owners are quite nice and friendly over there. Plus, a one-night stay here in a room will only cost you around 1200 – 1800 INR.
Hotels and Resorts
On the other hand, if you are looking for a luxurious trip then you will find several hotels and resorts in the city outskirts. There are many options available close to the Keoladeo National Park such as Udai Vilas Palace, Pride Kadamb Kunj Resort, Regenta Resort, and so on.
These resorts and hotels will cost you around 3000 – 5000 INR (depending on the season) and will offer you access to a lot of amenities and services.
There is also a hotel located inside the Keoladeo National Park named as Hotel Bharatpur Ashok that you can consider. This will make it easier for you to enjoy sunset and sunrise inside the park and you will be able to explore the park at your leisure.
Also Read: Which are the Best Places to Visit in Jaisalmer
Summary
I absolutely loved my weekend visit to Bharatpur and thoroughly enjoyed exploring inside the park while clicking photographs of the migratory birds here.
Trust me, there are lots of lovely places to visit in Bharatpur and you are not likely to get bored during your stay here. If you are a bird or animal enthusiast, a wildlife photographer, or a traveler, you are going to thoroughly enjoy your trip to Bharatpur.
So, if you are looking for a short weekend getaway during the winter season then do consider Bharatpur in your list.