One of the best places to visit from Jaipur (and something on my bucket list for a couple of years) has been Jaisalmer. This is because, until 2019, I hadn't been to a single desert in the world.
And while I did visit desert areas in both Kazakhstan and Vietnam, visiting Jaisalmer's sand dunes was definitely a unique experience and a quite cherished one as well, especially since I knew there are so many awesome places to visit in Jaisalmer.
Honestly, the desert sand dunes stretch for miles and miles around here and you could easily get lost if not careful.
Apart from the amazing sand dunes, the Jaisalmer city itself is quite enchanting. It felt like I am in some Arabian story as the narrow streets are filled with colorful shops and vendors.
And the 'Golden City' is quite apt as you are surrounded by golden-colored buildings and historical monuments everywhere.
In this Jaisalmer travel guide, I will be listing down everything that you need to know to plan a trip to this wonderful Indian city.
Places to Visit in Jaisalmer
The Golden City is full of exuberance and culture and trust me, it has so much for you to explore. The heart of Thar desert, this city has a wonderful past and heritage which will make you look in awe at every nook and cranny here.
Did you know Jaisalmer was a gateway for trading with the Persian countries? Or that the Golden fort is one of the few living forts in India? There is a lot to Jaisalmer than just the Thar Desert and you only realize it once you visit this gorgeous city.
A few things which make Jaisalmer really special is that it happens to be one of the largest wind farms in India. And it is filled with gorgeous Havelis and bungalows which were constructed during the time when Jaisalmer acted as a trading center.
Later, the trading center was shifted to Mumbai by the Britishers but there are still numerous Havelis and mansions that you can explore around here.
Jaisalmer is also known for its Merasi music community which is an important part of their cultural and religious experience.
So, make sure that you check them out when visiting this golden city. All in all, there is a lot to learn about Jaisalmer and the best way to do that is to explore the streets and Havelis of Jaisalmer.
How to Reach Jaisalmer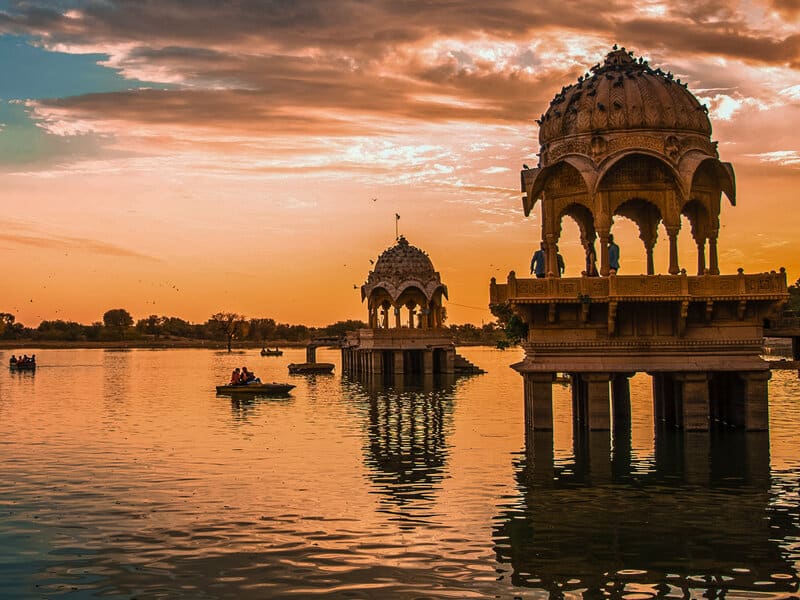 Now, there are different transportation modes available to reach Jaisalmer, depending on your origin point. If you are starting from Delhi, then you can reach using a flight, bus, or even a train. You can also try to reach Jaipur or Jodhpur first if you are traveling from far away.
Here is detailed information on how to reach Jaisalmer.
By Road
Jaisalmer is well-connected with many cities, both inside the state and outside. So, you will find public and private buses from Jodhpur, Jaipur, Mount Abu, Bikaner, etc. to Jaisalmer. You will also find private buses to Jaisalmer from cities like Ahmedabad, Delhi, and so on.
In case there is no direct bus from your city, you can try to reach one of these major cities first and then get a bus to Jaisalmer. But if you are planning to visit here as a short weekend getaway from Delhi-NCR, getting your own private vehicle is cost-effective and fun.
By Rail
Jaisalmer also has a railway station which has direct trains from cities like Jaipur, Delhi, Jodhpur, Ajmer, etc.
You can check out the trains from your respective city to Jaisalmer on the IRCTC website. In case there isn't any direct train, then you can search for a train to cities like Jaipur, Delhi, Jodhpur, etc. and then change the train for Jaisalmer from there.
From the railway station, you will find autorickshaws, taxis, etc. to take you to your accommodation in the city.
By Air
Another option is to take a flight to the Jaisalmer Airport which is situated on the outskirts of the city, around 10-15 km away. But the frequency of flights is less here so it might be better to reach Jaipur by flight and then take a train/bus to reach here.
How to Travel in Jaisalmer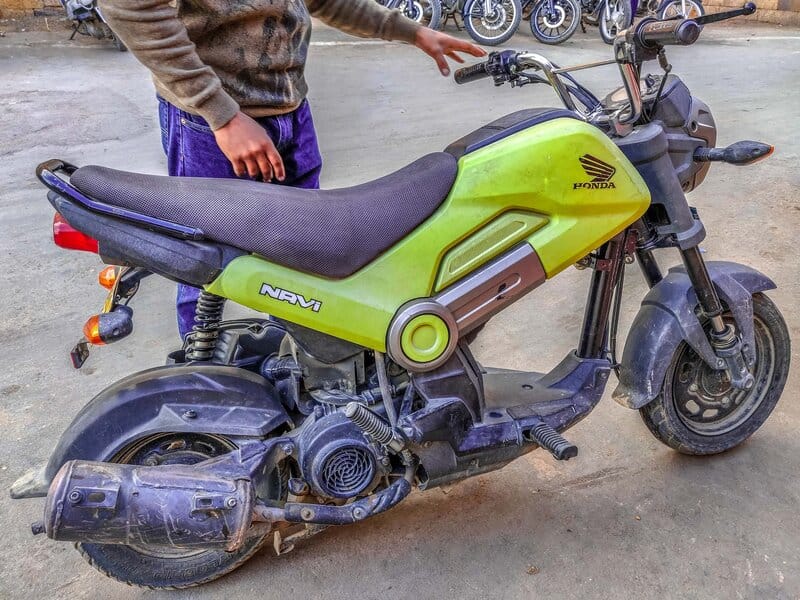 Since this is a small city, you won't find local buses available in the city or to the Sand Dunes. However, there are other modes of transportation available that you can check out.
Auto Rickshaws
You will find a lot of Auto-Rickshaws around here which charge reasonably. So, you can take an Auto to reach the railway station, airport, etc. An autorickshaw will charge you around 50 INR from the Gadisar Lake roundabout.
Walking
Honestly, my favorite way to explore this city was by walking. In the city, the fort and the Havelis are quite close by so you can easily cover it on foot. You can start by covering Moti Mahal, Nathmal ki Havel, Patwon ki Haveli, and then make your way to the Jaisalmer Fort.
Also, make sure that you choose accommodation near these streets as it will make it easier for you to explore on foot.
Two-Wheeler
Another great way to make the most of your short time in this city is by renting a two-wheeler. From bikes to Active, you will find rental shops for almost all two-wheeler brands. This will make it easier for you to explore the nearby sights like Bada Bagh, Vyas Chhatri, Kuldhara Village, and so on.
The cost of an Active is around 250 – 300 INR and of a bike is around 1200 INR for a day. You can also use the scooty to travel to the Sam Sand Dunes or Khuri Dunes and save money on expensive taxis.
Cabs
Finally, if you don't know how to ride a two-wheeler then your only option for reaching the Thar desert is using a cab/taxi. The cost of a private taxi is 2500 INR for a one-sided journey to the Sam Sand Dunes.
However, if you are traveling alone and have opted a group package for the Sand Dunes, then you can share the cost with other travelers.
Best Time to Visit Jaisalmer
Since Jaisalmer stays hot throughout the year, with the minimum daily temperature of 25 degrees Celsius, it is important to plan your trip during the right month.
Winter Season
The best time to visit Jaisalmer is in the winter months when the sun is comparatively bearable. This also happens to be the peak season for Jaisalmer as people from all over the world travel here to enjoy the desert camping experience.
So, if you don't mind a little crowd and wish to enjoy the weather in Jaisalmer then winter is the best time to visit Jaisalmer. You can plan a trip here anytime between October to March to have a lovely experience.
Summer Season
Summer season is the absolute worst time to visit the Golden City. And this is not just because it is scorching heat here at that time but also most of the activities and camps shut down during this period.
As a result, you won't find many options for a desert jeep safari or camel safari to explore the sand dunes.
Monsoon Season
The Golden City experiences very little rainfall so there is no monsoon season really. The summer season ends around July end and the locals start getting for the winter season from August.
So, you can plan a visit in the August – October period but you will not find many activity options to choose from.
Also Read: Which are the Best Places to Visit in Bharatpur
Best Places to Visit in Jaisalmer
Are you looking for a few places to visit in Jaisalmer to make the most of your trip?
Please find below a few of the top places to visit in Jaisalmer, a few of which are my personal favorites.
Vyas Chhatri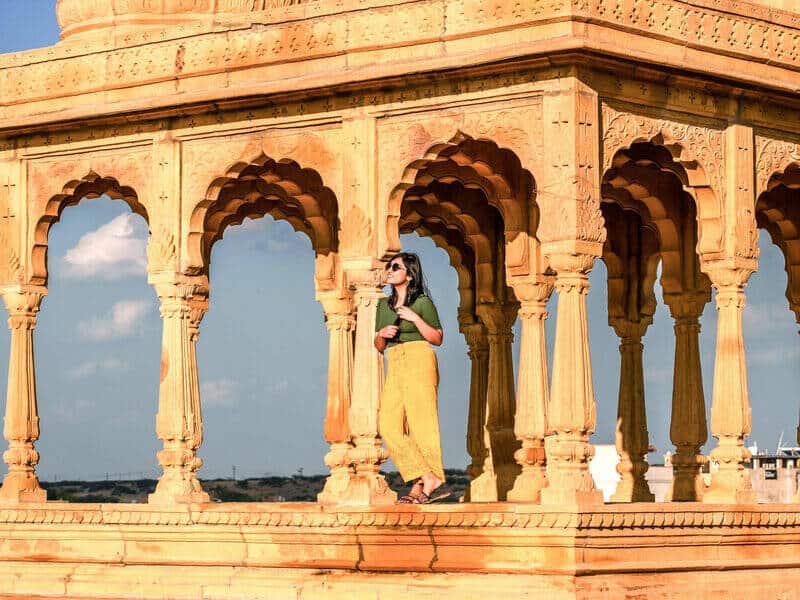 One of the best places to visit in Jaisalmer, Vyas Chhatri is an exemplary example of Rajasthani architecture. This is a cremation ground where you will find cenotaphs dedicated to the sage Ved Vyasa, author of Mahabharata.
This cremation ground for Brahmins has gorgeous yellow sandstone cenotaphs that are placed on a raised platform. And each of the cenotaphs has a beautiful, intricately-designed chhatri on the top of the neatly-carved pillars.
Another great thing about this place is that it is built on a hill and offers an amazing view of the Golden Fort and some mesmerizing sunsets. It is located around 4 km from the city center and is mostly a secluded point so you can enjoy watching the sunset in peace here.
Timings: 8:00 a.m. to 7:30 p.m.
Entry Ticket: 100 INR per person
Bada Bagh
Another popular site to visit in the Golden City is Bada Bagh that features a huge collection of cenotaphs of Jaisalmer Maharajas. Built in the 16th century, the first cenotaph in this region was of Jai Singh II who was best-known for making the city green. So, to honor him, his son Lunkaran built his cenotaph here and created a park around it.
After that, more cenotaphs got added in this region and now it has numerous cenotaphs, more than in Vyas Chhatri as well. As a result, this location makes for a good backdrop for landscape photography as well. It is located around 10 km from the city and takes barely 15 minutes to reach.
Timing: 8:00 a.m. to 6:00 p.m.
Entry Ticket: 100 INR per person
Jaisalmer Fort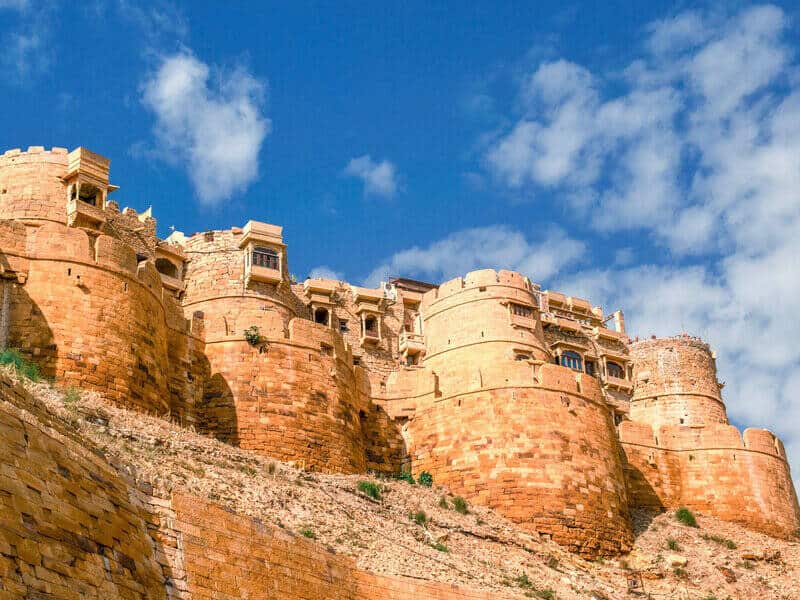 One of the most interesting things about Jaisalmer city is that it has one of the largest forts in Rajasthan and even India that is still used as a residential area.
So, you will find locals living inside the fort as well as outside the fort. Also known as Sonar Quila, this fort was built in 1156 AD under the reign of the Bhati ruler Rawal Jaiswal.
Another interesting fact about this fort is that it has survived attacks from different rulers over the years including Humayun, Ala-Uddin-Khilji, and so on.
So, if you have always wondered how a real-life fort looks like then spend some time in this Golden Fort. You will find several temples, museums, restaurants, markets, etc. also inside to explore.
Timings: Any time
Entry Ticket: Free
Gadisar Lake
One of my favorite places to visit in Jaisalmer, Gadisar Lake is another popular spot which was built under the rule of Raja Rawal Jaiswal.
According to the locals, this rainwater lake was used to provide water to the entire city but now it is mostly used for boating and there are several temples and shrines on the embankment of this lake.
Personally, I loved visiting this place during the evening and just enjoy the evening breeze while watching people boating around the lake.
Timings: Any Time
Entry Ticket: Free
Boat Tickets: 10 INR for a rowboat, 50 INR for a paddleboat, and 100 INR for a shikhara
Salim Singh ki Haveli (Moti Mahal)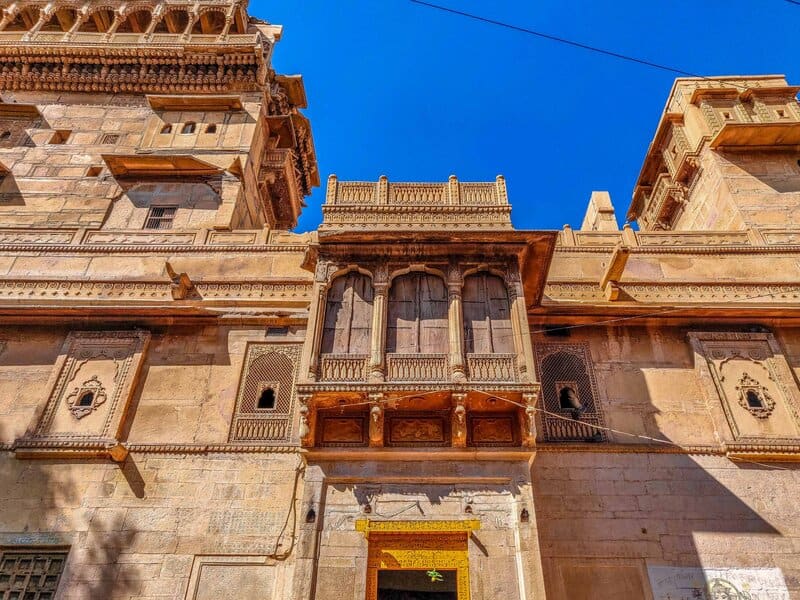 If you are interested in architecture then Salim Singh ki Haveli is one of the best places to visit in Jaisalmer. Constructed in 1815, this haveli was built by Salim Singh and is particularly famous for its unique peacock-shaped roof along with an exquisitely designed pavilion.
This haveli is barely 500 meters from the Golden Fort and gives great insight into the Mughal-style architecture. This haveli has around 38 balconies while the walls here were covered with imperial Mughal-style paintings and there was also a Moti Mahal inside the haveli as well.
Timings: 8:00 a.m. to 6:00 p.m.
Entry Ticket: 50 INR per person
Kuldhara Village
Popularly known as the Haunted village of Jaisalmer, Kuldhara Village is situated around 20 km from the city. This village was built in the 13th century and was a prosperous village where the Paliwal Brahmans lived.
However, the village and the neighborhood were abandoned in the 19th century and there are several reasons cited for it.
Some say it was because of the shortage of water while a 2017 study says that the area was deserted because of an earthquake. One popular theory is that because of the persecution of Jaisalmer's minister, Salim Singh, the area was abandoned.
Whatever be the reason, this village has become a popular tourist spot now so if you love historical places, then one of the best things to do in Jaisalmer would be to stop here on the way to the sand dunes.
Sam Sand Dunes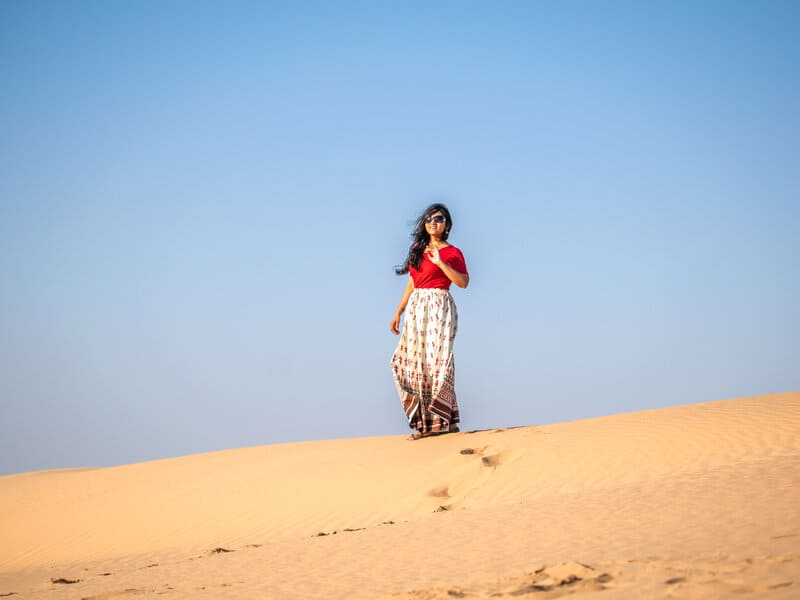 Of course, one of the top places to visit in Jaisalmer is the famous Sam Sand Dunes. This is one of the most authentic desert sand dune sites in India where you can observe 30-60 meter tall sand dunes.
Here, you can enjoy Desert Safari on a camel or in a jeep, both are equally amazing and unique experiences.
You can also stay in one of the camps here to enjoy a sunrise or sunset in the desert along with some local cultural performances and some time away from the city.
Khuri Dunes
Although Sam Sand Dunes is the popular desert spot in Jaisalmer, there is another equally amazing sand dune located in the Khuri village which is comparatively secluded.
So, if you wish to experience the Rajasthan desert at a less popular spot then Khuri Sand Dunes is the perfect place to visit in Jaisalmer. It is located around 40 km from the city and offers the same experiences as the Sam Sand Dunes.
You will find a few camping sites here as well where you can reserve a booking to enjoy a night in the desert.
Nathmal ki Haveli
Another popular haveli to visit in Jaisalmer is the Nathmal ki Haveli which was built around 500 years ago.
This haveli has a gorgeously carved exterior while the interior is covered with miniature paintings. You will find two elephants outside made up of yellow sandstone and are placed as the guards of the haveli.
Apart from that, there are paintings carved in the walls and pillars of horses, cattle, flora, and so on. It is said to have the most unique architecture in Jaisalmer which is why it is such a popular spot to visit.
Timings: 8:00 a.m. to 6:00 p.m.
Patwon ki Haveli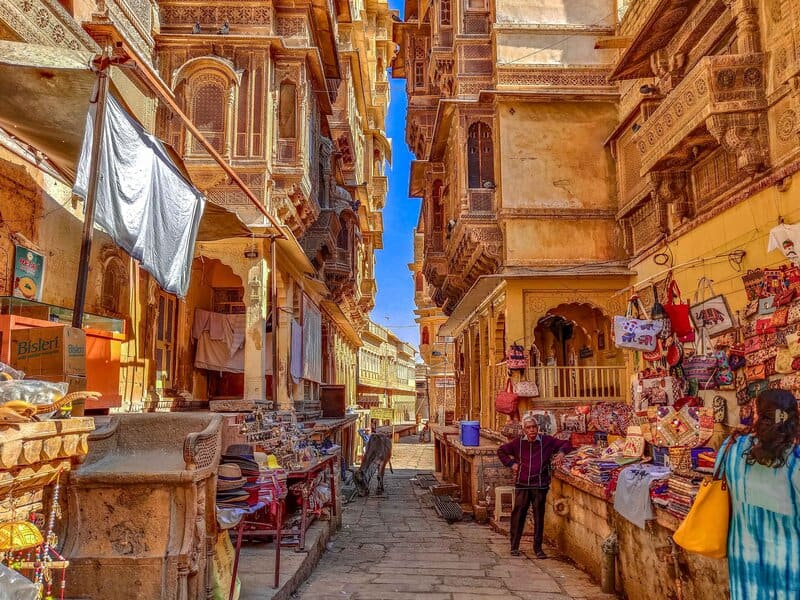 One of the top Havelis to visit in the Golden City, Patwon ki Haveli is actually a cluster of 5 small Havelis and was the first haveli to be constructed in the Jaisalmer city.
The first haveli in this cluster was built in 1805 for Guman Chand Patwa, a renowned trader, who got the 5 separate Havelis built for his 5 sons.
Another interesting thing about this haveli is that it is the largest Haveli in Jaisalmer and located in a narrow lane.
There are jewelry and craft vendors in the lane, just outside the haveli where you can purchase Rajasthani craft and accessories.
The arches and the gateways of this Haveli have different mirror-style work and paintings which make them different from each other.
So, if you are interested in shopping Rajasthani jewelry and designs, then one of the rest things to do in Jaisalmer is to take a stroll in this area and shop to your heart's content.
Timings: 8:00 a.m. to 5:00 p.m.
Entry Ticket: 100 INR per person
Where to Stay in Jaisalmer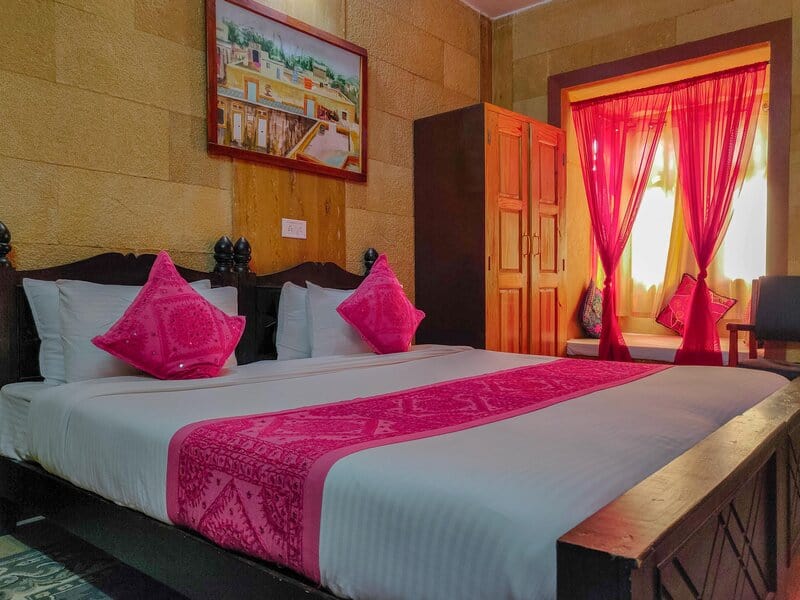 In Jaisalmer city and the Desert area, you will find many options for staying. In the city, you have hostels, guest houses, and luxury hotels as well where you can book a bed or a room.
And you will find a place to stay from 100 INR to 50,000 INR. So, it depends on what kind of facilities you are looking for and what is your budget.
Hostels
If you are traveling solo or with a couple of friends then choosing a hostel would be a good idea. There are many hostels in Jaisalmer to choose from including Zostel, LaVie Hostel, Blue Eye Hostel, and so on.
There are a few other hostels as well so you can use the Booking.com Search Engine below to find the right hostel for you.
Guest Houses and Home Stays
Apart from hostels, there are several guesthouses and homestays available in Jaisalmer as well.
These properties are usually perfect if you are on a tight budget and don't need a lot of fancy facilities or services. Also, it is a great way to interact with the locals and learn about their routines and culture.
Here are a few options for you to check out: Bob Cafe and Guest House, Bob Marley Guest House, Mud Mirror Guest House, and so on.
Most of the guesthouses charge between 200 – 2000 INR and offer free breakfast to the customers as well.
Hotels and Resorts
I stayed at the Mystic Jaisalmer Hotel which was outside the Jaisalmer fort. There are many other hotels as well, both inside the fort and outside the fort that you can consider. Ideally, a room in Jaisalmer in a good hotel will cost you around 2500 – 3000 INR including breakfast.
And you have a few resorts like Suryagarh, Jaisalmer Mariott, and so on. Yes, these resorts will be extremely expensive but if it is luxury you want, then these will be the best choices for you.
For the desert camping, you will easily find budget and luxury desert camps in both Sam Sand Dunes and Khuri Dunes. A few worth mentioning are Le Royal Camps, Dream Royal Desert Camp, Golden Desert Camp, Rajputana Desert Camp, and so on.
These desert camps usually offer a 1-night 2-day package inclusive of a few activities, stay, and meals. And usually, these desert camps start at 2000 – 3000 INR per person with basic facilities.
Also Read: Which are the Best Places to Visit in Udaipur
Where and What to Eat in Jaisalmer
One of the best things to do in Jaisalmer is to try the Rajasthani cuisine which is extremely delicious. This gives you a chance to experience the authentic Rajasthani dishes in Jaisalmer quite easily.
In this section, I have mentioned a few top dishes that you have to try when in the city along with a few restaurants that I personally liked here.
Food to Try in Jaisalmer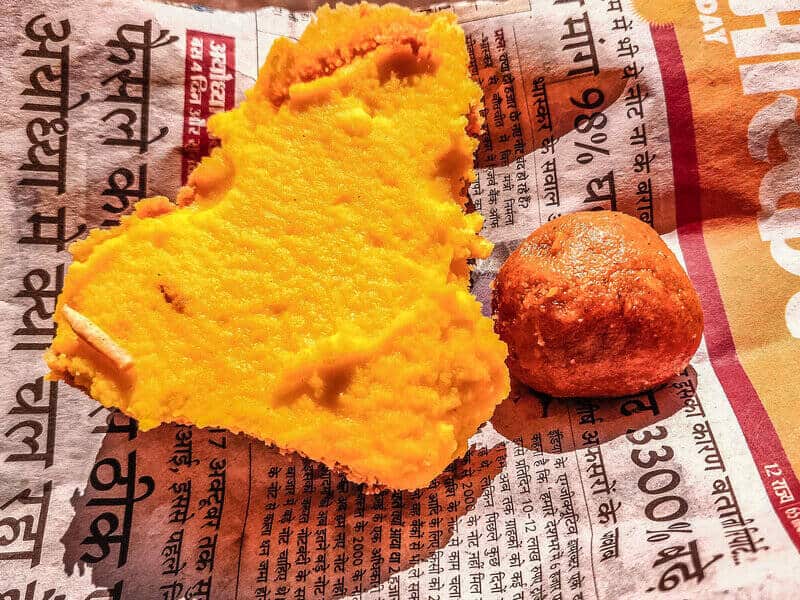 Your trip to Jaisalmer is incomplete if you don't try these street food and local dishes in the city.
Malai Ghevar
One of the most popular Rajasthani deserts to try is a Ghevar which is available in different forms. In the golden city, you will find that Malai Ghevar is the most in-demand and rightly so. The dessert melts in your mouth and leaves a nice aftertaste as well.
Trust me, I fell in love with Malai Ghevar here the first time I tried it. It was soft yet firm and melted in my mouth and they make it fresh so you won't be disappointed.
Cost: 400 – 450 INR per kg
Ghotua Laddoo
Another top Rajasthani dessert to try here is the Ghotua Laddoo. Made up of condensed milk, gram flour, ghee, and sugar, this delightful laddoo is quite different from your normal besan and atta ka laddoo. This one melts in your mouth too and leaves you wanting more every time.
Gatte ki Sabji
With appropriate spices, this Rajasthani dish consisting of besan or gram flour sausages is cooked in a yogurt-based curry. You can have it with roti or rice, it tastes delicious either way.
Ker Sangri
Ker Sangri is a local Jaisalmer dish which is made using local desert beans and capers, found in the desert region. This vegetable dish is slowly cooked using the local spices and chili and tastes amazing with bajra roti.
Pyaaz ki Kachori
Another common Rajasthani dish that you will find in almost all households is the Pyaaz ki Kachori. You will find it almost at street shops and is best-eaten for breakfast usually. You can have it with a chutney or kadi, both taste delicious with it.
Dal Baati Choorma
Obviously, a trip to Rajasthan without eating Dal Baati Choorma is a trip incomplete.
The dish is made up of wheat-bread balls, called baati, which is cooked in a tandoor or firewood with the help of ghee. Apart from this, there is a dal made up of soaked lentils and churma that is made up of bean, wheat, sooji, sugar, and ghee.
Chhaas
Chhaas or Buttermilk is one of the most popular drinks in Rajasthan so, you have to give it a try when in Jaisalmer. You will find it at almost all the street shops and restaurants in the city and it is a great way to keep yourself cool and refreshed under the scorching heat of this region.
Bhaang
Apart from chhaas, bhaang drink and sweets are also quite famous in the city. In fact, there is a government authorized bhaang shop here which serves authentic bhaang in the form of drinks, cookies, cakes, and so on.
This shop is outside the Jaisalmer Fort wall, near the Jaisal Italy restaurant.
Restaurants in Jaisalmer
I couldn't try a lot of restaurants here as we stayed for 3 nights in the Desert Camp itself. However, there are a couple of places in the city which I tried. Here are the ones whose food I truly enjoyed.
Chandan Shree Restaurant (Opposite Jaisal Italy Restaurant)
Situated just outside the Jaisalmer Fort, this small restaurant offers the most delicious meals at a reasonable cost. Although the ambiance is pretty basic, the food served here is hygienic and delicious. And you can easily enjoy a meal of 250 INR for two people.
I tried here the Shahi Paneer and Tawa Roti and it was pretty good, in my experience.
Thar Cafe Restaurant
Another amazing restaurant where I dined a couple of times is the Thar Cafe Restaurant. It is situated just outside the Jaisalmer Fort, near the parking area and it overlooks the Jaisalmer Fort wall and towers. The ambiance is also decent here and you can enjoy the clear sky while feasting on your delish food.
I particularly liked the Kadhi and the Chaas here and would definitely recommend it to others as well. You can expect to spend around 300 – 400 INR on a meal for two here.
Jambheshwar Bhojnalay (Behind Hotel Neeraj)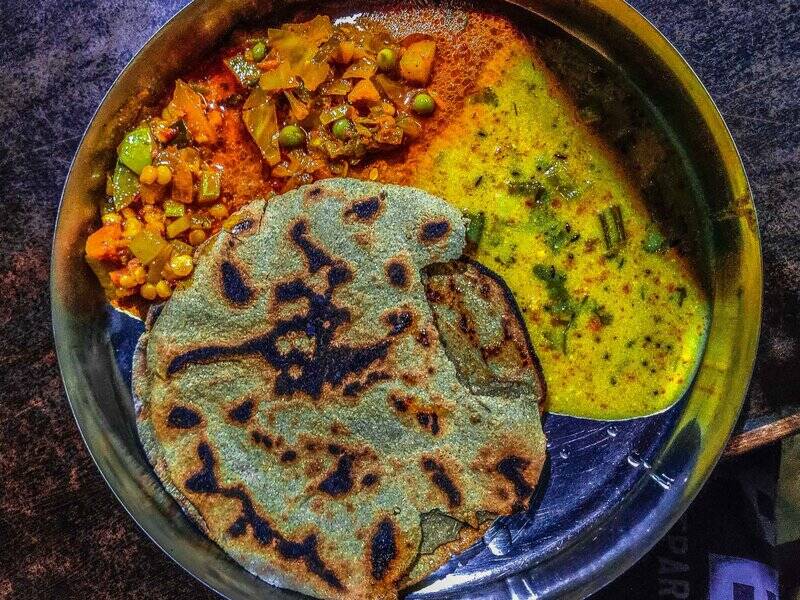 When you visit any city in Rajasthan, feasting on the Rajasthani thali is a must. However, most of the restaurants serving Thalis in the city area were either disgustingly expensive and not authentic. So, a local suggested me to try out the local dhaba near the HP Petrol Pump on the Gadisar Lake Main Road.
And honestly, it was the most authentic Rajasthani food ever. Plus, the entire meal cost me 100 INR for a plate including a glass of Chaas.
Summary
Visting Jaisalmer was a dream come true and I am so glad I could tick it off my bucket list this year. Experiencing the exciting Desert Jeep Safari, watching gorgeous sunsets, eating delicious food, and sweets, Jaisalmer was a true haven for me.
And I am not going to forget how this gorgeous place made me feel. Trust me, with so many awesome places to visit in Jaisalmer, two days are just not enough to cover this city.
But there are still a lot of other places to cover in Rajasthan and I am so excited to plan how to visit other destinations in this state for now.
Have you also been to Jaisalmer till now? If yes, then do let us know in the comments what did you love the most about this place?