Want to experience the spirituality and Indian culture at its best? Head to Varanasi, an ancient city, that is one of the holiest places for Hindus. It is believed that this city has the ability to let visitors break free from the cycle of rebirth.
You can observe this vibrant city in its element on the Banaras Ghats that lead to the holy river Ganges. In the morning, you will find that the locals get up early to start their day, setting up their stalls, taking a bath in the holy river, and more.
With so many ghats and temples to explore in Varanasi, it can become a little difficult for visitors to decide where they should start. And you cannot expect to cover everything in a single trip.
If you have limited time with you, then read our guide on the best places to visit in Varanasi that you can include in your 2-day or 3-day itinerary.
List of Places to Visit in Varanasi in 3 Days
Manikarnika Ghat
Manikarnika Ghat is one of the best places to visit in Varanasi due to its significance among the Hindus. You will see perpetual smoke swirling towards the sky here since it is the main cremation ghat in Varanasi.
According to Hindu mythology, Manikarnika Ghat is considered auspicious to achieve Moksha after death. If you have always been interested in the cycle of birth and death and would like to witness this intense experience, then you should visit this ghat.
The funeral pyre burns 24×7 here and over 100 cremations take place in a day. You can visit this ghat but beware that it is not for the faint-hearted. Moreover, be respectful and don't take photographs without permission when you watch a cremation ritual being performed.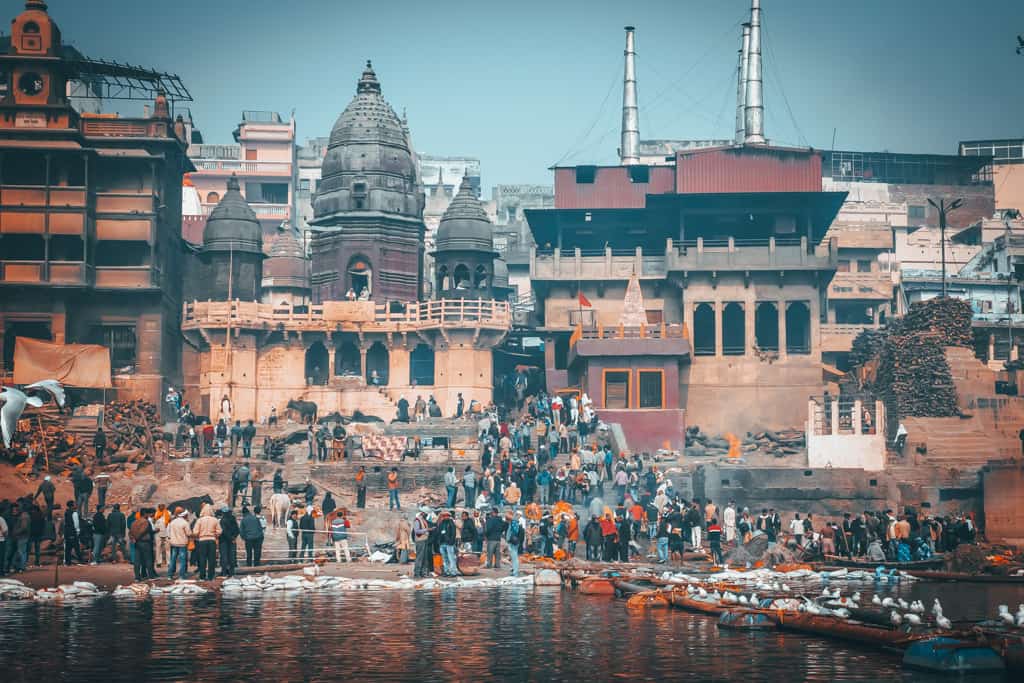 Kashi Vishwanathan Temple
Varanasi is home to thousands of temples but one of the most important temples to visit in this city is the Kashi Vishwanath Temple. It is one of the 12 holy Shiva temples in the world that is over 3500 years old.
It is also known as The Golden Temple because of the gold plated spires and domes that are part of the shrine. This unique architecture was carried out by the then ruler of Varanasi, Maharaja Ranjit Singh, and has inspired several other temples all over India.
Devotees believes that a glimpse of the Shivalinga inside the temple can cleanse your soul and turn you to the path of knowledge.
Dashaswamedha Ghat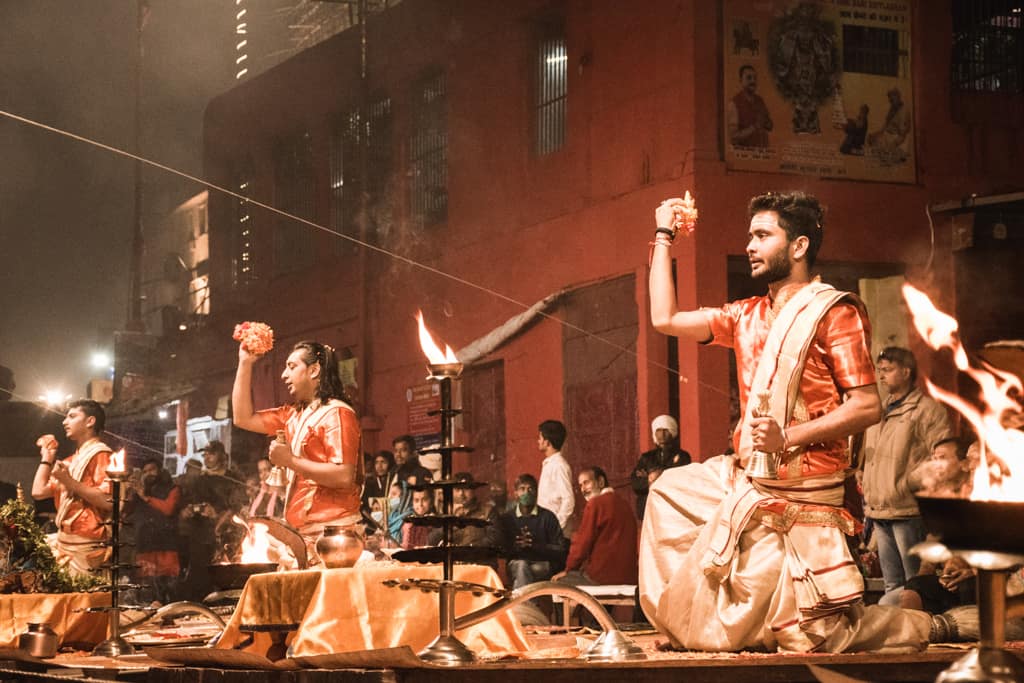 Of course, when you are planning a trip to Varanasi, you have to visit Dashashwamedha Ghat. It is one of the oldest and most popular ghats which is why thousands of devotees visit it every day for blessings and performing rituals.
According to Hindu mythology, Lord Brahma created this ghat to welcome Lord Shiva. You will find people performing elaborate rituals for their loved ones including the birth of a newborn baby and the death of an elderly member.
Pilgrims and tourists alight the on the banks of river Ganga and come here to wash away their sins. Also, the evening and morning Aarti at this Ghat is a beautiful sight that you should definitely witness once.
Durga Kund Mandir
Also known as the Monkey Temple, Durga Kund Mandir is one of the top mystical places to visit in Varanasi. The temple was built by a Bengali queen in the 18th century following a Nagara style architecture.
This 300-year old temple has been painted red from top to bottom and is just a 5-minute walk from Assi Ghat.
The temple is dedicated to Goddess Durga and is a symbol of feminine divinity. According to the legends, the idol of Goddess Durga inside this temple was not constructed and appeared on its own.
Sheetla Ghat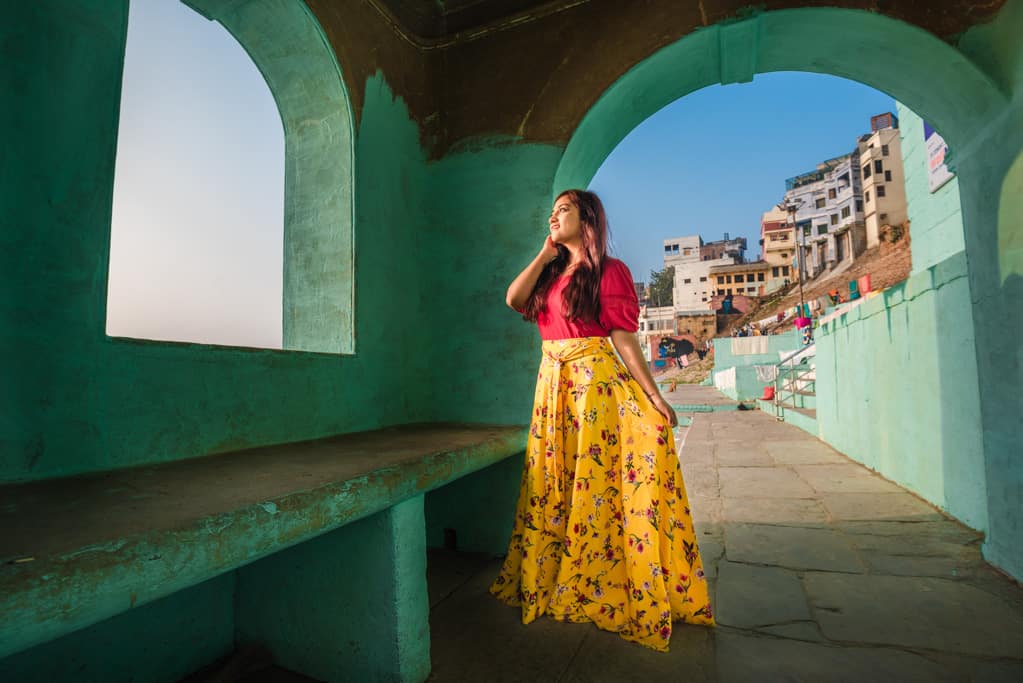 Popular for cultural and spiritual practices, Sheetla Ghat is one of my favorite ghats in Varanasi. Built by Queen Ahilyabai Holkar, this ghat is famous for the temple of the Hindu godess, Sheetla, that can be found on the head of the ghat.
This ghat is quite colorful and offers scenic surroundings for the visitors to enjoy. Also, since it is connected to Dhobhi Ghat, you can watch the locals wash their clothes around this ghat.
Also Read: Things You Must Do When in Varanasi
Ramnagar Fort
Located opposite to Tulsi Ghat, Ramnagar Fort was built out of sandstone in 1750 A.D. by Raja Balwant Singh, then king of Varanasi.
What is interesting about this fort is that it uses Mughal style architecture even though it was home to Hindu kings. It is no longer used as a defensive structure but instead is home to Ved Vyasa temple, a museum, and the king's living quarters.
The museum houses some interesting items such as vintage cars, antique weapons, medieval costumes, ivory works, and more.
Make sure you do include this fort in your list of places to visit in Varanasi in 2 days.
Assi Ghat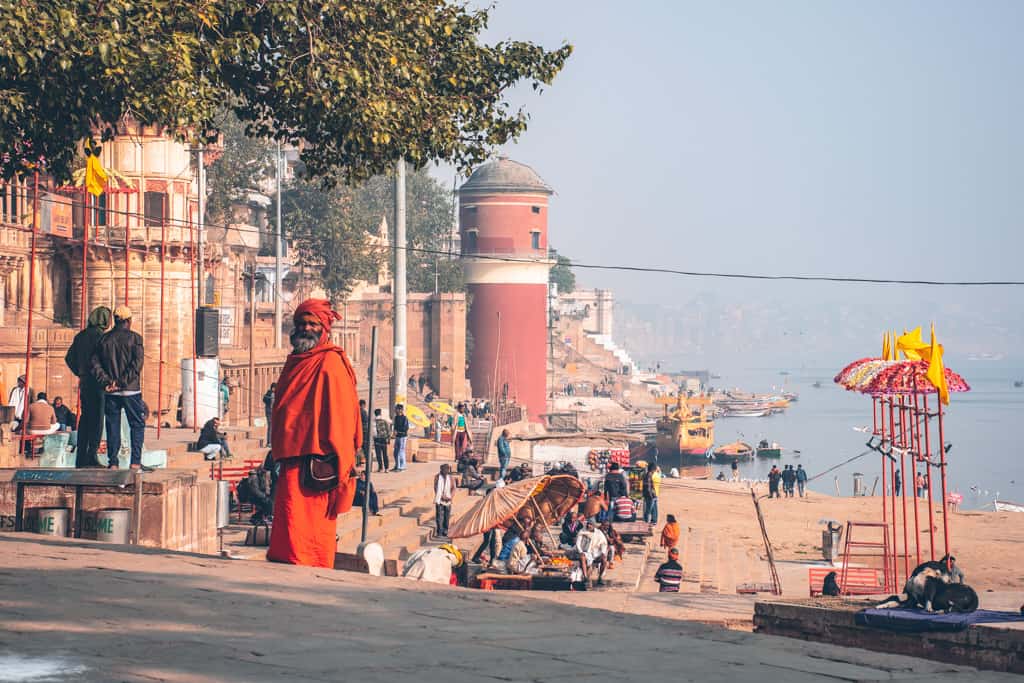 Assi Ghat is one of the best places to visit in Varanasi and is one of the most sacred ghats in the city. It is believed that this is where Tulsidas passed away during his time.
This southernmost ghat is quite popular among tourists and witnesses as many as thousand visitors in an hour.
There is an early morning prayer and evening Aarti conducted here every day that the travelers and pilgrim can join. You will find devotees taking a bath here to pay homage to the Shivalingam that is placed under a sacred fig tree close to this ghat.
If you are looking for a quiet and less crowded place on your weekend getaway from Delhi, then this ghat is one of the perfect places to visit in Varanasi in 2 days.
Chunar Fort
Chunar Fort is one of the top haunted places in Varanasi that is located in the Mirzapur district of Uttar Pradesh. This fort was built in the 11th century and is famous for its history and architecture.
The tombs of the soldiers are still venerated here and the fort is said to have been divinely blessed. Moreover, it has been featured in Bollywood movies such as Gangs of Wasseypur so, you might want to include this in your Varanasi itinerary.
Darbhanga Ghat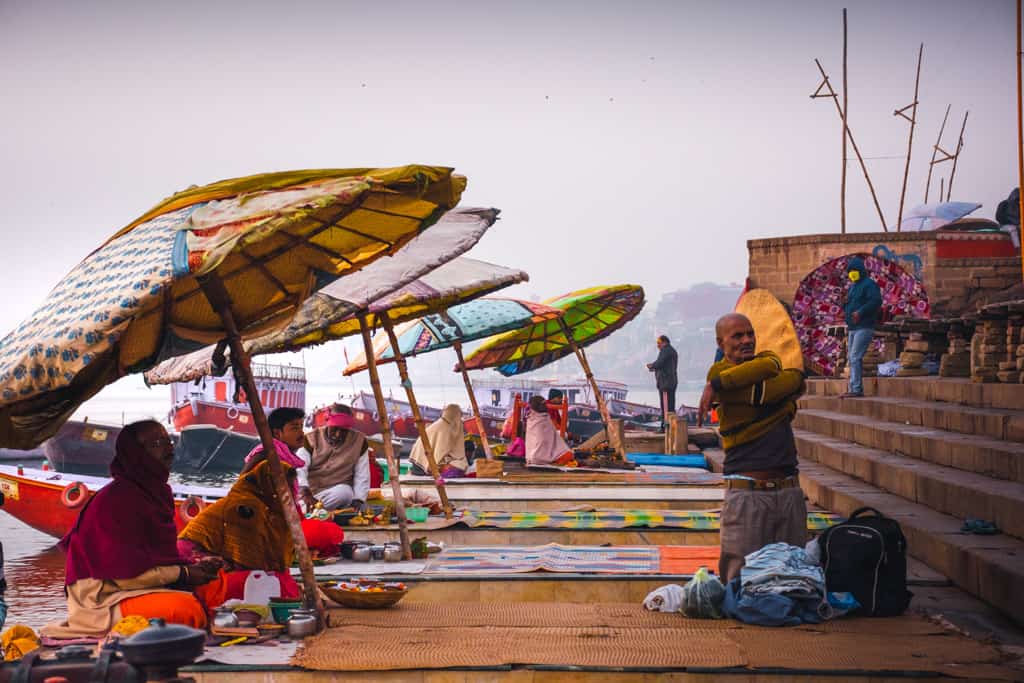 Located next to the Dashashwamedha Ghat, Darbhanga Ghat is where the last rites and death rituals are performed by the pundits. This ghat also offers amazing opportunities to the photographers to click amazing pictures of the city.
There are many palaces on this ghat, the most famous being the BrijRama Palace that has been converted into a heritage hotel now. Its Greek pillars and round balconies add a charm to your photographs.
If you are looking for places to visit in Varanasi in 2 days, then this is one attraction that you cannot miss out on.
Bharat Mata Temple
Bharat Mata is one of the rarest temples in India that is not dedicated to any deity but is dedicated to Bharat Mata (Mother India). This temple resides in the Mahatma Gandhi Kashi Vidyapeeth campus and was inaugurated by Mahatma Gandhi in 1936.
It was built to inspire those who were fighting for independence against the Britishers. There is no statue of god or goddess inside this temple but a shrine consisting of mountains, plains, and ocean.
One of the major highlights of this temple is the relief map of India that is carved on the marble.
Scindia Ghat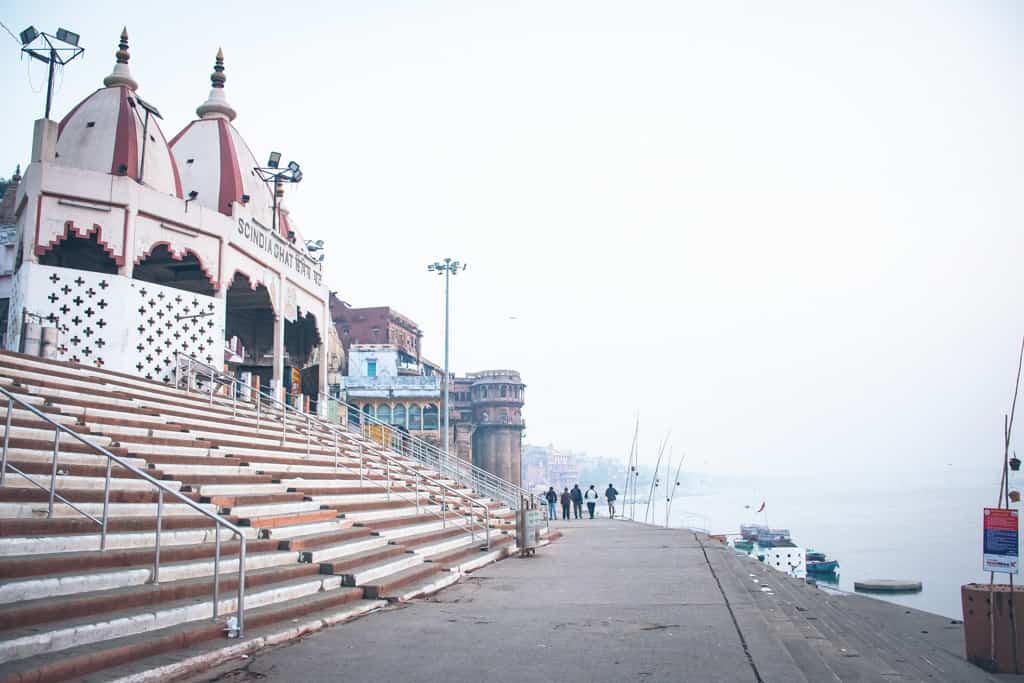 Scindia Ghat is one of the top places to visit in Varanasi that is north of the Manikarnika Ghat. Named after the Scindias who built this ghat in 1830, the ghat is said to have collapsed under its weight over the years.
You can visit this ghat to find a tilted, partially submerged Shiva temple in the river Ganga. There are several shrines here to explore and devotees come to this ghat to ask Vireshwara, Lord of all Heroes, for a son.
Bazaar
One of my absolute favorite places to visit in Varanasi was the Bazaar in the alleyways behind Dashashwamedha Ghat.
From fruits and vegetables to sweets, you can find it all here. There are many clothing and footwear shops as well to buy souvenirs for home. If you are in Varanasi for a chill trip, then make sure that you do shopping in this bazaar.
Prabhu Ghat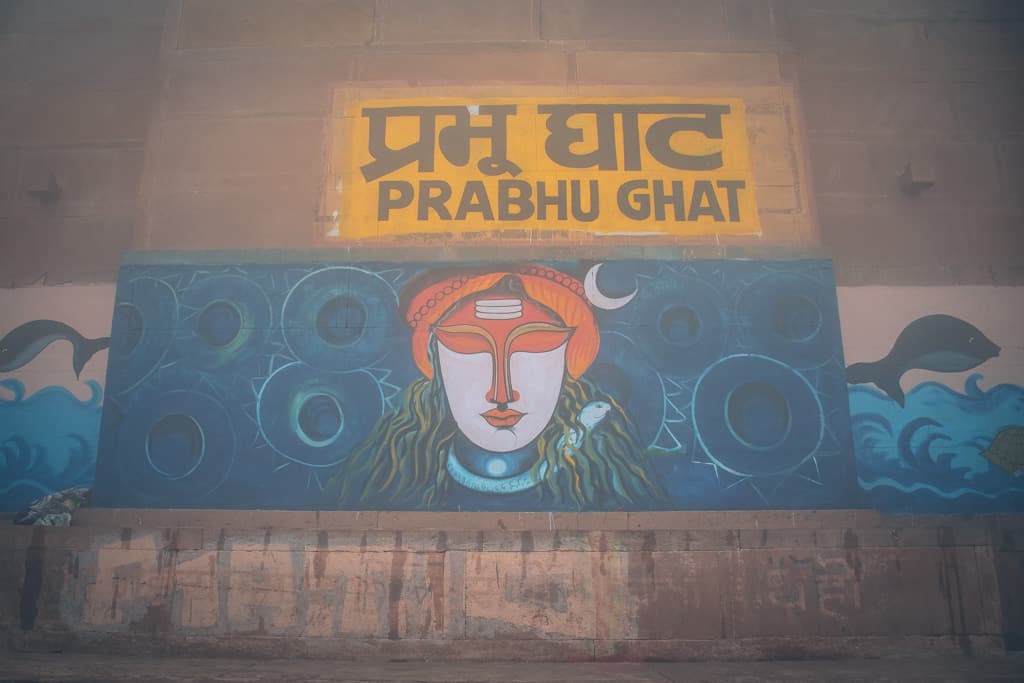 One of the top ghats to visit in Varanasi, Prabhu Ghat was built in the first half of the 20th century by Lord Prabhu Narayan Singh, a popular king of Varanasi.
At this ghat, you will find the Dobhis washing the clothes while the shore is filled with boats. You will also find lots of Saddhus here enjoying their time by the ghat and enlightening the visitors that come to this ghat.
More on Varanasi: When is the Best Time to Visit Varansi
Sarnath
One of the greatest learning centers in India, Sarnath is a great destination that you can visit from Varanasi. A major attraction in the city is the Deer Park where Gautam Buddha preached about the Wheel of Law for the first time in 528 B.C.
If you are seeking solitude, then this is a great place to visit. There are lots of stupas and sights to discover here.
From Chaukhandi Stupa to the Ashoka Pillar, you can learn more about the history of this city and Buddhism by visiting this place.
Vishwanath Gali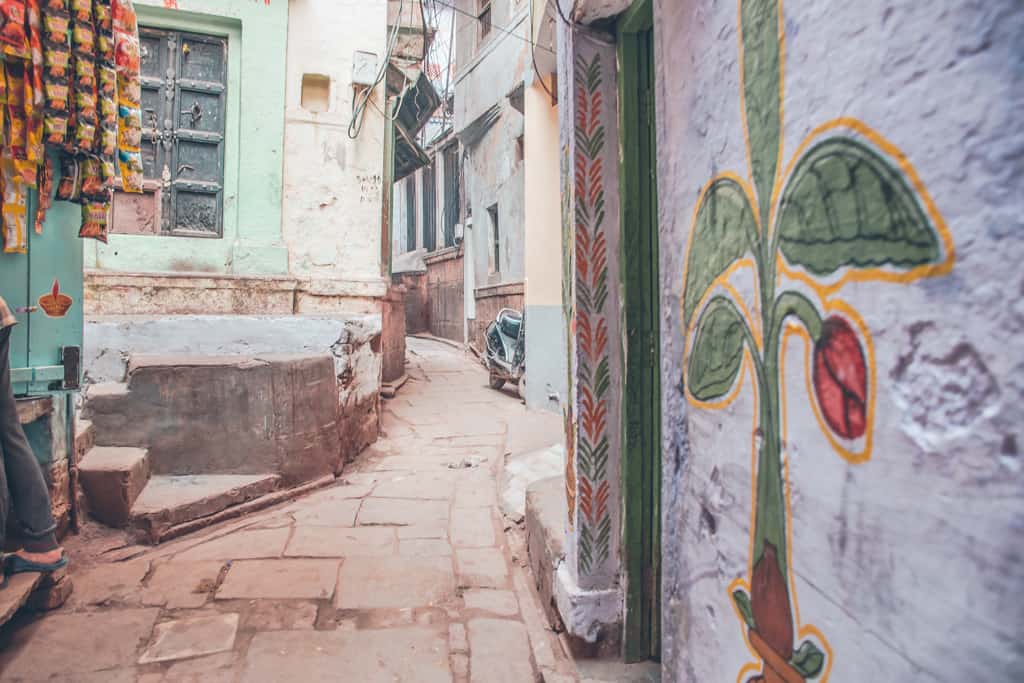 Vishwanath Gali is the oldest and the busiest street in Varanasi that runs from Gyan Vapi Chowk to Dashashwamedha Ghat. It is over 300m long and is home to the famous Kashi Vishwanath Temple.
Apart from the religious significance, this is a great shopping spot in the city. You can purchase all kinds of items here such as silk sarees, idols, wooden toys, and so on.
Dhamek Stupa
Another great place to visit from Varanasi is the Dhamek Stupa in Sarnath. This is a huge stone and brick structure that was built more than 1,500 years ago.
According to the devouts, Lord Buddha came to Dhamek Stupa to give his first sermon, Eightfold Path, after his enlightenment.
The stupa is covered with carvings of birds, people, flowers, etc. that you can admire on your visit here.
Brahma Ghat
Built by Narayana Dikshita in 1742, Brahma Ghat is said to be the place where Lord Brahma first settled when he came to Varanasi.
At this ghat, you will find the 13th century image of Brahma and the Brahmeshvara temple. Plus, there are beautiful colorful graffitis close to this ghat where you can capture amazing clicks as well. So, if you are looking for an offbeat ghat to explore in Varanasi, then Brahma Ghat is perfect for you.
Banaras Hindu University
Constructed in 1916, Banaras Hindu University is a well-respected public university that is home to around 30,000 students. This is why it is known as the largest residential university in Asia.
If you are looking for an escape from the crowded city, then visit this university campus that is surrounded by trees and offers a serene environment.
On the campus, head to the New Vishwanath Temple which is the tallest temple in India and inspired by the Kashi Vishwanath Temple.
You can also explore the on-campus Bharat Kala Bhavan museum that features over 100,000 paintings and artifacts.
Rana Mahal Ghat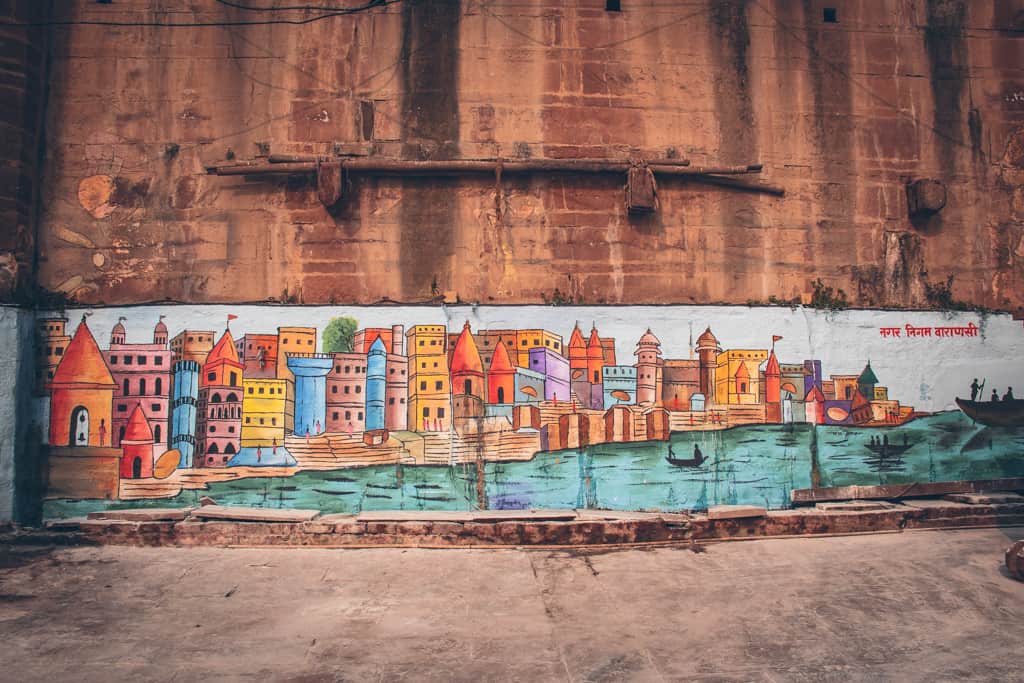 Built by Raja Rana Jagat, this is another great ghat that you cannot miss out on in Varanasi. Raja Rana Jagat built the ghat and a palace next to the ghat when he came to the city as a pilgrim.
The palace was the residence of the Raja during his years of pilgrimage. If you are interested in architecture, then you would love the Rajputana architecture of this palace.
Gyan Vapi Well
Located inside the Gyanvapi Mosque, Gyan Vapi Well is one of the top places to visit in Varanasi. The name of this well translates to Well of Wisdom and why this well is considered holy by the locals.
It is believed that anyone who drinks the water from this well will be benefited and has an interesting history associated with it as well.
The well was built by Mughal emperor Aurangzeb who demolished the old Kashi Vishwanath Temple and the mosque was built at the place of the ruins. It is also believed that the Jyotirlinga from the old temple was placed at the bottom of this well.
Tulsi Ghat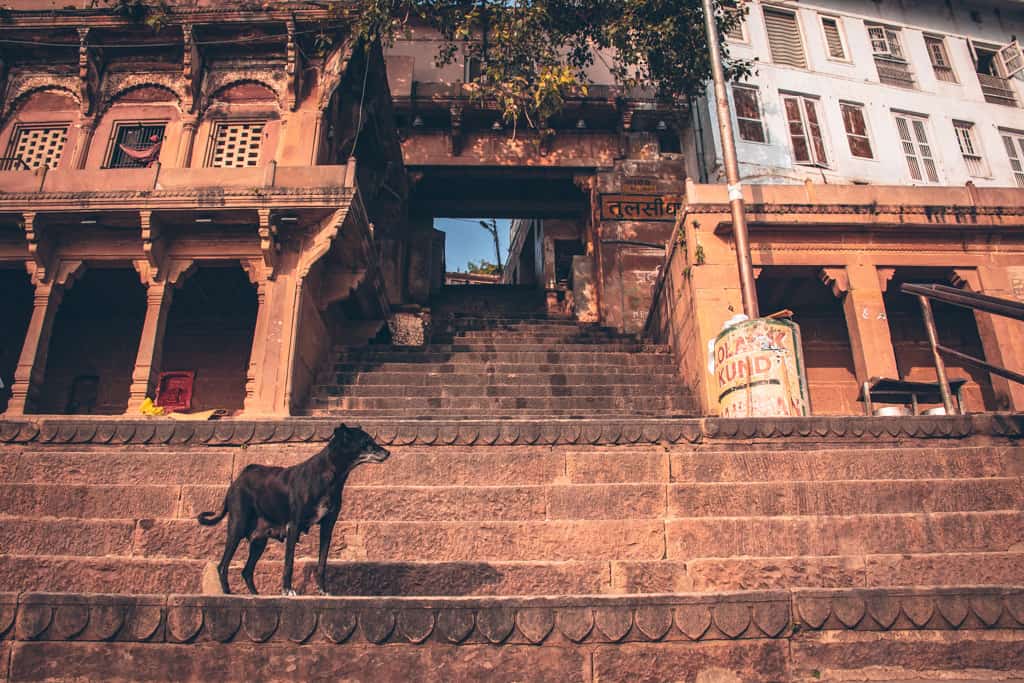 Named after the famed poet Tulsidas, Tulsi Ghat is one of the top sights to visit in Kashi. It is said that Tulsidas sat on the steps of this ghat and wrote a major part of Ramacharitramanas.
Also, this is the ghat where the first Ramlila was staged and a temple dedicated to Lord Rama can be found here as well.
You can also visit the ghat in the month of Kartik (October/November) to watch Krishnalila being performed here.
Tulsi Manas Temple
If you are a history or mythology fanatic, then you should definitely include Tulsi Manas Temple in your Varanasi itinerary.
Dedicated to Lord Rama, it is believed that this temple is constructed at the location where Tulsidas wrote the Hindu epic Ramacharitramanas.
The temple has been constructed using white marble and the walls are covered with verses and scenes from the popular epic.
Panchganga Ghat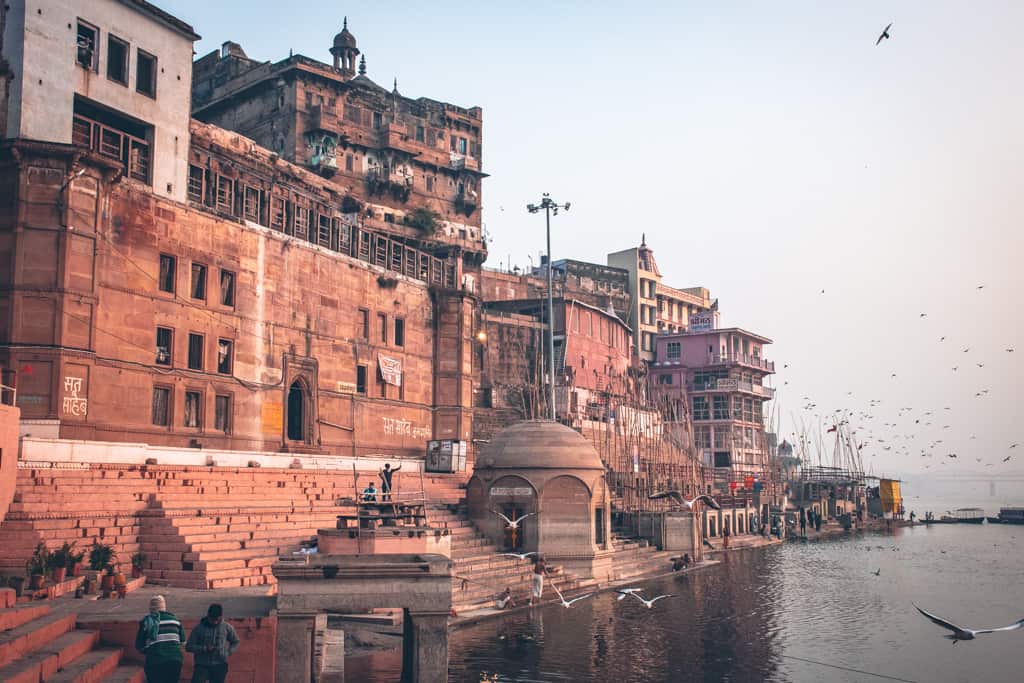 There are many amazing places to visit in Varanasi in 3 days but Panchganga is the most magical and mystical of them all.
This ghat is said to be the mythical meeting place of the five sacred rivers- Ganga, Yamuna, Saraswati, Kirana, and Dhutpapa.
Images of these five river goddesses in black stone are placed here. Travelers and devotees visit the ghat to seek blessings from these goddesses.
Godowlia Market
For shopping, Godowlia Market is one of the most popular tourist spots in Varanasi. It is the biggest market in town where you can buy glass bangles, daily household items, and souvenirs.
If you wish to see the hustle bustle of the city and shop for some special items, then you should definite pay a visit to this place in Varanasi.
Gaay Ghat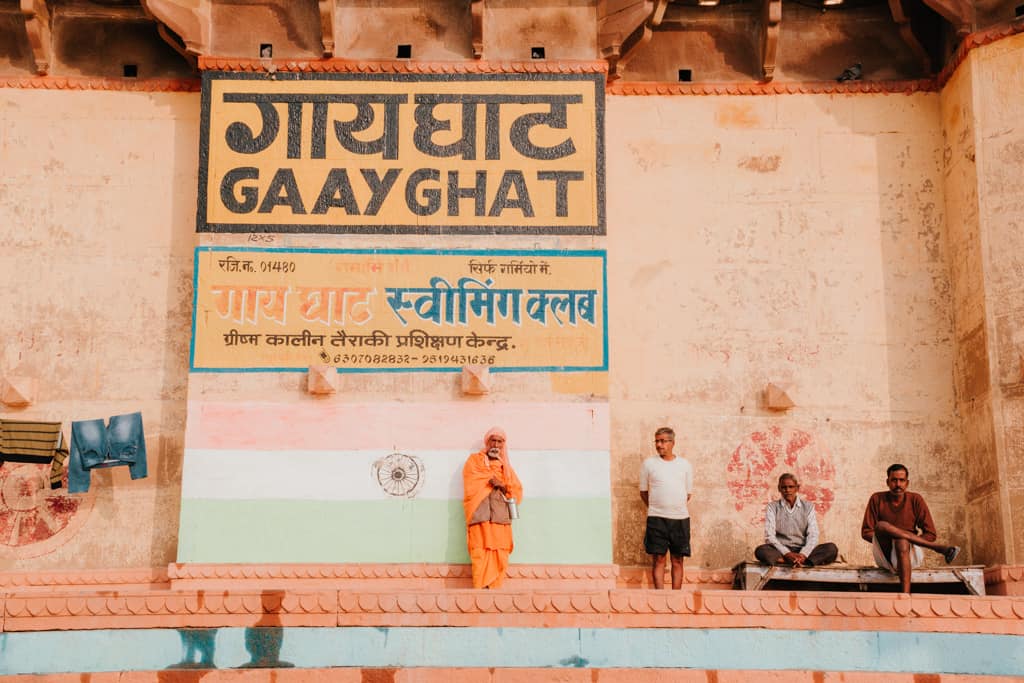 Featuring a 3-feet sculpture of Bull, Gaay Ghat is one of the top places to visit in Varanasi in 2 days trip. This ancient ghat was used to wash the cows by the locals in earlier times.
It is also one of the most happening ghats in Varanasi as several ceremonies and rituals are performed here daily. From marriage rituals to recreational ones, you can observe it all.
You can attend the evening Aarti here or celebrate the festivals such as Diwali that are celebrated with unmatched enthusiasm here.
Lolark Kund
Lolark Kund is one of the oldest sacred sites in Benaras that has been dedicated to sun God Surya. This water reservoir is located in a small plaza above Tulsi Ghat.
It has a unique design and the structure dates back to around 1000 A.D. and the instances of this step well can be found in earliest Puranic Mahatmyas of the city.
The waters of this reservoir is said to have special fertility powers which is why a lot of devotees visit it to take a bath in it.
Chousatti Ghat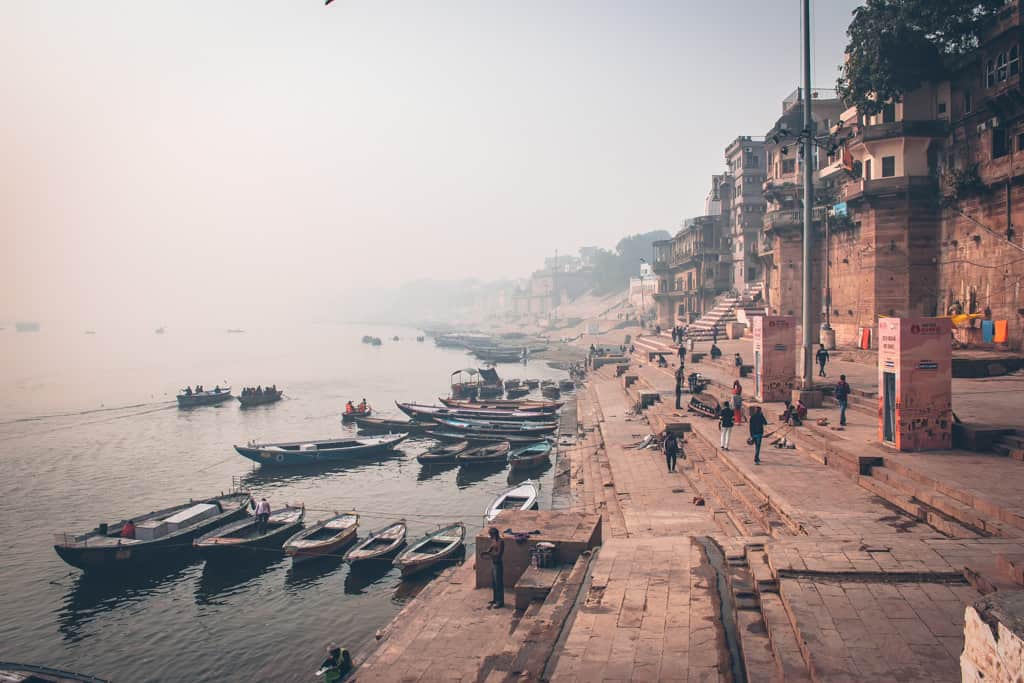 One of the best places to visit in Varanasi is the Chousatti Ghat that is famous for its temples. This ghat is also known to be the home for famous Sanskrit scholar Madhusudan Sarasvati.
Apart from that, the ghat is also home to a palace built by King Digbatiya of Champaran, Bihar and a temple complex featuring Goddess Kali's images.
Plus, this is a popular ghat for celebrating Holi and 12th dark-half of Chaitra.
Kedar Ghat
One of the oldest ghats in Varanasi, Kedar Ghat is considered the best place for a holy bath in the city. There is Kedareshwar Temple situated here that is visited by the devotees of Lord Shiva.
Apart from its spiritual significance, this ghat also offers beautiful surroundings to enjoy, making it one of the top sightseeing places in Varanasi.
Ahilyabai Ghat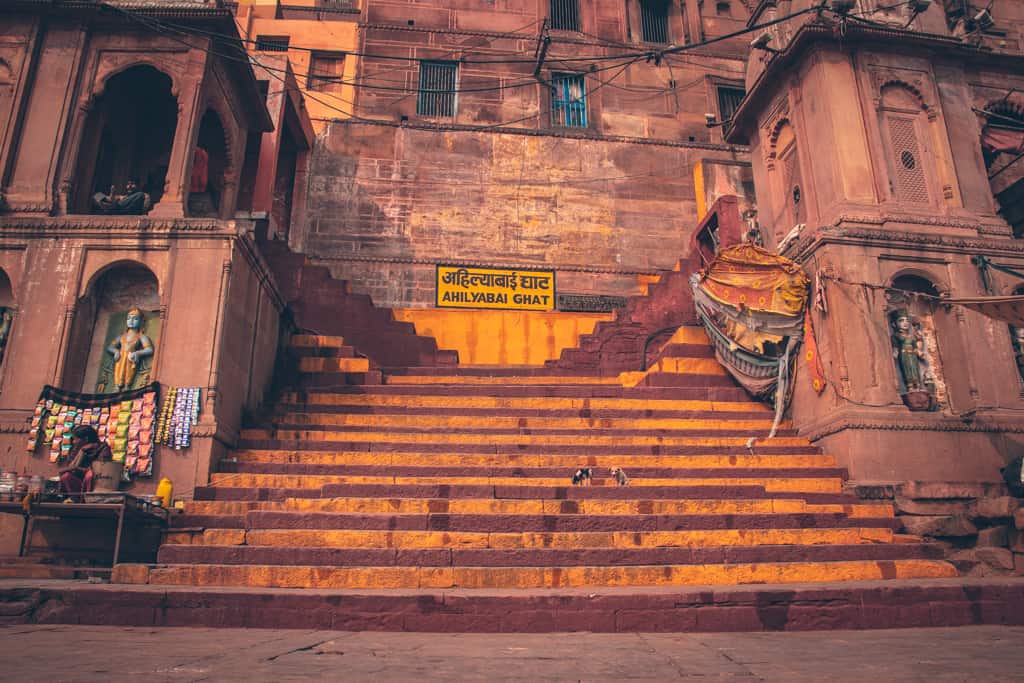 Another great place to visit in Varanasi is the Ahilyabai Ghat that was named after the famous Queen Ahilyabai Holkar. This one-of-a-kind ghat was earlier known as Kevalgiri Ghat and was renovated by the Queen.
It is believed to be the first ghat to be named after a person. You can visit this ghat in the morning to observe the devotees taking a dip in the holy river Ganges or enjoying the views around the ghat.
Summary
Well, now you have some idea on the best places to visit in Varanasi in 3 days so, you can start your Varanasi trip from Delhi. You can try to cover all these places in a single trip or shortlist a few important ones to cover on your visit.
Have you ever been to the City of Lights? Is there anything missing from our list of places to visit in Varanasi? Let us know your favorite place in Varanasi in the comments below!