Set in the beautiful northern state of Uttar Pradesh, Varanasi is one of the holiest cities to visit in India. This city is home to numerous pilgrims and has a lot for the travellers to explore and do here.
From visiting the majestic temples to strolling along the peaceful ghats, there are lots of things to do in Varanasi to keep you spell bounded so that you end up visiting this city again and again.
Birth to death, you can observe all kinds of rituals and experiences here. Learn more about spirituality, discover the secrets of moksha, observe the unique culture, or attend an evening pious aarti.
If you are planning a trip to Varanasi and not sure about what to do in Varanasi, then check out our guide on the best things to do in Varanasi for a successful trip here.
30 Fun Things to Do in Varanasi
Experience a Magical Boat Ride on Ganga
One of the most popular things to do in Varanasi is go on a Sunrise Boat Ride on river Ganga. There are lots of boats and men waiting along the Ghats to take you on this epic journey.
You can choose to explore the Ghats and the Temples on a boat ride. Generally, the price of a private boat ride is 250 INR for an hour. You might have to bargain a little for this price as they would quote you double the price in the beginning but once you do, you would be whisked away to magical scenery.
At 5 AM, you can watch the soft pastel colors of the sky as your boat gently bobs up and down on the water. Observe the locals going about their work in the morning while enjoying the peace and solitude of gently making your way through the Ganga river. Winter is the best time to enjoy a boat ride in Varanasi but it can be cold so, pack warm clothes.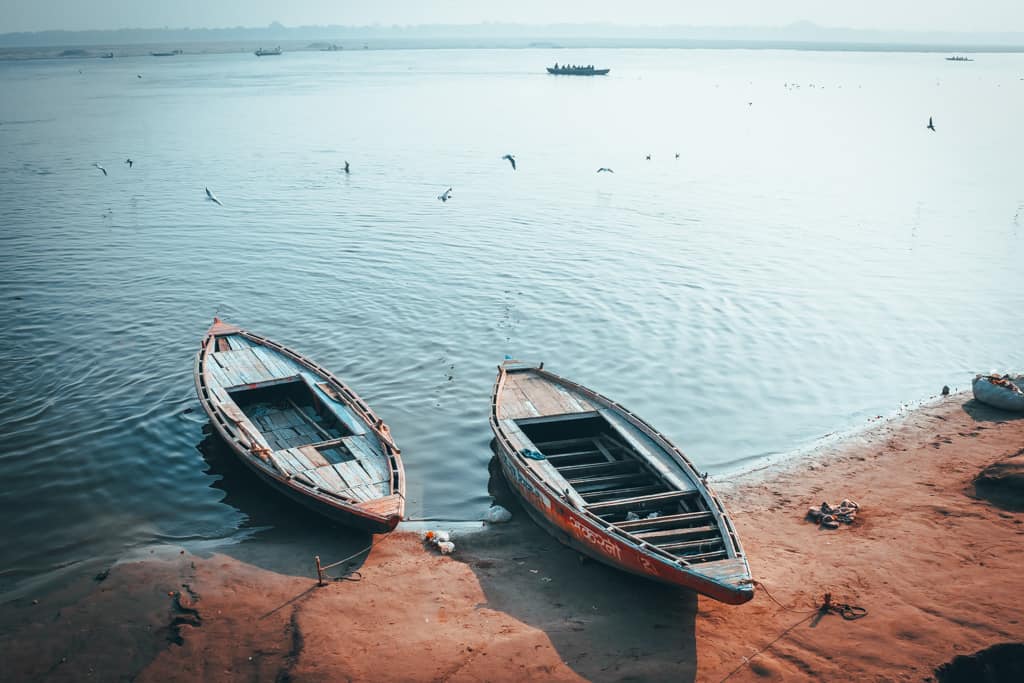 Tour the Famous Kashi Vishwanath Temple
Completed in 1780, Kashi Vishwanath Temple is one of the most popular temples to visit in Varanasi. It was built by Queen Ahilyabai Holker of Indore and in encased in two gold domes, lending it the name of the Golden Temple.
Out of the 12 Jyotirlingas of Shiva, one named Vishwanath is enshrined here. This temple has beautiful carvings and due to its great significance to Hindu pilgrims, it receives over 25 million devotees every year.
The temple opens at 2:30 AM daily and there are 5 Aartis conducted here throughout the day. The Mangal Aarti between 3 AM and 4 AM is one of the highlights of this temple that creates a magical experience with lamps, damroos, and chanting of mantras.
Witness the Grand Evening Aarti Ceremony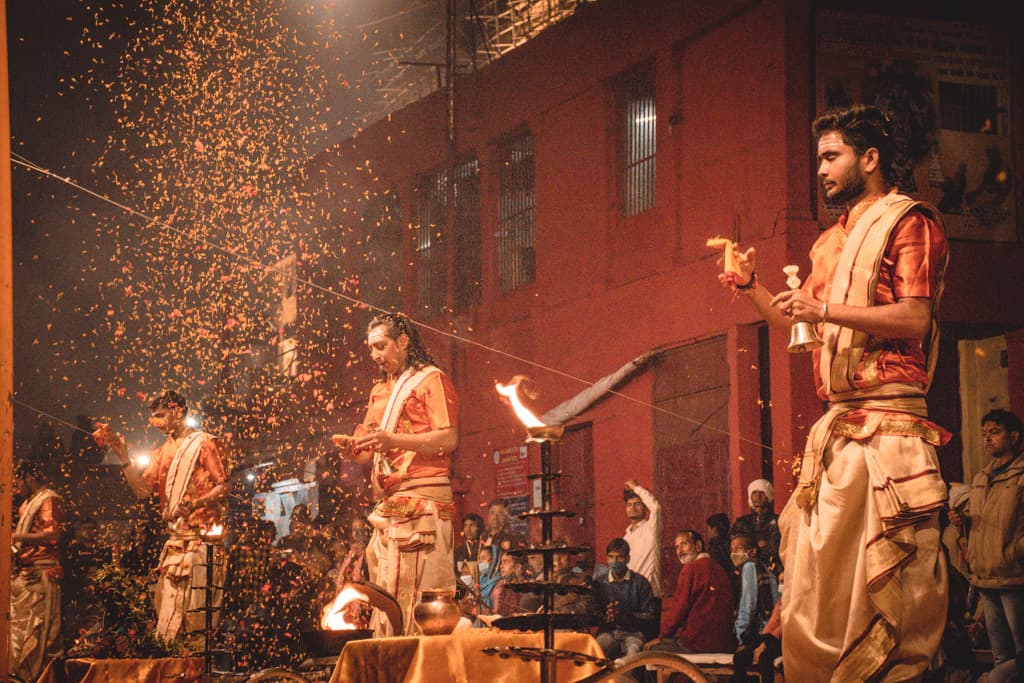 Of course, you cannot miss the evening Aarti ceremony that happens every night at the Dashashwamedha Ghat. This is one of the top things to do in Varanasi at night in which offerings are made to the Hindu deities.
Thousands of locals and tourists visit the Ghats on foot or boat to watch the daily offerings. Songs are played over loudspeakers during the ceremony while the pundits perform the rituals while chanting the Sanskrit Mantras.
This is undoubtedly one of the main activities to attend in Varanasi to get the true feel of this destination.
Take Part in a Local Festival
There are many festivals and fairs held in Varanasi throughout the year. So, if you are looking for an offbeat experience, then you should plan a visit during a festival and celebrate it in the city.
You can celebrate Holi, which is a colorful affair, or Diwali, which marks the homecoming of Lord Ram of Ayodhya. Mahashivratri is a major festival celebrated here as well with thousands of devotees visiting and celebrating it every year.
The Drupad Mela is also a good time to visit as you can indulge in the 5-day music festival and enjoy the musicians from all over India and the world.
Attend a Cremation Ceremony at Manikarnika Ghat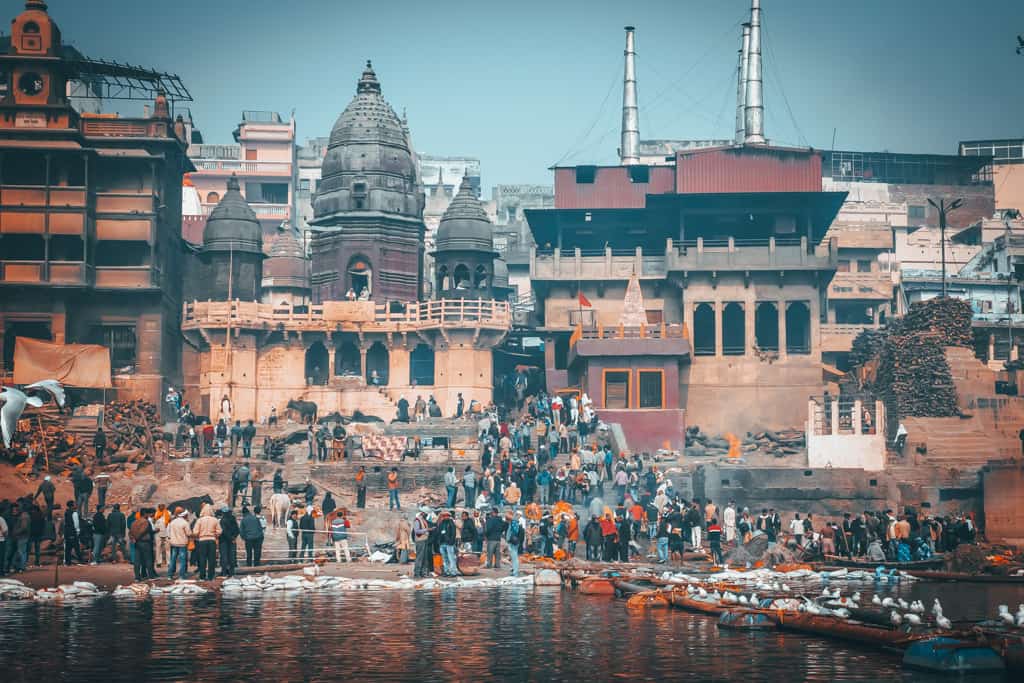 Varanasi a.k.a Kashi is known as the gateway to Moksh which is why millions of people visit this city to perform the last rites for their loved ones. And what better way to come to terms with death than by attending a cremation ceremony at the banks of river Ganga on the burning ghat in Varanasi.
Manikarnika Ghat is the main cremation ground in Varanasi where hundreds of bodies are burnt every day and it can be both an intense yet enlightening experience. You can visit this ghat to observe the rituals but be respectful and don't take photographs without the permission of the families here.
Dare to Take a Bath in the Holy River Ganges
Many locals travel to the Varanasi Ghats to get in touch with their spirituality or cremate their deceased family members. However, there are several people who visit just to bathe in the holy waters of Ganga river to wash away their sins.
While Ganga is considered to be one of the holy rivers of India, it is also one of the most polluted ones. From chemical waste to human remains, you can find it all in this river yet locals and pilgrims believe it to have healing powers and are eager to bathe in it.
If you are daring enough or maybe just crazy, then you can take a dip in the river and enjoy the blessings from this holy river.
Watch a Sunset or Sunrise from the Ghat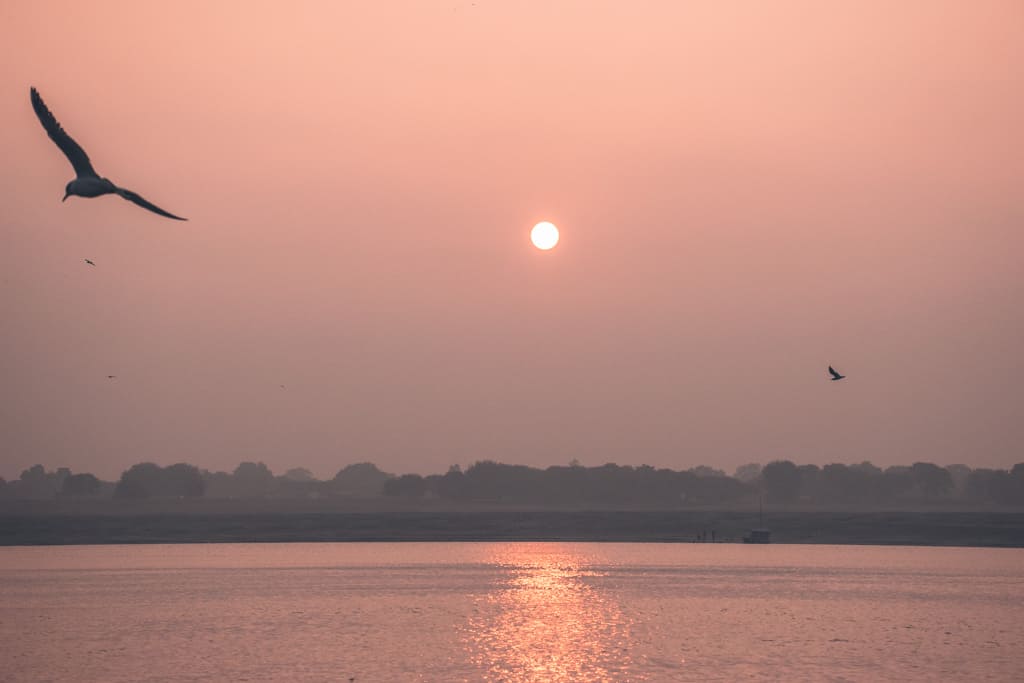 The Ghats beside Ganges river offers the most enchanting views in the entire city. Visitors can stroll along these Ghats at sunrise or sunset to watch the sky turn a beautiful shade of pastel color.
At sunrise, you will find the Ghats more peaceful with the boats bobbing on the river while locals take their morning baths, wash clothes, meditate, and set up stalls.
In the evening, you can experience the magical feel of the sunsets from these Ghats followed by the evening Aarti for a wholesome day in this city.
Plan a Day Trip to Sarnath
Located at a distance of 12 km from Varanasi, Sarnath is a holy city where Gautam Buddha delivered his first sermon. Since this is one of the four holy Buddhist sites, it receives a lot of visitors throughout the year.
If you are wondering what to do in Varanasi, then you can plan a day visit to Sarnath and explore the ruins around here. You will find the Dharmekh Stupa that dates around 200BC and is 128 feet high.
The national emblem of India – Ashoka Pillar can also be found here with some interesting carvings. Spend some time at the archaeological museum of Sarnath to discover the treasures that are kept here or you can visit the six national temples of different Asian communities in this city.
Get Lost in the Streets of Varanasi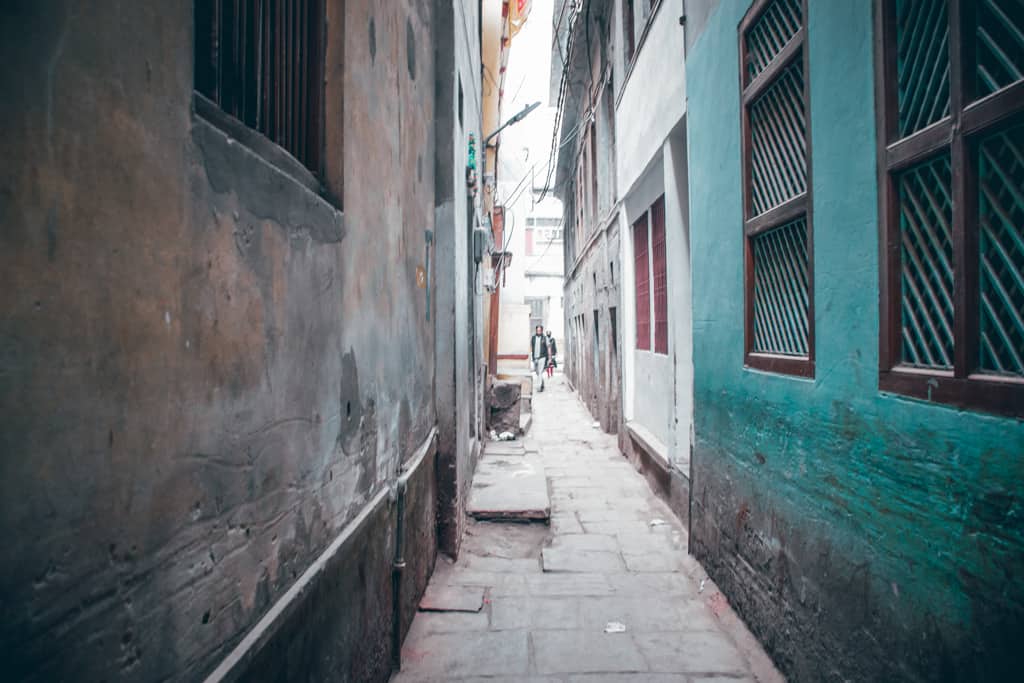 Besides the spiritual things to do in Varanasi, you can also explore the city of Varanasi and its colorful and vibrant streets. Marvel at the beautiful Indian architecture or run into stray animals through the many alleyways in the city.
The streets of Varanasi are full of surprise. There are several cute little shops that you can explore for shopping as well.
Practice Yoga at the Streets of Assi Ghat
To relax during your weekend trip to Varanasi and try something new, opt for free guided yoga sessions that take place on Assi Ghat every morning. You will find mostly locals joining these sessions but tourists can join as well.
It is a free session with no registration required, all you need to do is show up at the right time. They conduct a 40-minute yoga session including Pranayams and Asanas, ending the session with the amazing Hasyasana. Plus, you don't need to carry anything as mats are provided at the site as well.
Have a Cup of Famous Chai Here
Of course, when we are talking about fun things to do in Varanasi, we cannot skip out on drinking nice cup of hot chai with the locals in the streets.
At most places, the tea vendor would serve you chai in clay pots that is environment-friendly and generates job for the poorest section.
One of the best places for having a cup of tea in Varanasi is Dada Ki Chai at Assi Ghat. This 30-year old tea shop sells all kinds of teas including Lemon Tea, Masala Chai, and so on.
Take a Look at the Historical Ramnagar Fort
Planning a visit to the historical Ramnagar Fort is another one of the offbeat things to do in Varanasi. Built by Kashi Naresh, this majestic fort is located on the eastern bank of river Ganga and can be reached via a boat ride from Dashaswamedha Ghat.
The fort was designed used only sandstone and comprises many courtyards, pavilions, and balconies. When you visit this fort, do go to the Saraswati Museum as well. You will find several American cars, ivory works, and armory pieces adorning the insides of the museum.
Plan a visit during annual Ram Lila Festival to watch the story being enacted at the fort as part of the celebrations every October.
Shop at the Local Markets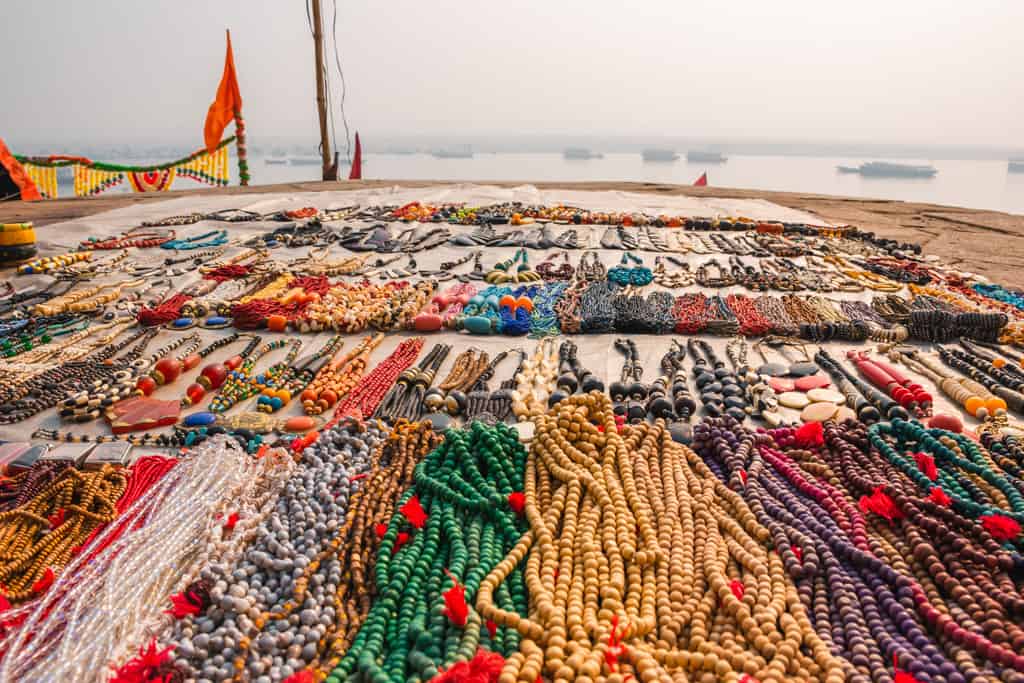 One of the most fun things to do in Varanasi is shopping for beautiful handicrafts in the local markets. The city is known for the Banarasi sarees and brocade that can be bought from an emporium here or from the local Chowk.
It is also famous for glass beads, colorful wooden toys, undercut stone work, etc. that can be bought from the colorful markets of Bengali Tola or Vishwanath Galli.
If you are interested in the Gulaab Meenakari work, then you can check out Gaay Ghat area and can even get beautiful paintings at most of the ghats.
There are lots of amazing souvenirs to buy in Varanasi that will be good for the local economy and help in the promotion of sustainable tourism as well.
Pay a Visit to the Weaver's Village
Known internationally for their marvelous work, the weavers of Varanasi can be easily found in the Sarai Mohana village. You can meet these craftsmen to observe their designs and work.
This village is popular for silk weaving and the weavers are known for making the finest Banarasi sarees in the country.
A Banarasi saree is known for its zari or gold and silver brocade with fine silk and embroidery. Each saree takes around 15 days to 1 month to get completed and is unique in design.
Explore the Ghats on Foot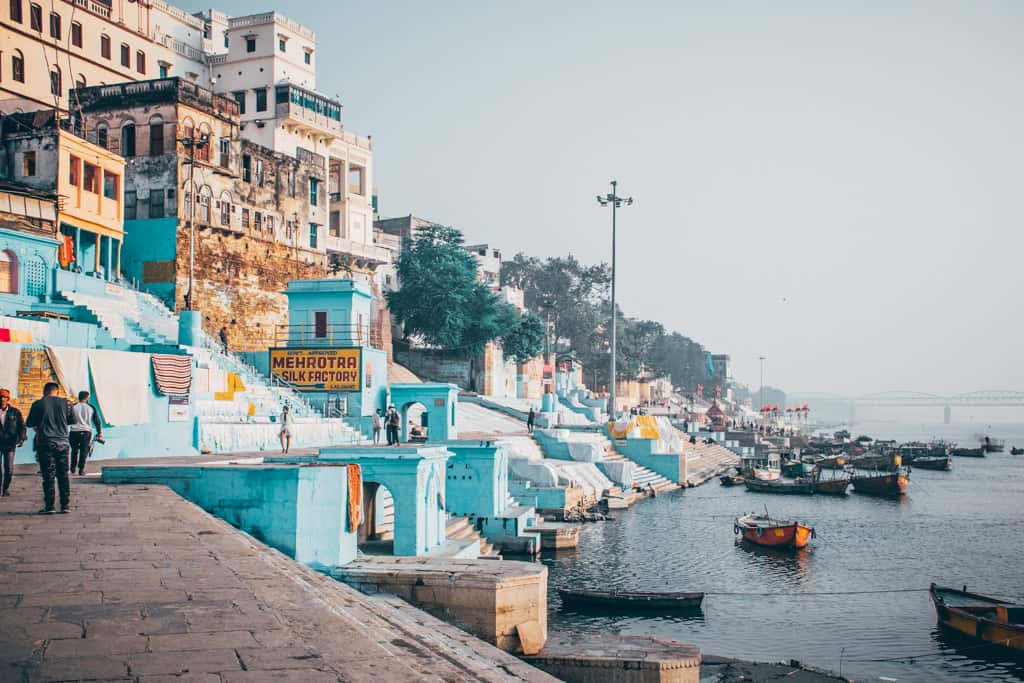 There are over 80 Ghats in Varanasi that lead to Ganga River. While you don't need to visit all the Ghats, it is a good idea to visit the main ones such as Manikarnika Ghat, Assi Ghat, Dashashwamedha Ghat, and so on.
When you stroll along the Ghats, you will witness the soul of Varanasi. From pundits guiding the devotional ritual ceremonies to people drying their clothes, pilgrims getting their heads shaven, and cows roaming around, there is a lot to see on the ghats.
Enjoy Lassi at the Blue Lassi Café
Blue Lassi Café is a hole-in-the-wall café that is one of the most famous shops in Varanasi for lassi. You can find lassi's in a wide range of flavors including mango, peach, banana, apple, and more.
The café is quite cozy and with over 80 flavors to choose from, it is definitely one of the top places to visit in Varanasi. All the lassi's are handmade by a man who sits on a small porch.
I would personally recommend you try the banana or chocolate lassi here.
Indulge in the Local Street Food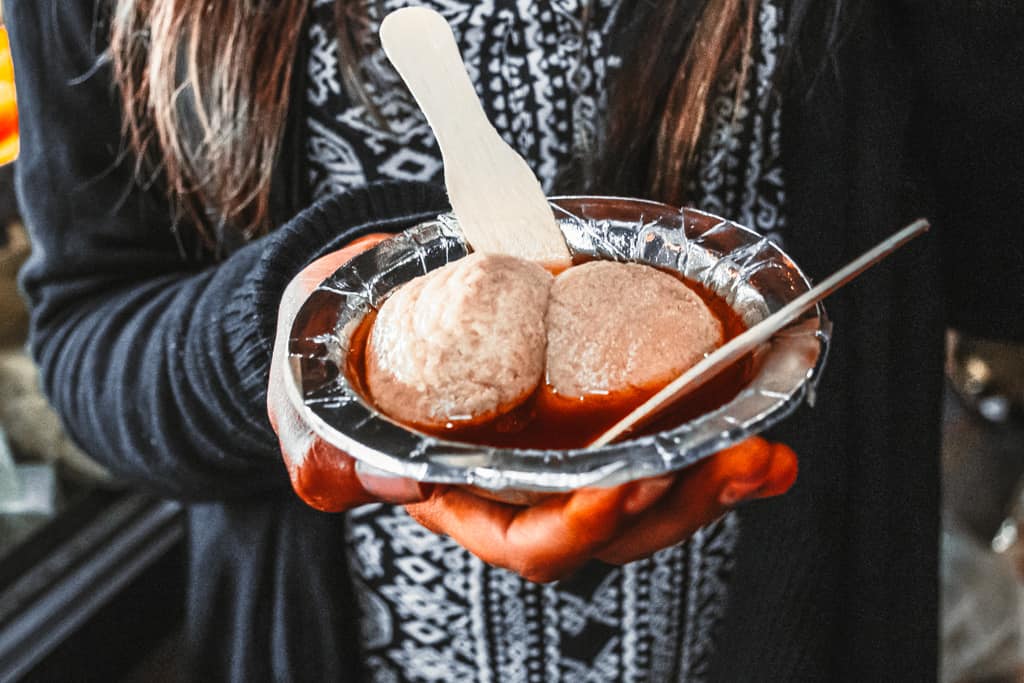 Varanasi is a paradise for food lovers so, of course, one of the most fun things to do in this city is to try the local street food. Gorge on the crispy kachoris and spicy aloo puri for breakfast or enjoy a plate of Baati Chokha.
And if you want some light snacks, then you can always check out gol gappas, samosas, pakores, and so on at the food stalls in the city.
Also, don't forget to try the local desserts – Malaiyyo and Jaggery Rasgulla when you visit this city.
Try Bhang from the Godowlia Market
One of the most popular and fun things to do in Varanasi is to try the local thandai with bhang in it. Bhang is essentially dried cannabis that is mixed in chilling thandai and served at many shops in the Godowlia Market.
It is an important part of the Varanasi culture and is often considered a tribute to Lord Shiva. But be careful because it can get you high. So, surround yourself with trustworthy people when you do plan to try this refreshing drink.
Click Lots of Instagrammable Photos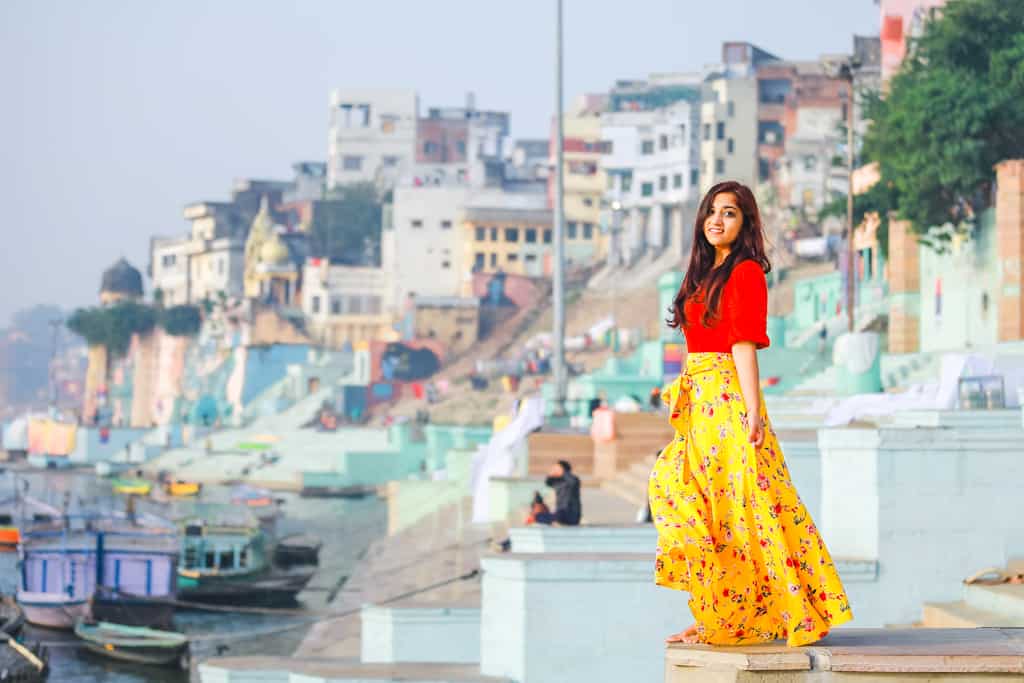 Varanasi is filled with beautiful streets, ghats, and palaces which is why a lot of Instagram users tend to visit this holy city.
There are lots of locations to get your perfect Instagram shot including some really gorgeous rooftop cafes. A few places where you can expect to get the perfect Instagram shot include Nandeshwar Ghat, Ramnagar Fort, Chet Singh Ghat, and so on.
Hang Out in a Cool Café
Although Varanasi is an ancient cultural city, it also follows the hippie culture which is why you will come across a lot of amazing cafés here. There are many cool cafés in the city serving both Indian and western cuisine with several entertainment options available.
Visit a café during the daytime to enjoy a refreshing glass of iced coffee or smoothie. And if you want to enjoy the scenic views, then find a rooftop café near the Ghats.
Discover the Doors of Varanasi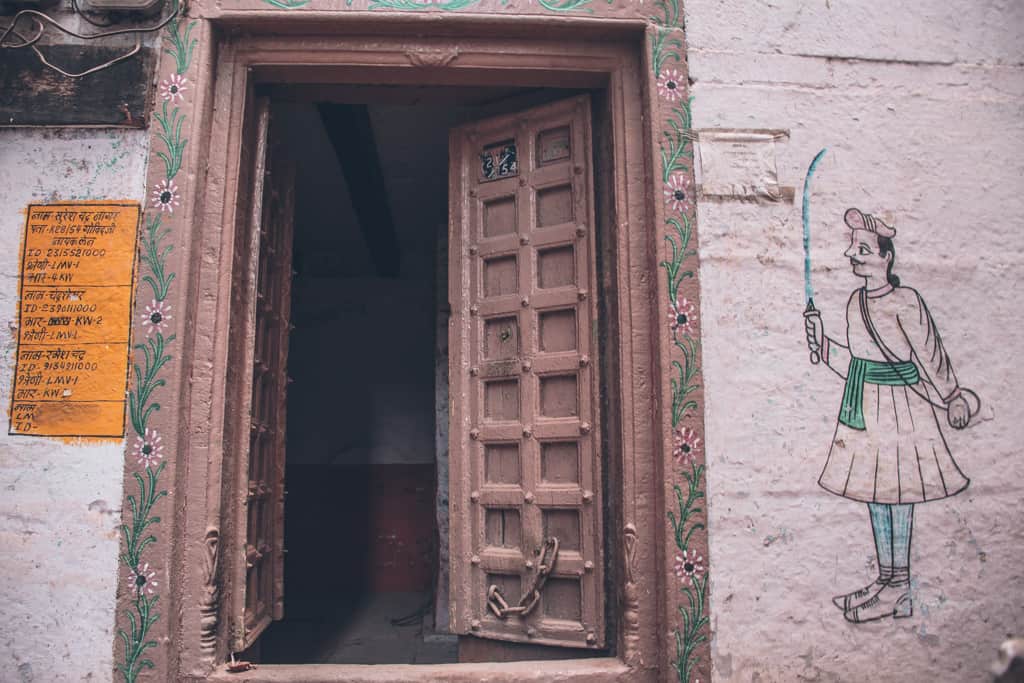 One of my absolutely favorite things to do in the city was to explore the beautiful doors that are scattered throughout the city. Varanasi is an ancient city so, it is home to several houses with traditional wooden doors.
These doors are beautifully carved and are present in different colors. As you make your way through the alleys, you will be transported back into time with these stunning doors surrounding you on your way.
Learning the History of Varanasi
Since Varanasi is an ancient city, it has witnessed the history changing its course for thousands of years now. It is believed that the Gyan Vapi Well shelters the original linga from the Vishwanath Temple that was sabotaged by Aurangzeb in the 17th century.
If you wish to relive the history, then you can visit the Benaras Hindu University that houses the Bharat Kala Bhavan Museum. You can browse over 12000 paintings here that date between 11th century and 20th century.
Ramnagar Fort was also built in the 17th century and has been home to royals for over 400 years now. The palace still exists and is a great way to glimpse into the history of this city.
There are several museums and temples scattered throughout the city to give you a little glimpse into the culture and history of Varanasi.
Meeting the Sadhus and Locals of Varanasi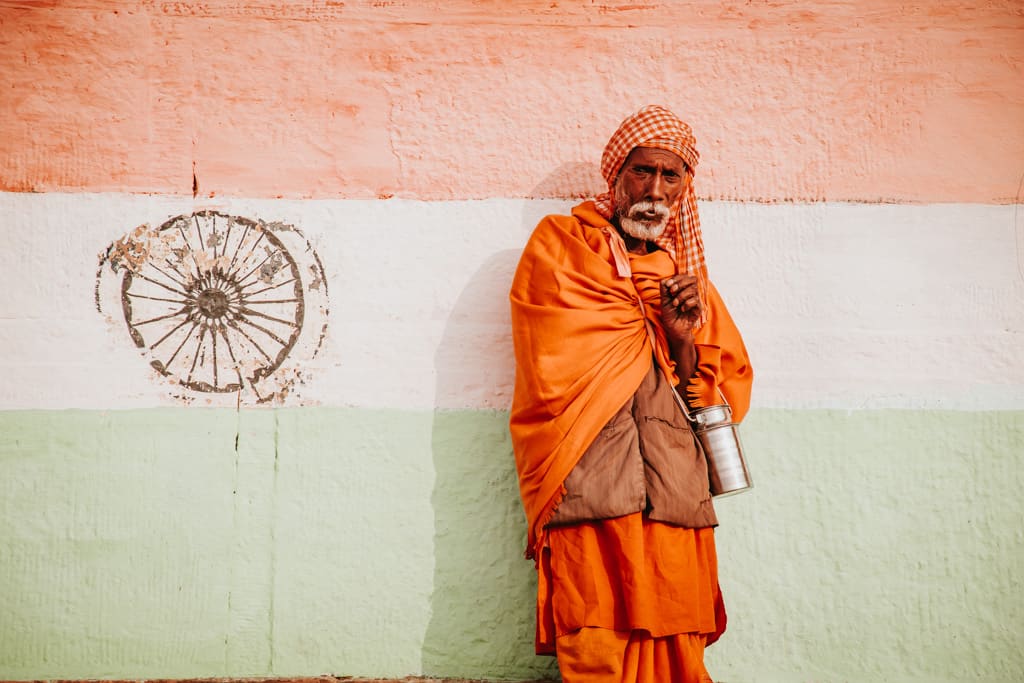 Personally, what I liked about Varanasi is how the locals are so helpful here. You can talk to them to learn more about the city and find hidden spots to explore here.
If you are strolling the ghats, then you will also come across locals taking bath in the river, setting up their shops, performing spiritual rituals, and more.
Apart from the locals, Varanasi is famous for the Sadhus that can be found on the Ghats. Spend time with them to get enlightened about the spiritual aspects of life or watch them perform different rituals.
Witness Kushti at an Akhada
A popular form of wrestling in India, Kushti or Pehlwani is an ancient style of fighting that has been practiced for hundreds of years now. This sport takes place in an akhada/akhara where the students get trained in the Indian martial arts.
An Akhada comprises of dry softened mud with several herbs for quick healing, there are not plastic mats or other things like you find with Yoga practitioners.
Although this has become an almost forgotten sport now, it is still a large part of Varanasi culture. There are several akhadas scattered throughout the city so, you can pay them a visit to observe this ancient sport. There is Swaminath Akhada at Tulsi Ghat where you can even try out kushti under the guidance of a veteran pehlwan.
Taste the Paan in Varanasi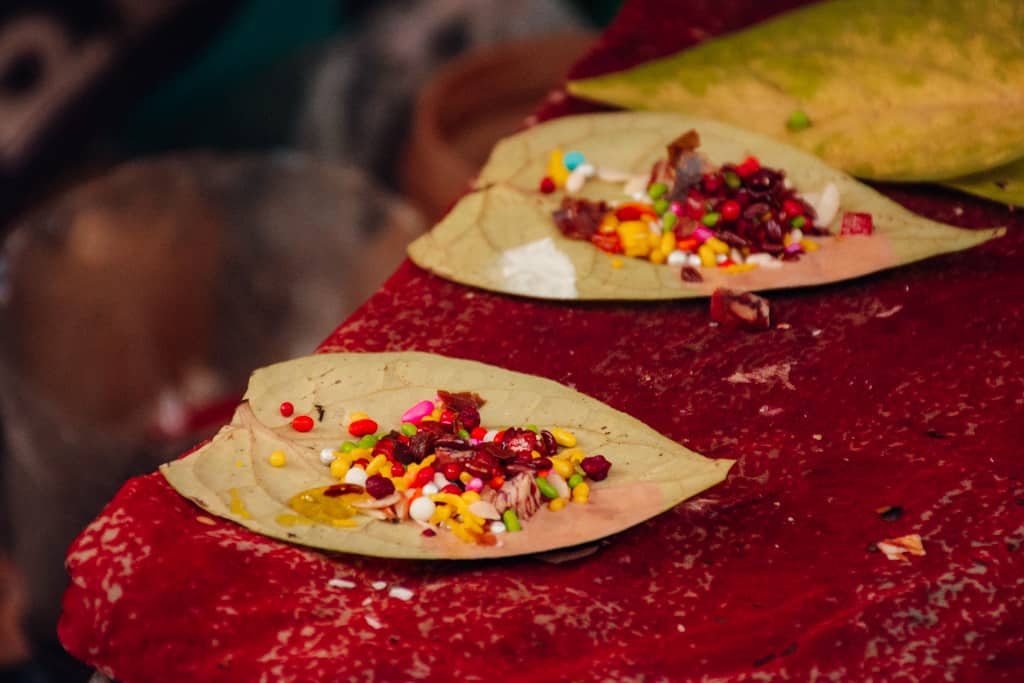 Banarasi Paan is famous all over India so, it would be a shame if you didn't try it on your visit to Varanasi. You can find this melt-in-your-mouth paan throughout the city.
Paan is basically made by wrapping an areca nut and herbs inside a betel nut leaf. Generally, it can become a little addicting if taken too often and is not good for your mouth as well. Keshaw Paan Bhandar near BHU serves the best paan in Varanasi that you simply cannot miss out on.
Also Read: How to Reach Varanasi From Delhi
Go Altar Spotting
There are lots of altars and temples in Varanasi that you can easily spot while exploring the city. Many can be found on the ghats while several are safely tucked away in the alleys behind these ghats.
From community temples to street altars, you will find a large variety here that can be fun to spot out. And there are a lot of Shiva lingam altars to spot here as well since river Ganga is ruled by Lord Shiva.
Visit Thousands of Temples of Varanasi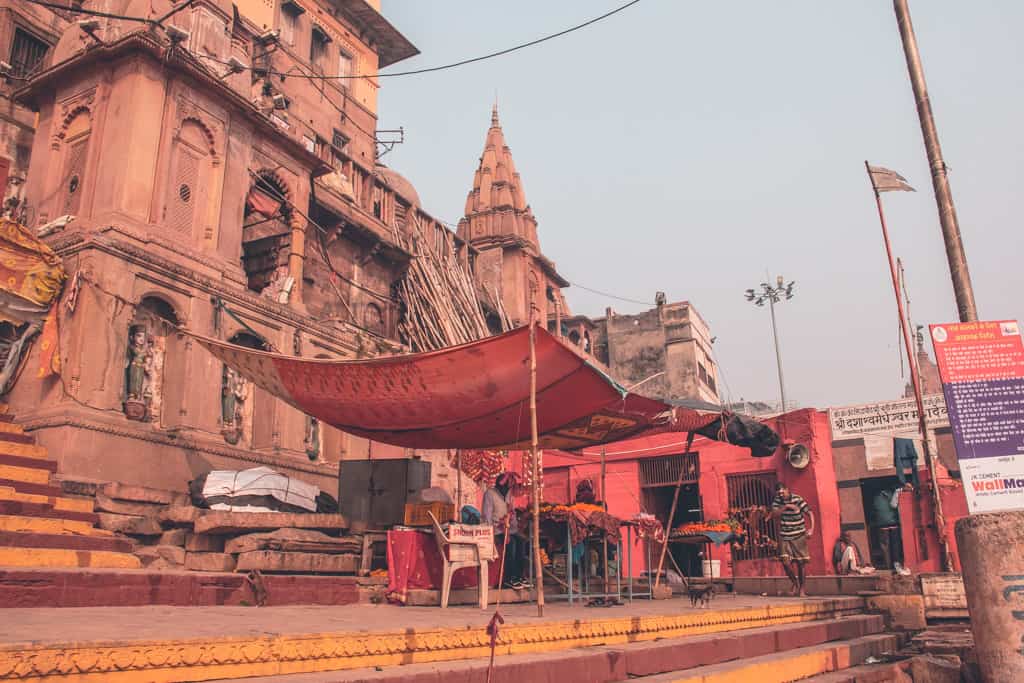 Due to the religious significance of the city, visiting the temples is one of the most important things to do in Varanasi. There are over 2000 temples here in every nook and corner. So, once you are done exploring the Ghats and river Ganga, it is time you head to one of these beautiful temples in the city.
A few popular temples that you might not want to miss are the Kashi Vishwanath Temple, Bharat Mata Temple, Tulsi Manas Temple, Durga Temple, and so on.
You will find Buddhist Temples and Hindu Temples along with mosques in the city. If you wish to see several temples together, then take a boat ride to observe them from a distance.
Spend a Day at Chandprabha Wildlife Sanctuary
Spending a day at the Chandraprabha Wildlife Sanctuary is one of the fun things to do in Varanasi that you cannot miss out on.
Comprising of dense forests, beautiful waterfalls, and scenic picnic spots, this wildlife sanctuary can be reached from Varanasi in 1.5 hours. A variety of animals can be found here including Cheetal, Indian Gazelle, Wild Boar, Sambar, and so on.
You can visit this destination to enjoy a forest village walk to learn how the locals survive here. Visitors can also hike through the forests to reach the enchanting rivers and waterfalls here and some beautiful caves that are adorned with prehistoric cave paintings.
Ride to the Other Side of the Ghat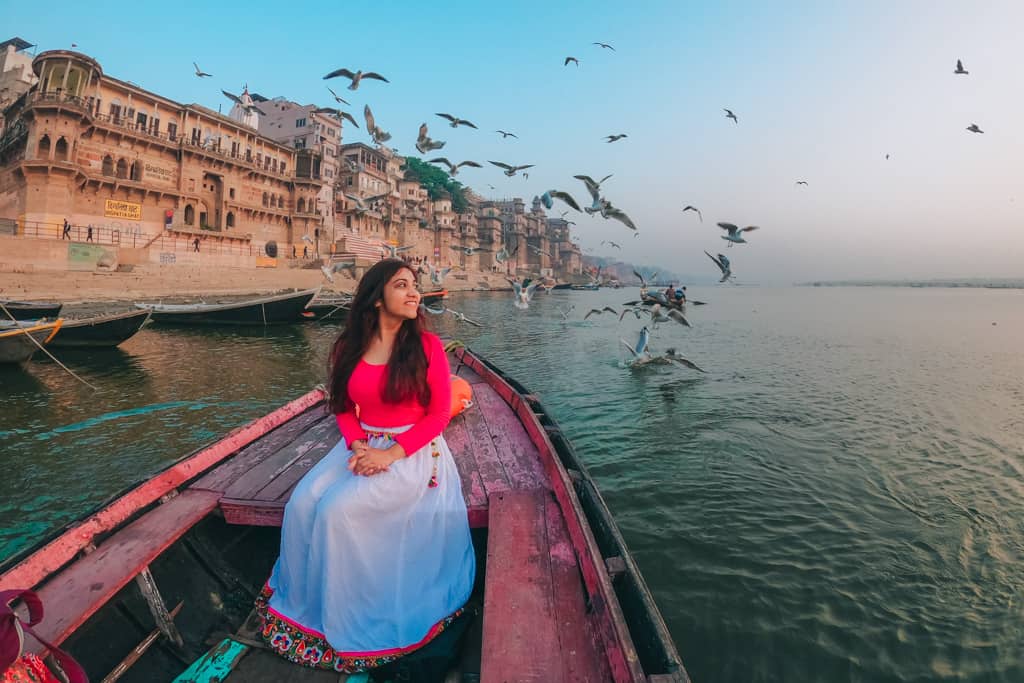 Well, it is no secret that Varanasi is full of amazing Ghats to explore and a boat ride is definitely the best way to do that. However, it is best to hire a private boat that would cost you around 250 INR to make the best of it.
With a boat, you can not only get close to the bathers to take a photograph but can even cross the river Ganga to reach Beharsh Kashi.
You can spend time at the Ma Ganga beach or visit the numerous beautiful temples that have been constructed here. Or you could simply enjoy the view of Varanasi Ghats from a distance.
Involve Yourself in the City
Finally, make sure that you don't just observe this city from a distance. There are numerous things to try here for you such as kushti, playing music, trying out the life of a saddhu, and more.
Spend some time in this city on the ghats and invoke the spirit of Shiva to truly understand what this city is all about. Trust me, walking along the ghats in the evening or attending the aarti with thousands of people is not the only thing that would bring you peace and purpose in your life.
Summary
Varanasi is curious yet one of the finest tourist destinations to visit in India. Beside the spiritual significance of this place, it is also known for its beauty and charm.
There are so many wondrous sights and offbeat things to do in Varanasi that you can easily spend a couple of days in this city.
Excited about your trip from Delhi to Varanasi? Still, have questions about planning a visit here? You can comment below on any queries that you might have. Alternatively, if you have been to Varanasi, then let us know what your favorite memory of this city is. 🙂