Varanasi, an ancient city in India, is one of the most fascinating places that I have ever visited. This vibrant and lively city receives pilgrims and tourists throughout the year who are looking for different things over here. Some come here to celebrate life while others come to celebrate an important milestone in their life.
Whatever may be the case, you will always find the streets of Varanasi bustling with tourists. There are lots of people taking bath in the sacred River Ganga along the Ghats. This is one vibrant and lively city that anyone who wishes to experience India should visit.
Planning a trip to Varanasi soon? Well, then this Varanasi Travel Guide will help you in doing so! I have shared all the details in this article including where to stay in Varanasi, how to travel within Varanasi, what to eat, shopping guide, and lots more.
Varanasi Travel Guide
About Varanasi
Varanasi is a sacred city in India which could easily be the oldest inhabited city in the world and has a very old history associated with it. According to the texts in Rig Veda, Varanasi was originally called Kashi and was officially renamed to Varanasi in 1956. Kashi translated to 'to shine' in English so, Varanasi was known as the City of Lights.
According to Hindu mythology, Varanasi was established by Lord Shiva who was the god of creation and destruction. Since it was the second home to Lord Shiva, there is a Kashi Vishwanath Temple dedicated to him. It is believed that anyone who dies in Varanasi is lucky as he will be liberation from the cycle or reincarnation. That's not all, a bath in the sacred river Ganga is also said to wash away all your sins.
This is why thousands of elderly come to Varanasi to spend their last days here and priests conduct the final rites for those who died in the city.
Apart from being a prominent site in Hinduism, Varanasi also happens to be a sacred place for Buddhism. Gautam Buddha gave his first sermon about Buddhism around 528 BC and the town of Sarnath, located in Varanasi, is home to temples, stupas, and sites related to Buddhism.
When to Visit Varanasi?
Varanasi is accessible throughout the year but different months are suited for different activities. However, if you wish to just explore the sights in Varanasi, then you can visit Varanasi during the winter season. The weather is cool and pleasant so, sightseeing turns out to be a lot of fun.
Getting There
Located in Uttar Pradesh, Varanasi is around 300 km from Lucknow which is the state capital and 800 km from Delhi which is the national capital. The city is well-connected to the rest of India through roads, railways, and flights.
So, if you are travelling to Varanasi from Delhi or any other city in India, you will have a lot of options available.
How to Travel Within Varanasi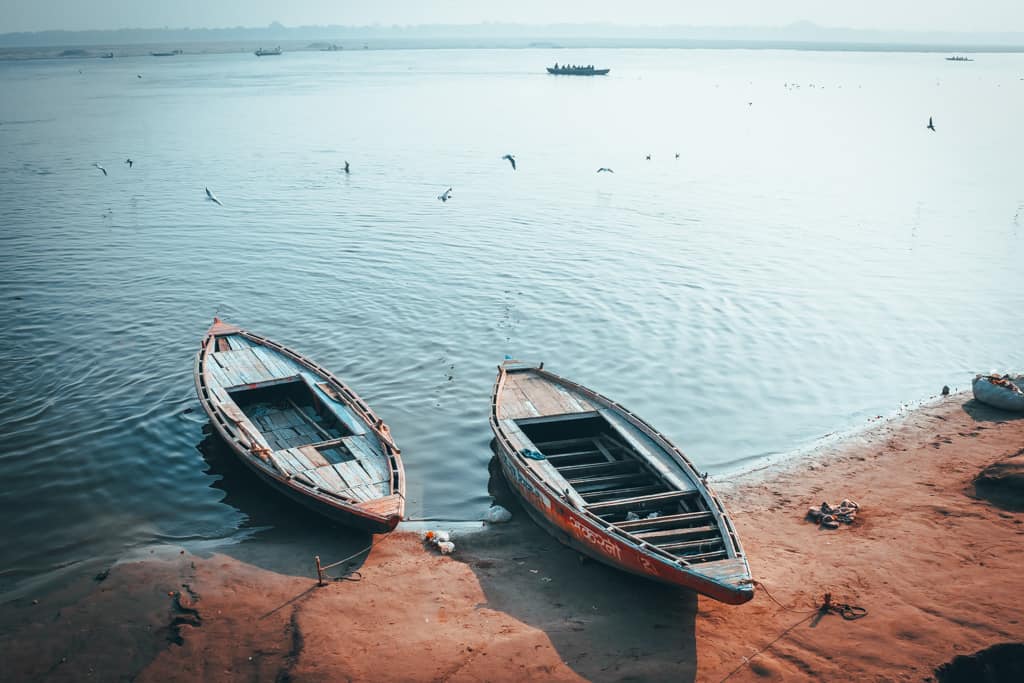 Once you have reached Varanasi, I am sure you must be wondering how can you travel within Varanasi. Well, since Varanasi is so populated and full of attractions to visit, it is good to know about the main mode of transportation that you will find here.
Here is a brief breakdown of how you can travel in Varanasi.
Walking
Personally, I found the best way to explore Varanasi was on foot. If you are covering the streets and Ghats of Varanasi, then this is a great way to do that. It will take you around 1 hour to travel from the northernmost Ghat in Varanasi to the Assi Ghat. Apart from that, the streets are filled with wonderful doors and alleys for photography, so walking is a great way to uncover that as well.
Moreover, you can stop at the food vendors to enjoy the local street food in Varanasi if you are walking and exploring the city.
Rickshaws and Shared E-rickshaws
While walking is a great way to explore Varanasi, you cannot travel to the temples or other places if your hotel is situated a little away from these attractions. In such a case, a rickshaw or an E-rickshaw could be useful. Usually, a rickshaw will cost you around 50 INR for a 3km radius but be prepared to bargain.
There are many shared E-rickshaws that will take you to the ghats and cost you just 10-20 INR for the journey.
Auto-rickshaws
If you are travelling from the railway station or the airport, then auto-rickshaws are the best way to reach your hotel/hostel. You will find lots of auto-rickshaws but you will have to haggle a little for the right price. An auto from Varanasi Junction will cost you around 150-200 INR to Dasaswamedha Ghat.
Ola or Private Taxis
Finally, you also have the option of ordering an Ola cab but remember, the streets of Varanasi are quite narrow so you might not be able to take you car deep inside the city. But it is a great option if you are travelling from the Airport and don't want to waste your time or energy on haggling the prices with the auto owners or private taxi owners.
Boats
Finally, when you are travelling around the Ghats, then one of the best ways to travel from one Ghat to another Ghat is by taking a boat. You can also enjoy a boat ride to cross the river and explore the ashrams and temples that are located on the other side. Usually, a boat ride of one hour will cost you around 50-100 INR per person.
Tips for Traveling in Varanasi
When you are travelling in Varanasi, you might feel a bit out of place. So, here are a few tips that I have compiled to help you blend in Varanasi and have an enjoyable trip here.
Dress Conservatively in Varanasi
Well, Varanasi is the spiritual capital of India so it is imperative that you wear modest clothing to avoid unwanted attention. You don't have to wear a suit or saree but you can wear tops and long skirts to keep your shoulders and legs covered at all times.
Beware of the Scams
There are a lot of scams happening daily with tourists in Varanasi so, I would recommend you to be careful here. A few common ones are where locals try to take you to special restaurants or hotels or shops and then take commission for that.
Boat tour guides ask for ridiculous amount at times so you will need to be prepared for haggling. But most importantly, if anyone asks you to buy wood for cremation services, then either say no or be ready to spend a lot because the wood is usually sold to the tourists at a high price to earn profits.
Follow the Rules and Customs
One of the major things to remember when travelling in Varanasi is that the locals have their own customs and rituals here. So, instead of questioning them, respect them and follow them. Sometimes you would be asked to not enter an area with your footwear so, be respectful and remove it before entering.
Be Careful When Taking Photographs
Make sure that you don't take photos of anyone without permission in Varanasi as it can lead to a lot of trouble. Whether it be a saddhu, a baba, or a local, always be mindful of taking their permission before clicking their snap.
Also, photographs of the cremation area are strictly prohibited so, don't even attempt it.
Keep Your Belongings Safe
There are a lot of pickpockets in Varanasi so, always keep your bags locked and pay careful attention to them. Leave your valuables in the hotel room and always be aware of your surroundings when exploring the ghats or attending the Ganga Arti.
Stay Safe When Drinking Bhaang
Bhaang is basically edible cannibas which is legal at a few government shops in Varanasi. When you try it out, make sure you are in a safe zone as it can be trippy and can make you hallucinate. Always buy it from a government-authorized shop and always keep trustworthy people around you. If you are travelling solo or unsure about it, then don't try.
Bargain a Lot
An important thing to remember when travelling in Varanasi is that you will have to haggle almost everywhere. From shopping to transportation, everyone will quote higher price to you in the beginning so, you need to bargain a lot to bring it to the actual price of the product or service.
Watch Out for Bulls
The streets of Varanasi are full of bulls and cows which makes it slightly difficult to navigate the alleyways at times. So, always be careful when you are exploring the streets and don't end up walking in bull or cow crap as it would be very difficult to get it off.
Where to Stay in Varanasi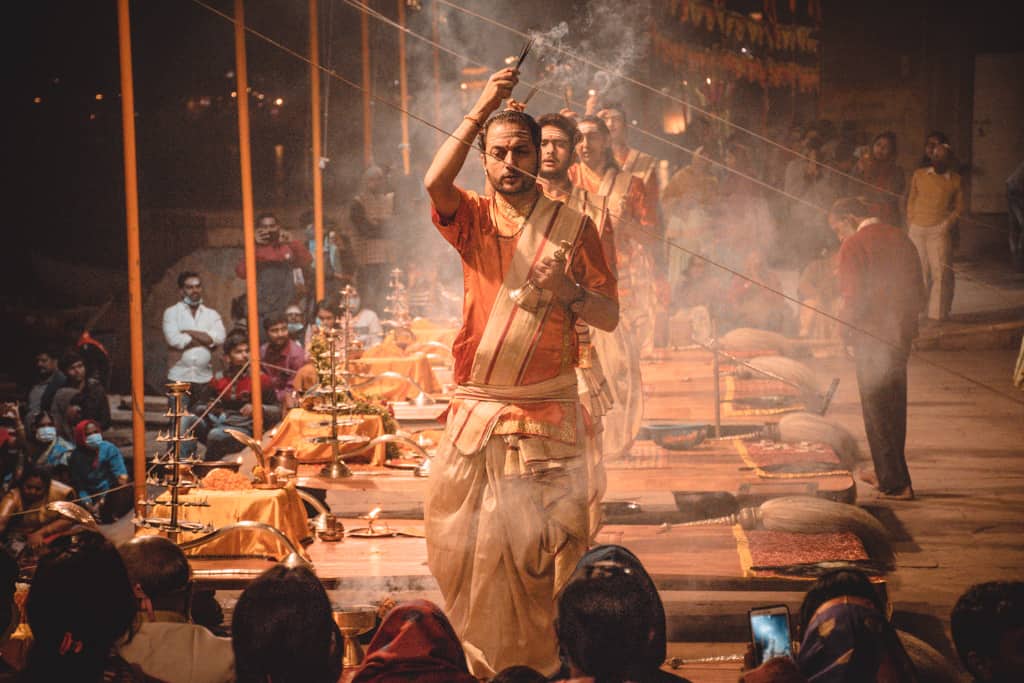 Of course, a Varanasi Travel Guide without information on where to stay in Varanasi is slightly incomplete. Since Varanasi is a popular pilgrim destination, there are lots of accommodations available here in varying price ranges.
Depending on your budget and the purpose of your visit, you can choose the best stay in Varanasi for you.
Best Places to Stay in Varanasi
There are many amazing places to visit in Varanasi, especially the ghats. This is why it is important that you choose a place to stay in Varanasi to make it easier to explore the sights. Here are a few of the best places to stay in Varanasi to make the most of your trip:
Dasaswamedha Ghat – One of the top places to stay in Varanasi is Dasaswamedha Ghat as it is the main location for Ganga Aarti in Varanasi. It is said that this ghat was brought into existence by Lord Brahma to welcome Lord Shiva. There are a lot of activities going on here which makes it a popular attraction for tourists. Offering beautiful views of the city, there are many good hotels here for you to reserve your stay in Varanasi.
Darbhanga Ghat – Known for its amazing sandstone structure, Darbhanga Ghat is a great place to stay in Varanasi. There are many good heritage hotels here and since it is next to Dasaswamedha Ghat, you can easily witness the evening Ganga Arti here as well.
Shivala Ghat – Overlooking river Ganga, this is another busy ghat that offers several affordable and luxury accommodation options to the travellers. This is a good place to stay as the Ghat lies in the middle and offers you access to both the Assi Ghat side and the Dasaswamedha Ghat.
Hanuman Ghat – Another beautiful Ghat to consider for your stay in Varanasi is Hanuman Ghat a.k.a Rameshwaram Ghat. This gorgeous destination is believed to be built by Lord Rama for his disciple Hanuman. You will find a Hanuman temple here and one dedicated to Tulsi Das as well. There are several good hotels and restaurants here to explore during your stay.
Assi Ghat – Assi Ghat is located at southermost end of Varanasi ghats and offers several accommodation and restaurant options. It is also a quieter area for staying in Varanasi and happens to be the largest Ghats in Varanasi. One can visit here to enjoy boat rides to cross the River Ganges or reach Dasaswamedha Ghat that is located in the north side.
Budget-Friendly Stay Option: Hostels and Guest Houses
If you are a backpacker or a budget-traveler like me, then I am sure you are looking for an affordable stay in Varanasi. Thankfully, there are many hostels and guest houses to choose from in the city. Moreover, these accommodations are scattered all over the city, so you would be able to find a suitable accommodation near your choice of Ghat.
I have mentioned a few of the best options for the top locations in Varanasi to help you make a choice.
Price: These hostels and guest houses cost between 300 and 1100 INR per night for two guests.
Assi Ghat – Live Free Hostel, Hotel Picasso, Moustache Hostel Varanasi, Old City PG Hostel, Om Guest House, Kedar Guest House, Bliss Hostel, Banaras Paying Guest House.
Dasaswamedha Ghat – Mad Squad Hotel, Family Guest House, Alka Hotel, Wander Station Varanasi, Shiva Lodge.
Darbhanga Ghat – Vibe n Joy Guest House, Vishnu Rest House, Family Guest House, Ganga Guest House, Wander Station Varanasi, Liberty Guest House, Chatter Box Hostel.
Shivala Ghat and Hanuman Ghat – HosteLaVie Varanasi, Dynasty Guest House, Hotel Heritage Inn.
Mid-Range Stay Options: Hotels
For those who are looking for a little more comfort during their stay in Varanasi, there are many good 2-star and 3-star hotels available here. These hotels are reasonably priced and many of them are located on the ghats to offer easy access to their guests.
Here I have mentioned a few best options in Varanasi for mid-range stay options.
Price: These hotels and guest houses will cost you anywhere between 1500 and 4000 INR per night for two guests.
Assi Ghat – Via Varanasi, Hotel Ganga Garden, Palace on Ganges, Hotel Banaras Haveli, The Art Hotel, Banaras Hostel, Hotel Haifa.
Dasaswamedha Ghat – Ganpati Guest House, Shiva Inn Paying Guest House, Safarnama Varanasi.
Darbhanga Ghat – Hotel Sita, Sri Omkar Palace, Shiva Guest House, Palace on Steps.
Shivala Ghat and Hanuman Ghat – New Hotel Broadway, Rivera Palace, Rose Heritage Home, Ratanakar Palace Guesthouse, Hotel Balaji Palace, The Century Plaza,
Luxury Stay Options: Hotels and Resorts
Looking to relax and pamper yourself during the weekend trip to Varanasi? Then, you should check out the resorts and havelis in Varanasi for a luxurious stay here. These hotels and resorts will be a tad bit expensive but you would get the best facilities and services here.
Check out these few best accommodation options in Varanasi for a luxury experience.
Price: A stay at these luxury properties will cost you anywhere between 4,000 and 20,000 INR per night for two guests.
Dasaswamedha Ghat and Darbhanga Ghat – BrijRama Palace
Shivala Ghat and Hanuman Ghat – Amritara Suryauday Haveli, Shiva Ganges View.
Other Parts of Varanasi – Guleria Kothi, Taj Ganges, The Clarks, Ramada Plaza.
Where and What to Eat in Varanasi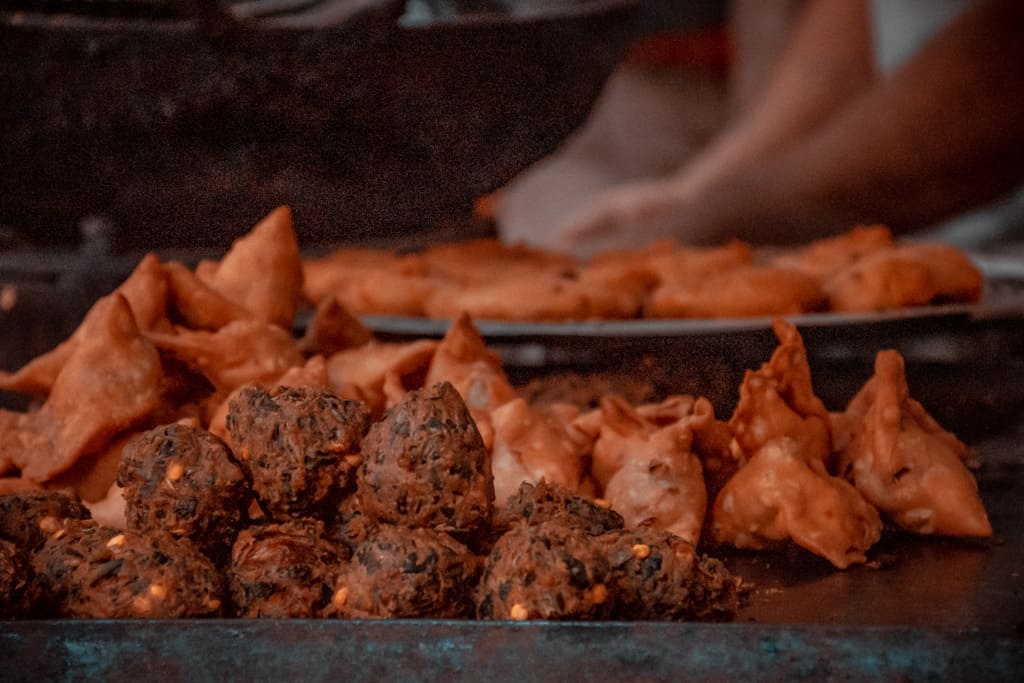 Although Varanasi is not known for partying or fine dining, but one of the best things to do in Varanasi is to try the street food here. You will find lots of simple restaurants and street food vendors around the Ghats in Varanasi that you simply cannot miss out on.
Since there is religious significance, restaurants near the river Ganga offer vegetarian food with non-alcoholic drinks. However, hotels and restaurants that are located away from the Ghats do offer non-vegetarian food and alcoholic drinks.
Where to Eat in Varanasi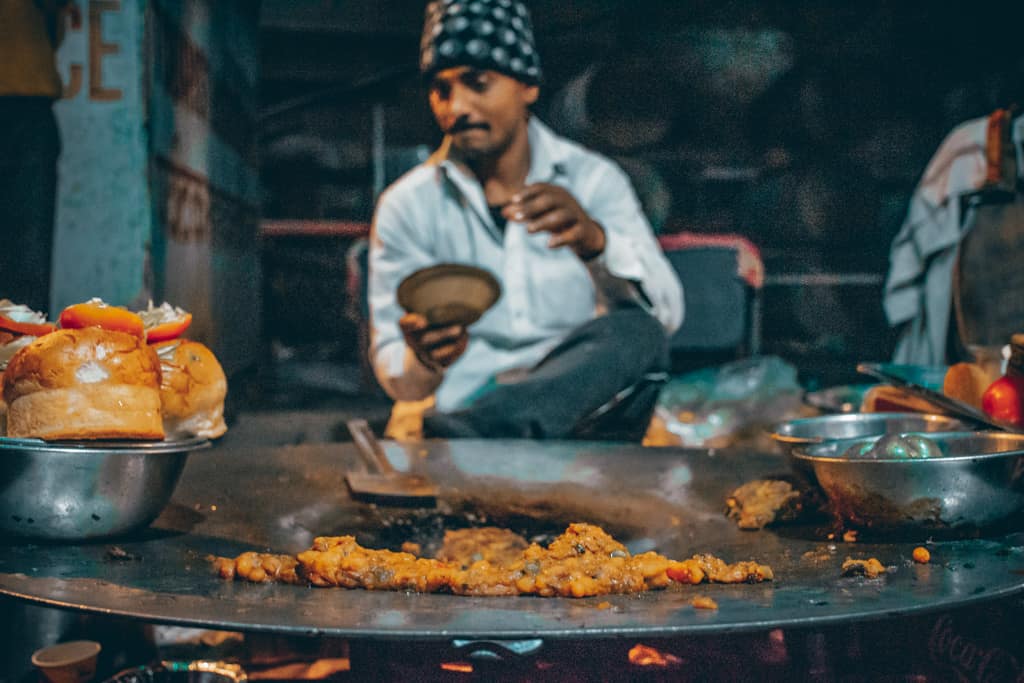 Here are a few best restaurants and food vendors that you should try in Varanasi.
Bhokal Chat – One of the most famous Chat vendors in Varanasi, you cannot miss the Pav Bhaji and the chat at Bhokal Chat in Assi Ghat. The chat is just too good for words and it costs barely 50-100 INR for a meal here.
Kashi Chat Center – If you are craving some delicious chaat or street food, then Kashi Chat Center near Dasaswamedha is a good place to check out. The food is delicious and cheap and this place has become quite famous among the tourists.
Brown Bread Bakery – A great place for breakfast, Brown Break Bakery offers everything from pizzas to cakes and offer great ambiance at the rooftop restaurant. You can also catch a live classical performance here at night around 7:30 p.m.
Shiva Cafe – This is yet another great choice for anyone who is looking for lots of options in food. This cafe serves not only Indian cuisine but Nepalese, Thai, and Western cuisine as well.
Dada Ki Chai – Another great place near Assi Ghat, Dada Ki Chai is a must-visit for all the tea lovers out there. You get the typical kulhad chai here which is delicious and affordable and you have a wide range of teas to choose from.
Pizzeria Vatika Cafe – If you are tired of the Indian food, then you can try Pizzeria Vatika Cafe where they serve delicious crispy pizzas and amazing apple pies. You can also enjoy the view of the river Ganges from here.
Aum Cafe – This is a Ayurvedic family run vegetarian cafe near Assi Ghat. Here, you can find good variety of herbal teas, juices, and so on. You can also get piercings or body massages get done here.
Hotel Kalika – If you are craving some non-vegetarian food, then Hotel Kalika near Assi Ghat is the best place to check out. From chicken to mutton, you get everything here at an extremely affordable price and the food it absolutely delicious too.
Dolphin Restaurant – Located on the banks of Dasaswamedha Ghat, Dolphin Restaurant is a great place for vegetarian food in Varanasi. You will get both North Indian and Continental cuisine here and can enjoy the river views with your food.
Varanasi Street Food to Try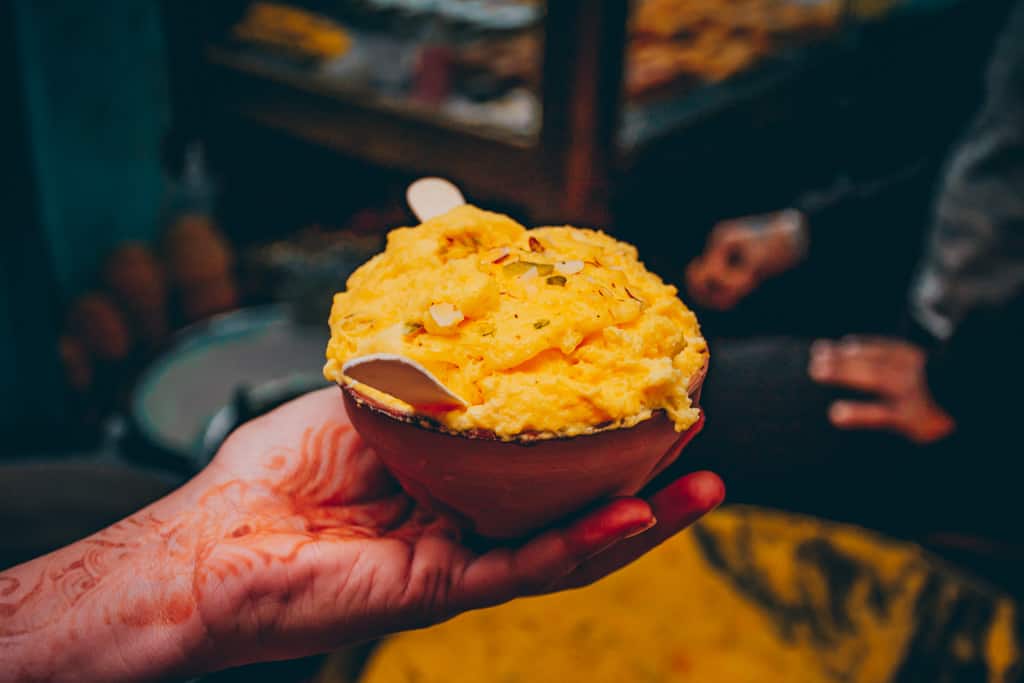 Varanasi is known for its amazing street food so, it would be a shame if you didn't try it on your visit. Here are a few street foods that you should definitely try on your Varanasi trip:
Kachori Sabzi – One of the most popular breakfast options in Varanasi, Kachori Sabzi is a must-try delicacy. In this dish, you have badi kachori filled with dal masala and choti kachori stuffed with a spicy potato mixture. Then, aloo ki sabzi is added to it to make this wholesome dish ready. You can get this at most street food stalls in Varanasi.
Malaiyyo – Malaiyyo is a popular winter street dessert in Varanasi that will simply melt in your mouth. Made from milk froth, saffron, cardamoms, and garnished with almonds and pistachio, this dish is served in kulhad and is a must-try in Varanasi.
Lassi and Bhaang – Two drinks that you will find commonly in Varanasi are lassi and bhaang. Made from curd, lassis are great to keep your stomach relaxed during the summers and can be found almost everywhere. But for bhaang, you have to be a little careful as it can cause you to lose your senses a little bit. Made from tulsi and milk, bhaang is a little potent drink that you should only drink in a safe environment but it is also a must-try in this city.
Baati Chokha – Although a Bihar speciality, baati chokha is famous in Varanasi too. Baati is basically wheat ball with sattu filling chokha is simply mashed potatoes and brinjal with spices. It makes a tasty snack and you should definitely try it when you are visiting Varanasi.
Tamatar Chaat – The Varanasi version of Tamatar Chaat should definitely be tried out as you will find it just here. In this, the tomatoes are mixed with boiled potatoes, spices, hing, green chillies, and pounded ginger. It is served along with chaat masala and tastes yummy!
Samosa – Of course, when we are talking about street food, how can we miss the samosas and the pakodas that are the staple snacks in Varanasi. You can get these snacks from any street vendor for 5 INR and can enjoy a budget-friendly trip here.
Shopping in Varanasi
If you are travelling to Varanasi for the first time or even for the umpteenth time, you cannot miss out on buying souvenirs from here. The city is particularly famous for the Benarasi Silk Sarees and it would be a shame if you didn't get them for yourself or your loved ones. Apart from that, you can also buy Ganga Jal, Rudraksha Mala, Wooden Toys, Shivalinga, Glass Beads, Flutes, Stone Carved Curios, and Indic Literature Books at home.
For shopping in Varanasi, there are many good street shops that offer good prices and variety of products. Most of the small souvenirs such as Rudraksh Malas, Wooden Toys, etc. you can easily buy from kiosks on the Ghats. Be sure to haggle for the price as the owners usually quote a high price for the tourists.
There are many amazing local streets for shopping in Varanasi where you can buy clothes, accessories, and a lot of others things at reasonable price. For silk and woollen products, you can head to the Thatheri Bazaar while Vishwanath Galli offers not only shops for buying clothes but houses several food shops as well. Apart from that, there are a few malls in Varanasi as well such as PDR Mall, Vinayak Plaza, etc. so, you can check them out as well.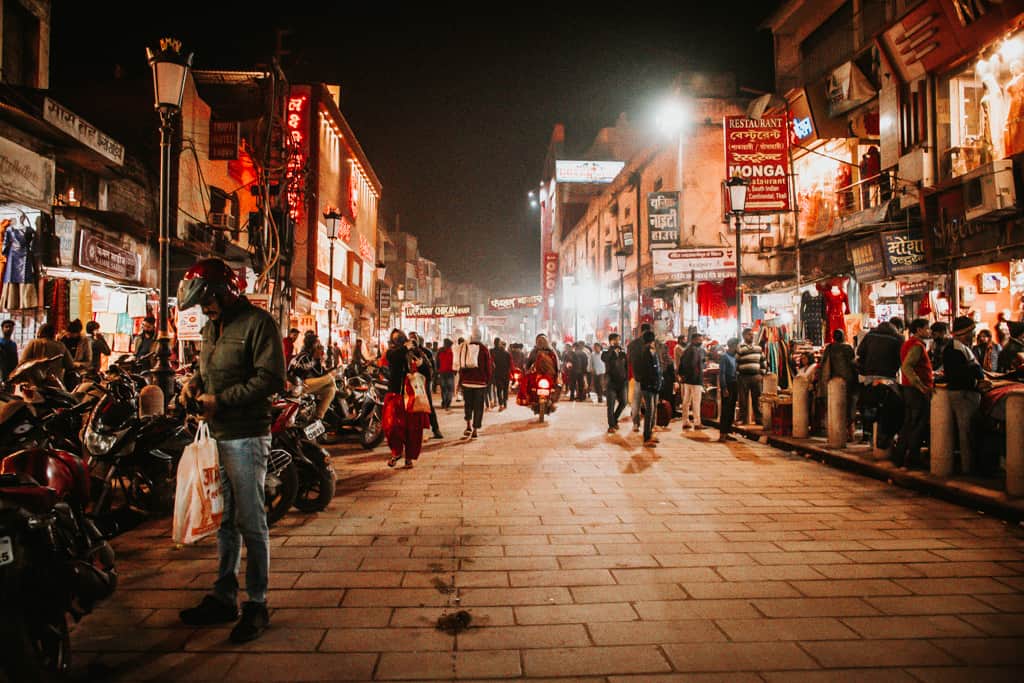 Network Availability in Varanasi
Airtel and Jio works best in Varanasi with Vodafone offering decent network service too. If you are planning to attend calls or use Internet data for working, then I would recommend you to carry either an Airtel or a Jio SIM with you.
ATMs in Varanasi
There are several ATMs scattered throughout the city of Varanasi. So, you will easily be able to find your bank's ATM to withdraw the cash.
For foreigners, there are several Currency Exchange shops available in the city as well. You will be able to exchange your USD, EUR, Pound, and other currency notes quite easily here.
Also Read: The Must-Visit Places in Varanasi
Safety Tips for Traveling in Varanasi
Although Varanasi is safe for solo female travellers, it is important to be prepared for any unexpected experiences. Try to plan your Varanasi trip so that you don't face any such incidents. Make sure that you don't roam around in secluded areas at night alone. Don't be quick to believe anyone when they try to take you to some nice location for shopping or eating. Avoid accepting drinks from strangers, especially since bhang is widely distributed in Varanasi.
Most importantly, be prepared for any situation and inform your family and friends on your whereabouts at all times. Keep handy the local emergency numbers and the number of your hotel/hostel in case you get into any trouble.
Cost of Traveling in Varanasi
Now, coming to the total cost of travelling in a place like Varanasi, it depends on the kind of traveller you are. You can get a stay in Varanasi for as low as 150 INR per night or you can spend around 500 – 800 INR for a decent one.
Meals in Varanasi will cost you around 50 – 100 INR. You can get a Thali or Pav Bhaji for this amount which would be filling for a meal. For transportation to nearby places, you can expect to shell around 50 – 100 INR in a day if you are staying close to the Ghats.
So, if you are planning a 3 to 4 days trip in Varanasi, you can expect to spend around 4000 – 5000 INR, depending on your travelling style. Personally, when I travelled in Varanasi, I spent around 2800 INR for a 5-day trip excluding my travel cost to and from Varanasi.
Summary
Well, Varanasi is an amazing place to visit in India, there is definitely no doubt about it. And with a little bit of planning, you can execute a wonderful trip here. Make sure that you keep aside enough days to explore everything that this city has to offer and look for local experiences to enjoy your trip more here.
I hope this Varanasi travel guide helps you plan an epic trip to this wonderful city. Let me know if you would like me to add anything else.