Although I am not a great fan of treks, one of my favorite treks in India has to be the Valley of Flowers that I did on a budget of just 2500 INR. Yes, you heard me right! This complete 7 to 8-day trek to the valley of flowers and hemkund sahib is possible on a small budget and is a great way to get in touch with nature.
In this article, I have jotted down everything that you need to know to plan and implement this trek comfortably and on a budget. From the best time to visit the valley of flowers to the valley of flowers trek difficulty, route map, etc. you can read on everything in this blog post.
Valley of Flowers Trek
Situated at an altitude of 3,500 meters (approximately), the Valley of flowers is a World UNESCO Heritage site and is popular for its field of endemic alpine flowers and a variety of flora. This Indian national park in Chamoli, Uttarakhand, is also home to several endangered animals like snow leopard, red fox, blue sheep, Asiatic black bear, and a lot more.
One of the best things about the valley of flowers is its gentle landscape that complements the rugged mountains of the Nanda Devi National Park which is located in the east of the valley. The entire Valley of Flowers is exotic and magical and offers scintillating views to anyone who embarks on this trek.
Best Time to Visit the Valley of Flowers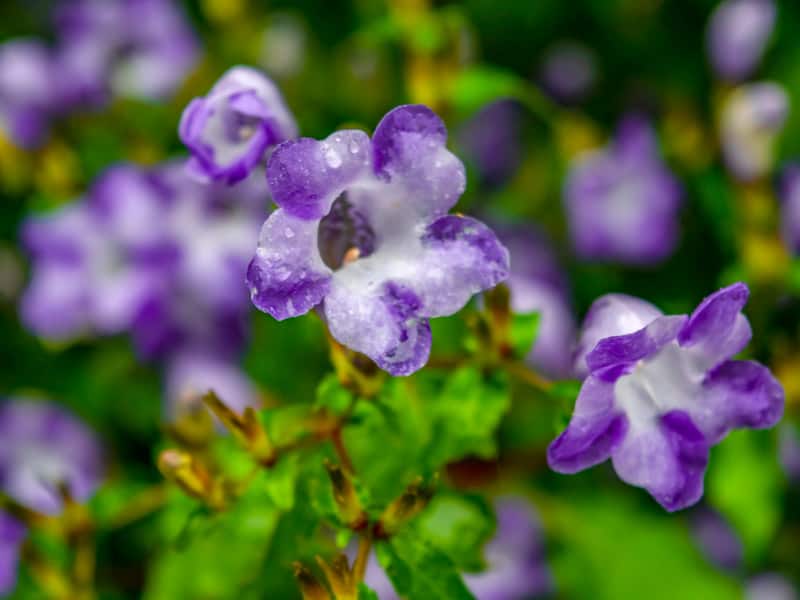 Now, the best time to visit the valley of flowers if during the monsoon season. However, to give you a better idea of what you can expect in each season, I have elaborated a little below.
June to September (Monsoon Season)
June
Every year, the Valley of Flowers National Park opens at the beginning of June as the snow melts and the trail becomes accessible to all. However, you won't see any flowers blooming in June or the beginning of July so, I would advise you to not plan your trip during this time.
July – August
Instead, the best time to visit the valley of flowers so that you can watch the blooming flowers and the colorful valley is from mid-July to mid-August. In July, the flowers have just started blooming so by the end of July, you see it in abundance.
Yes, it is also extremely rainy so you have to carry waterproof clothes and be careful while trekking to the valley of flowers. However, if you can weather the climate, then you will be rewarded with the most gorgeous view of the valley.
August – September
This is perhaps not the best time to visit the Valley of Flowers as most of the flowers would have waned by now and there won't be as many flower varieties as found in July. However, if it is just the trek to the Valley of Flowers that you are interested then it is also a good time. There would be lesser rainfall and you could actually end up a nice sunny day in the valley.
October to May (Off-Season)
From October, the valley is officially closed for the tourists and travelers so, it is definitely not the best time to visit the Valley of Flowers. If you wish to visit Valley of Flowers in this month, you will need to take special permission from the authorities to do so.
After October, the area starts receiving its annual snowfall and the roads and trails are packed with snow. So, you won't be able to reach the valley and won't have the meadow of flowers to observe.
So, if you wish to enjoy the colorful meadows filled with a wide range of flower varieties, then the best time to visit the valley of flowers is from July to August.
But if you still want to take a Trek in October, not all hope is lost. This is the ideal time to go on the Kheerganga Trek and relax and mind and body in the hot springs there.
How to Reach Valley of Flowers
One of the most-asked queries about of Valley of Flowers is how to reach Valley of Flowers from your home city. Now, if you don't stay in Uttarakhand, then you have a decently long journey in front of you, depending on where you start your trip.
Most importantly, your trip will be divided into four legs: Reaching Rishikesh, Reaching Govindghat, Govindghat to Ghangharia, and finally Ghangharia to the Valley of Flowers.
How to Reach Rishikesh
The first step towards your journey to the Valley of Flowers is reaching Rishikesh. Here are a few ways in which you can reach Rishikesh:
Air
The nearest airport to Rishikesh is the Jolly Grant Airport in Dehradun at a distance of 20 km. You can take a flight to this airport and then take a bus or cab to reach Rishikesh from here.
You also have the option to reach Indira Gandhi Airport in Delhi and then make your journey to Rishikesh.
Road
If you are traveling from places like Delhi, Chandigarh, Dehradun, etc. then you can hire a private cab to reach Rishikesh. Another option would be to take the local or a private bus to reach Rishikesh.
Rail
The closest railway station to Rishikesh is in Haridwar, at a distance of approximately 21 km. You can look for a train from your home city to Haridwar and then take a bus or cab to reach Rishikesh.
How to Reach Govindghat from Rishikesh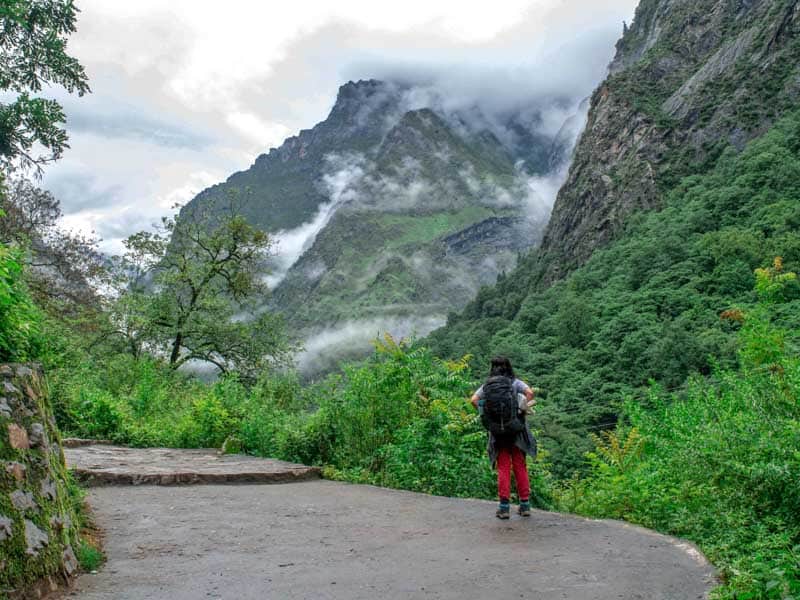 After reaching Rishikesh and completing the first leg of the journey, you have to embark on the second leg of the journey to Govindghat. There are a few transportation options for you to choose from.
Local or Private Bus
From Rishikesh, you get direct buses to Govindghat every morning, between 4 a.m. and 6 a.m. which costs around 450-500 INR. You can opt to take any of these buses and reach Govindghat in 10-12 hours.
If you miss the direct bus, then you can take a private bus to Chamoli Gopeshwar/Karnaprayag from Rishikesh for 300 INR. These buses will take 8-9 hours to reach and from there, you can take a shared jeep to reach Govindghat.
Shared Jeeps or Private Cabs
If you are lucky, then you might get a few direct shared jeeps to Govindghat but the chances of this happening are quite less. Instead, what you can do is take a shared jeep till Chamoli Gopeshwar or Karnaprayag.
From here, you can get another shared jeep to Govindghat or Joshimath for 100 INR and it will take you around 2-2.5 hours to reach.
How to Reach Ghangharia from Govindghat
Finally, after reaching Govindghat, you have to make your way to Ghangaria. Ghangharia village is located at a distance of 17 km from Govindghat and can only be reached by trekking or horse/pony riding.
First, you need to reach the Pulna village from where your trek will start. If you trek slowly and comfortably, you can reach Ghangharia in 5-6 hours, more if you stop to take a lot of photographs. So, make sure that you start early from Govindghat, around 6 a.m.
If you are active and fit, then you will be able to complete this trek in 3 hours too, without breaking a sweat. You can also hire a horse for this journey for 500-800 INR and can make the same journey in 3-4 hours, tops.
How to Reach the Valley of Flowers from Ghangharia
Once you have reached Ghangharia village, the Valley of Flowers gate is just another 600-700 meters. From here, the entry to the Valley of flowers enclosure is around 3.5 km away which can be covered via trekking or horse riding.
Valley of Flowers Trek Difficulty
A lot of people wonder about the Valley of Flowers trek difficulty level and whether they can complete this trek or not. Well, the trek difficulty level is from Easy to Moderate, depending on your fitness level.
If you are fit and active, then you will find the trek easy and will be able to complete it in just 4 hours (both going and coming back).
On the other hand, if you are moderately fit like me then it might take you 3 hours for the ascent and 1-2 hours for the descent.
Valley of Flowers Route Map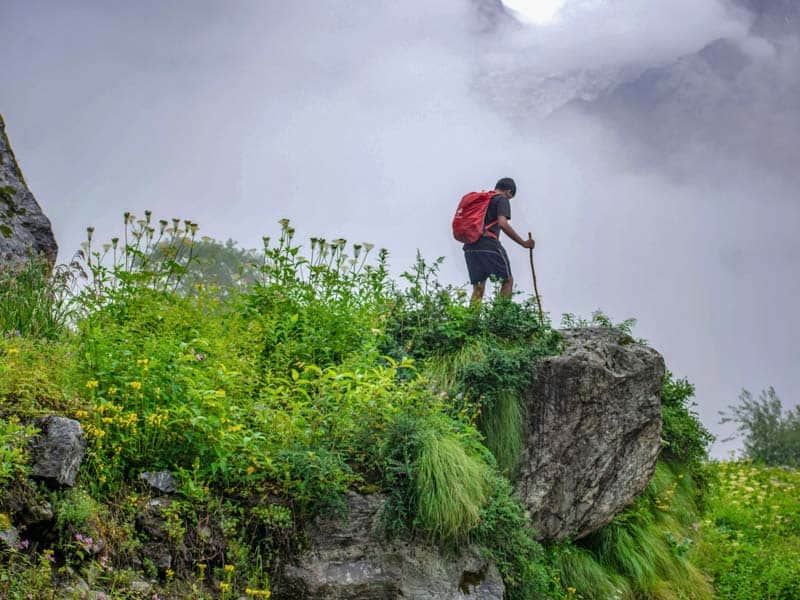 You can check out the Valley of Flower Trek Route below to understand what you can expect on this trek.
Reaching the Valley of Flowers Gate
You start by leaving the Ghangharia village and follow the stone steps to a trek junction. You will see a post here where they will check your Hemkund pass. From this post, you need to take a left to make your way to the Valley of Flowers. If you take the straight path, you will reach Hemkund Sahib Gurudwara instead.
When you take the left, you will see 'Phoolon ki Ghati' written on the rocks that translated to the Valley of Flowers in English.
You need to follow the stone trail for another 400-500 m and you will reach the entrance gate post for the Valley of Flowers. Here, you will need to take the ticket that costs around 150 INR for 3-day access to the valley.
Reaching the Big Bridge
After you have bought your entrance ticket and registered your details with the officials, you can start following the stone trail again. After 10-15 minutes of walking on the trail, you will encounter a small waterfall that you will need to cross.
Keep following the trail and in another 10 minutes, you will see a section of the path covered with stones, leading to a big bridge over a river stream. Make your way to this bridge and you will be able to see the Valley of Flowers in the distance from here. From this bridge, the Valley of Flowers is another 2 km and this is a slightly hard part of the trek.
Reaching the Valley of Flowers Enclosure
Now, keep following the trail and you will see at regular intervals how far you are from your destination. For the first 1 – 1.5 km, it will be an uphill climb (not a direct ascent but a gradual uphill climb) and you will start noticing a few colorful flowers and shrubs here.
After almost 1.5 km of trekking, you will see a distinctly marked glacier waterfall. This is a rocky, narrow path so be careful when you are crossing it. The Valley of Flowers is another 800 m from this point but the trail is easy from now.
You will first have to descent on stone steps and then hike a little before you come across a small, rickety bridge with another waterfall. This is the entrance to the Valley of Flowers enclosure. From here, you can trek for another 8 km to cover the entirety of the Valley of Flowers.
What to Do in the Valley of Flowers
Once you have completed the ascent of your trek and reached the valley, you might wonder what else is there to do here. Well, you won't be disappointed because there is actually a lot to explore here if you have the time and energy to do so.
Here are a few things that you can do in the Valley of Flowers to make the most of your time here:
1. Hike to the Tipra Glacier Point
Situated around 3 km from the starting point of the valley, Tipra Glacier Point is one of the most gorgeous sights to visit. It takes around 1-2 hours to reach here once you enter the Valley of Flowers enclosure but the hike is completely worth it.
From this point, you get a clear view of the glacier from where the Pushpawati river flows and you can sit for some time here to enjoy this view.
2. Hike to the Legge's Cave
Another thing that you can do in the Valley of Flowers is to visit Joan Legge's grave here. Who is Joan Legge?
Well, she was a British botanist who died in the valley when she was collecting flowers samples to study. The walk to this grave is quite pleasant and it is a good reminder that you should be careful when exploring the mountains.
3. Identify the Flora Species
Well, it would be clear by now that the Valley of Flowers is home to a wide range of flora. So, one of the best things to do here would be to identify as many flower species as you can. You can even take pictures of the different flower species that you come across so that later you can learn the name and details of that flower type.
From orchids to poppies to daisies, you will find a lot of different flora varieties here so make the most of your time.
4. Click Photographs and Enjoy the View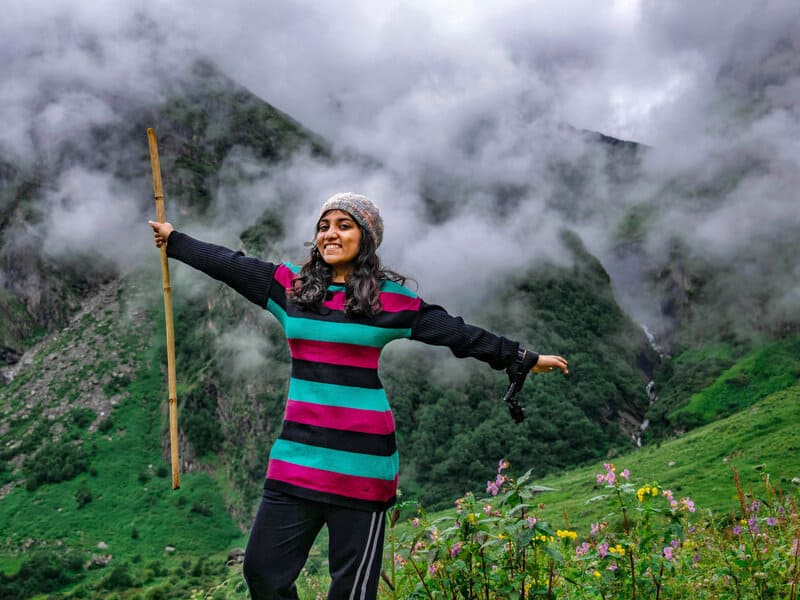 If you are a nature enthusiast or a photographer then you are absolutely going to love spending time in the valley. There is such a wide variety of flower species found here, not to mention the alluring mountains that will allow you to click the most amazing snaps ever!
So, make sure that you keep aside some time just to enjoy the view and the scenery around you. The colorful fields dotted with red, yellow, blue, lavender, etc. colors while the green lush mountain behind offers the perfect backdrop.
Where to Stay During the Trek
You aren't allowed to stay in the Valley of Flowers without permission and all trekkers are expected to return back to the village by 5-6 p.m. So, this trek can be only attempted as a day trek from Ghangharia village.
Fortunately, Ghangharia village offers a lot of accommodation options as this is the base for the Hemkund Sahib trek as well.
Hemkund Sahib Gurudwara
One of the most popular accommodation options for Hemkund Sahib pilgrims is the Hemkund Sahib Gurudwara that offers you a free stay and food. You just need to show them your ID proof and they will allot you a room for the day.
If you are a solo female traveler, then they will assign you a private room with another solo female traveler and will be careful of your safety. Plus, the langar food served here is minimal yet utterly delicious and you can always volunteer to help them out in return for the stay and food (it is not compulsory, it is totally up to you).
One thing to note is that you will need to check out every day and check-in to a new room during your stay here. So, pack your stuff and submit it in the luggage room when you head out for this trek.
Camping and Tent Stay
Another popular option for accommodation of your trek would be to set up a personal camping tent or reserve a tent stay on the outskirts of the Ghangharia village. You can find here a tent stay for anywhere between 500 and 3000 INR, depending on the services.
You can even carry your own tent and camping equipment and set up a tent near the village. To set up your camp, you will need to take permission from the hotel owner or the camp owner in your vicinity. Generally, they charge you 200 INR or you can order food from them and they will allow you to set up your tent.
Guesthouses and Hotels
There are several decent hotels and guesthouses also available here that will offer you a simple room with a hot water facility. These rooms can cost anywhere between 300 and 1000 INR, depending on the crowd and the facilities offered.
Where and What to Eat on the Trek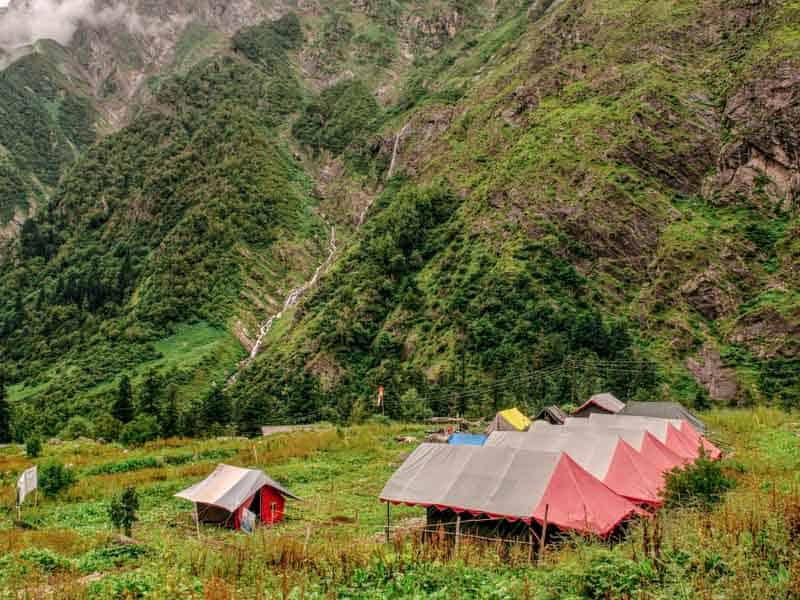 One of the most prominent questions asked by people about the trek is whether they will find food stalls on the way or not. Well, here is what you need to know.
Govindghat to Ghangharia
On the trek to Ghangharia village, you will find many food and drink stalls on the way. These stalls will be available at a distance of 1-2 km and will offer you all foods like Maggi, parathas, meals, and packaged products.
So, you don't need to pack food from Govindghat and carry just a few snacks with you.
Remember, the food on the trekking trail to Ghangharia will be quite expensive and almost double of what you pay for the same items in Govindghat.
Ghangharia to Valley of Flowers
From Ghangharia, you won't find any food stalls on your trek to the Valley of flowers. This trek is completely isolated and there won't be a single food or drink stall on the trail, unlike the Hemkund Sahib trek or the Ghangharia village trek.
So, make sure you pack your lunch from the Ghangharia village itself. You can easily ask one of the restaurants to pack food for you for 100-150 INR. Another option is to take lots of snacks and energy bars to keep yourself full and energized during the trek.
You will also come across several waterfalls on the way which will provide you with clean, drinking water. So, you just need to carry your water bottle and you can refill it from one of these waterfall points.
Also Read: Prashar Lake Trek in INR 2000
ATMs in and around the Valley of Flowers
Now, one of the most crucial things to remember about this trek is that you won't find any ATM on the trek to withdraw cash. In fact, the closest ATM is in Govindghat and even that ATM tends to not work a lot of times.
So, ensure that you withdraw a decent amount of cash before leaving for Govindghat itself.
Network Availability on the Trek
There is no network on the trek to Valley of Flowers so, if you have Airtel, Jio, Vodafone, etc. they won't work here. The only network that is remotely accessible here is the BSNL network but the range is limited to the Ghangharia village only. This is also only sufficient for a brief phone call.
So, once you leave Ghangharia, you won't have any network to make a call.
If you don't have a BSNL sim and you need to make an urgent call, then you can reach out to the STD shops in Ghangharia village that charge 10-15 INR for a 1-minute call.
Tips for the Trek to the Valley of Flowers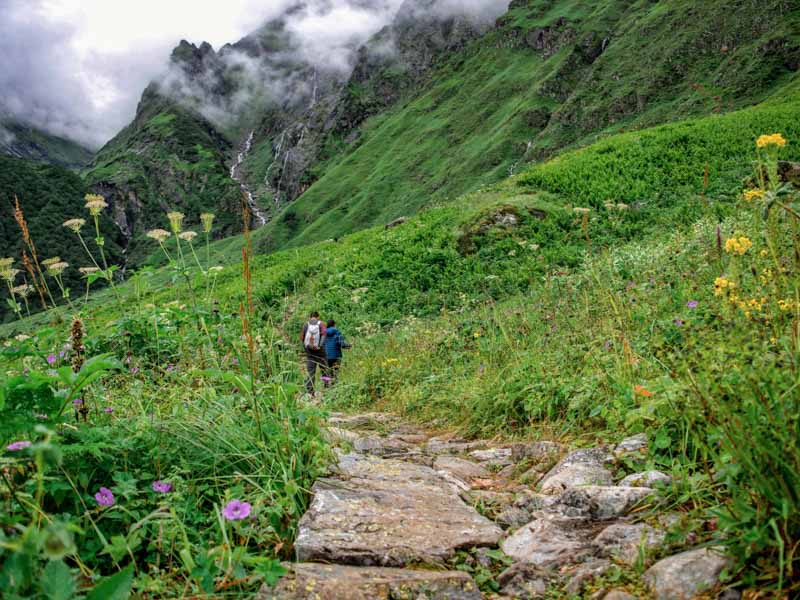 Here are some important tips to follow for the Valley of Flowers trek so that you have a safe and comfortable trek experience.
1. Be Careful and Avoid Standing Close to the Edges on the Trek
One of the most important things to remember when you are on the trek is that the trek trail is narrow and steep at times. So, you should be careful and trek slowly and steadily on the trail.
Also, avoid standing at the edges to take photographs or selfies as you could easily slip from here if you aren't careful.
2. Don't Trek Alone to the Valley of Flowers
Avoid trekking alone to this valley, especially if you are starting early in the morning. Since the trail from Ghangharia to Valley of Flowers doesn't have any stalls and is extremely secluded, it would be better if you found a trekking partner for this trek.
So, if you accidentally hurt yourself, then you would have someone to help you out or get help for you.
3. Start Your Trek Early
Make sure that you start as early as you can for the trek because then you would have more time to explore the valley. Plus, you would be able to enjoy the peace and solitude as most people start the trek late, around 7 – 7.30 a.m.
4. Carry Medicines and a First Aid Kit on the Trek with You
Another important tip to keep in mind on your trek is to make sure you keep a first aid kit and all the essential medicines with you on the trek. Keep medicines for high altitude sickness, fever, vomiting, etc. so that if you feel unwell, you can take your medication and brace through it.
There are no clinics or hospitals for a great distance so, you need to be well-prepared for any scenario.
5. Wear Waterproof Clothes or Use a Raincoat/Poncho on the Trek
As I mentioned before, it tends to rain a lot here during the months of July to September. So, you are likely to get drenched when trekking to the valley of flowers. This is why it is important that you wear waterproof pants and shirts to keep yourself dry and warm.
If you don't have waterproof clothing, then carry a raincoat or windcheater to protect yourself from rainfall and cold wind. A raincoat/poncho/windcheater is a must-have if you are trekking during the monsoon season.
6. Carry Your Water and Food on the Trek
Finally, don't forget to carry snacks and lunch for yourself because you won't find anything in the valley. Yes, there is not a single food shop over there. So, keep sufficient food for the trek.
And do carry your water bottle too else it will be difficult to keep yourself hydrated. If you don't stay hydrated, you could faint or vomit during the trek so, keep your water bottle filled at all times.
Things to Carry on the Trek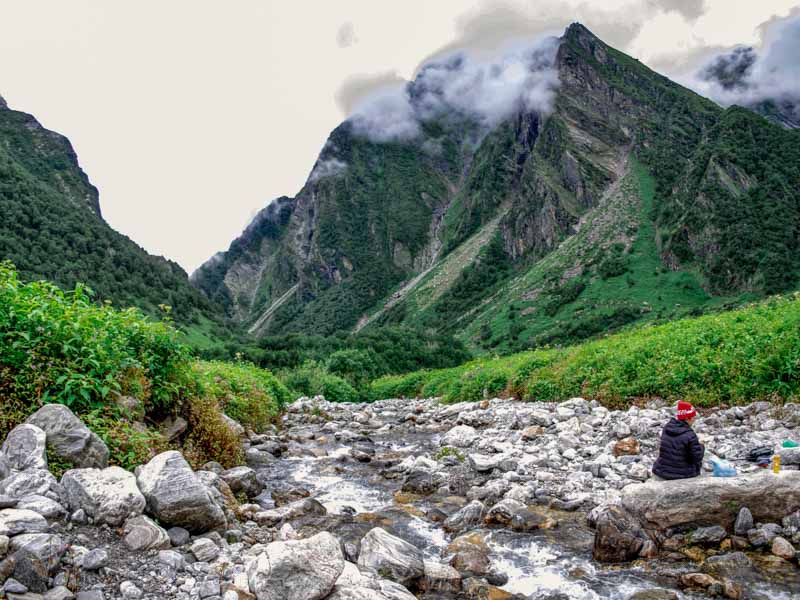 Here is a list of things that you would need to carry with yourself on the trek.
Bag
For the Valley of Flowers trek, you would need a good, high-quality rucksack or backpack that will be able to store all your trek essentials. You would need to keep your clothes, trekking equipment, camping equipment, etc. in this so choose a good capacity backpack for yourself.
Apart from that, you would also need a 10-20 liter day pack that you can carry for your day treks to the Valley of Flowers and Hemkund Sahib.
Clothing
Warm Clothes
Warm Socks
Gloves
Woolen Cap
One of the most essential things to carry for the trek is proper, warm clothing to keep yourself warm. It is quite cold here during the daytime and more so during the night time. So, you would need to carry woolen sweaters, warm inner garments, fleece jackets, etc.
Apart from that, you also need to carry multiple pairs of woolen socks, gloves, and also a woolen cap. You would need to wear two pairs of socks at the night to keep your feet warm and cozy.
Trekking Equipment
Hiking Shoes
Refillable Water Bottle
Trekking Pole
Raincoat or a Wind Cheater
Apart from the clothing, you would also need good trekking equipment for this trek. So, invest in a good pair of hiking shoes that are comfortable and waterproof so that your feet stay warm and cozy during the trek.
You will also need a refillable water bottle to have clean, fresh water to drink throughout the trek. Opt for a carbon-filter water bottle that will allow you to drink water from any river stream or waterfall without worrying about germs or bacteria.
And make sure you purchase or rent a raincoat/windcheater for the trek as it rains a lot on this trek. You can also choose to buy a trekking pole if you don't wish to put too much pressure on your knees while climbing.
Camping Equipment
Camping Tent
Tent Rain Cover
Sleeping Bag
Sleeping Mattress
Finally, if you are planning to camp on your own in Ghangharia village, then you would need to carry your own camping equipment as well. You can choose to either rent or buy these camping gears, depending on how often are you going to use it.
You would need a good sturdy tent that can offer you protection from wind and cold at night along with a tent cover to protect it from rain. A sleeping bag is essential to keep you warm when you sleep at night and a sleeping mattress provides good insulation and padding to your sleeping bag.
Summary
Valley of Flowers trek is actually quite easy to manage and is a perfect trek for beginners as well. The views on the trek are unforgettable and you will meet so many people on the way who end up becoming your lifelong friends!
So, I would definitely suggest you go on this amazing trek. Just prepare well and be careful on the trek and you have the time of your life here.
If you are looking to add to the fun, extend your travel to 7 days as some attractive destination in Badrinath await you. For example, Mana, the Last Indian village.