I am not a religious person. But when you are a traveler who has just trekked to the beautiful Valley of Flowers, the next logical step is to visit Badrinath and Mana, the last village of India. So, without needing any further conviction, I planned my days in such a way that I would be able to spend a day in Badrinath and half a day in Mana before heading back home.
If you are planning a trip to Badrinath, Mana, Valley of Flowers, and Hemkund Sahib, then you can plan it all together in just 7 days.
In this guide, I have outlined important information on how to reach Badrinath, where to stay, things to do, etc. here. Apart from that, you will also find information about the Mana village and everything that you can see or do in Mana.
About Badrinath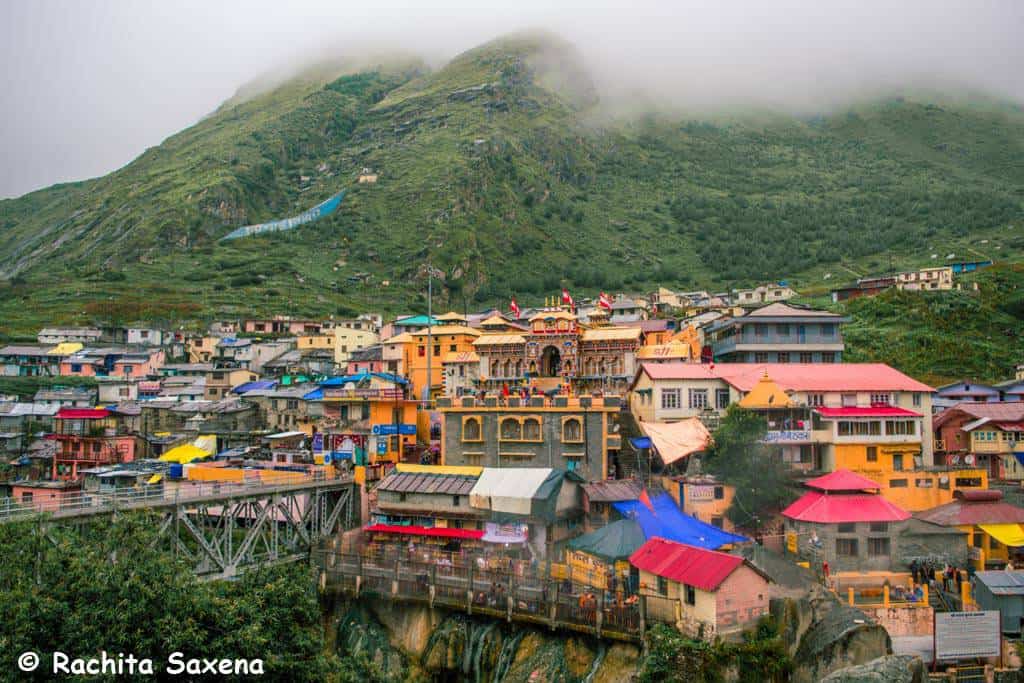 A Hindi temple dedicated to Lord Vishnu, Badrinath Temple is a part of both the Char Dham and the Chota Char Dham pilgrimage sites in India. Located in another amazing hill station in India, the Garhwal hills of Chamoli district, Badrinath temple is open for only 6 months every year. And even though it is located at a height of 3,133 m approximately with a tough road condition, every year thousands of people come to visit this pilgrimage site.
One of the most visited pilgrimage sites in India, Badrinath temple has a 1 m tall statue of Badrinarayan who is said to be an avatar of Lord Vishnu. It has a really fascinating history attached to it which is why so many Hindus visit it every year. And unlike the Kedarnath temple, you don't need to trek to reach here as well.
Apart from the religious context, Badrinath Temple is also known for its gorgeous architecture. It is a colorful temple with really intricate carvings. Inside the temple, there are around 15 images of other gods and goddesses apart from Lord Vishnu as well which are worshipped by the pilgrims.
One of the most interesting things about Badrinath temple is that there are hot sulfur springs, aka Tapt Kund, beneath the temple. So, one can take a bath here and relax for a while and the water in these springs is said to be medicinal as well.
This is the place where Lord Vishnu was said to have meditated and there are mentions of this place in the Vedic scriptures as well. In fact, this place was also mentioned in epics like Mahabharata, Bhagavata Purana, etc. Here, the incarnation of Lord Vishnu sat in penance for a long time for the welfare of living beings.
But anyway this post isn't about the history of this temple, I wish I had the proper information to pass on to you. You will find a lot of books online to learn more about this place. So, let's move to the main aim of this post.
As I mentioned above, Badrinath is only open for 6 months, from April to November. The rest of the year, it is closed off due to the snow-covered roads which make it hard to reach Badrinath.
Best Time to Visit Badrinath
Summer Season (April – June)
One of the best times to visit Badrinath is the summer season which starts in April and ends in late June. During this time, the weather is pleasant and the road conditions are good so you won't face issues while reaching here. Plus, it won't be as cold as well so you can enjoy your stay here.
However, if you are planning to do Valley of Flowers and Hemkund on this trip then this is not the right time to visit Badrinath. There won't be much variety of flowers in Valley of Flowers and the Hemkund won't be open till late May.
Monsoon Season (July – September)
Although monsoon is a risky time to visit Badrinath as this area is prone to landslides, you can still visit from July to September. In fact, personally I visited Badrinath in August itself and it was mostly okayish. The roads were filled with water and there was debris at a few places but the rest of the path was fine.
Ideally, it would be better to avoid the months of July and August. But if you hear that the roads are fine then you can certainly plan the trip for these months.
Winter Season (October – March)
As I mentioned above, the roads to Badrinath remain closed in the winters due to snowfall. So, it is advised not to go to Badrinath at this time.
You can plan a trip until November or till the snowing starts. But once it has snowed here, it is best to postpone your plans for next year for Badrinath.
How to Reach Badrinath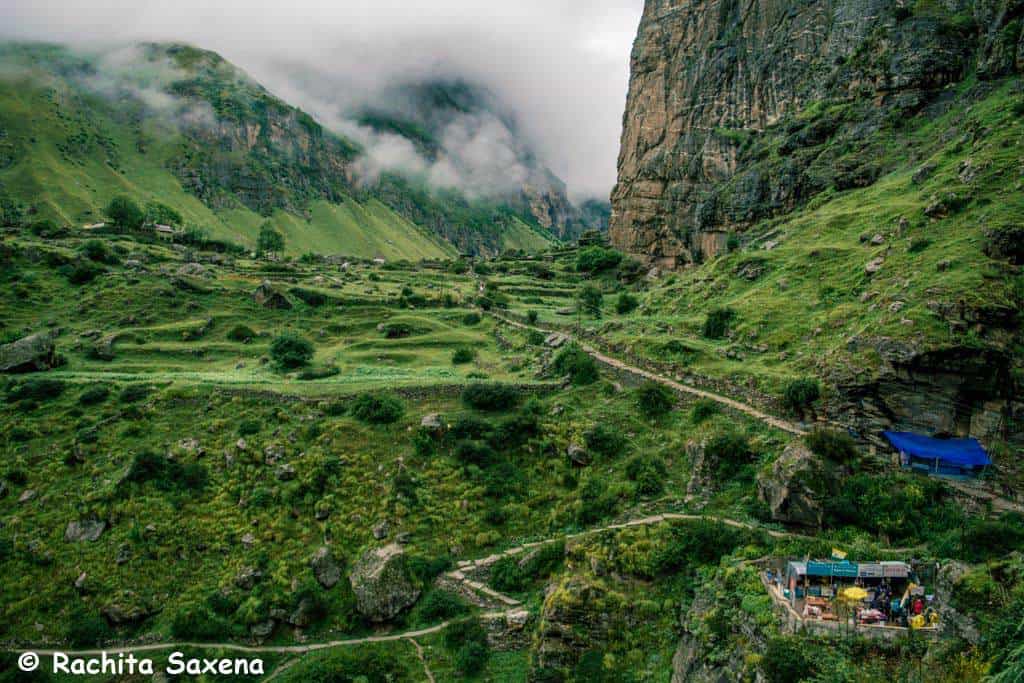 One of the best things about planning a trip to Badrinath is that it is so easy to reach here! I mean not in the terms that there are several roads leading to this place, but there are many transportation options available since this is such a popular pilgrimage spot.
How to Reach Rishikesh
In order to get buses, cabs, and shared jeeps for Badrinath, you will first need to reach Rishikesh. Thankfully, there are several ways of reaching Rishikesh quite easily from anywhere in India.
If you are starting from Delhi, you have the option of taking a train or bus to reach Rishikesh in under 5-6 hours.
Rishikesh to Badrinath
Once you reach Rishikesh, here is how you can reach Badrinath.
Bus
Honestly, this is the best way to reach Badrinath and the cheapest one as well. There are 2-3 buses leaving for Badrinath every morning between 4 to 6 a.m. The price of these buses is around 450 – 500 INR and it takes around 12 hours to reach.
These best thing about these buses is that you don't have to change anywhere, they will directly drop you off at the Badrinath bus station.
Shared Taxis
Apart from the direct bus, there is another way to reach Badrinath. If you somehow miss the buses then you can take a shared taxi to Chamoli Gopeshwar or Karnaprayag which will cost around 300 INR. From here, you will need to take another shared taxi to Joshimath.
From Joshimath, you will get several shared cabs to Badrinath which is around 2.5 hours from here and will cost about 100-150 INR. Also, these shared cabs will leave you early at Joshimath so you can always take the bus from Joshimath to Badrinath which will cost around 70-80 INR.
Badrinath to Rishikesh
While there are several options for going to Badrinath from Rishikesh, there aren't many options for returning back from Badrinath. This is especially during for the monsoon period.
Buses
You can take a direct bus back to Rishikesh which usually leaves at 6-6.30 a.m. in the morning. You will need to get the bus ticket 1 day before though which will be around 450 – 500 INR and it will take 12 hours for you to reach.
There might be more buses in the summer and post-monsoon season due to more number of tourists. But make sure, you get information about the bus 1 day in advance to avoid any problems.
Shared Taxis
If you don't get a direct bus, then you can get a shared cab till Rishikesh from here which will cost around 600-650 INR. And you will end up reaching in just 10 hours.
Private Taxi
Finally, if you don't get a shared taxi then you can always hire a private vehicle. A private taxi will cost you about 5000 INR for the journey. Another option is to take a private taxi till Joshimath for 2000 INR and then take shared taxis from there.
Places to Visit in Badrinath and Nearby
Vasudhara Falls
One of the best places to visit in Badrinath is the famous Vasudhara waterfalls. It is a 9 km hike from Badrinath, out of which 3 km can be done via vehicle. For the Vasudhara falls, you will need to reach Mana first which is around 4 km from Badrinath.
Now, if you don't mind trekking the 9 km then you can easily walk the whole way and can set aside an entire day for this activity. But remember, it will be a total of 18 km hike as you would need to include both going and returning. Start early at 6 in the morning so that you reach the falls by at least 10 a.m.
You can spend an hour or two here and then head back for Badrinath. On the way, spend an hour at Mana village too and then safely return to Badrinath by 4-5 p.m.
Street Shops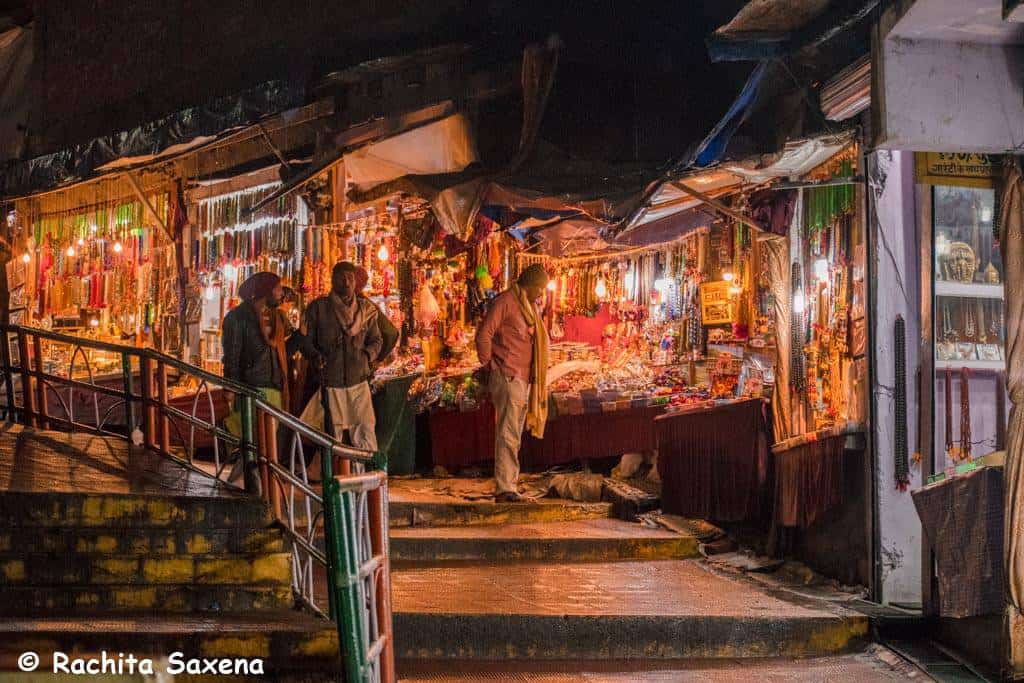 Honestly, you can buy all kinds of souvenirs and items in Badrinath. It could be some electronic Chinese items or some spiritual products like sacred stones, aarti booklets, malas, colorful beads, etc. There are many shops selling amazing brass items and colorful jewelry as well which you can consider.
You can also take small trinkets at home like the Salgram Silas which is a sacred stone of Lord Vishnu who is the main deity of this temple. Honestly, there is so much to buy here that you could easily spend the evening checking out all the shops here which is why it is one of the top places to visit in Badrinath.
Hot Springs of Badrinath Temple
One of the top places to visit in Badrinath is the group of hot sulfur springs (Tapt Kund) where you can take a bath and relax for a while. Most of the pilgrims who come to Badrinath temple first take a bath in these hot springs and then enter the temple so that they feel fresh and pure.
Also, it is a good way to stay warm in the cold weather of Badrinath and the feel of hot water on your feet is definitely exquisite.
Badrinath Temple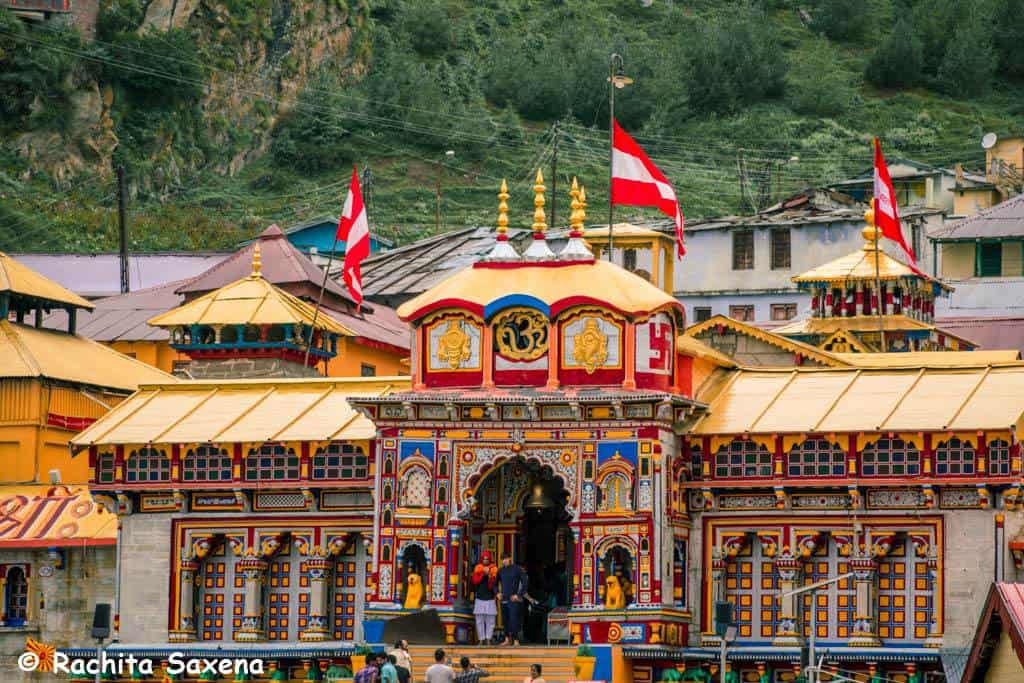 Honestly, one of the best places to visit in Badrinath is the Badrinath Temple where you can just enter the worship hall or the convention hall and just sit down and meditate for a while. Although the entire place will be bustling with people, you can still enjoy the presence of positivity and love here.
If sitting amidst thousands of pilgrims is not fun for you, then you can always go to a secluded spot near the temple and just let the peace and positivity take over you. It is literally so amazing to be surrounded by these mighty mountains and meditate for a while for some peace of mind.
Badrinath Town
Finally, you can also enjoy a leisurely walk around Badrinath and learn more about this place. There are so many shops to explore and viewpoints which offer you amazing views of the houses and the Badrinath temple here.
And while there isn't a lot to do here, you can just enjoy being surrounded by lush greenery and gorgeous mountains in Badrinath.
Last Village of India – Mana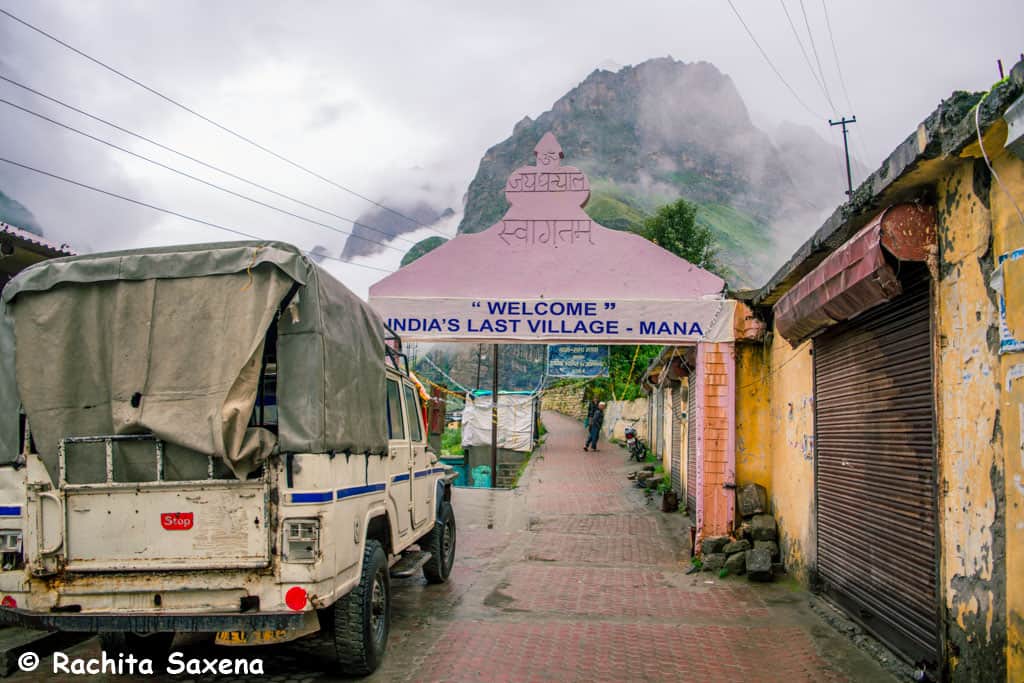 Also, one of the top places to visit in Badrinath is Mana which is popularly known as the Last Village of India. After all, you don't come all the way to Badrinath and not visit the last village of India and have a cup of tea here. And it is quite easy to reach Mana too.
The distance from Badrinath to Mana Village is just 4-4.5 km and can easily be reached by walking or by a vehicle. There are several shared jeeps in Badrinath which will take you to Mana for 100 – 150 INR per person. They will take you to the village, wait for an hour, and then drop you back at Badrinath.
But if you don't mind walking around a bit then you can easily walk from Badrinath to Mana and even do the famous Vasudhara falls.
Mana is a beautiful village in Uttarakhand which lies next to the Indo-China border. Located at an altitude of 3,200 m beside the Saraswati river, Mana is surrounded by magnificent mountains and has many temples and viewpoints for you to explore. In Mana, you have points like the Vyas Gufa, Hanuman temple, Saraswati temple, Mata murti temple, Bheem pul, etc. to explore.
It is said that the Vyas Gufa is the place where the famous sage, Ved Vyas wrote the 4 sacred Vedas. This cave is just 200 m from the village and is situated right next to the Last Tea Stall shop.
And of course, when you are in Mana, a customary tea at the Last Tea Stall of India is a must. The tea costs around 30 INR and is quite good as well plus you get amazing views to enjoy with your tea. And you also get to learn amazing stories about this place and the history of this tea stall by the tea shop owner here.
There is also the famous Bheem Pul here which is said to be the bridge made by Bheem for his family to cross in Mahabharatha. He picked up a boulder to make a bridge over the Saraswati river and is around 350m from the village. You also get dazzling valley views from this bridge.
ATMs in Badrinath
There are two SBI ATMs in Badrinath for you to withdraw money from. But more often than not, these ATMs are out of cash. So, it is always a good idea to withdraw money from Rishikesh before leaving for Badrinath. In Rishikesh, you will find ATMs available for all banks to make the withdrawal.
And there is no ATM in Mana village so carry sufficient cash with you.
Network Availability in Badrinath
As for Network connectivity, Badrinath has a better signal reach than Govindghat. So, you will get the network on your Airtel and JIO sim cards as well. Although the network would be slightly patchy in between, you can easily make phone calls in the market area and the bus stand area. In Mana, again your network will be patchy at best or there would be no signal at all.
The best network to use in this area is BSNL which will allow you to make phone calls easily.
Where to Stay in Badrinath and Mana
There are several stay options available in Badrinath, although most of them won't be accessible to you online. So, I would suggest you not to book a room if you are on a budget trip because you can get rooms here for a much cheaper price.
You might also be able to find a sleeping spot for you in the Mana village for the night but chances of that happening are very slim.
Guesthouses and Dorms
There are many guesthouses here which offer both private rooms and dorms. And these places usually charge 200 – 700 INR per night. The dorms cost around 200 – 500 INR per bed and usually are in a good location. You will find guesthouses both near the bus stand and near the Badrinath temple so do explore a little before finalizing anything.
Hotels
There are plenty of hotels in Badrinath which can charge you anywhere between 200 – 1500 INR for a room, depending on your bargaining skills. We actually got a decent room just opposite the Badrinath temple for 200 INR where 2-3 people could easily sleep.
Where to Eat in Badrinath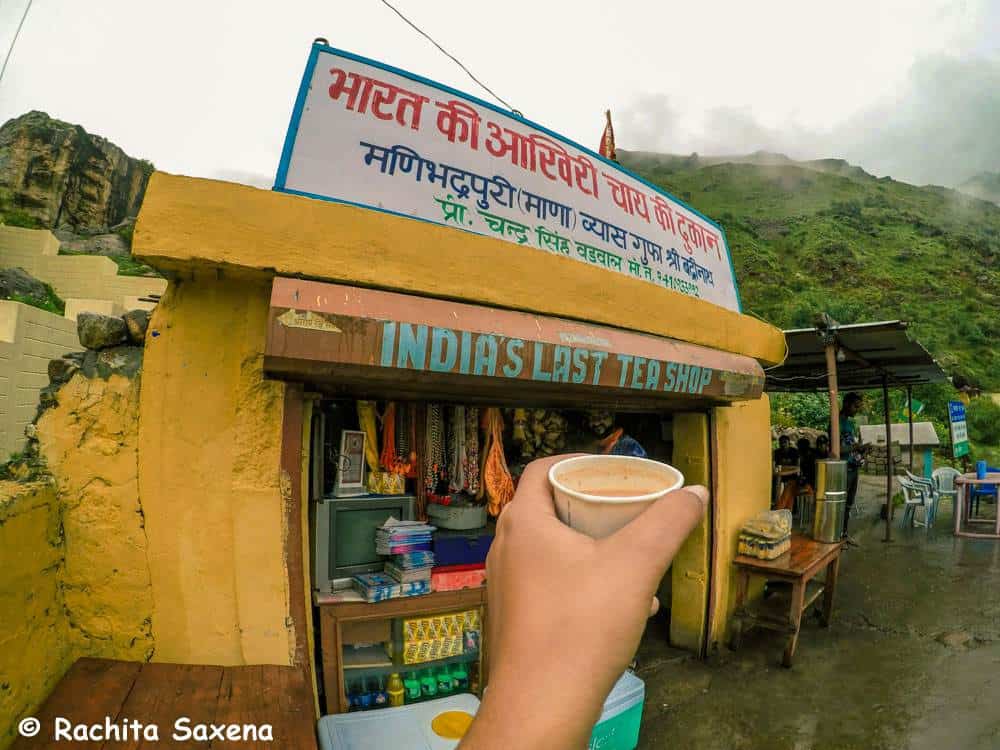 There are many good and budget-friendly restaurants and dhabas here for you to eat in. And there are a few posh restaurants as well where you can get more options like Chinese, Continental, etc. but obviously, these are slightly expensive.
Ideally, you can get a meal here for around 100-150 INR (per person) if you choose a good and budget-friendly dhaba opposite the Badrinath temple. But if you want someplace with a good ambiance, then there are those too which will cost around 300 INR for a meal (per person).
Personally, I loved this small dhaba just opposite the Badrinath temple which was on the left side of the bridge. They had a simple menu but it was delicious and filling at the same time.
Things to Carry with You to Badrinath
Bags
Rucksack
You need a big and good rucksack for your trip as it would be at least a 4-5 days long trip. Make sure the bag is spacious and water-proof. Personally, I suggest:
Day Pack
Once you reach Badrinath, you will need a small day pack for taking to Mana or some nearby treks.
Clothing
Warm Clothes
It is very cold in Badrinath, so make sure you carry warm clothing. Also, carry multiple pair of clothes as you might get drenched in the rainfall.
Gloves
Make sure you get synthetic gloves so that they won't get wet in the rainfall and will keep your hands warm and comfy.
Socks
Carry a pair of merino wool socks to stay warm. And, make sure you use two of them to layer your feet during the night time when the temperature drops significantly.
Additional
Good Hiking Shoes
Take a good pair of hiking shoes which will protect you from cold and are comfortable at the same time. Make sure they are high ankle shoes and are waterproof as well.
Raincoat/Poncho
You definitely need a raincoat/poncho when going to Badrinath during the monsoon as it rains frequently in the June – October period.
Summary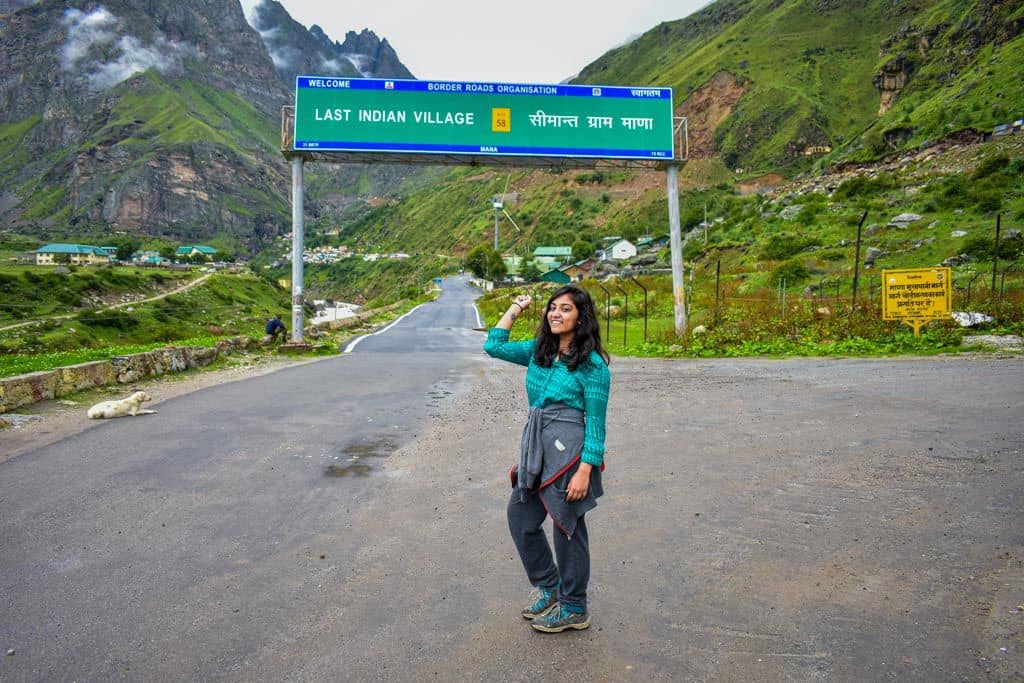 Badrinath is a great place if you want to be surrounded by mountains and are a great Hindu mythology lover. The temple itself is quite gorgeous and serene but yes, it can be slightly crowded with thousands of pilgrims arriving here every day. However, if you really wish to come here and worship or meditate then this shouldn't stop you.
Plus, the amazing landscape and the cool temperature makes it a really good spot to visit for at least a couple of days. Plus, drinking tea at the Last Tea Stall is a unique experience which you should definitely not miss out on.