Are you planning a trip to the mythical land of Sri Lanka? If yes, then this Sri Lanka Itinerary can help you make the most of your time here.
I first traveled to Sri Lanka in 2018 and it was such a lovely experience. The people were lovely, traveling was cheap, and the sights were magnificent. Plus, it is quite easy to travel to Sri Lanka, especially as an Indian traveler, since they offer e-Visa service to lots of nationalities.
So, if you are also planning to visit this beautiful country, then here is my 15-day Sri Lanka itinerary that can help you make plan your trip efficiently.
Note: The currency conversion shared in this article is updated for 2022. Currently, 1 INR = 4.5 LKR.
India to Sri Lanka Itinerary for 15 Days
Day 1: India to Colombo (Sri Lanka)
My India to Sri Lanka trip started from Chennai from where I had booked my flight to Colombo and it took barely 3 hours to reach. Since I had chosen the Srilankan Airlines flight, it cost me approximately 15,000 – 18,000 INR for a round-trip journey.
Upon reaching Colombo, I showed my e-Visa to the airport authorities and passed through the immigration check easily. The Colombo International Airport is around 35 km from the city center but you can find airport buses that will take you to the city center.
These buses charge approximately 110 LKR (25 INR) and take around 1-1.5 hours. Once I reached the Colombo City Bus Stand, I took another bus to reach the hostel which cost me around 10 LKR (3 INR) and around 15 minutes.
I reached my hostel around 2 p.m., so I just relaxed a little and explored nearby places and eating joints. Also met a few travelers and had some interesting conversations with them.
Where to Stay
Unfortunately, the Colombo Jumbo Hostel that I stayed in is closed now, but you can easily find several hostel options around the city for 250 – 500 INR per night, depending on the month you travel.
Note: You can use Kiwi.com or Skyscanner.in to find cheap flights to Sri Lanka and book them in advance.
Pro Tip: Download the Colombo Bus Route app and find the exact bus number which you will need to board to travel locally in Colombo.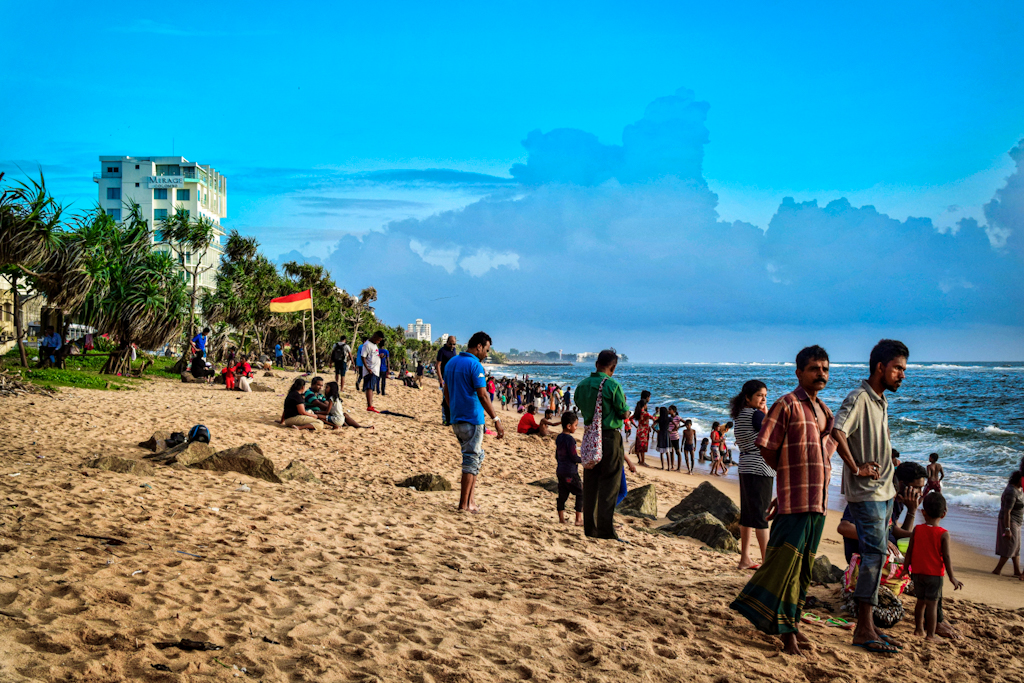 Day 2: Colombo Sightseeing
Viharamahadevi Park to Wellawatte Beach
Earlier, my plan was to leave Colombo the next day and head out to some other destination but I changed the plan and decided to explore the capital city of Sri Lanka.
I began my sightseeing adventure with a walk to the Viharamahadevi park as it was just 2-3 km from my hostel. It is a spacious park and the perfect picnic spot for families and friends.
At this park, you will find a Buddha statue that was really gorgeous. Overall, I think it was a good park to visit and if you are looking for a chill place to hang out, then you would definitely love it.
From the park, I took a bus to Wellawatte beach. I was just in time for the sunset and it was so gorgeous. As a sunset lover, it was definitely one of the highlights of my day in the city.
Galle Face Square
Next, I took the bus to Galle Face square, where I ate the famous Chicken Kottu at Nana's King Beach Side Stall. This is a hawker stall easily visible on the beach where you can enjoy a variety of delicious Sri Lankan dishes.
At this place, I realized that one plate in Sri Lanka equals two plates of Indian thalis so I ate as much as I could, and then I just walked around the ocean. This place was quite jam-packed which is not really my scene so I left in just a few minutes.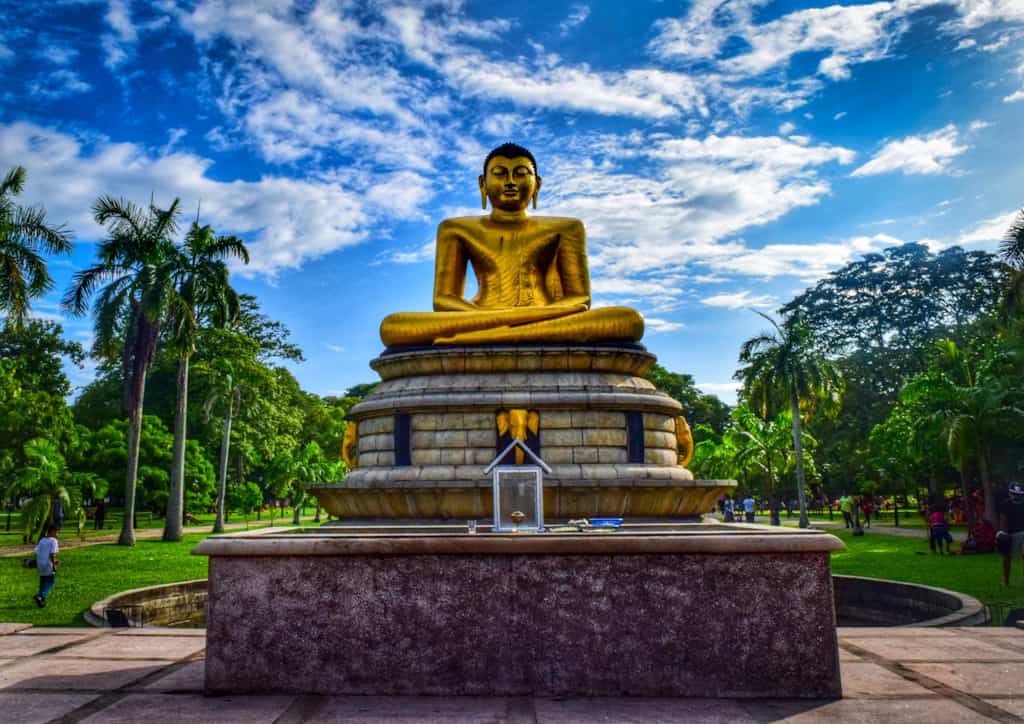 Day 3: Travel from Colombo to Kandy
On my third day, I left for Kandy via train and found a really nice Uncle on the way who told me about the Srilankan culture and amazing places. He was very sweet and offered to host me at his place too but I already had a Couchsurfing host waiting for me so, I politely declined.
I reached Kandy in the afternoon, around 3 p.m. and I was quite astounded by this place. Kandy was completely different from what I was expecting. The weather was cool and pleasant and it was a cute, little hill station with the facilities of a town.
Kandy Train Journey
One of the best parts about reaching Kandy was the train ride, I saw so many gorgeous mountains and views on the way and the train itself was pretty darn cute, it gave my entire trip a slight European touch.
The train journey is quite cheap too and costs just 190 LKR (45-50 INR) for the second class and costs just half for the third class. There is not a lot of difference between the three train classes so you can choose any.
Once I reached Kandy, I stayed with my Couchsurfing host who was really kind and generous. This was my first experience with a CS host so I was quite nervous and excited at the same time.
I really gelled well with my CS host and he helped me out with things to do in Kandy. We talked about many interesting things including Ayurveda, Palm reading, karma, etc. (I know it sounds all so philosophical but trust me, it was really fun).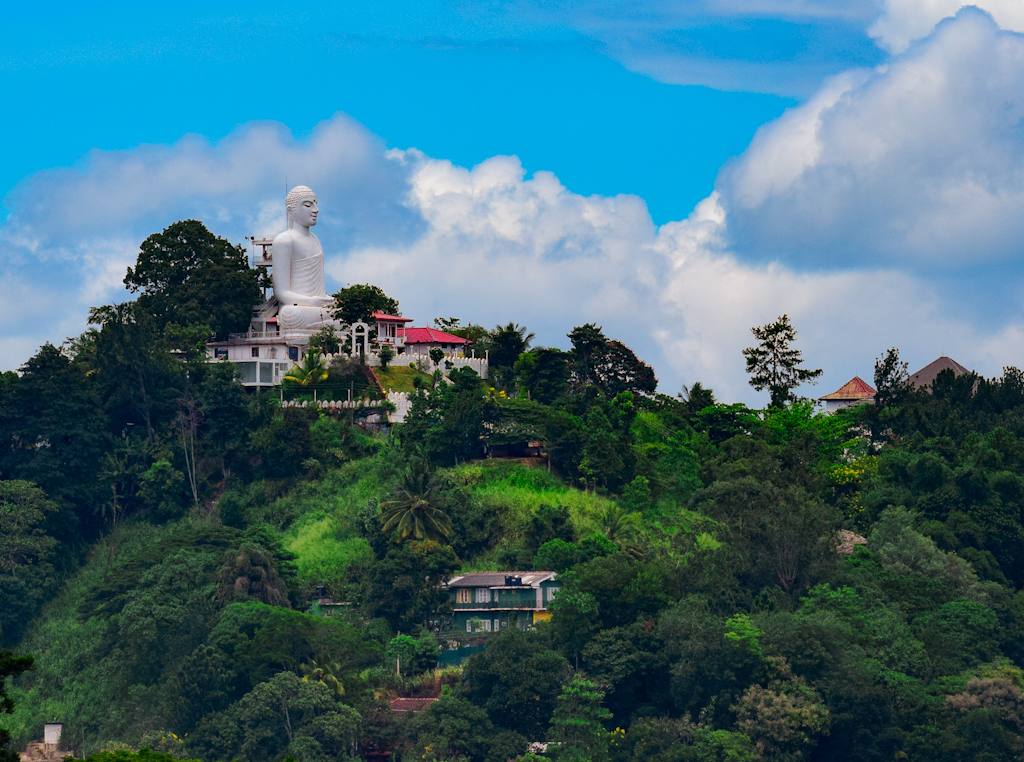 Day 4: Kandy Sightseeing
Kandy Lake to Udawatta Kele Park
The next day, I got up early to explore Kandy and decided to walk around the city to save some unnecessary expenses. I personally love walking instead of taking an auto so, I did just that.
First, I headed to the famous Kandy lake which is huge and really blue and offers a glimpse of a multitude of fishes. After spending an hour or two here, I made my way to the Kandy Lake View Point.
From here, you can enjoy a view of the entire Kandy city. Apart from the gorgeous scenery, you will also noticePortuguese styled buildings, Buddha temple, mountains, etc. from the viewpoint.
After enjoying the view from here, I headed to a less explored forest on the upper side of Kandy. Unfortunately, it wasn't open and you need permission from the Municipal Corporation in order to visit this so I headed back lakeside.
From the lake, I decided to walk to Udawatta Kele Park here. To be honest, I don't think the park was worth the entrance fee of 660 LKR (150 INR) but then again, I loved walking around the small enclosure.
You will find another city viewpoint here and an occasional deer or two. So, if you are interested in such kinda place then you can visit it else I would advise you to skip it.
After walking around for 12 hours, I finally headed back to the house of my CS host and was introduced to a few other travelers from China and England. I found out that it was a Chinese girl's birthday on that day so she had prepared dinner for us.
So, all of us enjoyed a really delicious meal that included roasted chicken, broth, french fries, etc., and shared out travel and home stories.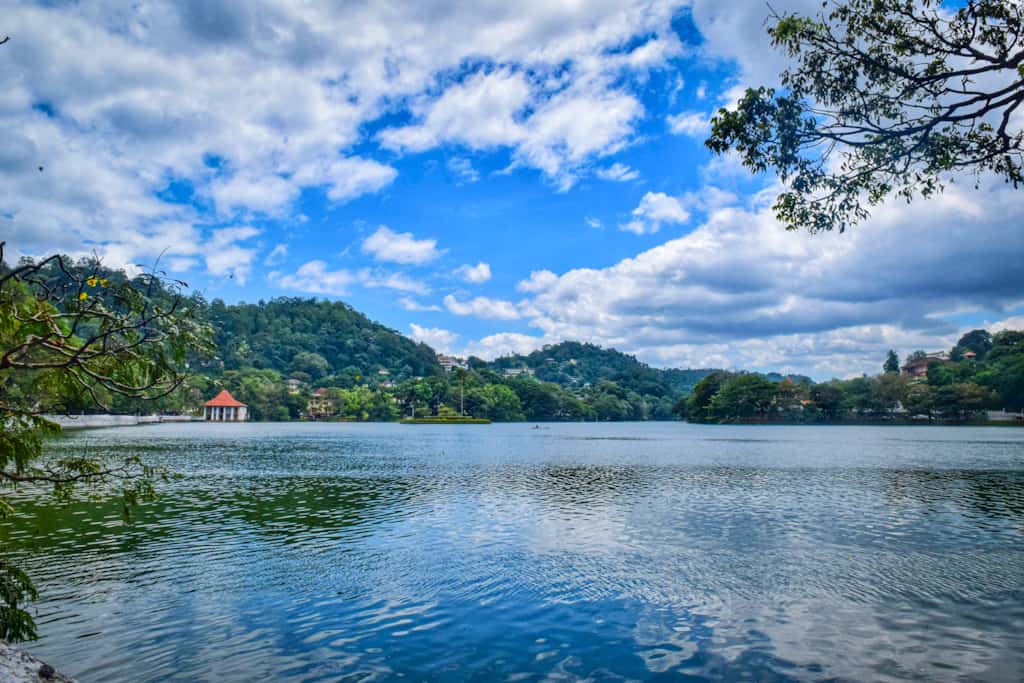 Day 5: Kandy to Sigiriya Day Trip
Kandy to Dambulla
On my 5th day, I planned to visit Sigiriya which is an ancient city in the center of Sri Lanka. So, I got up early and took the 8.30 a.m. bus to Dambulla.
There is a direct bus at 8 a.m. to Sigiriya but if you leave after that then you have to take a bus to Dambulla. If you love historical places then you can also visit the Dambulla caves, unfortunately, I didn't have enough budget to visit it so, I decided to keep it for some other time.
From Dambulla, I took another bus to Sigiriya which took around 30 minutes.
Always remember that there will be several people in Dambulla who will tell you that there is a bus to Sigiriya from Dambulla after every 30-60 minutes but that's not true. You will easily find a bus to Sigiriya every 10-15 minutes from this place so don't opt for an auto, it will cost you 500 LKR (100-130 INR) for no reason at all.
Dambulla to Sigiriya
Sigiriya is a small town constructed by an ancient prince in order to protect himself from his brother after he betrayed him. It is basically a Lion Rock structure which you have to climb in order to reach the top.
There is a really interesting story behind the construction of Sigiriya Lion Rock and you will learn more about it in the nearby museum. You will have to get a ticket to enter the structure which will also include a ticket to the Museum, Mirror Paintings, and Lion Rock.
It will take around 1-2 hours to climb up depending on how much time you spend at each stop and you can easily climb down in 30 minutes.
Once you reach the top, you will see forests surrounding this rock and many huge mountains in the distance. Trust me, it is a really beautiful sight and you would be a complete fool to miss it.
Overall, Sigiriya is a place to visit if you like history and trekking. You can easily spend an entire day here but if you are taking a bus then you would need to leave by 5 p.m. because the last bus from Sigiriya is around 5-5.30 p.m. to Dambulla.
If you are from one of the SAARC countries, then you just need to pay half the price but do carry your passport as proof.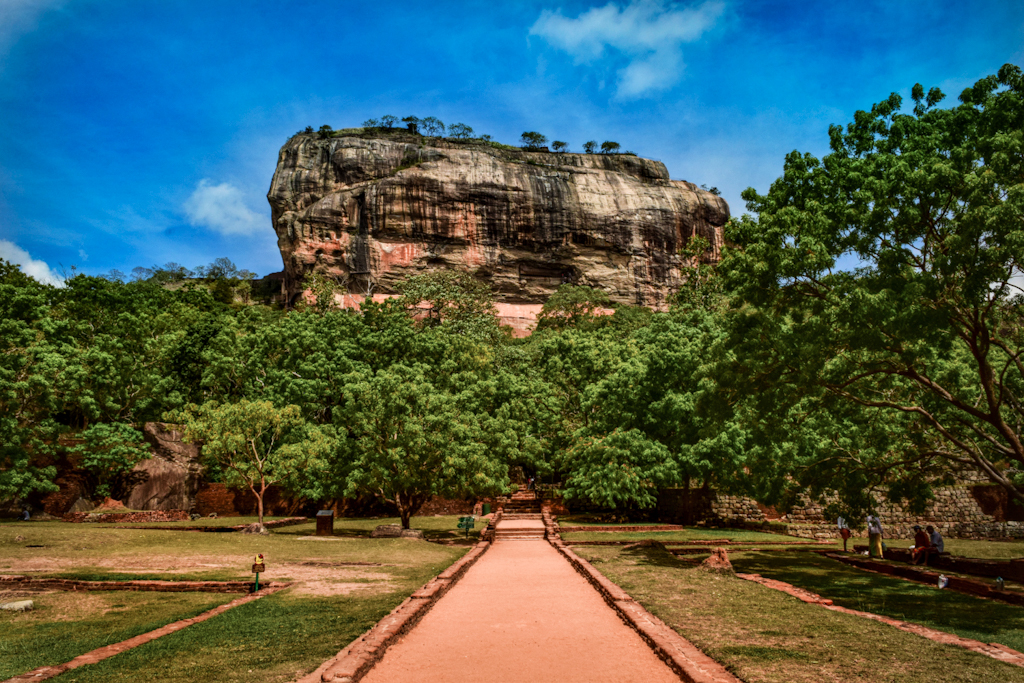 Day 6: Kandy to Nuwara Eliya
The next stop on my 15-Day Sri Lanka itinerary was Nuwara Eliya. And I was so not ready for the cold and the scenic views that awaited me on my bus ride from Kandy to Nuwara Eliya.
It took me around 5 hours to reach the town and what a town it was! Everywhere I looked, the mountains surrounded me and tea gardens lay in front of me. The air was crisp and clear and I thoroughly enjoyed my bus journey.
It is said that the view from Kandy to Nuwara Eliya on the train is equally mesmerizing so you can opt for a train too. However, the timings of the train from Kandy are tricky and it would easily take you around 4-5 hours to reach so plan carefully.
Once I reached Nuwara Eliya, I contacted my Couchsurfing Host and had an amazing time in his restaurant Humbug Restaurants. I had a cup of hot chocolate with a chicken sandwich and I can't even tell you how really amazing it was.
Trust me, you have to try the Humbug restaurant when you are here, it has a warm and cozy atmosphere and an equally amazing food.
Ashok Vatika
After freshening up a little, I headed to Ashok Vatika garden with my CS host. If you have heard/read Ramayana then you would know this is the place where Ravana kept Sita after abducting him.
This place charges around 1250 LKR(300 INR) for the foreigners and just 60-100 LKR (25 INR) for the natives so my host got a ticket for himself and me and snuck me in.
The park was really beautiful and was filled with various flower colors which made the whole place look more charming and inviting.
However, to be honest, I wouldn't suggest you to visit this garden because it is really expensive and not worth the exorbitant cost but if you do get a nice local to sneak you in, then do go for it.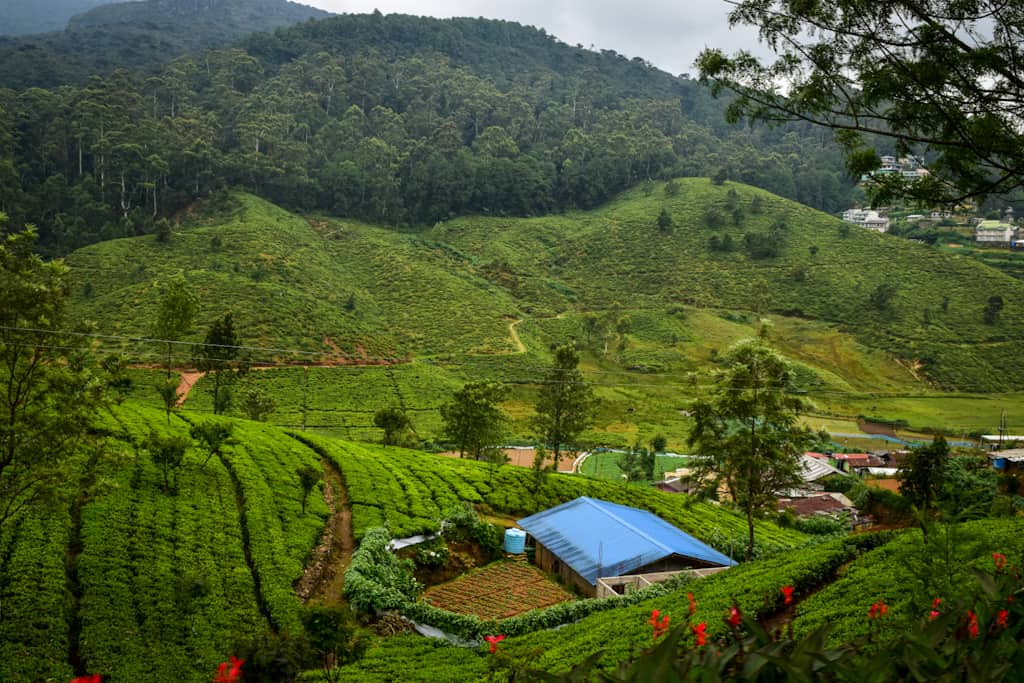 Day 7: Nuwara Eliya to Horton National Park Day Trip
When I had first started looking for the places to visit in Sri Lanka, I came across the Horton National Park which boasted of a point known as World's End and the photos look so amazing that I made up my mind to definitely visit this place.
This was easily the most expensive leg of my journey and cost me around 3000 LKR (700 INR) to go to the park and come back in an auto. The entrance ticket cost me around 4050 LKR (900 INR).
So if you don't like the pictures then I would suggest you not to go.
Horton National Park
I would have seriously regretted it if I hadn't visited the place so I didn't take a chance.The park offers 10 km of hiking trails on which you witness a waterfall and the highest point of this park. You also see a few animals here and there, depending on the time and the season.
It took me around 5-6 hours to explore the entire place and then head back to the room. I also met this amazing lady who was exploring the place with her friend and she was very kind and helpful to me through the entire journey.
In the evening, I traveled with my host to the city and just explored the market city. We also had an amazing meal at a place called The Pub in Nuwara Eliya town.
Trust me, this was a really beautiful pub with a great ambiance which served really delicious food.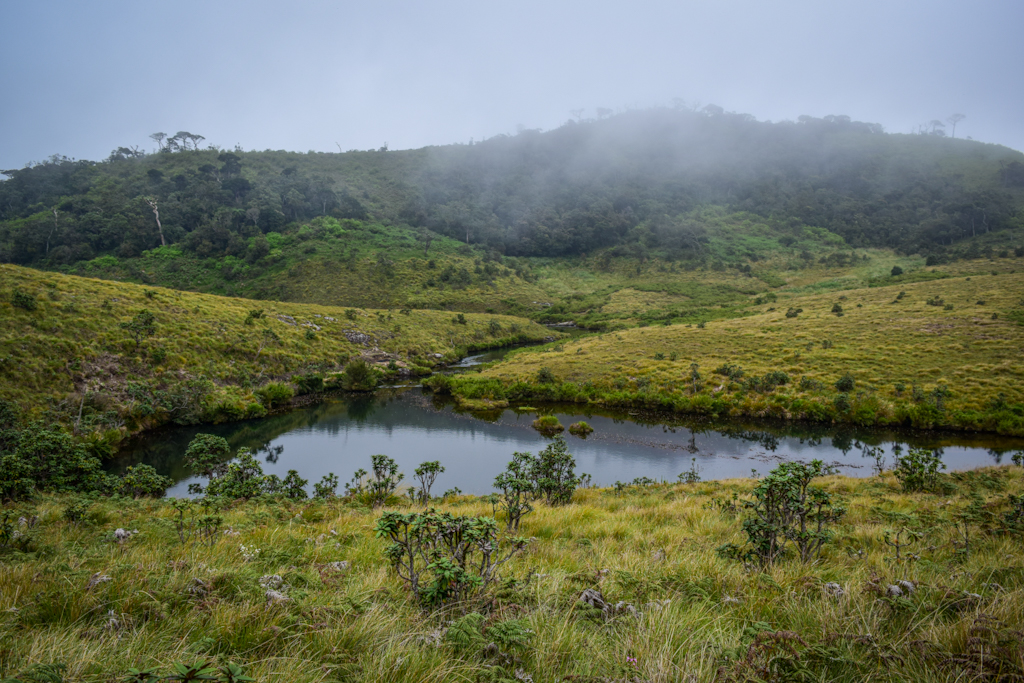 Day 8: Nuwara Eliya to Ella
On this day, I finally left for Ella from Nuwara Eliya in a train. I had to change two buses in order to reach the railway station and then caught the afternoon train. Thankfully, the weather was nice and it was raining occasionally so I really enjoyed the journey.
I also met a cute Chinese kid, a Manipuri girl and a few Sri Lankan guys on the way which made the journey even more enjoyable. Trust me, this is one train ride that you don't want to miss out on. The train makes its ways through the numerous tunnels and several tea gardens, making you marvel at the beauty surrounding you.
Once we reached Ella, I headed to my Couchsurfing host's accommodation. From the room, I had a clear view of the mini Adam's peak and we could see all the mountains surrounding us.
We went to the main town area in the evening to just explore and had a delicious meal at a local joint.
After that, we came back and just observed the clear, black sky and the moon rise from behind the mountains. I still remember that night sky and how marvelous it all looked, I wish I could have taken a picture then but my camera had started acting up at that moment.
Day 9: Ella Sightseeing
We were supposed to visit the mini Adam's peak, Nine arches bridge, etc. but due to constant rainfall, we weren't able to do it. So, we just headed out to the Ravana cave and Ravana waterfalls in the afternoon and then came back to the city for some light lunch.
I would advise against the Ravana waterfall because there isn't really much to see there and if you are interested in waterfalls, then there are many amazing waterfalls to check out on the way from Kandy to Nuwara Eliya.
Even the Ravana Cave wasn't that much of a sight and I really wish I had traveled to Adam's peak or Nine Arches bridge instead. Probably next time!
In the evening it started raining again, so we just enjoyed the view from our place and then enjoyed the nightfall.
I especially loved this Cafe called Jade Green in Ella where they were playing live music. It had one of the most delicious pancakes and desserts. It was a high-end place but it was completely worth the price and for once, I didn't mind splurging a little.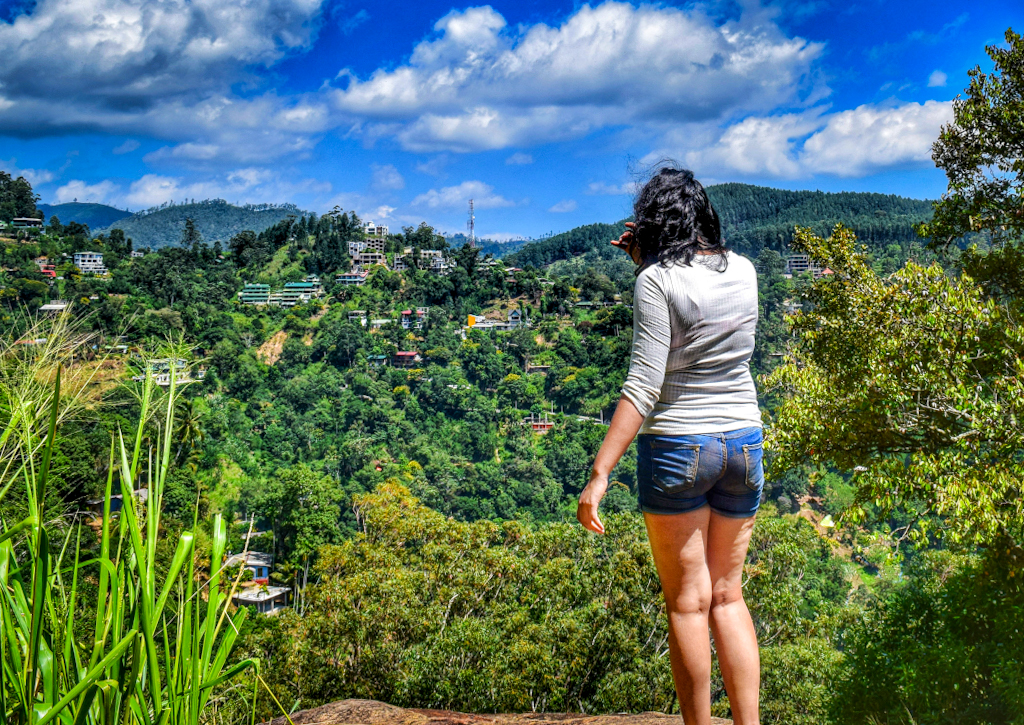 Day 10: Ella to Mirrisa
On the 10th day, I took a bus to Mirissa. There weren't any direct buses to Mirissa so I had to take a bus to Matara and then get a local bus from there to Mirissa. You will find frequent buses to Mirissa from Matara which take barely 30-45 minutes to reach.
Mirissa is a quiet place and you won't find a lot of people staying in this area, most people stay at Unawatuna or Galle. So, I enjoyed walking around the shore and just looking at the sunset from behind the hill.
I stayed with another CS host here, an Italian uncle, who was really sweet and kind. He told me how I can travel around and made really amazing food at home.
It started raining in Mirissa as I reached so I just enjoyed a quiet lunch with my host which was roasted chicken and salad ( Yum, right?).
In the evening, I went to the only beach in Mirissa and spent some time there. Frankly, there isn't a lot to see in Mirissa so you can go to other beaches for some fun and sightseeing.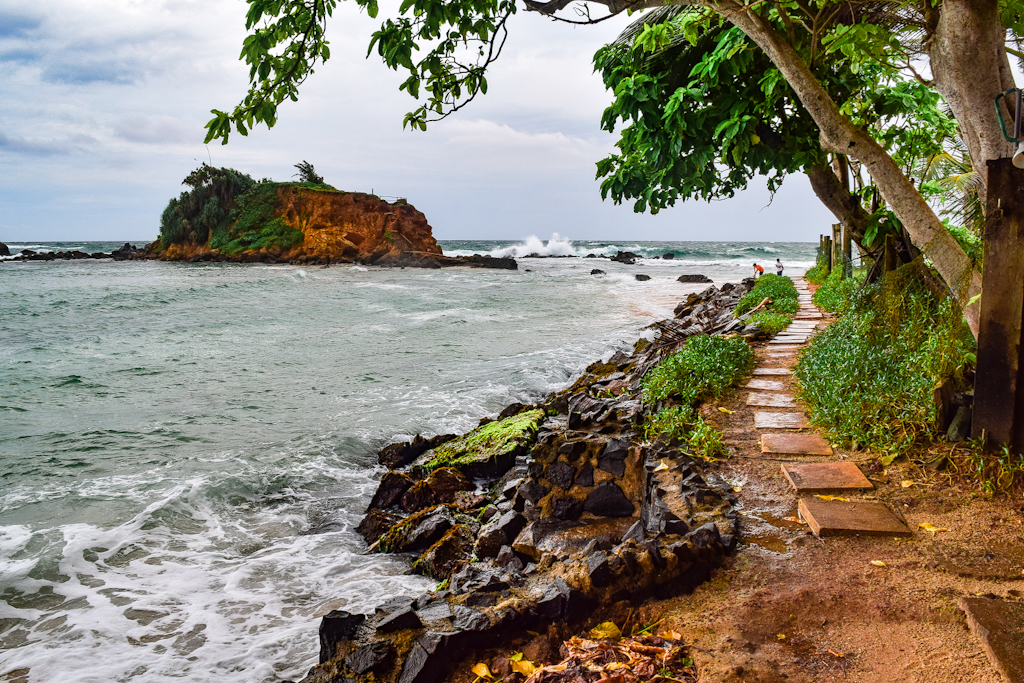 Day 11: Day Trip to Unawatuna
On my second day in Mirissa, I headed to the Unawatuna beaches to inquire about the Scuba Diving course and just explore the area.
Unawatuna Beach to Blowhole
From Mirissa, I took a bus to Unawatuna which cost me around 50-60 LKR (10-15 INR) and then came across the Diver's Land Scuba Diving store.
I booked my slot for the next day morning and then just hung out at the Unawatuna main beach. It is quite beautiful and you can see a Japanese Pagoda in the distance.
Around 3 p.m., I headed to the Unawatuna Blowhole which was behind the Blow Hole restaurant. I walked from the beach to the place and it took me around 20-30 minutes.
If you visit Unawatuna, make sure you don't forget to visit the Blow Hole. It looks like heaven and you get to see the entire ocean without anyone disturbing you.
Unawatuna Blowhole to Jungle Beach
After some time at this place, I headed to the Jungle Beach in Unawatuna. I took an auto since this beach can only be reached through a slightly elevated path.
Once you reach the starting point of the beach, you need to walk some 10-15 minutes to actually reach the beach.
Once you are at the beach though, the view completely blows your mind. The beach is secluded from the main town which is why it is so quiet and calm and I didn't see a lot of people here.
Also, you get to see a really magnificent sunset here with the jungle hill as your subject.
Although I would advise solo female travelers to avoid going here during sunset because it becomes dark and a lot of people might trouble you while going back to the city.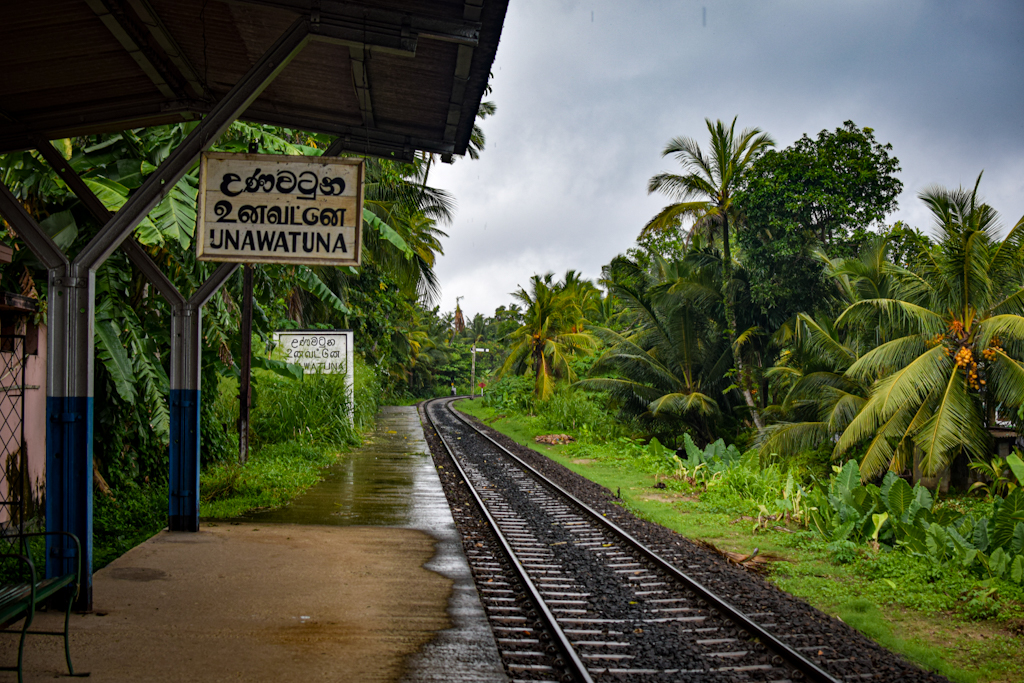 Day 12: Scuba Diving Trip from Unawatuna
That day was a huge day for me as I was going for my first Scuba Diving experience. You can know more about it onScuba Diving in Sri Lanka post.
The sea was a little rough as a storm was approaching but supposedly it was a good condition for scuba diving so I geared up for the experience. I can honestly say it was one of the best experiences in my life and I am quite determined to complete the entire scuba diving course now (I recently complated it in Thailand, will share details soon).
After spending half day in Scuba Diving, I headed back to Mirissa to just relax and unwind a little.
I went back to the Mirissa beach in the evening and then just chatted up with my host. He told me really amazing stories about his life and made Egg Pasta for me which was really delicious (Previously, I wasn't really a Pasta fan but after his cooking, I certainly am!!).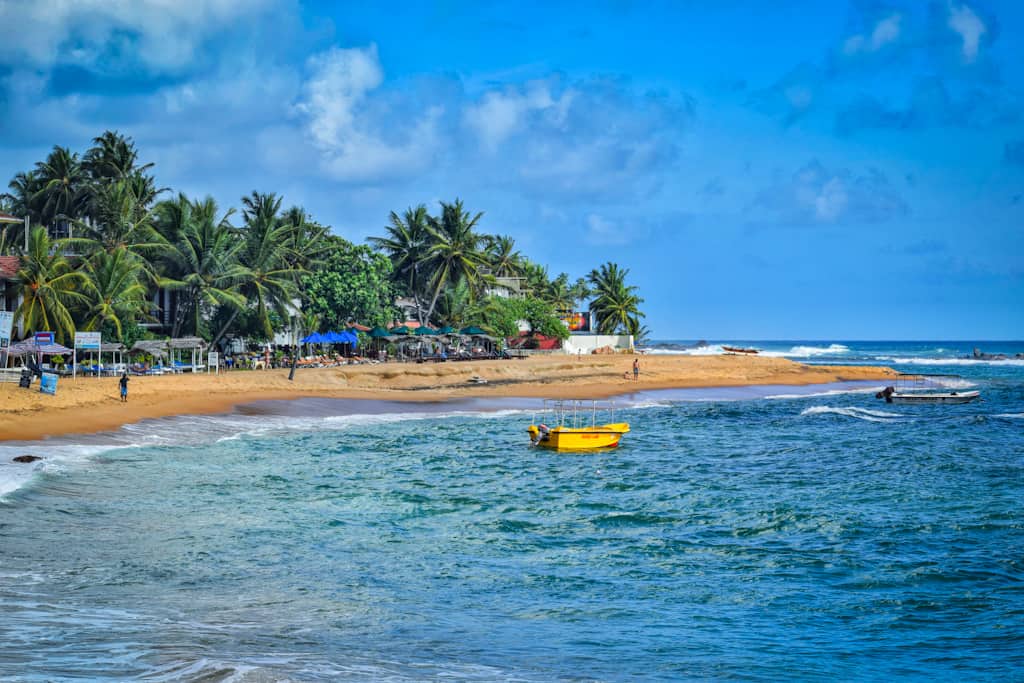 Day 13: Midigama Beach to Unawatuna to Mirissa Lighthouse
Early morning, I left to visit other places from Mirissa and stopped at the Midigama beach on the way. The beach was secluded and a good place to relax but it was pretty hot, so I headed to the Unawatuna Beach.
After enjoying a nice lunch on the beach, I headed back to Mirissa to check the Mirissa lighthouse. It is not an actual lighthouse but it's a decorative lighthouse inside a resort.
There was a wedding going on over there so they let me chill at their private beach before letting me in to see the lighthouse. On the beach, I just observed the crabs and the waves, mesmerized by their movement.
Finally, after some time I could go and see the lighthouse. While the lighthouse is not extraordinary, the private beach certainly was but I am not sure if they allow everyone to just waltz in, I guess I was just lucky.
After that, I walked to the Mirissa beach waiting for the sunset but due to the clouds surrounding the sun, I couldn't see it properly.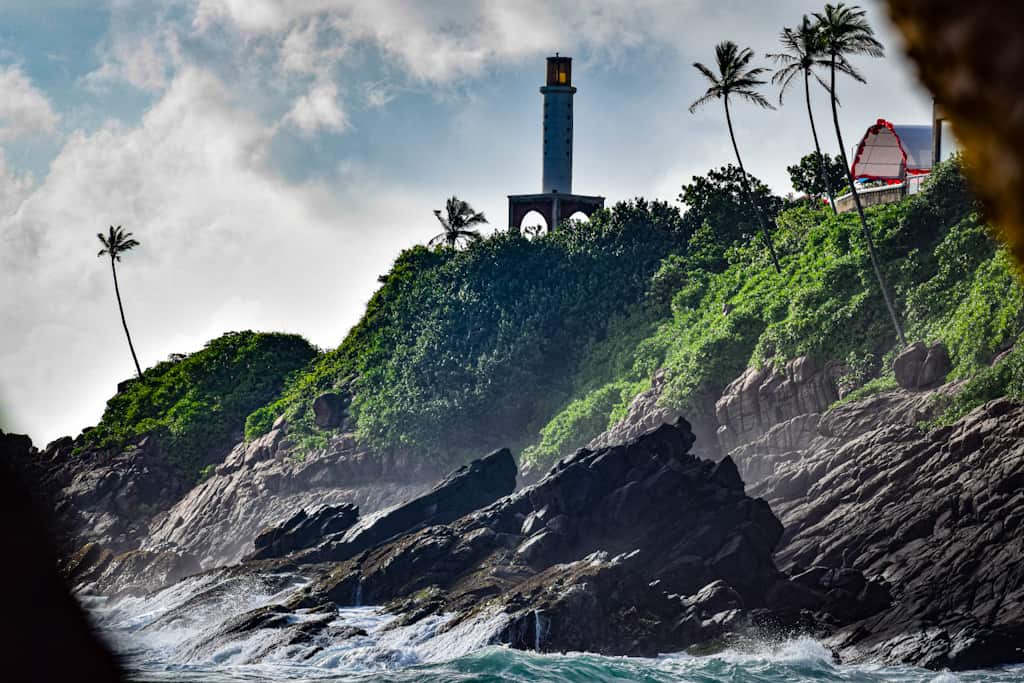 Day 14: Day Trip to Galle Fort
I left for a hostel in Unawatuna and as fate would have it, it started raining the moment I reached (It seems that the rain was following me all the while I was in Sri Lanka).
Finally, once the rain stopped, I caught a train to Galle and headed to the famous Galle Fort on foot. It started raining again in between but after some time it stopped so I was able to enjoy properly.
Galle Fort is a beautiful place to visit and contains really amazing Portuguese buildings and places. The streets remind you of an 18th-century alley and transports you to a European city in an older century.
Day 15: Galle Fort Sightseeing
As usual, it was raining so I waited for the rain to subside before leaving for Galle again. The train ticket from Unawatuna to Galle costs only 30 LKR (10 INR) and will barely take 10 minutes to reach.
Again, I just roamed around and cover the other side of the fort city and just enjoyed myself. I saw the Galle Fort Lighthouse and several other structures. Make sure that you dedicate an entire day to this lovely place because you would really enjoy walking around on the streets.
If you happen to love photography then this is the perfect place for you!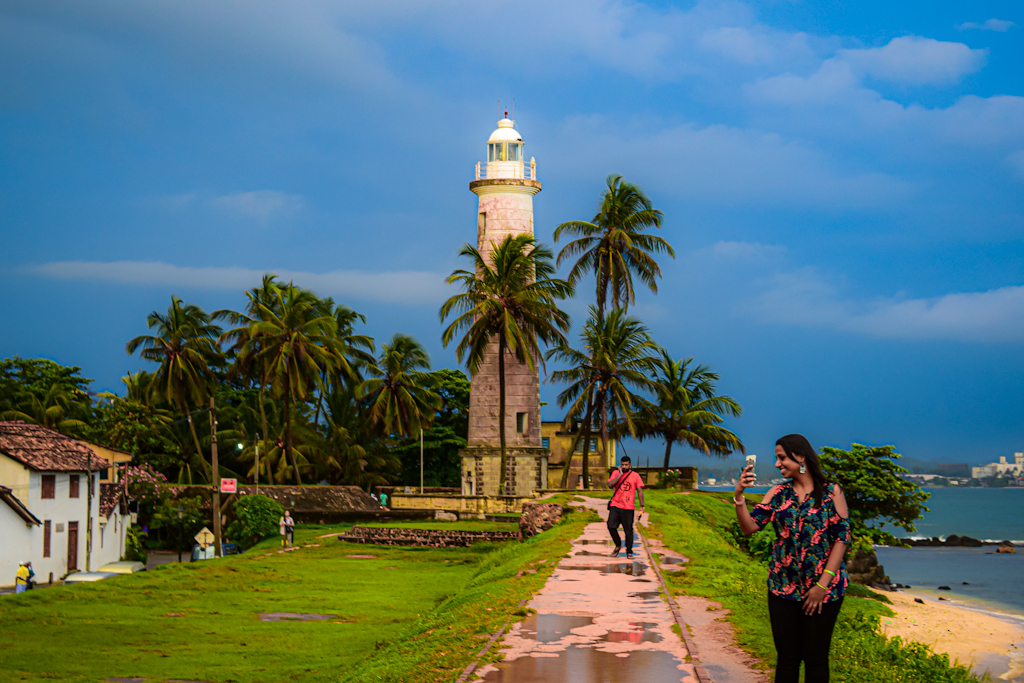 Day 16: Flying Back to India
This was the last day of my trip and I had a flight back to India from Colombo. So, I took a morning bus to Colombo from Galle and reached the airport 3-4 hours before my departure.
Honestly, I had an absolutely fantastic time in Sri Lanka and only wish that I had some more time to visit this beautiful country. I certainly plan to go again and revisit some of these places and visit a few other places that I missed this time.
I hope this Sri Lanka itinerary helps you plan your own trip to this amazing island nation. Let me know in the comments below if you have any more questions or suggestions for me!