In the past couple of years, I have been to Gujarat several times, and each time it has turned out to be an amazing experience. But one of my favorite places till now has to be the Great Rann of Kutch, located near Bhuj.
One of my favorite moments has been watching the sunset on the large salt desert while leaving behind the hordes of tourists who come to attend the spectacular Rann Utsav every year.
And the best part is that the White Rann in Gujarat is one of the easily accessible places that you can visit on a budget.
In this guide, I will be sharing with you all the information on how I traveled Great Rann of Kutch on a short weekend trip from Delhi and the magnificent Rann Utsav that is held annually over here.
This way, you can plan a trip to attend the famed Rann of Kutch festival and enjoy the culture and the dance performances that are held here.
Update 2023: I recently went to Rann Utsav again and have updated the information accordingly.
Great Rann of Kutch
Why Should You Visit Great Rann of Kutch and Rann Utsav?
The Rann of Kutch, also known as the Great Rann of Kutch, is one of the largest salt deserts in the world and is a truly remarkable place to visit in Gujarat. It is a salt marsh in the Thar district, located in the Kutch district, and is definitely one of the places that you don't want to miss when exploring Gujarat.
What is truly remarkable about this salt desert is that it stays underwater during the monsoon season. But for the remaining 8 months, this land is a salt desert and you see endless white salt as far as your eyes can see.
Plus, this place lies to the north of the Tropic of Cancer and you even come across the sign of the Tropic of Cancer on the way to the White Rann. So, you can get pictures clicked here or simply enjoy the knowledge that you crossed the Tropic of Cancer line.
That is not all, the northernmost part of the Rann also forms the border between India and Pakistan and is heavily patrolled on both sides of the border. While civilians aren't allowed to go near the border, it is quite exciting to learn that just across the Great Rann lies the country of Pakistan.
And if that is not a convincing reason to visit the Rann in Gujarat then the annual Rann Utsav held here is definitely a reason to plan a trip here. Rann Utsav is a 3-month long annual festival held by the Government of Gujarat from December to February. This Rann of Kutch festival is filled with cultural programs, adventure activities, handicrafts, food, stalls with souvenirs, and so on.
And one of the best things about Rann Utsav is that it gives a chance to the tourists to stay in the Tent City and experience the full moon in the salt desert. The moonlight reflecting on the salt desert is one of the most beautiful and magical sights ever which is one of the top reasons why you should visit this salt desert during the Rann Utsav time.
Best Time to Visit Kutch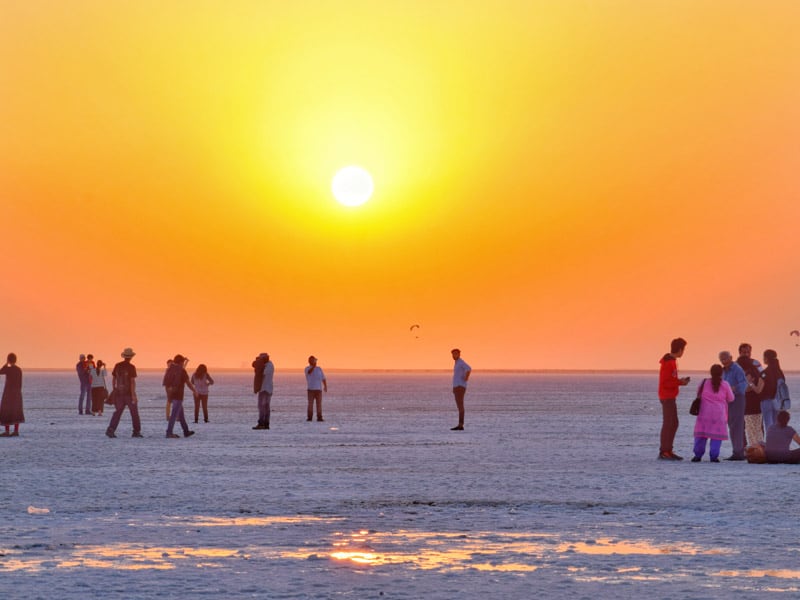 If you wish to make the most of your time in the Great Rann of Kutch, then the best time to visit is between the months of November and March. During this time, this salt marsh dries up and you can witness the magical white salt desert in its full glory.
Here is a detailed breakdown of what you can expect to find here during different seasons.
Winter Season (November to March)
As mentioned earlier, the Rann begins to dry up in October every year and turns it into a desolate salt desert. Late October to March end is the tourist season in this region and you will find people traveling from all over the world to witness this magnificent salt desert.
Why this season is so popular with tourists?
Well, because from November, the Rann Utsav in Gujarat begins too and lasts till February end. During this time, the entire region is decorated and brightened up with a lot of shops for food, shopping, activities, etc.
This is also the time when the nearby accommodations open up so that you can spend the night close to the desert. This is especially a great idea if you plan your trip during a full moon night as the desert looks completely magical then.
If you wish to avoid the crowds then you can plan the trip at March-end.
Summer Season (April to June)
Although one can still visit the salt desert during these months, summer is definitely not the best time to visit. The temperature is high during these months so while you have the entire salt desert to yourself, it is extremely hot to enjoy it.
Also, there are barely any accommodations open near the rann at this time so you will have to plan a day trip from Bhuj to Kutch. Also, you won't find basic tourist facilities such as toilets, food, water, and so on.
Monsoon Season (July to October)
During the monsoon months, this salt marsh gets filled with water so there are no traces of salt desert anymore. So, if you wish to explore the salt desert then this is definitely not a good time to visit.
Note: Make sure that you visit the salt desert during the morning or evening time as the salt can be blinding during the daytime.
How to Reach Great Rann of Kutch
Since Kutch is such a popular tourist destination, you have a lot of options available to conveniently reach this location. Check out below how you can reach Kutch and enjoy a day at the Great Rann.
How to Reach Bhuj
In order to reach Kutch, you first need to reach Bhuj which is located around 81 km from Dhordo village. Dhordo village is on the edge of the salt desert and is known as the Gateway to the Rann.
Here are a few ways to reach Bhuj to start your trip to Rann.
Air
The closest airport near Rann of Kutch is the Bhuj Airport. This airport is located 6 km from the city center and is one of the best options if you are short on time. There are 3 flights from Diu to Bhuj every week and there are daily flights between Mumbai and Diu.
So, if you are traveling from Mumbai or Diu, you can reach Bhuj quite quickly. For people staying in other cities, you will have to find a flight to Mumbai followed by Diu and Bhuj. So, plan your dates beforehand.
Rail
One of the most convenient options for reaching Bhuj is to take a train to Bhuj Railway Station. There are around 9 trains that pass through or end at this station so you can look for a suitable train.
Bhuj Railway Station is close to Bhuj Airport and you will find several transportation options like autorickshaws, taxis, etc. to reach the city center or your desired hotel address. From the railway station, Dhordo village is around 77 km so you can choose to head directly to the Rann after reaching Bhuj on a train too.
Road
Finally, if you don't mind a long drive then you can also rent a car or drive your own car from your starting destination.
Apart from driving, you also have the option of taking a bus from anywhere in Gujarat to reach Bhuj.
There are both government-operated buses and private buses for Bhuj so you can choose the one that suits your timing. Gujarat State Bus Corporation offers cheap and clean bus service including both semi-sleeper and sleeper options. You can book these buses either from the online government bus portal or through applications such as Paytm, Redbus, and so on.
A local bus from cities like Vadodara, Ahmedabad, etc. will cost you around 200 – 800 INR, depending on the bus type. For private buses, you can expect to pay around 300 – 1200 INR for similar bus types.
Note: If you are planning a trip from Delhi to Rann of Kutch then the most convenient way to reach Bhuj is via train or driving your own vehicle. There are flights from Delhi to Bhuj but these are very costly and have multiple layovers with a total time exceeding 19 hours in most cases.
Bhuj to Kutch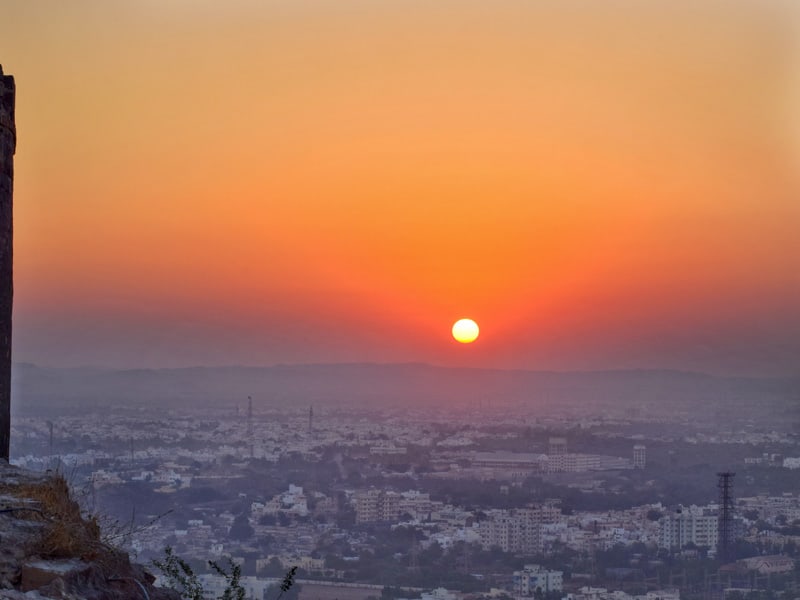 Once you have reached Bhuj, you need to reach Dhordo Village in Kutch to visit the Great Rann. For this, you have several transportation options available.
Complimentary Pick-Up and Drop Facility
Finally, if you are planning to stay at Dhordo and have already booked a stay in a resort, then you don't have to worry about transportation. Most White Rann resorts offer complimentary pick-up and drop service from the Bhuj airport and railway station.
So, you simply need to tell them what time you will be arriving and they will arrange the transportation for you.
Note: Most resorts employ bus services in pick-ups and drops and have fixed departure and arrival timing. Check the timings with the resort beforehand and plan your arrival and departure accordingly.
Cab
If you are planning your entire Kutch trip yourself, then one of the most convenient and fastest ways to reach the Great Rann of Kutch from Bhuj is by hiring a cab. You can find several cab and taxi options available in Bhuj that will charge you around 3,000 – 5,000 INR for a 1-day trip from Bhuj to Kutch.
If you choose to spend the night at Rann, you will have to pay extra to the driver. However, a cab will definitely make it easier to go to Kalo Dhangar, Nirona Village, etc. when you are exploring the Kutch region.
This is a great option for families and friend groups as the cab charges can be shared with other people.
Private or Rented Vehicle
One of the most popular ways to reach the Rann is by renting a two-wheeler or a 4-wheeler here. There are several rental shops available here that charge around 600 INR for a scooty and 800 – 1200 INR for a bike for a day.
The prices can fluctuate depending on the tourist season and off-season but it will still be the cheapest option available. It takes around 2 – 2.5 hours from Bhuj to Kutch on a two-wheeler. There are a couple of 4-wheeler rental options available as well but it will be a tad bit more expensive.
Note: If you rent a scooty, make sure you carry a couple of extra warm layers as it can be really cold in the morning and evening when traveling between Bhuj and the Great Rann.
Great Rann of Kutch Tour Packages
If you are planning a day trip to the Great Rann from Bhuj alone and don't know how to drive a car or a scooty, then you can choose a tour package as well. These day tour packages from Bhuj are quite economical and cover all the major points in Kutch.
The only drawback is that you don't have the flexibility of changing the schedule and you would miss the chance to spend a night at the salt desert. These tour packages can cost anywhere between 1500 – 2000 INR and you can check with your hotel owner in Bhuj about these packages.
Where to Get the Permit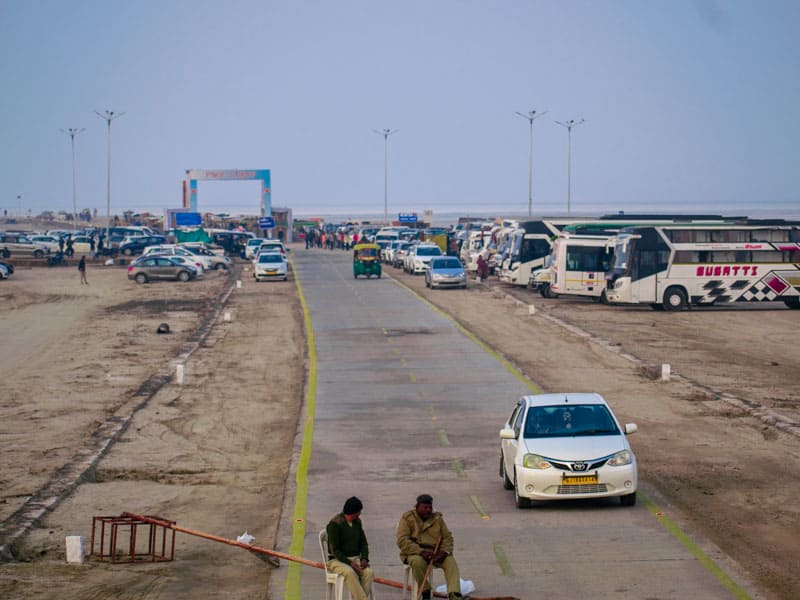 Since the White Rann is close to the Pakistan border and is a sensitive area, you need to get a permit to visit this salt desert. Thankfully, the entire process is streamlined so you won't face any issues while applying for the Rann permit.
You can get the permit from the Bhirandiara village check post which is around 55 km from Bhuj. The permit cost for an adult is 100 INR and 50 INR for a child between 6 and 12 years old. For children below the age of 6 years, there are no permit charges.
Also, a permit for a two-wheeler is 25 INR and a 4-wheeler is 50 INR. This permit is valid for a day and you can easily get a permit for 2-3 days at once. To get the permit, you need to submit a photocopy of an ID and show your original ID as well. You can use a passport, Voter ID, etc. as your ID to get the permit.
Note: The checkpoint opens at 11 a.m. in the morning and stays closed during the off-season. Alternatively, Indian citizens can apply for the permit online now.
How to Apply for Online Permit
If you are planning to reach the White Rann earlier than 11 a.m. or traveling in the off-season, then you can apply for the permit online. This online facility is available for Indian citizens only.
You can follow these steps to obtain an online permit in just a few clicks:
Go to the Rann Permit Official Website and click on the 'Get Your Permit' button.
In the Request Permit form, fill in your details such as From Date, To Date, and the Number of Travelers visiting. Then, click on the 'Next' button.
Now, you will be taken to the Traveler Details page where you need to enter the Full Name, Gender, and Age of all the travelers. Click on the 'Next' button.
Next, select the Primary traveler whose contact information and ID proof will be submitted. Choose the ID proof that you wish to submit, enter the ID number, and upload the photo or the scan of the ID document.
Next, you will be asked to enter the vehicle information. You need to select between a two-wheeler, four-wheeler, and a no vehicle option. If you choose a vehicle, you need to enter the Vehicle number as well. Also, you can add multiple vehicle details in a single Permit form.
You will be taken to the Confirmation page now where you need to verify the information entered by you. Once you do that, you need to click on the 'Pay Now' button to proceed with the online permit process.
You can make the payment via Netbanking or Credit/Debit card option. After the payment is complete, you will receive your permit on the email address that you shared. Take a printout of this permit to show at the White Rann entrance gate.
From Bhirandiara check post, the White Rann is around 25 km and Kalo Dungar is around 38 km.
Things to do in Kutch
If you are planning a trip to Kutch, then make sure you have sufficient time at hand to make the most of your stay here. There are a lot of attractions to visit and activities to do here so you would easily need 3-4 days to thoroughly enjoy a stay here.
1. Visit the Amazing Great Rann of Kutch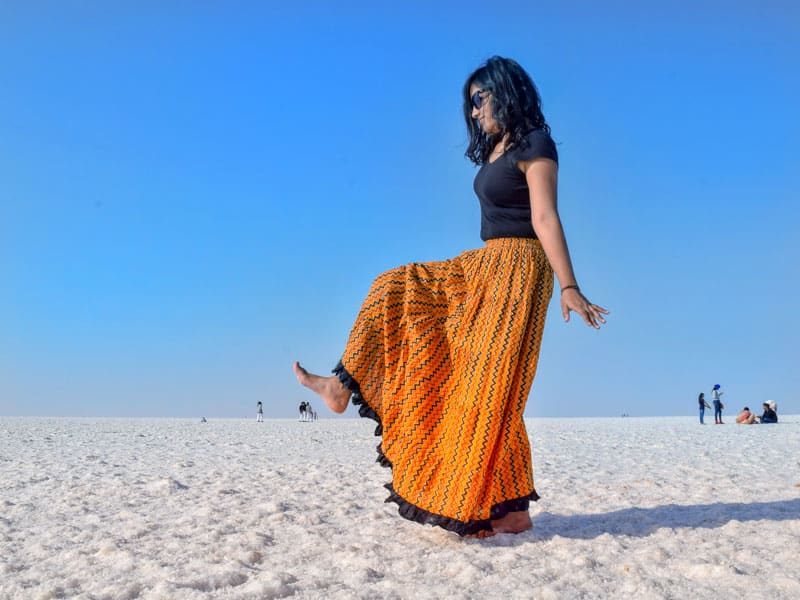 Apart from the handicrafts, most people visit Kutch to visit the arid expanse of the Great Rann. Covering around 10,000 km, this salt desert lies to the north of the Tropic of Cancer and is quite close to the Pakistan border as well. The most fascinating thing about this salt desert is that during monsoon time, the salt is submerged in water.
Once the water dries up, you are presented with the White Rann where you see salt desert stretching for miles and miles in front of you. It looks absolutely magical and can be intimidating to see nothing except for salt for thousands of kilometers.
And this place is a haven for photographers as you can easily take creative photos here. Use different props and make the most of the white and blue background to enjoy some stunning pictures here. There is also a tower present in the salt desert which you can climb to enjoy a top view of the salt desert. This is also a great spot to observe the sunset and sunrise here which can turn out to be beautiful.
2. Explore a Few Attractions in Bhuj
One of the best things to do when visiting Kutch is to spend a complete day exploring the streets and attractions in Bhuj. Bhuj is the capital of Kutch and one of the best places to visit to get a panoramic view of the entire city is from the Bhujia hilltop. Atop this hill, the Bhujia Fort also sits and you can enjoy the most stunning sunsets from this hill.
Although a large part of Bhuj was destroyed in the 2001 earthquake, there are still many architectural treasures that you can enjoy. These include the Rani Mahal (former residence of royal ancestors), Prag Mahal (which includes the durbar hall and the clock tower), and the 350-year old ornate Aina Mahal.
Apart from the architectural buildings, there are several amazing temples to explore here as well. From the new Swaminarayan temple to the Chaturbhuj temple, all these temples are beautifully designed and worth a visit.
3. Go on a Day Tour of Mandvi
You can also plan a day trip to the port town of Mandvi where you can spend the day on the beach and even visit the 400-year old shipping yard. What is truly fascinating about this town is that on the banks of the Rukmavati River, you will see a wide range of ships in different construction stages.
Each of the ships takes 2-3 years to be built and requires specialist knowledge. The wood used in the construction is imported from Malaysia or Burma and once the ship is complete, it is towed to the Gulf so that diesel engines can be installed in it.
The most interesting thing about these ships is that they use cotton to stuff the gaps around the nails in the wood so that water doesn't enter the ship.
Apart from the shipyard, you can also visit the magnificent Vijay Vilas Palace which is faded but hasn't lost its grandeur. There is a beautiful white marble Jain temple here as well which houses 72 shrines and offers a peaceful and calm vibe. You can also stroll around the Mandvi beach and enjoy the local snacks such as Daboli here while watching the sunset.
How to Reach: You can hire a cab or rent a vehicle to reach Mandvi. Mandvi is around 58 km from Bhuj and can be reached in 1 – 1.15 hours. Alternatively, you can also find a local bus from Kutch to Mandvi that charges 50 INR and takes 1.5 hours to reach.
4. Stay in the Tent City or a Nearby Resort
One of the best ways to explore the Rann is by spending a night near the salt desert. And one of the best ways to experience Rann Utsav is by staying in the Tent city or in a nearby luxurious resort.
This way, you can not only visit the salt desert at night during a full moon but can easily access all the stalls at the Rann Utsav as well.
Also, a Rann Utsav Stay package includes a lot of things like delicious Gujarati meals, sightseeing, a permit to White Rann, cultural performances, games, and a lot more.
Also, you can watch both sunrise and sunset at the Rann quite conveniently and can make the most of your Kutch trip in a calm, relaxed manner.
5. Visit the Rann Utsav
Gujarat Tourism holds the Rann Utsav every year, which is held from the start of November till the end of February. This Rann of Kutch festival witnesses a tent city where hundreds of luxurious tents are set up near the Gateway to Rann Resort.
There are a lot of food and handicraft stalls also available here and a Rann Utsav package consists of sightseeing trips to the nearby attractions. You will also find many activities to indulge in here such as ATV rides, paramotoring, camel cart rides, and so on.
The cultural performances and games are also included in the package and the entire festival is quite colorful and energetic. However, this festival has become quite commercialized in the past few years so if you wish to see an undisturbed salt desert, then plan a visit just before the Rann Utsav or after the festival is over.
6. Watch a Sunrise or Sunset at the Rann of Kutch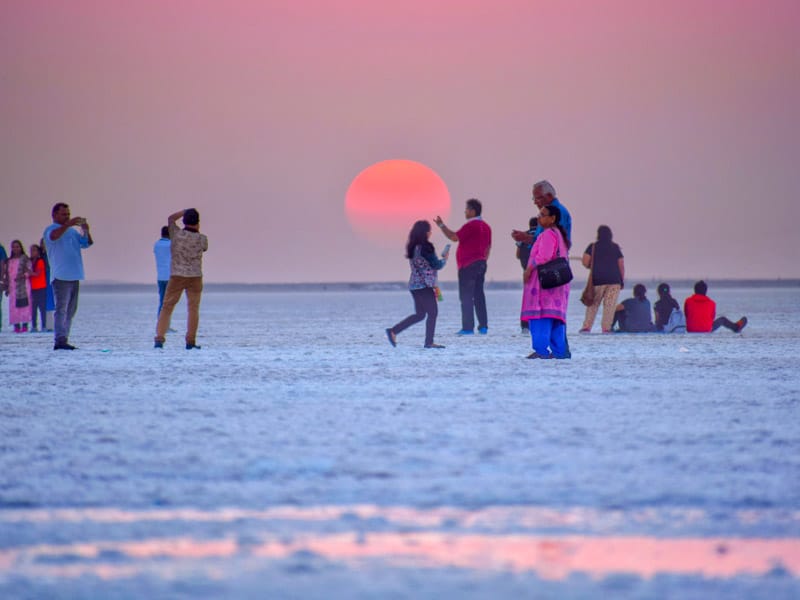 While visiting the Great Rann of Kutch and spending time here is quite great, what is even better is if you witness this magical salt desert during the golden hours. So, make sure that you don't miss out on watching a sunrise or sunset at this salt desert.
The rays of the sun falling on the salt in the morning lend it a nice, golden hue and turn it completely magical. However, my favorite time to visit the White Rann is during sunset time because the orangish hues in the sky look enchanting against the white foreground.
An even better time to visit the Rann would be at night on a full moon night as the salt desert gets beautifully lit up and glows ethereally.
7. Enjoy Cultural Performances and Activities in Kutch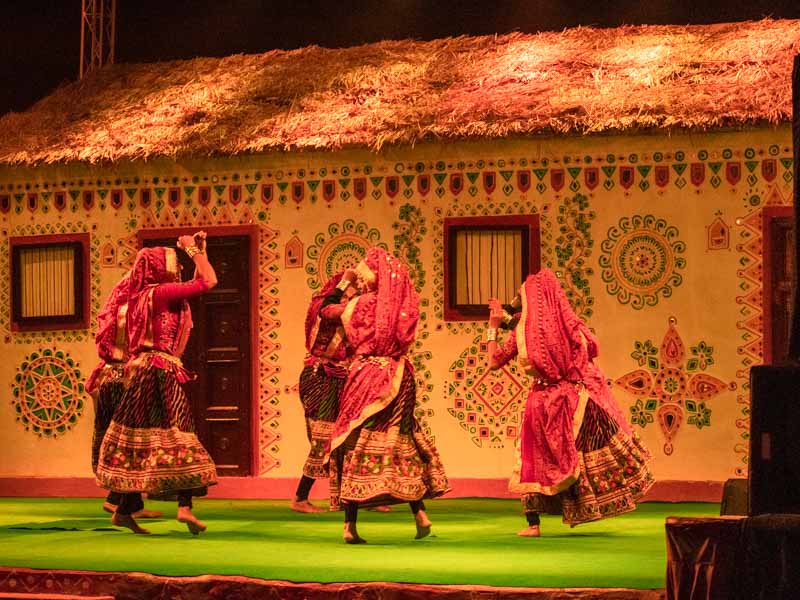 As the Rann Utsav celebrates the rich cultural heritage of Gujarat, you get a chance to enjoy the Kutchi folk dance and music. They play Sufi music and play several musical instruments such as Bhorrindo, Manjira, and so on.
And the best part is that you get a chance to participate and dance with them and learn the steps of the folk dance. There are cultural performances being held both in the Tent city and the private resorts so you can choose to watch it wherever you are more comfortable.
I watched it in the White Rann Resort where they also had Mehendi artists making beautiful designs on guests' hands and they also conducted a game of Housie where you can win prizes.
Apart from that, you can also go for ATV rides, paramotoring, archery, etc. here. These activities can cost you anywhere between 200 – 1500 INR but you will definitely enjoy yourself a lot.
8. Spend a Day at Dholavira
If you love visiting archaeological sites then you can plan a day trip to Dholavira which is around 200 km from Bhuj. Locally known as Kotada Limba, this site is home to the ruins of the Indus Valley Civilization or the Harappan city. This place lies on the Tropic of Cancer and is located on the Khadir Bet island in the Great Rann.
It is also one of the five largest Harappan sites and was discovered in 1967-68. The ASI has been working on the excavation of this site and has uncovered a lot of note-worthy items like square stamp seals, Indus black-on-red ware pottery, a huge board with Indus script, stone sculptures from Harappan time, and a lot more.
So, if you are curious about historical findings then you can pay a visit to this famous archaeology attraction from Bhuj.
9. Visit Kalo Dungar and the Magnetic Hill
If you would like to view the Great Rann from a different vantage point then a visit to the Kalo Dungar (Black Hill) is a must. This is the highest point in Kutch and offers a panoramic view from 458 meters above sea level. In fact, you can see the Pakistan border also from here on a clear day.
There are a few short trekking trails here as well so if you arrive in the morning, you can explore the trails to enjoy the view of the Dholavira lake and the White Rann. You can also watch a magical sunset from here and enjoy the golden hues of the sky while being surrounded by hills.
On the way to the Kalo Dungar hilltop, you will also come across the magnetic hill that offers an optical illusion of the vehicle defying gravity. Here, if you turn off the vehicle engine, you will notice that the vehicle automatically moves forward.
Kalo Dungar is accessible through the Khavda village which is known for artisans that specialize in block painting.
How to Reach: Public transportation is infrequent to this attraction so it would be better to take your own vehicle. This attraction is also a part of most Rann Utsav packages.
10. Explore the Handicrafts at Nirona Village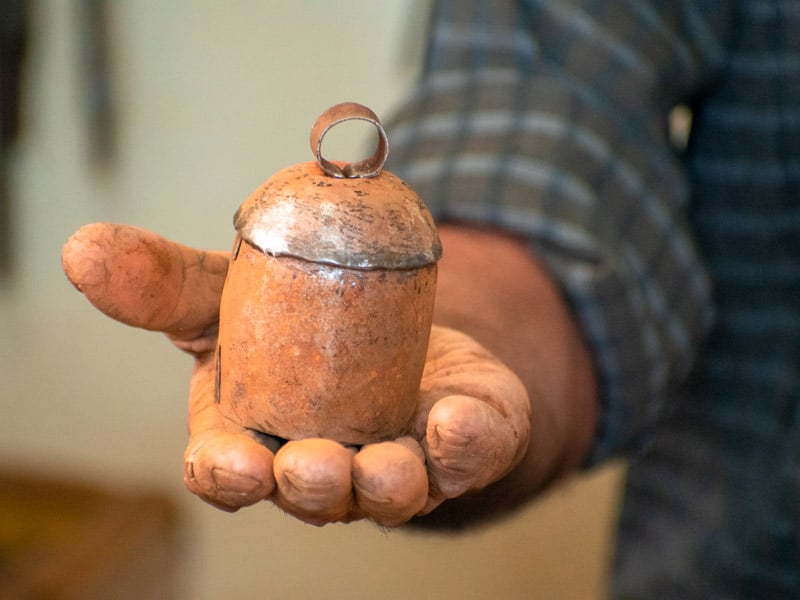 Kutch in Gujarat is known for its handicrafts and artisans that can perform bandhani dye tie, ajrakh block painting, and so on. One of the most popular villages to visit to learn about handicrafts in this region is the Nirona Village.
Nirona is around 50 km from Bhuj and can be visited as a detour on the way to Rann. Here, you can learn about the art of Rogan Painting by Gafur Bhai and his family and can even purchase a few paintings for home. The paintings are exquisite and require a lot of talent and hard work which I am sure a lot of you will appreciate.
Apart from Rogan painting, this place is also where you can watch how the local artisans make copper bells without any welding tool. The entire process takes a lot of effort but the result is beautiful and completely worth the time.
There are also wooden handicrafts available here and lacquer work for you to admire. Trust me, a visit to the Nirona village will leave you completely mesmerized by the handicrafts in the Kutch region.
11. Visit the Local Gandhi Nu Gam Village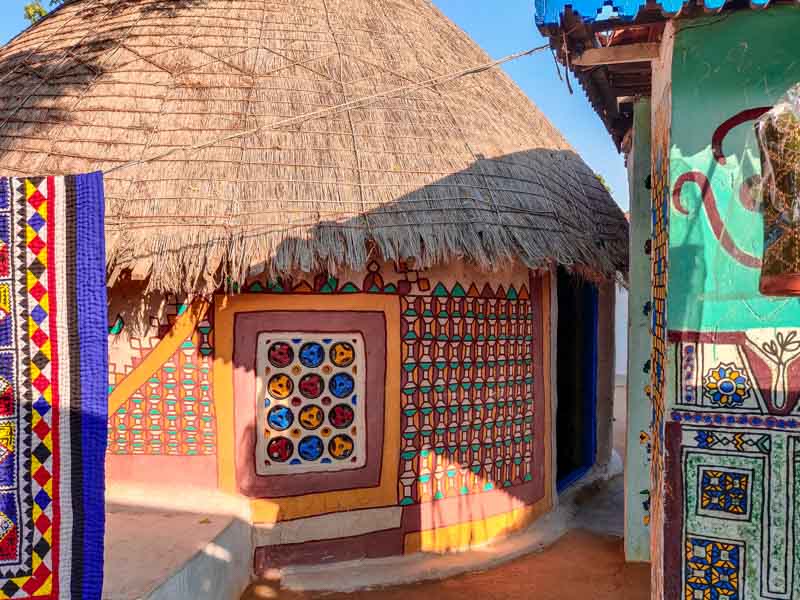 Another popular handicraft village that you cannot miss out on when exploring Kutch is the Gandhi Nu Gam village which is situated near the Khavda village. This village is famous for crafts such as leather bags, copper begs, mirror work, and so on. You will find the artisans here making each product by hand which often takes a complete week or a month to complete.
From making exquisite puppets to carving intricate designs in coasters and jharokhas (wooden windows), this place offers a lot of amazing handicrafts for you to buy. However, the best thing about visiting this village is that you get a chance to admire the well-decorated bhungas (mud huts) here where the local artisans live.
12. Enjoy the Little Rann of Kutch
If you are looking for a more secluded and pristine version of the White Rann then you can pay a visit to the Little Rann of Kutch. This barren desolate landscape lies to the southeast of the Great Rann. You can access this place from Ahmedabad as it is just 167 from the capital city.
One of the most famous things to do in the Little Rann of Kutch is to visit the Indian Wild Ass Sanctuary which is the home to an endangered species – Indian Wild Ass. This animal is a cross between a horse and a donkey and is only found in this region now in the entire world.
Apart from the Indian Wild Ass, there are many other birds and animals present in this wildlife sanctuary as well. There is the Indian wolf, nilgai, desert fox, Indian bustard, flamingos, and so on that can be found here.
How to Reach: You can hire a cab to reach this place from Ahmedabad.
ATMs in Kutch
There are a couple of ATMs available in the Ludiya region in Kutch along with Dhordo Village and Bhirandiara Check Post. Primarily, there is the Bank of Baroda and SBI ATM available in this region.
However, during the tourist season, you might not find cash in any of these ATMs. It would be better to withdraw cash from Bhuj before leaving for the Great Rann.
Mobile Network Availability in Kutch
In the Kutch region, the mobile network is quite sporadic so there will be long periods when you won't have any network available. Once you reach Dhordo Village, you can expect a decent 3G/4G connection on Airtel and Jio mobile networks.
BSNL also works wonderfully here. However, you will still observe intermittent mobile connectivity so inform your friends and family beforehand. Make any urgent calls or messages before leaving Bhuj.
Food and Drink Options in Kutch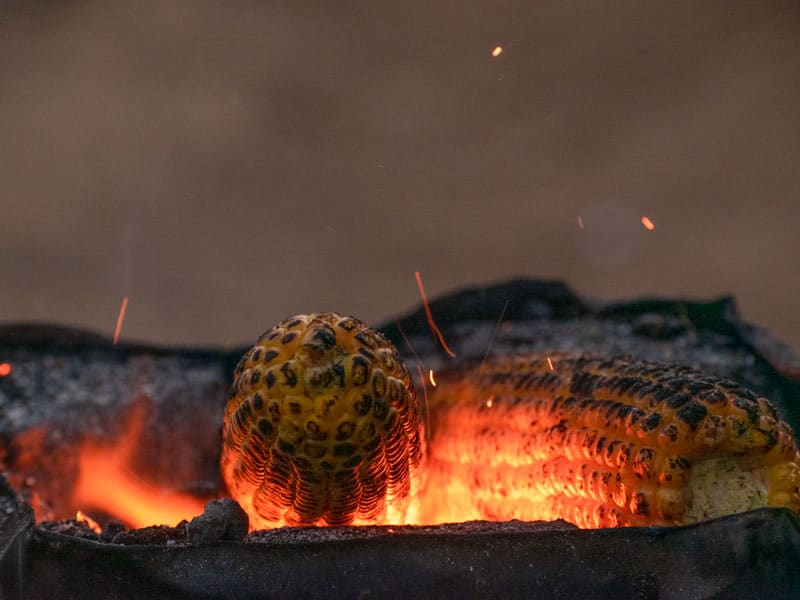 One of the most important things to remember when visiting the White Rann is to be prepared for the food and drink options available here.
During the daytime, it can be extremely hot in the salt desert so you would need your energy so as not to faint or tire yourself out.
If you are planning a day trip to the White Rann and are on a budget then pack your lunch from Bhuj as the food here is quite expensive. If packing is not an option then here are a few other options that you can consider.
Bhirandiara Check Post
There are a few food stalls available near the Bhirandiara Check Post where you can get the permit to visit the White Rann. Here, you can have a simple meal or snacks like Maggi, Eggs, etc. You will also find other snacking options like chips, biscuits, and so on being sold here.
However, the prices would be higher than what you will pay at Bhuj for the same food items.
Rann Utsav Food Stalls
If you end up staying late in the evening to attend the Rann Utsav festival then you can also eat at one of the food stalls here. From Chinese to traditional Gujarati cuisine, you will find all kinds of dishes here.
The prices are decent and the food is actually filling, unlike the snacks that you would find at the other nearby stalls.
Make sure that you try the Gujarati thali here to enjoy an authentic Gujarat experience. I tried it in the Rann Utsav and it was absolutely delicious.
Food Stalls in the White Rann
There are a couple of snack stalls in the White Rann also where you can buy ice cream, biscuits, etc. If you do purchase any snacks from here, make sure that you dispose of the garbage properly and not just litter in the salt desert.
Also, remember that the closer the stall to the salt desert, the more expensive the snacks will be.
Hotels and Resorts near Rann
For people staying in the resorts and tents near the Rann Utsav area, meals are usually included in the package. You will be provided with a token to show in the dining room and you can then enjoy an unlimited buffet meal.
The food is great and they include mostly traditional Gujarati dishes and sweets. Personally, I loved the food during my stay at one of the resorts here.
Accommodation Options in Kutch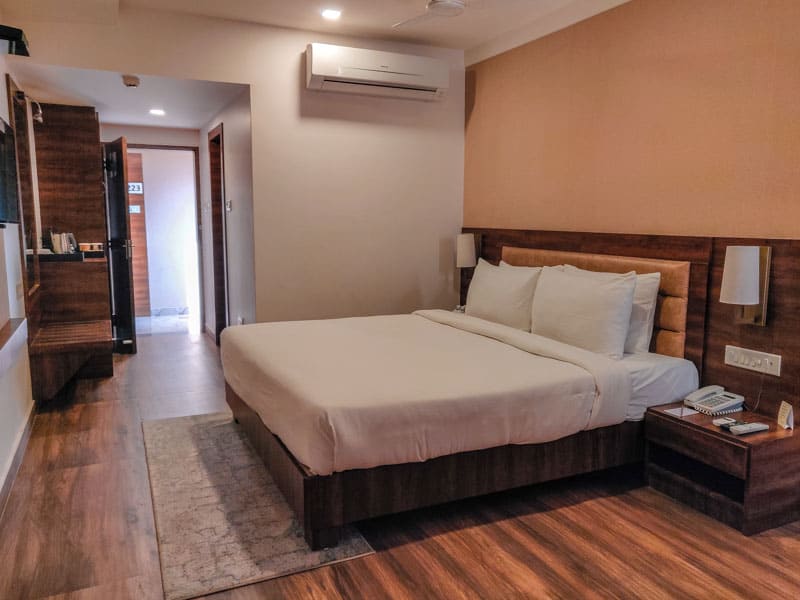 Depending on whether you wish to spend a night near White Rann or just enjoy a day trip to the salt desert, you can choose a convenient stay option for your trip. Here are a few options to consider when planning a trip to Kutch.
Accommodation in Bhuj
If you plan to visit the White Rann on a day trip from Bhuj, then the smart thing to do would be to spend the night at Bhuj itself. There are several affordable options available in Bhuj so you can find an option that suits your budget.
There are lots of homestays, guest houses, and hotels available in Bhuj in different price ranges. Personally, I stayed in the Royal Guest House on my first trip to Kutch and it cost me around 400 INR for a night in a dorm.
On my second visit, I stayed in The Fern Residency which charged around 4300 INR for a room including breakfast and access to a swimming pool.
Accommodation near Rann of Kutch
If you wish to stay a night at the White Rann to enjoy the Rann Utsav festivities or admire the salt desert under the full moon, then there are several stay options in Dhordo village as well.
Luxury Resorts
One of the most popular options in Dhordo is the Gateway to Rann Resort where you will find different types of traditional Kutchi Bhungas (Mud Huts). The prices of these bhungas start from 4,500 INR for double occupancy with air-conditioning. The prices differ from the touristy months and often include a few meals as well.
Another option is the government-run Toran Rann Resort which is located directly opposite the salt desert entrance. Here, a Bhunga will cost you around 4,500 – 6,000 INR including breakfast and dinner.
Personally, I have stayed in the White Rann Resort which is around 1.5 km from the White Rann and offers both Bhungas and Tents for staying. They are slightly more expensive than other resorts as they offer complete packages with meals and sightseeing options. In all these resorts, you will be able to enjoy cultural performances along with a lot of activities (at an additional cost).
Note: You don't need to buy the permit separately if you opt for one of the resort packages.
Budget-Friendly Stay Options
Don't worry, there are several affordable stay options available in Dhordo and Hodko villages in Kutch. You can easily find a Bhunga stay for two people for 6000 INR including your meals, cultural performances, and activities.
You can check Rann Homestay Resort out which offers affordable packages at 5500 – 6000 INR for a 1 night 2-day package.
Note: If you choose accommodations without sightseeing included, you will need to take care of the permit for the White Rann and Kalo Dhangar.
Tent City
If you want the complete Rann Utsav experience and budget is not an issue, then you should stay at the Official Tent City. They offer lots of different packages – 2 Days 1 Night Tour, 3 Days 2 Nights Tour, 4 Days 3 Nights Tour, and more.
A package here can cost you anywhere between 6,000 – 30,000 INR per person. The cost depends on the number of days you choose to stay here and the type of accommodation you opt.
One of the best things about staying in the Tent City is that you just need to book your transportation to and from Bhuj, rest is taken care by them. From complimentary pickups and drops to sightseeing, Tent City Packages includes it all.
In December 2022, I stayed at Tent City for 2 Nights and it was honestly the most amazing experience till date.
Summary
A trip to the Great Rann of Kutch and the famous Rann Utsav is a must. This salt desert is a unique destination in India and shows how diverse our land is. Honestly, I loved visiting the white salt desert, stretching miles and miles in front of me.
I love watching a sunset here as the salt marsh reflects the golden hues and makes it feel like you are literally walking on gold. Trust me, you don't want to miss a sunset and a full moon on this white salt marsh.