Are you planning to visit Dholavira? If yes, then you have come to the right place!
In July 2021, the Dholavira site was included in the UNESCO World Heritage Site list. It is the 4th site to be included from Gujarat and the 40th site from India.
Since I had always wanted to visit this place in Gujarat, I could not say no when Gujarat Tourism asked me to join the trip to this ancient site.
I did a lot of research before visiting the place and have prepared this guide for you. So, if you are a history buff who wishes to visit this site or are just generally fascinated with it, then here is everything you need to know.
A Complete Guide to Dholavira: UNESCO World Heritage Site in India
About Dholavira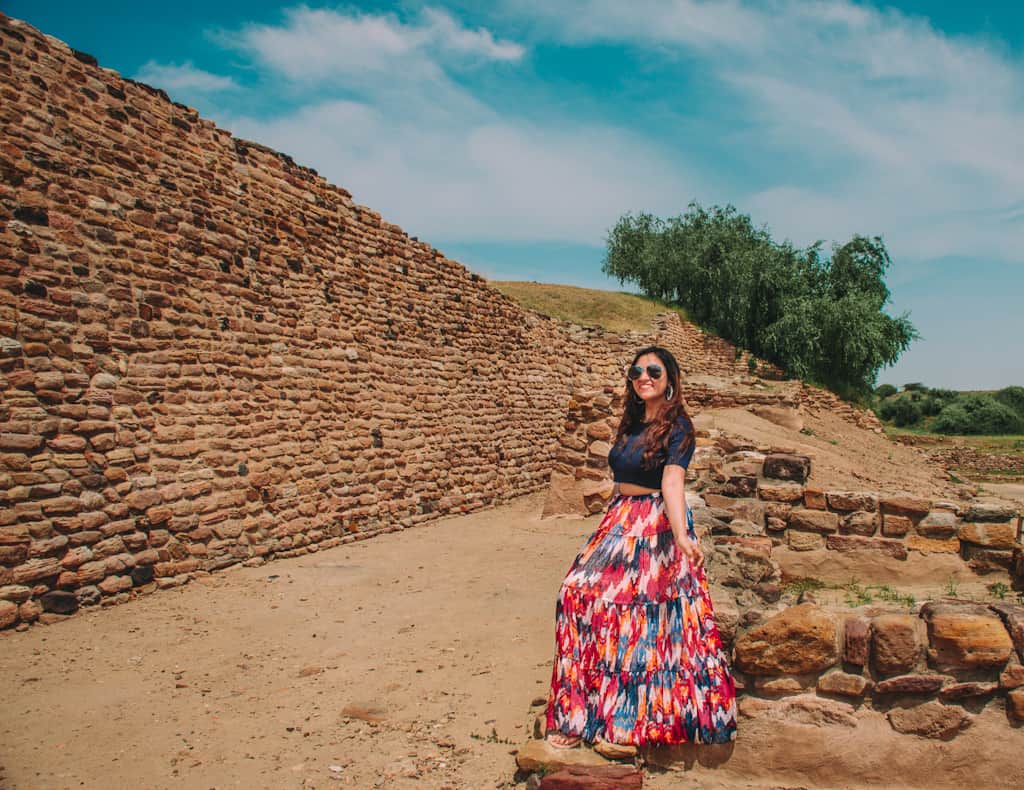 Dholavira was one of the most advanced societies five thousand years ago during the Indus Valley Civilization.
This place witnessed the Harappans settling in the 2650 BCE and it continued to flourish for next 1200 years or so. It was during 1450 BCE that the place saw a serious decline due to several natural causes.
It was also an important trade link between Gujarat, Sindh, Punjab, and Western Asian regions at that time.
This 250-acred ancient land became popular among the archaeologists in 1989. A total of 13 extensive excavations have been carried out here between 1990 and 2005.
Dholavira Excavation Site
Over the years, many Indus Valley Civilization sites have been discovered. Out of these, Mohen-jo-Daro, Harappa, and Ganweriwala in Pakistan, and Rakhigarhi in India were the most prominent. Dholavira is the 5th largest site of Indus Valley Civilization.
There is another IVC excavation site in Gujarat named Lothal that has been deeply researched and is comparatively easier to reach. But Dholavira is famous for being the earliest planned water conservation systems in the world.
The excavation of this site was managed by Archaeological Survey of India. It took place under the supervision of Ravindra Singh Bisht.
At the excavation site, one can notice a fortified citadel, a middle town and a lower town. The walls of the site were made of sandstone or limestone which was different from the mud bricks used in other Harappan sites.
At the other Harappan sites, one could find remains of humans in the graves but that has not been the case with this IVC metropolis. There are many memorials with no bones but precious stones, establishing that Harappan civilization was quite well-established as well.
One of the most interesting things about Dholavira excavation site is that ithas been free from encroachment since the excavation began. This is why is was listed as a UNESCO World Heritage Site in India. It is a well-preserved settlement that dates back to the 2nd millennium BCE.
Where is Dholavira Located?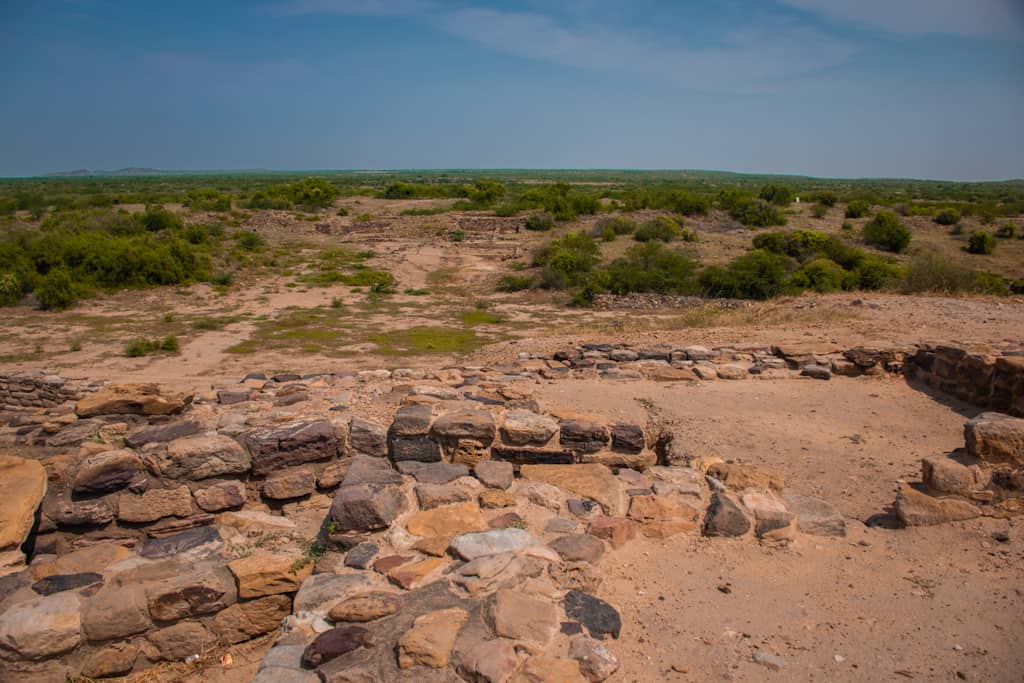 Are you wondering where is Dholavira located in Gujarat?
It is located on the island of Khadir Bet which is surrounded by the salt marsh of Rann of Kutch. The IVC metropolis is situated on a hillock near the Dholavira village, locally known as Kotada Timba.
This site was discovered by archaeologist Jagat Pati Joshi in 1968. But the major excavation process took place between 1990 and 2005 under Bisht's supervision. He uncovered this ancient city which was a manufacturing and commercial hub before 1500 BCE for hundreds of years.
Rise and Fall of Dholavira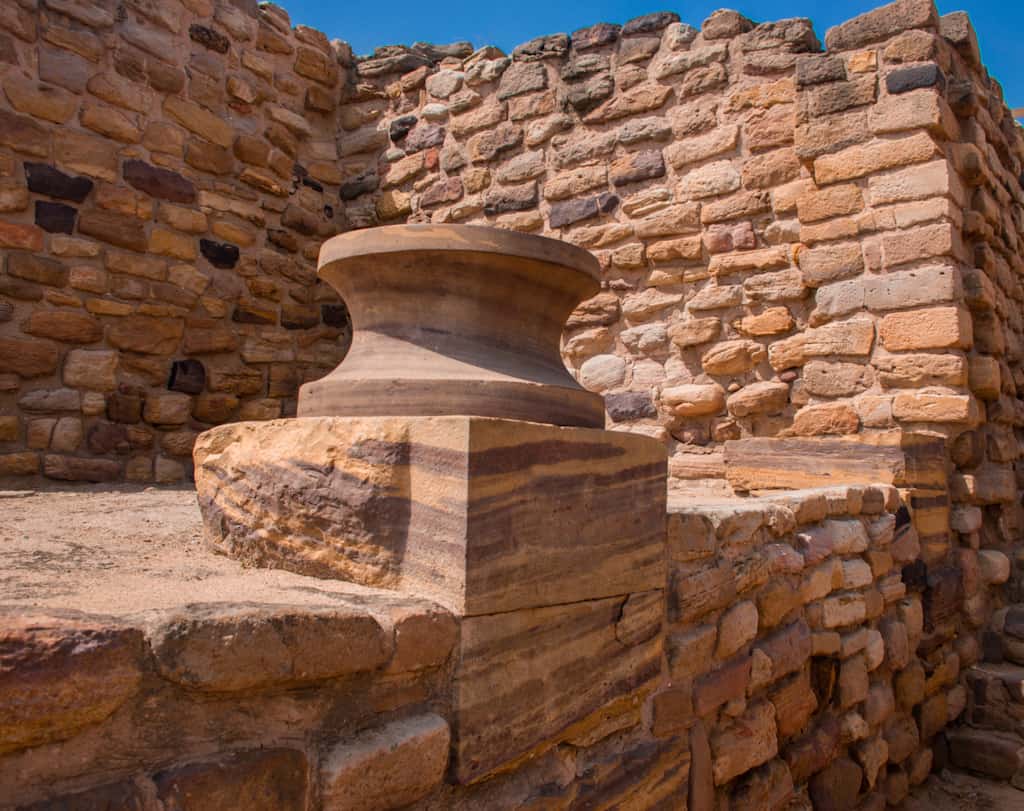 As mentioned earlier, Dholavira is one of the two largest IVC sites in India and the 5th largest in Asia. Similar to the other Harappan site, Lothal, archaeologists found that this city also passed through all the stages of Harappan culture.
From the excavations, copper smelter remains were found which shows that the Harappans living in Dholavira knew metallurgy. According to the archaeologists, Dholavira traders used to get copper ore from present-day Rajasthan, Oman and UAE and then export the finished goods.
It is also believed to be a hub of manufacturing jewellery from shells and semi-precious stones such as agate. These beads relating to Harappan workmanship were found in the royal graves in Mesopotamia. This indicates that the two used to trade in the early years.
The decline of Harappan culture also coincides with the downfall of Mesopotamia, proving their interdependency. Since the Harappans were maritime people, they ended up losing a huge market. This, in turn, affected the local mining, manufacturing, marketing, export, etc. after Mesopotamia fell.
During the excavation, it was found that IVC declined between the 5th and the 7th stages. From 2000 BC, this village experienced severe aridity due to climate change and drying up of Saraswati River. This led to Harappans leaving the city and settling near Ganges plain in Gujarat, Rajasthan, etc.
In the late Harappan stage, the settlers returned. Influenced by the culture of Gujarat, South Rajasthan, and Sindh, they returned to the site but with none of their technology. The new houses were built in the form of bhungas and used simplified signs. The end of Harappan civilization was near.
History of Dholavira Excavations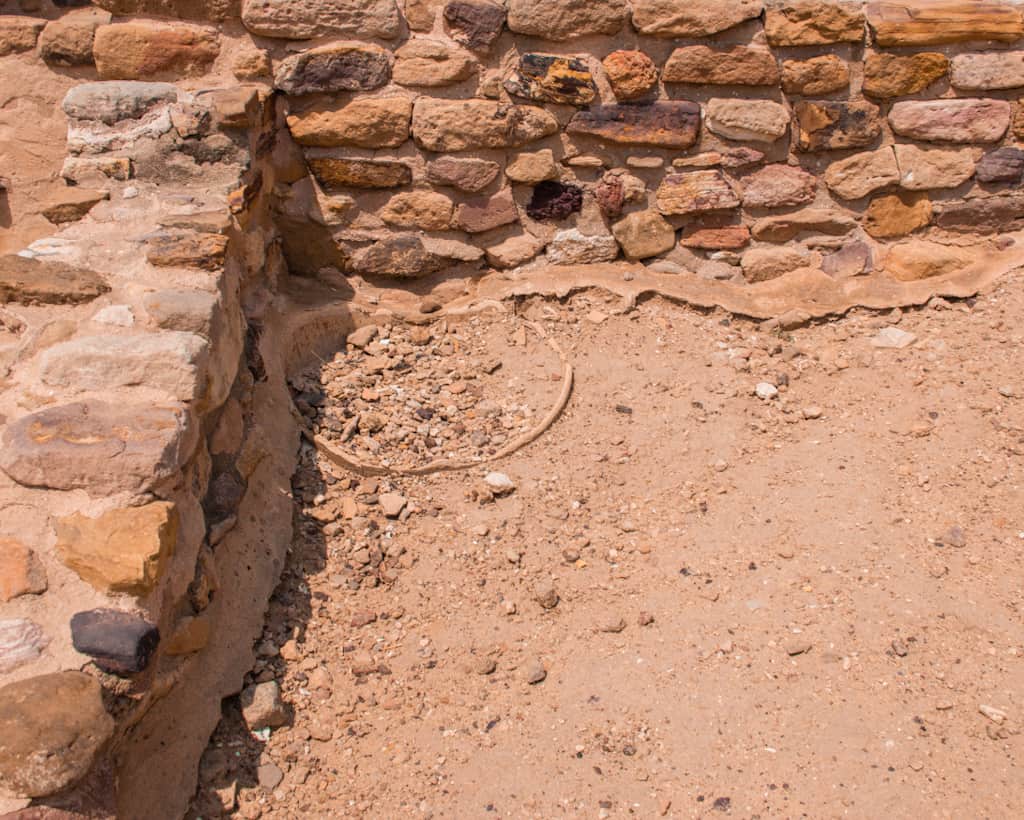 Harappan ruins have existed at the Dholavira site since 3000 BCE. Since this hillock was mostly uninhabited and mainly used for animal grazing or farming, it took some time to discover the ruins.
During one of the tilling sessions in 1968, pottery remains were uncovered. Archaeologist Jagat Pati Joshi, who was working in a nearby site, was informed. This led to a detailed inspection and after radiocarbon dating, it was found that the remains belonged to Harappan civilisation.
Still, it took some more years of tests and carbon dating for Dholavira to become famous among the archaeologists. Since the nearest village to the site was Dholavira, it became the Dholavira Harappan Site.
ASI began systematic excavations in 1990 which continued till 2005. Several broken and worn out artefacts were found such as beads, terracotta pottery, gold ornaments, animal figurines, copper tools, urns, and more.
The excavation shows the 7 stages of Harappan civilization. One can learn about this IVC metropolis from development to its peak to decline.
In the excavations, 10 large stone inscriptions were found near the Ceremonial Ground. They have been assumed to be letters of Harappan script indicating it is a signboard but hasn't been deciphered yet.
Highlights of Dholavira Site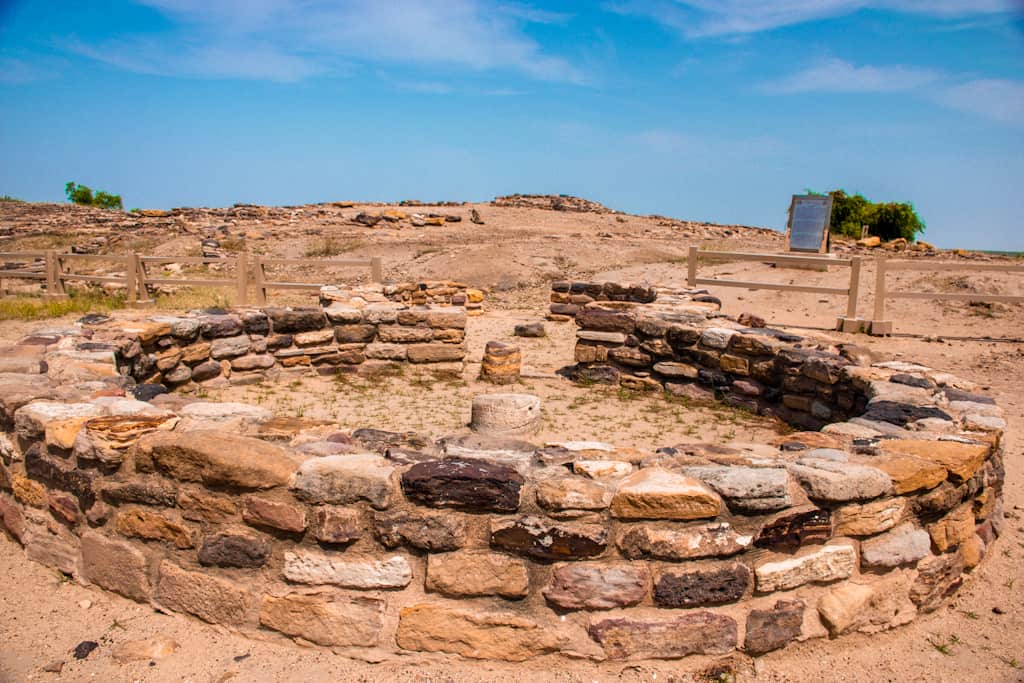 The remains of Dholavira indicates a citadel in the center, a middle town, and a lower town. Both the towns have been fortified separately using sun-dried brick and stone masonry that lends it a smooth feel.
The lanes have been systematically designed to lead out of the citadel with an underground sewage system for good sanitation. You will also find the remains of a large stadium featuring a complex structure and seating arrangement.
The houses of the Harappans found here were round in shape, designed to minimize the damage caused from an earthquake. The excavation has currently only uncovered the top layer, four more layers are still hidden beneath the surface.
Dholavira is famous for its world class water conservatory systems. The northern Mansar and the southern Manhar were the two main canals in the city. The excavation unearthed 16 unwithered reservoirs and a five-thousand-year-old tank.
The city also had an excellent sewage line which was six feet high. As said before, Dholavira is famous for being the world's earliest water conservation systems and is the earliest one to ever be excavated.
Their amazingly built reservoirs, check dams, small baths, and sewage system are proof of their well-managed conservation of water. It would have been difficult to live in the desert without these innovations.
Here are a few prominent features of Dholavira excavation site that you would notice on your guided tour here:
Castle and Bailey – Both these structures together forms the citadel. Beyond the citadel, you will see the Middle Town, the Lower Town with several residential blocks, the wall and finally the cemetery. This site is rectangular in shape and covers an area of 54 acres.
Ceremonial Ground – This is the stadium in Middle Town which has been partially excavated till now. One can notice the stadium with a seating arrangement and a complex structure. It is believed that this arena was used for sports and games conducted on a large scale.
Check Dams – As said earlier, Manhar and Mansar were the two main canals in the city. There were several check dams built across these streams to divert water into the 16 reservoirs.
East Reservoir – Out of the 16 reservoirs, the east reservoir is the largest and the best furnished one. You will notice 30 steps at the three corners of the reservoir.
Excavations found evidences of rituals being performed here. There were several broken figurines, unicorn figurines, and more found here. Archaelogists believe that this was an important reservoir for the Harappans.
Tickets and Tips for Visiting Dholavira Site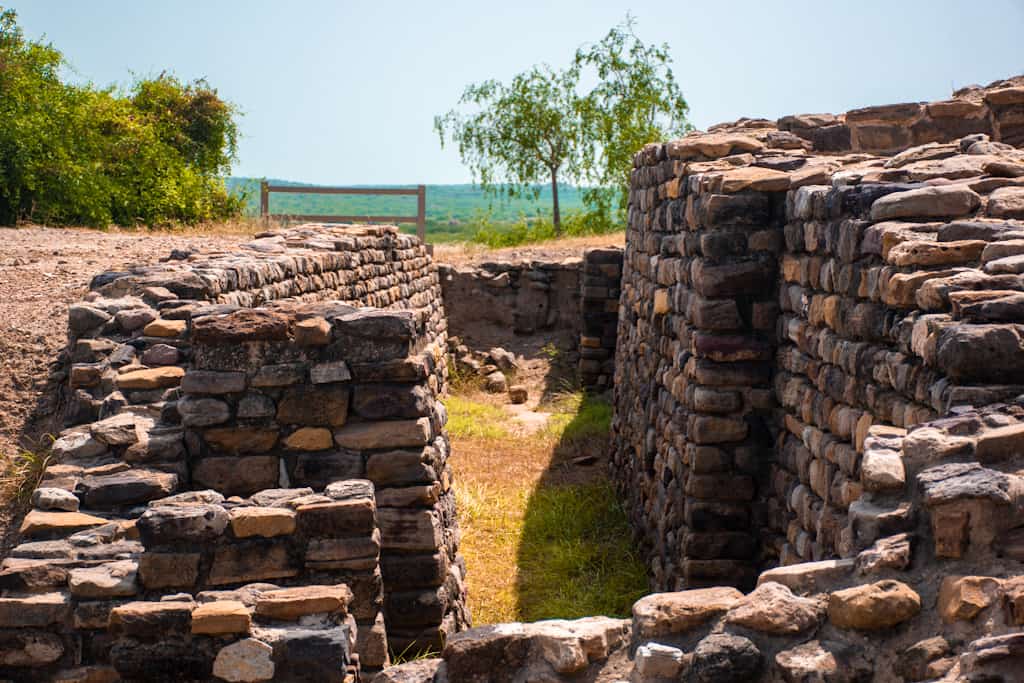 The ticket to the Dholavira excavation site and the Archaeological Museum costs 5 INR for the tourists. It is open every day from 10 AM to 5 PM (closed on Friday).
Tips for Visiting Excavation Site
Please pack sunscreen and wear a hat to protect yourself from the harsh sunlight during the day.
Carry sufficient water as it can easily take 2-3 hours to take a tour of the excavation site.
Hire a local guide who can tell you about the excavation site and the history of this place better.
You will find many informational boards at the site, make sure to read them to get more information about a structure.
How to Reach Dholavira
Are you confused about how to reach Dholavira Harappan site? Don't worry, we have you covered.
Although this is an ancient site, it is well-connected by roadways. It is 360 km from Ahmedabad and 212 km from Bhuj, the two major cities to reach in Gujarat.
Take a look below to learn how you can reach this Indus Valley civilization site.
By Flight
There are no direct flights to Dholavira. The closest airport to this village is the Bhuj airport which is around 220 km away. However, there are not a lot of direct flights to Bhuj airport as well.
So, if you are traveling, then you would need to take a flight to Ahmedabad and then a taxi or bus to Dholavira.
By Rail
The nearest major railway station to this Harappan site is Bhuj Railway Station. From Bhuj, you can take a taxi to reach Dholavira village. You can also take a public bus to Rapar and then another bus to the village.
Another option is to take a train to Bhachau or Samkhiala Junction which is closer to Rapar. From these stations, you can get a bus to Rapar and then a bus to reach Dholavira.
By Road
One of the most convenient ways to reach this Indus Valley civilization site is by road. You can hire a cab from Bhuj/Ahmedabad but it can be a long drive.
There is also an option of taking a bus from Bhuj to Rapar, the closest major town to Dholavira, which takes around 5 hours. From here, you can take a public or private bus to Dholavira that takes 3 hours to reach.
Where to Stay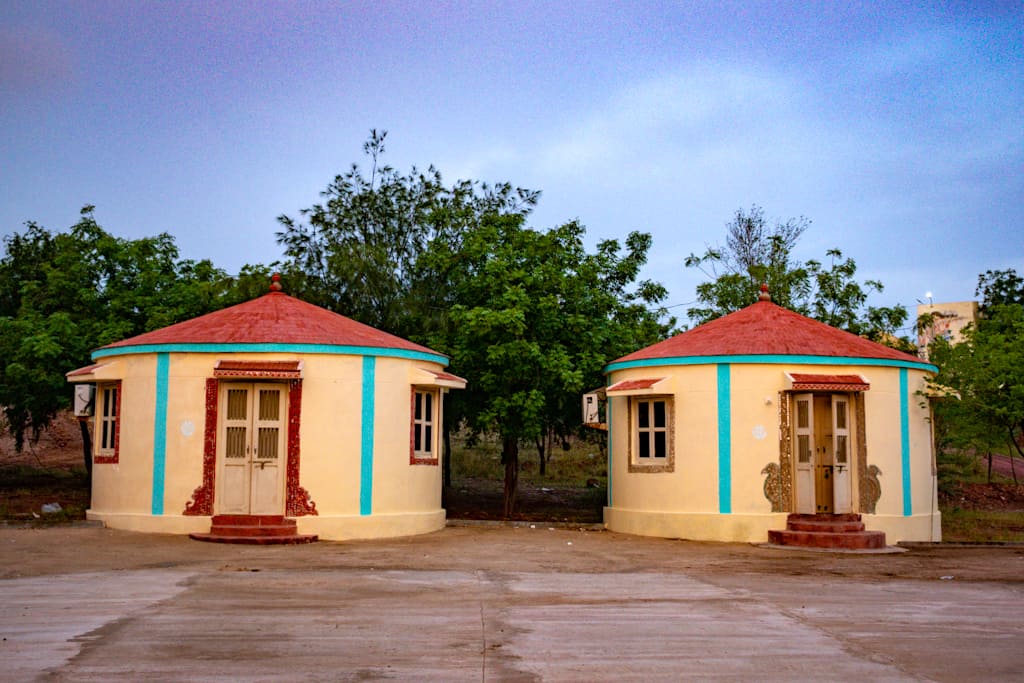 In terms of stay, there aren't a lot of options available near this UNESCO World Heritage site. It is not a developed village so, there are only a couple of hotels and homestays.
Dholavira Tourism Resort (Hotel Rann of Kutch) – Dholavira Tourism Resort is a resort run by Gujarat Tourism. I stayed here for two nights during my visit to this major archaeological site. It is a budget-friendly place and offers all the basic amenities and services to visitors.
You need prior bookings for this resort and will also have to inform about food beforehand.
Rann Resort – If you are looking for a luxury stay, then this is the place for you. It is located around 5 km from the IVC Metropolis site and is a 10-minutes drive to the excavation site.  
Best Time to Visit Dholavira
Wondering when should you visit the Dholavira site?
Well, the winter season is the best time to visit Dholavira but you can plan a visit in other months as well. Read on to know what you can expect in each season here.
Summer Season (April – June)
Summer is the worst time to visit this Harappan site. Since Dholavira is in an arid region, it experiences an extremely hot climate in the summers.
The temperature can be as high as 45 degrees Celsius during the daytime, making it unbearable to enjoy the visit.
Monsoon Season (July – September)
While this is not a bad time to visit the Dholavira site, it is not the best time too. However, the weather is slightly pleasant with cool breezes blowing through in the morning and evening.
If you are a budget traveler, then this is a good time to travel. Since it is the off-season, you can get amazing deals and discounts on hotels and flights.
Winter Season
Winter is the ideal time to visit this ancient site as the climate is cool and pleasant throughout the day. From October, the place turns beautiful and colorful and sees a lot of tourists.
The temperature remains between 19 – 36 degrees Celsius at this time which is slightly more bearable than the summer months.
Nearby Attractions to Visit
One of the best things about this excavation site is that there are several other things to do in Dholavira too. That's not all, you can plan to cover several nearby places on your trip here.
Great Rann of Kutch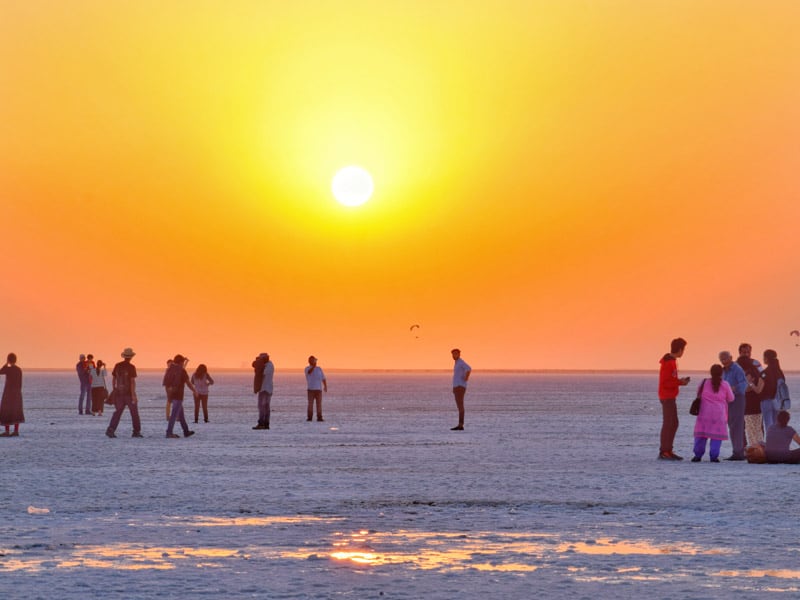 Visit Rann of Kutch, a massive expanse of salt marsh that seems endless. There are small puddles of water with shrubs that house pink flamingos and wild assess.
It lies on the border between India and Pakistan and is one of the largest salt deserts in the world. Apart from the stunning sights, you will also find beautiful handicrafts here. This includes Kutchi embroidery, Rogan paintings, leatherwork, and bell metal craft.
If you decide to visit in the months of October – February, you can even attend the Rann Utsav festival here. Immerse yourself in the cultural performances, shop for local handicrafts, and enjoy delicious Gujarati Thali at this annual festival.
Bhuj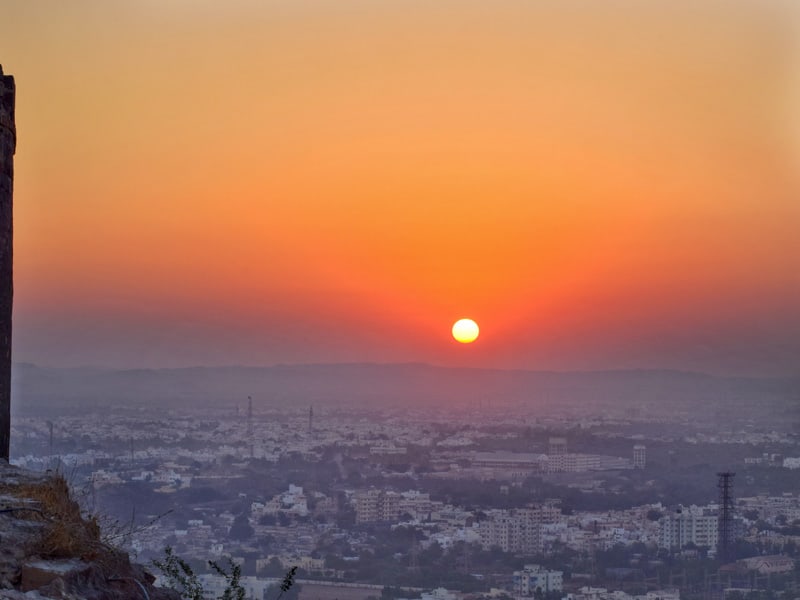 Capital of Kutch district, Bhuj is another great place to visit on your trip to Dholavira. There are many beautiful architectural buildings to enjoy here. You can visit the former residence of royals – Rani Mahal or the palace of mirrors known as Aina Mahal.
Apart from the beautiful architecture, the city boasts many stunning temples as well. Bhujia Hilltop is a great place for watching sunsets and enjoying a panoramic view of the city.
Patan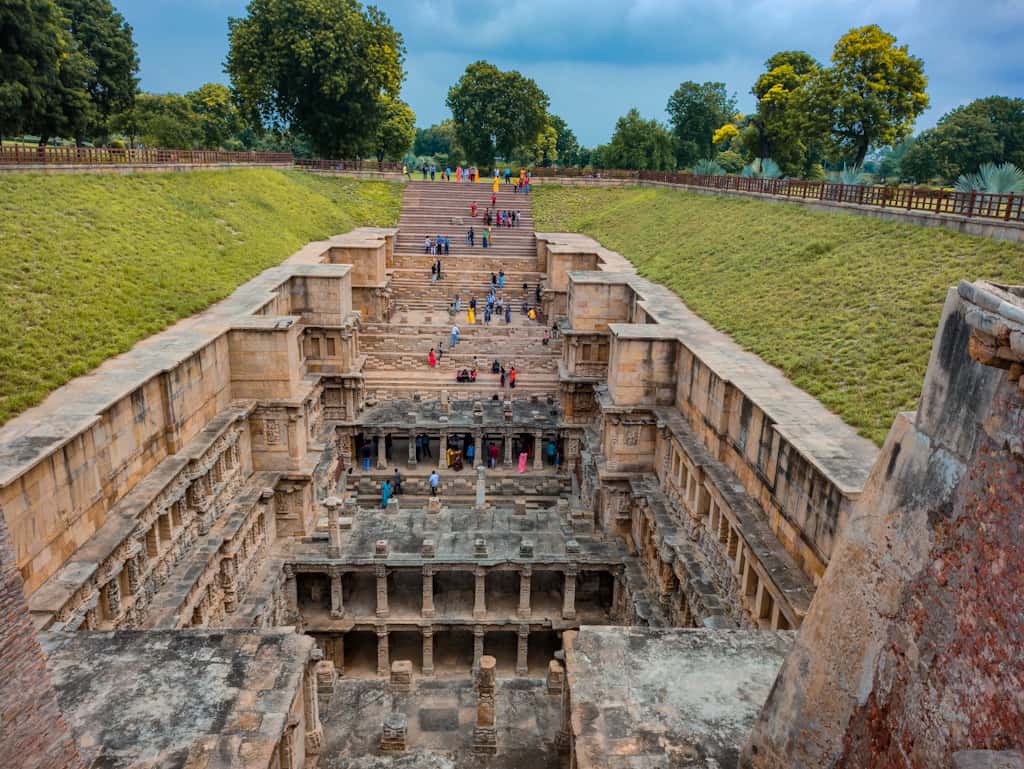 Home to one of the UNESCO World Heritage Sites in India, Patan is another great city to visit in Gujarat. It is a historical city that was located on the banks of the extinct Saraswati River.
The city was the capital of the Chalukya Dynasty and is primarily famous for two things – Rani Ka Vav and Patola Sari.
One can visit Rani Ka Vav, a UNESCO World Heritage Site, which is the oldest stepwell in Gujarat. This stepwell has a unique and stunning structure featuring many intricate sculptures and idols.
Another specialty of Patan is the Patola sari, a fine hand-woven sari with intricate patterns. It takes around 4-6 months to make a sari, depending on the complexity of the design. These saris are expensive and upwards of 20,000 INR.
Modhera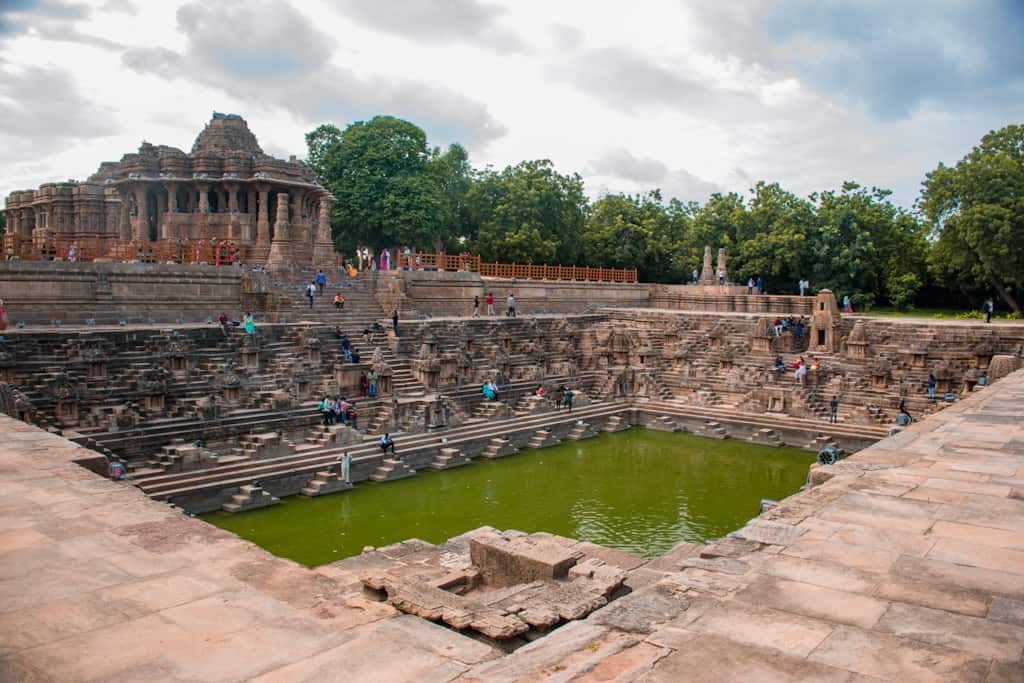 Modhera is another historical city to visit in Gujarat that is popular due to the revered Sun Temple from the Chalukya Dynasty.
It is said that Lord Ram performed a yagna here after killing Ravana to cleanse his sin. People believe that he built Modherak which came to be known as Modhera.
Sun Temple is a popular attraction in Modhera that is dedicated to the sun god, Surya. The temple is on the banks of the Pushpavati river and was built under the Chalukya dynasty.
Featuring beautiful architecture and intricate sculptures, this is a popular site among history buffs and archaeologists.
Other Harappan Sites to Visit in Gujarat
Prior to Dholavira excavation, Lothal was the major Indus Valley Civilization site in Gujarat. It is located on the banks of Sabarmati River in Saragwala village.
This site was excavated between 1955 and 1960. It was found to be an important port city of IVC, featuring structures made of mud bricks. During the excavations, 21 human skeletons were discovered from a Lothal graveyard
Several ornaments were also found which were made from semi-precious stones, gold, and more. Apart from Lothal, Rangpur is the first Harappan site to be excavated in Gujarat.
Over the years, many other Harappan sites have been uncovered in Gujarat. This includes Rojdi in Rajkot, Lakhabaval in Jamnagar, Prabhas in Gir Somnath, and Deshalpar in Bhuj.
Summary
Personally, I loved visiting this amazing Harappan site and have wanted to visit it for a few years now. It was quite fascinating to learn about the history of this place and how they have been piecing it all together over the years.
This is the largest Harappan site in India that tells the story of ancient Indus Valley civilization and is a treat for all history and archaeology buffs.
If you have always wanted to visit this place too, then this is the perfect time to go!