I didn't really plan on doing the Hemkund Sahib trek but yet, in the end, it turned out to be a memorable journey. In 2018, I planned to go on my much-awaited trek, the Valley of Flowers trek. And the trip which initially had a group of 4-5 people quickly turned to me going solo for the trek.
But I didn't let that deter me from moving on with this trip, after all, I had waited 3 years for this trek. So, I packed my bags with no idea about what to expect and headed to my first solo trek in India. Well, it turns out that at the end of the day, you don't really end up doing the trek solo.
You meet so many people on the way that, in the truest sense, it doesn't feel like a solo trek anymore. And well, while I didn't really have it in mind to go to the Hemkund Sahib Gurudwara, it made sense to complete when I had already completed 14 km of the trek.
In this guide, I have mentioned all the essential details that you need to know in order to plan the Hemkund Sahib trek yourself.
Hemkund Sahib Trek
An important pilgrimage site for both Sikhs and Hindus, Shri Hemkund Sahib Ji is situated at an altitude of more than 15,000 ft.
This site was built as a dedication to the tenth Sikh guru, Guru Gobind Singh, the founder of Sikhism. He would meditate at the exact same spot where the gurudwara is built and so, thousands of Sikhs flock to this site every year to pay their respects.
But what sets this place apart is the picturesque setting by which it is surrounded. With the Lokpal lake sprawled in front of the gurudwara while the Himalaya mountains surround the lake from all the three sides, it has one of the most beautiful landscapes in all of Uttarakhand. The lake receives the water from two glaciers of two imposing peaks: Hathi Parvat and Saptarishi.
Considered a sacred region by Sikhs, there is also a shrine for Lakshmana (Ramayana) here which makes it a prominent Hindu spot as well. The temple for Lakshmana is built on the banks of Hemkund.
It is said that when Lakshmana was injured by Meghnath, he arrived at the banks of Hemkund to meditate. This is one of the reasons why thousands of Hindu pilgrims climb from Ghangaria to pay respects at this temple.
Nestled between the snow-capped mountain peaks, you get a clear reflection of the majestic mountains in the crystal clear water. And the water remains ice cold throughout the year but still, you will find loads of people taking a quick bath in it.
But honestly, it is a beautiful and peaceful place to visit. So, if you are going to trek to the Valley of Flowers then you should definitely come here as well.
Best Time to Visit Hemkund Sahib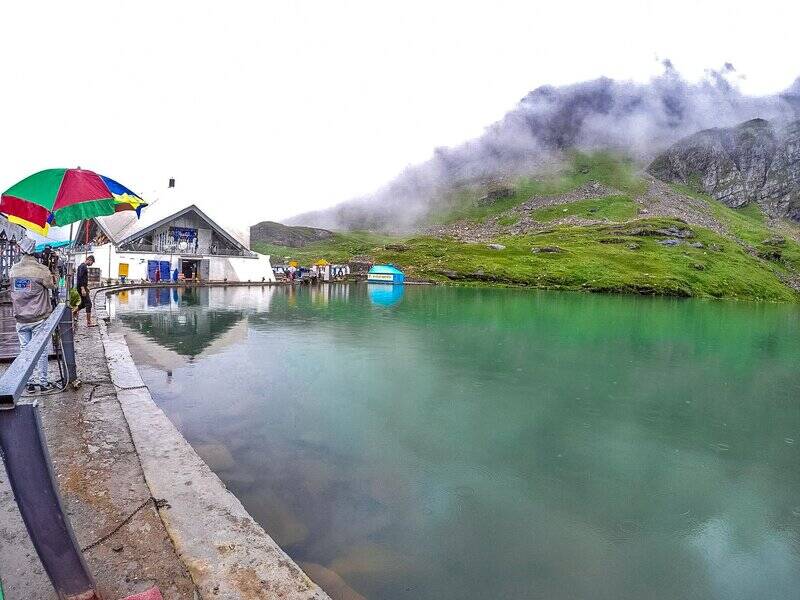 The best time to visit Hemkund Sahib in Uttarakhand is actually from June to October. Although the place stays cool throughout the year, it is inaccessible for the most part of the year. Here is a proper breakdown of what to expect in each season at this place.
Summer Season (May – June)
Hemkund Sahib Yatra starts in May and you can still see the roads being slightly covered with snow. In June, the snow melts and all the flowers start blooming again here which makes it a beautiful time to visit Hemkund.
However, if you are clubbing your visit with Valley of Flowers, then this is definitely not the right time to visit. You won't find a good variety of flowers at this time.
Monsoon Season (July – October)
In my personal opinion, July to August is the best time to visit the Valley of Flowers and Hemkund Sahib in Uttarakhand. During this period, the flowers are in full bloom so you can see a large variety of flowers at both places.
You will also see the famous Brahma Kamal which is only found at an altitude of 15,000 ft. or more.
For people who are planning to join the Hemkund Sahib Yatra, August – October is also a good time. But since July and August are the monsoon months, the road conditions won't be good when you plan to visit in September or October.
October is the last month in which this gurudwara remains open, post which it is closed due to the start of winters.
Winter Season (November to May)
During this time period, Hemkund Sahib Yatra is closed to the pilgrims as the place is covered in snow. So, it is very difficult to reach the top. Also, the locals in Ghangaria abandon their houses to live in the lower parts to escape the cold and snow.
Also Read: Prashar Lake Trek in 2000 INR
How to Reach Hemkund Sahib
Your journey to Hemkund Sahib will essentially be divided into three parts: Reaching Govindghat, Joshimath to Ghangaria, and Ghangharia to Hemkund.
How to Reach Govindghat
This is probably going to be the longest day of your trip as you will be traveling for 12 hours at least. In order to reach Govindghat, you will need to reach Rishikesh or Haridwar first and foremost.
Reaching Rishikesh
There are three ways for you to reach Rishikesh: air, rail, and road.
By Air
The closest airport to Rishikesh is the Jolly Grant Airport in Dehradun which is around 21 km away and takes about 1 hour to reach. You get flights to Dehradun from all over India so you can easily book your tickets and then start your journey from Rishikesh.
From Dehradun, you get many shared taxis, private taxis, and buses to reach Rishikesh. The cost of a shared taxi or a bus is likely to be around 75 – 100 INR whereas a private taxi will charge you around 700 – 800 INR.
By Rail
There is a railway station in Rishikesh which connects it to Haridwar but there are only a few trains running throughout the day. But first, you will need to reach Haridwar which is connected to most major cities via rail.
From Haridwar, you can take the slow train to Rishikesh, depending on your arrival time in Haridwar which will cost you around 15 – 20 INR. Another option is to take a bus from Haridwar to Rishikesh which won't charge you more than 30 INR.
There are also shared taxis and auto-rickshaws that you can get to Rishikesh for 50 INR per person.
By Road
Rishikesh is connected to most cities via a good roadway. So, you will get a direct bus to Rishikesh from most Northern cities like Delhi, Chandigarh, etc. The cost of a local bus from Delhi to Rishikesh is 285 INR presently and will take around 6-7 hours to reach.
Note: There are tour companies that offer a direct helicopter flight from Dehradun to Ghangaria as well. They are costly but save a lot of time as you complete the 2-day journey in just 55 minutes.
Rishikesh to Govindghat
You have 3-4 direct buses leaving for Badrinath at 4 – 6 a.m. from Rishikesh. And these buses also stop at Govindghat on the way which is just 1.5 hours before Badrinath. So, you can hop on this pay for 450 – 500 INR and reach Govindghat in 10-11 hours.
You can also take a bus to Chamoli Gopeshwar or Karnaprayag which will cost around 300 – 350 INR and will take you approximately 8-9 hours to reach. From here, you can get shared jeeps for Joshimath and Govindghat for 100 – 200 INR. It will take you another 2-2.5 hours to reach Govindghat from here.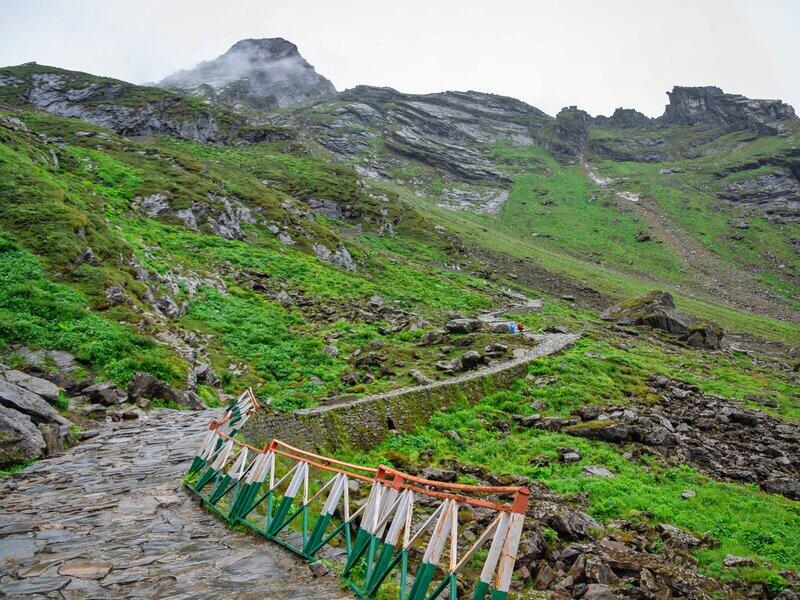 Govindghat to Ghangaria
Trekking
From Govindghat, it is a 14 km trek to reach Ghangaria. But don't worry, you can cover the first 4 km in a shared taxi which will charge you 50 INR per person.
You will get the shared taxis from just behind the Hemkund Sahib Gurudwara in Govindghat near the bridge. This shared taxi will drop you off at the Pulna Village from where your trek shall start. From Pulna village, Ghangaria is just 10 km away whereas Hemkund is just 16 km away.
It will take you around 5-7 hours to reach Ghangaria if you move at a relaxed and slow pace.
Hire a Mule
You can also hire a mule for your journey which will cost you 500 – 700 INR for Pulna to Ghangaria stretch. The mule will take around 3 hours to reach and can be a slightly uncomfortable journey.
Helicopter Services
Another option is to take a helicopter ride from Govindghat to Ghangaria. It is an 8-10 minutes ride and will drop you off at the Helicopter Pad near Ghangaria. From here, you just need to climb another 500-600 m, you reach the Ghangaria village. The helicopter is a 5-seater and the service starts at 6 a.m. in the morning and runs till 2 p.m.
I don't know the exact price because no company has advertised the pricing on their website, you need to send an inquiry form for it. But it likely to be around 5000 – 6000 INR for a single side journey and around 10000 – 12000 INR for a return journey.
Ghangaria to Hemkund Sahib
From Ghangaria, Hemkund Sahib is just 6 km away and takes around 3 hours for the ascent and 1.5-2 hours for the descent. You can either trek to the top or you can hire a mule which will cost you around 500 INR for a one-sided journey.
Hemkund Sahib Permit Details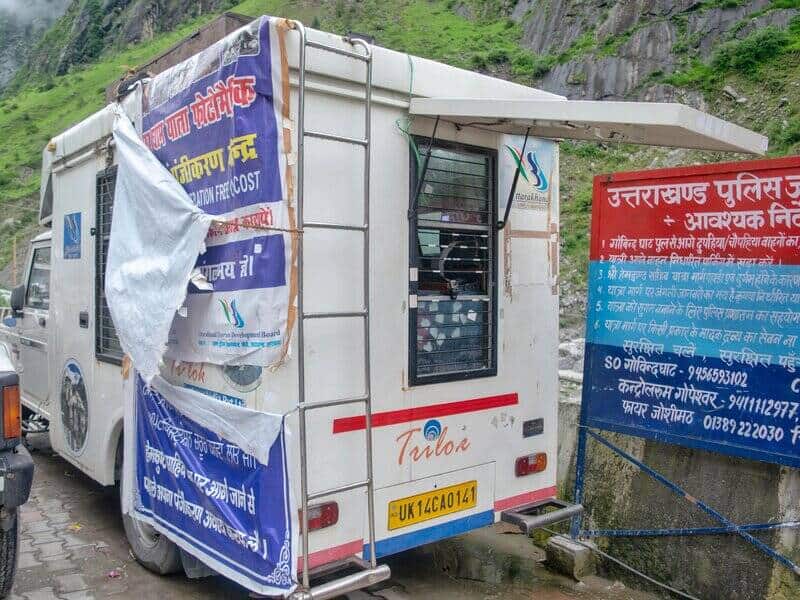 You don't need any permit to reach Hemkund Sahib but you need to take an entry card from Govindghat. There is a separate booth to get the entrance card for Hemkund Sahib where they will take your picture and details for administrative purposes.
Normally, no one would inquire about this card at Hemkund but it is good to have anyway. Once you get this card, you will also sign a register with your details which will be kept by the local police. This will help them keep a track of you if you don't return or if someone asks about your whereabouts.
Hemkund Sahib Trek Route Details
Hemkund Sahib Trek Difficulty
The total Hemkund sahib trek distance from Ghangharia village is 6 km which takes around 3 hours for the ascent. And from Govindghat, the complete trek distance to reach Hemkund Sahib Gurudwara is around 14 km.
Generally, it is possible to complete this entire trek in a day as the path is pretty much straight and a slow ascent. However, it is not advisable to do so because you gain around 2800m elevation from Govindghat to Hemkund. So, you might fall sick if you don't take a break at Ghangharia for a night.
Overall, Hemkund Sahib trek difficulty is moderate. It is not a particularly difficult trek but it can be a little tiring during to the incessant rainfall and the concrete steps that are laid out for the pilgrims.
Hemkund Sahib Trek Route
As I mentioned earlier, Hemkund Sahib Trek is a 6 km trek from Ghangaria village and can take around 3-4 hours for the ascent. So, make sure you start early at around 7 a.m. because the gurudwara closes for the public after 2 p.m.
Start by walking on the Ghangaria route and follow the trail as is. You will come across a waterfall at the start of the Hemkund trail as shown below. You will have to cross a Hemkund check-post before you see this waterfall and the trail consists mostly of stones.
It is a straightforward trail which will have a bend in almost every 200 – 300 m. After 1 km, you will come across the food stall. After this, there will be a food stall at every 1 km.
The Hemkund Sahib trek consists of a gradual ascent and will offer you amazing views on the way (which you can only see if it is not foggy :P). There will be a couple of waterfalls also on the way that you can admire but there is no way to get water from them.
Once you complete half of the trek, you will start hearing the gurudwara prayers from the trail itself. This means that you are closer and in another 1.5 hours, you will be at your destination. Just 1.5-2 km before Hemkund top, you will series of food stalls where you can rest for a while.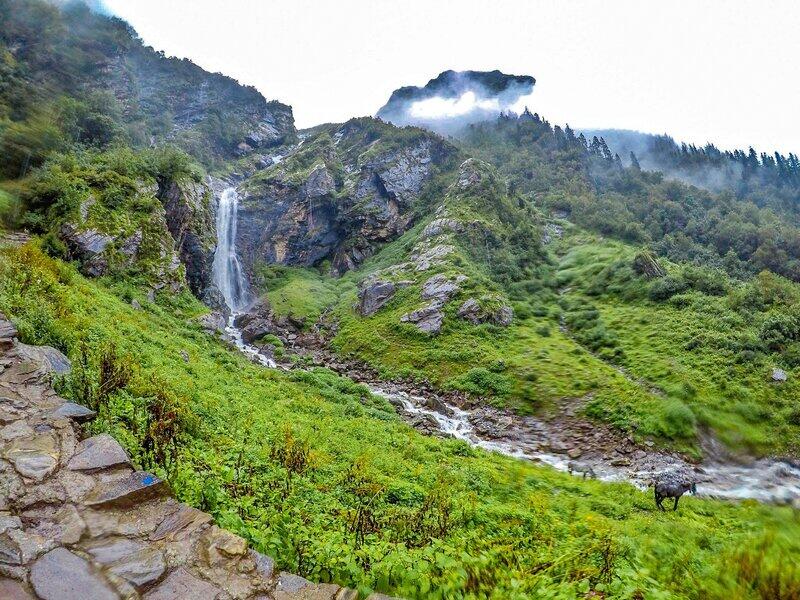 Finally, after walking for another 15-20 minutes, you will reach the last couple of food stalls. Now, Hemkund is just 1 km from here and you have two options for completing it. You can either take the direct stairs which will be hard on your knees but is a shorter distance to cover.
Another option is to take the longer route as you will be able to admire the magical views around you. From here, it will take you another 30-40 minutes to reach Hemkund top. Also, on the way, you will see many colorful flowers and animals as well here.
Congratulations! You have now successfully completed your Hemkund Sahib Trek.
The descent to Ghangaria is much easier and simpler and will barely take 1.5 – 2 hours for you to reach.
Things to Do at Hemkund Sahib
Enjoy the Delicious Langar and Tea at Hemkund Sahib
One of the best and simplest things to do in Hemkund Sahib is to enjoy the gurudwara langar. They serve amazing khichdi which is hot and delicious and will warm you up instantly. And it is such a welcome sight after the cold trek that you have endured from Ghangaria.
Also, they serve amazing tea which feels like heaven. I am not much of a tea person but I did have 2-3 glasses of tea here because it was hot and so damn yummy! And you can also volunteer at the langar in cleaning or serving for some goodwill if you wish to.
Learn About the History and Spend Some Time in the Gurudwara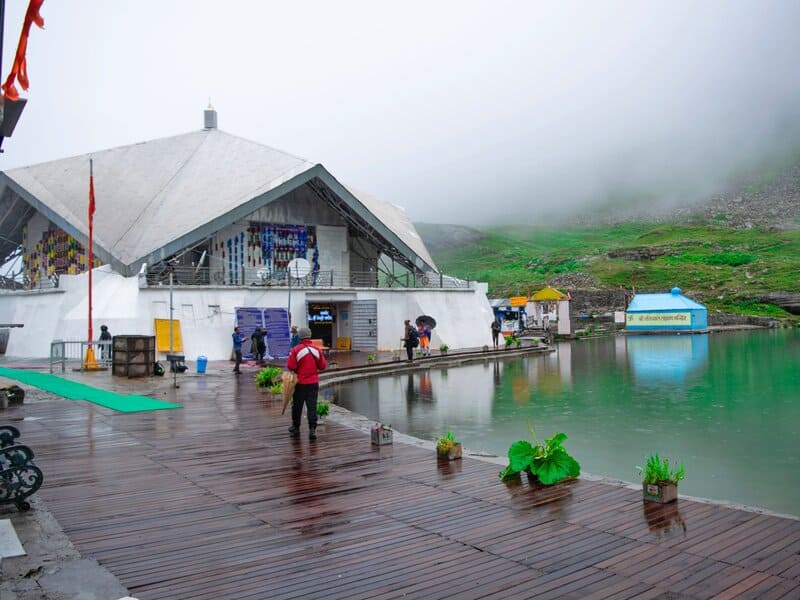 Another awesome thing to do here is to learn about the history of Hemkund Sahib Gurudwara. You will end up getting to know a lot about the Sikh culture and history as well.
Also, don't forget to just sit and observe inside the gurudwara. It is really quiet and peaceful here and is a great place for meditation as well.
Take a Walk Around the Hemkund Lake and Admire the View
One of my most favorite moments of the Hemkund Sahib Trek was when I reached the Lokpal lake. It was foggy for the most part but then suddenly, it cleared up. And gosh, it looked so enchanting. All these majestic mountains surrounding the lake while their reflection was clear as day in the lake's calm water.
I can't even describe what a beautiful feeling it was to enjoy this moment in solitude.
Take a Dip in the Freezing Hemkund Sahib Lake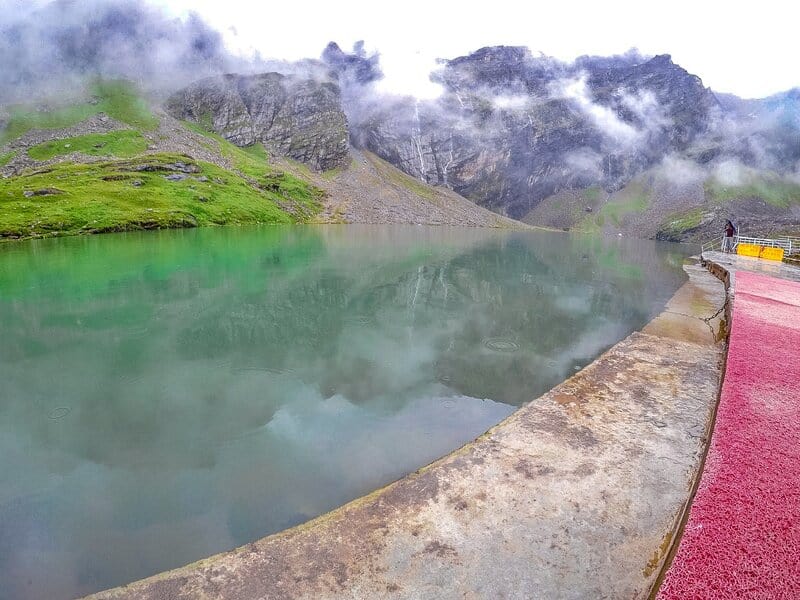 And if you have the guts then you can also take a dip in the freezing Lokpal lake to be blessed. Honestly, I couldn't even dream of doing this but there were so many people who actually did that. They took a dip and granted, they didn't for more than 5 seconds in the water.
But that 5 seconds seemed like a long time. So, if you wish to take a dip, go ahead. There is also a private section for girls where they can take a dip or a bath, as they wish. This section is adjacent to the gurudwara and is properly covered with concrete walls.
Look at the Wide Range of Flora and Fauna Here
While Valley of Flowers is famous for its variety of flowers and alpine plants, Hemkund is no less. All throughout the trek, you will find colorful and different varieties of flowers like blue poppy, Brahma Kamal, and so on. There are also mountain rats and cows here which are completely different from the ordinary ones.
One of the most fascinating things is the Brahma Kamal which is only found at an altitude of around 15,000 ft. It is a hermaphrodite flower and has an important relation to the Hindu myths. It also has a great medicinal value but it is illegal to remove it from the Hemkund premises. But you can still look at it and touch it.
Enjoy the Scenic Trek and Make Friends on the Way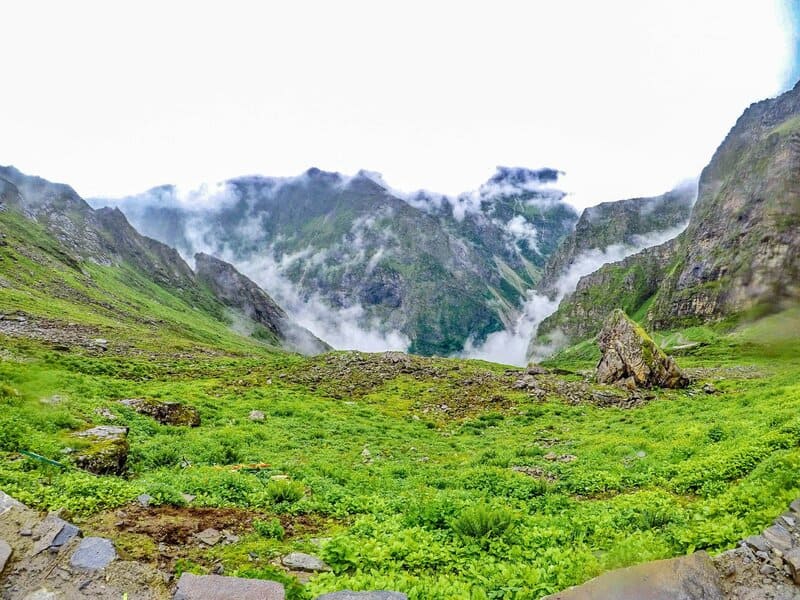 Mostly, enjoy the scenic trek and make the most of your time here. Talk to new people, share your stories, and you will end up with so many friends on the way. I have literally not met so many amazing and open people in any place as I met on Hemkund.
Also Read: Kheerganga Trek Guide
ATMs near Hemkund Sahib
There is NO ATM in Hemkund or Ghangaria. The nearest ATM is in Govindghat so make sure you withdraw sufficient amount before starting from Govindghat. Even Govindghat has only a couple of ATMs so it would be wise to withdraw money from Rishikesh itself.
Network Availability in Hemkund Sahib
Once you reach Ghangaria, all your Vodafone, Airtel, JIO, etc. networks will stop working. Only BSNL sim will work from here which will be still patchy, at best. You can expect a loss of signal from Govindghat too so better let your friends and family know about your whereabouts before you reach Govindghat.
If you forgot to inform your loved ones, don't worry. There are STD services both in Govindghat and Ghangaria. It will cost you about 20-25 INR for a 1-minute STD calls here.
Where to Stay in Hemkund Sahib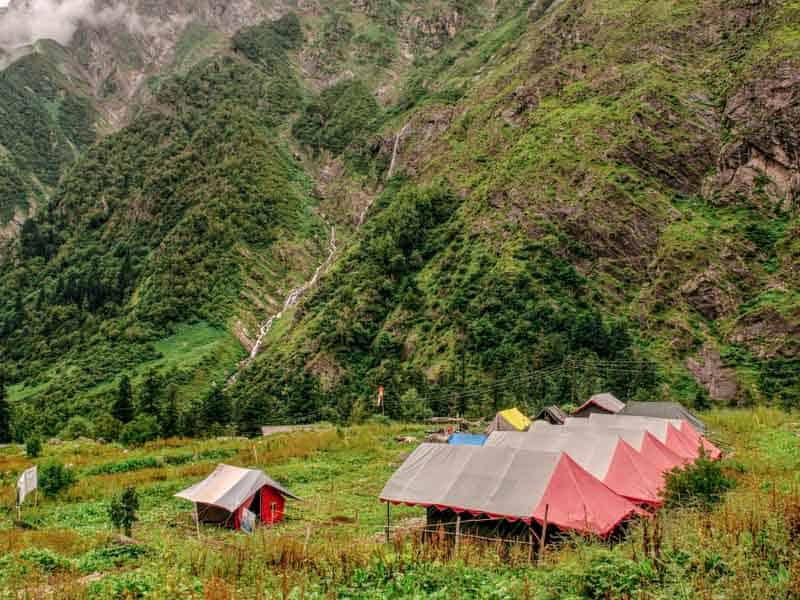 Ideally, you will need to stay in Ghangaria itself as there is no provision of stay at the Hemkund Sahib Gurudwara. In fact, the gurudwara is closed after 2 p.m. so one needs to return back to Ghangaria after that.
Now, you can choose to do the Hemkund Sahib to Govdinghat trek in a single day. But I would advise against it. It is better to spend the night at Ghangaria and then start early morning the next day for the descent.
There are several accommodation options available in Ghangaria for you to consider.
Hotels and Guesthouses
There are several hotels and guesthouses in Ghangaria which will charge you around 300 – 500 INR per night for a room. The rooms will be very basic with a single bed, blankets, sheets, etc. And you will hot water if you are interested in taking a bath.
Honestly, I didn't take a bath for the entire trek (3 days) because it was so damn cold. I highly doubt you would feel the need for a bath in such a cold temperature.
Camping
Another good option is to book a tent in the camping sites here which will cost you anywhere between 1000 – 2000 INR. You can also take your own tent and pitch it here but you will need permission from the owner and might need to pay around 100-200 INR for pitching the tent.
You could also come to the arrangement of ordering food from their restaurant for a free tent pitching.
Shri Hemkund Gurudwara, Ghangaria
Finally, if you are a solo trekker like me and would like to save some extra bucks so that you can get a taste of the Sikh hospitality, then staying in the Gurudwara is the best idea.
Apart from getting free food and stay, you meet such lovely people in the gurudwara here and make so many friends. The Sikhs are a lovely bunch of people and will be ever ready to help you regarding any issues you have. They have both dorms and private rooms and a locker room as well.
If you are a solo female traveler or a family, they will provide you with a private room. Also, if you will be staying for a couple of days here, then you would need to pack your luggage and drop it at the locker room before you start the trek.
After returning from the trek, you will need to register again and will be shown to a new room.
Where to Eat on the Hemkund Sahib Trek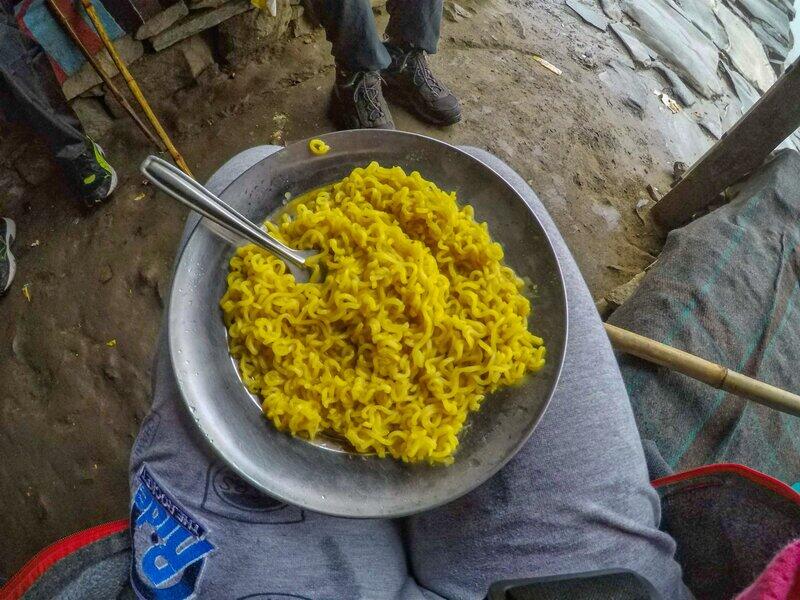 Food Stalls on the Trek
One of the best things about Hemkund trek is that unlike the Valley of Flowers trek, you will find a lot of food stalls on the way here.
Make sure that you do a good breakfast in the morning before leaving for the trek. But fret not, there is a food stall here at every 1 km so you will definitely not die hungry.
You will get Maggi, Tea, Parathas, Omelettes, etc. at these food stalls along with a plethora of drinking options. But yes, the prices of these items are high, 50 INR for Maggi, 30 for tea, and so on. But it is a good respite when you are cold and need instant warmth for yourself.
Hemkund Gurudwara
Once you reach the gurudwara in Hemkund, you can enjoy the Langar food and tea here which is extremely delicious and filling.
Things to Carry With You on the Hemkund Sahib Trek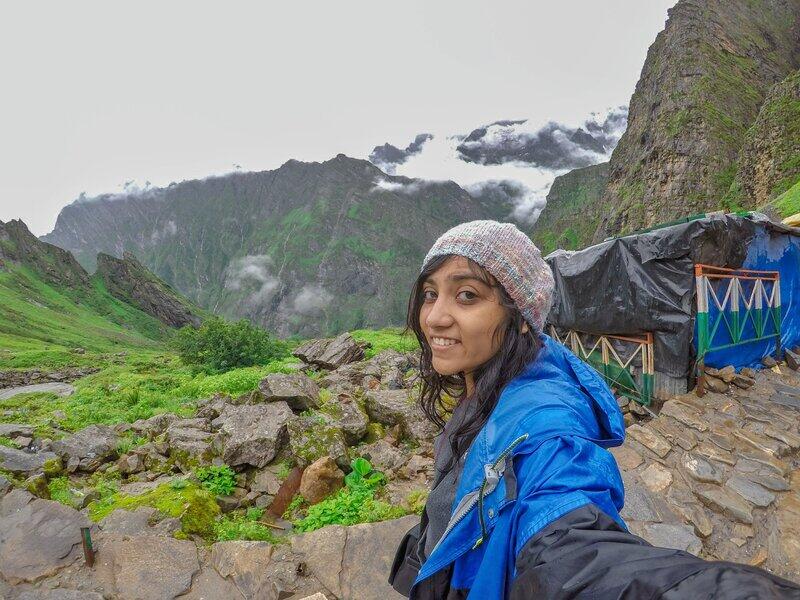 Bags
Rucksack
You need a good rucksack for your Hemkund Trek as you will be carrying items for a 4-5 day trek. It should be durable and comfortable and make sure it includes a rain cover as well. Personally, I suggest:
Day Pack
Once you reach Ghangaria, you will need a small day pack for the day treks to Hemkund and Valley of Flowers. You can keep your snacks, gloves, camera, etc. in this.
Clothing
Warm Clothes
It can become very cold in the evening and night, so make sure you carry warm clothing. Also, carry multiple pair of clothes as you might get drenched in the rainfall.
Gloves
Make sure you get synthetic gloves so that they won't get wet in the rainfall and will keep your hands warm and comfy.
Socks
Carry a pair of merino wool socks to stay warm. And, make sure you use two of them to layer your feet during the night time when the temperature drops significantly.
Additional
Hiking Shoes
Refillable Water Bottle
Raincoat/Poncho
Good Hiking Shoes
Take a good pair of hiking shoes which will protect you from cold and are comfortable at the same time. Make sure they are high ankle shoes and are waterproof as well.
Water Bottle
There will be a couple of waterfalls on the way where you can fill your bottle. Mostly, the water is fresh and clean but if you aren't sure, you can purchase a Steri Pen or a Purifying bottle. There are many food stalls on the way as well so you can purchase water from there although it would create a lot of plastic waste.
Raincoat/Poncho
You definitely need a raincoat/poncho when going for the Hemkund trek as it rains frequently in the June – October period.
Toiletries
Tissue Papers
Brush/Paste
Sunscreen
Moisturiser/Lip Balm
Sanitizer
Camping Equipment
If you are planning to camp yourself, then do carry your camping equipment. Here are a few essential items that you will need:
Tent
Sleeping Bag
Sleeping Mattress
Tent Rain Cover
Tent
Choose a sturdy and durable tent to protect you from cold and wind during the night.
Sleeping Bag
Buy a good, durable sleeping bag which will keep you warm throughout the night.
Sleeping Mattress
You would also need a sleeping mattress for your tent for proper padding and insulation purposes.
Tent Rain Cover
Finally, do make sure that you carry a rain cover for your tent if you won't want to end up cold and shivering the morning.
Summary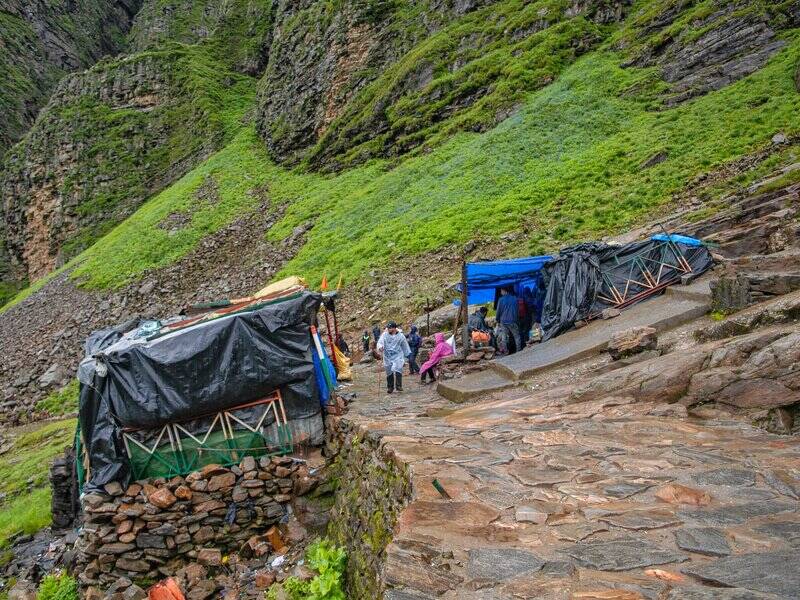 Hemkund Sahib is a beauty, both the gurudwara and the landscape. And the peace and serenity which you feel after this place is just unbeatable. Plus, it is not that difficult a trek as well since the whole trail is laid out so clearly. And you have thousands of trek companions to give you support and boost when you feel tired on the trek.
Honestly, Hemkund Sahib trek feels more like a community trek which is what makes it so great. The views are mesmerizing, the food is delicious, and so many new friends to make. So, if you are planning for Valley of Flowers this year, then make sure to include Hemkund in it.