Ziro Festival of Music 2019 turned out to be a memorable experience in my life. As a music lover who loves to stay away from crowds, I never imagined I would find myself right where I least expected to be. In the middle of a crowd. Surrounded by crazy people who were high on life (among other things).
But well, there I was. In an outdoor music festival, with strangers, having the time of my life. And that's when I realized that music festivals aren't that bad, that crowds don't have to be suffocating or exhausting. In fact, with the right environment and people, you could even end up enjoying yourself.
Now, I don't know where I will be next year when Ziro Music Festival occurs. I sincerely hope that I am able to make it next year as well. But in case I am not able to, I do want you to go and experience this amazing music festival at least once in your life.
In this article, I am going to pen down everything you need to know about Ziro and this music festival. So, that when the Ziro Music Festival 2020 is around the corner, you can plan a trip and experience it for yourself.
Ziro Festival of Music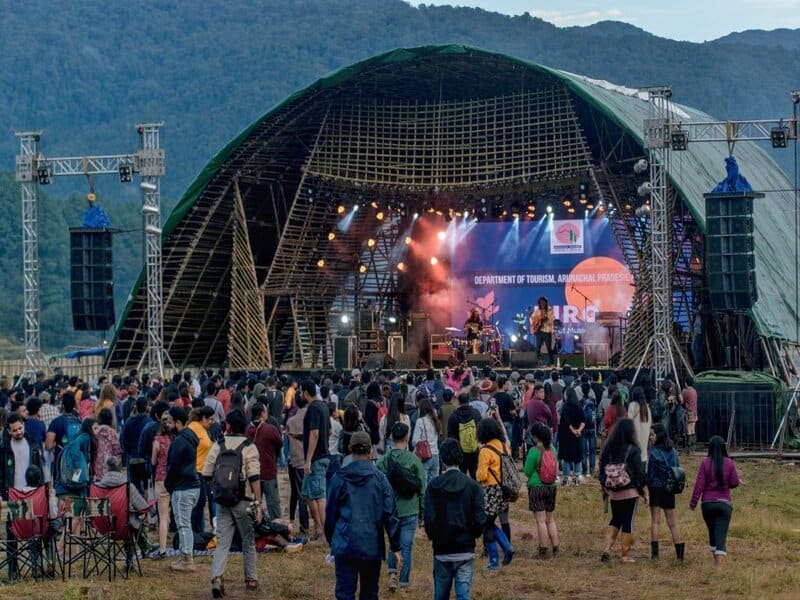 An Outdoor Music Festival which has become quite popular in recent years, the Ziro Festival of Music was started in 2012. It was founded by Bobby Hano and guitarist Anup Kutty and is hosted by the local Apatani tribe. This festival is one of the most vibrant music festivals in India and showcases independent music talent from all over India and outside of India.
Till date, this festival has featured artists like Steve Shelley, Lee Ranaldo, Menwhopause, MONO, Indus Creed, and so on. And trust me, the list of kickass artists who have performed in this music festival keeps on increasing. I mean, this year itself, we heard some amazing artists like Lucky Ali, Karma, The Madrascals, and so many other talented artists performed.
This music festival is a 4-day event and is usually held at the end of September every year. The dates keep changing every year for this festival. In 2018, it was held from 27th September to 30th September and in 2019, it was held from 26th September to 29th September.
So, for Ziro Music Festival 2020, you will need to check on their official website for the confirmed dates.
Why Should You Attend the Ziro Music Festival?
If you love music and are open to hearing out new artists and genres, then this is definitely the right place for you. Because apart from epic music scenes, this music festival also offers variety to the audience.
So, from classical to hip hop to rock, you will end up grooving to some really unexpected beats. This is definitely a good way to improve your music knowledge and listen to some new artists.
Also, they accept artists from all over India and outside of India as well. So, you have bands and independent artists performing here from Tripura, Mizoram, Mumbai, Delhi, Chennai. Israel, France, Manipur, Kolkata, and so on. This is a great way to stumble upon some new, amazing artists and add their songs to your playlists.
Another reason why Ziro Music Festival is such a hit is that it is one of the most eco-friendly festivals in India. They actually use the locally sourced bamboos for the construction of the festival infrastructure.
Both the festival stages, Sun stage (Donyi) and Moon stage (Polo) are mostly built out of bamboo. And all the other food, drink, and shopping stalls here are also built using bamboo.
Moreover, at the entry, they don't allow you to get your plastic bottles inside as it a complete plastic-free zone. And at the end of each day, they have volunteers picking up the waste so that the festival area is clean and ready for the next day.
Finally, the most important reason for attending this music festival is because you end up meeting a lot of new people. It doesn't matter if you travel here in a group or alone, you are bound to make some friends.
I am not sure what it is about this music festival, it could be the fresh air or the environment. But everyone who comes to this festival turns quite open and outgoing and chooses to mingle with others. And people from all over India come to attend this festival so you become culturally aware as well.
All in all, this music festival is not only fun but quite educational as well.
Where is the Ziro Festival Held?
Ziro Music Festival is held in the Ziro Valley of Arunachal Pradesh. An awesome hill station in the Lower Subansiri district of Arunachal, Ziro is surrounded by majestic mountains.
And the entire region is filled with charming villages, gorgeous landscapes, rice fields, rivers, and so on. As a result, Ziro Valley is quite enchanting and has also been listed as a World UNESCO Heritage Site.
Ticket and Camping Information for Ziro Music Festival
Now, if you wish to purchase the Ziro Music Festival Tickets online, there are several websites and tour operators. There are several travel companies that also offer the entire camping and food package inclusive of the festival tickets.
This can easily range from 10,000 INR to 25,000 INR depending on the facilities and services. And this usually doesn't include all meals as well.
However, if you are looking to just enjoy yourself then you can select a company package. This way, you get to sit back and enjoy the festival without worrying about logistics.
But if you are looking for a more budgeted trip, then you can camp here on your own. There is an option of BYOT that you can opt for and pay. It is cheaper than the packages but you will need to figure out your own transportation, food, ILP, and other things.
But you can expect to spend around 15,000 – 20,000 INR for this option. You can also check out the early bird festival tickets at their official website – ZiroFestival.com.You can easily score the tickets for 3,000 – 4,000 INR for all 4 days.
If you have bought the tickets online, you will need to collect them from the counter. For this, you will need to show your ID.
You will also find the tour packages for Ziro Festival at their official website.
How to Reach Ziro in Arunachal Pradesh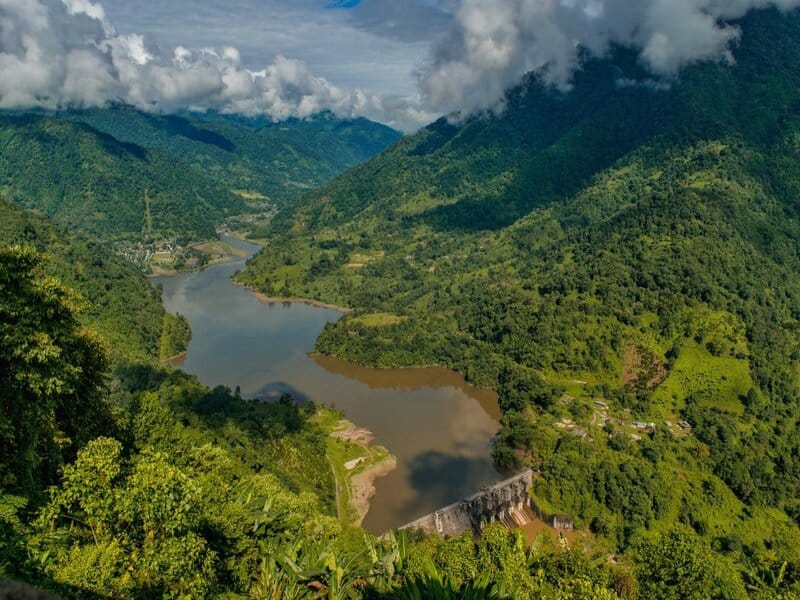 One of the most important questions to consider when planning to attend this music festival in 2020 is how to reach Ziro in Arunachal Pradesh. Well, it is actually a little tiresome and difficult to reach Ziro. However, the journey itself is a great and memorable experience.
Here are a few ways in which you can reach Ziro.
Air
Tezpur Airport aka Lilabari airport in North Lakhimpur is the closest airport to Ziro Valley. It is situated around 130 km from Ziro and takes around 4.5-5 hours via road.
However, there aren't any direct flights to Tezpur from cities like Delhi, Mumbai, etc. So, you will have a long journey of 13-24 hours with multiple layovers at Kolkata and Guwahati. Another option is to take a flight to Jorhat Airport which is situated around 200 km from Ziro.
Finally, if you want the simplest and cheapest flight option, then book the flight till Guwahati. Guwahati is around 450 km from Ziro and there are several transportation options available to reach Ziro.
Rail
The nearest railway station to Ziro is the Naharlagun Railway Station in Itanagar. It is approximately 100 km from Ziro and it takes around 6-7 hours to reach Ziro.
There are a total of 5 trains terminating at Naharlagun Railway Station, out of which two starts from Guwahati, two from Tinsukia Junction (Assam), and 1 from Anand Vihar Terminal (Delhi).
So, you can take the train to reach Naharlagun Railway Station. And from here, you can take a shared cab or hire a cab to reach Ziro.
Note: You will get a shared cab only if there are 8-10 people going in the same direction. During the Ziro Festival, it is easier to get a shared cab.
Road
Finally, if you don't want to go through the hassle of changing trains and cabs, then you can take a direct cab from Guwahati. It is 13-14 hours from Guwahati and the roads are pretty smooth as well.
Another option would be to reach Itanagar and then take the government buses which run here. It will cost you around 100-200 INR but it won't be very comfortable. There are shared cabs from Itanagar as well which will cost 350-500 INR if there are 10 people.
How to Get the Permit for Arunachal Pradesh
Before you reach Arunachal Pradesh, make sure you have the entry permit for this state. All non-Arunachalis need to obtain an official permit to enter the state.
Inner Line Permit
All Indians, except Arunachal natives, need an Inner Line Permit to enter this state. You can get this ILP both online and offline. The cost of the ILP is 100 INR per person. So, you can apply individually or in a group, it is up to you.
For applying offline, you will need to submit the application form and the necessary documents at the Government authorities' office of Arunachal Pradesh. This office is currently in Delhi, Guwahati, Kolkata, Tezpur, Shillong, Lakhimpur, Dibrugarh, and Jorhat.
If you choose to apply online, then simply head to their ArunachalILP website and follow the steps.
Documents Required: For a single permit, you need to have a passport-sized photograph and a national identity document. This can be a PAN card, Aadhar Card, Driving License, Voter Id, or Passport.
Protected Area Permit
For non-Indians, it is mandatory to get a Protected Area Permit (PAP) so that you can enter Arunachal Pradesh. You can apply for the PAP at the Government office of Arunachal Pradesh.
As mentioned above, the office is available in multiple cities right now. So, you need to go there, fill the application form, submit your documents, pay the fees, and wait for approximately 2-5 days.
The cost of a PAP is 50 USD and it is easier to obtain it if you are in a group. However, solo travelers can also get a PAP but the entry is limited to Tawang, Ziro, and Bomdila.
Documents Required: For a PAP, you need a Xerox of your Passport, Indian visa and stamp, and a filled-in application form.
General Itinerary for Ziro Festival
So, what exactly happens in the Ziro Music Festival? Well, this is a general Itinerary which is usually followed every year.
Day 1: Reach Ziro and Settle In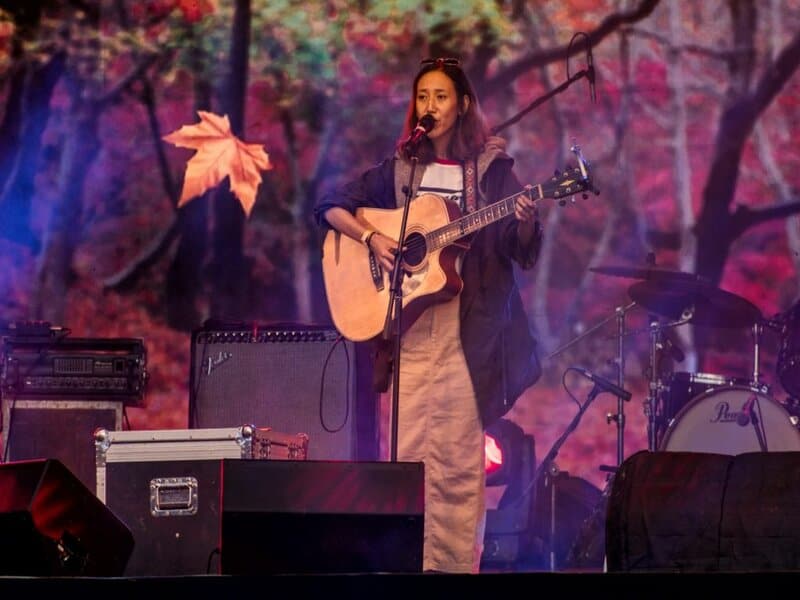 On day 1, all the attendees reach Ziro Campsites and get settled in. And in the evening, around 4 p.m., the festival commences with a guest of honor. The show goes on till 10 p.m. and the music festival has officially begun on this day.
You will need to collect on your ticket on Day 1 which you will show every time you enter the festival grounds. After the performances are over by 10 p.m., you head back to your campsite for dinner. And then enjoy the party scenes at your camp.
Day 2, 3 and 4: Enjoy the Performances and Activities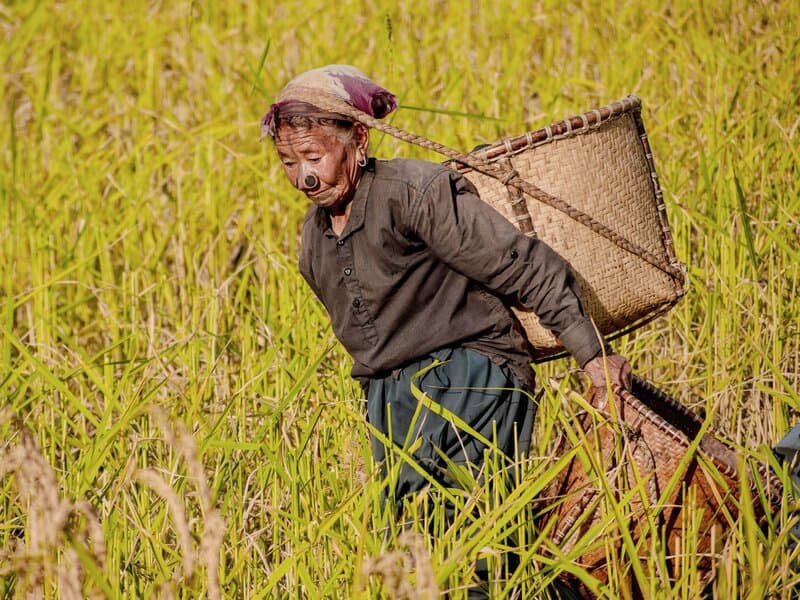 The next day, the performances will start on the day stage from 12-1 p.m. So, you can go for a village walk or a short trek. The travel companies arrange activities for every day, so you can join them. Or you can simply head out on your own.
If you want to experience the true music festival experience then do check out the day performances. And then head to the moon stage around 5 p.m. to enjoy some concert feel. Around 10 p.m., the shows will stop and you will be heading back to your camp.
The same schedule is followed for the next 2 days as well. But you can choose to skip the performances and spend more time on exploring Ziro. Make sure that you don't miss out on meeting the Apatani tribe people and learning more about their lifestyle.
Finally, on day 4, the festival will end with a kickass performance. And you will enjoy the last night's party in Ziro.
Day 5: Leave from Ziro
If you have come with a package, then you will need to leave the campsite. Usually, the travel companies arrange transportation till Naharlagun Railway Station.
So, you will need to pack your bags and be ready by 10 a.m. to leave. It will take around 6-7 hours to reach Itanagar. You can expect to reach around 5-5.30 p.m. at the railway station.
Another option is to stay for a couple of days and spend some time in Ziro. You could also head to Tawang and make a proper vacation out of this short trip.
Activities to Do at the Ziro Festival
You have 4 full days in Ziro Festival and there are a lot of things to cover in this short time. If you are wondering how you are going to spend time here, then here are a few interesting activities to keep you occupied.
Bicycle Rides Through the Villages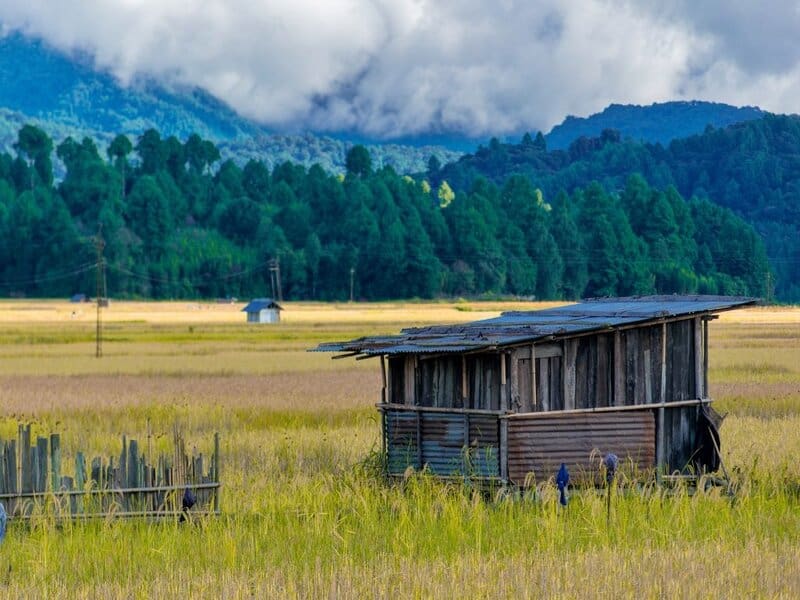 As I mentioned before, you can rent a bicycle here and explore the Ziro valley. Trust me, riding a bike while being surrounded by rice fields on both sides is an exhilarating experience.
You can explore everything so easily and can head out to the local villages as well. Plus, the town is just 4-5 km so you can easily go there for getting food, drinks, etc. stuff as well. But mostly, riding through the paddy fields and learning about the local villagers will be an amazing experience.
And don't forget that you will be riding among the enchanting pine trees. What more could you possibly want?
Learn Fishing in a Ziro Village
You can also go for fishing trips to one of the villages in Ziro. They not only show you how fishing is done but even let you try your hand at fishing. Plus, it is a lot of fun to be walking in the muddy water and just being surrounded by the paddy fields.
Enjoy the Music at Ziro Festival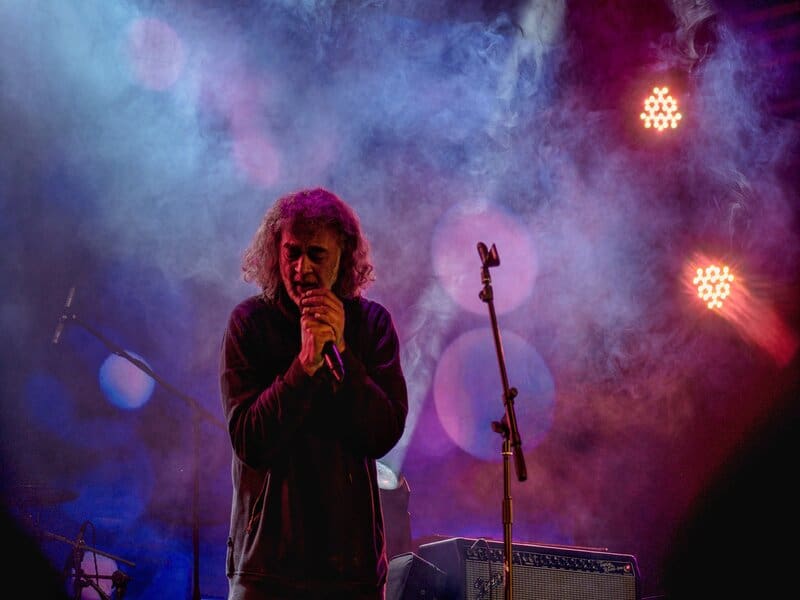 Well, this is a no-brainer really. But since you are attending the Ziro Music Festival, you might as well enjoy the music being played here. And trust me, the music artists will pleasantly surprise you.
Honestly, I wasn't sure if it would be my kinda music scene. I hadn't heard of a single artist except for Lucky Ali. But after attending the festival, I fell in love with the music of so many independent artists who performed here.
And I can't even remember the days now because they are a blur now. All I remember is dancing crazily on all the days and sweating crazy. But I didn't care because I was happy!
Learn About Apatani Culture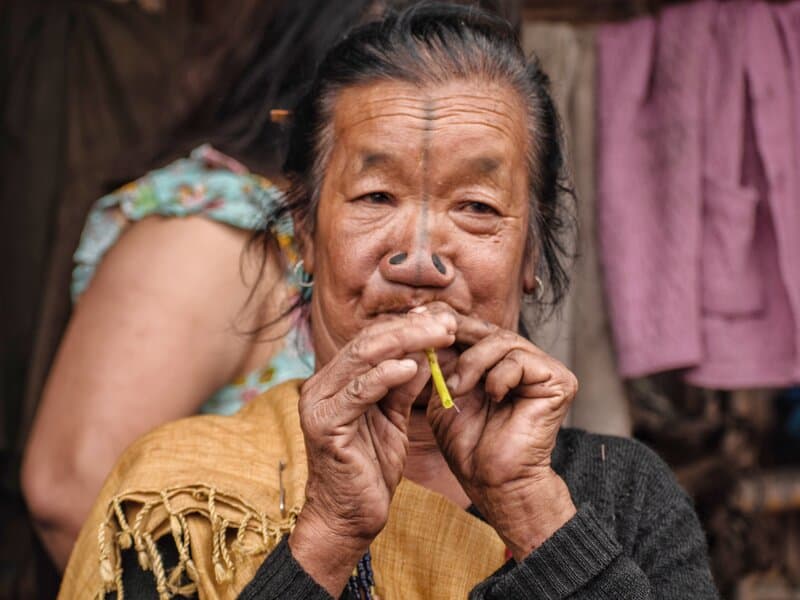 Another amazing thing that you cannot miss out on is learning about the Apatani Tribe in Ziro who stays in Apatani Village, the second-largest village in Asia. The Apatani tribe is known for its distinct civilization and use of the ecosystem.
What is remarkable is that they use natural resources but in a conservative manner. This is due to their ecological knowledge which they have gained through years of experimentation.
They are also quite vibrant and colorful and celebrate various festivals in a loud manner. They are also known for their detailed handloom designs, cane, and bamboo crafts.
One of the reasons why Ziro is declared a UNESCO World Heritage site is because of the Apatani tribe. They show the world that man and the environment can live harmoniously by following their traditional customs and beliefs.
Trust me, if you want to learn the fascinating customs of this tribe and why the women have tattoos and nose plugs, then you have to pay them a visit.
Go on Short Hikes around Ziro
If you love to hike or trek, then you should definitely explore Ziro. There are many amazing trails here which can easily take half or a full day.
Can you imagine? Hiking along a trail with pine trees around you and fresh air filling your lungs in the wilderness. So, if you don't mind missing a few performances, definitely go out on a short trek with your friends.
Enjoy the Hot Air Balloon Ride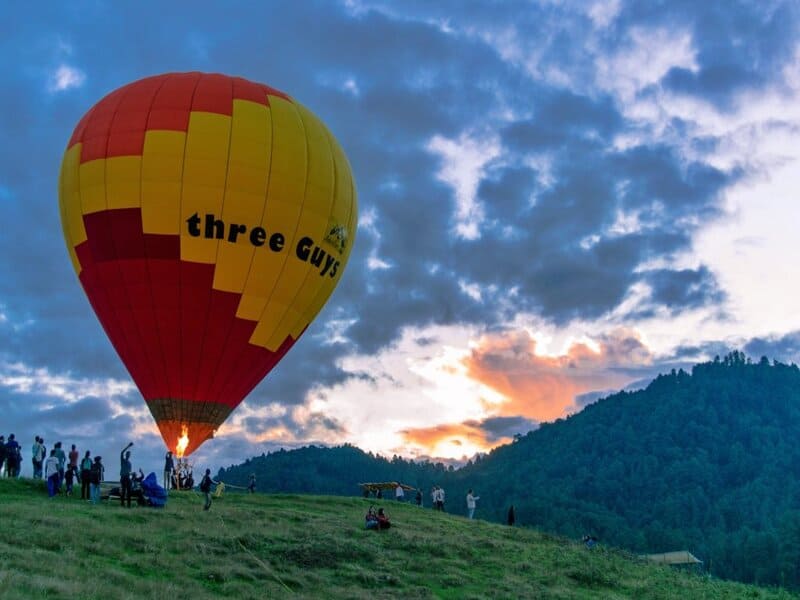 Finally, this year (2019), there was a hot air balloon ride at the Festival as well.
It was a 10-15 minute ride and the altitude wasn't much but it was nevertheless an amazing experience. From the hot air balloon, you get a beautiful, panoramic view of the entire Ziro Valley. And the cost of the ride was pretty decent at 1000 INR too.
So, if you get an opportunity to try this out in the Ziro Music Festival 2020, do give it a shot.
How to Travel Locally in Ziro
Once you are in Ziro, you won't be staying at the same location the entire day. So, a major conundrum would be how to travel in Ziro if you don't have a personal vehicle.
Hitchhiking
Yes, that's right. Hitchhiking is actually quite popular in Ziro.
So, you can easily get lifts from strangers or travelers. In fact, this time itself, we got lifts from random people till Ziro town and then back to the camp. Just be polite and friendly to the one who is giving you the lift.
Shared Cabs
Another popular mode of transportation in Ziro town is shared cabs and autos. It will usually cost 20 INR for a 5-6 km distance. And you will easily find shared autos from the main road, just outside the Ziro valley board.
Bicycles
Finally, you can also rent bikes here and cycle around to enjoy the landscape. There are MTB bike rentals available during the Ziro festival. So, you can expect to pay around 500 – 1000 INR for exploring on the bikes.
Network and ATM Availability in Ziro
Airtel has the best network coverage in Ziro followed by Vodafone and BSNL. Jio doesn't work at all here right, although this might change soon. So, if you have a postpaid Airtel sim, then you will get a decent Internet connection.
Also, you can get a prepaid Arunachal sim of Airtel from the town. In 299 INR, you get 1.5 GB data every day and a 50-60 minute Talktime.
As for ATM, there are very few ATMs in Ziro. There are a couple in the town mostly. But since there are so many tourists during the music festival period, you might not get any cash.
So, make sure you withdraw a sufficient amount of money from Guwahati itself. Carry around 1500 – 2000 INR as a per-day expense.
Where to Stay for Ziro Festival
Here, I have explained in depth all the possible accommodation options during the Ziro Festival.
Bring Your Own Tent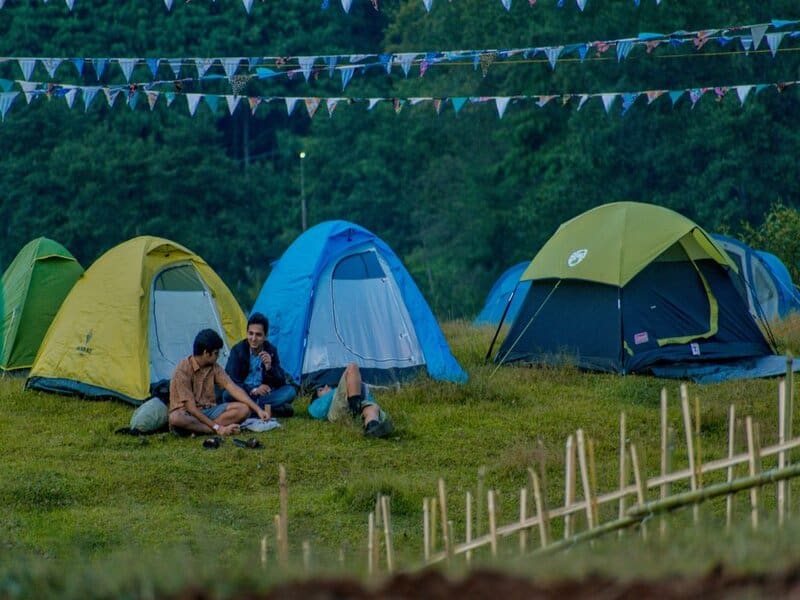 One of the best and cheapest stay option is to get your own tent. However, you need to buy the BYOT passes from the Ziro Festival website in order to camp there.
Ideally, the cost of a BYOT pass is 5000 INR but it can often change depending on the sales. So, keep an out for it in 2020.
Resorts and Hotels
There are also a couple of hotels and resorts in Ziro. However, you can expect to pay around 2500 – 3500 INR per night for the rooms here. But you will get a proper bed and hot water every day.
If you wish to stay in a hotel, then you will need to book in advance. Ziro Palace Inn is the closest hotel to the Ziro Festival ground which you can book online.
Campsites
There are also campsites here where you can book a tent for yourself. There are travel companies like Experience Destinations, Kite Manja, Encamp Adventures, etc.who have their own campsites for Ziro.
These camps can cost anywhere between 3000 – 5000 INR per night for two people. It can often include breakfast and dinner as well. And this is a great way to meet other travelers as well if you are solo traveling.
Homestays and Guest Houses
Finally, there are a few homestays and guest houses in the area as well. To find these, you will need to reach Ziro. You can find these options for 1000 – 2000 INR per night with an amazing view of the valley.
But since the festival is the peak season here, there are chances you might not find an empty homestay.
Food and Drinks Availability
Now, let's come to one of the main aspects of traveling: food and drinks.
If you are camping with a BYOT pass, then you will need to figure out your meals. However, if you have taken a package then you likely have your breakfast and lunch/dinner at your campsite.
Apart from the decided meals, you will feel hungry. So, what do you do then?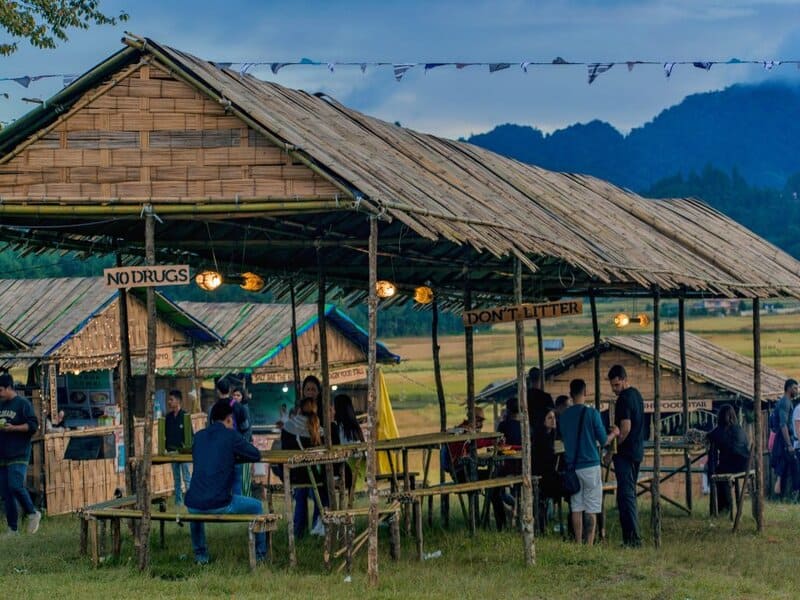 Well, don't worry because there are food and drink stalls in the music festival area. From French Fries to BBQed Pork, you will find it all here.
But the cost of these dishes will easily range from 150 – 300 INR. Also, the cold drinks here will cost you around 150 – 250 INR, easily.
There is a cheaper food section as well near the day stage arena. Here, you can get Parathas, Maggi, Pasta, etc. for under 100 INR.
Food Outside the Festival
A better idea would be to eat outside the festival, in one of the nearby hotels or camps. You will spend just 150 – 200 INR for a meal and the food will be delicious as well.
Things to Try
Make sure that you try the local rice beer and peach wine which you will get almost everywhere. Also, the black tea in a bamboo stick is a complete hit at the festival. It not only tastes delicious but keeps your hand warm as well.
Apart from that, you have to try the local cultivation as it is quite different from the other parts of India.
Things to Carry For Ziro Festival
Well, turning up at the Ziro Festival with a camping plan isn't enough. You need to stock up on important equipment to make the most of your trip.
Here are a few items that you should definitely take on the Ziro Festival of Music.
Camping Equipment
If you are planning to get the BYOT passes, then here is all the things that you would need.
Tent
You would definitely need a good-quality tent for camping at the Ziro Festival. Make sure you choose the best one. Coleman is actually one of the top brands for tents and camping equipment. So, I would recommend you to get this one for your trip.
Sleeping Bag
To keep yourself warm and cozy through the night, you also need to get a good quality sleeping bag for yourself.
Sleeping Pad
You will also need a sleeping pad to sleep comfortably. The ground is usually hard and won't feel comfortable when sleeping in a sleeping bag. So, don't forget to take a sleeping pad or mattress as well.
Raincover for Tent
And finally, it is the monsoon period in Ziro in September. So, it can rain anytime. This is why you need to carry a tent rain cover to keep it dry and warm.
Clothing and Shoewear
Raincoat/Windcheater
As I mentioned above, it rains a lot during the Ziro festival. Make sure that you carry a poncho, a raincoat or a windcheater. This will allow you to stay relatively dryer and warmer. And will reduce the chances of you getting drenched in the rain and falling sick.
Light Jacket
It also gets a little colder in the valley in the evenings. So, carrying a light jacket would be advisable.
Gumboots
One of the most important things to get for your Ziro trip is gumboots. Since it rains a lot at this time, the entire area is muddy and slippery. And gumboots could really make your life easier while walking around the festival area.
Did we miss anything? Let us know your thoughts in the comment section!