Confused about what to wear in Goa as this is your first trip, and 2you want to be Instagram-ready at all times? Then you are in the right place.
Goa doesn't have any dress code, but different places require different outfits.
A few things to keep in mind when you are packing outfits for Goa are the month you are visiting, the tourist attractions you will cover, and how comfortable you feel in an outfit.
Read on to learn more about the right kind of outfit to pack for the ultimate Goan experience.
Things to Consider When Selecting Clothes for Goa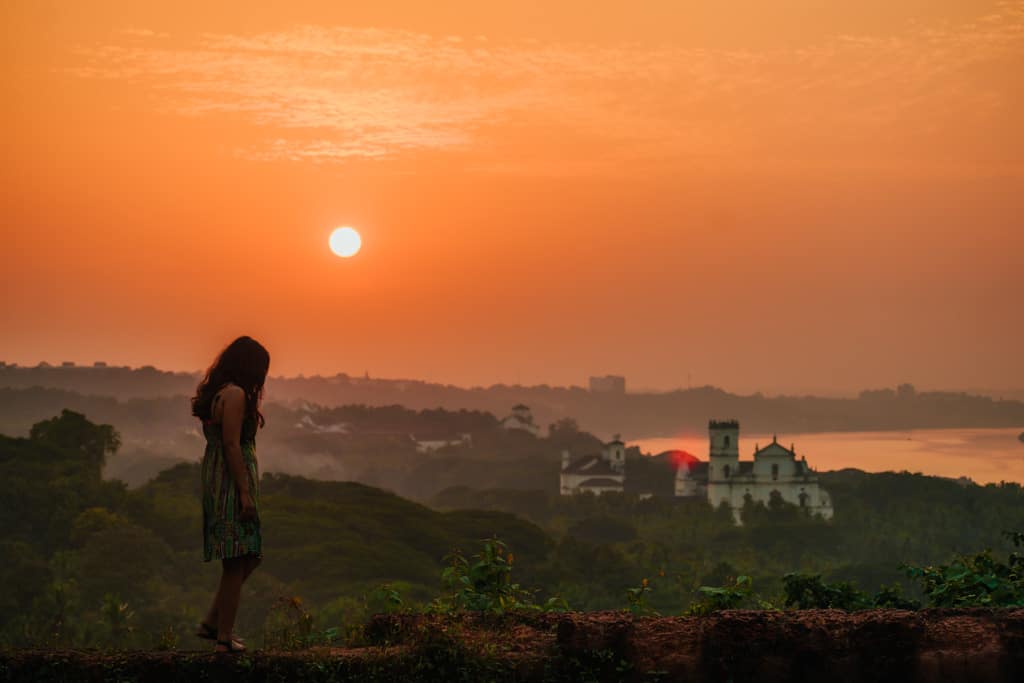 Many of us forget that Goa is not just about the beaches and is home to several churches, villages, temples, and waterfalls.
This is why you cannot wear a particular set of clothes everywhere in Goa. A few places are liberal in terms of clothing, while a few others are conservative. So, it would help if you packed with your itinerary in mind.
Pack for the Weather
When choosing clothes for your Goa trip, the first thing to remember is the kind of weather you would experience. For example, if you are planning a trip to Goa in winter, then you can pack long-sleeved tops or dresses to wear during the night.
Days are hot in winters as well, but nights can become a little. Also, do carry a jacket and leggings to wear at night when it is cold in Goa.
On the other hand, if you plan a trip during the summers or monsoon season, pack shorts, skirts, dresses, etc. Carry cotton and light material clothes as it is hot and humid during these months.
Consider the Duration of the Trip
The next thing to consider is the duration of your Goa trip. If you are planning a short trip, then you can choose clothes for different occasions and activities.
For a short 6-day trip, you can pack an outfit for each day and night to suit your activities.
However, you might have to keep clothes that you can wear in different styles for longer trips because packing an outfit for each day won't be practical. So keeps shorts, tops, and skirts as you can mix and match them.
Select Clothes Based on the Activities
Another crucial factor to consider when selecting outfits for the Goa vacation is the activities that you do. For example, if you plan a relaxing vacation, you can pack beach clothes such as dresses, sarongs, swimsuits, etc.
On the other hand, if you plan to do adventure activities such as trekking, you might want to pack a pair of trekking shoes, shorts, and t-shirts for the trip.
Check the Dress Code for Various Attractions
Finally, you have to consider the dress code for the tourist attractions in Goa before you start choosing your clothes. In churches, you have to keep your shoulders and knees covered so, pack outfits accordingly.
If you are planning to visit casinos or clubs, then keep party dresses as well. And for water sports, don't forget to pack a swimming costume.
In villages, wear slightly conservative clothes such as long dresses and skirts to avoid showing bare skin to the locals.
What to Wear in Goa
What to Wear in Goa for Ladies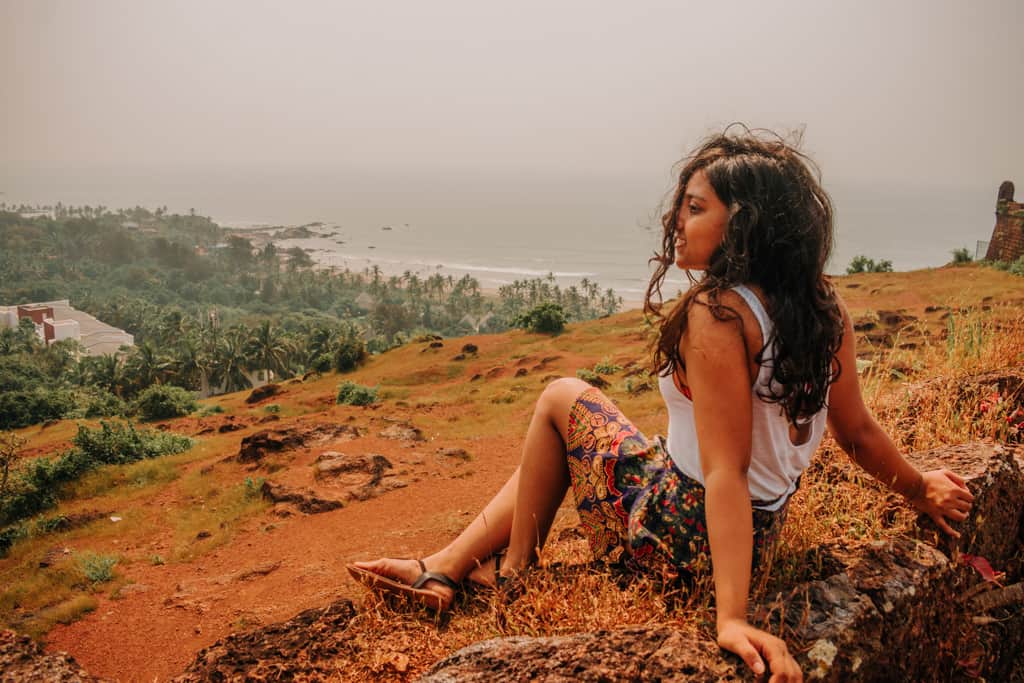 Goa is a liberal destination in terms of clothing, but there are still a few restrictions to keep in mind. You cannot simply wear anything anywhere you want.
To follow the local culture and unspoken expectations, here are a few outfit ideas for ladies exploring Goa.
What to Wear on Beach
There are close to 50 beaches in Goa, but it is certainly not possible to visit them all in a single visit. However, you can see some of the best beaches in Goa and look classy when doing so.
Dresses – Pack dresses for spending time on the beaches of Goa as they are not only comfortable but stylish as well. You can get a few sundresses, Boho dresses, and maxi dresses to wear on the beaches. Pack as many as you want, depending on the duration of your trip.
Shorts – Shorts are a must-have piece of clothing for Goa as they are comfortable, and you can pair them up with crop tops, tank tops, t-shirts, and so on. Carry cotton or linen clothes for wearing in Goa when you are sightseeing or just chilling on the beach.
Skirts – Skirts are a great option as they are comfortable and airy. They look stylish too and can be paired up with different kinds of tops.
Tank tops and T-shirts – Make sure you pack a few t-shirts as they are comfortable and versatile. You can pair them up with shorts, skirts, trousers, etc., and wear them almost anywhere in Goa. Get a few tank tops as well that are light and cotton for your beach time.
Swimsuit – If you are planning to go swimming, then do carry a swimsuit as well. You can take a monokini, bikini, or tankinis on the beaches of Goa. For those who are not comfortable wearing swimsuits, a pair of shorts with a tank top is a good idea as well. Take polyester or nylon shorts for swimming.
Sarong or Cover-Up – If you are going to wear a swimsuit, then do carry a sarong, kaftan, or a cover-up with you as well. You can wear these over your swimsuit and relax on the beach. There is an option of buying sarongs in the beach markets, but you need to be good at bargaining to get the best price.
Sandals or Flip Flops – Pack a comfortable pair of flip flops and sandals to wear on the beaches of Goa. Don't wear leather or suede footwear on the beach as it can get stained by the sand or the water.
Sun Hats – Get a regular hat or a straw hat for relaxing on the beaches of Goa. These hats not only look stylish but protect you from the sun as well.
What to Wear While Sightseeing
While beaches make up the majority of Goa, there are several other attractions to explore here. For example, you can check out the numerous hiking trails, forts, villages, etc. Here are a few outfit ideas for exploring the same:
Loose Pants or Palazzos – One of the most comfortable pieces of clothing is a palazzo or lose pants. They are airy, comfortable, and look stylish too. The best thing is that you can wear them with all kinds of t-shirts and tops. From beaches to churches, they are perfect to wear everywhere.
Dresses – You can also pack dresses for sightseeing in Goa. But if you are planning to hike or try some adventure sports, then avoid dresses and go in shorts or trousers. Also, carry a few long dresses as many churches and temples require you to cover your knees when visiting.
Shorts or Skirts – Shorts and skirts are great options for local sightseeing places in Goa. Make sure that you don't take mini shorts, hot pants, or mini skirts as it might become uncomfortable to wear and travel in Goa. Instead, get mid-thigh shorts and skirts and avoid wearing them when going to churches or temples.
Shrug or Light Jacket – Although it doesn't get as cold as North India, it can still become a little chilly when traveling on a scooty after midnight. Thus carry a light jacket to keep yourself protected from the cold.
And during the day, use the shrug to protect yourself from the sun.
Sneakers or Sandals – Although flip flops are perfect for beaches, you should carry a pair of sneakers or sandals for sightseeing around Goa. If you are planning for hikes around Goa, then pack a comfortable pair of shoes as well.
What to Wear for Churches and Temples
Goa has some of the most beautiful and oldest churches in the world. A few churches, such as Basilica of Bom Jesus, Church of Our Lady of the Immaculate Conception, Se Cathedral, etc., are known for their history and architecture.
Apart from the churches, there are some Hindu temples as well that require knee-length dresses.
Dresses – Wear dresses that are at least knee-length and aren't too revealing or inappropriate. If you are wearing a sleeveless dress, carry a scarf or stole to cover your shoulders.
Long Skirts – Another good option is to wear knee-length skirts or long skirts with t-shirts and tops to visit places of worship.
Trousers or Palazzos – You can also choose to wear 3/4th or full-length pants or palazzos to such places. Pair them up with a half-sleeved or full-sleeved top or t-shirt.
T-Shirts – Visitors can wear t-shirts or tops to the places of worship in Goa as long as they are not revealing and cover up the shoulders.
Stole – Finally, carry a scarf or stole with you when visiting churches or temples. These will not only protect you from the harsh sun but can be used to cover up your shoulders as well.
What to Wear in Casinos and Clubs in Goa
Most visitors are excited about the nightlife of Goa, including the numerous clubs, casinos, and events held here.
There is no dress code for clubs, but for casinos, women have to wear smart casuals. This means no slippers or shorts.
Dresses – Clubs and casinos are great for wearing dresses. From LBDs to maxi dresses, you can wear any clothing here as they tend to be quite comfortable as well. Just add some accessories, and you are good to party.
Skirts or Shorts – You can wear fancy skirts or shorts to the clubs and skirts to the casinos. Pair them up with a nice top and add some jewelry to complete the party look.
Trousers – If you are uncomfortable with dresses or skirts, you can opt for pants or trousers in a club or a casino. You can wear a t-shirt, shirt, or a top with them and enjoy your night partying.
Shirts or T-Shirts – If you choose to wear trousers, select a good shirt or t-shirt to compliment it. They go well with shorts as well for the clubs.
Sandals or Shoes – Finally, wear a good pair of sandals or shoes to the clubs and casinos. Avoid wearing slippers as you won't get an entry into the club or the casino.
What to Wear in Goa for Men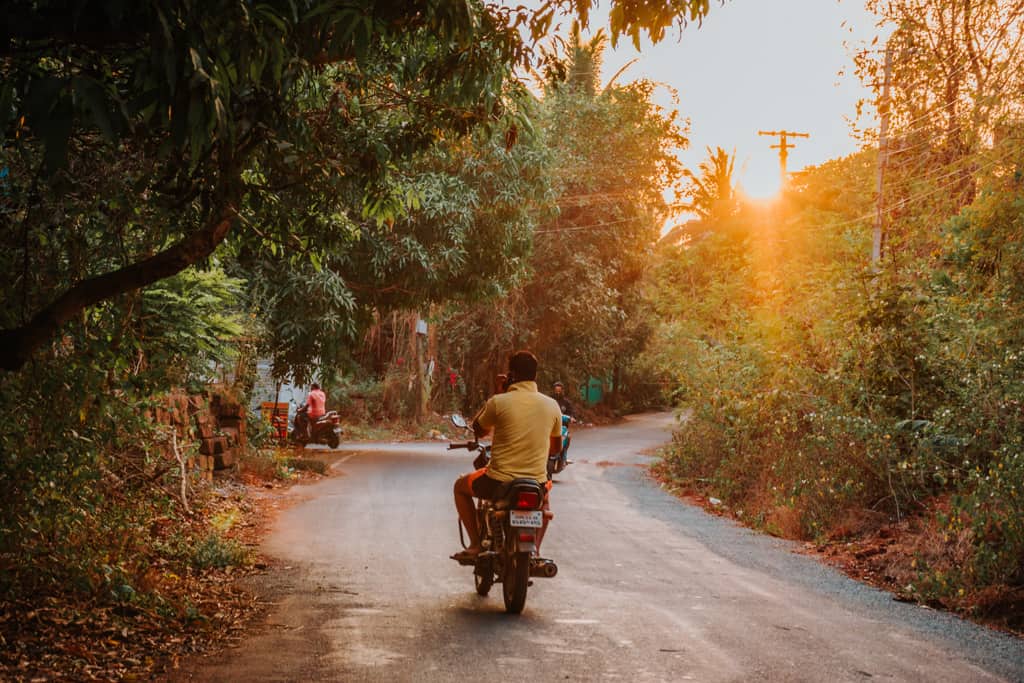 Why shouldn't men dress up to look good, right? So here's what can wear.
What to Wear on Beach
Goa is majorly known for its beautiful beaches, so packing suitable beach clothes is a must for men.
Here are a few outfits that you could try when in Goa:
T-Shirts – Take a few cotton and linen t-shirts and tank tops for spending time on the beaches too.
Shirts – Shirts go with all kinds of lowers and work well with shorts on the beaches. Opt for loose shirts so that it is comfortable to wear. You can wear printed shirts with plain shorts too. Choose light and breathable fabric such as cotton, linen, etc., so you don't feel hot on the beach.
Shorts – Trousers or jeans can become sticky due to the sweat at the beach, making shorts your best companion here. Pack 2-3 pairs of shorts and match them with t-shirts, shirts, or tank tops. Choose lighter colors for the beach.
Swimming Shorts – If you plan to swim in the ocean, then carrying swimming shorts or trunks is a must. They are made using polyester or nylon, so they are quick to dry.
Sandals or Flip Flops – Don't wear closed-toe shoes on the beach as it is difficult to walk, and sand will fill up inside your footwear. Instead, choose flip-flops or sandals that are comfortable to wear on the beaches.
What to Wear While Sightseeing
Goa is home to several offbeat places to explore, such as hiking trails, waterfalls, villages, forts, and so on. If you are spending time in Goa to explore these places, then here are a few outfit options for you:
Shorts – One of the best clothing for sightseeing in Goa is shorts as it is comfortable and works well with most shirts, t-shirts, and tank tops. Opt for cotton shorts when exploring Goa, and avoid wearing them if you are going to a church or a temple.
Loose Pants – If you aren't comfortable wearing shorts or are exploring a religious place, loose pants are great. You can wear baggy pants, dhotis, etc., and experiment a little with your style.
Shirts and T-shirts – Carry cotton and linen shirts, t-shirts, and tank tops with you to Goa. They are incredibly comfortable and the best choice for when you are traveling in Goa.
Sneakers or Shoes – If you plan to do local sightseeing or some short hike, then wear a comfortable pair of shoes or sneakers. Flip flops are not the best option for extended walking, and you might get tired after a while.
What to Wear for Churches and Temples
Trousers or Loose Pants – Since you need to cover your knees, full-length trousers or pants are perfect for visiting Goan churches and temples. You can wear them with t-shirts or shirts.
Shirts and T-shirts – Both are comfortable and work well with full-length trousers or jeans. Ensure that you don't wear a sleeveless t-shirt or tank top as they are not allowed at religious places.
What to Wear in Casinos and Clubs in Goa
When you are going to Goa, you cannot miss out on enjoying the vibrant nightlife here. There are some kickass clubs to check out in Goa that throw amazing parties for the visitors.
Generally, there is no dress code for clubs, but you need to dress up smartly for casinos.
Trousers – At clubs, you can wear shorts, but you need to wear full-length trousers or jeans to enter a casino.
Shirts and T-shirts – You can wear both shirts and t-shirts with trousers and jeans when going out in Goa at night. These clothes are acceptable at both the clubs and the casinos and make you look smart. Avoid wearing sleeveless t-shirts to casinos.
Shoes – One of the most important things to keep in mind when dressing up for a party in Goa is to wear proper shoes such as sneakers or sports shoes. Men aren't allowed inside the clubs or casinos wearing flip flops or sandals.
What Not to Wear in Goa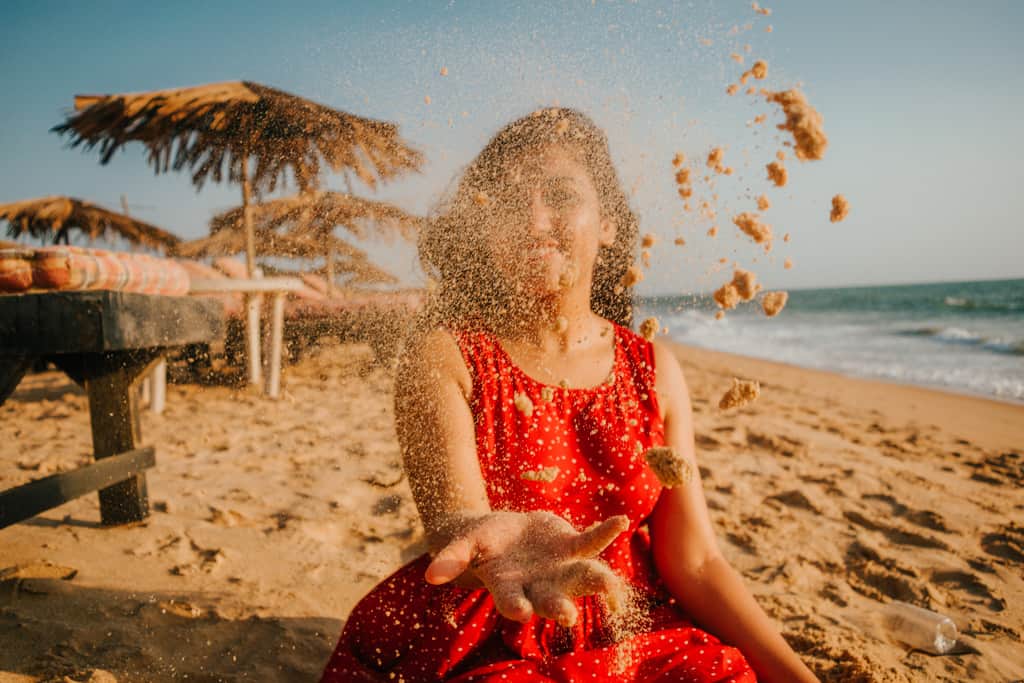 Now that you have a better idea of what to wear in Goa for different occasions and attractions let's check out what to avoid.
Here are a few things that you might not feel comfortable wearing in Goa and could easily skip out on for a memorable Goan vacation.
Jeans – Well, jeans are a classic outfit that works at most destinations, but Goa is not one of them. Why? Well, because of the unbearable heat. Goa stays hot during the daytime and highly humid during the monsoons, making it bad for wearing jeans. They end up trapping the heat and become sticky to wear.
Leather – Wearing leather is also a bad idea like jeans, whether it is boots, jackets, or footwear.
Boots – When you wear dresses and skirts, you might want to take out your boots to flaunt them, but that would be a huge mistake. Boots are impractical for exploring the beaches and treks in Goa and will work well only for city sightseeing. So, avoid packing it as it will take up a lot of space in your luggage too.
Innerwear as Swimwear – Now, I understand that you might feel like taking a dip in the ocean but avoid wearing your innerwear as the swimsuit. It doesn't look good and is downright cringe to look at for other tourists in your vicinity.
High Heels – Trust me, you won't be needing your heels in Goa, even if you are planning to party. Also, it is going to be useless to visit most places such as the waterfalls, villages, and beaches in Goa. However, if you still wish to pack a pair of high heels, then take your comfortable wedges.
Too Many Accessories – Another thing to keep in mind is that you want to travel comfortably in Goa. Wearing too many accessories can become uncomfortable when relaxing on the beach or swimming in the ocean. More importantly, avoid taking expensive jewelry as it can easily get lost in the sand.
Makeup – Finally, this one is a personal choice, but makeup is mainly useless in Goa. From my personal experience, most of the time, your makeup will end up smudged by sweat if you are exploring outside. If you are going to clubs or dinner, then makeup might be a good idea. But apart from that, avoid using makeup during the daytime at least.
General Packing Tips for Goa
We have covered both the items that you should wear in Goa and not wear in Goa. So, it is time we shared some general packing tips with you to help you efficiently pack for your Goa trip.
Goa tends to be hot and humid, especially during the day time. So, I suggest you to pack lightweight clothes that are made from cotton, linen, etc. These fabrics are comfortable to wear and easy to wash.
Pack light and don't overstuff your luggage. You can get all the essentials in Goa and getting your clothes washed is quite easy too.
Take sunglasses, a sunhat, and a sunscreen with you to protect yourself from the harsh rays of the sunlight.
Since humidity can be disastrous for your hair, it is recommended that you carry a scarf or stole to protect your hair from the weather and the wind.
Avoid using tap water for drinking and take a Filtration bottle with you.
Pack a lightweight day sack in which you can keep essentials for sightseeing in Goa.
What to Pack for Your Goa Trip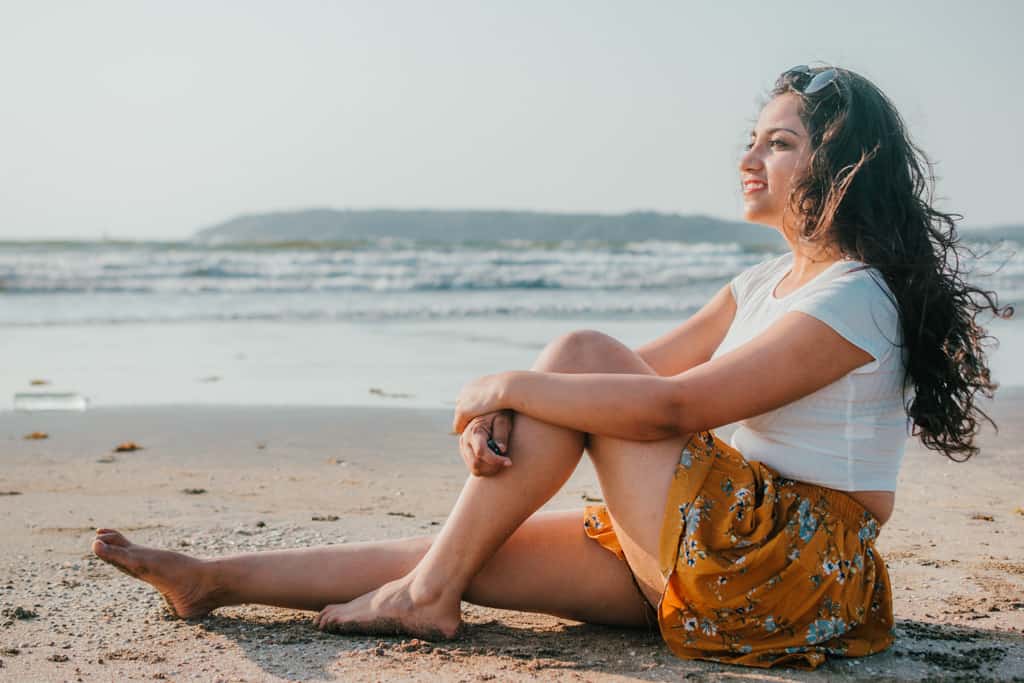 Still a little confused on what you should pack for your Goa trip? I have got you. Check out this section to know all the essential things you cannot miss out on when you pack for Goa.
Clothing
Tees and Shorts – Pack several pairs of cotton tees and shorts to wear in Goa. These clothes will keep you cool during the day and are easy to wash as well.
Beachwear – There are a lot of water activities to indulge in Goa. To stay comfortable, you can pack swimwear or beachwear and enjoy the water here.
Footwear
Crocs or Flip Flops – Pack a pair of crocs or flip flops to wear in Goa. You can wear this footwear on beaches, markets, etc., and will feel comfortable throughout the trip.
Formal Shoes – If you are plan to visit the clubs and casinos in Goa, then carry a pair of formal shoes. You won't be allowed entry into these places in flip-flops or sandals.
Cosmetics and Grooming
Sunscreen – When you are in Goa, you will be spending a lot of time on the beach and under the sun. This can result in skin irritation, so you should carry a sunscreen with SPF level 40 or above.
Wet Wipes – A wet wipe is excellent for keeping your hands clean and germs-free at locations where hand wash is not possible. Also, you can use it to clean your face to get rid of the accumulated dirt and oil after a day of sightseeing.
Mosquito Repellant – Coastal areas suffer from mosquito infestation, and Goa is no different. Once it is sunset, you will find yourself getting bitten by the mosquitoes, which can be annoying. Carry a mosquito repellant to keep yourself protected from mosquito bites.
Lip Balm – The climate of Goa can be damaging to your lips which is why I recommend you to carry a lip balm on the trip.
Accessories
Sunglasses – On your Goa trip, you have to protect your eyes from the reflection of the sunlight, and the best way to do this is by wearing a pair of sunglasses. Buy a pair of sunglasses with polarized glasses as they tend to keep your eyes stress-free while protecting them from the sun's rays.
Hat/Cap – You cannot go to Goa without wearing a hat or a cap or you might get sunburnt. Also, it will make you look stylish in front of others.
Electronics
Camera – Carry a camera with you to Goa to capture the beautiful memories on the trip. If you are traveling for leisure, you can carry a mirrorless camera such as Sony A6100, Canon M50 Mark II, and so on. It is lightweight, easy to carry, and easy to operate. You can also carry action cameras such as GoPro Hero 7, GoPro Hero 8 Black, or GoPro Hero 9 as they are waterproof and offer many features.
Powerbank – Of course, your packing list is incomplete without a power bank. You can keep your phone charged to navigate the way and explore throughout the day without heading back to the room just to charge your phone.
Bluetooth Speaker – If you are traveling with a group of friends, a Bluetooth speaker can make your trip more fun and memorable. You can play music on the beach or a road trip and make the most of your trip.
Other Miscellaneous Items
Apart from all the above essential items, there are a few miscellaneous items to carry with you.
Day Pack – A day pack is good for keeping your essential belongings when you are exploring Goa.
Fanny Pack – Don't forget to carry a fanny pack in which you can store your wallet, hotel keys, phone, power bank, and other essential things.
Water Bottle – Take a refillable water bottle or filtered bottle so that you can keep yourself hydrated and practice sustainable traveling as well.
Face Mask and Sanitizer – In light of Covid-19, carrying a face mask has become necessary when traveling. Take a hand sanitizer to keep yourself protected from germs when you are exploring around the city.
First Aid Kit – One of the most important things to carry on all your trips, a first aid kit is a must for unseen emergencies. You won't find medical shops open 24×7 in Goa, so carrying essential medicines will come in handy.
Summary
Packing the right clothes for your Goa vacation can make a difference in how it turns out for you. And while it can be confusing at times as to what you should wear in Goa, I hope this guide helps you pack the perfect outfits for your trip.
Remember, keep a variety of clothes to suit your itinerary, and don't overpack for the trip. But, most importantly, enjoy the beach life and be comfortable in your skin.
Did you like our guide on what to wear in Goa? Do you think we missed out on something? Let us know in the comments below!