Leh Ladakh was honestly never in my travel bucket list. Why?
Because it had become such a mainstream destination in the past couple of years. Any person who I talked to in India just wished to go on a motorbike trip to Leh Ladakh. So, it slightly put me off the idea of visiting this place as I prefer less-touristy destinations.
However, when I got a chance to actually visit this place as part of a collaboration, I finally realized how lucky I was. Because if I hadn't come across this collaboration, I would have definitely missed out on one of the most gorgeous hill stations in India.
Now, I did not do it on a bike like most people because riding is not my thing. But I did use local transportation to reach and had a proper road trip in this part.
And on my trip, I learned that Leh indeed has a lot to offer if you have sufficient time at hand. In this Leh travel guide, I have mentioned all the important details that you need to know to plan an amazing trip to Leh Ladakh.
Plan a Trip to Leh Ladakh
Now, you hear everyone talking about Leh Ladakh in one go. But very few people know actually what it means.
Ladakh is basically a region (and now a union territory) which is a part of the northern Indian subcontinent. However, the Ladakh region is not only limited to India and extends to China and Pakistan as well. And since this region shares the border with other countries, there is a good military presence here.
Now, Leh is actually just a city in the Ladakh region. It is the largest town in Ladakh and is your starting point to explore this beautiful mountainous region.
How to Reach Leh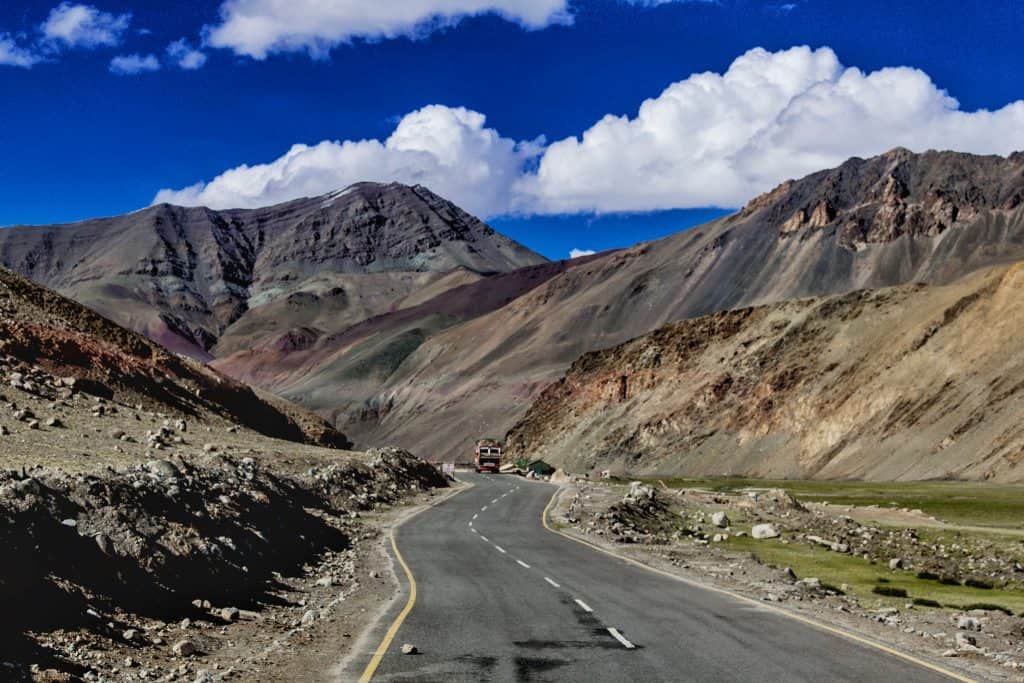 Now, the main question arises that how can you reach Leh and then move on to the other parts of Ladakh. Well, as I mentioned above, Leh is the largest town in the Ladakh region. So, it has a good transportation connection to other places like Srinagar, Manali, Spiti, and so on.
Leh city is around 1000 km from Delhi, 470 km from Manali, 420 km from Srinagar, and so on.
Here are a few ways that you can consider to reach Leh city from your respective city.
Air
Kushok Bakula Rimpochee Airport is the only airport in Leh for which you can get a flight. It has good connections to a lot of major cities like New Delhi, Chandigarh, Dehradun, Amritsar, Hyderabad, Mumbai, and so on.
There are many airlines that work this route as well. So, you won't find difficulty in finding a suitable flight for you to reach Leh city.
Depending on your starting destination, you might get direct or connecting flights to Leh city. Usually, taking a flight is a good idea if you don't have a lot of time and are coming from a far off city. However, do remember that flight is convenient but pretty expensive for Leh as well.
Note: Flights to Leh often get canceled due to bad weather conditions. So, be prepared for this scenario as well.
Road
If you don't wish to increase your carbon footprint, then the best way to reach Leh is by road. Leh city has good connectivity to both Manali and Srinagar. So, you can choose any route that suits you.
Here are a couple of road options that you can choose from to reach Leh city.
Motorbike
One of the most popular modes of reaching Leh is on a motorbike. But let me tell you, this can be a really tiring and uncomfortable journey if you aren't used to sitting on bikes for a long time.
From Manali to Leh, you have a decent road but there are a few uncomfortable patches on the way. So, it can take you anywhere between 18-20 hours from Manali to reach (don't believe the Google maps). This is because you have to pass Rohtang Pass on the way which can take a lot of time to cross.
Plus, you should be driving slowly as you will go from Manali (2050m) to Rohtang Pass (3978 m) to Taglang La Pass (5328 m) to Leh (3500 m).
If you are driving from Srinagar, it is a gradual ascent mostly. So, you won't see the effects that much here. But still, it will take you around 20 hours to reach by a motorbike.
Car/Mini Bus
For people who don't know how to ride a bike, taking a car or a minibus is a good option as well, especially if you are a large group. You can start from Delhi or Manali or any place that you wish. But do remember that it will take you around 24 hours to reach Leh from Manali and Srinagar.
But you will have the option to rest in the car. So, if you have a couple of people who know how to drive, then you can easily reach Leh city on time.
Public Transportation
Finally, one of my favorite modes of transportation is public transportation, i.e., buses. However, do note that it takes almost 2.5-3 days to reach Leh by bus. So, only choose this option if you have sufficient time for traveling.
Here is the bus route that you can usually take: Manali – Keylong – Leh or Srinagar – Leh
Note: The direct Delhi to Leh HPTDC bus isn't available anymore. You can get a direct Manali to Leh HPTDC bus for 2900 INR which includes your meals and stay at Keylong. This bus leaves Manali around 10-11 a.m. every day.
Reaching Manali
You will get ordinary, Volvo, and deluxe buses to Manali from major cities like Delhi, Chandigarh, etc. Usually, a Volvo bus from Delhi to Manali will cost you around 650 – 900 INR and will take around 14-15 hours to reach.
So, if you start around 6-7 p.m. from Delhi, you will be in Manali by 9 a.m. at the most.
Reaching Keylong/Jispa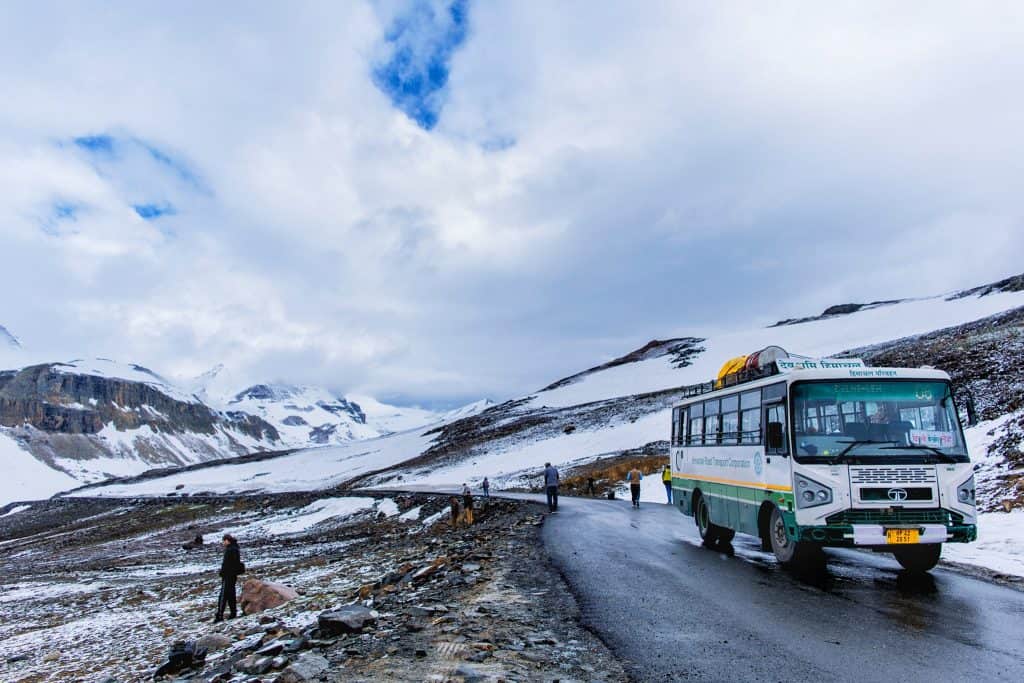 From Manali, you get several buses to Keylong in a day. The first bus for Keylong leaves around 4.30 a.m. in the morning and the last bus is around 12.30 – 1 p.m. It takes approximately 6-7 hours to cover the Manali to Keylong distance.
And you will need to stay a night in Keylong to catch the Leh bus in the morning. The cost of the HRTC bus from Manali to Keylong is around 160 INR.
Alternatively, you also get shared taxis to Keylong for 600 INR which takes around 4-5 hours to reach. Apart from that, there are shared taxis to Leh as well for 2000 INR which takes around 18-20 hours to reach.
Reaching Leh
From Keylong, there is 1 bus to Leh every morning around 5 a.m. The cost of this bus is 545 INR and it takes around 14-15 hours to reach. So, you will be in Leh at around 7 p.m. in the evening.
On the way, this HRTC bus stops at 4 major points including ZingZing bar, Sarchu, Changla Pass, and Taglang La Pass. There are a couple of checkpoints as well where the foreigners need to show their passport as well.
Manali to Leh Bus
If you don't wish to change buses and go through all the trouble to reach, then you have the option of taking the Manali to Leh Bus that leaves every day. This bus charges 2000 – 2500 INR per person and is basically a 2-day ride. On the first day of the Manali to Leh bus journey, you reach Keylong and then stay a night there in a good hotel that is arranged by the bus operator too.
This hotel and the meals are also a part of the bus charges that you paid. Next day, you start early from Keylong to reach Manali in this bus and end your journey there. It is a tad bit expensive option but it allows you to comfortably enjoy your Leh Ladakh tour without changing buses or purchasing bus tickets again and again.
Leh to Manali
For the return journey, there is only 1 bus from Leh to Keylong every day which leaves around 3.30 a.m. and reached Keylong around 5 p.m. The cost of this bus is around 550 INR and again, there are 4-5 stops on the way.
From Keylong, you get several buses to Manali in the morning for 160 INR. The buses start at 4 a.m. in the morning and are available till 1 p.m. in the afternoon.
From Manali, you can take a night Volvo back to Delhi and reach Delhi next morning around 9-10 a.m.
Rail
There isn't any railway station in Leh city and the nearest railway station is Jammu Tawi, around 700 km away. So, taking a train is probably not the best way to reach Leh.
However, if you still want to take the train then here is what you can do. Take a train to Chandigarh and then take a bus from there to Manali. The rest of the route is the same as the above and can be completed by bike, buses, shared taxis, or private car.
Best Time to Visit Leh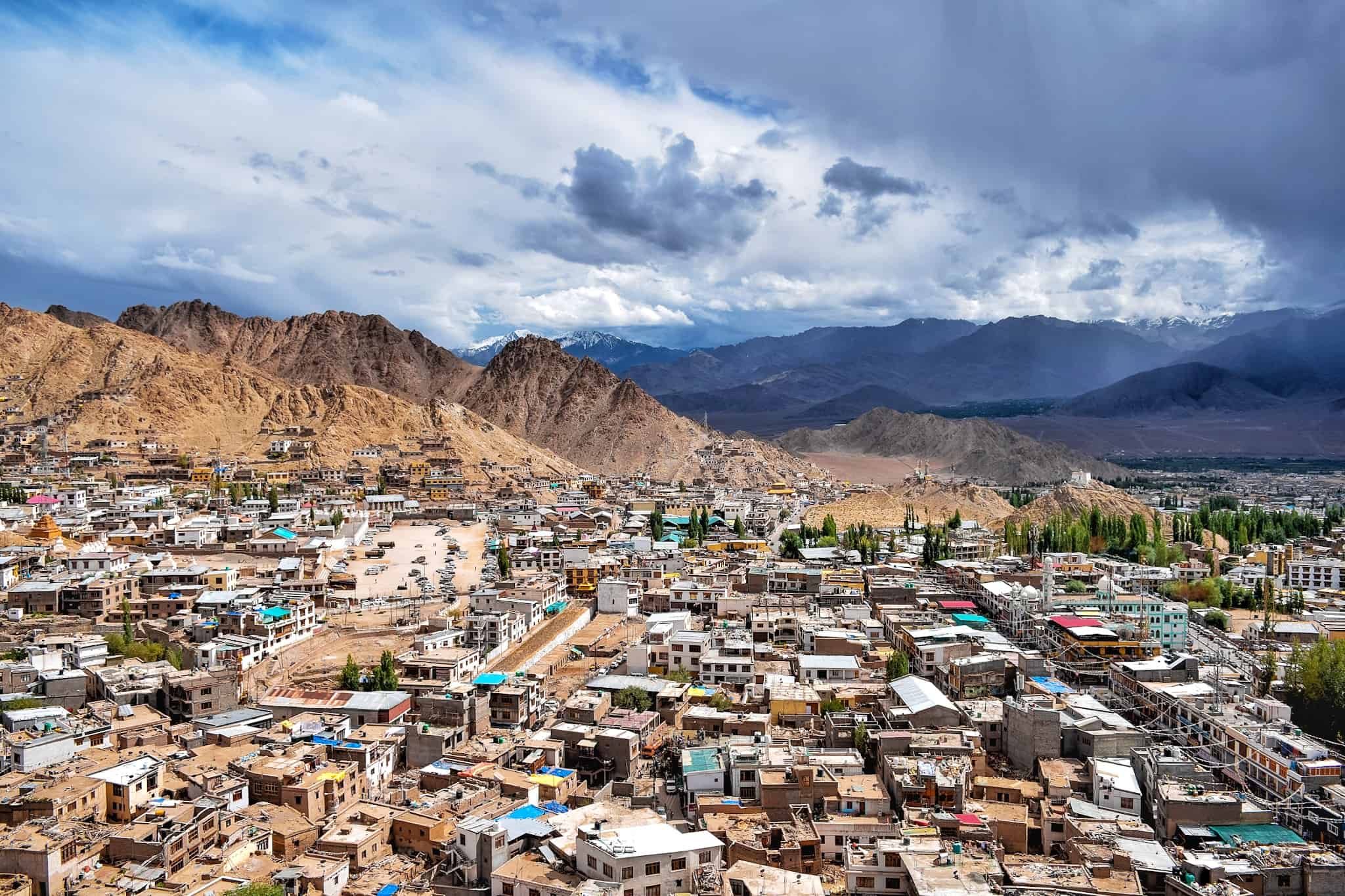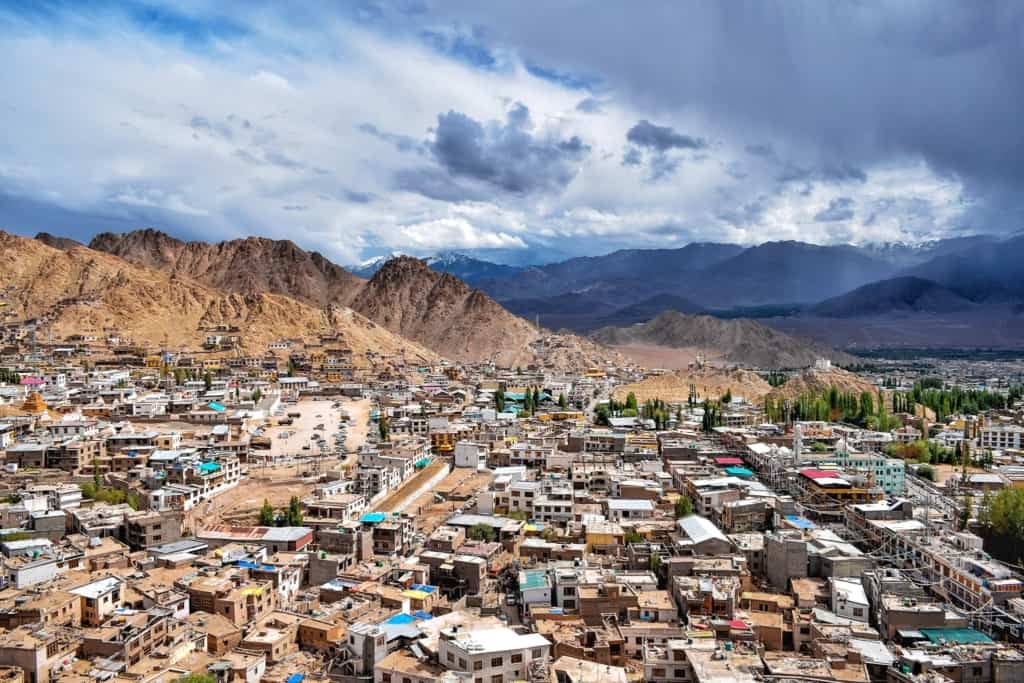 Well, the route from Manali to Leh is usually closed from October/November to April/May. So, traveling by road during this time is quite dangerous and often impossible.
Here is a breakdown of what to expect in different seasons of Leh.
Summer Season (April – June)
Undoubtedly the best time to visit Leh, Summer season is when the roads to Leh finally open up. During this time, you can finally plan trips to parts like Nubra valley, Pangong, Hanle, and so on. Most of the places open up for trekking as well during this time so you can plan those as well.
Out of all the summer months, June is the best because the road connectivity is the best during this time. However, be prepared because you will find a lot of tourists swarming the area at this time.
Monsoon Season (July – September)
While a lot of people think that monsoon is not a good time to visit Leh, this is not completely true. Yes, the chances of landslides increase during this period but it doesn't rain much in Leh itself. Plus, there are relatively fewer tourists around this time so you can truly enjoy the sceneries and landscapes.
Winter Season (October – March)
For obvious reasons, winter is not a good time to visit Leh. There is no road connectivity from the Manali side. And the entire region is covered under a blanket of snow.
However, if you still want to visit then you can fly out to Leh as the airport is still open. And the months of January and February are quite popular for the Chadar trek as well. But a trip to Leh during this time can be the most expensive affair as well.
How Long Should You Plan for Leh?
A lot of people ask me how long should they plan a trip at a certain location. And while there are many places which you can explore in just a couple of days, Leh is not one of them.
This is due to a simple fact that Leh city is at a high altitude. So, there are increased chances of people suffering from Acute Mountain Sickness over here.
This is why it is important that you spend at least 3-4 days in Leh city itself. Now, you might not have experienced AMS symptoms at other high-altitude places but that doesn't mean that you won't face it here as well.
So, it is better to be safe than sorry. Because if you do experience from AMS symptoms, Leh doesn't have a highly-equipped hospital to deal with it. And if the symptoms worsen, you will need to be sent back to your city via a flight which can turn out to be very expensive.
So, whenever you plan a trip to Leh Ladakh, keep aside 3-4 days for acclimatization in Leh city.
Places to Visit in Leh
Leh is not a big city so you can easily explore the sights here in a single day. Just rent a scooty and you are sorted for the day.
Here are a few top sights that you cannot miss out in the Leh city.
Hall of Fame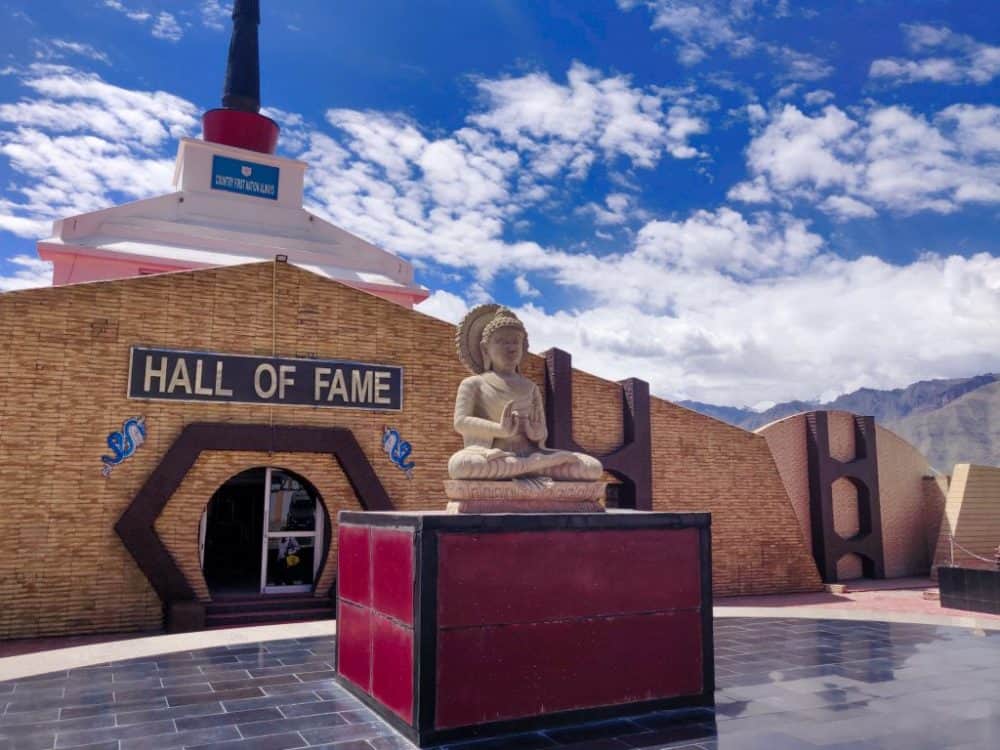 One of the top places to visit in Leh is the Hall of Fame Museum. This museum was actually constructed by the Indian army to commemorate the Indian soldiers who died in the Indo-Pak war. A place that will fill you with pride, this museum consists of two storeys.
There are different sections in the museum where you learn about the Kargil war, Leh history and culture, Ladakh flora and fauna, and so on. And there is a souvenir shop here as well where you can buy any Ladakhi item.
Timings: 9:00 a.m. to 7:00 p.m. (Closed from 1:00 p.m. to 2:00 p.m.)
Entry Ticket: 100 INR for adults
Shanti Stupa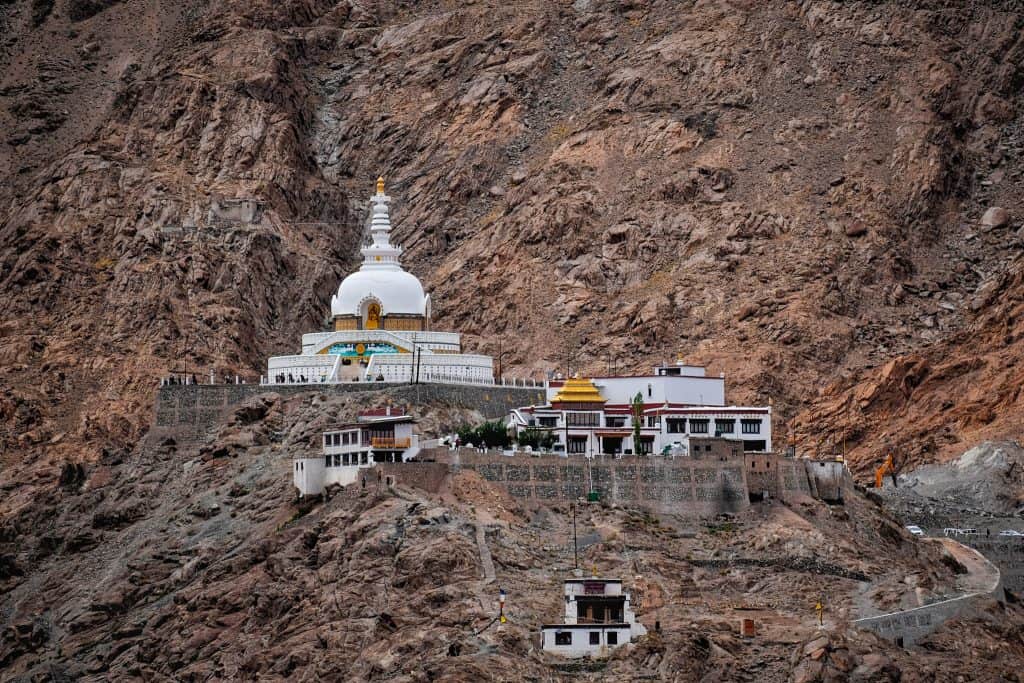 One of the most magnificent Tibetan structures built in Leh, Shanti Stupa is situated at a height of 11,840 ft. From here, you can see the entire Leh city laid out below which makes it a good viewpoint as well.
This stupa was constructed in 1991 by the Japanese to promote world peace. And on the Shanti stupa, you will find a huge idol of the Lord Buddha. And his life cycle is painted around the Shanti stupa which is truly fascinating.
Honestly, this is one of the most peaceful places to visit in Leh and should definitely not be missed out.
Timings: 5:00 a.m. to 9:00 p.m.
Entry Ticket: Free
Leh Palace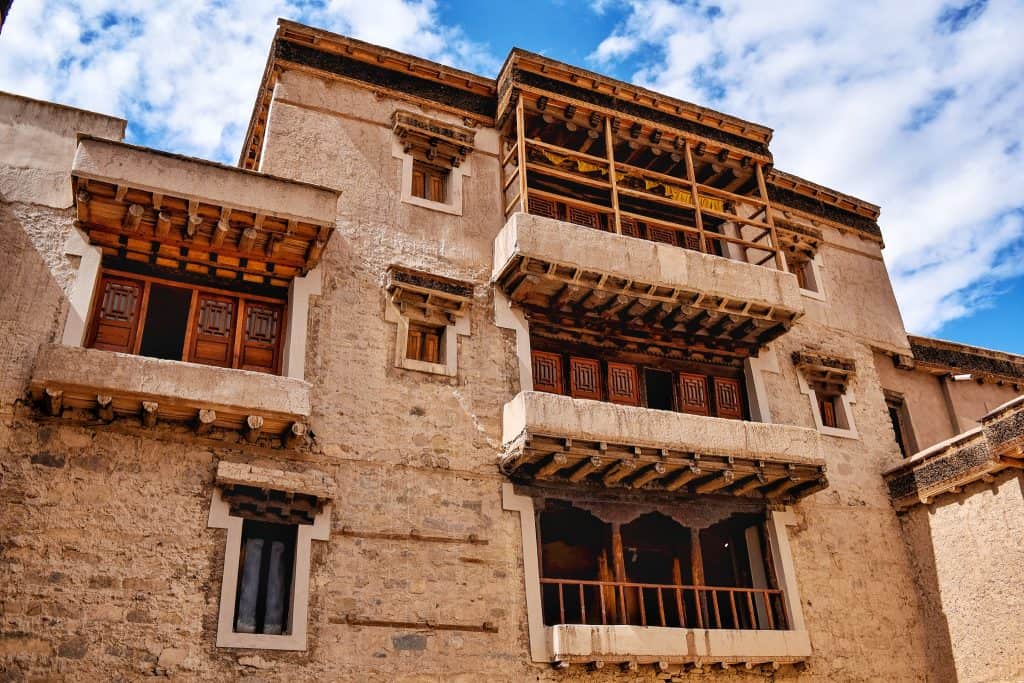 Another top place that you cannot miss out while visiting Leh is the magnificent Leh Palace. Although its construction was started in 1553, it was only in the 17th century that it was finally completed.
This palace was designed keeping in mind the Potala Palace in Lhasa, Tibet, and is one of tallest buildings of that era with nine storeys. From the rooftop of this palace, you get amazing views of Stok Kangri and the Ladakh range.
The architecture of this palace is truly amazing and there are over 450 years old artefacts inside the palace for the visitors to observe.
Timings: 7:00 a.m. to 4:00 p.m.
Entry Ticket: 50 INR for adults
Leh Marketplace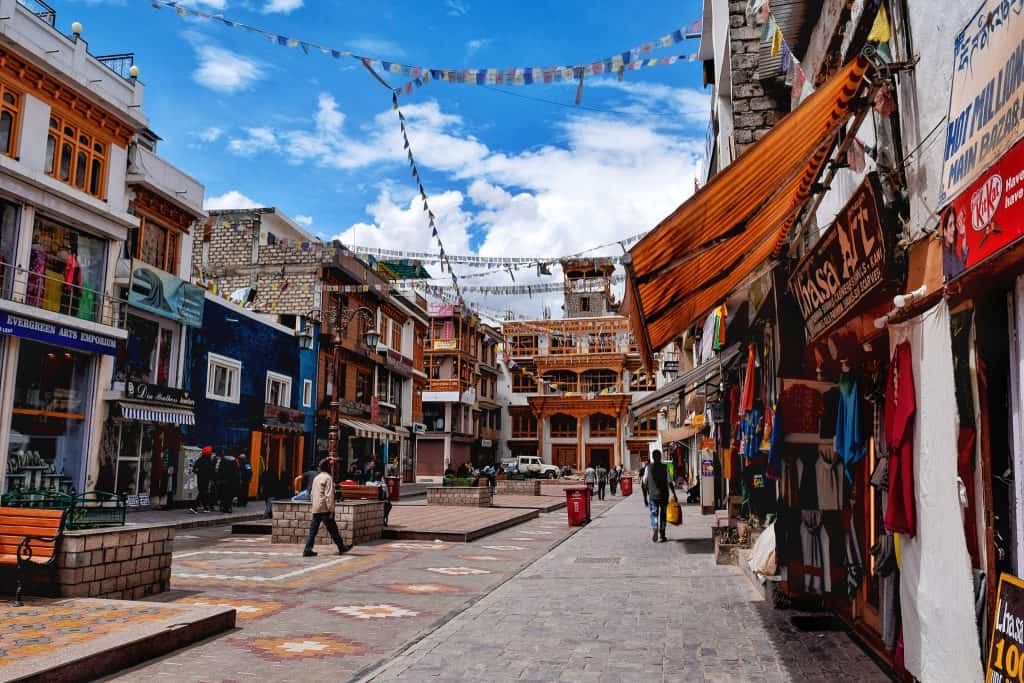 Leh Main Market is definitely a paradise for shopping enthusiasts. From Pashmeena shawls to woollen socks and hats, you will find it all here. Plus, this whole place is quite lit up at night and is a great place for walking around and taking in the Leh environment as well.
Zorawar Fort
Home to the late Zorawar Singh Kahluria, known as the little Napolean of India, Zorawar Fort is just a 15-minute walk from the Leh city. Made up of local clay, wooden frames, stones, and sun-dried bricks, this fort has an impressive structure.
But what is even more impressive is the person for whom it was made. General Zorawar is remembered for his struggle against the Chinese and is actually known as the Conqueror of Ladakh.
So, if you love historical places then make sure you visit this fort in Leh city.
Where to Stay in Leh
Currently, Leh has an influx of tourists. As a result, a lot of accommodation options are available now than before. There are a plethora of guesthouses, hostels, and hotels here now. So, finding a suitable stay option isn't really going to be difficult.
Most of these guesthouses and homestays are nice and cozy and offer delicious, homemade food as well. The prices start from somewhere 400-500 INR per night and can go up to 10,000 – 20,000 INR, depending on the stay and location.
Food and Drinks in Leh
I am a big-time foodie so whenever I visit a new place, I always indulge in the local food. In Ladakh, you will find a mixture of Tibetan and Kashmiri cuisine.
If you wish to experience an authentic Leh trip, then here is a list of food and drinks that you should definitely not miss out here.
Momos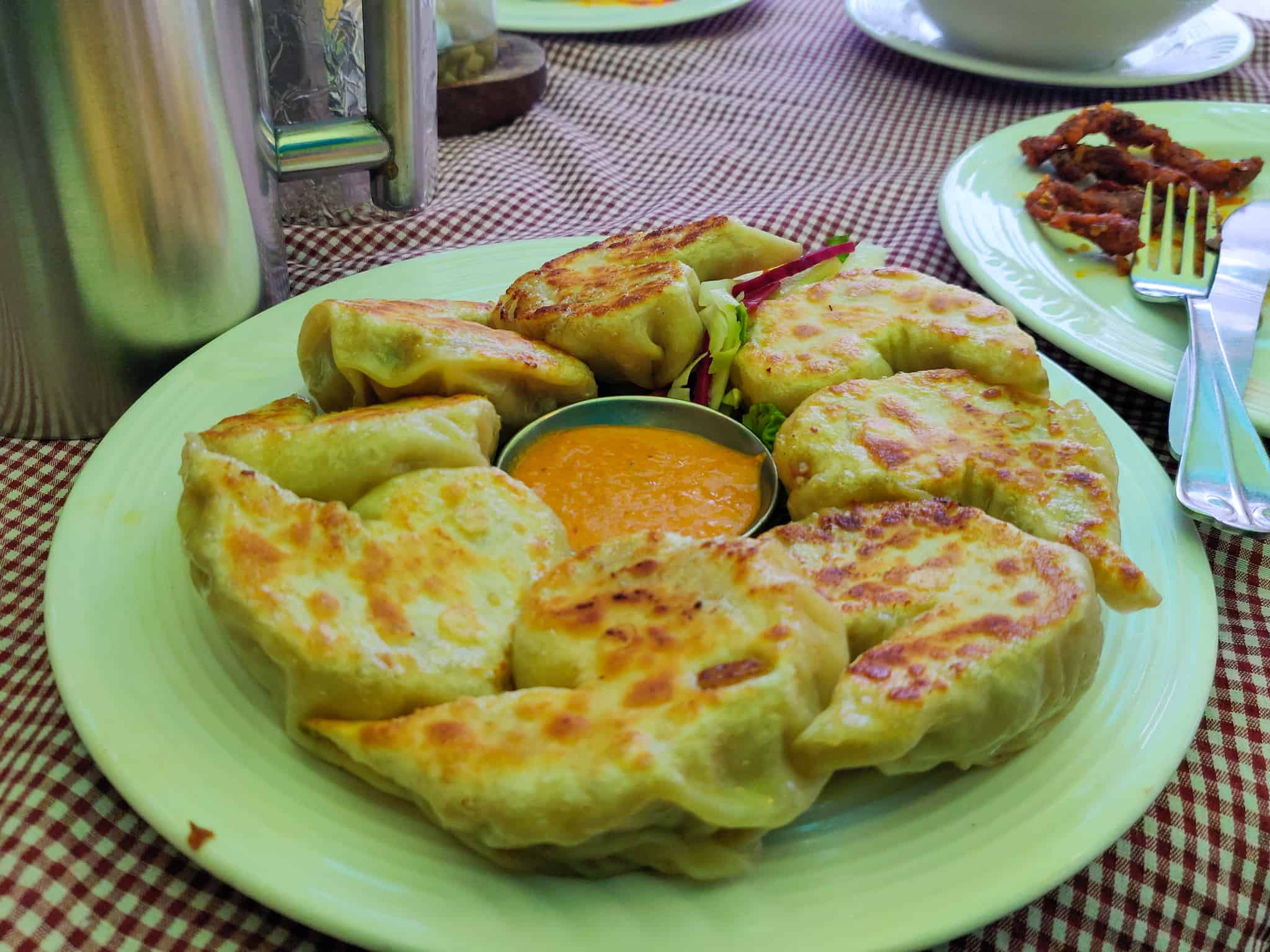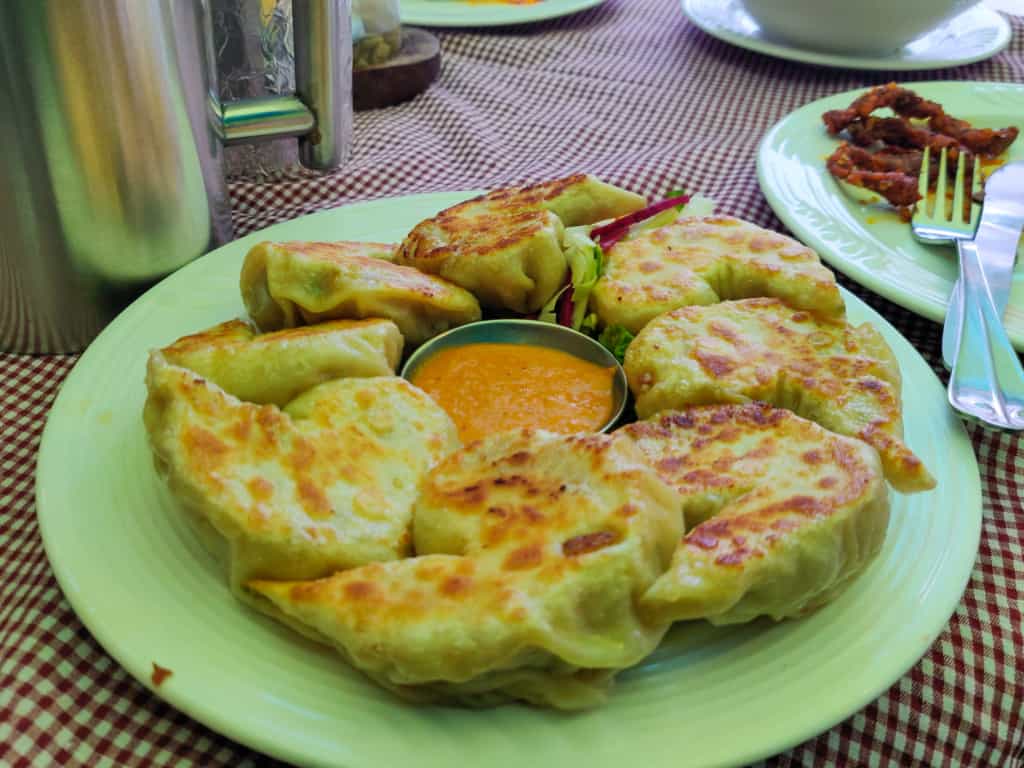 Of course, visiting Ladakh and not tasting the momos here is a big NO NO. You will find these delicacies in literally every shop here. And trust me, you will be salivating every time you order it.
Skyu
A popular soup-based dish which includes small thumb-sized pasta pieces. The pasta is made up of whole wheat flour and water. This pasta is then mixed with meat in a stew made up of vegetables like turnip, carrot, etc.
It is quite spicy but tastes really delicious. In layman terms, you can call Skyu your desi Pasta.
Chhutagi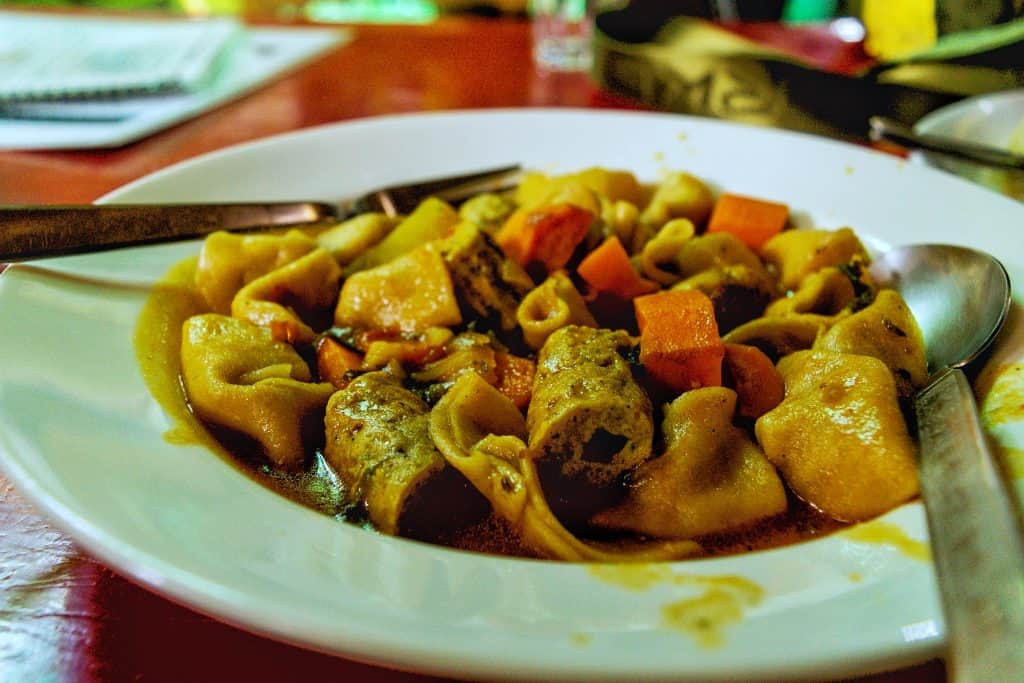 A delicacy similar to the Skyu, Chhutagi is pasta made of bow-shape and is also cooked in a broth made up of vegetables like carrots, spinach, turnip, etc.
Paba
A type of Ladakhi bread, Paba is a staple dish in Leh Ladakh which is healthy at the same time. In this recipe, the roasted flour of black beans, peas, buckwheat, barley, and wheat are mixed with the dough. The dough is then kneaded in oil and is eaten with buttermilk, sugar or vegetables.
Khambir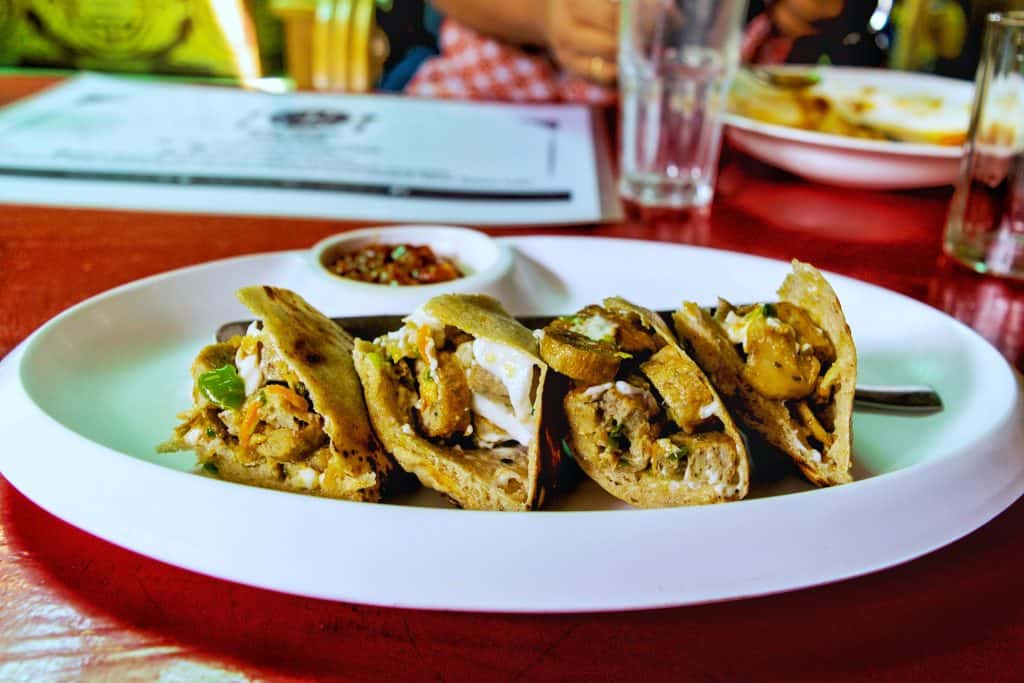 One of my favorite Ladakhi dishes is the traditional Ladakhi bread, Khambir. It is a whole-wheat bread baked and has a thick crust with a delicious filling. And you can enjoy this delicacy with apricot jam, accompanied by buttermilk or tea.
Kahwa
Finally, one of the most famous drinks that I am personally in love with is Kahwa tea. This tea is made up of green tea leaves along with cardamom, saffron, cinnamon, and a few dry fruit pieces as well. And the added honey makes this tea sweet but perfectly delectable.
It also has anti-inflammatory properties and can be really good if you are experiencing a headache in the hill stations as well. You will find this tea available in almost all the food shops. And if you wish to get it home, then you will find the powdered version in the grocery stores here as well.
Summary
A trip to Leh can be pretty iconic as there is so much to see and do here. And there are so many gorgeous destinations near Leh as well that you won't ever get bored here.
But make sure that you plan your trip well and book all the necessary things beforehand. Apart from that, Leh is quite safe for traveling and you are bound to have fun here.
Let us know in the comments if we missed out on something or if you would like us to add something more.