Beach hopping, islands, nightlife, shopping, forts – there are just so many amazing things to do in Goa. You can choose to spend a relaxing vacation here or enjoy an adventurous holiday with parties, hikes, and water sports.
Although this is a small state it has so much to offer. Personally, I have visited Goa four times now and still have so much left to uncover here.
If you are unsure about what to do in Goa, then this guide will help you out.
Top Things to Do in Goa
Goa offers fun things to do for all kinds of travelers.
For nature lovers, there are islands, waterfalls, and greenery to explore.
The cultural enthusiasts can check out the forts, museums, and traditional architecture while the adventurers can experience paragliding, snorkeling, diving, and other fun activities found here.
Here is a list of a few fun things to do in Goa.
Indulge in Water Sports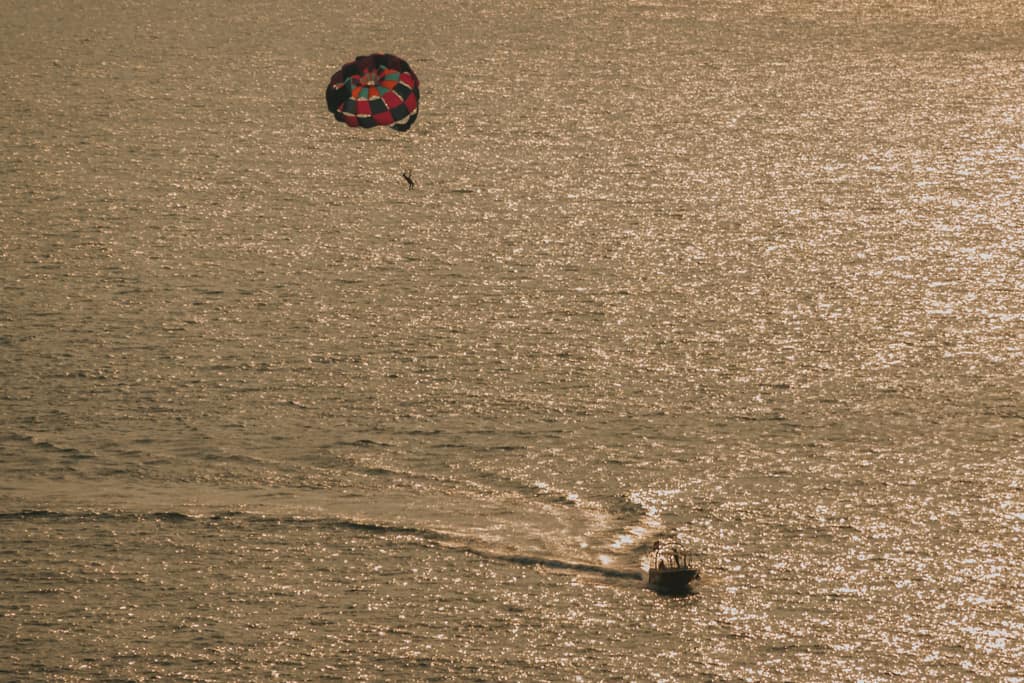 If you have always wanted to try water sports, then Goa is one of the perfect places to do that. You will find a lot of exciting activities to indulge in here such as Parasailing, Jet Skiing, Banana Rides, Boat Rides, and so on.
Several beaches in both North and South Goa offer these enthralling activities. A few beaches to check out for water sports are Baga, Sinquerim, Colva, Palolem, Candolim, and more.
You can choose to experience a single water activity or select a package of multiple activities for a fun trip.
Plan a Visit to Spice Plantation
For those who want to experience a different side of Goa, a visit to a spice plantation is a must.
Encounter the refreshing scent of spices as you walk amidst the plantation of exotic Indian spices such as cardamom, black pepper, cloves, and more.
There are several spice farms and villages in Goa where you can learn how the spices are grown. Trust me, this would be a memorable experience for you.
The Savoi Plantations is one of the oldest spice plantations in Goa and is located in Ponda. Here, you will find betel nuts, coconuts, and several amazing spices.
You can also buy stock from these farms to take home with you.
Scuba Diving at Grand Island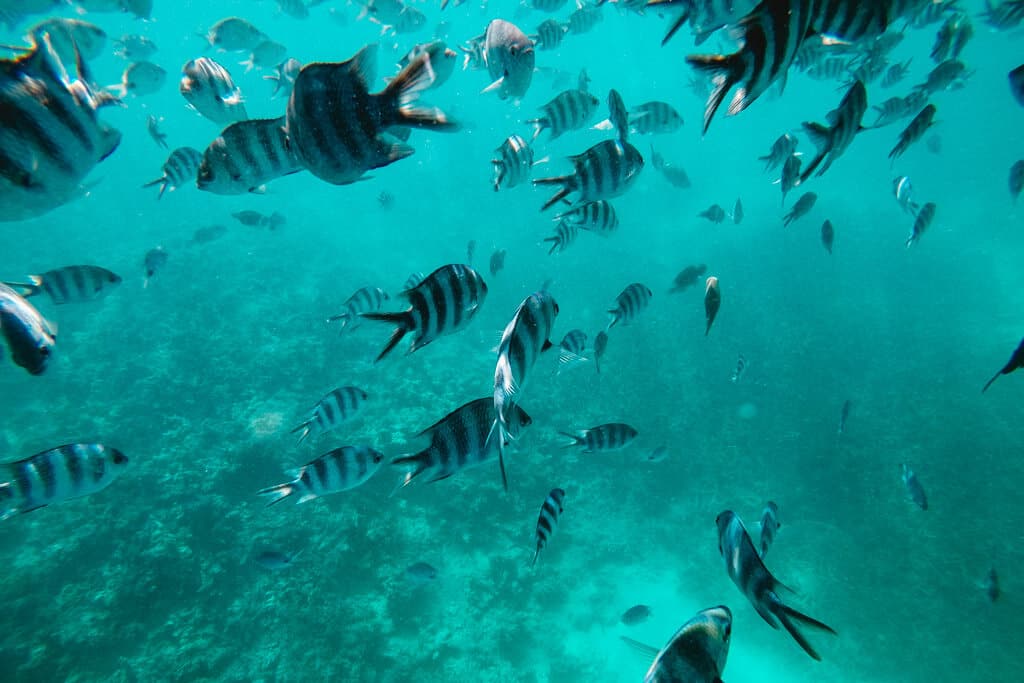 One of the most memorable things to do in South Goa is to head to the Grand Island where you can enjoy snorkeling or scuba diving in clear waters.
There are many exciting dive sites and shipwrecks for you to explore here. Moreover, this island is perfect for observing colorful marine life.
Spend time with turtles, fishes, reefs, and more under the guidance of a PADI instructor. You can also take Scuba Diving classes on this island to become a certified diver.
Go on the Mandovi River Cruise
Another one of the top things to do in North Goa is to join a river cruise over the Mandovi River.
Surrounded by lush green trees on both sides, this is a peaceful experience as you hear the birds chirp and take in the stunning view of the water.
There are different types of cruises to choose from such as dinner cruise, sunset cruise, and more. Enjoy the Goan food, music, and entertainment on these cruises.
You can also opt for backwater cruises or hire a private yacht to sail through the mangroves for a few hours or an entire day.
Stay in a Private Villa in Goa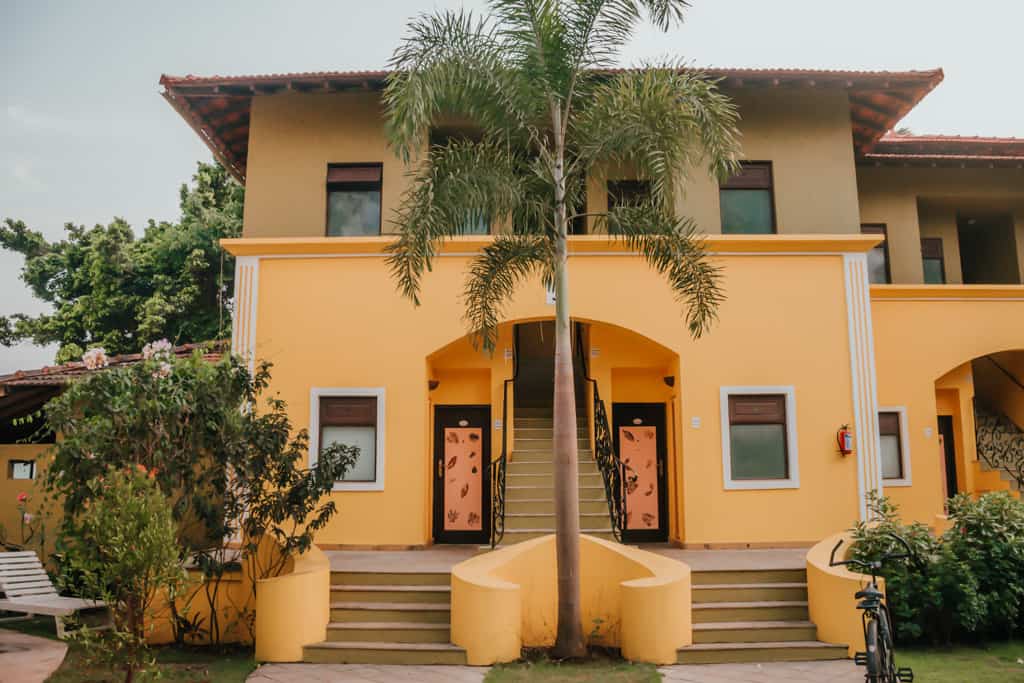 Planning a trip to Goa with friends? Then, staying in a private villa is undoubtedly one of the best things to do in Goa with friends, especially if you are celebrating a special occasion.
Rent a private villa with a concierge, chef, housekeeping, and luxury services to take advantage of your stay. Such villas offer complete privacy to the guests and often provide access to private beaches as well.
You can play games, party, or simply relax in the extravagance of the villa and make your trip to Goa memorable.
Enjoy Paragliding from a Cliff
Looking for something exciting? Well, then paragliding from a cliff is one of the most adventurous things to do in Goa.
Arambol Beach and Anjuna in North Goa are famous for paragliding and offer a bird's eye view of the gorgeous beaches, cliffs, and water.
It will cost you approximately 3,000 INR for a 10-15 minutes ride and your instructor will ensure a smooth and comfortable experience for you.
Explore the Beaches of Goa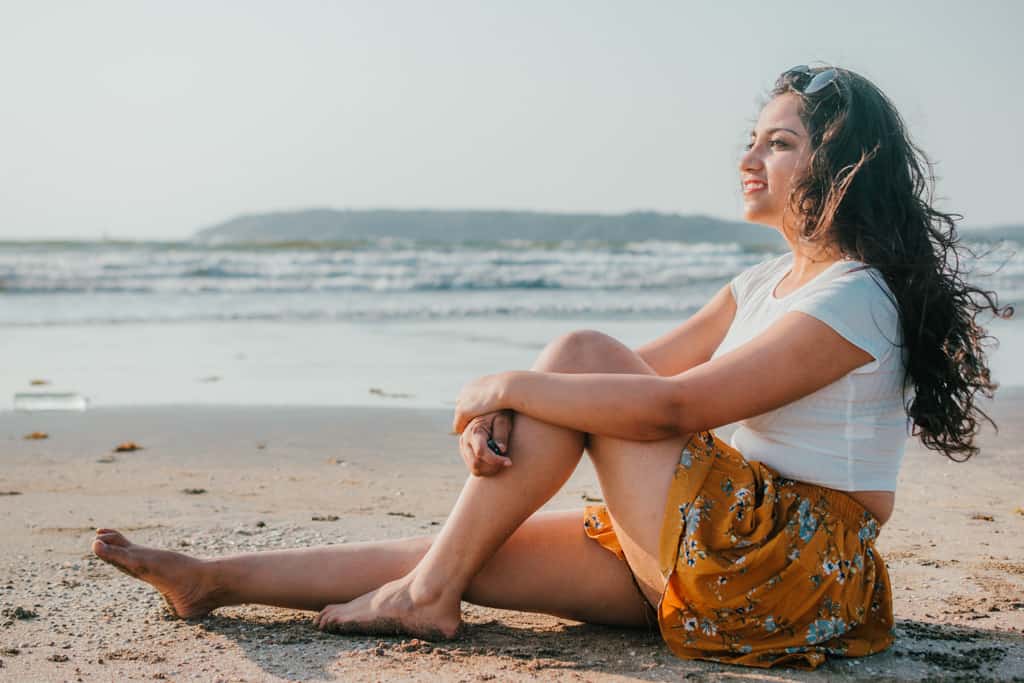 Of course, when you are visiting Goa, one of the top things to do would be to explore the beautiful beaches here.
With over 50 beaches to visit, you must choose wisely because it is not possible to cover them all in a single visit.
Different beaches are suited for different activities such as sunbathing, water sports, parties, and more.
North Goa beaches offer shopping, partying, and activities to the visitors while South Goa beaches are more beautiful and serene.
You can choose to relax on a beach, get a massage, swim in the ocean, or simply enjoy the stunning ocean views from the Goan beaches.
Kayaking in the Backwaters of Goa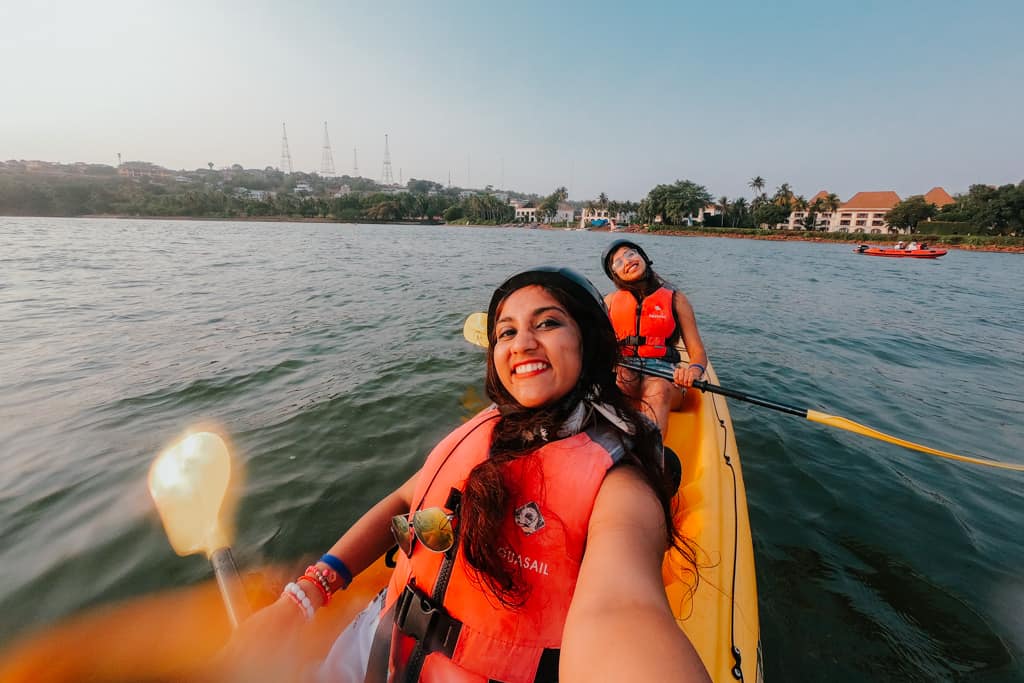 One of the most memorable experiences in Goa is kayaking in the backwaters of Goa. You will gently glide through the calm waters as you pass by churches, villages, and several animals on the way.
If you want an exciting kayak ride, then you can do kayaking in the Arabian Sea at Palolem Beach or Panjim.
Honestly speaking, my favorite kayaking experience was in Palolem where I watched the sun slowly set as we made our way to and fro from a nearby island.
Join a Dolphin Tour
Rendezvous with the dolphins in Goa by going on a morning boat tour near the beaches of Goa. Yes, you can actually see these majestic creatures glide elegantly through the water.
The best places for watching dolphins are Candolim, Calangute, Sinquerim, and Palolem Beach. You might also encounter them on the river or the Grand Island.
Gamble Away at the Casino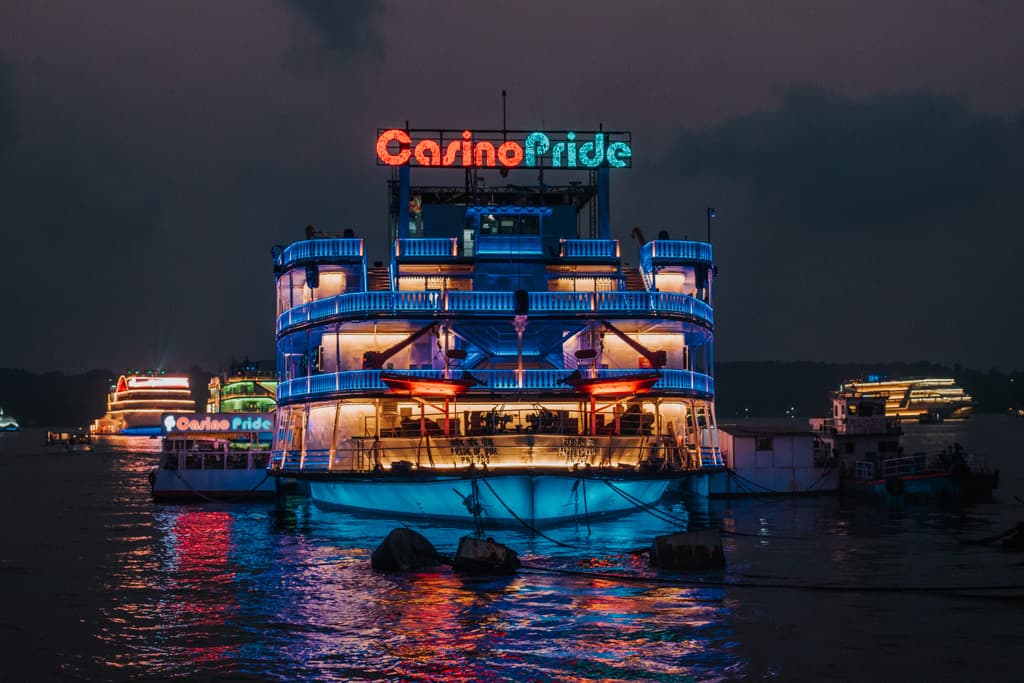 If you are looking for a unique experience, then one of the best things to do in Goa at night is to spend time in a casino.
You can try your luck at gambling in a casino and play fun games such as Roulettes, Poker, Teen Patti, and many more.
Apart from the games, you will also love the high-class dining experience along with live music and entertainment.
Opt for an offshore casino for a more memorable experience with lots of fun activities to indulge in. Casino Pride, Deltin Royale, Casino Paradise, etc. are a few of the biggest off-shore casinos to check out.
Party on the Beach
When you are in Goa, you cannot miss out on parties on the beach. In North Goa, you will find parties on beaches such as Baga, Candolim, Anjuna, and Calangute.
Baga Beach has turned into a party hub with parties being held here every night in most of the shacks. You can also enjoy live music at Curlies or Cafe Lilliput on Anjuna Beach.
This is one of the perfect things to do in Goa for bachelors as you end up meeting many new people here.
Visit the Old Churches in Goa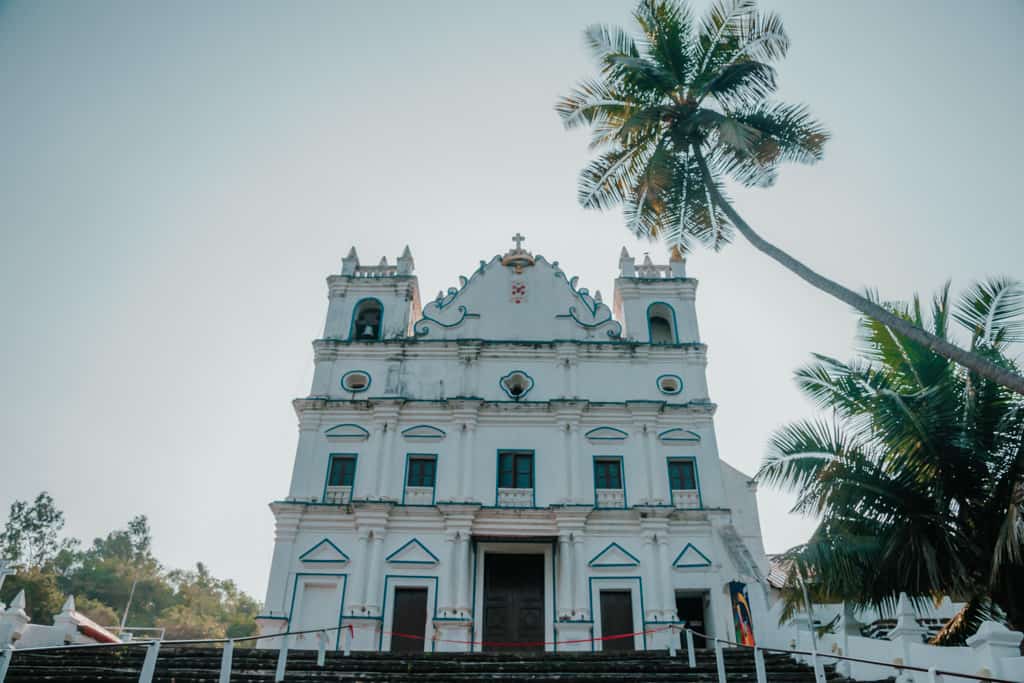 Of course, Goa is filled with beautiful churches for visitors to explore.
Although there are churches throughout the state, you will find more prominent churches in the North making it one of the top things to do in North Goa.
Chapel of Our Lady of the Mount offers a beautiful view of Goa while The Church of Our Lady of Immaculate Conception has stunning Portuguese architecture.
There are several other churches to check out in Goa such as Reis Magos Church, Church of Saint Augustine, and more.
Find Hidden Getaways in Goa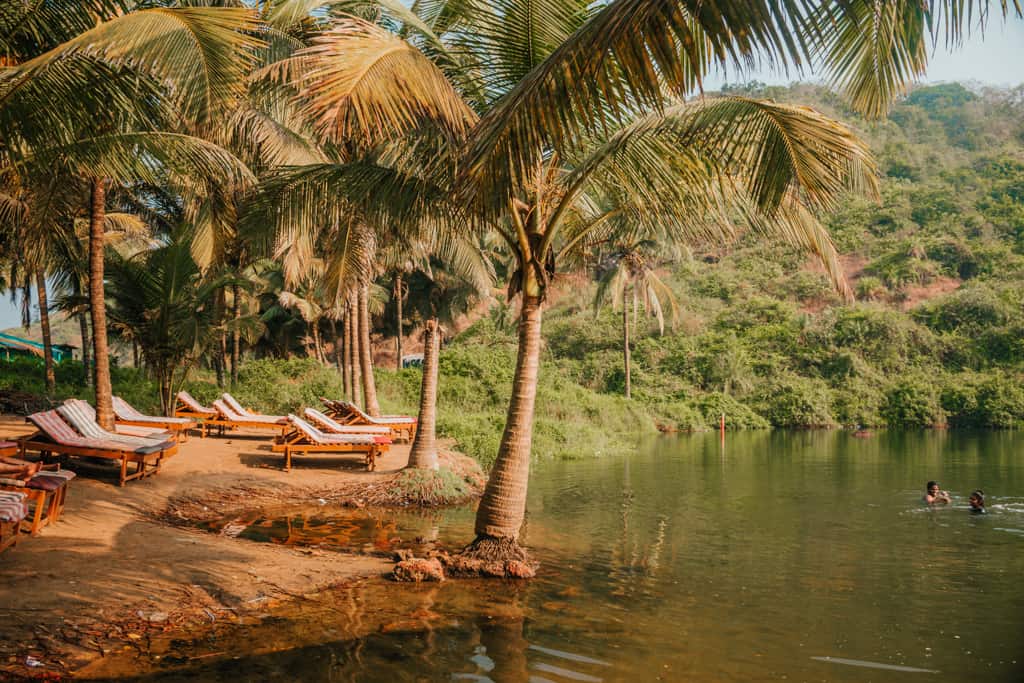 Bored of going to the same old places in Goa?
Luckily, there are many hidden spots and beaches in Goa for anyone who wishes to explore.
Butterfly Beach in South Goa, Devil's Point in North Goa, Bambolim Waterfall, etc. are just a few places that you might like.
There are many amazing viewpoints and waterfalls to explore that are not known to the public yet.
Experience White River Rafting
Unknown to many local residents of Goa too, you can enjoy white water rafting in a few parts of this state.
One of the fun and offbeat things to do in Goa in July as the rivers would be full at the time, white water rafting is conducted on Mahadayi River near Valpoi.
Enjoy this adventurous activity in Goa with your friends or make new friends in the process.
Learn How to Sail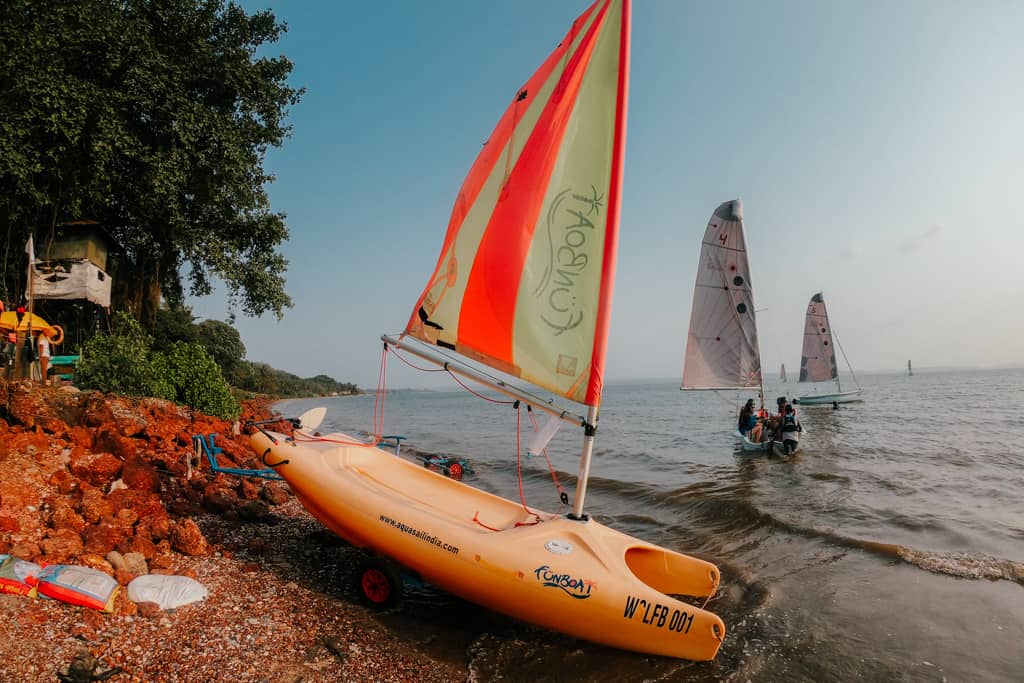 If you have always wanted to learn to sail, then you can join a sailing class in Goa. Trust me, it is one of the best things to do in South Goa as you make your way through the Arabian Sea.
There are different types of sailing boats available to learn including Laser Bahia, Laser Pico, Laser Fun Boat, and more.
You can even choose to just experience sailing or take a full-fledged course so that you can sail on your own.
Take Surfing Lessons
One of the best adventurous things to do in Goa is to taking surfing lessons here. You can hire a private instructor and rent out surfboards to learn or join a surfing school.
There are lots of surfing schools in North Goa, especially in Arambol and Morjim.
The beaches are safe for learning how to surf and you can learn how to cut and traverse through sudden waves under the guidance of a certified surfer.
Spend a Day at the Divar Island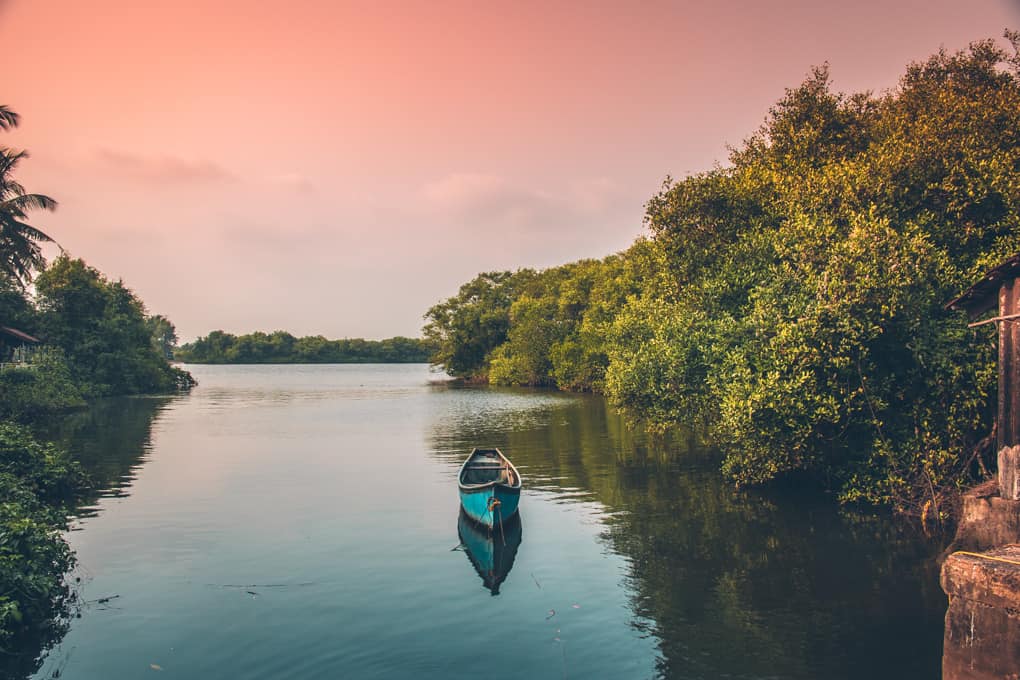 Spending a day at Divar Island is one of the best ways to experience island life in Goa.
Enjoy the cool breeze of the Mandovi River and water sports such as kayaking, boating, etc. when you are on the island.
Divar Island is a haven for nature lovers and is a great place for exploring natural habitats, bird watching, and more.
You will also be able to experience the local ferry service and can take your cycle, scooty, or car to Divar Island to explore around.
Explore the Shops in Baga
If you love shopping, then one of the best things to do in North Goa is to check out the shops in Baga. You will find lots of hidden gems here at extremely affordable pricing.
From handbags to clothes to bracelets, you will find it all here. In fact, you might accidentally stumble upon sales as well if you are lucky.
Watch Incredible Sunsets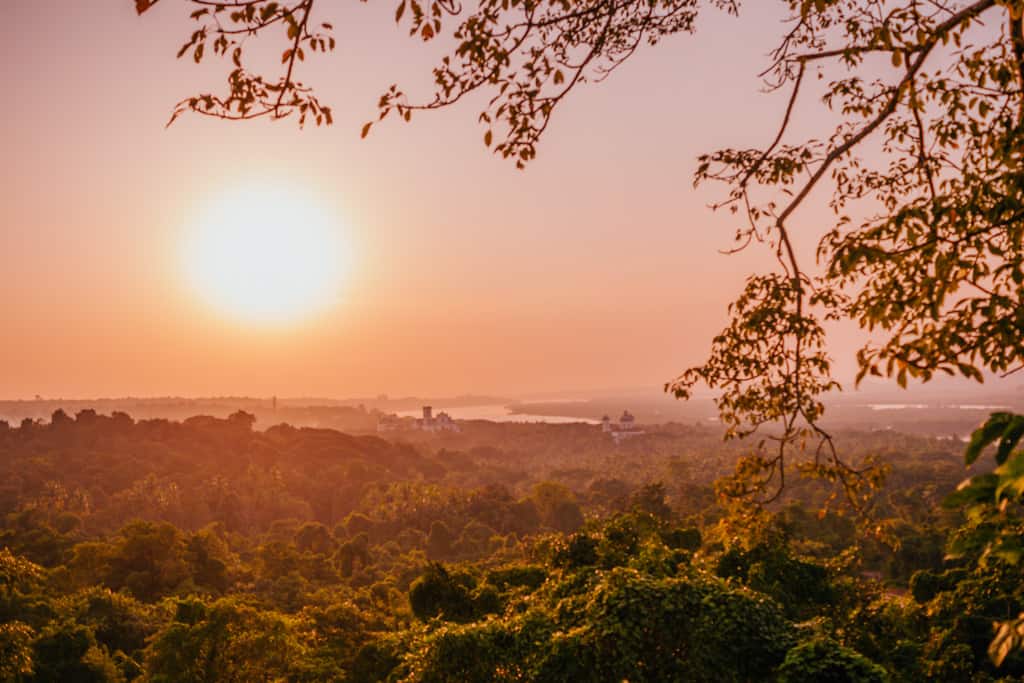 Although sunsets in Goa are incredible throughout the year, I have found that post-monsoon is the best time for sunset. The scenery is lush green and the orange hues of the sky make it more charming.
This is why one of the best things to do in Goa in October is to chase sunsets. From beaches to cliffs, you will encounter magical sunsets in every part of Goa.
So, if you are a sunset lover like me, then try to make the most of your stay here.
Check Out the UNESCO Heritage Sites
Let's face it, Goa is as much about heritage and history as it is about the beaches. This is one of the reasons why Goa has several UNESCO World Heritage Sites that celebrate its rich heritage and culture.
Explore these sites and marvel at the architectural grandeur of these places. A few UNESCO sites worth checking out are the Church of Saint Augustine, Basilica of Bom Jesus, St. Catherine's Chapel, and more.
Make sure you pay a visit to the Basilica of Bom Jesus as it houses a mummy of St. Francis Xavier in a silver casket. Furthermore, this 400-year-old architecture is brilliant as it features non-plastered exteriors with decorated interiors.
Hike to Amazing Viewpoints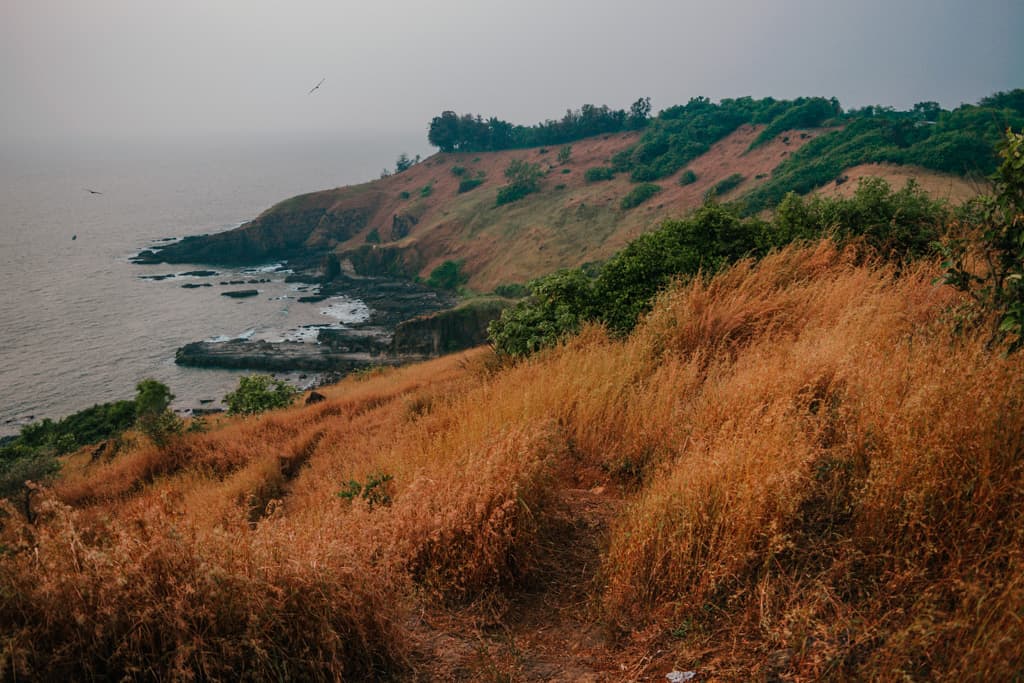 Did you know that Goa has amazing hiking trails too?
Yes, that's correct. A few of these trails take you to the cliffs from where you can enjoy a beautiful view of the Arabian Sea.
There are several others as well that take you to offbeat places in the forest, waterfalls, or even churches.
Get a Foot Massage
Tired of exploring around?
It's time to relax and pamper yourself with a foot massage while enjoying the beautiful ocean views. You will find locals giving foot massages on several beaches in Goa.
You will also find locals offering to thread your hair or selling anklets, sarongs, bracelets, etc. on the beach. The prices for the accessories will be a little high but getting your hair threaded could be fun.
Drive from North to South Goa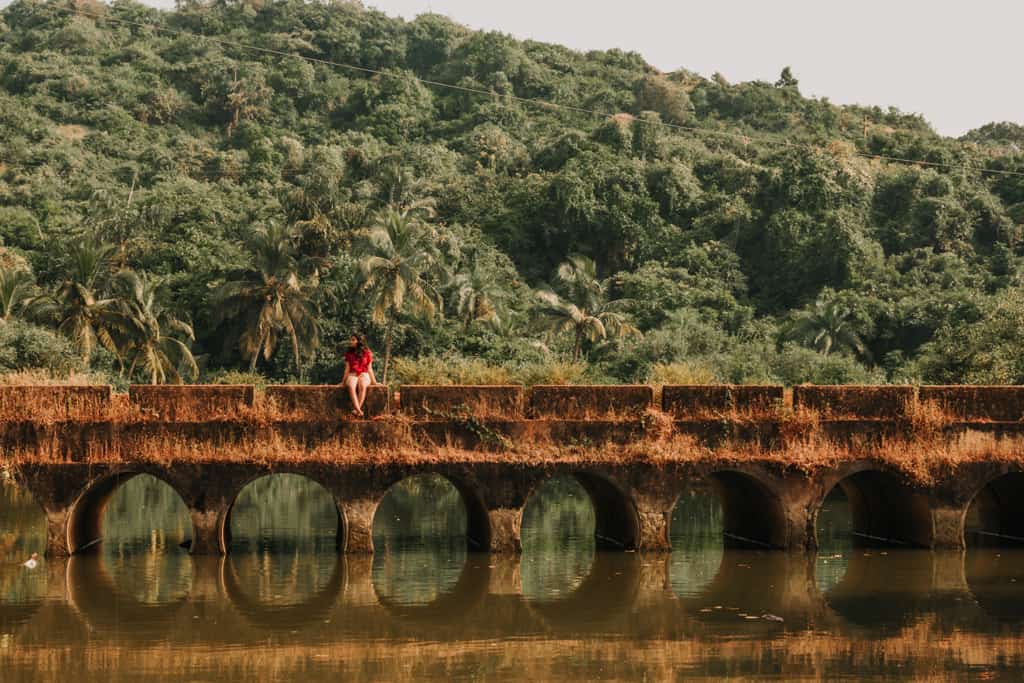 Personally, I loved the drives in Goa, especially when you make your way from North to South Goa or vice versa.
The drive north of Siolim is quite amazing as you pass through greenery and large rocks that are unique to this area.
Similarly, when you drive to South Goa, the landscape changes drastically and it feels like you are in the Western Ghats.
Go on the Electric Bike Tour
Goa offers several unique recreational activities including an Electric Bike tour to explore the streets and enjoy sightseeing.
An E-bike tour is quite enjoyable as you simply need to use your wrist to manage the bike and don't exert yourself in the process.
There are lots of tour location options available for electric bikes such as Panjim, Old Goa, Divar Island, and more.
If you are scared of the traffic, then islands and local villages are a good place to experience the electric bike tour.
Try the Traditional Goan Food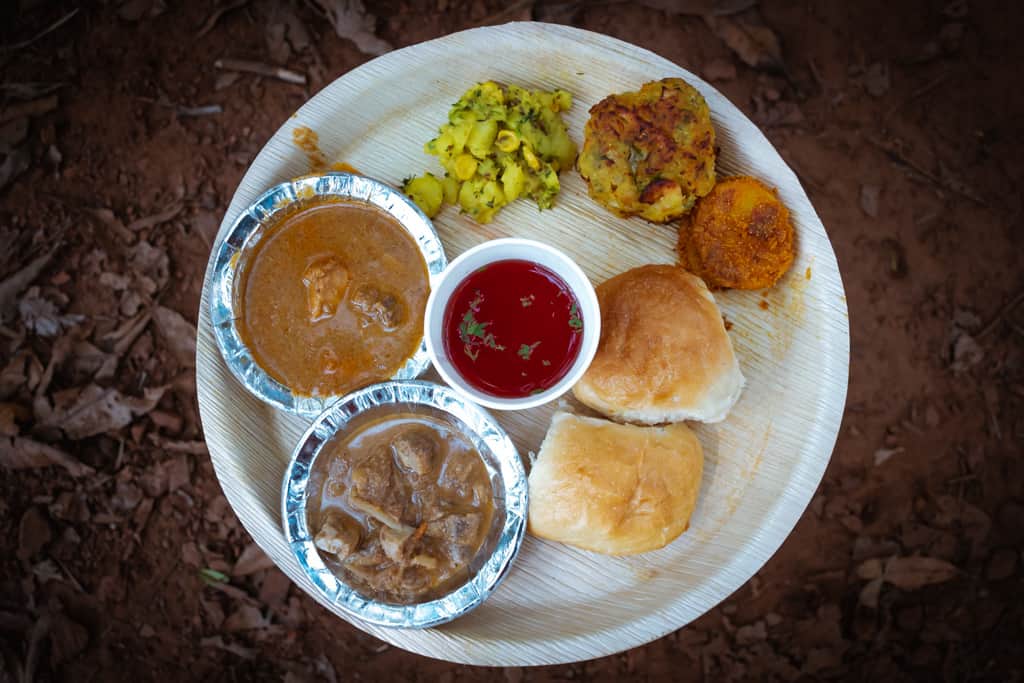 If you are a foodie and non-vegetarian like me, then you should definitely taste the traditional Goan food. Goan red rice, Vindaloo, Poee, and Xacuti are few delicacies that you just have to try.
In desserts, you simply have to try Bebinca which is a multi-layered cake made from coconut milk.
Get a Tattoo
If you have always wanted to get a tattoo, then Goa is the best place for it. Consider it as a souvenir for your trip and be reminded of the wonderful memories of your time in this paradise.
Not sure about getting a permanent tattoo? Don't worry, you can always opt for a temporary tattoo here too!
There are many reputed tattoo parlors in Goa but a few top ones are Inkfidel Tattoo, Moksha Tattoo Studio, Krish Tattoo Studio, etc.
Do remember that you cannot wet your tattoo for the next couple of days. So, I would advise you to get a tattoo at the end of the trip so that you can enjoy splashing in the water before it.
Spend Time at the Cafes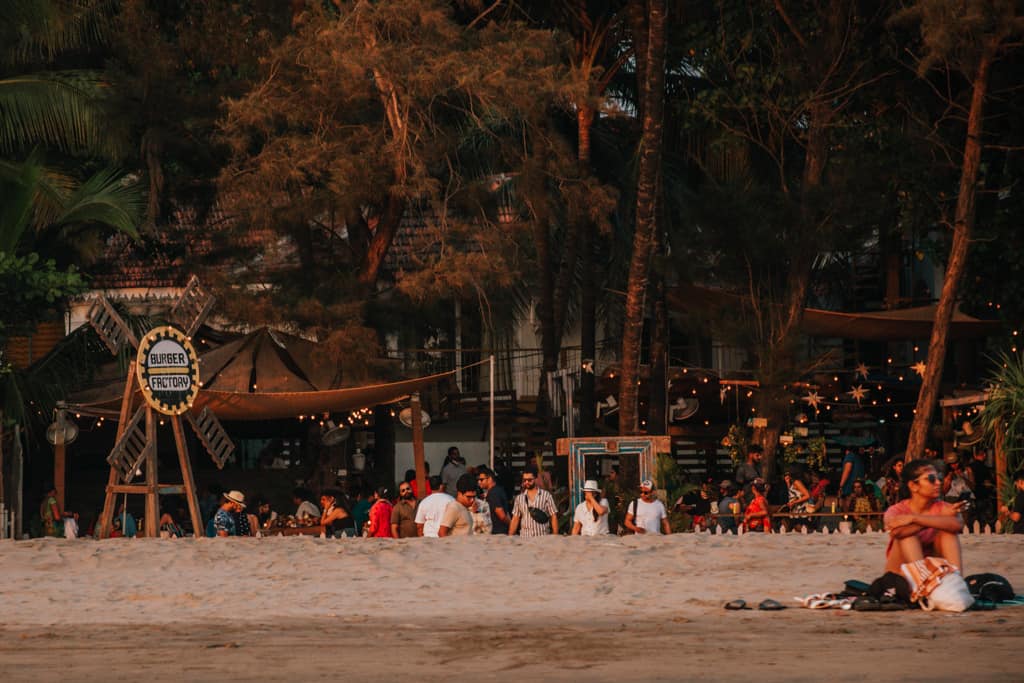 Goa is home to lots of fun and unique cafes that offer an amazing ambiance and food. So, it would be a shame to not visit as many as you can.
The Burger Factory, Artjuna Cafe, Purple Martini, Eva Cafe, and Garden of Dreams are a few of the most beautiful cafes that you must visit in Goa.
Take a Hot Air Balloon Ride
Another unique experience that you cannot miss out on in Goa is a Hot Air Balloon Ride. The ride is usually 1.5 – 2 hours long and offers you stunning top views of the Goan coast and the Arabian Sea.
The ride is shared by 10 people or you can book a private hot air balloon ride too but it would be a little expensive.
There are several locations where you can get a Hot Air Balloon package such as Chandor, Panjim, Assolda, and so on.
Drink the Local Feni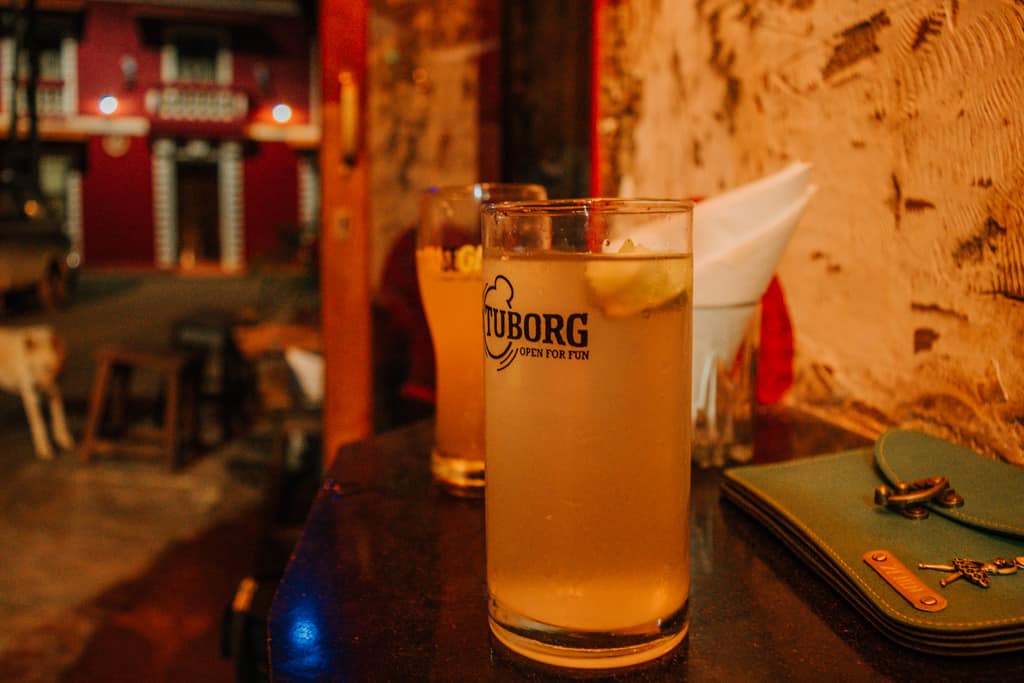 When you are exploring the culture and tradition of Goa, it is essential that you try the famous Goan drink Feni too.
Inspired by Portuguese, this local drink is made from cashew nuts fruit and is a popular alcoholic drink. It has a unique, tart taste which might not be everyone's cup of tea.
But you get it pretty cheap in Goa so, it would be a shame to not try it out once.
Visit the Local Temples
As I said earlier, Goa is not all about beaches or partying. So, once you are done with that, you can even explore a few historical temples here.
Yes, Goa is home to some amazing temples with gorgeous architecture and high spirituality. A few temples to not miss out on are Brahma Temple, Mahadev Temple, Mangeshi Temple, and so on.
Try Cashew Fruit and Cashew Nuts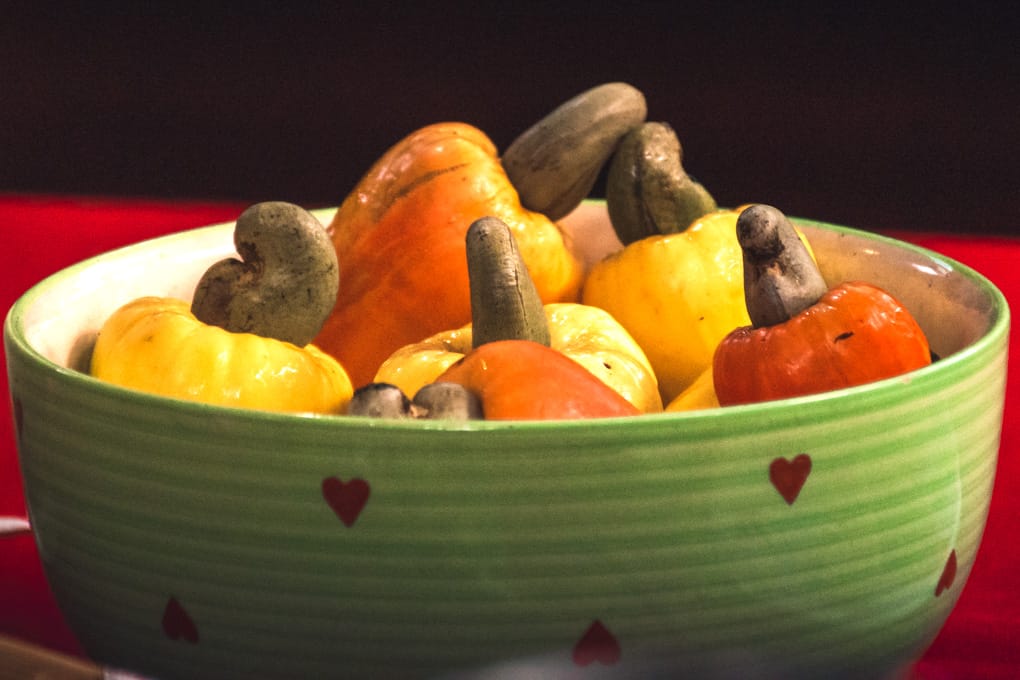 Since Goa extensively grows coconut palm and cashew fruits, it is definitely a good idea to buy cashews as souvenirs.
Although whole Goan cashew nuts are expensive, you can get the broken ones for a reasonable price. Cashew is also used in making the delicious local drink Feni which is why it is popular among the Goans.
You can also eat the fruit but you have to be careful about plucking it at the right moment to eat else it can be dangerous for your health.
Bird Watching at Salim Ali Bird Sanctuary
For nature lovers and avid bird watchers, Salim Ali Bird Sanctuary in Goa is a must-visit place. With over 473 bird species, this national park is a paradise for birdwatchers.
It is located at Mandovi River and was named after Dr. Salim Moizuddin Ali who was a true bird lover. One can take a ferry to Chorao Island and then walk to this sanctuary and experience the quieter side of Goa.
Join a Local Village Tour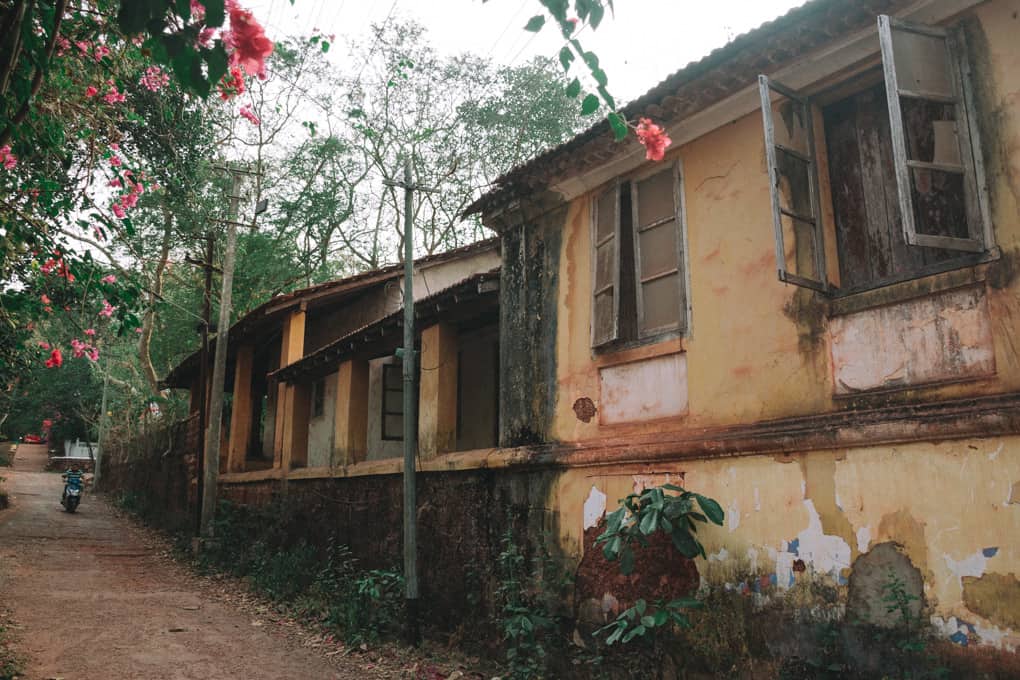 One of the absolutely best things to do in Goa in October is to take a village walking tour. This is a great way to experience the real Goa and learn fascinating stories about the history of the village.
You can also indulge in village experiences and see a different side of Goa. There are many good local tour companies in Goa that you can reach out to book a village tour.
From Saligao to Aldona, there are many charming villages in Goa that you can explore.
Attend the Sunburn Festival
If you are looking to enjoy yourself, then one of the best things to do in Goa with friends is to attend the famous Sunburn Festival.
This is an EDM music festival where both Indian and international artists perform for music lovers from all over the world.
The festival goes on for 3 days and is the number one music festival to attend in Asia.
Check Out the Clubs and Bars in Goa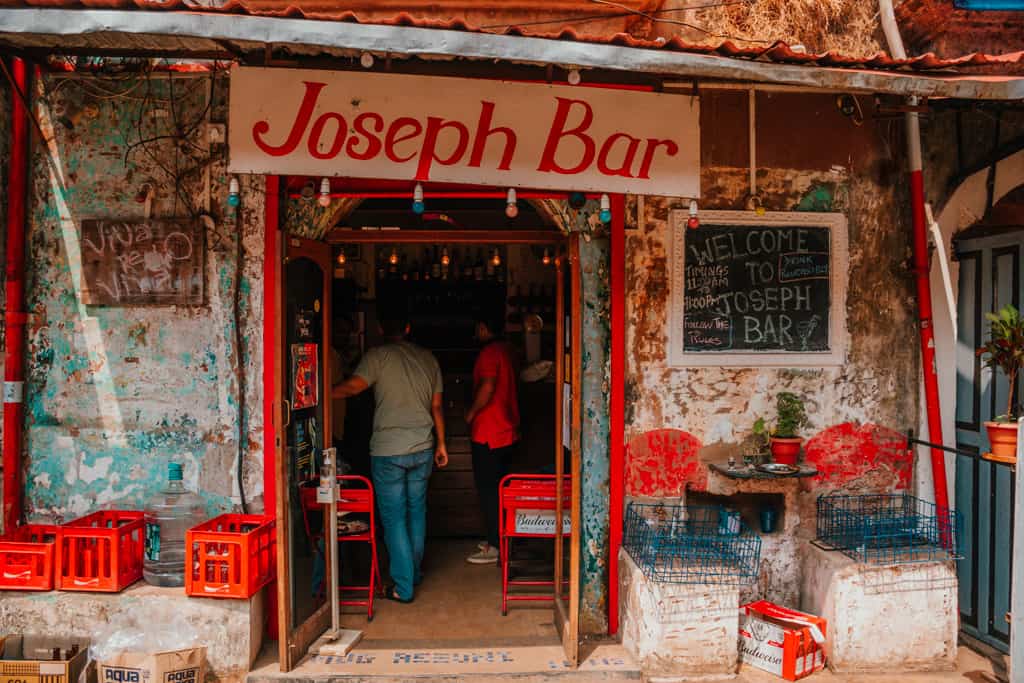 Of course, one of the best things to do in goa at night is to go to a club or a pub and enjoy an evening of dancing and fun.
Party like you have never done before with a drink in your hand and experience the happening nightlife of Goa.
There are lots of famous clubs for dancing such as Club Cubana, Mambo's, LPK, and more. If you are looking for a chilled hangout scene, then Joseph's Bar in Panjim is the perfect place to check out.
Go to Silent Party at Palolem Beach
One of my favorite things to do in South Goa was heading to the silent party on Palolem Beach! We all know that Goa is famous for its beach parties but this one is unique.
What makes it different from other beach parties? Well, it is as happening and glamorous as other beach parties but the music is played on the headphones.
Yes, you heard me! You dance to the beats of the music being played on the headphone and don't disturb others in the vicinity. Now, doesn't that sound like a lot of fun?
Buy Clothes and Accessories from Flea Markets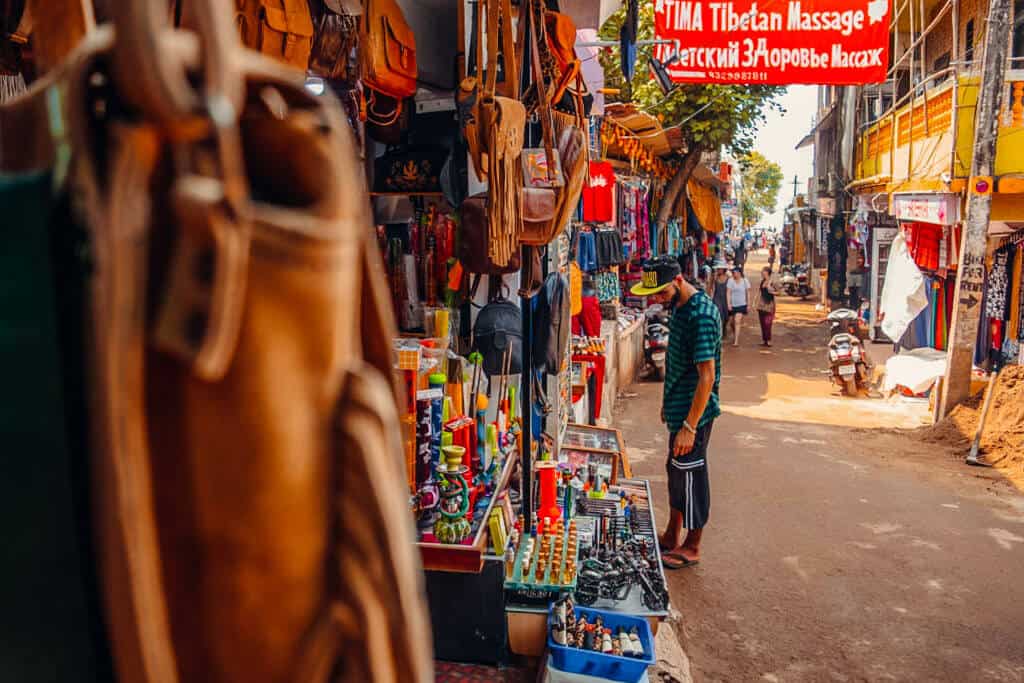 If you are looking for Goa-centric souvenirs, then you should check out the famous Wednesday Flea Market in Anjuna.
It was started in the 1960s and has been a popular hippie attraction for centuries. A paradise for shopping enthusiasts, you will find hippie jewelry, costumes, and local handicrafts here to take as souvenirs.
You can easily spend a day here but it would be better to arrive in the evening to escape the afternoon heat.
Apart from the Wednesday Market, you will find a flea market in Arambol as well. You will get amazing handicrafts here including fanny packs, backpacks, home decor, and more.
Bungee Jump at Mayem Lake
One of the most adventurous things to do in Goa would be to bungee jump at Mayem Lake. This place attracts adventure lovers as there are lots of recreational activities to do.
If you love the thrill of free-falling, then you should definitely try bungee jumping in Goa.
Visit the Famous Movie Locations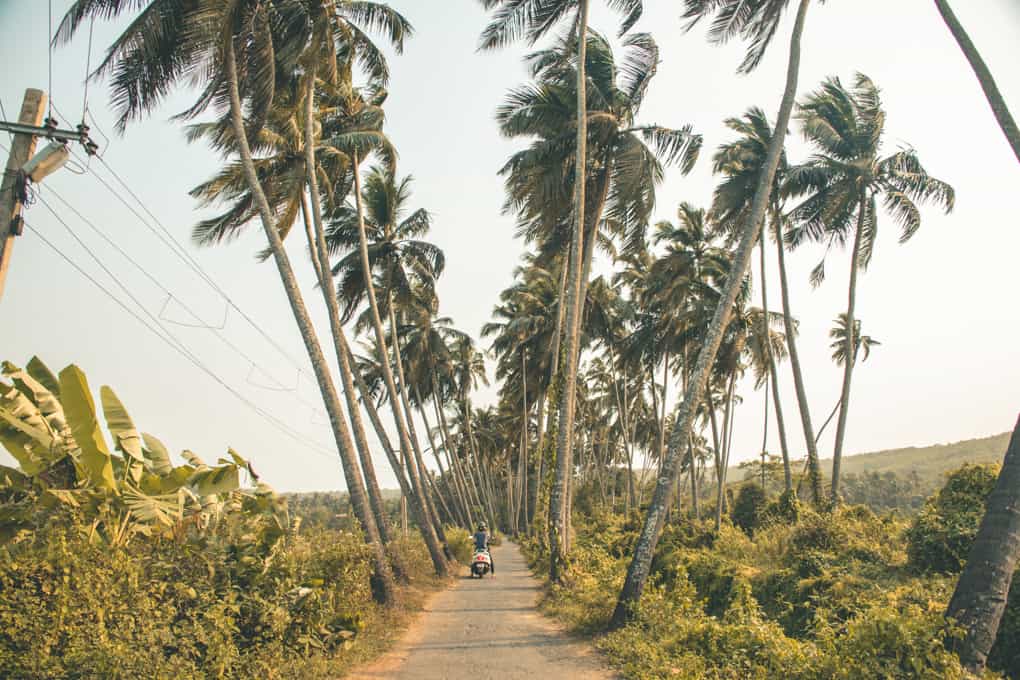 Did you know that Goa has been featured in a lot of movies and web series to date?
Of course, most of us know that the famous Dil Chahta and Dear Zindagi movies were shot here. But those are not the only Bollywood movies to be shot here.
Many other movies were shot here such as Finding Fanny, Golmaal, Singham, etc. and it would be a shame to not visit the locations where they were shot.
Chapora Fort, Saligao, Parra, and Aldona are a few places where some of the scenes from these movies were shot. Don't forget to visit these places and click a picture here to show your family and friends.
Cycle at the Chorao Island
One of the best ways to explore the beautiful Chorao Island is on a bicycle. You can enjoy the panoramic view of the island and can even head to the famous Salim Bird Sanctuary on the cycle.
Make sure that you have a good breakfast as it would be energy-consuming. After cycling around the island of Chorao, you can even head to Divar Island to spend some time there.
Explore the Beautiful Waterfalls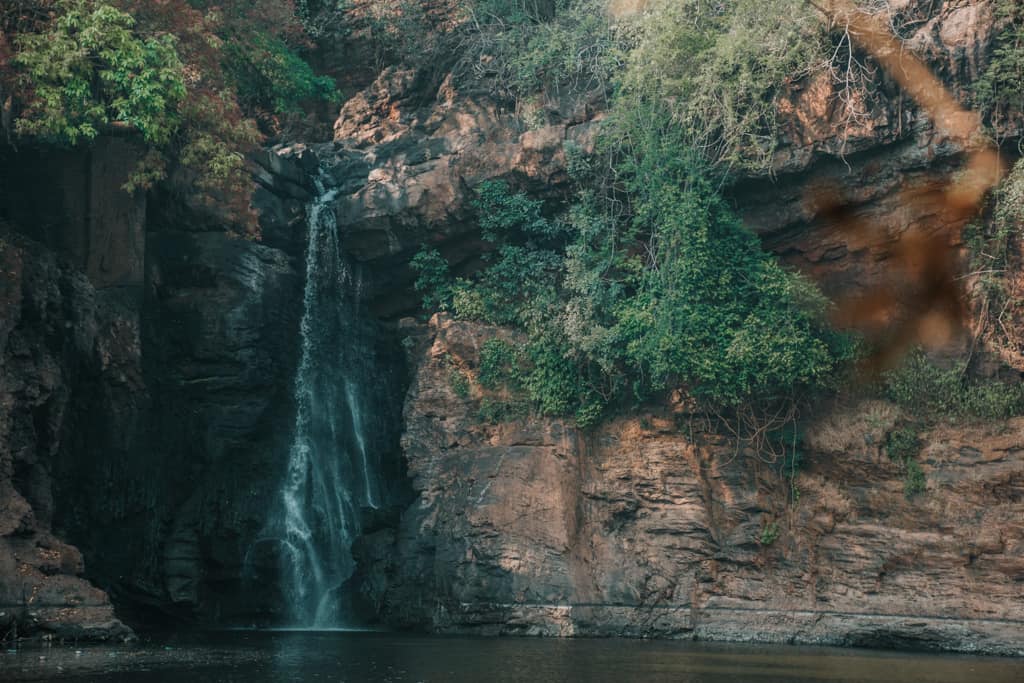 Planning a trip to Goa in October? Well, then one of the most important things to do in Goa in October is to visit the waterfalls here.
Goa is home to lots of beautiful waterfalls such as Dudhsagar Waterfall, Todo Falls, Harvalem Falls, Bicholim Waterfall, and more.
A few of these waterfalls require a short trek through the woods but are secluded and the best place to hang out for adventure and nature lovers.
Also, you will find more water in the waterfalls post-monsoon and the waterfalls start drying up by January end. So, plan accordingly.
Stay in a Beach Shack
Are you bored of staying in hostels or hotels in Goa? Then, you should definitely stay in a beach shack to make the most of your Goa trip.
There are several amazing beach shacks on beaches such as Palolem, Morjim, Ashwem, etc. where they offer you a comfortable stay with all the modern amenities.
Moreover, waking up to the sound and sight of the ocean waves is a dream come true.
Personally, I loved Dunes Huts and Restaurant in North Goa that offers amazing facilities and views to the guests.
So, what do you think of our list of fun things to do in Goa? What was your favorite activity or memory of Goa? Let us know in the comments below!