Are you looking for the best hotels in Almora for a short vacation? Well, then you should definitely check out The Pahadi Organic in Almora.
I am sure you are aware that for any good vacation, you need to book a good hotel for the duration of the trip. While there are many hotels available in Totam region, one that really stood out for me was The Pahadi Organic.
Whether you are planning a family vacation, a group trip, or a couple vacation, this hotel is perfect for everyone. You can enjoy the best services and facilities here along with the comforts of your home. Most importantly, this place gives you a chance to learn about the Kumaon culture prevalent here.
Read on to know more about this amazing hotel and what you can expect from your stay here.
The Pahadi Organic Review 2022: An Exquisite Stay in Almora, Uttarakhand
About The Pahadi Organic
Started as a gesture to spread the joy of eating Kumaon local dishes made up of organic vegetables, The Pahadi Organic has now become a symbol of the Kumaon experience.
The owners, Ranjeet Rawat and his son, Chetan Rawat, started this effort in 2017 by opening The Pahadi Restaurant where they serve an assortment of Kumaon dishes like Dubke, Lapasi, Palak ka Kappa, and so on.
But that wasn't enough, they wanted to further share the Kumaon culture and region with the tourists and started the present-day motel in January 2018.
Now, The Pahadi Organic has become synonymous with an authentic Kumaon experience and is one of the best hotels in the Totam region.
From activities to views, this property has it all which makes it a good choice for anyone who is looking for an offbeat weekend trip to a hill station.
Built out of wood and stones, you can notice the intricate design and wood carving which further add to your Kumaon culture experience.
And the cherry on the cake is that since it is just 30-35 km away from the Corbett National Park, you can easily go on a safari to catch a glimpse of the animals here.
Website: www.thepahadiorganic.com
Instagram: www.instagram.com/thepahadiorganic
Facebook Page: www.facebook.com/thepahadiorganic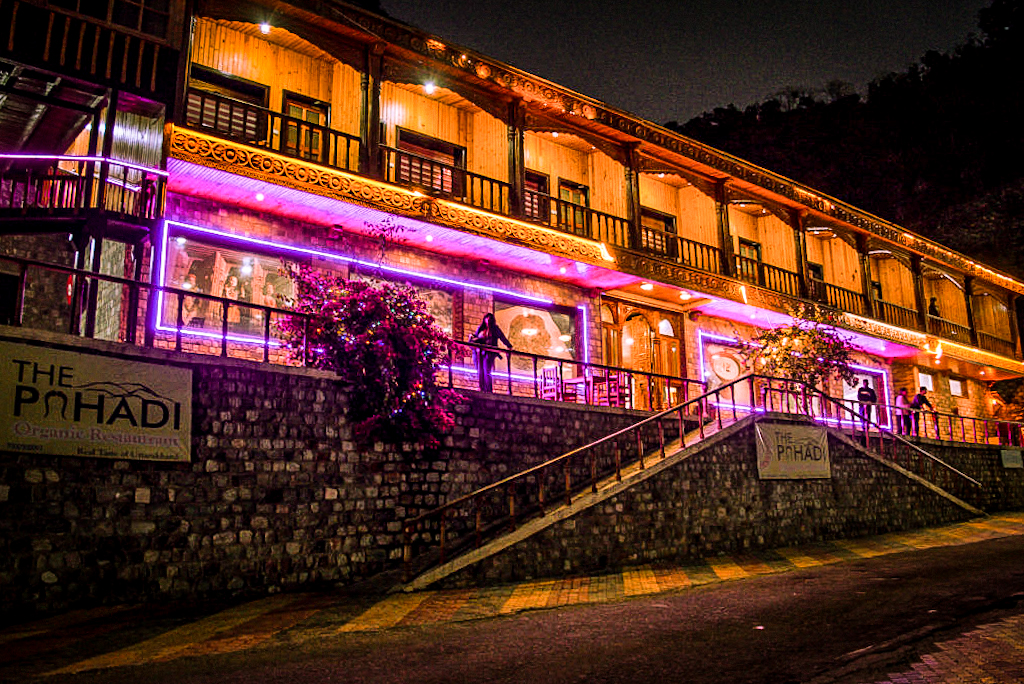 What Makes This Hotel Unique?
Welcome with a Local Dance Performance
When you arrive outside the hotel, the first thing that you would notice is a group of traditionally-dressed men in white churidar, tanka, and Chola.
They would have drums, shell horns, flutes, etc. in their hands which they would start playing while performing the traditional Kumaon 'Sword Dance', Chholiya.
A dance which originated thousands of years ago, it is quite refreshing and is likely to be a different experience from any hotel that you have visited so far and will certainly put a smile on your face.
Day Trip to Jim Corbett National Park
Another great thing about this hotel is that it is situated just 30 km away from the Jim Corbett National Park.
So, if you would like to go on a safari, you can book your stay here and then enjoy morning or evening safari to sight some tigers.
You can also ask the owner to book private safaris for you beforehand so that you don't have to worry about the small details.
Gorgeously Lit and Spacious Rooms
One of the things which impressed me the most about this hotel is the room design and decor. They have a total of 14 luxurious rooms here, made up of wood, which offers a really cozy feel to its guests.
In the room, they have provided a comfortable double bed, a TV, a mini-fridge, a locker, cupboard, seating arrangement by the window, and a clean and sophisticated mid-sized bathroom for use.
Also, you will find a beautiful painting hanging just above the bed which gives a little charm to this place and there is a small balcony attached which offers the mesmerizing views of the Himalayan foothills.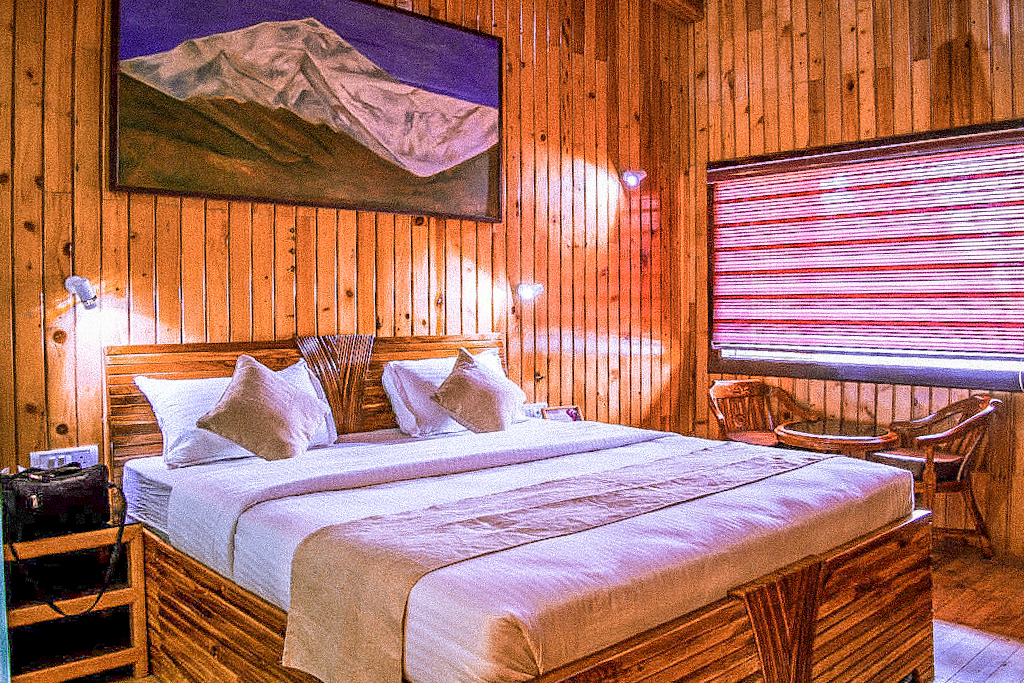 Healthy Eating and Living with Organic Farming
It is a quite refreshing change to be served food which is made up organic vegetables that are plucked right before the meals.
Yes, you heard me right! They have their own organic farm where they grow a variety of fruits and vegetables. This includes turnips, cabbage, spinach, gourd, and so on. They also grow their own spices and pulses and will also oblige you with a tour if you are interested.
If you are someone who gets hungry quickly and often then make sure you inform the staff beforehand. This is because once you order, they go to the farm to pluck the fresh vegetables and then start preparing your meal.
So, unless you want to stay hungry longer and wait for your food, make sure you order in advance.
Practices Eco-Tourism and Eco-Living
Another thing which sets this place apart from other hotels is that they believe in eco-tourism.
As a result, they have their own organic farm where they grow most of the vegetables, spices, etc. for their restaurant. But that is not all, they also have a Solar panel installed which provides hot water in your bathrooms and is a great way to conserve energy.
Apart from that, they also do rainwater harvesting and often prepare their own fuel in order to be more responsible towards the environment.
Authentic Kumaon Cuisine Offered in the Restaurant
Finally, the thing which actually sets it apart from all the other hotels in the region is their food menu. They have a wide range of Kumaon dishes which you won't find anywhere else and is a great way to deep dive into the Kumaon region.
For breakfast, you get Chhou (red rice chapati) along with dahi, aaloo ki sabji, and gaderi ki sabji (arabi) which is oh-so-delicious.
They make lots of local dishes such as Bhutuwa (cooked goat intestines), Madue ki Roti (finger millet chapati), Mutton Surua (mutton curry), Gahat ke Dubke (Gahat daal), Palak ka Kaapa (Spinach daal), Red rice, Bater (Quail Curry), and so on.
Each dish was unique and exquisite and really opened our taste buds. We also tried the local desserts like Madue ki Badi and Laapsi which were exotic and mouth-watering.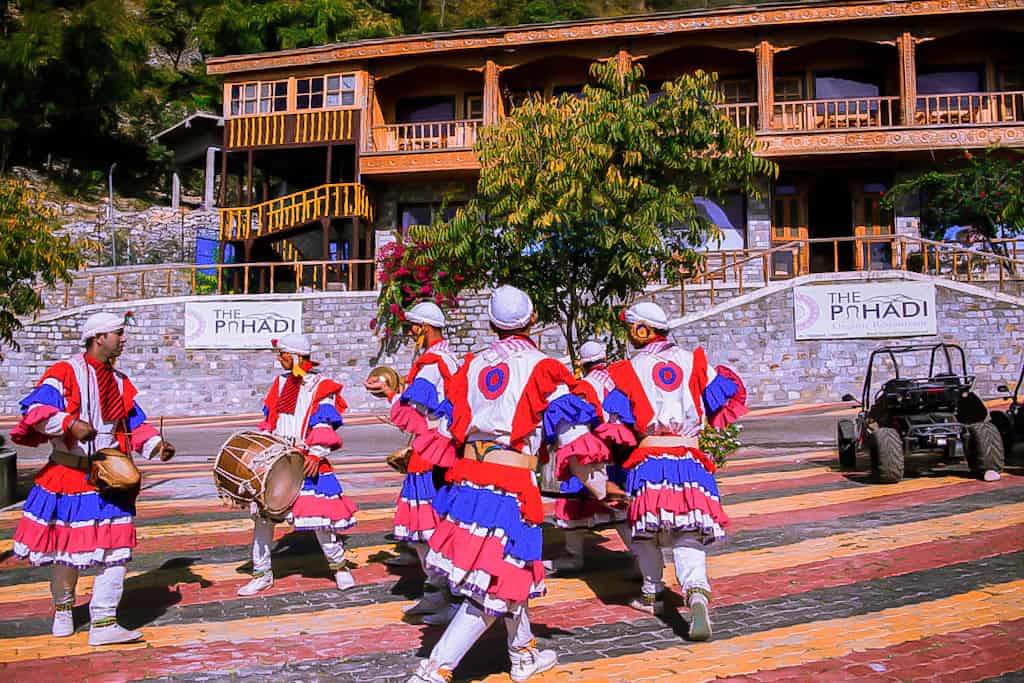 Activities to Indulge In and Around the Hotel
Village Walk to Interact with the Locals
You can go for a walk to the Kholyon Village which is just a 5-minute drive and then a 10-minutes downhill walk from the hotel. As we went during the evening time, we could witness the beautiful Golden hour here and instantly felt like we were in some fairyland.
Here, Chetan showed us around the village and introduced us to the locals who were smiling and excited to share their knowledge about the village and the customs there.
We also stopped at the Village Head's house who has the most beautiful and intricately designed homes in the entire village.
A Tour of the Organic Farm
Here, you can also take a short tour of their local farm and learn more about the process.
You will be shown around their 4 polyhouses where they grow a variety of vegetables like turnips, ladyfinger, cauliflower, fenugreek, bottle gourd, onion, and so on. You will also come across a few decorative plants which they use in their restaurant and lobby to decorate the place.
And you also get a glimpse of their poultry and animal farm where they keep quail, goats, etc. so that they can prepare them fresh whenever you order.
Breakfast at an Offbeat Waterfall
Another thing that you can do here is to request a breakfast at the nearby waterfall which is situated around 20 km from the property.
Trust me, this waterfall is a great location to relax in the morning and click some really great photographs at. And since it is not a popular or well-known destination, you can be sure to have it all to yourself.
Sunrise and Sunset Hikes to Enjoy the Views
One of my favorite activities while staying at this hotel was the sunrise and sunset hikes around the property.
While I am more of a sunset person, this is one of the few places where I actually didn't mind getting up early (barely) to enjoy the morning views.
There are a few places here where you can watch the most amazing sunsets like the Tolyun Dhura, Paragliding site, etc. And if you are lucky then you might witness a gorgeous moonrise and moonset as well.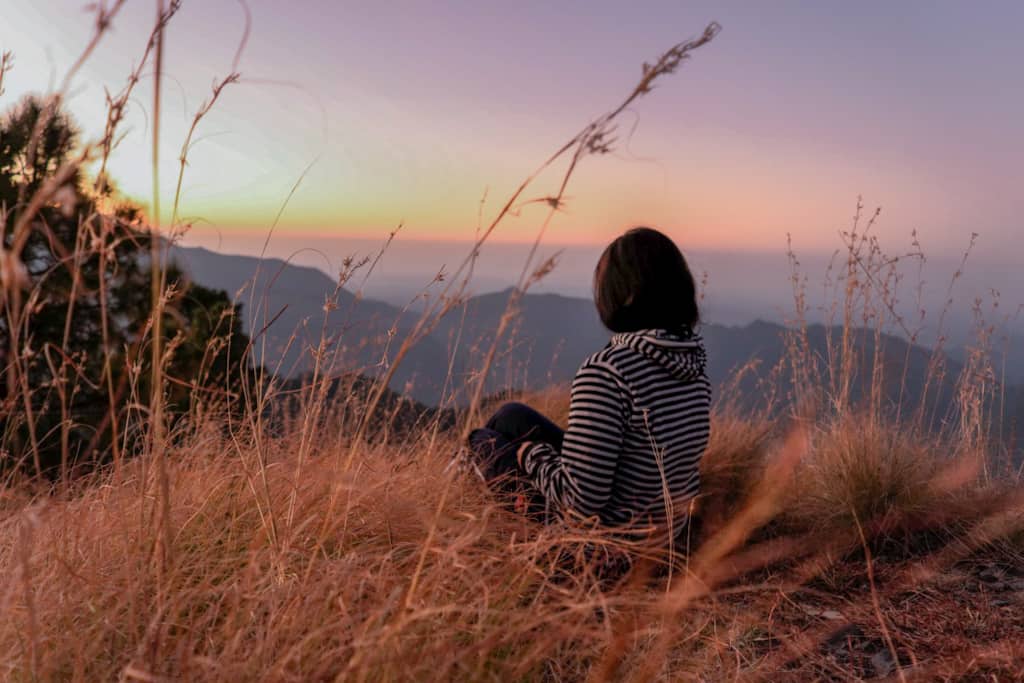 Where is it Located?
The Pahadi Organic hotel and restaurant is located in the Gate section, near the Totam village in Uttarakhand.
It is situated at a distance of 40 km from the Ramnagar village and is surrounded by the Himalayan foothills so you enjoy a nice and pleasant climate throughout the year.
The property is located roadside so you have plenty of buses and shared taxis going on this route which makes it easy to reach via public transport.
And it is around 30-35 km away from Corbett National Park and 40-45 km from Ranikhet. So, you can have day trips to explore other places as well while enjoying a comfortable stay here.
How to Reach
By Car
If you have your own car or a driving license then you can rent a car and drive up to this place. It is situated around 357 km from Delhi and would take about 6-7 hours to reach.
The roads are in good condition for the most part so if you have experience in driving on hills then you can definitely go for a road trip to this place.
By Buses
If you can't drive, don't worry. You always have private and state buses going towards Ramnagar which you can book for yourself. An ordinary state bus will cost you 290 INR from Delhi to Ramnagar and will take around 8-9 hours to reach.
There are a few private Volvos also for this route which you can opt for if you want a comfortable journey.
By Train
You also have two trains from Delhi to Ramnagar which take around 6-7 hours and cost around 170-250 INR if you choose Sleeper or Second Sitting.
And once you reach, Ramnagar, you will get a local bus going to Totam village which will cost about 50 INR, take 45-50 minutes, and will drop you right outside the Pahadi hotel.
Best Time to Visit
Although this is a year-round destination, if you want to plan a visit to the Corbett too then the best time to visit would be the winter months, I.e., November to March. At this time, it would be slightly cold here but you would get absolutely clear views of the Himalayan mountains.
In fact, you would also find it easy to spot some peaks like Trishul, Panch Sheel, Gaumukh, and so on. However, come with warm clothes and sweaters as it starts to get really cold here from the month of October – November.
You can also visit the place in the Summer or Spring season as the weather remains cooler than the plains. And you also have a greater chance of animal sightings in Corbett as the animals stay near the water source to sate their thirst.
For people who aren't deterred by landslides and a little rainfall, the monsoon is the best time as the entire place becomes lush green and extremely gorgeous to look at. Personally, the monsoon is my favorite time to head to a hill station.
Summary
In the past 3 years, I have easily stayed in more than 50 hostels, homestays, and hotels but The Pahadi Organic can easily be called one of my favorite stays ever.
The host, Chetan, was really considerate and helpful during our entire stay and went out of his way to make us feel welcome.
And frankly, I don't think I am going to forget the beautiful moonrise and sunset here anytime soon. Honestly, it was one of the most gorgeous mountain sunsets that I have ever chanced upon (this includes Bir sunsets as well).
Trust me, if you are looking for a place for a staycation in Uttarakhand, then you need to visit The Pahadi Organic.