Are you looking for a good hotel or airbnb in Kasuali? If yes, then you should definitely check out Sylvan Villa Kasauli.
A place straight out of a fairytale, that is the only way I can describe this majestic place in Dharampur. Located in a secluded location, Sylvan Villa is perfect for families and couples and offers stunning mountain views to the visitors.
If you are looking for a relaxing staycation in the mountains, then this place is perfect! Apart from the stunning views, you always have walking trails around the property to enjoy the outdoors. Plus, you are close to several popular places such as Shimla, Kasauli, etc. so you can easily plan a day trip.
Do you wish to know more about this stay in Dharampur? Then, read my Sylvan Villa Kasauli review to learn more about the facilities and services offered at this beautiful property.
Sylvan Villa Kasauli: A Luxurious 100-Year-Old British Villa in Dharampur
About Sylvan Villa Kausali
A magical setting with a mesmerizing backdrop, is what Sylvan Villa is all about. This fairytale-like home in Dharampur is situated at a height of 4,830 ft. above sea level and is quite well-known for its history and culture.
The property was previously a school during the British time and is said to be 100 years old by some historians. In fact, it is supposed to be the first school in Dharampur and there are a few oldies who come here every now and then to reminiscence their school days.
You can actually feel the old world charm here in the setting of the gramophone, charkha, old rocking chair, and so on. The decor here will make you feel like you have been transported into the colonial period.
This place is truly vintage but not just from the inside, but from the outside too. You have a properly maintained garden here, surrounded by trees, and the villa itself is covered with leaves and vines which gives it a completely other-worldly feel.
Trust me, if you wanted to experience a luxurious stay at a vintage house while enjoying the quiet and peaceful environment then Sylvan Villa is the place for you.
Website: www.sylvanvilla.com
Facebook: www.facebook.com/SylvanVillaResort/
Instagram: Instagram.com/sylvan_villa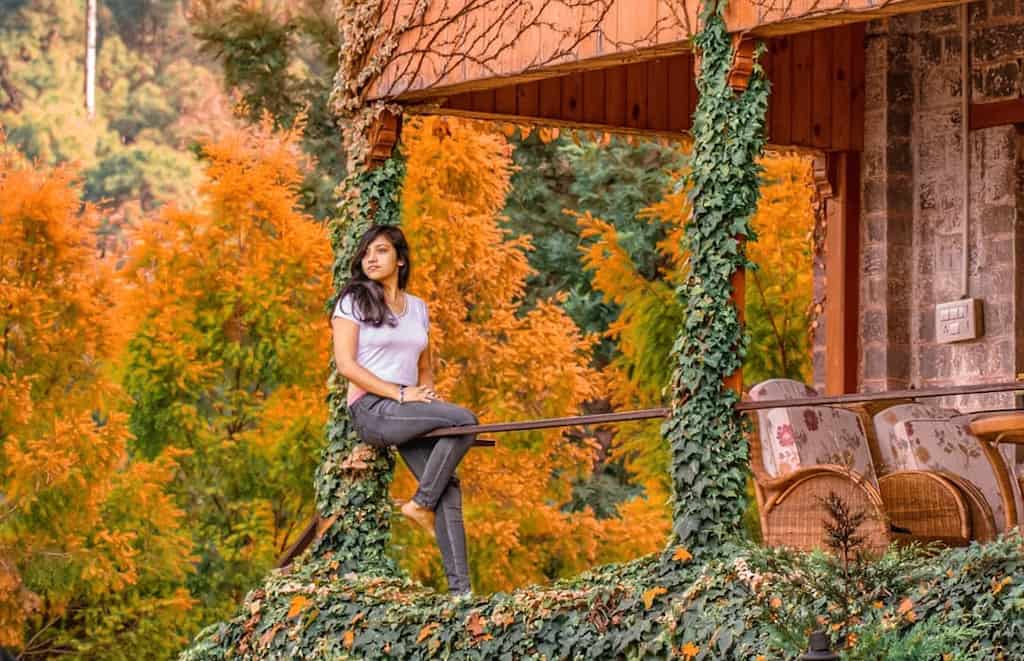 Where is Sylvan Villa Located?
Sylvan Villa, located 1.5 km from the Dharampur center, is perched on a hilltop from where you can admire the gorgeous mountain view.
If you are in one of the first-floor rooms, then you have a panoramic mountain view every morning from your adjoining balcony which is pretty amazing.
It is close to the local market but far enough to keep you protected from the town hustle and bustle and is a great place to relax.
Located around 1 km from the Dharampur Railway Station and 2 km from the Dharampur Bus Stand so you won't find trouble in terms of accessibility. But since it is situated at a height, you will actually hear the birds and crickets chirping which can be really therapeutic.
Honestly, Sylvan Villa is located at a nice, secluded spot and is the perfect place to get away from the fast-paced city life and loosen up for a little while. You can walk barefoot in the garden here or simply sit on the verandah to enjoy a nice cup of coffee/tea while enjoying the natural sounds around you.
Rooms at Sylvan Villa, Kasauli
There are 3 rooms available in the Sylvan Villa, all of which are spacious and luxurious.
There is 1 room on the ground floor and 2 rooms on the first floor. Each room has a huge double bed, a large dressing room, and a kickass bathroom. The dressing room has cupboards for you to store your luggage and a big vanity mirror to help you get ready.
And the washroom is huge with a washbasin, an English toilet, and a glass-enclosed bathing space.
The first room floors also have a combined balcony which offers the most magnificent view of the mountains and is decorated beautifully with lanterns. There is also small seating and a table set up here where you can have your breakfast or you can work while enjoying the views.
The ground floor room has a verandah which is beautifully decorated with plants and flowers and there is a seated swing for you to enjoy the view. Each room is also beautifully lit up so that when you look from the outside, the effect is completely magical.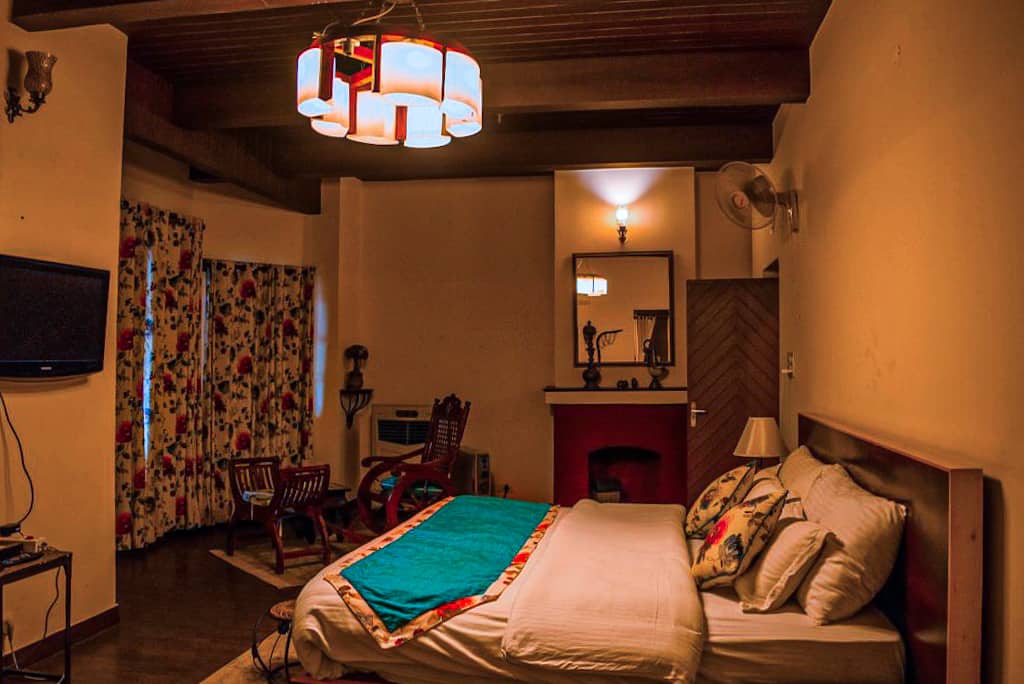 Services Offered at Sylvan Villa
There is a kitchen attached to the dining room where most of your meals would be served, if not specified otherwise.
You can ask the chef (Govindh) or the caretakers (Rasal and Sunita) to prepare snacks for you when you feel like eating. Or you can prepare something yourself too if you so wish to.
There is also a living room with 3 sofas for use where you can watch the TV and just spend some time playing games or interacting with each other. Each room has a Heater so if you feel cold, you can just turn it on to feel warm and toasty again. Also, they have a portable WiFi device that you can use to complete your work.
Overall, we loved the hospitality at this place and we definitely felt well cared for during our stay there. Rasal and Sheetal made sure that we didn't feel the need for anything and were ever-ready to help with any requests that we had.
Food at Sylvan Villa
In regards to food, the menu at our time was simple since we were only two people and couldn't tell them beforehand what we would like to eat. But that doesn't mean it lacked in taste or quantity.
I especially loved the Dal Makhani and the Chicken Curry prepared by the chef here and my friend, Radhika, really loved the Aaloo Gobhi that they had specially prepared for her.
There was also Paneer ki Bhurji which was delicious and the Aate ka Halwa, in the end, was completely mindblowing.
We actually ended up eating the entire big bowl of halwa. We also had Gulab Jamun and Chocolate Ice Cream as dessert for other meals which was equally delicious and mouth-watering.
You also get delicious Paranthas for breakfast and can order snacks like Sandwiches, French Fried, Pakodes, and so on here.
Things to Do In and Around Sylvan Villa
Although relaxing and chilling should be your main priority in Sylvan Villa, it doesn't mean that you cannot keep yourself active with some sightseeing and fun activities.
Here are a few things that you can do around here to keep yourself occupied.
Day Trip to the Kasauli Town
The town of Kasauli is just 15 km away from Dharampur so you can go for a day trip here via bus or your own car.
You will find several buses going to Kasauli throughout the day which will take 30-40 minutes to reach and will cost you 20 INR for the journey.
In Kasauli, you can roam around the market and go to the viewpoints to click some photographs. And then, in the evening, you can head back to Dharampur and relax at Sylvan Villa.
Short Hike Through the Pine Forest Behind the Villa
Another thing that you can do is go to the pine forest behind the Sylvan Villa Kasauli.
There is a small trail beside the villa which goes to the forest and is a great place to meditate or click photographs. You can just take a walk and enjoy the peace and quiet here.
Walk to the Toy Train Station
If you don't mind walking a little then you can walk further from the pine forest to the nearby Railway Station where many toy trains pass through the day.
You can walk on the railway tracks and reach the Dharamshala Railway Station from here which will make for a good activity. There is also a small park at this railway station so you can sit there and watch the trains pass by too.
Photography Session Both Inside and Outside the Premises
Honestly, Sylvan Villa is a goldmine for photographers and models because there are so many places to click amazing photographs. You can click some beautiful pictures in the garden or the verandah or on the first-floor balcony.
Trust me, there are numerous ideas to execute here, you just need to have a creative imagination. We found several unique spots for amazing photographs but we are not going to tell you, you have to find them yourself.
Play Outdoor Games in the Garden
As mentioned earlier, Sylvan Villa has a big garden so you can play games like badminton, football, cricket, etc. here quite easily.
So, if you are with your friends or family here, you can enjoy a nice staycation here without having to wander off too much.
Indulge in Board Games Here
And if you aren't a fan of outdoor games much then you also have the option to play some indoor games like carom and other board games.
You can bring your own games too and enjoy a quiet, nice night-in while playing games and chatting up with your family
Enjoy the Gorgeous View from the Villa
And last, but not least, you have amazing mountain views to keep you occupied. Trust me, once you start admiring the views from this villa, you will easily lose the sense of time and won't need anything else to keep yourself occupied or entertained.
So, just get your camera and shoot away or relax on a seat and take in the view around you.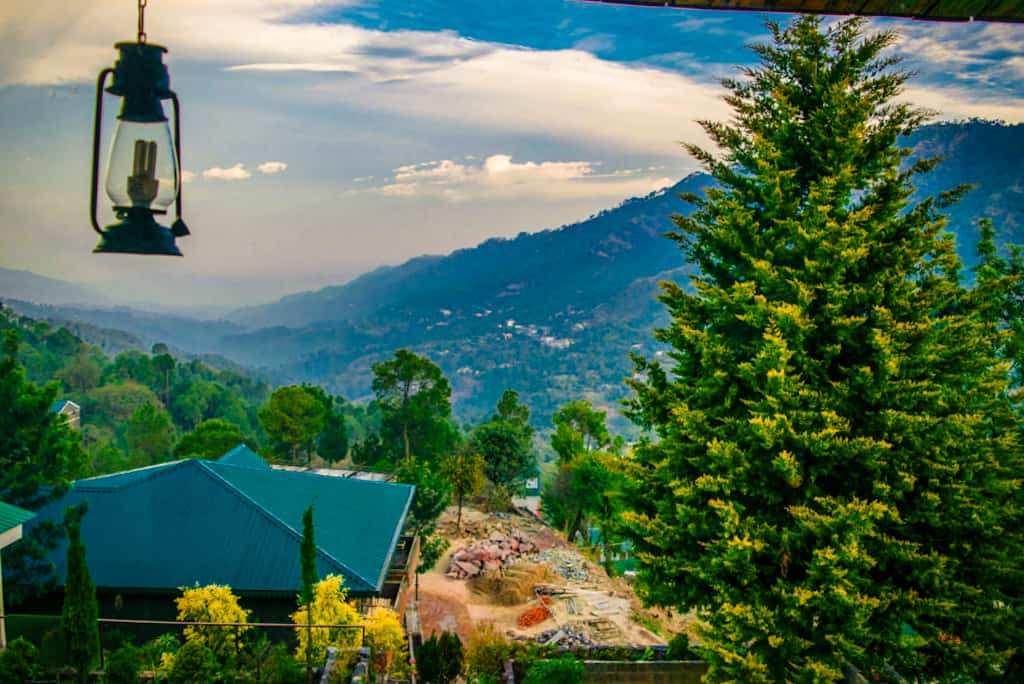 How to Reach
Although Sylvan Villa Kasauli is not hard to reach, it might be slightly difficult to reach because it is not available on Google Maps (I don't know what's up with Google because I have certainly tried to add the place).
However, don't be disappointed because here, you will find clear and easy instructions to reach this place.
Before you make your way to the Sylvan Villa, you have to reach Dharampur first. One thing to note is that there is no direct train or bus to Dharampur so, you have to either reach Solan or Kalka to move on to Dharampur.
By Car
If you have your own vehicle or if you are planning to rent a vehicle then you can directly reach Dharampur.
From Delhi, Dharampur is approximately 280 km so it will take you 6-7 hours to reach. Once you reach Dharampur Railway Station, get off the Kalka-Shimla Road and take a left turn.
Carry on this road to GL Public School and then take the right fork, which you will find just opposite the GL Public School.
After 500 m, you will have reached your destination.
By Buses
If you are taking a bus then you can take a bus to Solan which will take about 8-10 hours to reach. You will get several HRTC buses going throughout the day which will cost you anywhere between 350 – 800 INR, depending on your bus type.
Once you have reached Solan, you can take a local bus to Dharampur which you will get in every 30 minutes. Solan is around 17 km from Dharampur so it will take you about 35 minutes to reach via bus and will cost you about 20 INR.
After reaching the Dharampur bus stand, make your way to the railway station and then keep going straight until you reach the GL Public School.
Enter the gate opposite the GL Public School which goes straight again and you would have reached your destination.
By Trains
If you don't want to be cramped up in a car or a bus for your journey, then the train is another great way to reach Sylvan Villa.
First, you will need to reach Kalka Railway Station and from there, you can take a toy train to Dharampur Railway Station. You can also take a bus from Kalka to Dharampur, it will take about 1 hour to reach and will cost you 50 INR.
But if you want to experience the toy train then this is the shortest distance for you and it will cost you just 30 INR. It will take about 1 hour 30 minutes to reach via toy train.
Once you have reached the Dharampur Railway Station, get out on the main road and then take the left and reach GL Public School.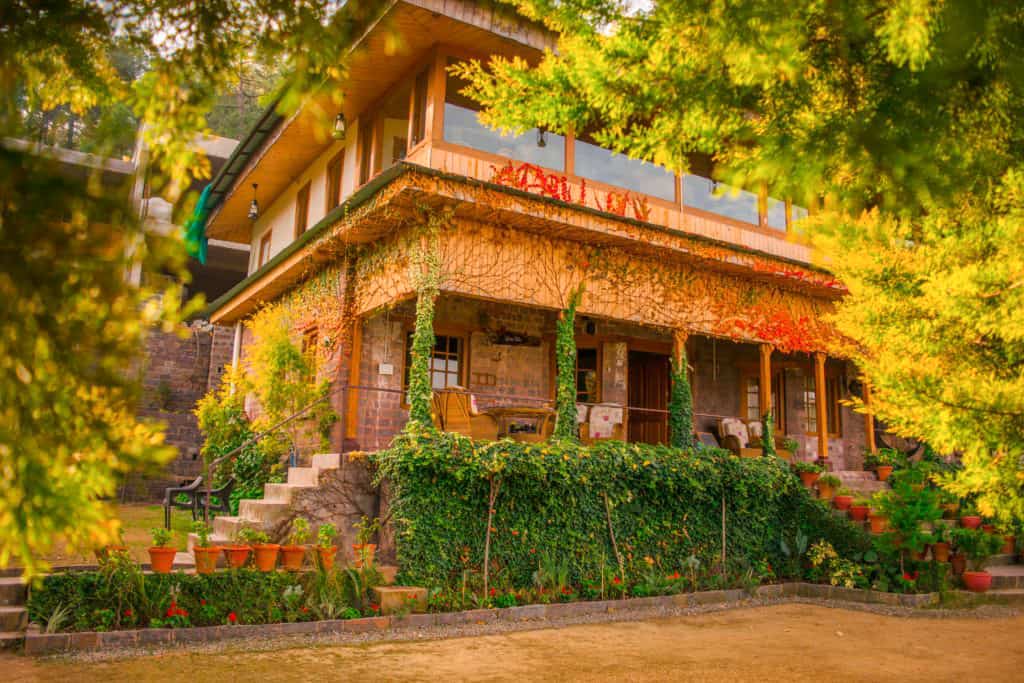 Best Time to Visit
Technically, you can visit throughout the year here. But, if you want clear skies and want to enjoy the mountain views properly while escaping the summer heat, then the summer season is a good time to visit Dharampur.
From March to July, the temperature stays cool here with sunny days which makes it a great weekend getaway.
But if you don't mind a little cold then October – December could be a great time too as you get to witness the autumn colors here. Basically, you can come here anytime you want.
Summary
I absolutely loved my time at the Sylvan Villa, the location was fantastic, the property was gorgeous and the staff was amazing.
Throughout the stay, I walked a lot and it was such a welcome change from our sitting-on-our-asses city life. The air was fresh, crisp, and cool here which further enhanced our experience.
The room itself was huge and cozy and made me feel like jumping on it (which I eventually did). And honestly, we slept quite soundly here too which was an achievement.
The mornings here were quite amazing too because the entire sky would clear up, giving us a view of the valley. And the hot Paranthas in breakfast were seriously mouthwatering.
If you are also looking for a quiet staycation at an offbeat place in Himachal Pradesh or an airbnb in Kasauli, then Sylvan Villa Kasauli is the perfect place for you.
Do let us know in the comments if you have stayed here or are planning to stay here anytime soon!