One of the best cottages in Tirthan Valley, Sunshine Himalayan Cottage is perfect for anyone who wants a comfortable and relaxing vacation in the mountains.
Tirthan Valley is one of the most beautiful, pristine hill stations in India where you can disconnect from the world for a while. Life is slow in the mountains and one can immerse themselves in nature doing things like hiking, fishing, chasing waterfalls, and more.
If you are also planning a trip to Tirthan Valley, then it is important that you choose a good accommodation for your stay. And while there are lots of homestays and camping sites available, Sunshine Himalayan Cottage definitely takes the cake.
In this article, I will share with you a short review of this Tirthan Valley cottage and why it makes a good choice for travelers.
Sunshine Himalayan Cottage Review 2022: The Best Cottage in Tirthan Valley
About Himalayan Sunshine Cottage
Sunshine Cottage is this quaint homestay in Tirthan Valley, Kullu district, where you get to experience a true Himachali culture and meet some amazing people to learn things from.
But that's not all, the location of this homestay is the most amazing thing about it as it lies just next to the Tirthan river, allowing you to relax and unwind on the river bank. The constant river sound is quite soothing to your ears, especially when it is silent at night.
And guess what? This place also has a tree house!! Yes, you heard me right! There is an actual tree house room here where you can stay and live your own magical tales that you previously used to read in stories and novels. The love and dedication with which Mr. Ankit and Panki Sood have been running this place are seriously praise-worthy.
The Sood family started this homestay sometime back in 2017 and have been trying to introduce Community Based Eco-Tourism in Tirthan Valley since then.
If you would like to book your stay here, then you can contact them via the following portals.
Whatsapp Number: +91 8894000613
Email: [email protected]
Facebook: www.facebook.com/SunshineHimalayanCottageTirthanValley/
Instagram: https://www.instagram.com/sunshinehimalayancottage/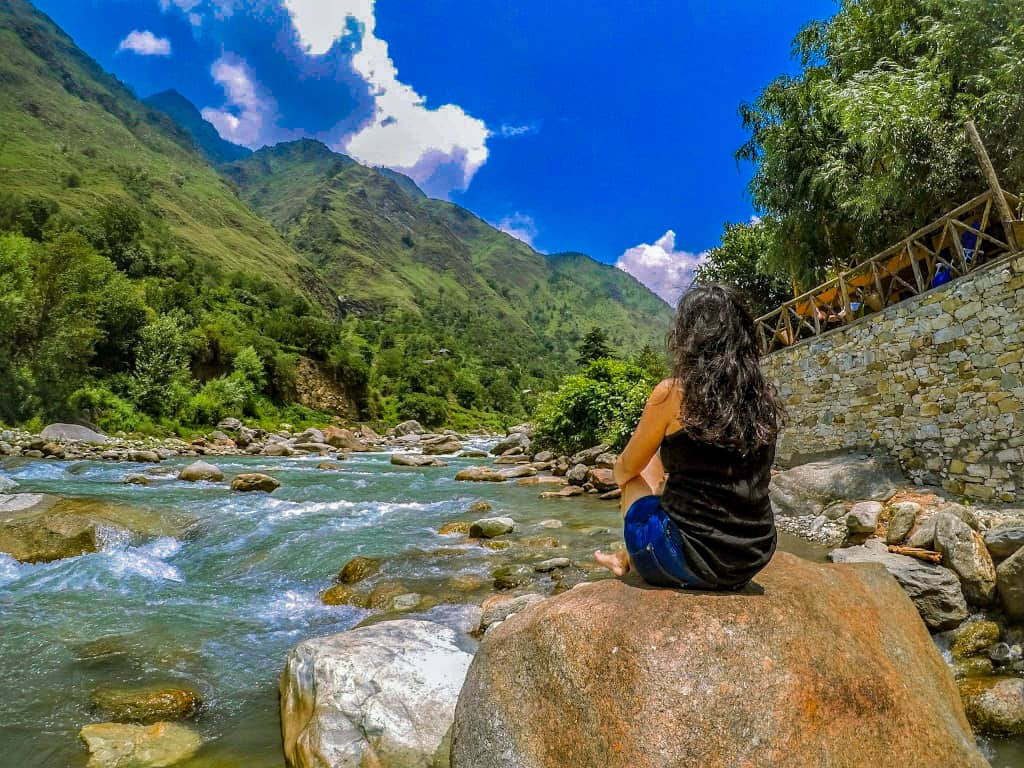 What Makes this Place So Special?
Practice of Eco-Tourism
The entire Tirthan Valley follows the practice of Eco-Tourism and the Sunshine Himalayan Cottage is one of the best examples of this practice. The owners, Panki and Ankit Sood ensure that while entertaining guests, they don't disturb the environment of this peaceful valley.
As a result, they employ rainwater harvesting, organic farming, and use sustainable methods to run their homestay. In fact, they have built the homestay using all the natural elements of the valley like stones, mud, wood, etc., and have even integrated an actual tree in the tree house to maintain the environment.
They also make sure that their guests don't throw plastic in the valley and provide them with reusable water bottles for trekking in order to reduce waste.
Trust me, when you visit this homestay and stay with them for a few days, you will realize the importance of responsible traveling and would never revert back to your old, careless ways.
Local Himachali Staff of the Homestay
Another great feature of this homestay is that the owners employ native, Himachali staff here. These people have been living in Tirthan Valley for a long time and know the culture of this place really well.
This way, the Sood family helps out the local community by providing them with a well-paid job and further opportunities to grow.
Organic Farming Employed on the Site
Another compelling reason to visit this Tirthan Valley cottage is that it has its own organic farm. Here, they grow some local vegetables which are then used to cook some delicious dishes for the guests.
So, you get to enjoy a home-cooked meal made with freshly grown, organic vegetables.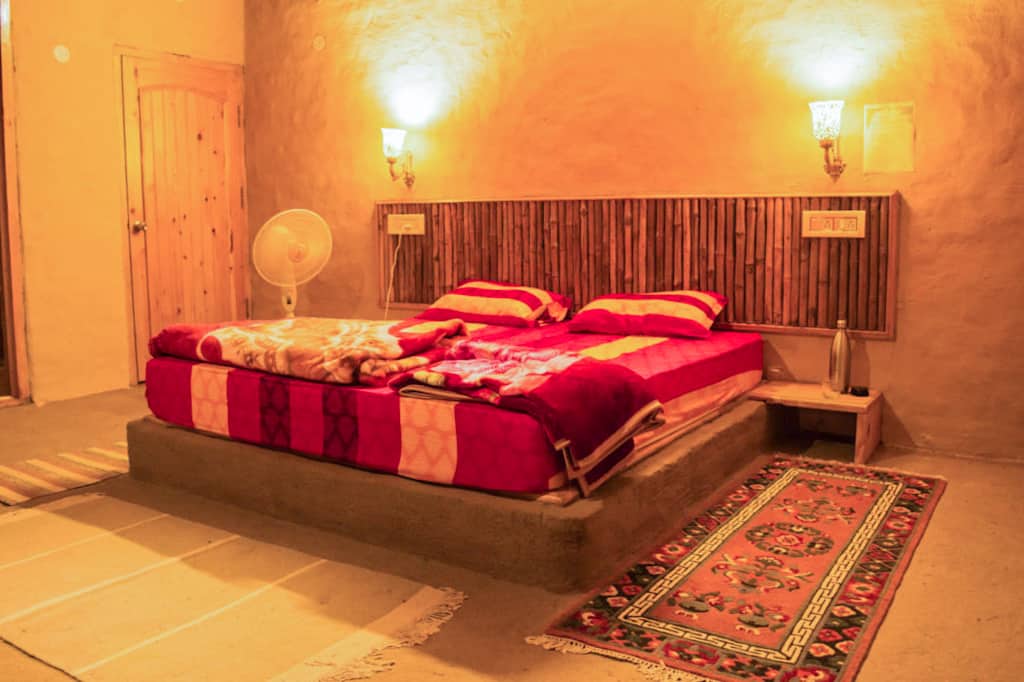 Rooms at Sunshine Himalayan Cottage, Tirthan Valley
As mentioned earlier, there is an actual tree house room in this homestay which will make your entire stay even more exciting and memorable. This room was made up using earth-friendly materials which adds a more authentic touch to this place.
The rooms are bathed in a golden light which makes them feel even more homely and attractive. Also, the colors used to furnish the rooms are quite bright and lovely and made these rooms stand out during the nighttime.
A bonus for me was the big window which was placed opposite the bed. As a result, I got to witness a magnificent valley view from the safety of my room, every morning.
One of the best things about the cottage's architecture is that it was built using leftover wooden logs. Yes, I know it sounds a little unrealistic but that is what Didi Contractor helped the owners accomplish.
The Sood family was extremely impressed by DIDI's mud architecture technique. As a result, they got inspired to implement the same technique in their top-floor rooms as well.
Didi Contractor an eighty-year-old architect famous for her use of natural elements in construction and uses sustainable architectural methods to build new properties.
One of the most amazing things about this architect is that she is a self-taught architect who is majorly into bamboo, stone, and mud architecture.
Food in Sunshine Himalayan Cottage
This is yet another inviting feature of this amazing homestay. You get to taste authentic Himachali dishes which will leave your lips smacking and your stomach sated for a long time.
You will get to taste the delicious Siddus along with some sweet yet enticing Rhododendron Sharbat. And the Himachali parathas, meetha chawal, khatta sabzi, etc. were so finger-licking good that I couldn't stop myself from having multiple servings of those dishes.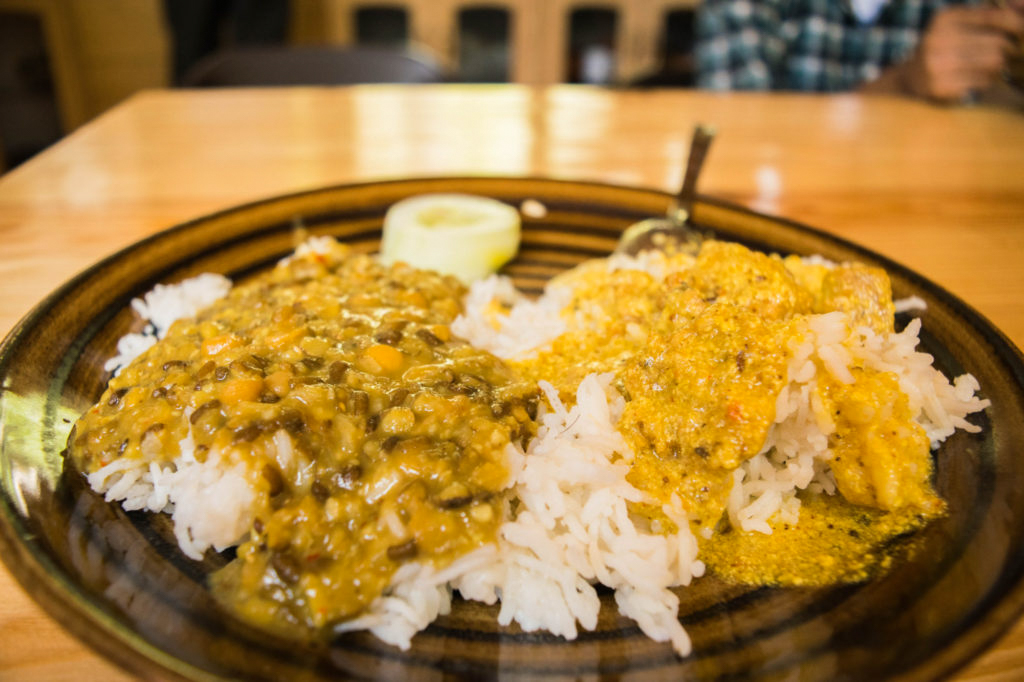 Things to Do at and Around the Property
Another great thing about living at this cottage is that they offer a lot of fun and unique activities to their guests.
They organize several trekking trips to the GHNP, Chhoii Waterfalls, etc. where they send a guide with you. And trust me, the trek to the GHNP gate is a must. Especially if you love the valley views and chilling beside the waterfalls.
Apart from the treks, you can also experience river crossing, trout fishing, etc. here. This is definitely a great way to really enjoy your time in this wonderful land. That's not all though, they also organize village walks and bird-watching sessions to give you a more authentic feel of this valley.
If you love camping beside the river then don't worry, they will arrange this for you too. Frankly, this homestay is a great chance for you to see the true Tirthan Valley.
How to Reach
To reach the homestay, you will first need to reach Aut and then Tirthan Valley. Take a Manali bus and then get down at Aut. If you are planning to take a bus, then you would need to go to the bus stand and take a bus that is leaving for Banjar or Gushaini.
If you are planning to take a taxi, then get down before the Aut tunnel. You can book a taxi to Sunshine Himalayan Cottage by calling +91 98057 84599/ 70182 41799.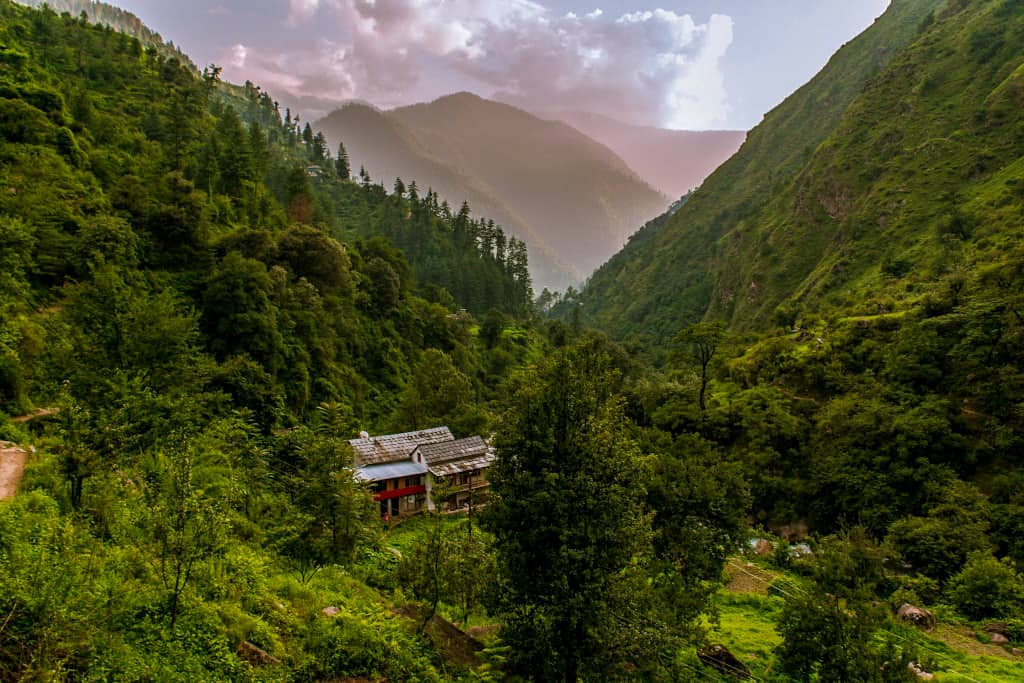 My Experience in Sunshine Himalayan Cottage
I thoroughly enjoyed my 2-night stay in this beautiful homestay and really loved getting to know other talented people who came for this Meetup.
The verandah is the place where I spent most of my mornings and evenings. I clicked photos of the sunset or the valley or just sat and observed my surroundings.
Here, I could hear the soft gushing of the river while lounging on a comfortable chair and could just let myself relax for a little while. The cool, crisp air further rejuvenated me and was a welcome change from the hot, humid air of Delhi.
So, if you want to make the most of your Tirthan Valley trip, then do book your stay at Sunshine Cottage, Tirthan Valley.