Are you planning a Srinagar trip soon? If yes, then this article is perfect for you. As someone who recently traveled solo to Srinagar, I have all the tips and tricks to help you plan a budget trip to Srinagar and nearby places.
This was my first time in Kashmir and I was completely blown away by the people's hospitality here. Sure, it has become a little expensive over the years but if you know the right people and the right places, you can do your Kashmir trip on an affordable budget.
In this article, I have covered all the essential things that you need to know to plan an amazing Srinagar trip for yourself or your loved ones.
So, what are you waiting for? Read on to know more about how to plan a budget-friendly trip to Srinagar!
Srinagar Trip Details: Everything You Need to Plan a Budget Trip
Best Time to Travel
Srinagar is a year-round destination and has something unique to offer in each season. If you wish to witness snow, then you can plan a trip to Srinagar in the winter months, i.e., November to March.
For those who don't like the cold, Spring and Summer months are a better choice. In April, you can also witness the beautiful tulips and other colorful flowers that bloom all around the city.
In terms of flower blooms, May and June is a good time to visit Srinagar as well. However, June can be a little hot as it is the summer season over here.
The months of July and August mark the monsoon season in Srinagar with occasional rainfall. I visited Srinagar in August and it was extremely hot. According to the locals, this has been the hottest month so far. So, if you wish to avoid the hot and humid weather, then avoid Srinagar in August.
Personally, I would say that March – April, and September-October are the best months to visit Srinagar. The weather is dry and pleasant and you can witness beautiful spring and autumn colors around the gardens at this time.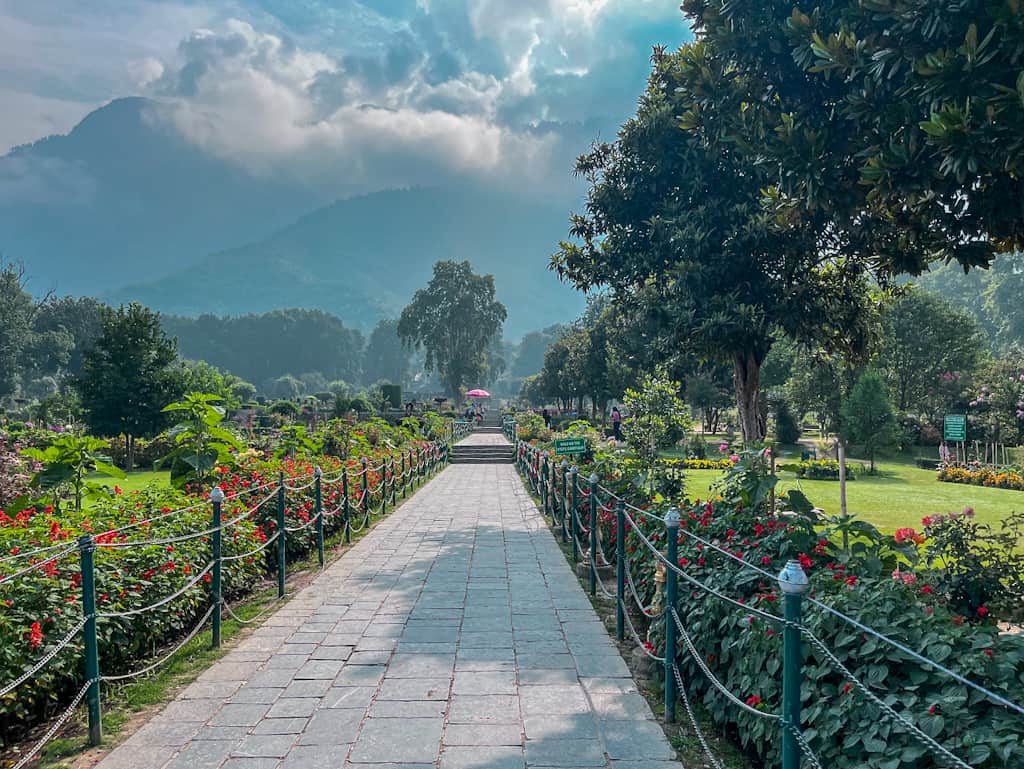 Reaching Srinagar
By Bus
If you are traveling from Delhi, then one of the best ways to reach Srinagar is by taking a direct bus. There are a few direct buses that cost around 2000 INR and take 17-18 hours to complete this journey.
However, do remember that bus journeys can be long and tiresome with lots of obstacles, especially during the monsoon season.
By Train
The closest train station to Srinagar is Jammu Tawi/Udhampur. You can take a train to Jammu and then take a bus or shared taxi to Srinagar.
By Flights
One of the quickest and most convenient ways to reach Srinagar is by taking a flight. The city is home to an international airport – Sheikh Ul Alam International Airport where you can get flights from most cities in India.
From the airport, you can take a bus to TRC or auto to your hotel.
Where to Stay in Srinagar
In terms of accommodation, there are a lot of options available in Srinagar. From hotels to hostels, to houseboats, you can choose to stay anywhere in this Kashmiri city.
The price ranges between 300 – 4000 INR, depending on the month that you are visiting. Initially, when I was looking for places in July, everything was expensive but in August, I would find stays for as cheap as 350 INR as well.
Personally, I would suggest that you spend at least one night on the houseboat as the entire experience is quite unique. Plus, quite often, the houseboat owners turn out to be sweet and friendly and treat you as family, instead of a guest.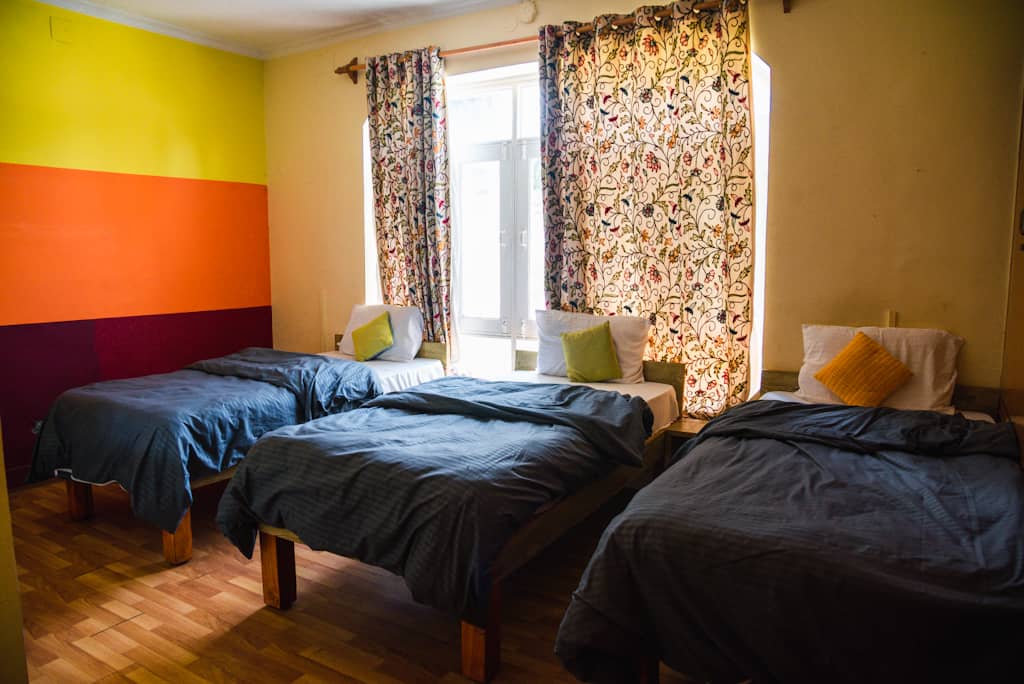 How to Travel in Srinagar
An important thing to keep in mind when traveling in Srinagar is that you need to be aware of the prices to ensure that you don't end up paying more to taxi drivers or auto walas.
Here are a few modes of transportation available in Srinagar that you can use to explore more of this beautiful city.
Cab Service in Srinagar
If you are looking for comfort on your Srinagar trip, then you should consider the cab service in Srinagar. You will find many cabs in Srinagar that will charge you anywhere around 1500 – 2500 INR to cover all the major attractions in the city.
To reach a few places like Pari Mahal, Chashme Shahi, etc., you will need to take a cab as no bus or shared taxi goes to these places.
However, be prepared to bargain a lot as the taxi drivers in Srinagar ask a ridiculously high amount before quoting a reasonable price for the journey.
Shared Taxis in Srinagar
Personally, I preferred to take shared taxis in Srinagar as they were cheap and quick to drop you at your location. At any point, you won't pay more than 30 INR for a 10-15 km journey in a shared taxi.
From Nishat Bagh, you can easily get shared taxis for Lal Chowk which is a popular market area in Srinagar. From Lal Chowk, you can get shared taxis for the nearby major bus stand from where you can catch buses for Gulmarg, Sonmarg, and other destinations.
Buses in Srinagar
Last, but not least, you will also find local buses in Srinagar that cover different routes. If you take a shared taxi from Gulmarg, then you will be dropped at Batamaloo. From here, you can get a local bus to Jehangir Chowk for 15 INR.
From Jehangir Chowk, find a bus to Dal Gate for 20 INR. So, traveling by bus in Srinagar is not only convenient but quite cheap as well. The only drawback is that most of these buses are filled with people and it can be a little difficult to navigate with a backpack.
However, if you just wish to explore Srinagar casually, then buses are definitely a good way to do that.
Food in Srinagar
In terms of food, Srinagar offers a lot of variety which is why foodies are going to absolutely love this place. From the Kashmiri Wazwan to Pizzas, to Brownies, you can find all kinds of local and international dishes here.
Personally, I would recommend you to try local delicacies such as Kashmiri Wazwan, Kashmiri Pulao, Rajma, and so on. Trust me, each dish is delicious and filling and will leave you wanting more and more of it.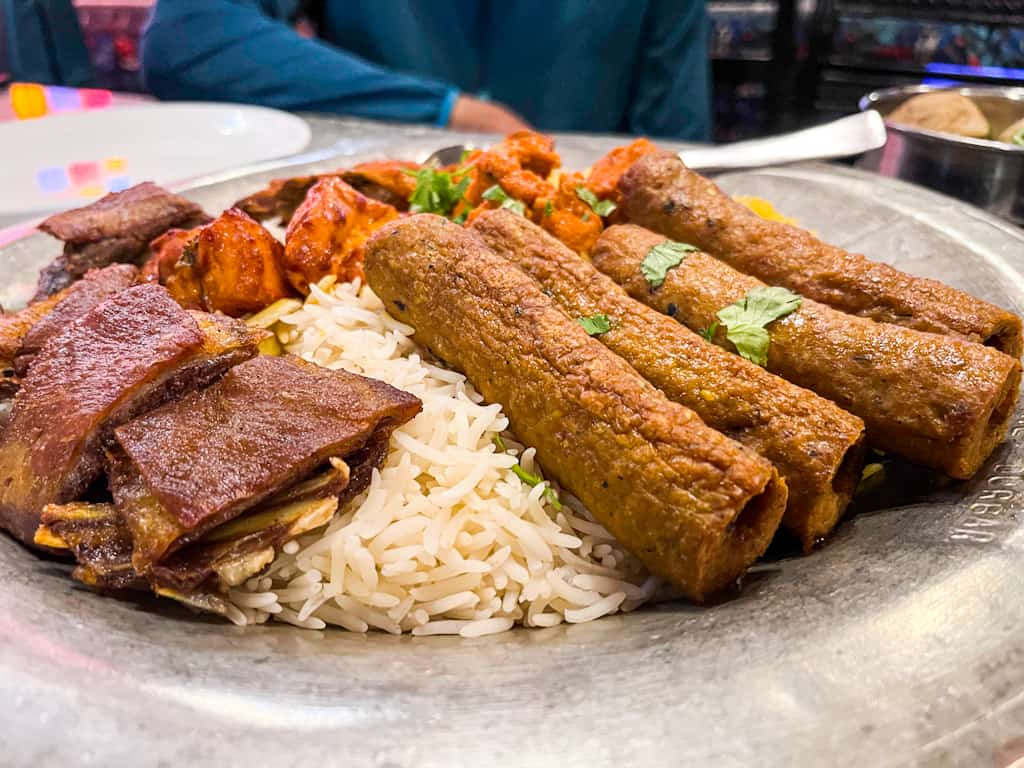 What to Wear and Things to Carry
After traveling for so many years, I feel that it is important to respect the local culture and wear clothes according to your surroundings.
So, for my trip to Kashmir, I packed lots of ethnic because not only the place demanded it but I felt more comfortable exploring in ethnic wear than jeans or pants.
From bright yellow to soft pink, I had all kinds of suits to match the location and I couldn't feel more proud of myself at that moment. There were a lot of people in shorts so, you can wear them.
Personally, I chose ethnic wear as it blended well with the local culture and I felt quite comfortable wearing those.
For men, I would recommend wearing a simple kurta to embrace the local culture. If that's not your thing, don't worry. You can wear a simple t-shirt as well as no one will judge you here. 🙂
Apart from your clothes, here are a few things that you must carry with you on your Srinagar trip:
ID Proof – One thing that you must always carry on your Srinagar trip is identity proof as Srinagar is a heavily guarded city. They might ask you to show your ID when you are exploring the city as part of a regular check. So, keep it handy with you at all times.
Postpaid Sim Card – As mentioned before, you will get any network in Kashmir only if you have a Postpaid SIM card. This is why it is advisable to buy or borrow a Postpaid SIM card before you leave for Kashmir.
Light Jacket – Although it was extremely hot during the day in Srinagar in August, nights were cool and breezy. A light jacket will come in handy when you wish to explore the markets at night or enjoy a quiet shikara ride with the entire city lit up with lights.
Comfortable Pair of Shoes – Another item that I would highly recommend you to carry with you to Srinagar is a comfortable pair of shoes. You will be walking a lot, especially in places such as Nishat Bagh and Shalimar Bagh, and a good pair of shoes will help you enjoy the exploration process.
Network in Kashmir
One of the most important things to remember is that network in Kashmir is a little constricted. Due to security reasons, the network in Kashmir is only available for postpaid SIM cards and not for prepaid SIM cards.
So, if you wish to use mobile internet in Kashmir, you will need to carry a postpaid sim with you. I own an Airtel and a JIO sim, out of which Airtel is a postpaid connection so I didn't face any issues. In Srinagar, I got good 4G internet and was able to work properly without any network lag.
If you do not have a postpaid SIM card, then you can get a prepaid SIM card in Kashmir but you will need to have an ID of a local citizen to buy the SIM card.
Another option is to get a postpaid SIM from vendors in Jammu who sell it to tourists who are traveling to Kashmir. However, be careful as I do not know how reliable this option is. The best thing would be to carry a postpaid SIM from your originating city to Kashmir.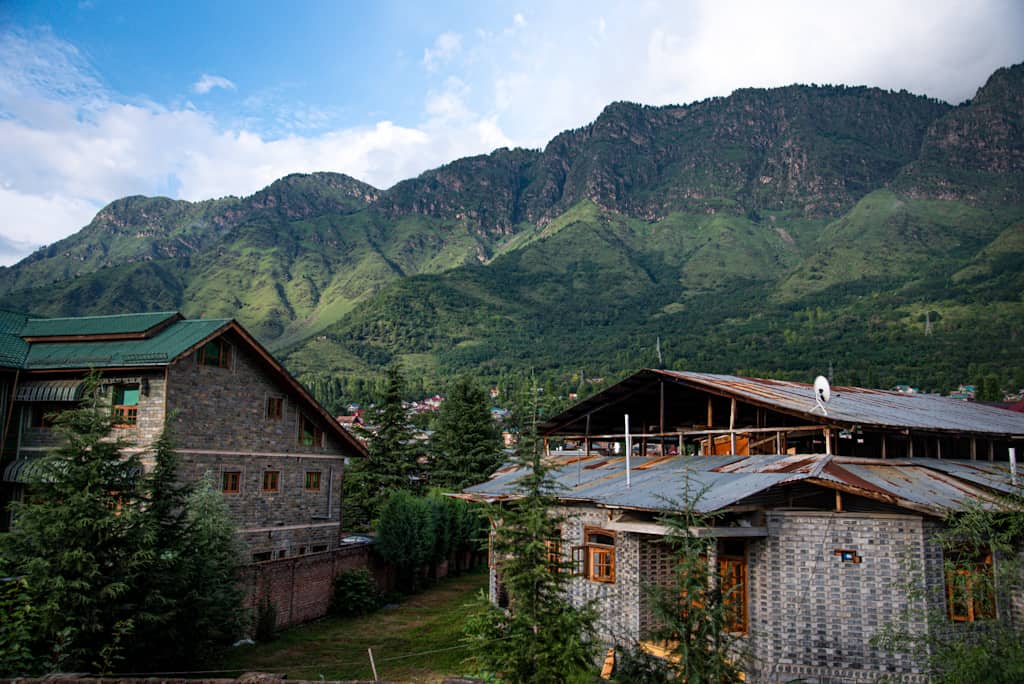 ATMs in Srinagar
As Srinagar has become quite modern over the years, there is no shortage of ATMs in the city. You can find ATMs for Jammu and Kashmir Bank, HDFC, SBI, Axis, and more.
In fact, there is an ATM on a houseboat as well that all the shikara rides and houseboat guests can access to withdraw cash. Most of the ATMs are concentrated near the Lal Chowk area so, make sure you withdraw cash for the day before heading back to the hotel at night.
Online Payment Options
Another great thing about having internet in Kashmir is that hotels and restaurants accept online payment through Google Pay as well now.
So, whether you wish to pay the houseboat cost, food bill, or even shop at the market, you have the option to make the payment using Google Pay if you aren't carrying any cash.
Typical Cost for Staying in Srinagar
Reaching Srinagar
Well, depending on which mode of transportation you use, you can easily reach Srinagar and back to Delhi in 3000 – 7000 INR. Check the flights in advance to get a better deal or use your credit/debit card to avail discounts on the flight tickets.
Accommodation
In the off-season, you can get a houseboat for anywhere between 500 – 1500 INR. Another option is to book a cheap hotel room in the city area which can cost you anywhere between 350 – 1500 INR, depending on the season.
Activities in Srinagar
One of the most important things to consider when calculating the budget for a Srinagar trip is the activities and the attractions that you would be covering here.
You can take a 1-hour Shikara ride that covers most attractions and will cost you anywhere between 600 – 1000 INR, depending on your bargaining skills.
If you want to enjoy a full-day shikara, it can cost you around 2000 INR and you will be able to cover several attractions such as Dargah, Char Chinar, and Nigeen Lake.
Most of the other attractions such as Nishat Bagh, Shalimar Bagh, Pari Mahal, etc. have an entry fee of 10 – 50 INR. So, you won't spend a lot on sightseeing anyway.
Food in Srinagar
In terms of food, Srinagar is a little expensive, especially if you eat at restaurants. However, if you stick to the local food joints, street food stalls, etc., you can easily enjoy a meal for 100 INR.
Total Cost
For a 2-3 day trip to Srinagar, you can expect to spend anywhere between 8,000 – 12,000 INR inclusive of your flights.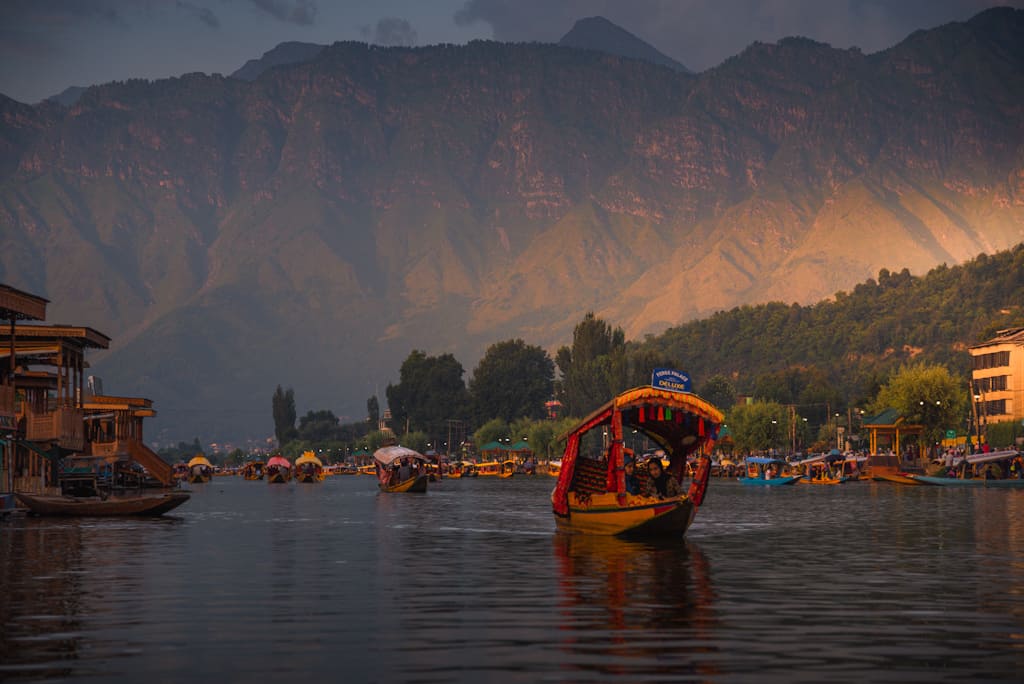 Summary
Srinagar is a beautiful place with the loveliest people that I have ever encountered. Whether it is enjoying a Shikara ride on Dal Lake, watching the sunset from Shankaracharya Hill, or strolling around the Nishat Bagh, there is something for all kinds of travelers here.
So, if you are traveling to Srinagar soon, then I hope this travel guide helps you make the most of your Srinagar trip. As I mentioned earlier, it is possible to do Srinagar on a budget and you can use the tips shared by me to plan your budget trip to this city.