We all know that Goa is one of the most convenient and happening places to visit in India. It is quite easy to reach Goa due to its well-connected roads and railway network. However, a lot of us often end up in the same clichéd places on our Goa trip and aren't even aware of the amazing offbeat places in Goa that we can explore.
Now, you might be wondering. Is there anything else in Goa, apart from the beaches and clubs, even worth visiting?
Well, of course, there is. And in this article, I will be covering a few of the same. Yes, Goa is primarily famous for its party vibes but there are a lot of hidden beaches, forts, etc. that most of us have never even explored.
So, get ready for an amazing trip to Goa with these few offbeat places in Goa!
Offbeat Places in Goa to Visit
Chapel of Our Lady of the Mount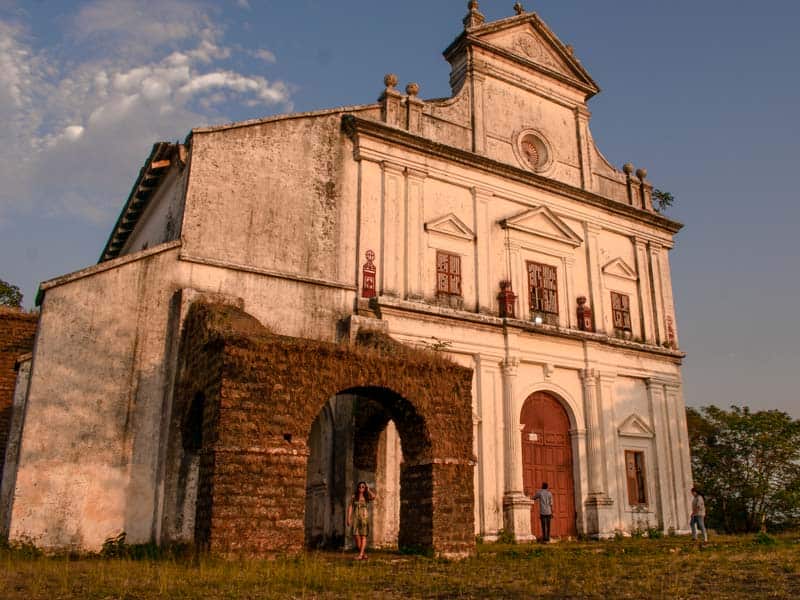 And from here, I watched one of the most beautiful sunsets in Goa that didn't happen to be beside a beach.
Perched on a small hilltop, Chapel of Our Lady of the Mount is a secluded spot in Goa which explains why it often gets missed by most people visiting Goa. However, if you are a fan of old architectures and quiet places nestled amidst nature then you are going to love this chapel in Old Goa.
While the calm and quietude around the church is definitely a good reason to visit this place in Goa, there is another reason why you should make the journey here. This place, since it is atop a hill, offers the most mesmerizing view of the Old Goa, Divar Island, and Chorao island with the Mandovi river winding lazily beside you.
This church was built in 1519 by Afonso de Albuquerque to mark the conquest of Goa and has been rebuilt twice till now. And guess what! This church has also been a backdrop in several Bollywood movies like All the Best, Honeymoon Travels Pvt. Ltd., Zeher, and so on.
Reis Magos
Another offbeat place to visit in Goa that is often overlooked by most tourists is the small village of Reis Magos, located opposite to the Goa capital city.
Reis Magos is basically famous for two things: the Reis Magos fort and the Reis Magos Church (the first-ever church to be built in Bardez). One of the most interesting things about this place is that this village existed before the Aguada Fort and yet not many travelers know about this place. Also, this happens to be another good place to visit to spot amazing sunsets in Goa.
In 1493, Reis Magos fort was used as an armed outpost and was later rebuilt after being conquered by the Portuguese. Currently, it is being used as a cultural center and is usually visited by locals and history buffs. However, if you are just looking for a good scenic place to visit in Goa then this is perfect as it offers breathtaking views of the Mandovi river and the Arabian ocean
Fontainhas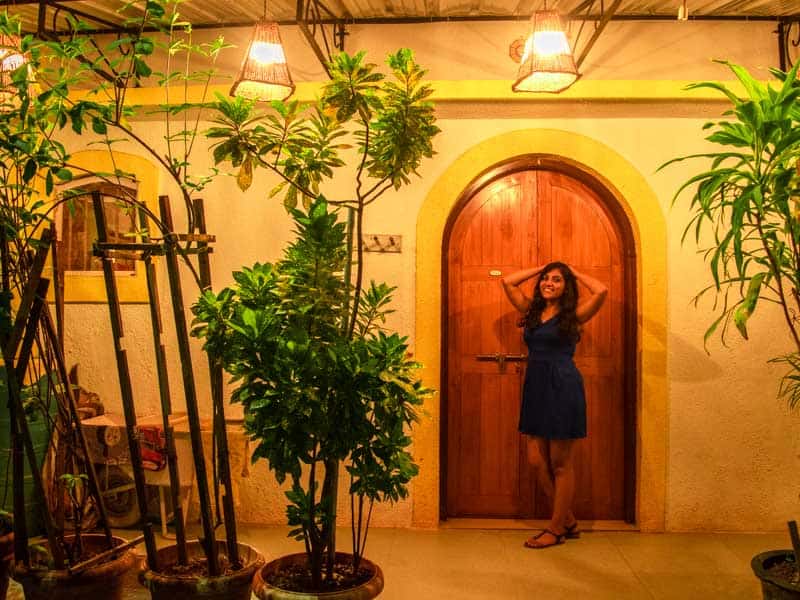 One of my absolute favorite offbeat places to visit in Goa is the colorful Fontainhas that is situated in the Goan capital city, Panjim. Due to the Portuguese influence, the entire area is quite lively and has a deep Portuguese impact on it so much that even the houses and shops built here use the Portuguese architectural concepts.
As a result, you will notice a lot of houses in the small lanes with painted balconies and roofs in a wide range of colors including red, green, yellow, and so on. And one of the most amazing things about Fontainhas is that Portuguese is still widely spoken here.
So, you can plan a stop here and enjoy the ambiance of this place by walking around on the streets and enjoying the colorful aura here.
Dona Paula
Located in the suburbs of Goa, Dona Paula is one of the most intriguing offbeat places in Goa that you just cannot miss out on! It is quite astounding that even though this small village is situated in the capital of Goa, barely anyone visits the place and this spot is mostly filled by locals who come here to chill and watch the sunset.
From the Dona Paula Viewpoint, you can catch the gorgeous sunset views and the mesmerizing ocean views while the Dona Paula beach is a great place to enjoy the seaside. You can even indulge in water sports here or can shop for souvenirs from the shops along the beachside.
There is interesting local folklore associated with this place. It is said that there was Portuguese Viceroy, Dona Paula de Menezes who had a daughter named Dona Paula. His daughter fell in love with a local fisherman but he forbade her to continue this affair. So, in order to relieve herself from the pain and sorrow of living a life without her lover, Dona decided to jump into the sea and end her life.
After she died, her father became disconsolate and decided to name the area after her daughter, Dona Paula.
Aguada Fort Sunset Point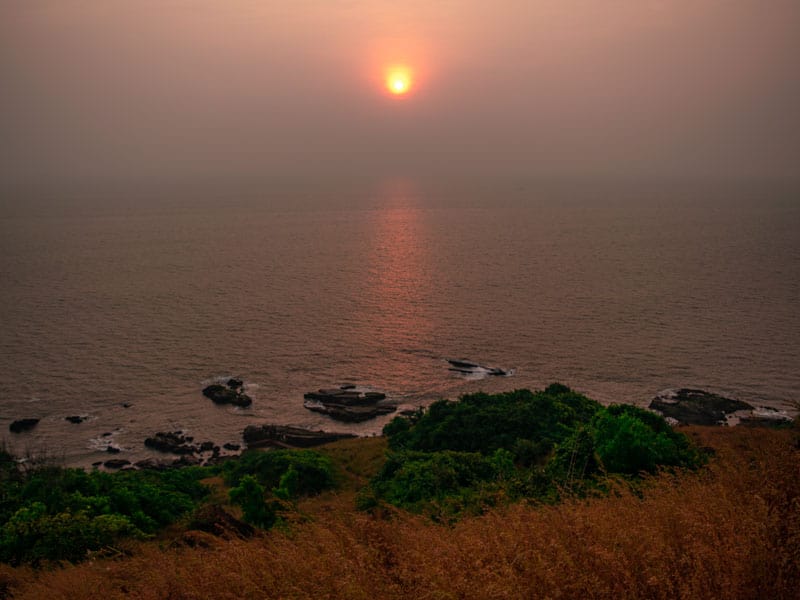 If you are an ardent sunset lover like me then one of the best offbeat places in Goa to visit for you would be the Aguada Fort Sunset Point. And no, this sunset point is not inside the Aguada fort, rather it is a small hidden path that leads from the fort to the edge of the cliff. Sounds enchanting, right?
I stood on the edge of the cliff and traced the path to the bottom rocks where the ocean met the rocks and I was completely transported into a different world. Add to that the cool evening breeze and the orangish-red sky with the sun setting slowly into the ocean and well, you can imagine how beautiful and magical it was.
Honestly, I had no idea such a place existed but thanks to a few locals, we were able to enjoy this beautiful sunset without the usual hustle-bustle. So, if you love such quiet and secluded places too then you should definitely include Aguada Fort Sunset Point in your itinerary.
Safa Masjid
Set on the edge of a large water tank, Safa Masjid is the only surviving mosque out of the 27 shrines that were built by Ibrahim Adil Shah during his rule in Goa. This mosque, built in 1560, is located outside the Ponda town and stands tall and elegant even after so many years. Now, the mosque is surrounded by broken columns but once upon a time, it housed a beautiful garden with several fountains with laterite walkaways.
However, in 1510, Goa was captured by the Portuguese ruler Afonso de Albuquerque which resulted in the end of Shah's rule. What is particularly interesting about this mosque is that it has a beautiful structure and there are elegant Islamic arches decorating the mosque walls. The well-constructed tank has small chambers with meharab designs nearby and the mosque is still used by the local community to celebrate both Id-Ul-Fitr and Id-Ul-Zuha.
This is one of the top offbeat places in Goa that you cannot miss out on. Just go and enjoy the mosque architecture and stroll around the garden to enjoy the ambiance of this place. You can even observe the mosque from the opposite side to watch the reflection of this beautiful mosque in the clear tank water.
Harvalem Waterfall
Tucked away in the northern Goa, Harvalem waterfall is one of the most offbeat places to visit in Goa in the Arvalem village. While this waterfall is not as magnificent as the Dudhsagar waterfall, it is a great visit for anyone who loves waterfalls and wants to spend some quiet time while being surrounded by a lush forest.
Since this waterfall is concealed from the rest of the world, it offers you the kind of privacy that most waterfalls don't. You can even reach the top of the waterfall using the steps made for this purpose but be careful because the rocks and the trees are a little slippery at the top. If you wish to see sufficient water in this waterfall, then the best time to visit Goa is in monsoon season.
There is also Rudreshwar Temple close to the waterfall and the famous Arvalem caves (aka Pandava caves) nearby that you can visit to enjoy a complete day of relaxation here.
Sao Jacinto Island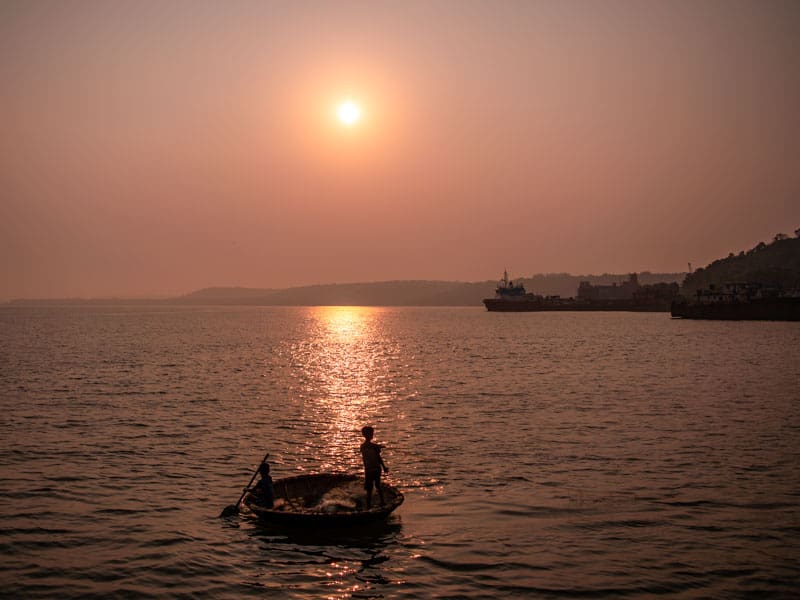 If you plan to visit Goa anytime soon, then one of the most offbeat things to do in Goa is to drive to the Sao Jacinto Island that is situated near Vasco Da Gama. What I absolutely loved about this small island in the estuary of the Zuari river is that how peaceful and calming it was here where I spent just the majority of my time looking at the water and the locals in boats, laying out their fishing nets for the day.
One of the most amazing things about this almost-abandoned island is that it is connected to the mainland Goa via a causeway yet almost no one visits this quiet place. So, you can enjoy the entire place to yourself and interact with the locals to understand the Goan culture.
This island also houses an abandoned lighthouse and a church dedicated to St. Hyacinth that overlooks the waters. I advise you to come here during sunrise because it would be one of the most beautiful sunrises that you would witness in Goa.
Arambol Sweet Water Lake
If you are looking for a quiet and relaxed place to chill then one of the best things to do in Goa is to hike to the Sweet Water Lake in Arambol. Never heard of it before? Well, don't worry, this is one of the offbeat places in Goa that we were talking about which is still unknown to most travelers in Goa. And the fact that it is not easy to reach adds more to the allure and charm of this place.
Lying to the North of the Arambol market side, this sweet water lake is the sole fresh-water lake in Goa close to the Arabian Sea. From the Arambol beach, you will need to cross small shops and pass rocky outcrops to reach this famed fresh-water lake. But once you reach here, the entire journey will be worth it because you will be able to watch the ferocious sea waves on one side and the serene, calm lake on the other side.
The lake is lined with greenery so, you will be able to spend some time here enjoying the shade and can even swim in the lake for a refreshing change. Later, you can rent a sunbed to dry yourself and just relax in the peaceful enclosure.
Palolem Beach
One of the top things to do in Goa is to head to South Goa and spend a day here, exploring the gorgeous and secluded beaches that show you what true Goa is all about. And among the numerous beaches, Palolem beach stands out as one of the most happening places to visit in South Goa.
This white sand beach is lined with palm trees and colorful wooden shacks and you can enjoy a gorgeous view of the Canacona island. Another great thing about this beach is that you will find calmer water here so you can enjoy a swim in the sea.
However, Palolem beach is particularly famous for its nightlife that includes the 'Silent Disco Party' that is organized here every week. In these silent parties, all the partygoers wear a headphone to hear to the music and groove to it and it is a unique experience that you wouldn't want to miss out on.
Dandeya Bridge
One of the most offbeat places to visit in Goa, Dandeya bridge lies near Arambol and is one of the few places that many locals don't know about. As a result, it can be a task to find this bridge on your own as no one in the vicinity has a proper clue of this location. Luckily, on one of my trips to Goa, I was able to locate this bridge on the Dando road, close to the starting of Arambol beach.
While the bridge itself isn't extraordinary, the backdrop makes this setting a postcard-worthy shot. And one of the best things about this bridge is that since very few people come here, you have the entire bridge to yourself for a full-blown photography session.
However, you have to plan your visit carefully because if you visit this place during the afternoon, you are likely to suffer heatstroke and won't be able to enjoy the bridge setting in all its glory. So, plan a trip to this bridge near Arambol beach during sunrise to catch the golden hue and marvel at how magical and beautiful this bridge turns out to be.
Joseph Bar
Joseph Bar is a small, cute bar located in the streets of Fontainhas and one of the top offbeat places in Goa that you just have to visit. What's so different about this bar?
Well, unlike popular clubs in Goa like Tito's, Mambos, and so on, this bar will provide you with an authentic Goan feel as you see the locals gathering around outside the bar to hang out and enjoy the vibes. Plus, the whole décor here is pretty vintage and will immediately transfer you to the 80s or even earlier.
You can take up a seat outside the bar and enjoy the local beer or even better, the local Feni that is made fresh over here. Apart from that, the food here is pretty delish as well and you will keep licking your fingers long after the food is finished.
So, dress up comfortably and head to this cute bar in Panjim and enjoy the night chatting up with the locals here.
Divar Island
Did you know that Goa is home to more than 15 islands?
Yes, that's correct! Frankly, I had no idea that there were so many islands in this small state and was pleasantly surprised to learn about it on my last couple of trips to Goa. One such amazing island that you should definitely plan to visit in Goa is the Divar island.
Located just 8 km from Old Goa, Divar Island is quite different from the rest of Goa as you can find temples here, that were built before the Portuguese invasion. One of the most famous temples, Saptakoteshwara temple, sees thousands of pilgrims every year.
Apart from the temples, what will really make you fall in love with this place is the small picturesque Portuguese-architecture styled houses dotting the island and the lush greenery that surrounds you everywhere. There is also a famous church, Church of Our Lady of Compassion that is visible from the Chapel of Our Lady of the Mount.
And the best part is that the only way to reach this island is via a ferry so, you get to take your car or two-wheeler on this ferry and then you can explore the island at your own pace!
Caranzalem Beach
If you have only visited the popular beaches till now like Baga, Candolim, Arambol, and so on, then you are surely missing out on everything that Goa has to offer. It is time you venture out and explore the heart of Goa starting with the Caranzalem beach in Panjim.
This isn't a popular tourist spot but what I loved the most about this beach is that you would only find the locals here in the morning and evening here, enjoying with their friends and family. So, you can relax on this white sand beach and enjoy being surrounded by green trees and silence.
Plus, you can always swim here as the water is clearer than the northern Goa and there aren't many water sports shops here polluting the sea as well. Honestly, one of the best things to do in Goa is to just head out to this beach and watch Aguada Fort that is located just opposite to it.
Church of St. Augustine
Another one of the top offbeat places in Goa, Church of St. Augustine lies in a ruined church complex in Old Goa and is also a part of the UNESCO World Heritage Site. This church was built between 1597 and 1602 by Augustinian friars (hence the name) and was considered one of the three great Augustinian churches during the Iberian world.
But later, in 1835, when the Portuguese government in Goa started its repressive religious policies, the church was abandoned that caused the vault to collapse. Sadly, it never got restored and only fell to greater despair that now only one of its four mighty towers remain!
However, if you love historical monuments or archaeological sites then the Church of St. Augustine is a must-visit place in Goa.