One of the best places to stay in Jaisalmer, Mystic Jaisalmer is the best hotel in Jaisalmer city for all kinds of travelers.
Jaisalmer, also known as the Golden City, is known as the gateway to the Thar Desert and has a lot to offer. From exploring the largest living fort in India to eating delicious ghevar, there is a lot of things to do in Jaisalmer city. To make your trip even more memorable, it is important that you choose a good and reliable stay in Jaisalmer.
Thankfully, I chose to stay at Mystic Jaisalmer which truly turned out to be a wonderful decision. In this article, you can read my honest review of this place so that you can choose to stay in this property when planning a trip to Jaisalmer next.
Mystic Jaisalmer Review 2022: The Perfect Stay in Jaisalmer City
About Mystic Jaisalmer
A boutique hotel that believes in providing comfort and a homely experience, Mystic Jaisalmer is your home away from home.
With intricate carvings both inside and outside the hotel and colorful interiors along with brightly lit rooms and corridors, this hotel will transport you back in time.
Trust me, a stay at this boutique hotel with definitely lift your spirits and make you feel relaxed in a foreign city. So, if you are looking for a comfortable and upbeat stay then this property is definitely a good option to consider.
Website: www.mysticjaisalmer.com
Instagram: www.instagram.com/mysticjaisalmer/
Facebook Page: www.facebook.com/MysticJaisalmer
Rooms at the Property
There are three types of room options available at this hotel in Jaisalmer city: Standard Double Room, Deluxe Double/Triple Room, and Luxury Double Room.
All the rooms here offer a Satellite TV, Air Conditioning, Towels, Linens, and other required amenities. With the rooms, you also get a complimentary welcome drink, complimentary toiletries, Free Wi-Fi, and a Tea/Coffee Maker.
Standard Double Room is perfect for anyone who is looking for a decent stay without the need for extravagant services. The cost of a standard Double room varies between 2100 – 3500 INR, depending on the check-in dates.
Deluxe Double Room offers you everything that a Standard Double Room does but also offers you complimentary packaged water and shower options.
Also, you have a beautifully decorated bedroom whereas the Standard room is quite plain and bare. The cost of a Deluxe Double Room varies between 3000 and 4500 INR depending on your check-in dates.
Finally, there is the Luxury Double Room (the one in which I stayed) which you can book at this property. Apart from providing the services and amenities that are offered in a Deluxe Double Room, this type of room also includes an Attached Bathroom.
You also get complimentary tea/coffee along with a hairdryer in your room. This type of room can cost you anywhere between 4500 and 6500 INR depending on your check-in dates.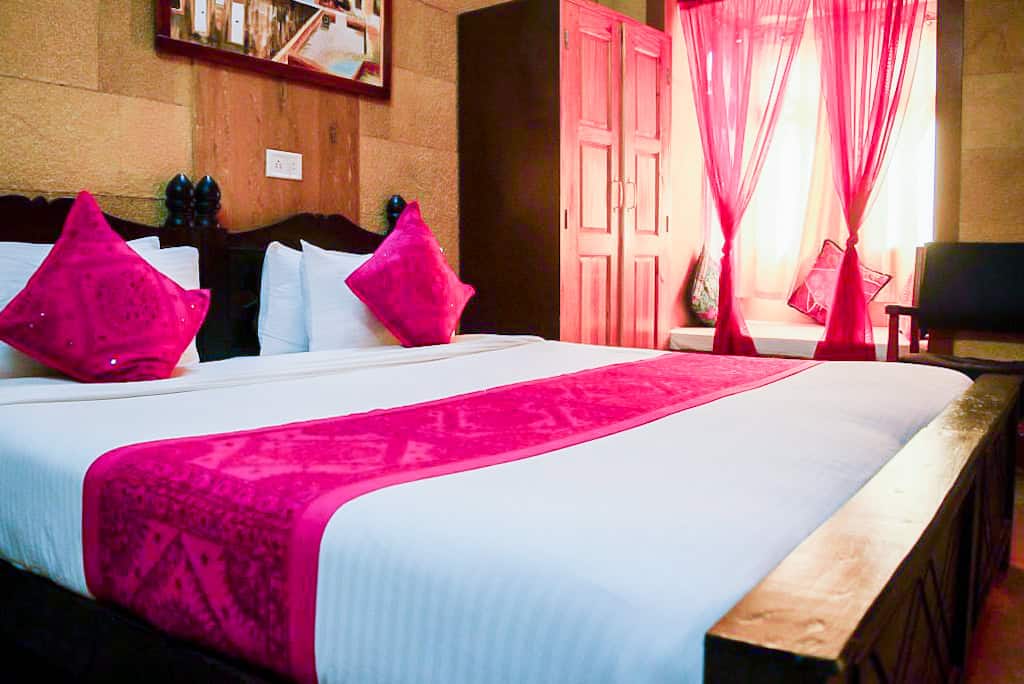 Services Offered at the Property
One of the best things about Mystic Jaisalmer is that it is not just a boutique hotel that provides accommodation, it also offers other services that you can take advantage of.
Hocus Pocus Restaurant
They a rooftop restaurant named Hocus Pocus which offers a great ambiance, delicious food, and some mesmerizing views of Jaisalmer fort and the city.
Here, you can enjoy a range of delectable Indian and International dishes which include but are not limited to pancakes, parathas, pasta, pizza, and so on.
What I loved the most about this place is the terrace views and the relaxing vibe which I could enjoy while enjoying my healthy breakfast.
Chaisalmer
The property also has a small cafe named Chaisalmer where they serve the most delicious drinks and snacks.
A small cafe with colorful decor, Chaisalmer offers a comfortable sitting area along with a bookshelf full of books. You can read while enjoying your hot cup of tea or whatever drink that you have ordered.
From Hot Chocolate to Lime Ice Tea, there are all kinds of drinks that you can enjoy here along with some delicious snacks like Cheese & Garlic Toast, Fried Potatoes, Chicken Lollypop, and so on.
Desert Safari
They also offer Desert safari packages where you can go and spend a day in the desert and can enjoy a gorgeous sunset as well.
There are several types of options to choose from like Mystic Special Camel Safari, Cultural Evening in the Desert, Mystical Sunset, Holiday 2-Night Packages, and so on.
If you choose a day package then you don't get to stay in the desert camp but you get to enjoy other activities.
In the Mystical Sunset package, you are taken on a village tour of Kuldhara Village and then a Camel Safari in the desert during sunset time. You also enjoy a delicious dinner under the stars in the desert and the tour for two adults costs around 3000 INR.
On the other hand, you have the Cultural Evening in the Desert which also includes a Camel Safari and a village tour but has few additions.
On this tour, you are taken to a luxury camp to enjoy some Rajasthani folk music, gypsy dance, and other sorts of entertainment along with a dinner at this camp.
The cost of this tour is 4200 INR for two adults and is a good way to experience the Thar desert if you are short on time.
Desert Camping
Apart from day tours, there are a few desert camping tours also offered by the property.
In the Mystic Special Camel Safari, you get to enjoy 24 hours in the sand dunes and can even stay under the stars for the night. In this package, you are picked up from the bus/railway station and then taken to the hotel room to freshen up.
After that, you are taken on a short village tour followed by the Camel Safari to sand dunes. You can also enjoy a stay at the desert along with breakfast, dinner, and snacks. The cost of this package is 4200 INR for 2 adults.
There are other options as well like Blissful Night in the Desert, Holiday Special 2 Nights Package, Romantic Night in the Desert, and Honeymoon Special Package. You can simply choose the tour which suits your availability and budget and have a blast in the Thar desert.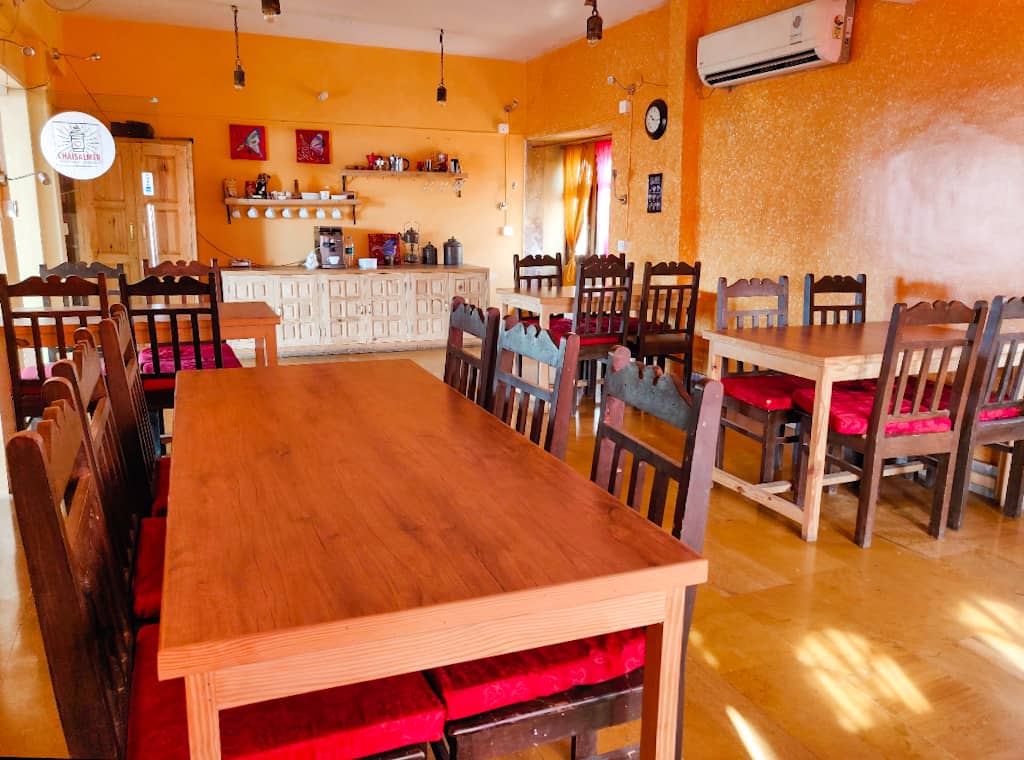 Food at the Property
As I mentioned above, they have a rooftop restaurant and a cafe as well. So, you can come to enjoy the food here even if you aren't staying here.
From my experience, the food was really good and filling. I particularly liked their Poha and Pancakes for breakfast so if you are looking for a peaceful rooftop restaurant to chill then Hocus Pocus is the perfect rooftop restaurant in Jaisalmer.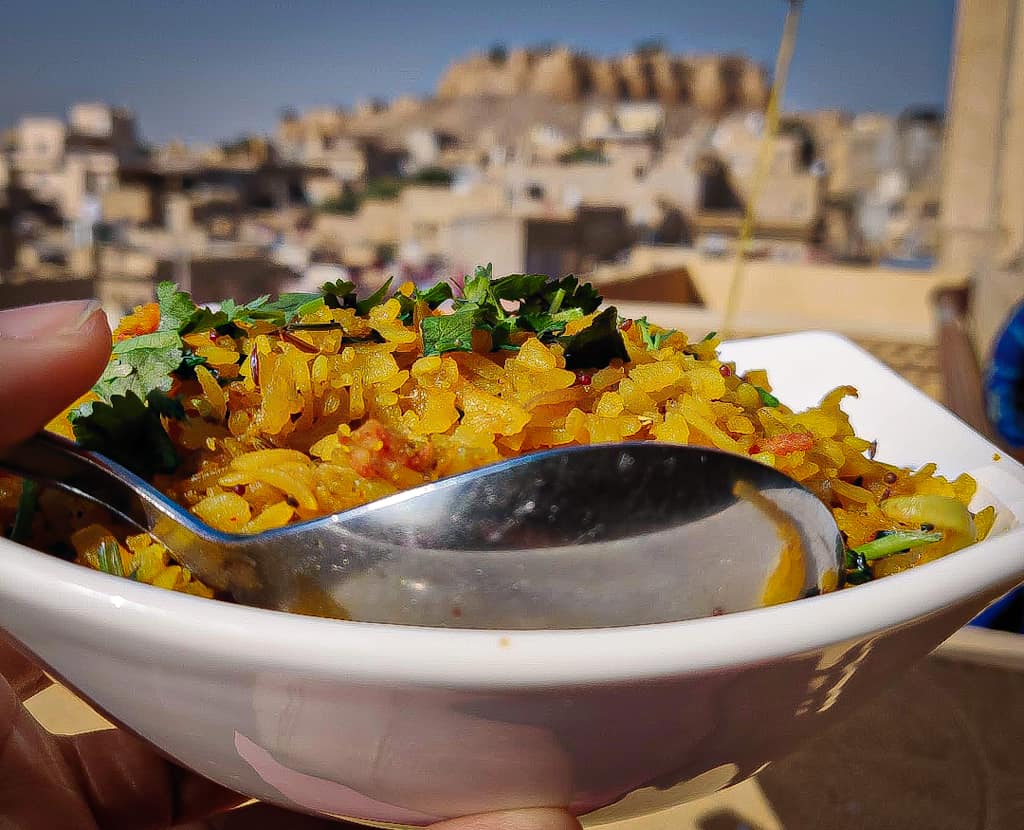 Things to Do in and Around the Property
Watch the Jaisalmer Fort from the Rooftop Restaurant
Well, one of the highlights of my trip was watching the Jaisalmer Fort from the Hocus Pocus restaurant while enjoying a scrumptious breakfast.
It would be warm and sunny in the morning which was a pleasant experience while I enjoyed my cup of tea or buttermilk or cornflakes here.
Go for a Sunset Walk to the Gadisar Lake
As I mentioned earlier, Gadisar lake is just 750 m from the hotel so it is barely a 5 minutes walk. You can head to the Gadisar Lake to enjoy boating or you can simply sit beside the lake and watch the sky turn a brilliant shade of color as the sun sets behind the trees.
There are a lot of street food vendors and street vendors as well here so you can shop and eat to your heart's content.
Explore the Nearby Markets and Eateries
Another thing which you can do is to make your way to the nearby local markets to buy some local products or to eat some local delicacies.
Everything is within the walking distance so it will barely take you 5-10 minutes to go to the market and scope out the area.
Explore the Jaisalmer Fort – Largest Living Fort in India
Finally, since Jaisalmer fort is barely 500 meters from the property, one of the best things to do is to walk to the fort and explore it from the inside.
There are a few Havelis, temples, and viewpoints inside the fort which can easily take a couple of hours and are a good way to experience the glory of Jaisalmer city.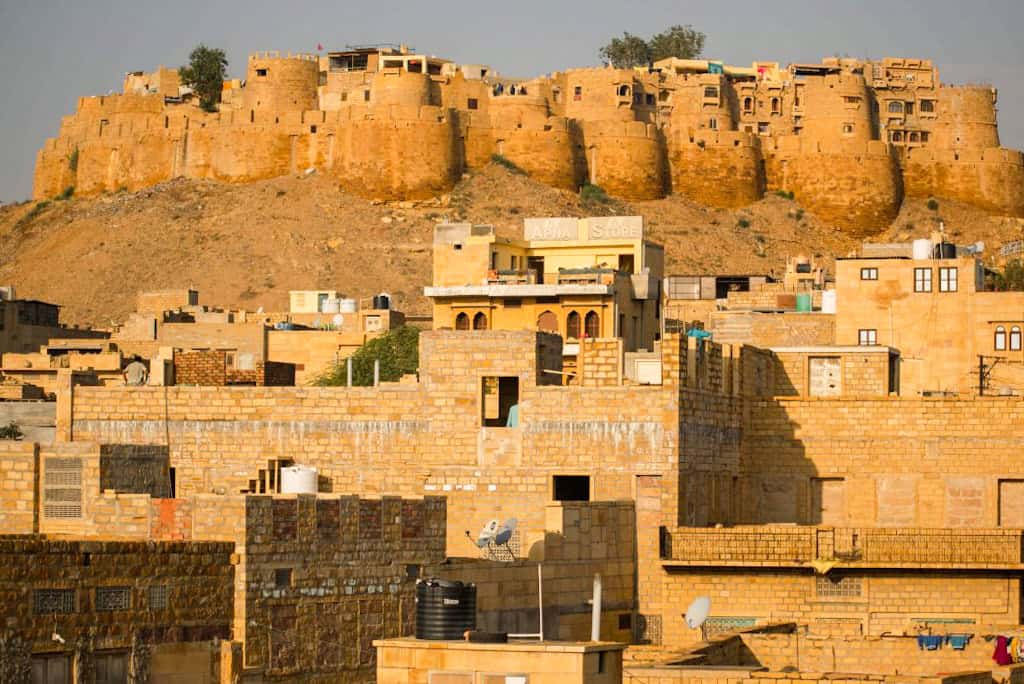 Best Time to Visit
Ideally, the best time to visit Jaisalmer is during the winter season.
This is because Jaisalmer is a desert area so the region doesn't experience much rainfall and stays dry throughout the year. As a result, the summer months are quite hot here which makes it almost unbearable to visit.
If you are tired of the cold winter weather then Jaisalmer is the perfect place to head to. The winter starts here from October end and stays here till March mostly.
Location of the Property
Located right in the heart of the city, this hotel in Jaisalmer city is close to the major attractions here.
You have Jaisalmer fort at 500 m, Gadisar Lake at 750 m, Patwon ki Haveli at 800 m, and even Vyas Chhatri at just 2.2 km from this hotel. As a result, it is quite easy to explore the city on foot and you don't have to spend too much money on transportation.
And since it is close to the Jaisalmer Fort, you get to observe a gorgeous view from the rooftop restaurant here!
How to Reach
There are several ways to reach this stay in Jaisalmer, depending on your mode of transportation.
Rail
The hotel is located around 1.1km from the Jaisalmer Railway Station. So, you can easily take a train to reach Jaisalmer and then stay at this hotel in Jaisalmer city.
From Delhi, there are 2 direct trains to Jaisalmer which take around 18 hours to reach and cost around 500 INR for a Sleeper coach.
Air
Jaisalmer also has an airport where you get regular flights from all over India including metropolitan cities like Mumbai, Delhi, Jaipur, etc.
The airport is situated at a distance of 13 km from the hotel and you can find taxis or autos around to take you to the city.
Road
Finally, you also have good road connectivity here so you can even reach Jaisalmer city via road. Jaisalmer is around 280 km from Jodhpur, 600 km from Jaipur, 550 km from Ahmedabad, and so on.
So, you can choose to fly to any of these cities as well and then reach Jaisalmer via road.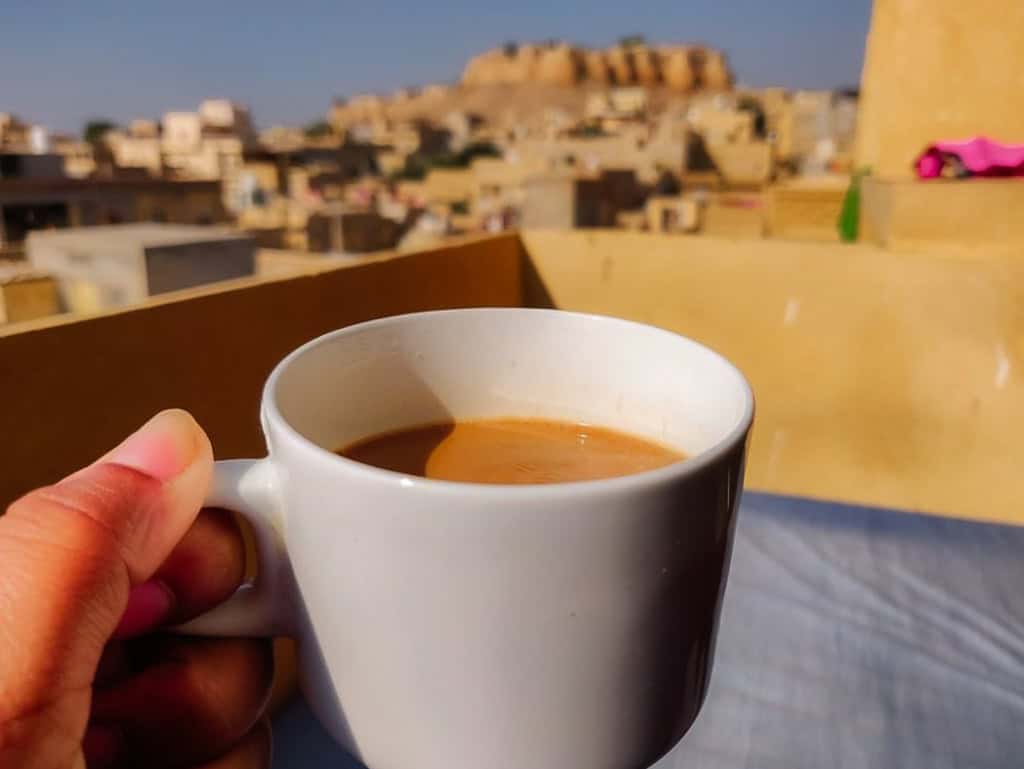 Summary
Overall, I had a good experience staying here. The rooms were bright and colorfully decorated which I liked a lot and the views from the rooftop restaurant and the room were definitely mesmerizing.
I also liked the breakfast meals and absolutely loved the service here. The staff here was super sweet and friendly and made sure that I was comfortable and informed during my entire stay here.
If you are looking for a good stay in Jaisalmer, then do check out Mystic Jaisalmer Hotel.