Visiting Rajasthan's That Desert has been on my bucket list for a while now. So, when I got an opportunity to visit Jaisalmer and stay in Le Royal Camps near the famous Sand dunes, I didn't think twice and curated a plan for January 2020.
And well, it was everything I had hoped it to be. I had a lot of fun on the Desert Safari and staying away from all the hustle-bustle under the clear night sky.
In this article, I have given an honest review of Le Royal Camps highlighting the features and activities that you can enjoy with them if you choose to stay with them.
Le Royal Camps Jaisalmer: A Luxurious Camping in Jaisalmer Sand Dunes 2022
About Sam Sand Dunes
One of the most popular desert dune sites in India, Sam Sand Dunes is situated around 45 km from Jaisalmer city.
Located at the edge of the Jaisalmer Desert National Park, this is one of the top attractions in Rajasthan that you should not miss out on. Similar to the Sahara Desert, Sam Sand Dunes should be visited during sunset or sunrise hours for the best experience.
Also, there are many mud cottages and Swiss Luxury camps near the sand dunes where you can stay for the night. You can enjoy the special Rajasthani dance and music while making the most of the quietude here.
Apart from the camping and cultural performances, you can also enjoy a Desert Safari in a Jeep or on a camel here. There are many good desert camps here, out of which I chose Le Royal Camps for my desert camping experience.
Le Royal Camps: Luxury Desert Camp in Jaisalmer
One of the top Luxury Tent Camps in Jaisalmer, Le Royal Camps Jaisalmer is around 3-4 km from Sam Sand Dunes and is the perfect place to stay here to explore the Thar Desert.
The entire camping area is properly fenced and guarded and you have different room options available to suit your budget and requirements.
All the tents are equipped with basic amenities and have electrical fittings to provide you with a comfortable and luxurious stay.
Apart from providing Deluxe Rooms and Deluxe tents, this camping site also offer a few interesting activities like Desert Jeep Safari, Camel Safari, Sunset Desert Tour, and so on.
Website: www.leroyalcamps.com/
Instagram: www.instagram.com/leroyalcamps/
Facebook Page: www.facebook.com/leroyalcamps/
Rooms at Le Royal Camps
At Le Royal Camp, you have two types of room options i.e., Deluxe Rooms and Deluxe Tents.
All the rooms are spacious and have a small balcony where you can sit and enjoy the view. The rooms are tastefully tiled and carpeted and have beautiful golden furnishing which lends a nice feel to the rooms.
All the tents at the property are properly fixed and have electricity connections which allow you to turn on the lights and the heater when needed.
There is also a gorgeous bed with comfortable mattresses, duvet, and lining. Trust me, the bed here is extremely comfortable and cozy and you would fall asleep in just a few minutes after lying down on it.
There is also a dressing table and a cupboard for you to use and keep your belongings in. And there are sufficient sockets to charge your electronics so you can keep your camera and phones always charged and ready for action.
Even the bathroom is brightly lit and has a minimal yet pleasing design. There is sufficient space to take a bath and change here and you have all the basic amenities available to use here. They provide you with clean, quality towels along with dental kits, shampoo, soap, and so on.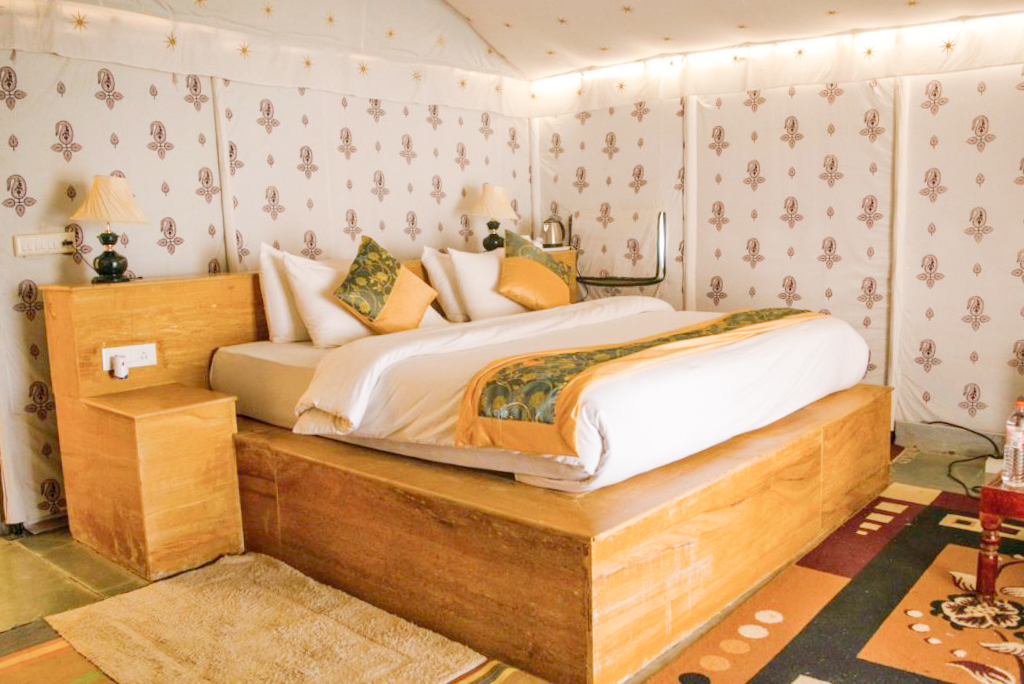 Things to Do Here
Enjoy a Desert Jeep Safari to the Thar Desert
One of my favorite experiences of my Jaisalmer trip was the Desert Jeep Safari to the Sam Sand Dunes. We were taken in a jeep around 4 p.m. to the dunes where we stayed till the sunset to enjoy the desert views.
The most exciting part was the jeep safari itself as you get to encounter so many dunes on the way which makes you jump and bounce in your seat. Honestly, it is a thrilling experience that I would definitely recommend you to experience.
Watch a Sunrise or Sunset at the Desert
As I mentioned earlier, the best time to visit Sam Sand Dunes is during sunrise or sunset. You can take a camel or a jeep to reach the dunes and then stay there to watch the sunrise or the sunset, depending on what you prefer.
Trust me, the golden light of the dawn/dusk on the sand and the golden sky makes it the most magical feeling in the world that you shouldn't miss out on.
Relax at the Swimming Pool and Chill
Another thing that you can do at this camping site is to make use of their amazingly clean and cool swimming pool.
Just make sure that you get your Swimming costume and you can splash all you want in the pool. You can also chill beside the pool with a book or just soak under the sun, it is completely up to you.
Watch the Local Cultural performances here
The property also offers regular cultural performances at night which you can enjoy before or during dinner.
There are a few folk songs and dances performed here which is usually followed by some dance music to groove to and enjoy. They also start a bonfire in this area so that you can keep warm and enjoy the performances comfortably.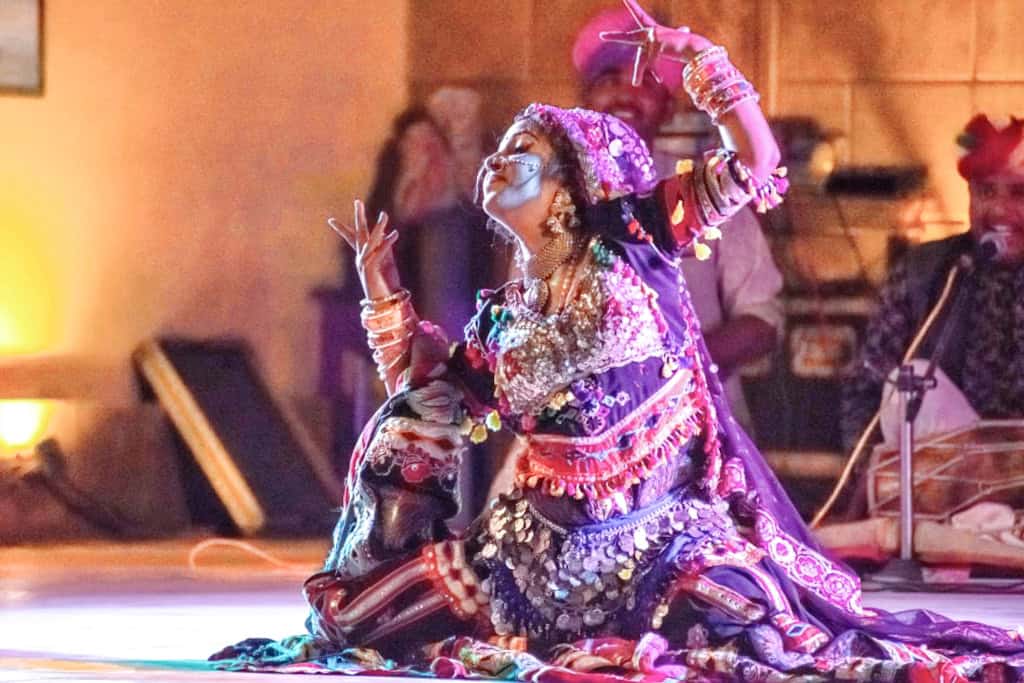 Camping Packages and Tariffs
There are different packages available at the property depending on the type of accommodation you choose. But the package usually includes your accommodation, buffet breakfast and dinner, welcome drinks on arrival, camel ride, cultural performances, bonfire, evening tea/coffee with snacks, and so on.
The prices of the rooms fluctuate depending on the dates of your visit, so make sure that you check out the latest prices on their website.
Food at Le Royal Camps
Le Royal Camps Jaisalmer has a proper air-conditioned dining room where you can enjoy the Rajasthani delicacies during your stay.
For people who wish to enjoy the ambiance and the cultural performances, there is a dining section outside this room as well. So, you can enjoy your delicious meal under the starry sky.
They offer a variety of dishes for both breakfast and dinner which includes Rajasthani patent dishes mostly.
For breakfast, you will have the option of juices, cornflakes, poha, parathas, and so on. And for the dinner, you will be served some local cuisines like Gatte ki sabzi, Dal Baati Churma, Ker Sangri, and a lot more.
They offer both vegetarian and non-vegetarian options so you can choose what to eat from the Buffet arrangement.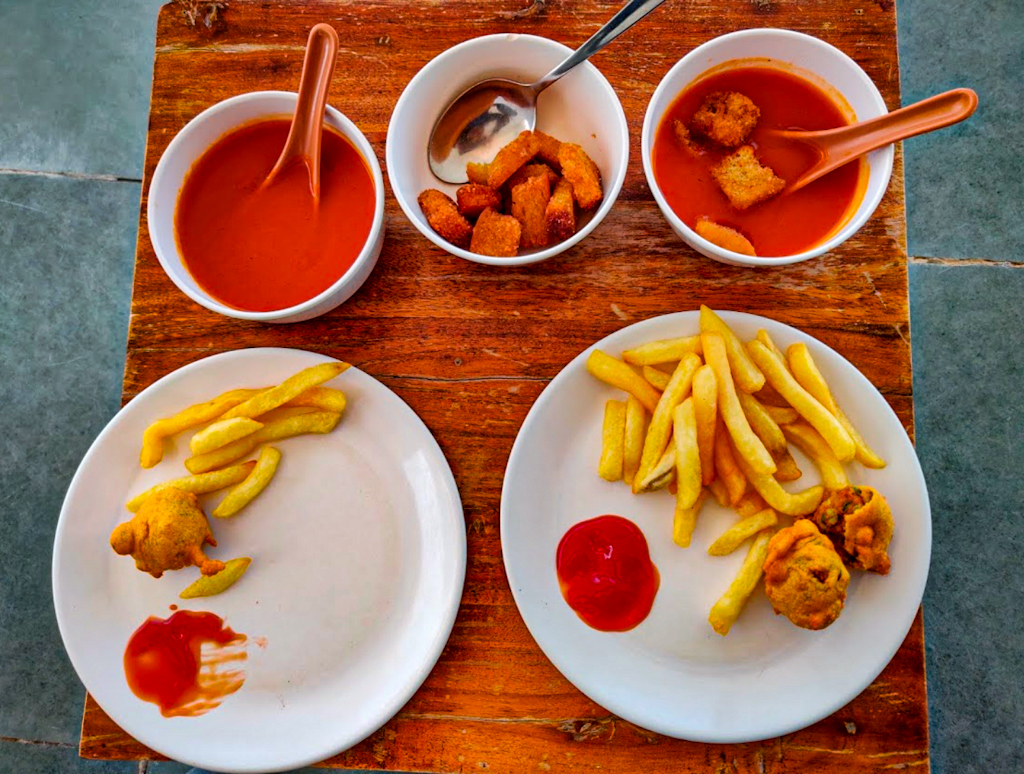 Location of the Property
As mentioned earlier, Le Royal Luxury Desert Camp is around 4 km from Sam Sand Dunes in Jaisalmer. T
his luxury desert camp is next to the main road and is situated around 38 km from Jaisalmer City. It is quite easy to locate as there is a big board to guide you on the right path and the road from Jaisalmer is mostly straightforward and uncomplicated.
Since it is close to the Sam Sand Dunes, you can easily head for the Sunset or Sunrise to the dunes and can make the most of your short time here. Both camel and jeep safaris are available to take you to the dunes and explore them at your own pace.
How to Reach
One of the most important things to know before you plan your trip is how are you going to reach the campsite.
Well, although the road from Jaisalmer to the Sam Sand Dunes is quite smooth and straight, there aren't many transportation options available.
Self-Drive a Car
If you are driving your own vehicle to Jaisalmer then you can use it to reach the campsite as well.
As I mentioned earlier, the roads are simple and smooth so you won't find any difficulty in driving. In fact, it could actually turn out to be a lot of fun if you are traveling with your friends or family.
Rent a Two-Wheeler
One of the best ways to travel to the Le Royal campsite is by hiring a two-wheeler if you are traveling solo or with just a friend. You can get a scooter for 300 – 500 INR per day and a bike for 800-1000 INR per day.
It will be easy to travel as well and you will end up spending just 1000 INR for the to and fro journey of 2 people. You will find a lot of Rental shops near the Jaisalmer fort parking area.
Book a Cab
Finally, if you don't know how to drive then your only option is to book a cab for the to and fro journey to the campsite.
Ideally, it will cost you around 2500 INR for the journey if you are traveling solo. However, if there are more people with you or your camp arranges for a share cab then you can expect to pay around 500 – 1000 INR for it.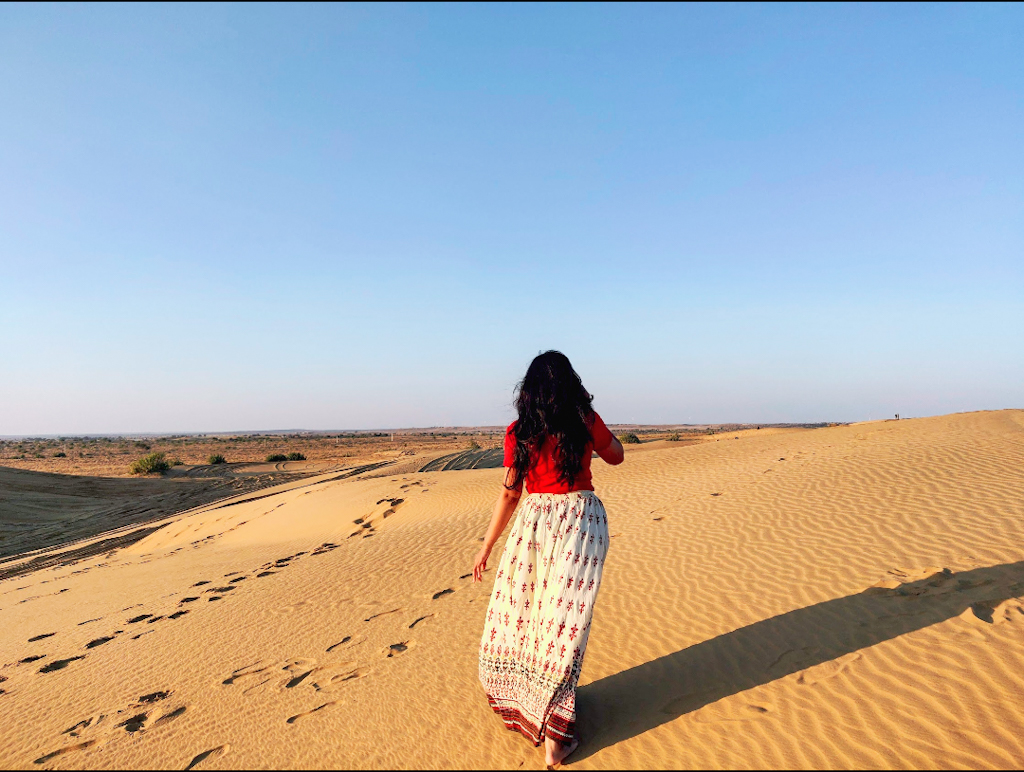 Best Time to Visit
Well, since this is a hot region, the best time to visit the Thar desert and enjoy camping in Jaisalmer Sand Dunes is in the winter season.
You can come here anytime between October to March to enjoy the desert safari and cultural performances outside Jaisalmer city.
In the remaining months, most of the camps are closed and there are few camel riders available. Plus, it will be extremely hot so you won't be able to enjoy yourself as well.
Ideally, you should plan during the festival time so that you can witness the Rajasthan culture in its full glory. One of the most popular festivals to visit is the Desert Festival which usually occurs in February or March. So, plan your trip accordingly.
Summary
Honestly, I felt very pampered while staying here and loved every minute of my time. I swear the minute I entered the room, I jumped on the bed and it was so damn soft and comfortable. And the snacks and soup that followed my arrival were quite delicious and extremely filling.
And I can't even begin to thank the amazing staff here who were super friendly and helpful and made sure that I was comfortable during my entire stay here. I also made the most of my time here by lounging beside the pool and watching the sunsets from the campsite or the sand dunes.
But my favorite part of this trip has to be the exciting Desert Jeep Safari that was organized by Le Royal Camp. The entire time I bounced at the back of the jeep while our jeep driver drove us through numerous dunes.
Honestly, it was one of the best feelings and I am so grateful that I got to experience it in the Thar Desert with Le Royal Camp.