Are you planning a trip to Kerala but confused about which places to include? If so, then this Kerala itinerary can help you plan the perfect vacation to God's own country!
Kerala is a beautiful place in South India that often gets overlooked for the more popular destinations such as Andaman, Goa, and more. One of the things that I love about this state is its diversity and the culture.
From lush green tea estates to backwaters, there is a lot to explore around in Kerala. Honestly, I don't think 2 weeks are also enough to see everything that this state has to offer, especially after visiting the place for over a month on two different ocasions.
However, if you have a limited time at hand, then this Kerala itinerary can help you out to make the most of the two weeks that you have here.
Kerala Itinerary for 14 Days: Munnar to Trivandrum in 10,000 INR
As someone who wasn't a big fan of solo traveling till 2017, the trip to Kerala was the one that changed my mind.
My first solo trip wasn't to Kerala, it was to Matheran in April 2017. But it's not the one that counts, it's the one that made me fall in love with solo traveling. And that was the one from Munnar to Trivandrum, in just 14 days.
My original plan to Munnar was a 3-day weekend trip. In fact, I didn't have anything booked before reaching Munnar. However, somehow I reached Munnar safely and had a splendid time over there.
On my short trip, I met a fellow traveler who was staying in my hostel itself. We hung out together and as she made her way to Alleppey, she asked me to join her.
I really didn't think I would join her, I was planning to go back to the office on Tuesday. But Munnar was absolutely gorgeous and I was curious to see more of this beautiful state.
She was a digital nomad and for once in my life, I took the risk of doing something without really planning it. I joined her and went to Alleppey with her but I did not stop there. I continued to Kovalam and stayed at Varkala and Kochi too on the way.
I cannot tell you how amazing it was, those two weeks were easily one of the best 2 weeks of my life. That solo trip of mine to Kerala while working will remain one of the best trips of my life.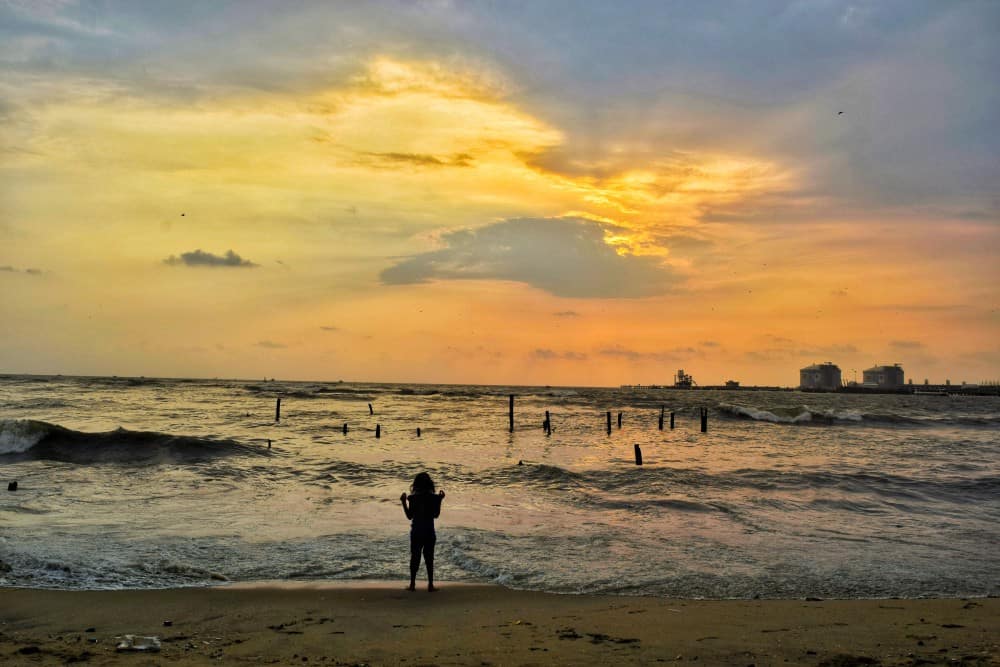 Day 1: Hyderabad to Ernakulam (Kochi)
Since my trip was starting from Hyderabad, I had a long journey to Munnar via Bangalore. I reached Bangalore on Friday by night bus which took me around 12 hours and cost me around 450 INR. (Word of advice, a weekday bus is always cheaper than a weekend bus.)
Once I reached, I worked my office hours and then left for the train station at 4 PM. I didn't have any train or bus bookings because it was a busy weekend and I wasn't willing to pay a bus 2000 INR just for reaching Munnar.
So, I took a General train ticket to Ernakulum and boarded the 5.30 p.m Kochuveli Exp train to Ernakulam. It cost me 185 INR for the general ticket and took somewhere around 11 hours to reach Ernakulam Railway Station (Cochin).
If you plan to take the General coach for the first time, please know that you would be standing for the most part of your journey and there would be enough place to just breathe and do nothing else.
Day 2: Kochi to Munnar
I reached Ernakulum Railway Station early in the morning, around 4.30 ,AM and then I had to search for the buses going to Munnar.
Luckily, these buses started from just outside the Ernakulam Railway Station so I boarded a 5.30 AM bus for Munnar and reached my homestay at around 2 PM. The bus cost me around 100 INR.
Kerala is pretty well connected with buses so you would face no problems in reaching Munnar via bus and traveling around on a budget.
For the rest of the day, it rained so I just relaxed and explored my immediate surroundings. My homestay wasn't in the main Munnar city so we were surrounded by tea gardens and quite a peaceful environment.
I walked around on my own and since the road wasn't crowded, I could enjoy a peaceful evening walk.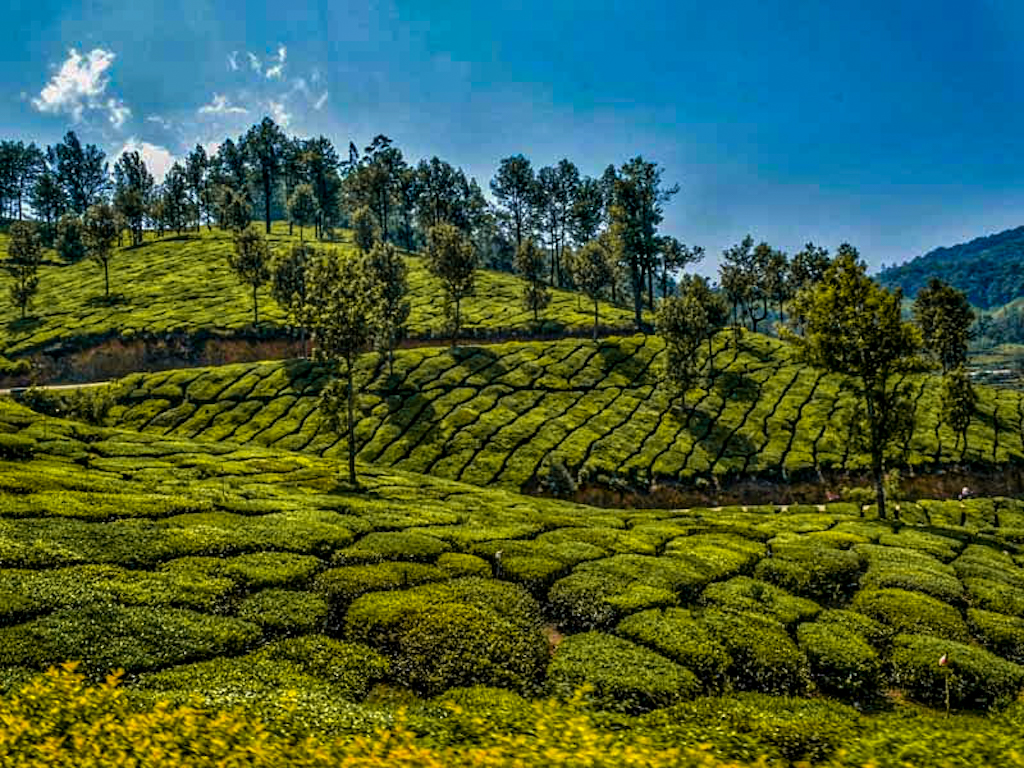 Day 3: Munnar Sightseeing
The next day, I started early to explore Munnar including sightseeing spots such as Top Station Viewpoint, Mattupetty Dam, Tea gardens, and more.
But more than these popular tourist points, I enjoyed the random stops in between. Yes, I stopped at a lot of places in between and just strolled around to enjoy the view.
You can take a bus to the Top Station from the Munnar bus stand and can get down at random stops on the way. Trust me, this was way better than stopping at the tourist spots as I didn't have to deal with the crowd.
Plus, you get to walk around at your own pace. You also stumble upon amazing lunch stalls and meadows on the way.
I came back to the homestay by 7 in the evening. After that, I just had dinner and talked to a few other travelers and then went off to sleep.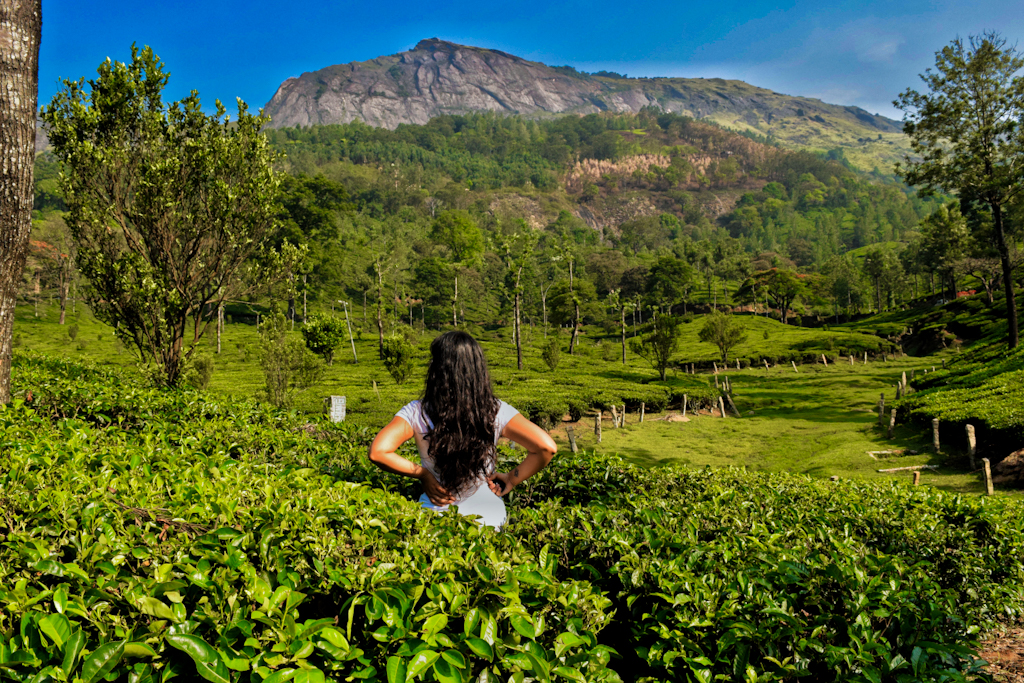 Day 4: Munnar to Alleppey
The next day, I started early for the Lakkam waterfalls and spent some time over there. You can also visit the Eravikulam National Park but you need to buy tickets in advance as only a limited number of visitors are allowed each day.
Today was the day when the solo traveler I met asked me to join her at Alleppey. I kept on contemplating the idea but it was too good an opportunity to miss so I said yes and off we went.
We took a bus to Ernakulum Bus station which took us around 3-4 hours and we saw such gorgeous waterfalls on the way.
From Ernakulam, we took another bus to Alleppey which took 1-2 hours to reach. So, Monday night we reached Alleppey and I was completely blown by Alleppey's beauty. The entire journey didn't cost me more than 150 INR for me.
With water canals around and the caravans parked at various spots in the river while the sunset gave off a golden hue, it felt like a dream. We had some difficulty in finding our hostel here because the owner's phone was out of reach. But while we meandered around for an hour, I fell in love with Alleppey.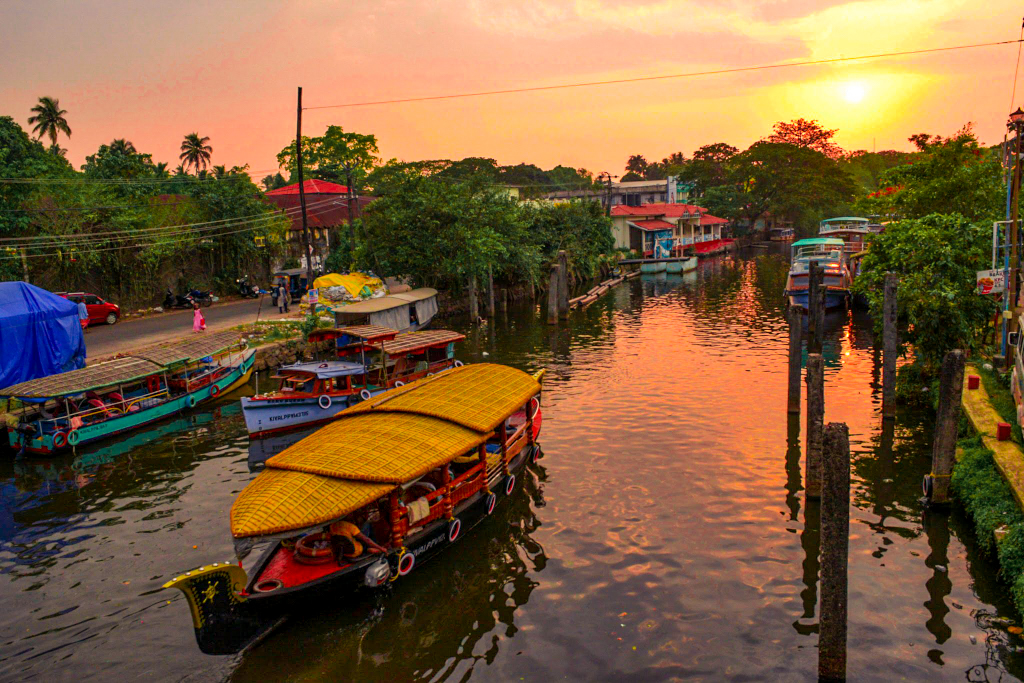 Day 5: Alleppey
On my 5th day of the Kerala trip, I started with an early morning walk to the Alleppey backwaters area and asked around about the houseboats.
After working for a couple of hours, I left in the evening for a walk. Alleppey is one of those beautiful places where you can just laze around and no one will disturb you.
Yes, you might find a few people here and there who would pass comments on you. However, you will also meet a series of people who would be helpful and kind to you.
After our explorations, we had dinner at a nice restaurant and then went to sleep a little early. After all, we had a big day ahead of us.
Day 6: Alleppey Houseboat Stay
We had booked a houseboat for 2600 INR for two people from Thanneermukkom which was just 45 minutes from Alleppey. So, we took a bus from the Alleppey bus stand for 30 INR and reached this place.
We enjoyed a delightful day on the houseboat while enjoying the view around us and eating really delicious food here. We were also accompanied by a family of four and the houseboat was really big and equipped with all the major amenities.
It took us near the Kumarakom bird sanctuary and we spent the night anchored to its shore. I witnessed another amazing sunset here. Yes, yes. I am obsessed with sunsets!
If you ever go to Alleppey, make sure you don't miss out on the Houseboat experience. A trip to Alleppey without spending a night in the Houseboat is a trip incomplete. It was easily one of the best experience of my entire Kerala trip.
Note: For Houseboat bookings, only book it directly with the owners if you are a big group of people. If you book it yourself, you would be asked to pay a minimum of 4000-5000 INR for half the houseboat.
We booked our houseboat online and it cost us just 1300 INR for one person. You can use sites like Goibibo.com or Booking.com for booking reasonable houseboats.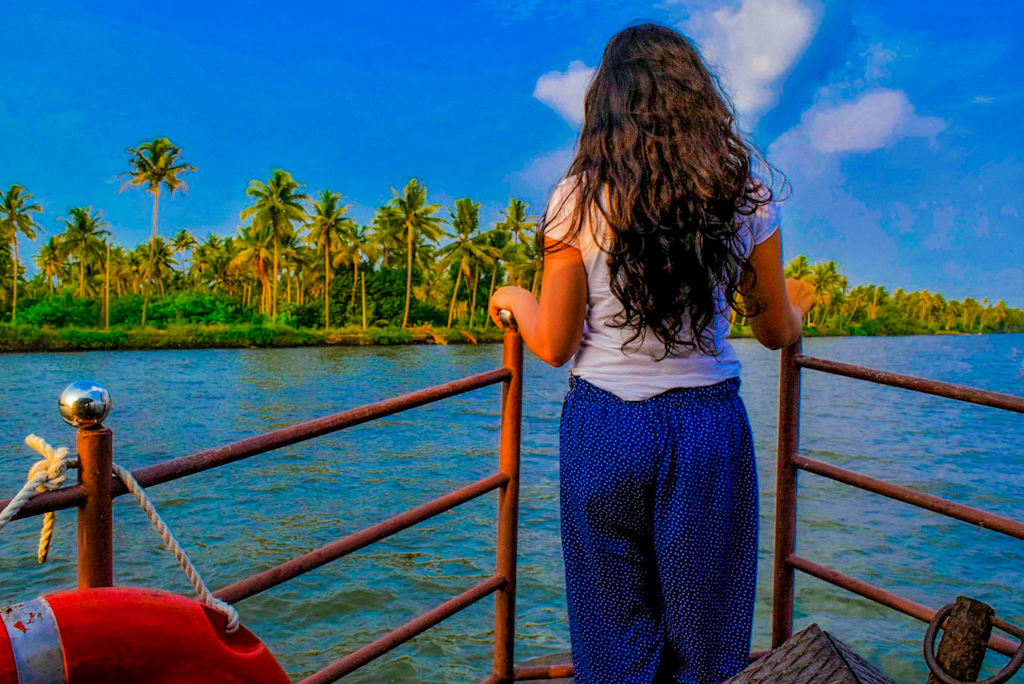 Day 7: Alleppey Sightseeing
We reached back on the shore around 11 a.m in the morning and took a bus back to Alleppey from Thannermukkom and relaxed a little.
In the evening, I went to the Alleppey Lighthouse and then to the beach and stayed there till sunset. Alleppey beach is a little crowded but the pier view is really stunning over here.
At night, we came back to our stay area and I shopped for 2 pairs of clothes as I just had 2 pairs of clothes originally with me. We bought a few souvenirs and then retired to our bed.
Day 8: Alleppey Shikara Ride
We started the day a little late because we had a Shikara ride booked for the evening. So, around 4 p.m, we left for the Shikhara ride around the Alleppey Backwaters.
The ride cost us around 400 INR per person for 2 hours. For those 2-3 hours on the boat, we just lazed on the deck of the Shikara and enjoyed our slow and peaceful venture through the backwaters.
After that, we had an amazing dinner at one of the local restaurants there named Thaff Restaurant in just 135 INR.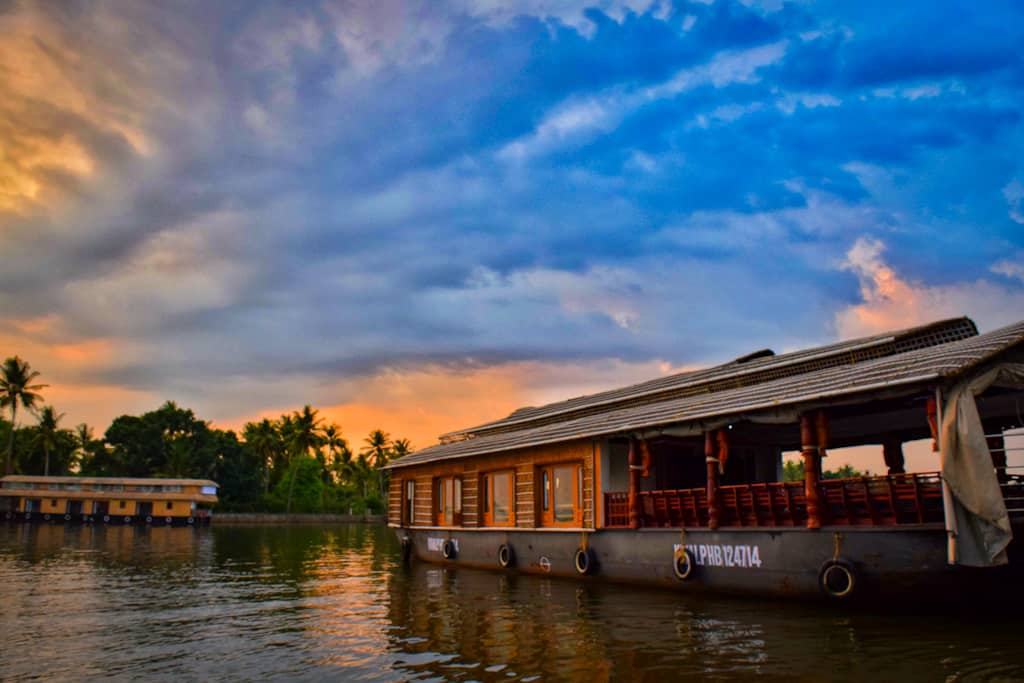 Day 9: Alleppey to Varkala
Today, I left early for Varkala as I had planned to stop on the way to see the famous Krishnaraj Palace (You would be familiar with this name if you have read the Mahabharata).
Krishnaraj Palace is a secluded and peaceful place and is surrounded by trees and a beautiful garden. One can easily get lost in the history of this place and its homeliness.
It took me around 4-5 hours to reach Varkala by bus and cost me around 70 INR. I had to change 2 buses to reach here as I stopped on the way but you can easily reach Varkala by just changing 1 bus.
By the time I reached the Beach, it was burning hot at 2 PM and I was really tired due to the long walk from the bus stand. So, I just took a quick bath and slept for a couple of hours.
Around 4 PM, I finally woke up and went out to the beach and watched the storm from afar. We just hung out at the beach for a while and explored the various eating joints and shopping stores in Varkala. I shopped a little and ate a delicious dinner while looking out at the sea.
Varkala is really gorgeous and has a beautiful cliff beach. One can spend a few days here easily, just looking at the sea and gorging on the delicious food but it is a little costly compared to other places in Kerala.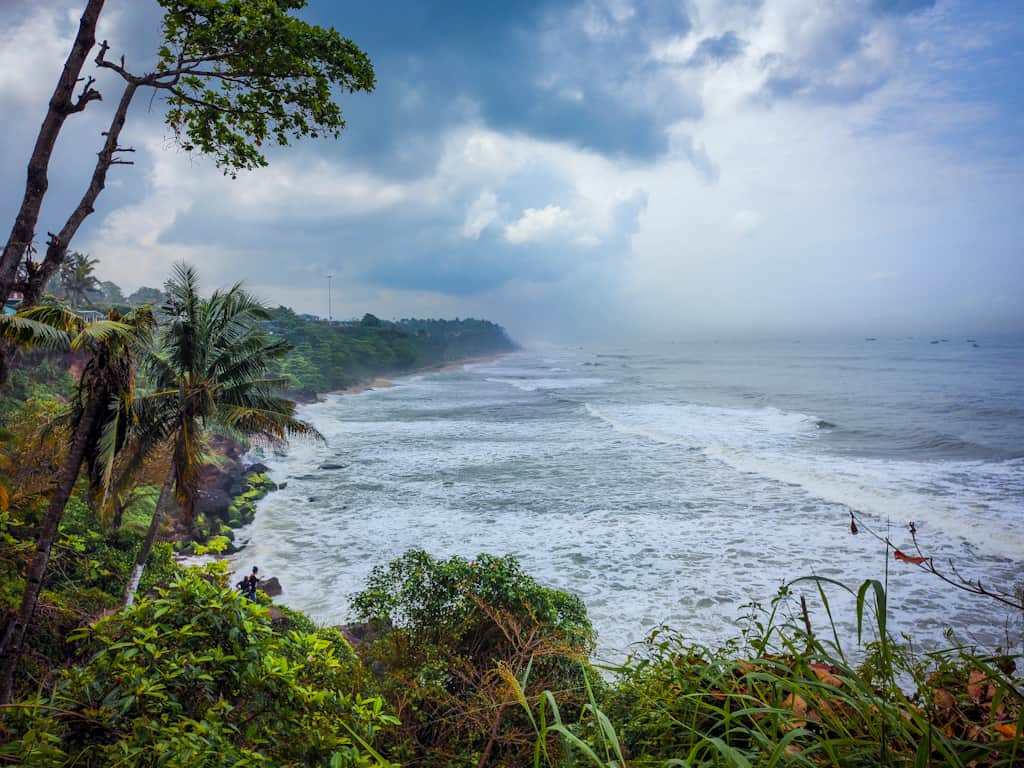 Day 10: Varkala Sightseeing
On my next day in Varkala, I got up a little early around 8, AM and then headed out o the beach to relax and chill. It was a little sunny and a lot of people were swimming on the beach and the waves were quite rough at the time.
I got drenched by a totally unexpected wave but it was totally worth it.
After a couple of hours, I went to have breakfast at The Juice Bar. Trust me, this is an amazing place for having breakfast as it offers a good quantity of food that is both delicious and filling. We stayed at this place for another 2-3 hours, just talking and looking out at the sea.
Then we went back to the hostel because afternoons in Varkala are super hot and you can easily get burnt. At 4 PM, we went over to the Varkala cliff and went for a long walk along the beach.
We saw the famous Janardhana Swamy temple from the outside and then walked back all the way to our favorite eatery joint. After some time, we finally retired to our bed, tired yet happy.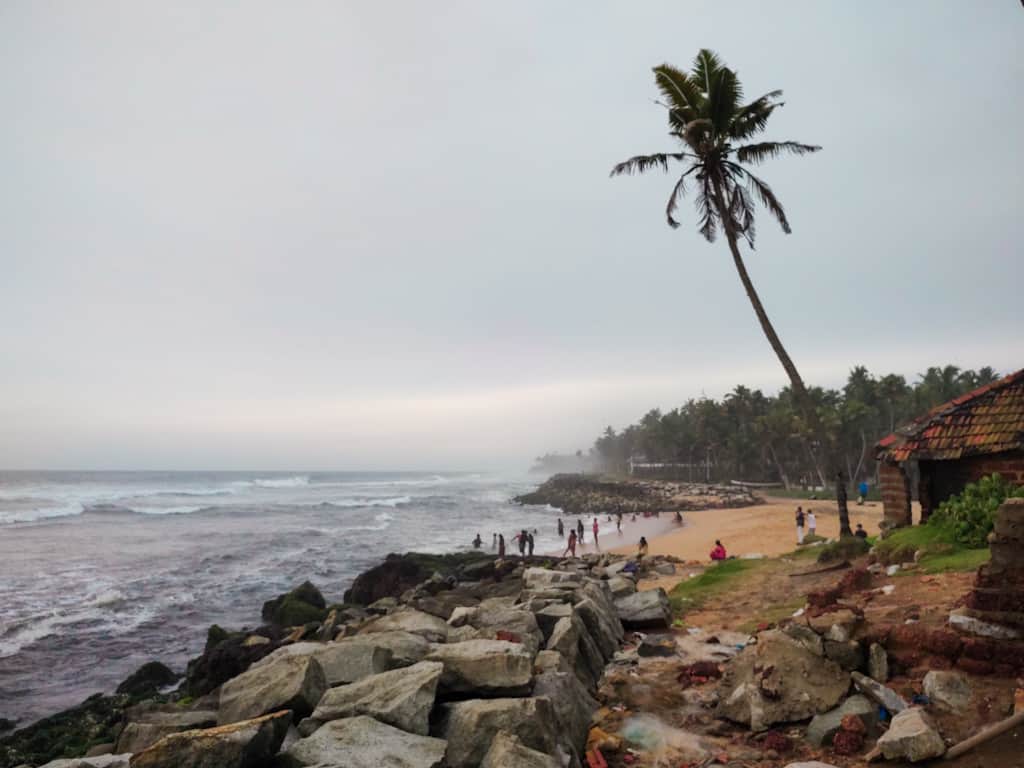 Day 11: Varkala to Kovalam
Today, I was headed for Kovalam and my friend was going to Wayanad so we bid each other farewell at the Varkala Railway Station. This was the furthest point that I traveled to, Munnar to Kovalam was a journey I knew I would never forget.
I took an early morning train to Thiruvananthapuram from Varkala and reached there in around an hour. From there, I took a bus to Kovalam beach which took another 45 minutes.
I checked into the hostel at 11 a.m and then took a bath as it was blazing hot. Then, I went to the beach and roamed around a little. You can also sit down at one of the beach beds for 50-100 INR per hour depending on your bargaining skills.
I was quite hungry but I didn't want to shell out a lot of money for the beachside restaurants so I asked a local person here about a cheap place to eat, and he pointed me towards a home eating join. I had lunch at a small home which was both delicious and cheap.
In Kerala if you are looking for cheap and amazing fish to eat, then you should check out these small home eatery places, they are really good.
In the evening, I watched the sunset from the beach and just hung out here for some time. Kovalam also has a beautiful lighthouse but it is closed on Mondays so I had to wait until the next day to visit it.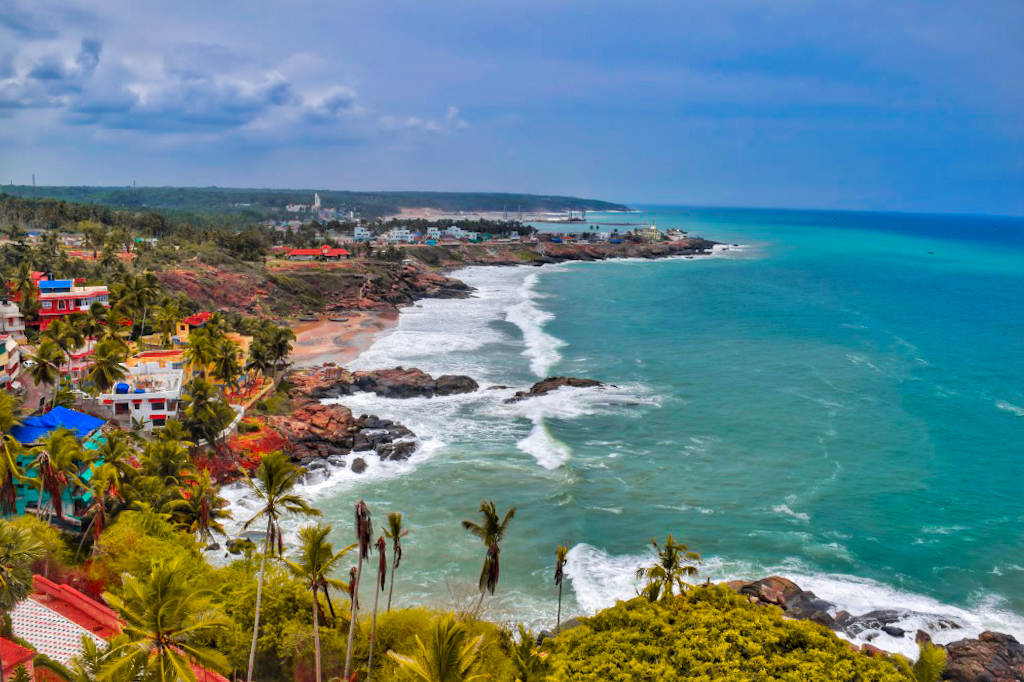 Day 12: Kovalam to Cochin
I got up around 9 in the morning and went over to the famous Kovalam L
ighthouse. It is a beautiful lighthouse and from the top, you can see most of Kovalam and the wide stretch of the sea. The wind is really strong here and you can lose stuff easily, if not careful.
I spent an hour or two at the top of it and then headed towards the beach for some time.
Then, I left for the Trivandrum railway station.
After reaching, I spent a couple of hours at the station before I headed to the Valiathura pier to watch the sunset. Yes, I am a sucker for sunsets! Although there is not a lot to see in Trivandrum, the beaches are quite nice. And the Valiathura pier is really stunning in the evening light.
Then I headed back to the railway station and waited for my night train to Ernakulam. My final stop was going to be Kochi after all.
Day 13: Ernakulam to Fort Kochi
At 1 AM, I boarded the train and at 5 AM, I reached the Ernakulam railway station. Here, I spent an hour, and then I took a bus to Fort Kochi.
That took me another 1.5-2 hours and I finally reached Fort Kochi at 8 AM. I slept for a while and then I got ready to go out.
At 3 PM, I left for the Santa Cruz Cathedral Basilica and spent an hour over there. Then, I headed to Fort Kochi beach and spend some time here looking at the violent waves.
You can also see the Chinese Fishing nets here which are really beautiful to look at. Fort Kochi resembles many Portuguese architectures and if you explore it a little, you might stumble upon many beautiful street arts here.
I also met a school friend here and we had dinner at a nearby place as it started pouring rainfall. We talked for a while and then, it was time to head back to the hostel.
In my hostel, I had made friends with a few other travelers so we talked for a while. Around 2 AM, I finally went to sleep.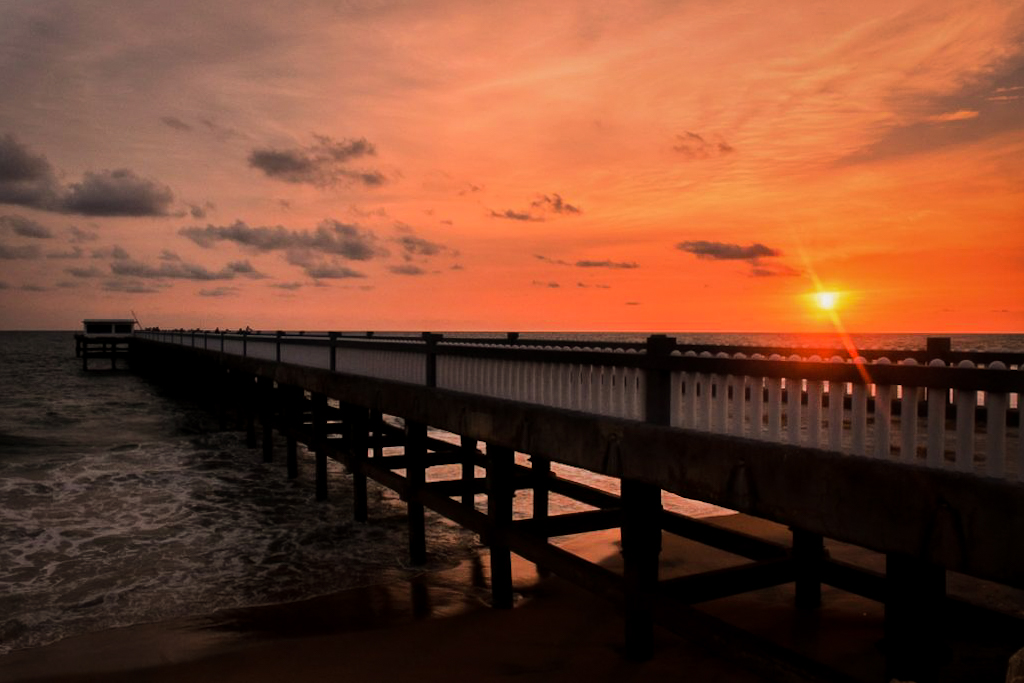 Day 14: Fort Kochi Sightseeing then Departure
In the morning, I began my trip by visiting the famous Mattancherry Palace, Jewish Synagogue, Jew street road, and so on in Fort Kochi.
I walked from my hostel to these places and spent around 4-5 hours roaming around. Also, I explored the amazing street art on the way.
At 1 PM, I finally left for Ernakulum as I had a bus to catch for Bangalore from here. Here, I spend some time at Ernakulam's Marine Drive and I must say I was pleasantly surprised by it.
It was clean and surrounded by many trees and plants. I met my school friend here and we drank Kalukki Sharbat(It is a must-try drink!!!) at a shop nearby.
Finally, around 3 PM, I reached the bus station and left for Bangalore. And I reached the next day early in the morning, around 6 AM.
This Munnar to Trivandrum trip was one of the most impromptu trips so far. And frankly, it was quite amazing too and I am glad I did it.