Have you ever experienced an igloo stay in Manali? If not, then you have come to the right place. In this article, I will tell you everything you need to know about igloo stays in Manali and how you can book one for yourself too.
Snow is magical. More so when you have no concrete road or houses to tarnish its beauty miles away. And there is something about a snowy path that makes it so tempting for me to walk on.
And I got an opportunity to do this in 2019 and it was the most amazing experience ever. We stayed a night in the igloo and woke up to amazing snow adventures such as skiing, snowboarding, and more.
If you have always wanted to enjoy an igloo stay in Manali too, then check out our guide which shares all information on pricing, facilities, itinerary, and more.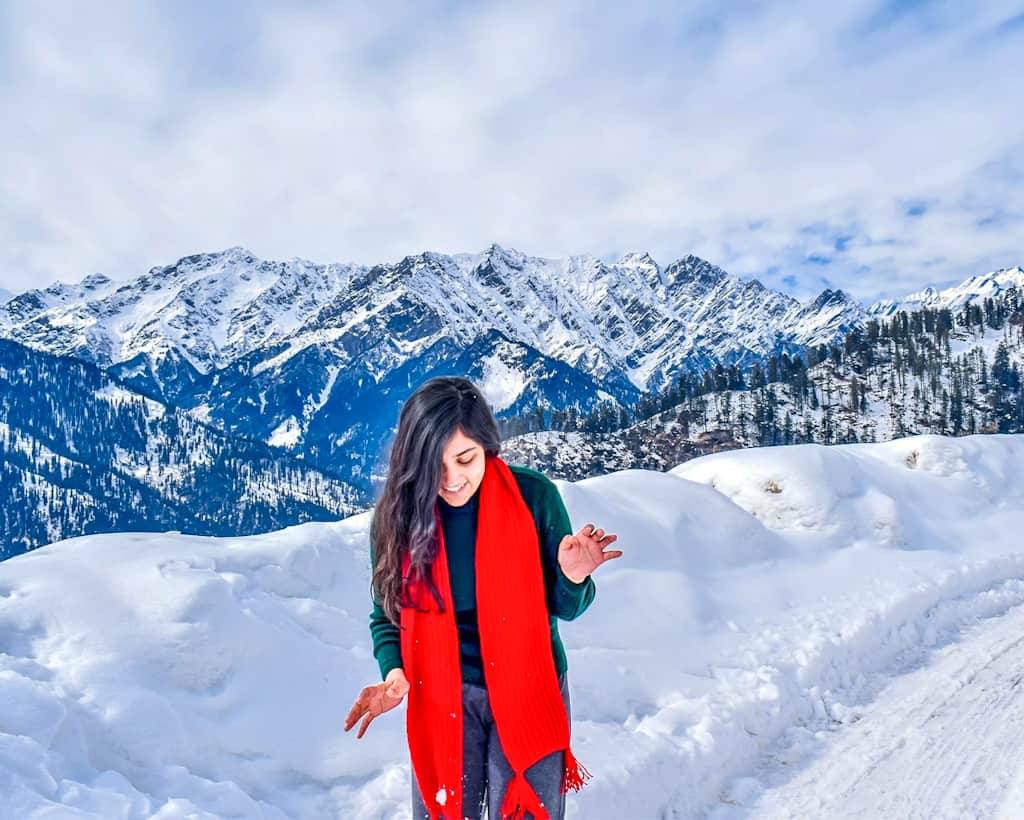 Igloo Stay in Manali 2022: Price | Itinerary | Other Details
4-Day Itinerary for Igloo Stay in Manali
During my trip to Manali for the Igloo Stay, I was there for around 4-5 days and this is the itinerary that I followed. You can choose to follow this sample itinerary to make the most of your time here too.
Day 1: Reaching Manali
After taking an overnight bus that cost approximately 800 INR (HRTC bus), I reached Manali in the morning at around 10 a.m.
Upon reaching Manali, I made my way to the Hotel Mountain Trail where we got refreshed. Later, I had an amazing breakfast while observing the snow-covered mountains.
In the afternoon, around 3 p.m., I left to explore Mall Road and had a delicious Pizza at one of the restaurants here.
Then, our group headed out to the small forest park and made our way to the river bank. From here, you can watch a gorgeous sunset and the colors look completely unreal.
After that, we headed back to our hotel and enjoyed a nice bonfire at night.
Day 2: Day Trip to Igloos
This was the day when we were supposed to leave for the Igloo stay but due to intense snowfall the previous night, there was a change in plan.
So, we went for a day trip to the Igloo site instead. We left around 12 p.m. for Panduropa and had to park around 2 km before the site due to the snow-covered road.
Then, we walked for the next hour to reach the Igloo Stay site. On the way, we came across tall trees which flanked both sides of the road. And the view from the edge was really gorgeous as we could see the valley clearly in front of us.
We finally reached the site at around 4 p.m. and explored the area a bit. There was also a dining room there where we enjoyed some snacks and drinks.
After that, we learned about the process of Igloo making and how much time it takes for an igloo to be completed. We also climbed on the Igloos and jumped from it, trust me that was a lot of fun!
Then, around 5 p.m., we started heading back to our car and enjoyed a delicious Rice Meat meal at the last food shop here. Then, we made our way back to Manali and rested in our hotel for the night.
Day 3: Staying in the Igloo
On our third day, the snow had been cleared from the road so it was time to stay in the Igloo now. We took a daypack with us with our essentials and started for the Igloo Stay around 12 p.m.
We reached the site without needing to walk and then stored our bags inside the Igloo and explored a little. As it was a cloudy day, we didn't go far and just enjoyed our site.
Around 7-8 p.m., we started our bonfire party here and sat around a big bonfire which kept us warm in the cold night. We laughed and talked and exchanged our stories while eating delicious BBQed food.
There was also a bonfire set outside the kitchen and the igloos where we had BBQ and enjoyed the starry night.
After a while, we headed back to the kitchen to enjoy our simple yet delicious dinner. And then we headed to our Igloo for sleeping.
Honestly, I expected it to be cold but with 2 layers of styrofoam, a sleeping bag, and a liner, it was quite warm and cozy.
Day 4: Leaving for Delhi
The next day, we got up around 9 a.m. and enjoy a light breakfast. After that, we made our way to the nearby dam which offers the most gorgeous valley views.
We spent some time here, taking photographs and snowboarding, and then when it started to snow, we made our way back to the Igloo site.
In the afternoon, we started packing up to go back to Manali as we had a 5.30 p.m. bus to catch for Delhi.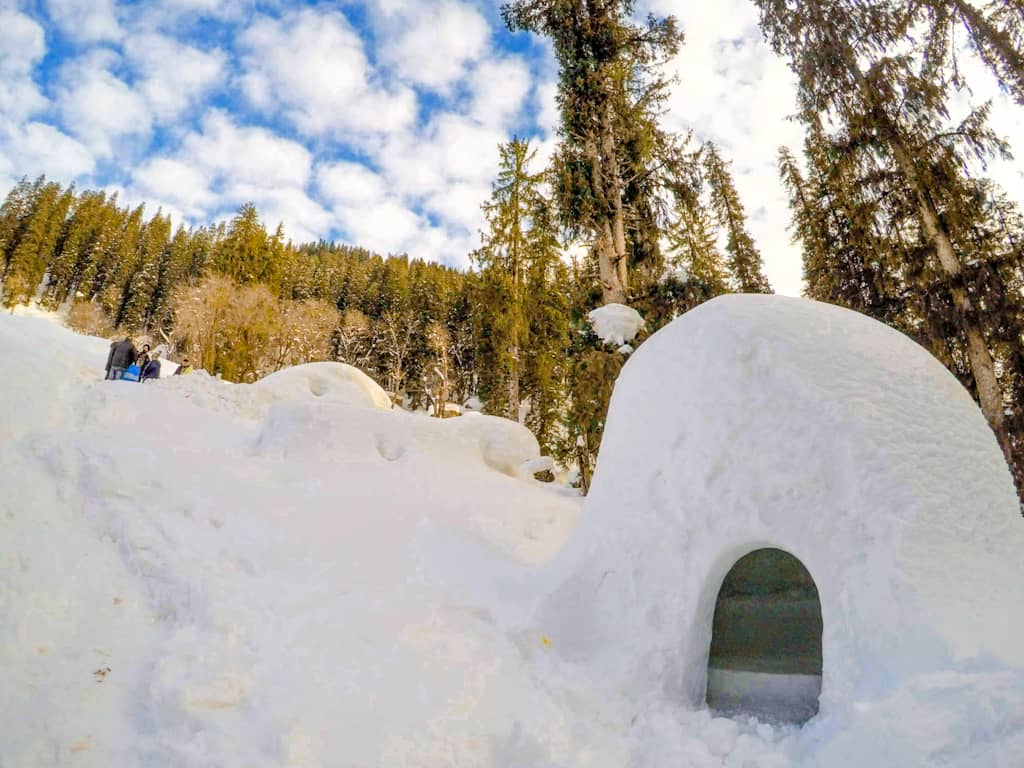 Which Igloo Stay to Choose in Manali?
When I first traveled for the Igloo Stay in Manali, there was only one option – HM Igloo Stay. But in the past 3 years, several new igloos have been built and are operational near Sethan.
Keylinga Adventures started the first Igloo Stay in Manali, following which many other companies started making igloos during the winter season. So, if you want to experience the OG Igloo Stay, then you can opt for Keylinga Adventures.
Apart from that, you will find several other options here such as Footloose Camps Sethan Igloo, Himalayan Adventures Igloo, Harmony Igloo Stay, and more.
You can find reviews for all these igloo stays online and compare their prices and facilities to choose the one that suits you the best.
How to Reach Igloo Stay
Igloo Stay is near Sethan, so you will need to first reach Manali. From Manali, you need to take a taxi to Sethan and then walk or reach the Igloo Site in the taxi itself (if the road is open).
How to Reach Manali
In this section, I will be covering a few ways that you can reach Manali. Since Manali is a popular destination in Himachal and well-connected to several major cities, there are multiple ways to reach this hill station.
By Air
The nearest airport to Manali is the Kullu airport which is located in Bhuntar, around 50 km away. You can find flights to this airport from a few major destinations like Delhi, Chandigarh, etc.
This is a great mode of transportation if you don't have a lot of time and don't mind spending a little extra to shorten your road journey. However, be ready to spend as flights for Manali cost a bomb.
From the airport, you can reach the nearby bus stand which is just 11 km from the airport. At the bus stand, you will get buses to all the other cities and towns in Himachal Pradesh including Manali.
By Rail
Another option is to take a train to Kalka or Ambala Cantt. and then take a bus/cab from there. But remember that each of these railway stations has its own set of limitations.
You can reach Ambala Cantt. but after that, you will need to take a bus which will easily take 5-7 hours to reach.
If you choose Kalka railway station then you will need to carry on the remainder journey of 8-9 hours by car or bus.
The train will be cheaper but it will take longer for you to reach, not to forget the remaining road journey of 6-9 hours which you will have to manage via a bus/car.
By Road
Finally, you have the option of taking a bus or your own car to reach Manali.
Frankly, this is the best option for people who are reaching Manali from closer cities like Chandigarh, Delhi, Shimla, etc. You have both State and Private buses plying on this route to choose from.
Ideally, a state ordinary bus from Delhi to Manali will cost you about 800 INR while a state Volvo bus will cost you about 1200-1500 INR.
There are many private Volvos as well which will cost anywhere between 700 – 1000 INR. Buses will take about 14-15 hours and will be not as comfortable so choose your bus carefully.
You can also choose to drive to Manali from Delhi (530 km), Chandigarh (310 km), etc.
The roads are decent but will be slightly difficult to manage once you gain some elevation. So, make sure you are good at driving in the hills before you go on a road trip to Manali.
Manali to Sethan
Once you have reached Manali, you will need to reach the Igloo site which is around 15 km from Manali, near Sethan.
There aren't any buses plying through this route so you will need to take a taxi to reach here which will cost you about 3000 INR per trip.
If you are driving your own car, you will have to get the required permit to enter this area. But thankfully, if you have booked your igloo experience with a local company, then you don't have to worry about all this.
You have to simply reach the starting point and they will take you in their gypsy to the Igloo site. This 15 km stretch can take anywhere between 45 minutes to 1 hour to reach, more if the path is covered with snow.
If there is fresh snowfall then you will have to stop 2-4 km before the Igloo Stay site and complete the remaining road on foot.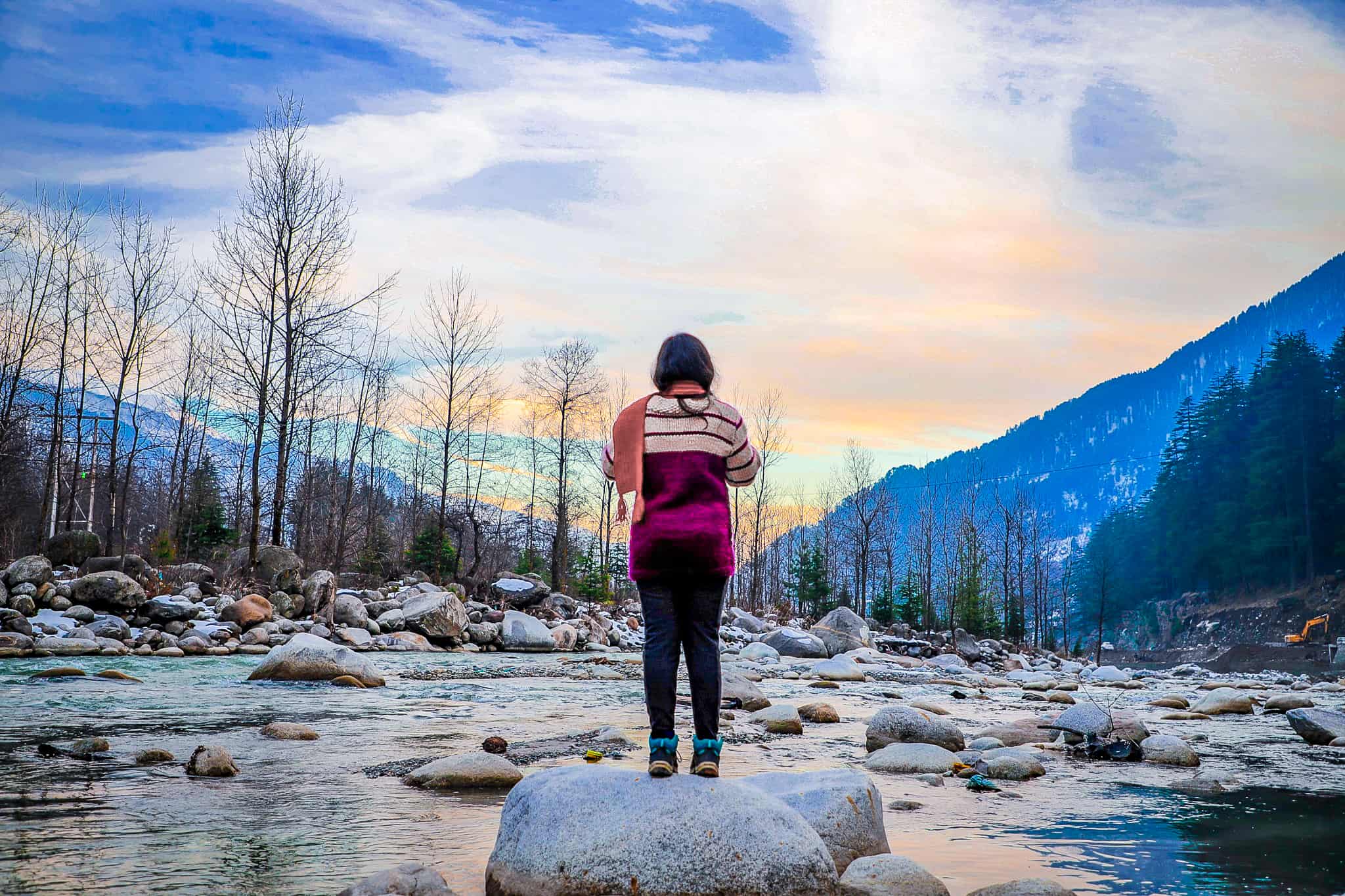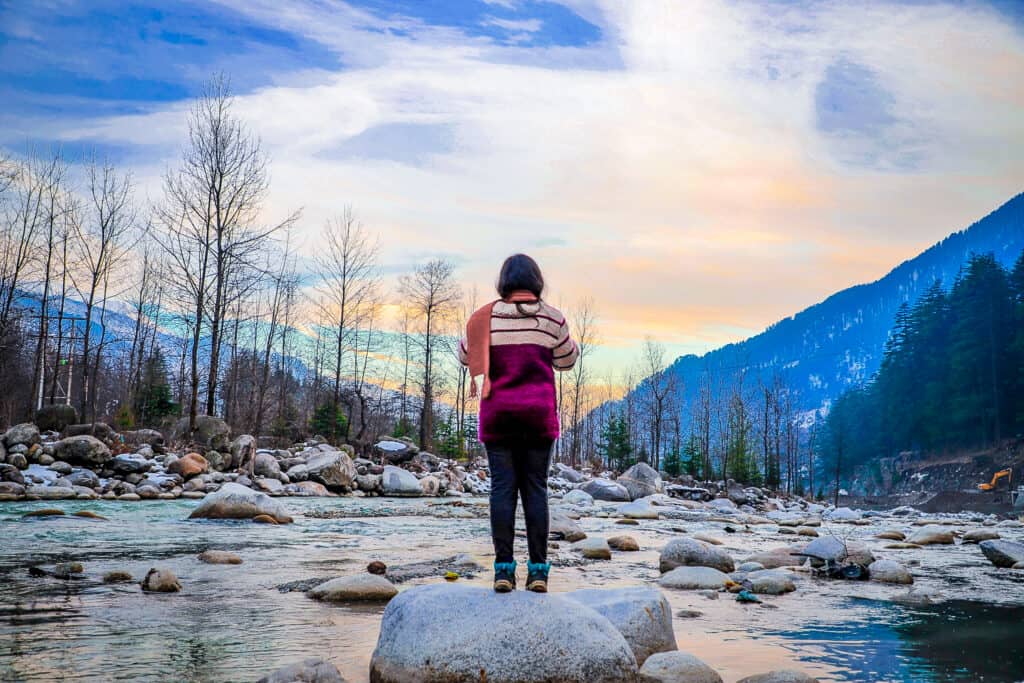 Best Time for Igloo Stay
Well, this should be a no-brainer. If you want to experience a proper Igloo Stay then the best time to visit is from December to March, provided it has snowed properly.
One thing to note is that ideally, a clear sky would be better for the Igloo Stay as you will be able to reach the site easily. If it snows, then you would end up walking which can be amazing too but you would need to have adequate boots and clothing.
Plan your trip in such a way that you get to witness fresh snow and enjoy some games like snowboarding, skiing, and more here.
ATM and Network Availability
One of the most important things to remember when going for the Igloo stay is that there is no ATM in Panduropa. So, it would be a good idea to withdraw some cash from Manali before you head here.
Also, the network for Airtel, Jio, and Vodafone is weak at Sethan. Only BSNL works properly here so, be prepared. However, recently, many homestays have installed WiFi so you will have sufficient internet to message your close ones.
Where to Stay in Manali
If you are planning a short 2-day weekend trip to Igloo, then you don't need to stay in Manali. You can reach Manali and take a cab to Sethan directly from where you can check in to your Igloo camp.
On the other hand, if you are planning to visit Manali on a long weekend trip, then you should stay the first night in Manali. This will give you time to freshen up and prepare yourself for the cold and you can also buy warm clothes, gloves, socks, etc. if needed.
In Manali, there are several good hotel and backpacker options here for you to consider which will cost somewhere around 500 – 1000 INR per night per person.
We stayed in Hotel Mountain Trail which offered an amazing view of the entire town and had the perfect sunrise view from our balcony.
My Igloo Stay Experience in Manali
Honestly, this was my first experience of staying in an Igloo and spending so much time in the snow. And it was undoubtedly amazing.
Since I did HM Igloo Stay with Aman, it was really organized and helpful and they took care of any problems that we faced.
As for the Igloo Stay, it was incredible. I loved walking in the snow and playing in it. And I definitely loved sleeping in the Igloo and didn't feel cold even for a second.
So, if you are looking for a unique experience this month then I would definitely recommend you to try HM Igloo Stay near Manali!