Are you looking for good resorts in Ramnagar Jim Corbett Park? If yes, then you should check out Golden Tusk Jim Corbett Resort in Ramnagar.
This family-friendly resort doesn't just look good but offers a wide range of activities for visitors of all ages. And the best part is that it is inside Jim Corbett National Park so, you can easily go on a safari while staying here.
To date, I have stayed in a lot of amazing properties in India. But there are very few who left a mark on me and truly made me cherish my stay there. One such property is The Golden Tusk in Jim Corbett National Park.
Need more reasons to book a stay at this beautiful property? Then read on to know more about my experience here.
Golden Tusk Jim Corbett: The Perfect Stay for Safari in 2022
About Golden Tusk Resort
Set across 8 acres of land, The Golden Tusk Resort is a family-owned resort that started a few years back and has been transformed into one of the best and most lavish resorts in North India. 
What sets this resort apart from other hotels and villas in the area is that it is surrounded by greenery and embraces nature in the truest sense. From willow trees to spice plantations, you will find all here that lends a charming yet natural beauty to this place. 
If you are looking for a relaxed and peaceful stay while indulging in varying activities and experiences, then The Golden Tusk Resort is undoubtedly one of end best resorts to visit. 
Website: The Golden Tusk Resort
Instagram: thegoldentusk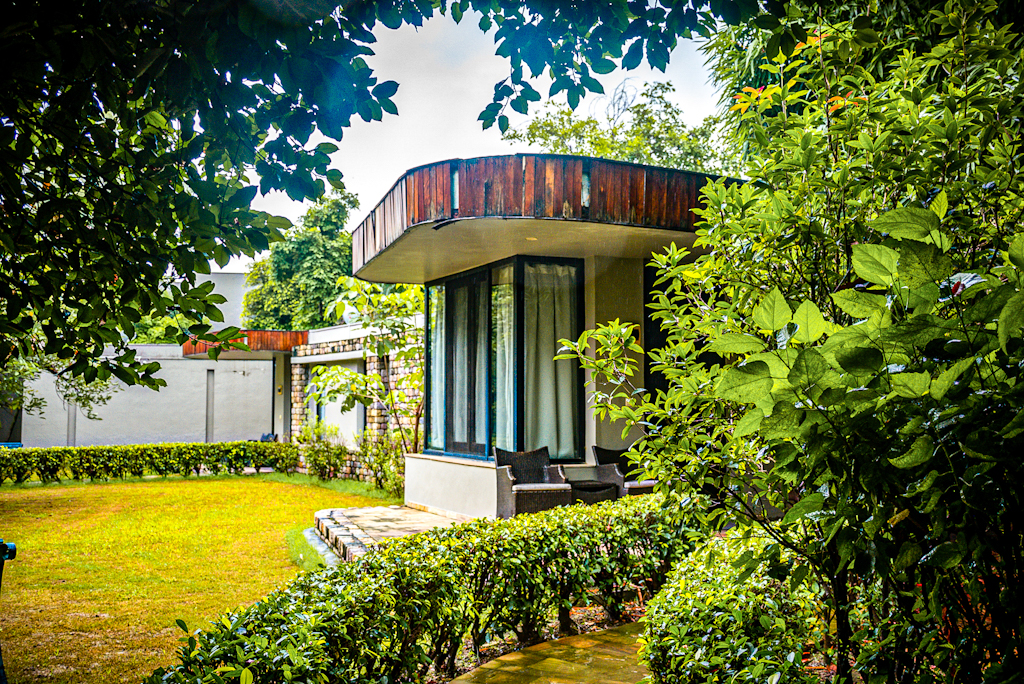 Where is it Located?
The Golden Tusk is located in Dhela village, Nainital district. The resort is a 20-minute drive from Ramnagar and is inside Jim Corbett National Park, making it easier for visitors to go on a safari and witness the magic of nature.
If you are lucky, you might witness wildlife from the resort itself as several animals such as elephants, deer, etc. tend to come near the resort to drink from the nearby river stream. I was lucky enough to see a monitor lizard during my stay at The Golden Tusk.
Rooms at The Golden Tusk
At the Golden Tusk Resort, there are different types of rooms available for you to choose from.
Nature View Suite
With Nature View Suite, you can gaze at nature and the garden outside for hours. There is also a separate bedroom and lounge area that allows you to rest or relax whenever you want.
There is a private sit-out to enjoy nature. Also, you have access to many modern amenities such as Wi-Fi, a writing desk, satellite TV, and more.
Pool View Suite
With Pool View Suite, you have access to the swimming pool and can take a plunge in it anytime you want. Just go for a dip or a proper swim, it is completely up to you as the pool is in front of you.
If you don't wish to swim, then you can simply take advantage of the double-door outdoor sitting place to enjoy the pool views.
Tiger Suite
Traveling with a big family? Then you can opt for the exclusive Tiger Suite that consists of two bedrooms and will offer you the best memories of your stay here.
There is one master bedroom that has an attached bathtub and powder room.
Villa
Another great option for families looking for a relaxing vacation is the Villa at the Golden Tusk. The Villa features a bedroom with a king-size bed, a lounge, and a beautifully furnished walk-in dressing room.
If you love plants, then you are going to enjoy the foliage around the villas. There is also an independent sit-out area and a private garden for anyone who wants some alone time amidst nature.
Villa Grande
Last, but not least, there is Villa Grande which is an elegant option for families. The Villa Grande features a bedroom with a view of the swimming pool, a bathroom, and a study where you can work or read a book.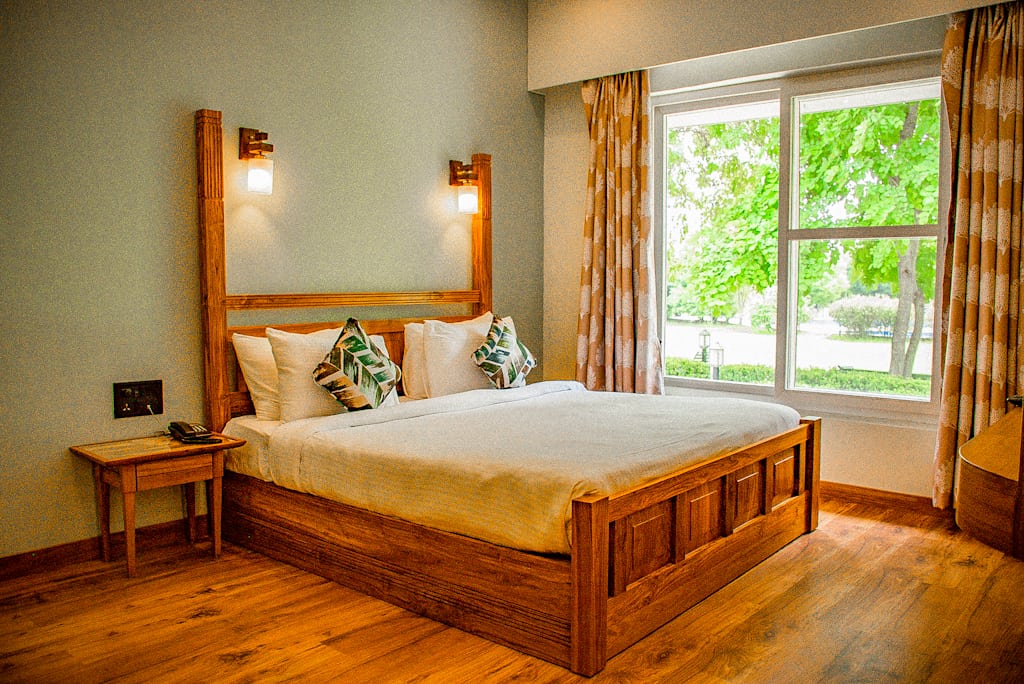 Experiences at The Golden Tusk Ramnagar
Go on a Jungle Safari
Of course, one of the most popular activities to indulge in at The Golden Tusk Ramnagar is jungle safari. The closest zone to the resort is the Jhirna zone which consists of stream beds, steep cliff edges, and large open grasslands.
Dhela gate which offers access to this zone is just 1.5 km from the resort. So, if you wish to go on a safari, you can get it arranged via the resort.
Village Walks or Cycling
As I said earlier, the Golden Tusk is surrounded by beautiful villages and lush greenery that lends it a charming feel.
So, you can book a village walk to explore the roots of the oldest villages around here. Taste the delicious Kumaoni food, meet the locals, and get a peek into the lifestyle of the native people.
If walking is not your thing, then you can always go cycling in the village and take in the beautiful scenic view around you.
Dining Experiences
Finally, the resort also offers different dining experiences to make your stay memorable here. One of the most unique and romantic dining experiences at the Golden Tusk Resort is the Water Dining Experience. In this, your dinner course is set up in the swimming pool with candles and lighting to give you a proper ambiance to enjoy it.
Have you always wanted to dine under the stars? If yes, then you can opt for the Deck experience where you will enjoy your meal under clear skies.
Finally, the Bush Dining Experience is another good idea for couples as it sets the mood for some romantic quality time together. The dinner table would be set up amidst the shrubs with proper decorations to give you an amazing dining experience.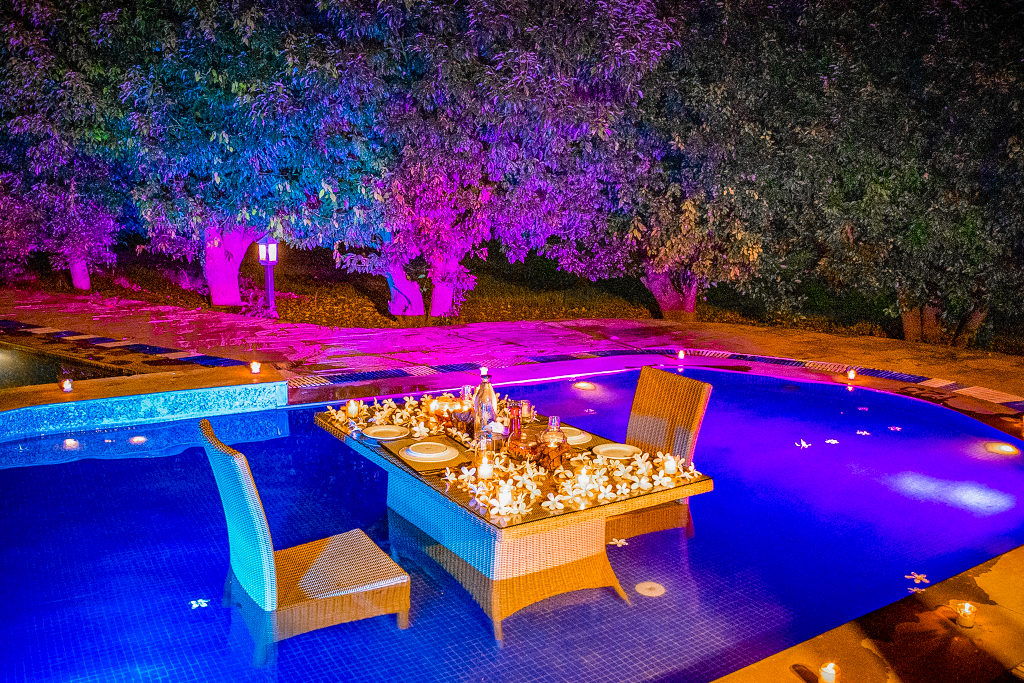 How to Reach The Golden Tusk Resort
If you plan to book a stay at The Golden Tusk then here is everything you need to know about reaching the resort.
The resort is located at a distance of 270 km from Delhi, 83 km from Nainital, and 229 km from Dehradun. Depending on where you start from, you can choose your mode of transport to reach The Golden Tusk.
By Air
The closest airport to Ramnagar is at a distance of around 100 km in Pantnagar. However, you won't get many flights to this airport. The best way to reach The Golden Tusk Resort by air is by taking a flight to Delhi or Dehradun and then taking a bus, train, or cab to reach Ramnagar.
By Rail 
Ramnagar Railway station is the closest railway station to The Golden Tusk Resort at a distance of approximately 14 km. From the station, you can take a cab or an auto to reach the resort or can even ask the resort to arrange to pick up/drop for you.
Ramnagar Railway Station is connected to several major cities such as Delhi, Mumbai, Varanasi, etc. So, you can easily find a train to Ramnagar. Another option is to take a train to Kathgodam and then take a bus/car to reach Ramnagar.
By Road 
You will find many direct buses to Ramnagar from Delhi, Nainital, Haridwar, etc. 
Another good option is to take your car or rent a car to drive to the resort. A cab from Delhi to Ramnagar will cost you around 3500 INR for one side.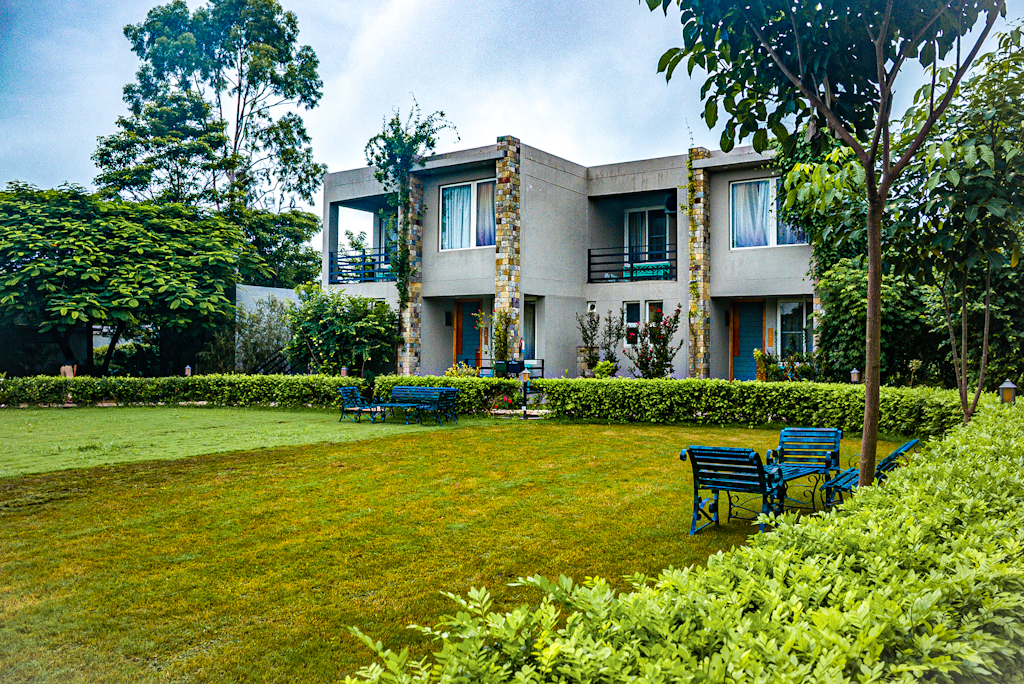 Best Time to Visit
The best thing about the location of The Golden Tusk is that you can plan a visit anytime throughout the year.
Summer is the best time to visit the resort if you wish to join a safari inside Jim Corbett National Park. During the summer months, it is more likely to witness the wild animals as they are usually thirsty and stay close to the water sources.
If you wish to explore the region during pleasant weather while lush greenery surrounds you, then I would suggest planning a trip during the monsoon season. 
The Winter season is best if you wish to explore the nearby villages and attractions during your visit.
Facilities at The Golden Tusk
Let's talk about the facilities that are available at The Golden Tusk that most visitors will be enjoying using on their visit.
Gym
If you are a fitness enthusiast, then I am sure that you are going to love the fact that the resort has an in-house gym that can be used by the guests.
You don't have to break your exercise routine and can stay fit while staying at the resort.
Spa
Feeling a little tense for a few days? Well, then book one of the spa sessions here to revitalize your body and mind. From massages to pedicures, you can take advantage of a wide range of spa facilities during your stay here.
Indoor and Outdoor Games
My favorite thing about the Golden Tusk was the range of games that they had for the guests to enjoy. From mini golf to pool, they had all sorts of games to interest people fr different ages.
One can even indulge in adventure activities here such as rock climbing throughout the year except for the monsoon season.
Swimming Pool
Yes, they also have swimming pools available here for the guests to use. You can chill in the pool during summer or play with your friends and family members during a relaxing vacation here.
Bar
Looking to party or enjoy a few drinks with friends? Well, then you can head to the on-site bar that will offer you the perfect ambiance and a chance to order your favorite drinks. Head to the bar lounge in the evening and enjoy a few drinks before you head to the dining area.
Sauna
Apart from the spa facilities, visitors can also refresh themselves in the steam room or the sauna room. Sweat out all the worries and feel yourself relax and loosen up your body as you indulge in the steam and sauna rooms here.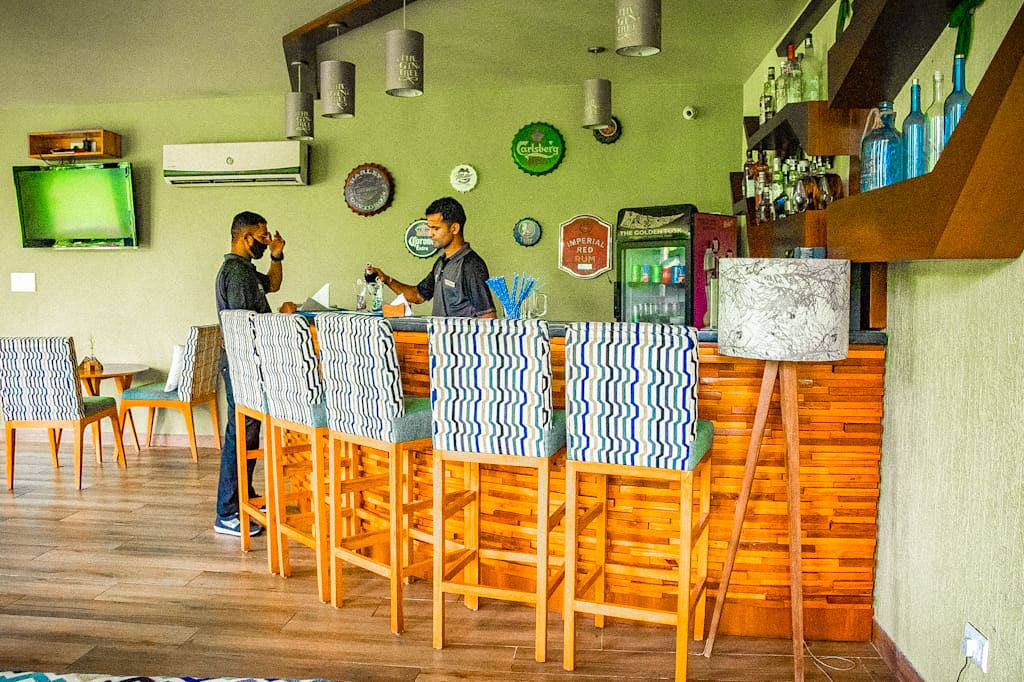 Food at The Golden Tusk
The most memorable part of my stay at The Golden Tusk was undoubtedly the food. Every meal at the resort was carefully crafted and presented to the guests.
From Laal Maas to Paneer Jalfrezi, the head chef ensured that every dish was top-notch and is likely to leave you licking your fingers.
Honestly, I have never had such amazing food at a resort ever before and it was a delightful experience for me. I was a fan of the Tiramisu and the Jelly that would make its way into the dessert section and was prepared fresh every time.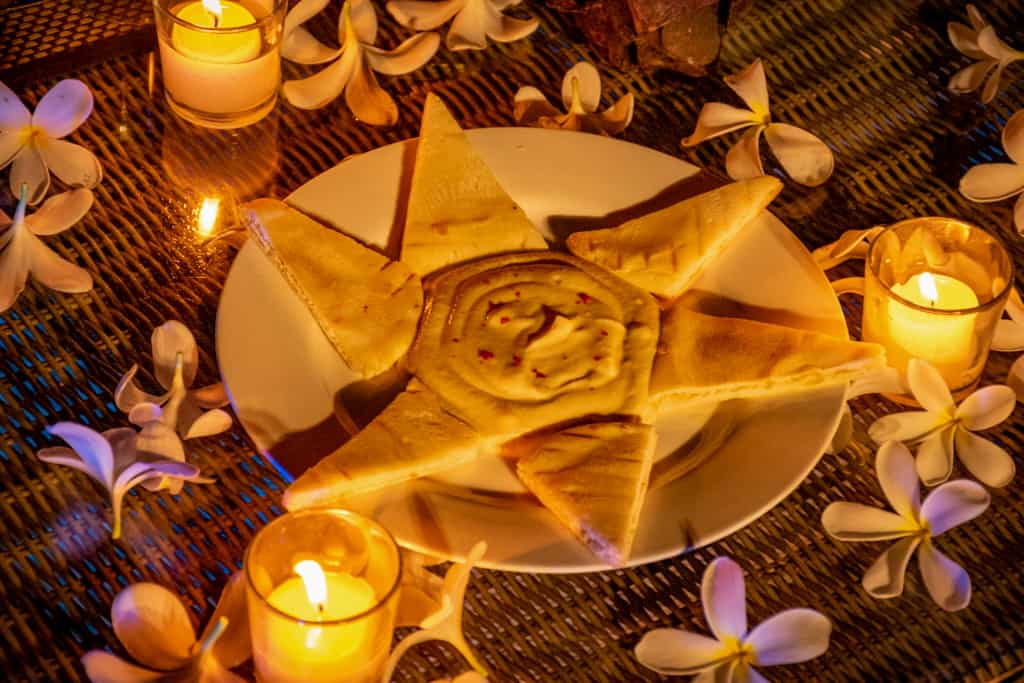 Verdict
Honestly speaking, I loved my stay at The Golden Tusk Resort. The staff, the rooms, the ambiance, and the food were too good to describe in words.
Moreover, the nature-centric look of the resort helped me relax and get in touch with my inner self which was truly wonderful.
From exploring the nearby villages to playing mini golf, I loved every part of my stay in this high-class resort! So, if you are for good resorts in Ramnagar to enjoy Jim Corbett Safari, then you should check out the Golden Tusk.