Goa is one of the best places to visit in India and offers activities for all kinds of travelers. From exploring the ruins of Old Goa to watching dolphins in the Arabian Sea, there are a lot of things to do here.
And in order to enjoy it, you need to plan your trip to Goa carefully. This is why I have prepared this Goa Travel Guide.
In this travel guide, you will find all the information such as the history of Goa, how to travel in Goa, tips for responsible traveling in goa, ATM availability, and more.
An In-Depth Travel Guide For Goa
When to Visit Goa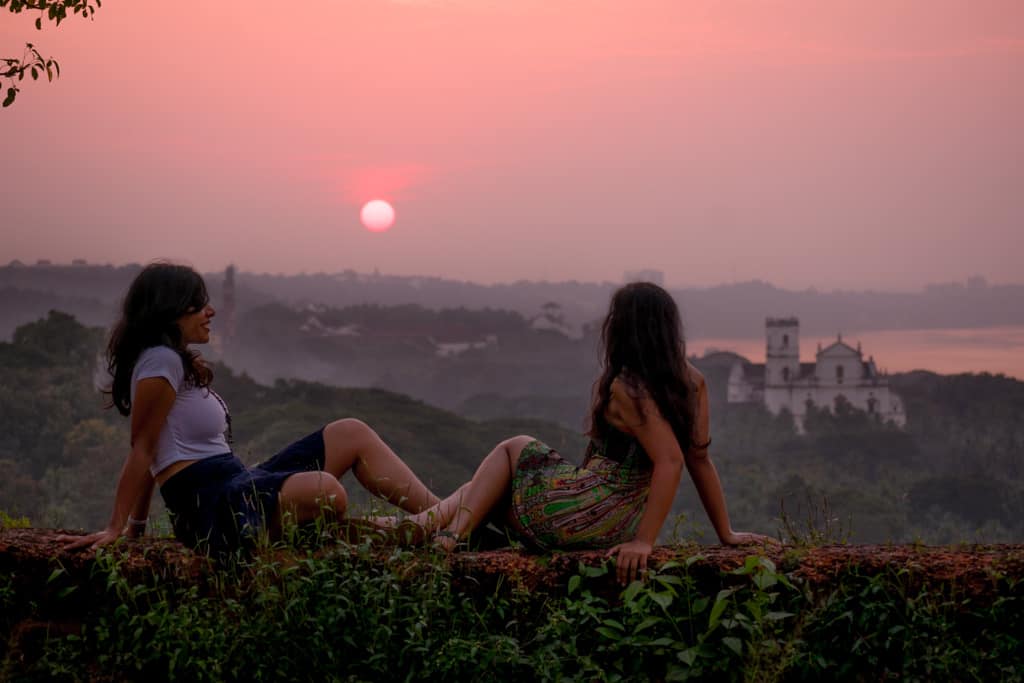 Goa is famous for its beaches and experiences a tropical climate, making winter the best time to visit the state. The tourist season in Goa lasts from November to March when the weather is moderately pleasurable.
If you plan in any other months, you will find the sun too hot or too much humidity in the area which makes traveling in Goa miserable for the visitors.
Summer is absolutely the worst time to visit Goa but the monsoon period is great for exploring the natural side of Goa. At this time, the Arabian Sea becomes dangerous and the beaches become inaccessible to visitors.
However, if you want to enjoy the waterfalls, lagoons, national parks, etc. in Goa, then the monsoon is a good time to visit. Do remember that beach shacks, huts, and several water activities are not operational at this time.
How to Travel in Goa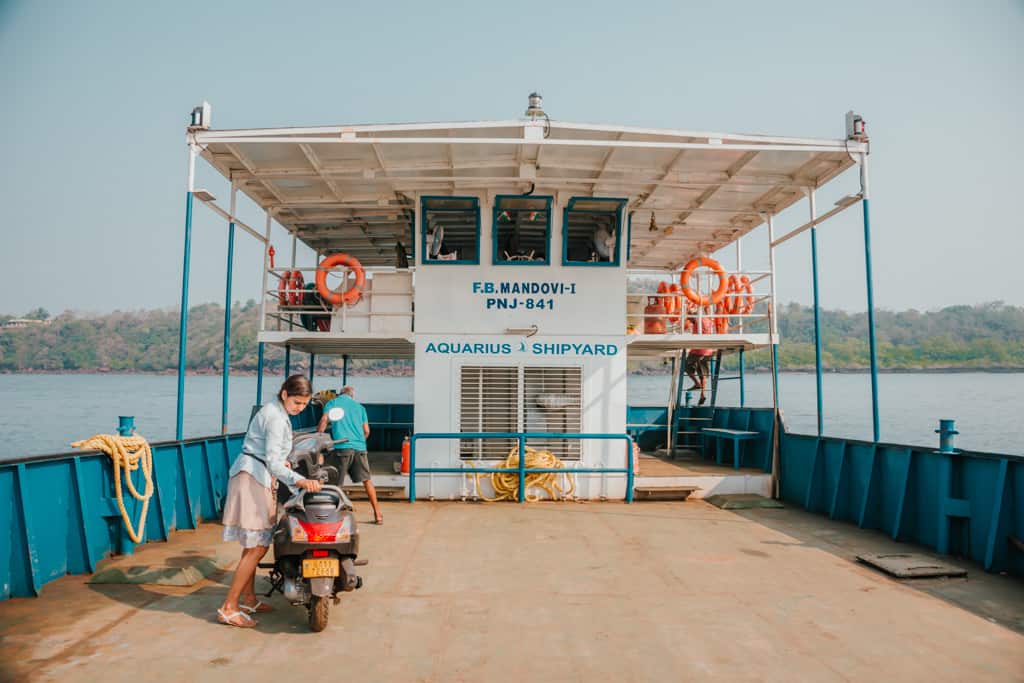 Once you have reached Goa, the next thing that you have to figure out is how to travel in Goa. This is extremely important because Goa is huge and going from one point to another often takes 45-60 minutes.
Thankfully, Goa has plenty of both private and public transportation options. So, you can consider your budget and preference while choosing the best mode of transport in Goa.
Public transportation includes buses that link all the major villages and towns of Goa. And hired transport options include auto-rickshaws, prepaid taxis, taxi bikes, car rentals, scooty, and more.
Here are a few ways that you can travel to Goa to explore this beautiful city.
Travel To/From Dabolim Airport
A lot of people are not aware of this but a local bus runs Dabolim International Airport to Vasco Da Gama. I have taken this bus which takes around 20 minutes to reach Vasco Da Gama Bus Stand and costs approximately 20 INR.
From Vasco Da Gama, you can get buses to Madgaon (for South Goa) or Panjim (for North Goa).
Where is the Bus Stop at Dabolim International Airport?
The bus stop at the airport is on the main highway to the right side of the airport exit doors. Once you get out of the airport, turn right and walk downwards towards the highway.
As soon as the public road begins, turn left and you will find a few local buses parked here that will take you to Vasco Da Gama.
How to Reach Dabolim International Airport?
If you want to reach the Dabolim Airport then you can take a shuttle from Panjim to Vasco Da Gama or the airport. From Vasco Da Gama, you have a couple of local buses going to the Airport every 10-15 minutes. And the whole thing would cost you barely 50 – 80 INR.
Budget Options
Bus Cost: Approximately INR 10 for 2-3 km
Bicycle Rental Cost: INR 150 – 300 per day
Ferries Cost: Free
Bus Service in Goa
Buses are the cheapest way to travel in Goa and connect all the villages and towns in this state. You will find amazing bus service in Goa to connect North and south parts of the state
You would not get a direct bus from South Goa to North Goa, it is still possible to explore the entire city using buses.
One thing to remember is that Madgaon and Panjim are two major bus stations in Goa. You will get buses to most of the places from here. Here is a little detailed route by bus if you want to reach these places:
Madgaon Railway Station

– From Madgaon Railway Station, you get a local bus to the Madgaon Bus Stand. It usually takes 15-20 minutes to reach the bus stand and costs around 20 INR.
From the Madgaon Bus Stand, you get buses to South Goa like Colva, Benaulim, etc. You also get a bus/shuttle to Panjim from here.
You will also get shuttles from Panjim to Madgaon which will take barely 45 minutes to reach and will cost you about 80 INR.
Baga Beach

– Once you reach Panjim, you can take a bus to reach North Goa like Baga, Candolim, etc. One thing to remember is that these buses usually take time but will cost you just 20-50 INR.

Panjim

– You will get a bus to Panjim from most of the places since it is a major point in Goa. Although, in some cases, you might need to change the bus at one point.

Arambol

– If you want to reach Arambol, then you will first need to take a bus to Morjim from Panjim. From the Morjim bus stand, you will need to take another bus to Arambol. In total, it would take you around 2 hours to reach Arambol from Panjim in a bus.
Shuttle Buses are quick and don't stop at all the bus stops. So, if you are heading to the airport or the railway station then shuttle buses are the best way to travel.
Bicycle Rental
If you are traveling in Goa in the high season (December to February), then you can easily find bicycles to rent here.
You can rent bicycles daily or weekly basis and will find plenty of bicycle rental shops all over Goa.
If you are planning to stay for a month or more, then you can also ask for discounted rates on the bicycle.
Two-Wheeler Taxis in Goa
Another great option for local traveling in Goa that I became aware of during this year's trip was the two-wheeler taxis also known as motorcycle taxis or pilots. In these taxis, you sit as a pillion rider behind a motorbike rider and reach any place for a fixed amount.
This is affordable and a great option for solo travelers who are planning a budget trip to Goa.
Ferries
When you are traveling to other islands from the mainland such as Divar Island, Chorao Island, etc., you will need to take a ferry.
Thankfully, government-run ferries operate on such routes and don't charge anything from the tourists or the locals.
Mid-Range Options
Taxi Cost: INR 8 – 10 per km or more
Auto Rickshaw Cost: INR 7 per km or more
Car or Scooty Rental Cost: INR 800 – 3000 per day for a car, INR 200 – 500 per day for scooty
Cabs and Taxis
If you want comfort and convenience and money is not an issue, then you can rent a cab in Goa.
However, this is definitely an expensive way to explore Goa. Generally, drivers charge an outrageous amount for a trip that might not be suitable for budget travelers.
The government has fixed prices for auto-rickshaws and cabs but a lot of drivers don't follow this pricing. You can either pre-book them or flag them down on the road.
Prepaid Pricing – One thing to keep in mind is that the government has set prices for the different routes in Goa for the tourists. You can ask the driver to show you this official pricing before you agree to the price mentioned by them.
Dabolim Airport to Panjim – This will easily cost you about 1000 – 1500 INR so rent a cab in Goa sparingly.
Goa Miles – To rent a cab in Goa that is affordable, you can download the Goa Miles app. Generally, you find cabs and taxi bikes that will cost almost half of what they would normally charge you.
Rented Self-Drive Cars/Bikes
One of the best things to do in Goa for an easy and convenient trip is to rent a car/two-wheeler. You have a lot of rental shops throughout Goa which will give you a car/two-wheeler on rent.
A self-driven car will generally cost you around 1500 INR for a 7-seater in the off-season and weekdays. However, if you visit this city for a long weekend or the peak season then expect to pay around 2500 – 3000 INR for a 7-seater car.
As for the scooty, you can get it for 200-400 INR for a day throughout the year. One thing to remember is that make sure you ask for all the essential papers and helmets when renting the car/scooty.
A lot of times, they might rent you a car that doesn't have required papers for driving around the entire Goa or you might not have a helmet for all the riders on the scooty.
Luxury Option (Private Driver)
If money is not a constraint for you, then you can rent a car with a private driver for your Goa trip. The cost of the private chauffeur will depend on where you made the booking.
However, the cost of renting a cab with a driver for 8 hours or a full day can range between 3,000 – 5,000 INR inclusive of driver fee, car, and fuel.
Since this is a full-day service, you should use it when you are planning a full day of sightseeing. If you are going to be traveling for just a couple of hours, you are better off choosing a taxi service.
For reliable and safe service, make sure you book a cab with a private chauffeur at the airport or through your hotel.
How Many Days to Stay in Goa
If you stay close to Goa, then a 3 to 4-day relaxing vacation by the beach would be perfect for you. But if you are traveling from cities such as Delhi, Kolkata, Jaipur, etc., then you would easily need 5-6 days to soak in the beauty of this state.
Honestly, Goa deserves a longer vacation as there are numerous places to explore here including churches, waterfalls, beaches, and forts. I would suggest a week to a 10-day long trip to Goa.
In the past couple of years, Goa has become a popular hub for digital nomads and slow traveling due to its good connectivity and fair network.
There are several beachside cafes and accommodations where the visitors stay to work and enjoy the beachside views. If you are looking for a work-from-home location in this pandemic, then Goa is a good choice to consider.
What to Do in Goa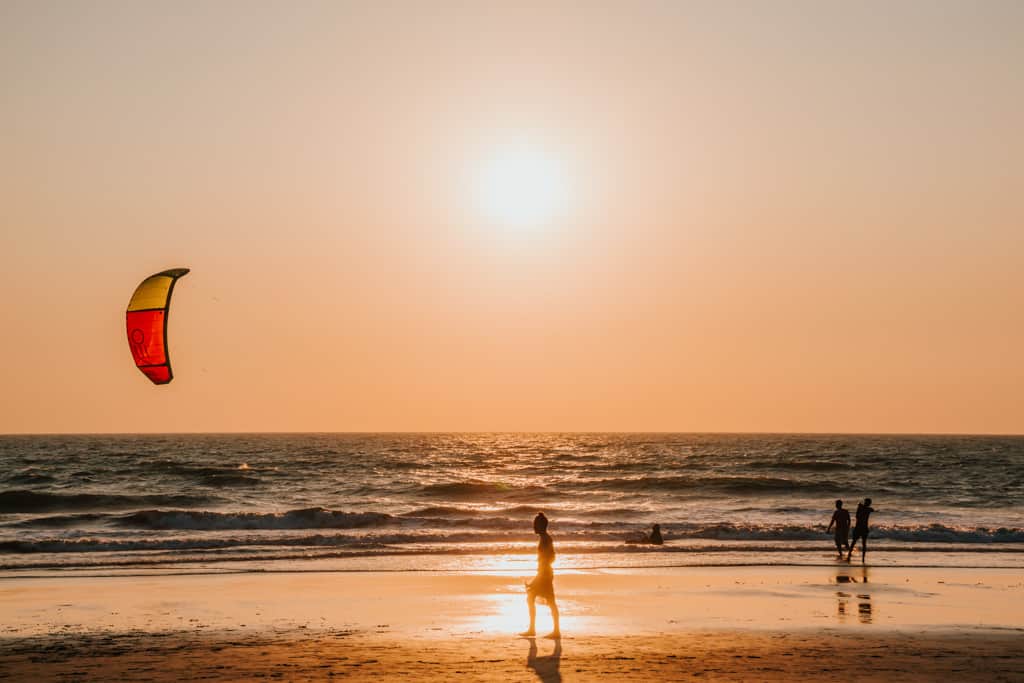 Goa is beautiful with a lot of things for guests to do around here. So, whether you are a nature lover or a beach lover, you will easily find something to engage in.
Here are a few things that you could do on your Goa trip for enjoying a wholesome experience here.
Beach Hopping in Goa
Goa is known as the beach capital of India and is home to some of the most beautiful beaches in the world. A few of the beaches are either hidden behind a cliff or they are protecting a lagoon which makes them even more beautiful to explore. So, if you are in Goa, you have to do beach hopping.
A few beaches in Goa that you cannot miss out on are Vagator beach in North Goa, Miramar beach in Panjim, Palolem beach in South Goa, Colva beach in South Goa, and so on.
Explore Old Goa
Apart from the beaches, there are a lot of offbeat places to explore in Goa too including Old Goa. In Old Goa, you will find a lot of beautiful churches and heritage sites to check out.
One such place that you must visit is the Basilica of Bom Jesus and St. Cathderal, both of these are UNESCO Heritage sites and have beautiful architecture to admire.
Check out the Waterfalls
There are a lot of amazing waterfalls to check out in Goa, both big and small. So, make sure that you set aside time for those as well. If you don't have the time, then just make sure that you at least cover the Dudhsagar waterfall for which you will need the help of a local.
There is a limited number of cars allowed near this waterfall so, make sure you start early in the day to visit this waterfall.
Experience Nightlife in Goa
Of course, when we are talking about Goa, we have to talk about its amazing nightlife. If you love parties and crowds, then you have a lot to cover in Goa. There are so many bars, clubs, night-long parties to attend here, and usually, you will find a lot of such events happening in Central Goa.
So, you can go and enjoy the casino experience at Deltin Royal or groove to the Bollywood music in Love Passion Karma in Nerul, there are very low chances of you running out of party places to explore around here.
Do Yoga in Goa
If you are looking for a relaxing trip to Goa, then you can even join a yoga retreat here for daily yoga sessions. These yoga sessions can be quite uplifting and will help you relax properly. Trust me, it is quite refreshing to start an active day on the beach with a yoga session.
Try Watersports
Apart from the above-mentioned activities, Goa is quite famous for water sports as well. From dolphin watching to scuba diving, you have a wide range of water activities to do around here. You can even join a scuba diving course in Goa and learn how to dive on the Grande Island nearby.
So, if you have always wanted to try water activities such as jet-skiing, parasailing, banana boat ride, snorkeling, diving, etc., then Goa is a good place to try it out.
Festivals in Goa
There are several unique festivals in Goa that are either a remembrance of the 450 years of Portuguese rule or celebrate the rich heritage of the locals.
You can plan a trip to Goa during this time to enjoy the food, colorful costumes, and all the fun events that are carried out during such festivals.
Music Festival – There are many music festivals held in Goa throughout the year, out of which Sunburn and Supersonic Music Festival are the most popular ones to attend.
New Year's Eve and Christmas – During Christmas and New Year's Eve, the beaches and cafes in Goa are brimming with colors and music. This is a great way to celebrate the New Year or Christmas spirits of the year.
Narkasur – After Diwali, locals of Goa celebrate Narka Chaturdashi which is the manifestation of good triumphing over evil. In this festival, giant demon effigies dance through the streets of Goa before they are burned to show the triumph of good.
Viva Carnival – This is a Catholic festival that begins from Fat Saturday and lasts till Fat Tuesday. Similar to Mardi Gras or Rio Carnival, this festival includes a grand celebration involving parades, floats, masked dances, and more.
Goa's Party Scene
A lot of visitors come to Goa expecting the famous trance parties but are disappointed when they have the mainstream clubs to entertain themselves.
For pure hippie vibes and to dance to techno music, you can find several clubs in Goa, especially Anjuna and Vagator.
But if you are looking for parties where thousands of people dance, then you would need to attend a music festival in Goa or plan a trip during Christmas or New Year's Eve.
What and Where to Eat in Goa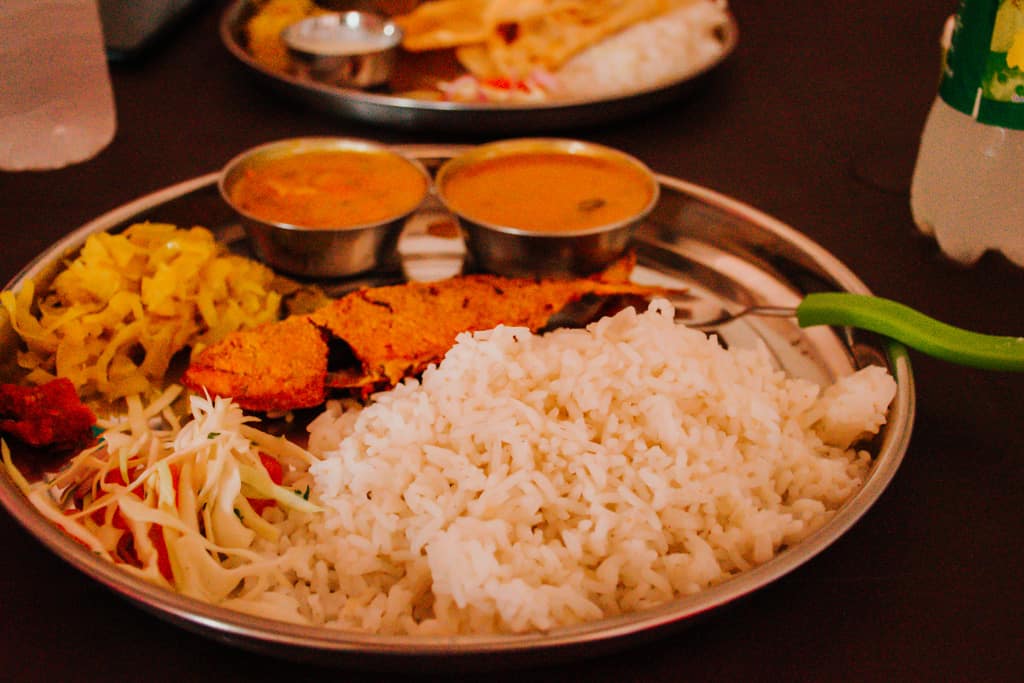 Goa is famous for seafood so if you are a non-vegetarian, then you can try the seafood dishes over here. A popular Goan dish to try would be Vindaloo that tends to be spicy but ultimately delicious.
Apart from that, you also need to try the Fish Curry meal here that usually includes fried fish, dal, roti, and a few other local items. You can find this meal in most local dhabas and eating stalls for 80 – 100 INR and it is quite filling as well.
Another great dish to try in Goa is the famous Bun from Café Bhosle in Panjim. This is a small, fluffy, and sweet bun that is fried and is served with chickpeas. It tastes quite yummy and will cost you around 50 INR for a plate.
You will find a lot of cafés here as well that serve delicious baked goods. One of my favorites is Café Al Fresco in Goa that is a Portuguese house converted into an art gallery and a bakery.
Here, you get pizza, croissants, cheesecake, and other delicacies to enjoy with a calm and relaxing ambiance. There are several rooms here that have been turned into display rooms for different kinds of artifacts and creations. So, if you have some time at hand, do visit this place in Panjim.
Another place that I would highly recommend you to visit is the Joseph's Bar in Panjim where you can get the local alcohol Feni and some local snacks such as well.
They have seafood snacks too which are delicious and the entire vibe of this bar is quite amazing. You can meet lots of locals around here and hang out with them for an amazing time.
There are several normal restaurants and dhabas in Goa where you can enjoy a meal for 100 – 300 INR per person.
If you don't mind spending, then you will find loads of good and high-end restaurants along with fast-food chains here that serve good food and will cost you 300 – 500 INR for a decent meal.
Stick to small food shacks and do read the menu before you start ordering. Also, make sure that you do try the Fish Curry meal here for 100 – 150 INR. The meal is filling and is the best way to taste the Goan cuisine.
Souvenir Shopping
There are several iconic flea markets in Goa such as the Anjuna Flea Market, Arpora Saturday Night Bazaar, etc. where they sell interesting items to the tourists.
From anklets to beaded necklaces, you can get it all here for a reasonable price. But you need to be adept at bargaining.
Although most of the jewelry, clothes, and footwear that are sold here can be bought from Sarojini Market in Delhi, there are a few unique things to buy here.
You can get the famous local alcohol – Feni, a bottle of Kokum juice, Goan spices, special Cashews, Azulejos – hand-painted tiles of Goa, and local sweets such as Bebinca Cake as souvenirs from Goa.
Accommodation Options in Goa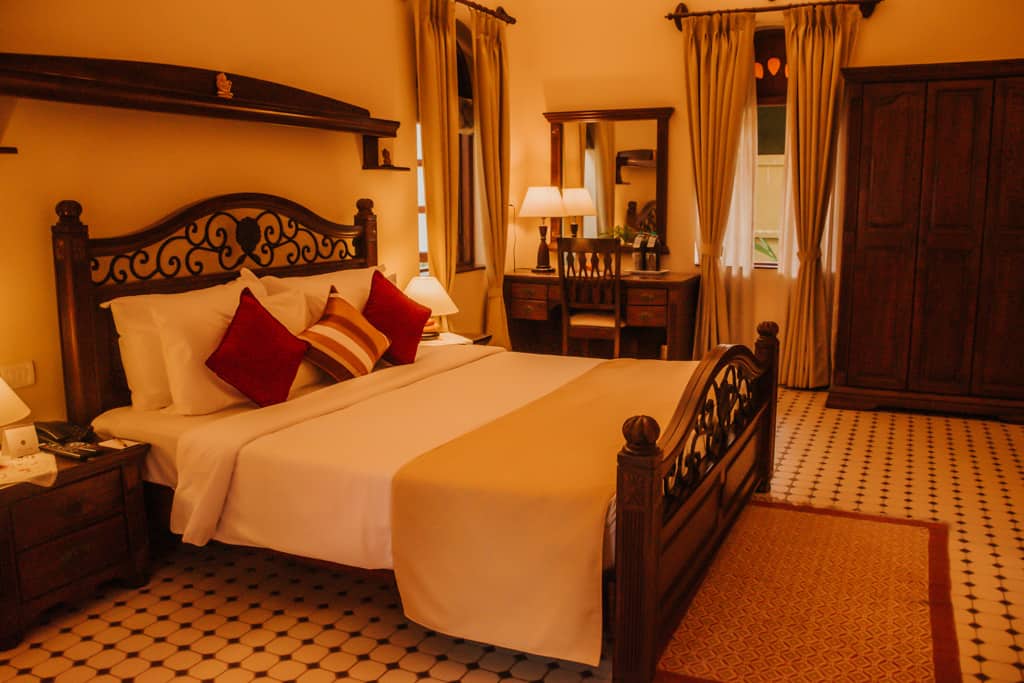 Goa is not a tiny state and easily requires 7-10 days to properly explore the sights that it has to offer. This is why you must choose the right place to stay in Goa as it has a big impact on your experience here.
If you love to party and want to enjoy all the experiences and activities that Goa has to offer to the tourists, then choose accommodation in Baga or Calangute.
For those who love offbeat locations and a peaceful environment, places in extreme North and South Goa are good choices.
And if you wish to explore Old Goa and learn more about the history of this state, then Panjim would be the ideal place to stay in Goa.
ATMs in Goa
If you traveling to Goa on a shoestring budget, then you will need to carry cash to pay the local street vendors, bus conductors, etc. So, carry enough cash that you can pay the street vendors.
There are a few places that accept PayTM, Google Pay, etc. also these days but don't be completely reliable on those platforms.
Since Goa is a popular tourist destination, there are a lot of ATMs scattered throughout this tiny state. However, during the long weekends, a lot of these ATMs tend to be empty and there are huge queues outside the ATMs to withdraw cash.
To avoid such a situation, make sure that you pay using your card wherever possible such as clubs, bars, restaurants, hotels, etc., and keep the cash for paying for the rentals, activities, and other things.
This way, you won't end up without cash where you need it the most and won't have to waste time on ATM queues during your Goa trip.
Network Availability in Goa
In terms of Network availability, most of the networks work in Goa. But Vodafone, Jio, and Airtel networks work the best in Goa.
However, this network can be patchy at many locations as well so, you might not have any Internet or Calling signal on your mobile phone for a while.
Most of the hotels and cafes offer decent Wi-Fi to get your work done even if you cannot stream Netflix with it.
Safety in Goa
Goa is a relatively safe state to visit in India but there are a few things to keep in mind when you are traveling here.
Swimming in Goa
Firstly, be careful when you are swimming in Goa. A lot of beaches have vicious sea currents that can easily drown tourists. Generally, this happens because the tourist is drunk or high.
So, stick to beaches that have lifeguards or are safe to swim. Avoid swimming during the monsoon season as it can be extremely dangerous.
Women Safety
One bad thing about Goa is that eve-teasing and catcalling are quite common here. But that's not even the worst part.
There have been complaints from women that their obscene photos are clicked without their permission or men try to begin a conversation with them when they are not interested.
This is why it is advised for solo female travelers or female friends to avoid going to remote places alone or accepting food/drinks from strangers in Goa.
Sunstroke and Mosquito Bites
Apart from that, you are likely to suffer from sunstroke or suffer from mosquito bites when you are traveling in Goa.
Make sure you carry a hat and good sunscreen with high SPF value to keep your skin protected.
For protection against the mosquitoes, use a mosquito repellent cream or spray and try to keep a covering with you to cover your exposed skin during the evening to stay safe from mosquito bites.
Clothing in Goa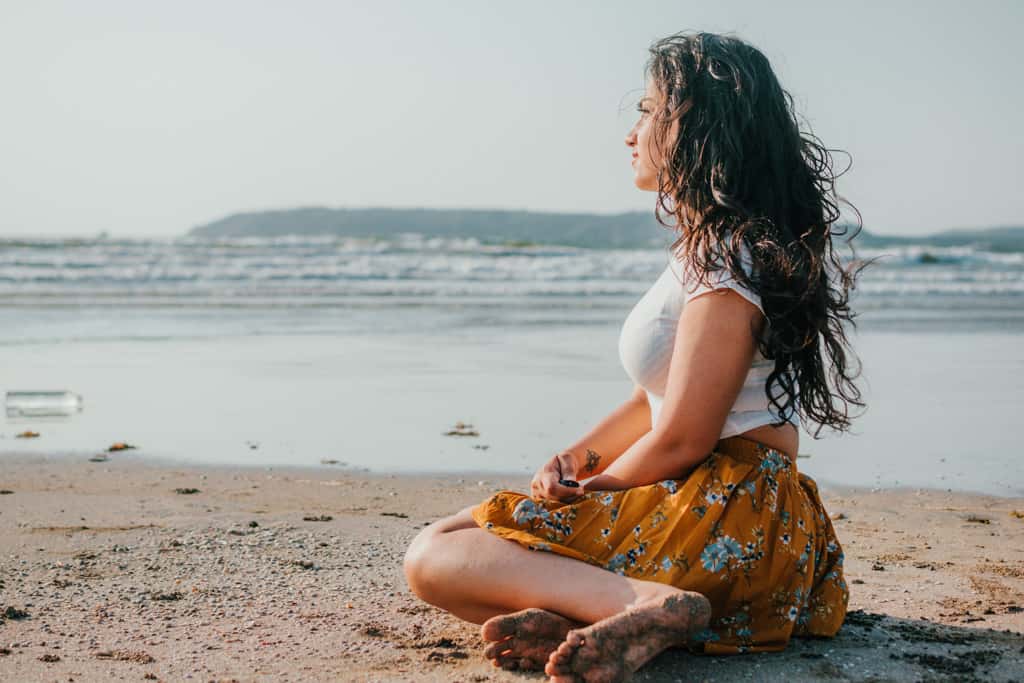 Of course, when you are planning a trip to Goa, you might wonder what you should wear here. Thankfully, Goa is a little relaxed in terms of clothing and one can easily wear dresses, skirts, shorts, etc. here.
One of the best things about Goa is that you can wear almost anything when you are traveling here. Bikinis and swimsuits are common on the beaches and you can wear them freely on Colva, Vagator, Arambol, Palolem, etc. beaches.
Furthermore, if your hotel or resort is located on a beach, then you can relax and enjoy yourself in a bikini as the beach area is usually kept private for the guests to enjoy.
The only place where it is not normal to wear a bikini or swimsuit is in restaurants or the streets of Goa, so dress a little carefully over there. You can wear dresses, skirts, etc. while exploring around Goa with no worries.
Apart from that, there are many churches and traditional places in Goa where you would need to cover your knees and shoulders to enter.
If you are traveling in a bus, then do carry a stole or scarf to avoid standing out and getting ogled at. A stole will not only protect you from unwarranted stares but will also keep you safe from the bright sun and keep your body cool in the humid climate.
Budget for Goa
One of the best things about Goa is that it can easily be traveled on a shoestring budget. But if you are in a mood to splurge, then it can easily turn into a luxurious trip as well.
On my 4 trips to Goa now, I have been able to manage my month-long trips in 15,000 – 20,000 INR inclusive of my travel from Delhi to Goa, stay, food, activities, and transportation in Goa.
Generally, a 5-day trip to Goa can cost you around 4,000 – 6,000 INR if you are on a budget trip. This cost can increase if you choose luxury resorts and dine and party at the best places in Goa.
Summary
Goa has become too crowded after it has evolved as a tourist destination but there are still a lot of unexplored places around here.
Most people stay in North Goa for party scenes but if you want to experience Goa in the Goan style, then explore Old Goa and South Goa. It is quite peaceful around there and you have a lot of lagoons and hiking trails to explore in South Goa too.
Honestly, Goa is one of those places that have something for all kinds of travelers. So, whether you are looking for a fun place to party or a quiet beach to reflect on your life, Goa has it all.
I hope this Goa travel guide helps you plan your trip to Goa too so that you can have your once-in-a-lifetime trip here.