Are you looking for a good hotel to stay in Ooty? Well, then you should check out Delightz Inn Resort Ooty!
While this resort is not the best choice for those traveling on a budget, if you are looking for a comfortable and luxurious stay then this is it.
The place is well-suited for groups, couples or family travels so, if you are looking to want to pamper yourself, then this is a great choice.
From the spacious rooms to the amazing food served here, Delightz Inn Resort has it all and is perfect for all kinds of travelers.
So, if you are wondering whether you should book a stay here or not, then read my detailed review on the same.
Full disclosure: I got 3 nights free stay at this place for our honest review. So, you can expect the exact thoughts that I had about this place.
Delightz Inn Resort Ooty: One of the Best Luxurious Hotels in Ooty in 2022
About Ooty
A popular hill station in Tamil Nadu, Ooty is located in the Nilgiri mountain ranges and sees thousands of tourists every year.
As this place is a hill station, the weather is pleasant throughout the year. So, it makes a good weekend destination for several major South Indian cities like Coimbatore, Kochi, Bangalore, and so on.
Here, you will be presented with rolling hills, tea plantations, and numerous forest reserves, which is why this hill station looks green throughout the year.
Sadly, in the past few years, Ooty town has become crowded with tourists. But there are still a few places nearby that remain offbeat and charming like Kotagiri, Coonoor, etc.
About Delightz Inn Resort Ooty
The owner of this place, Arun Radhakrishnan was a gracious and helpful host. And the staff members of the resort were ever-so-attentive to our needs.
Mr. Bala, manager of the Delightz Inn Resort, went out of his way to help us with our traveling and exploring expeditions here. The property is huge with 18 rooms to accommodate people and they also have a huge lawn to sit people for breakfast in the morning.
There is a parking space in front of the buildings to keep your cars or bikes and there is a tent erected for the morning buffet breakfast. The reception and the kitchen are on the right, immediately after you enter the gate.
Overall, the property looks magnificent, especially at night as the sky turns blue and the rooms and the hotel area get all lit up.
Website: www.delightzinn.com
Facebook Page: www.facebook.com/Delightzinn
Instagram Page: www.instagram.com/delightzinn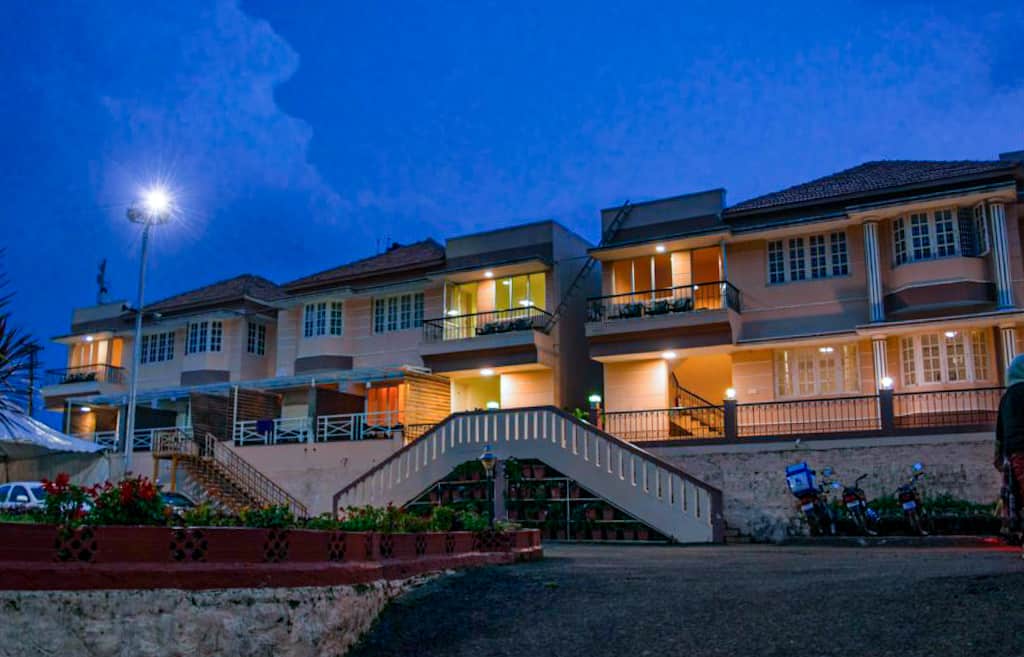 Room Options at Delightz Inn Resort
Superior Couple Room
This is the room that we stayed in on our visit to this delightful hotel and which is actually perfect for couples. You have a huge bed and two chairs in the room to relax in and there is one bathroom and one balcony for you to use.
On the balcony, you have a small dining table which is usually set up for breakfast, dinner, etc.
Executive Room
For families, the Executive Room is the best which includes two rooms, one bedroom and one living room to accommodate 4 adults easily.
This room has similar amenities to the Superior Couple Room but it also includes an electronic safe, hairdryer, and laundry service to make your stay even more comfortable.
Also, the floors in these rooms are made out of wood so you won't feel as cold as in other rooms and can easily relax barefoot here too.
Deluxe Room
This is another room option where you get both a living room and a bedroom which is ideal for families with children and can easily accommodate 3 people.
There is 1 double bed and 1 single bed inside the bedroom and two divans in the living room for relaxing.
Tiger Hill Homestay
Apart from the three-room options, you can also choose to stay at the Tiger Hill Homestay which is equipped with 3 bedrooms, a living room, a private garden, and a backyard.
This place is perfect for a large group of people and can easily accommodate 12 – 15 people at a time.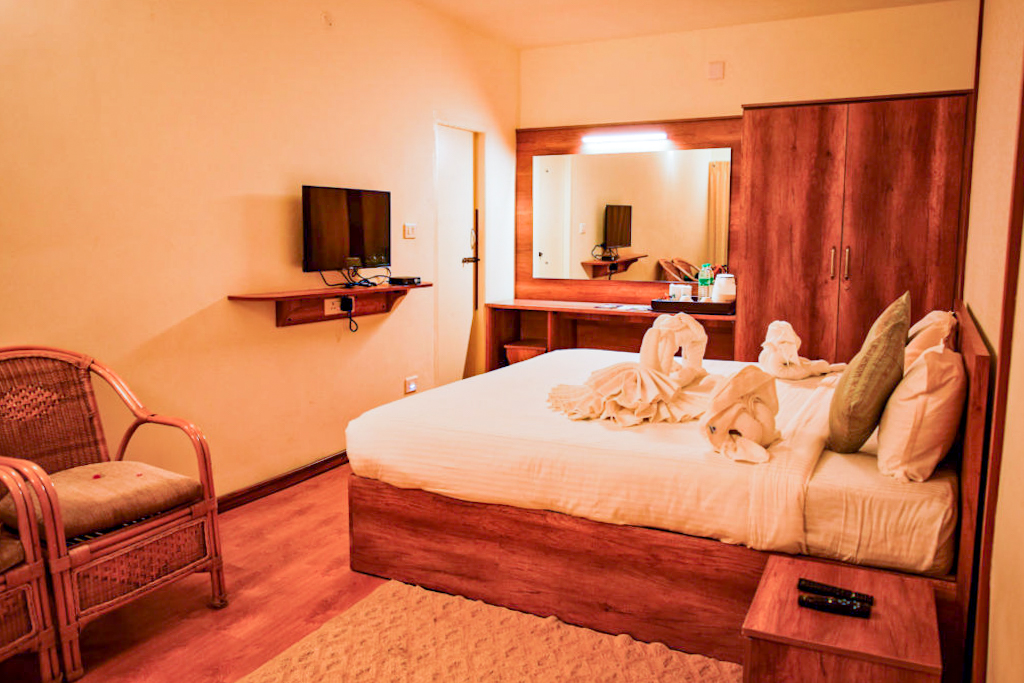 Location of the Resort
Delightz Inn Resort is located at Tiger Hill and is around 5 km from the Ooty Bus stand. As a result, one can enjoy some peace and solitude while staying in this hotel and can take advantage of the mesmerizing views that this place has to offer.
Since this hotel is located next to the forest, you can also see Bisons roaming about here which can be quite a thrilling experience for travelers.
When you walk a few steps from the hotel enclosure, you can see the tea farms and the forest in the distance which makes it a beautiful sight to watch.
This place is just behind the Tiger Hill Dam so you can easily reach that place and it is just 3.5 km from the city. So, one can easily reach the city whenever they wish to.
Why You Should Visit This Resort?
Amazing and Peaceful Location
I cannot emphasize enough how amazing the location of this resort is. It is away from the city and situated right next to the forest so you get a peaceful environment to relax in. And the forest view along with the tea plantation makes for an amazing view every morning.
Even the backside of the property has an amazing view as you can see the Tiger Hill Dam or can simply admire the flowers that grow here.
You don't have to wait a long time for any kind of service here as they put the guest's comfort before everything else. As a result, you get quick room service or any other kind of work that you need to be done. They take care of your room requirements to your travel requirements and ensure that you are provided with all the available options.
Clean and Spacious Rooms
The rooms are huge and completely clean and the beds are super soft and comfortable to lie down on.
Since both the Superior Couple Room and Executive Room have wooden flooring, you find it easier to roam around barefoot as well. And you don't have to worry about getting your feet dirty.
They also provide housekeeping services daily so if you feel like your room is slightly dirty then you can simply call them.
Arrangement of Tours and Cab Services
Another great aspect of this hotel is that it offers you several tour packages to choose from for a comfortable trip. So, there is no need to search and waste your time in finding tour operators for you, Delightz Inn will take care of your sightseeing.
Also, if you need special cab services while exploring the Nilgiri Hills then Delightz Inn will provide it too. All you have to do is sit back and relax.
Helpful and Immensely Friendly Staff
The staff here is extremely helpful and will go out of their way to fulfill your wishes.
Since I had heard a lot about the Neelakurinji flower bloom, I asked Mr. Bala where I could possibly find it. And he was amazing enough to take me to a nearby place to actually see the flower and also pointed us in the direction of where we can find some more.
Availability of Delicious Food Options
No, I am not exaggerating when I say that this place serves the most delicious food ever. From Punjabi to South Indian cuisine, they have it all. And the quantity of each item is sufficient to fill up the tummy of two people easily.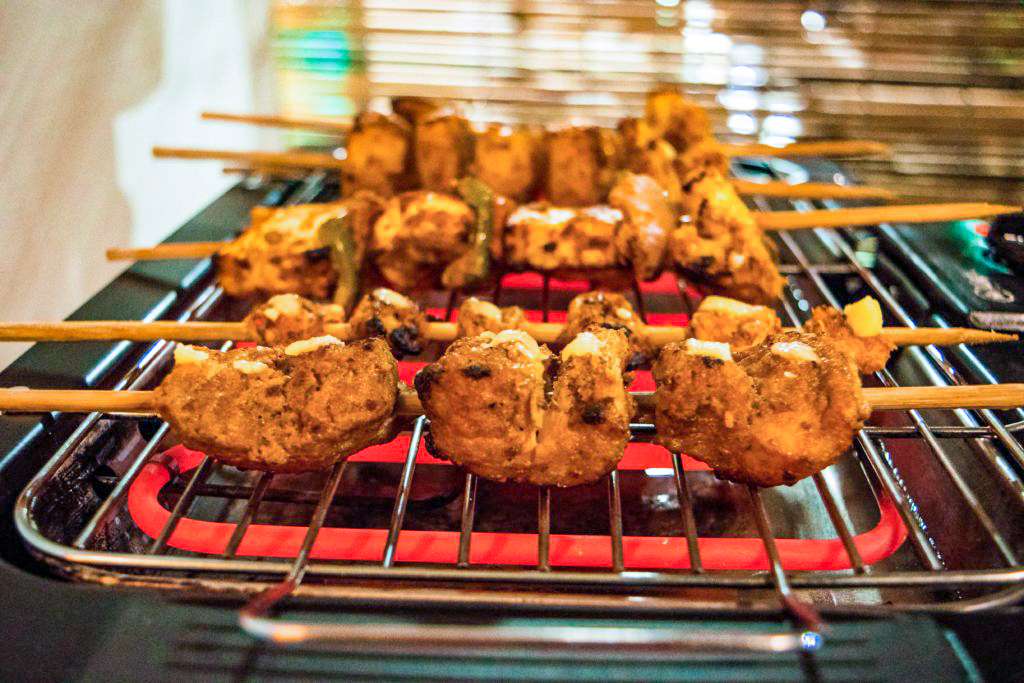 My Experience at the Delightz Inn Resort Ooty
On our last day here, Mr. Bala also prepared the BBQ at night for us. This included several delicacies like Prawns, Fish, Chicken, Mushrooms, Paneer, and so on.
Another thing that made my stay at this resort quite memorable is the fact that the views are so amazing here, both from the backside and the front side.
From the backside, you can see the Tiger Hill dam which is truly beautiful. And the front side offers the forest and tea garden view, which is again mesmerizing.
In my opinion, Delightz Inn Resort is undoubtedly one of the most amazing places to stay at. So, if you want to unwind for a few days without being smack dab in the crowd then this is the place for you.