Surreal environment, snow-clad mountains, and fresh pearly white snow as far as you can see. That's what the Brahmatal winter trek is all about.
My first snow trek in India was a mixed experience for me due to a number of reasons.
Firstly, my trek batch had to return back to the base camp from the first camping site because of heavy snowfall which was a huge bummer. So, we weren't able to complete the Brahmatal snow trek.
However, one of the best decisions after not being able to reach the summit was to stay behind another day. Well, because the next day, the sun shone brightly in the sky.
So, I got to experience the entire trek to Bekaltal lake, the first camping site, again. And I can't even describe how amazing the view was on this day.
Are you also planning to do your first winter trek? Not sure which one to choose or how to prepare? Well, read on to know how you can select the best snow trek in India for yourself and have a blast.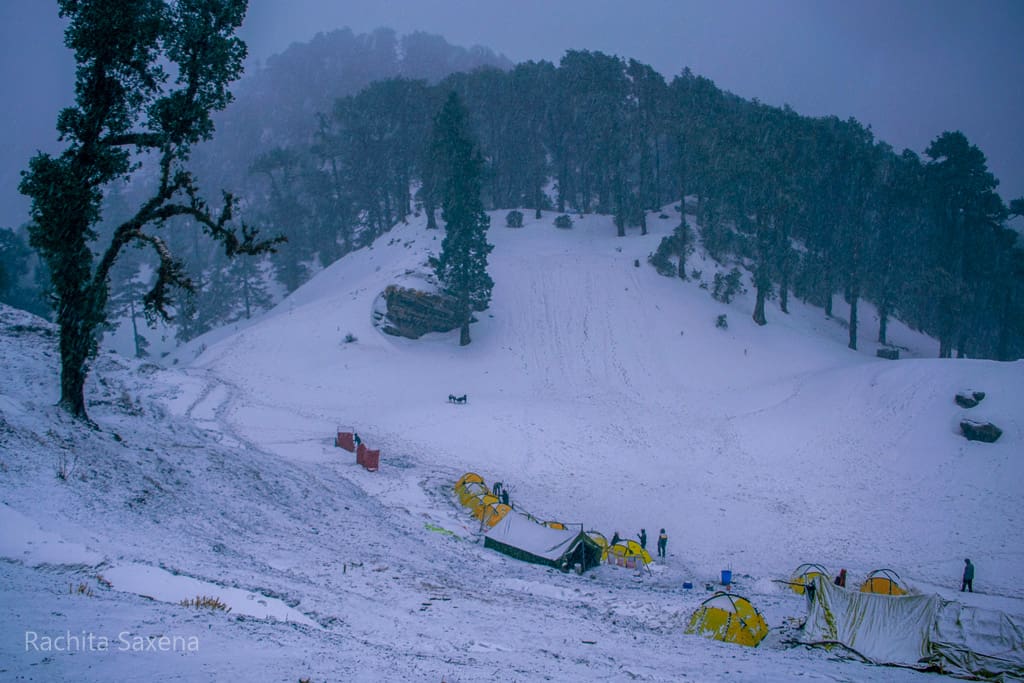 Brahmatal Trek: My First Winter Trek in India
How to Choose the Right Winter Trek for Yourself
I have never claimed to be a Trekker so I wouldn't start doing that now. In fact, I am not a big fan of trekking as I am terrified of heights and walking for hours on an inclined surface.
But as part of my bucket list, I knew that I had to tick off one winter trek sometime soon.
So, after a lot of research and contemplation, Brahmatal Trek looked like a good choice. But that doesn't mean that it might be a good choice for you too because ultimately each person is different.
I chose Brahmatal trek because it was perfect for beginners so I knew I would be able to manage it and it has beautiful viewpoints on the way.
There were many other options as well like Dayara Bugyal, Chandrashila, etc. but I figured if I am going to do my first snow trek, it may as well be a little more complex than those other treks.
Here are a few things to keep in mind when you are looking for an ideal snow trek for you:
Difficulty Level
The first thing you need to check is what is the difficulty level of the trek. While you might be tempted to do a harder snow trek your first time, it would be advisable to start with an easy level first.
This is because while a moderate dry trek might be a piece of cake for you, a moderate snow trek is an entirely different matter.
You have to factor in the snow and the cold which will certainly slow your progress. So, start by going for an easy or moderate (highly inadvisable) snow trek. In such cases, Dayara Bugyal or Nag Tibba treks are good beginner snow treks.
Trekking Experience
Another important thing that matters a lot is your trekking experience. If you have done several moderate or hard treks previously, then you might find a moderate snow trek easier to do.
But stay away from hard snow treks because no matter how experienced you are, a hard-level snow trek is definitely going to be 10 times more difficult.
Start with an easier one. You could go for the Brahmatal trek or the Roopkund trek if you have previous experience in trekking.
Fitness Levels
Another thing that will decide your first snow trek is your stamina and energy.
If you are more into physical activities then you will find it easier to do the snow trek with stable blood pressure. And you are less likely to be hit by AMS or experience other discomforts as well.
This is a deciding factor as you will have to choose a trek with the appropriate altitude.
I have heard so many cases where the individual wasn't active enough and attempted a high-altitude snow trek which basically resulted in them getting sick and being sent back to the base.
Trekking Trail Route
Also, you have to research the trail before you lock on the snow trek.
Are you nervous or an amateur Trekker? If yes, then go for a simpler trek that has fewer ascents or descents and mostly has a smooth trail.
If you have proper trekking experience and are looking for some adventure then go for a complex one.
Budget
Finally, decide what is your tentative budget for the snow trek and then look for one in your budget range.
There are so many snow treks in India ranging from 2,000 – 20,000 INR so you can easily find one which suits your requirements.
Once you have decided on your snow trek, the next question is whether you need a guide for it or not. And if you should do it with a trekking company or some local guides.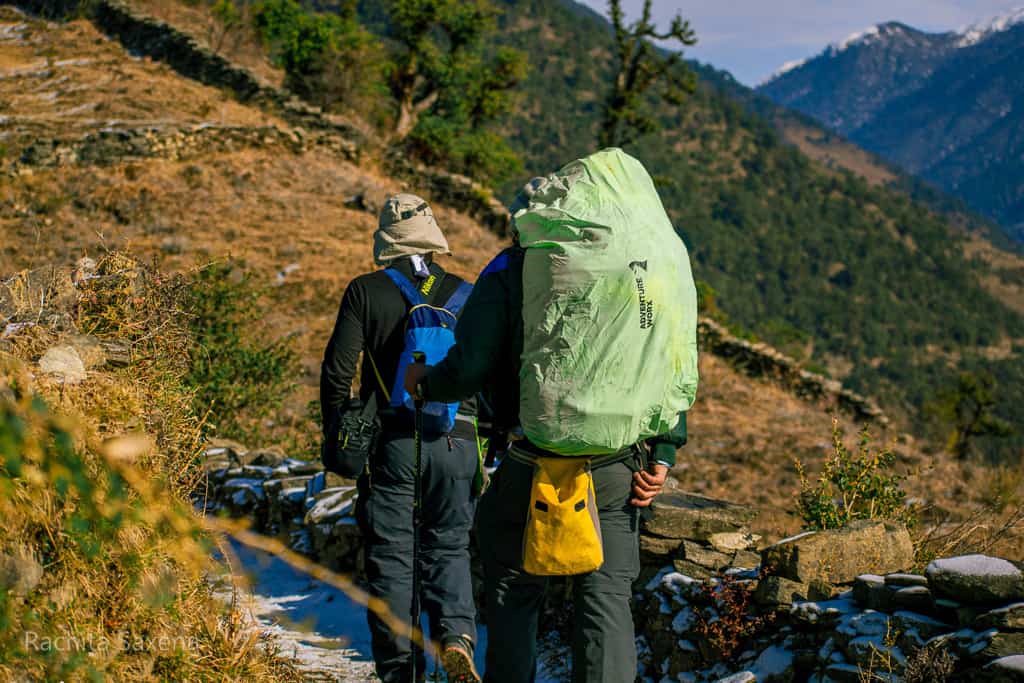 How Should You Do Your First Snow Trek?
While I am not an experienced Trekker, I also don't feel that you need a guide on most of the treks.
This is not because I am arrogant or overconfident. But most popular treks have hundreds of people trekking there every day and the trails are clearly marked. So, there is never a need to get a guide on these popular treks.
In fact, to do the Valley of Flowers trek solo was one of the best decisions I had ever made. Because I met so many other solo travelers and never did I feel scared or lost.
There were so many people traveling with me on the well-marked trail that I ended up making a lot of friends. However, going on a tea trail trek and a snow trek are two completely different things.
Should You Do a Snow Trek Without a Guide?
After doing a lot of research, I have come to the conclusion that you should never do your first snow trek alone. It doesn't matter if you have trekked on other trails before because the trekking game changes completely on the snow.
Trust me, when it is snowing like crazy and you are stuck on the trail, you don't want to be alone.
Plus, if you get hurt or get lost, it is very difficult to find your way on a snow-covered trail so I would strongly advise against doing the snow treks alone.
So, now the question comes to whether you choose a local guide or a good trekking company.
Again, I did some calculations and decided that if I choose a local guide (assuming I find one who charges me fairly) then I would end up spending 5,000 – 6,000 INR on the Brahmatal trek, not to mention the amount of planning and phone calls that would need to be made.
So, I took the easy way out and decided to go with a trekking company instead. Honestly, both options have their own pros and cons and I will be listing them down below.
What to Expect on a Trek with a Local Guide
Here are a few things that you can expect when planning a snow trek with a local guide.
Extensive Planning and Research
The first and foremost thing to understand is that when you are choosing a local guide, you will have to do extensive research.
This means both the planning about logistics and finding a good local guide for yourself. And you will also have to take care of the camping and trekking equipment, transportation, stay, etc.
This can easily take a month's time as you compare the different local guide services. So, if you don't mind planning and have a lot of time to manage then opting for a local guide could be a good way to complete a snow trek.
Affordable Pricing
Well, this one is no surprise but a snow trek with a local guide is definitely cheaper than with a trekking company.
But you only save a lot if you are a group of at least 3-4 people for the winter trek. If you are just solo trekking then taking a local guide can actually turn out to be a little expensive for you.
Flexibility Over Your Trip
Another great thing about choosing a local guide is that you have more flexibility over your itinerary. So, you can decide to stay 1 extra night at a campsite or you can choose to skip it completely.
Also, you can spend as much time as you want at a viewpoint without having to follow the rest of the trekking team. This allows you to enjoy your trek at your own pace and makes it a more wholesome experience.
No Money-Back Guarantee
One biggest drawback of going with a local guide is that there is no refund policy. While there are a lot of trekking companies that don't offer a refund too, there are a few like Indiahikes which have similar policies in place.
For example, if due to unseen weather conditions, you aren't able to reach the summit, you have an option to do the trek again free of cost or get a voucher to go on another trek with them.
However, this is not the case with a local guide. If you miss the chance to do the summit, then there is no redo for you free of cost which is a big bummer.
Preparing For the Snow Trek
Another drawback with choosing a local guide is that you don't have any help regarding what to pack and wear for your snow treks.
Most trekking companies will provide you with a list of items that you should carry with you. But if you choose a local guide, you need to research yourself and prepare for the snow trek.
Possible Help with Transportation
You will find that if you choose a local guide, you have to arrange your own transport to the base of the trek.
Sure, there are a couple of local packages which might include your transportation from major cities. But most often than not, you are responsible for your own travel and have to research and plan that too.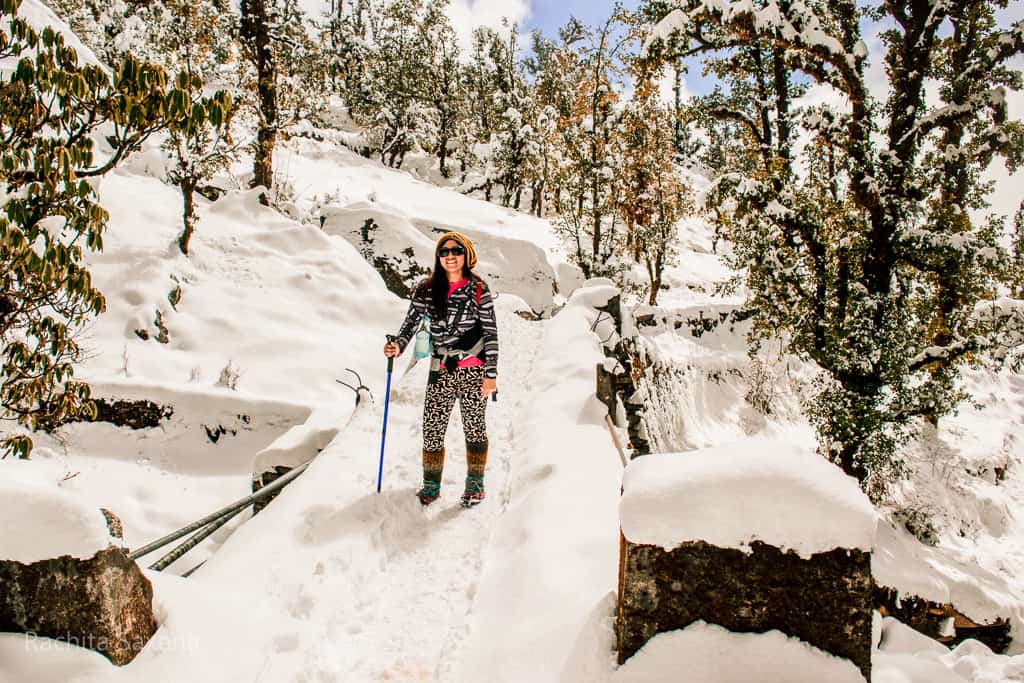 What to Expect on a Trek with a Trekking Company
On the other hand, you can expect the following advantages and disadvantages when planning a trek with a good trekking company.
No Need for Planning and Execution
One of the best things about choosing a trekking company is that you don't have to do anything.
I don't mean that you won't have to prepare for your trip but the planning isn't your headache anymore. The trekking company takes care of the itinerary, accommodation, transportation, and everything.
So, all you have to do is turn up and just enjoy the experience.
Good Customer Service
Another great thing about choosing a good trekking company is that they provide you with good customer service.
You can email them or call them up if you have any doubts and they will make sure you have an amazing experience.
You just cannot find this level of commitment from a local guide and the whole experience tends to stay a little raw.
So, if you are looking for a little convenience and comfort on your trip then a trekking company is the way to go.
Detailed Itinerary and Information
As I mentioned above, a trek with a trekking company will reduce the planning on your part.
They have a detailed itinerary and information about the trek mentioned on their website. So, you just need to read and you will know what to expect.
This is especially great for people who like their trips to be properly organized and planned.
They also have information on how you can prepare your body for the trek. This often includes daily and weekly exercises that you can do to help build your strength and stamina.
Apart from that, they also send you a checklist of items that you will need for your trek. So, basically, you just need to go through their information and you are all set for the trek.
Safety and Security
When you trek with a trekking company, there is an added advantage that they keep monitoring your health. They take a note of your blood pressure and oximeter reading to see if the weather and the altitude are degrading your health.
This way, if you do become unwell in the middle of the trek, they can instantly get you back to the base so that you don't become grievously ill.
And since most of their trek leaders are wonderfully skilled and experienced, they know how to safely get you to the summit and back.
Help with Preparation for the Trek
Another great thing about these trekking companies is that they help you prepare and pack for your snow trek.
Frankly, I had no idea how or what to pack for my trek. But thankfully, the Indiahikes team sent me daily emails to help me prepare mentally and physically for this trek.
They emailed me about safety precautions, medicines I should pack, things I would need, etc. As a result, I was better prepared and equipped for my first snow trek.
Help with Transportation
Although a lot of trekking packages don't include transportation to the trek base, they do help you in reaching the base.
They can arrange a private minivan or taxi for you which you can share the cost with your fellow trek mates. This way, you don't have to worry about finding a suitable transportation option and can make new friends on the way too.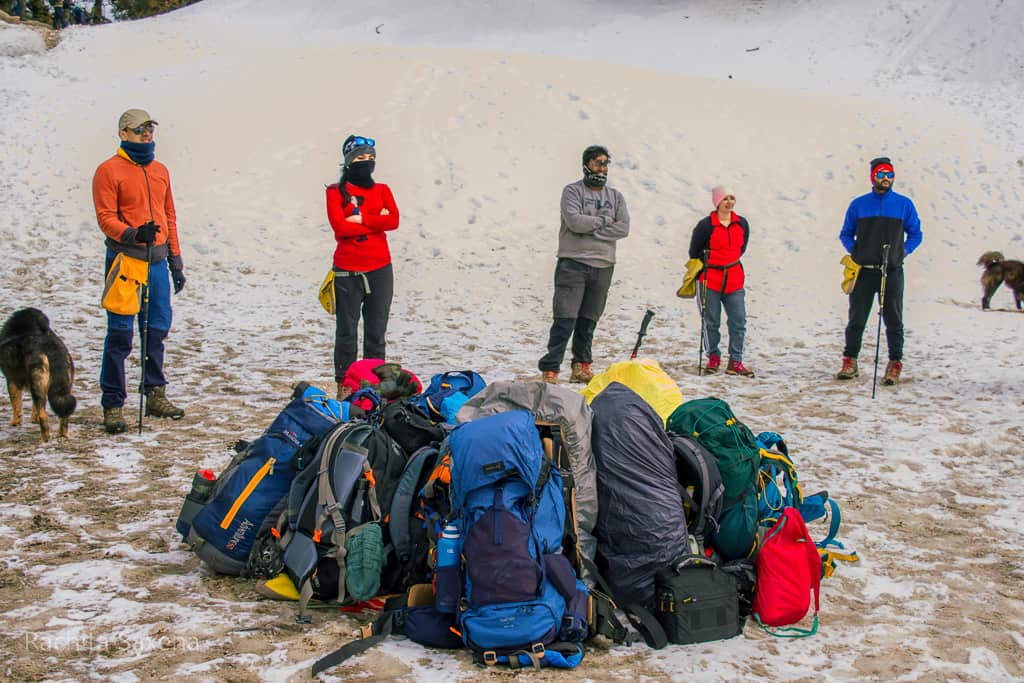 How to Choose the Right Trekking Company?
Once you have figured out if you wish to go with a local guide or a trekking company, the next phase begins. This is where you will need to choose a good and reliable trekking company for your trek.
This phase might take a week as you will have to research different trekking companies and what each of them has to offer you.
Here are a few things that you should consider when looking for a good trekking company for your trek.
Customer Experience and Support
One of the most crucial things to check when selecting a trekking company is its customer experience.
You will find that a lot of people have left reviews about these companies so make it a point to read them.
See what are the flaws and the pros of choosing a particular trekking company. Check if other trekkers were happy with their services or not.
While you might find a few misleading negative or positive reviews, it is easy to deduce how a company performs. This is one of the reasons why I chose Indiahikes for my Brahmatal trek as it is a reputed trekking company.
Package Cost
Next, you need to consider your budget and the price of the trek package being offered by the companies. It is a given that a better company will have a higher-priced package.
But that doesn't mean you should choose it or reject it instantly. Determine if the package price is in your budget or not.
If it is, then check what facilities and services are offered in the package and compare it with other similar trek packages.
Inclusions and Exclusions
Once you are okay with the price, you need to carefully read the list of inclusions and exclusions.
Many times, the price might be low but the trek package might skip a lot of crucial viewpoints as well. And sometimes, the price is high but it might also include your transportation.
So, read through all these details carefully and determine if the price is right for what the package offers. If you are okay with the price and the inclusions/exclusions, then you can consider the trekking company for your snow trek.
Itinerary Followed by the Company
Apart from the inclusions/exclusions, pay attention to the trek itinerary as well. Sometimes, a few trekking companies choose a different trail which could result in fewer trekking days.
This could mean a reduced price. But if you want to choose the other route or the longer trek route then you might have to pay more.
This is why it is important that you read the itinerary properly and see if this is what you wish to do.
Safety Precautions in Place
If a sudden snowstorm or avalanche strikes you, what do you do?
Well, as a first-time snow trekker, you might not know the answer. But a good and reputed trekking company should and must have safety procedures in place for your safe and sound return.
If you end up with an inexperienced or amateur trekking team, then you might get injured or worse lose your life in case of crisis.
So, always go for a trekking company that has proper safety precautions and processes in place. You can even email or call these companies to ask them about it before booking the trek.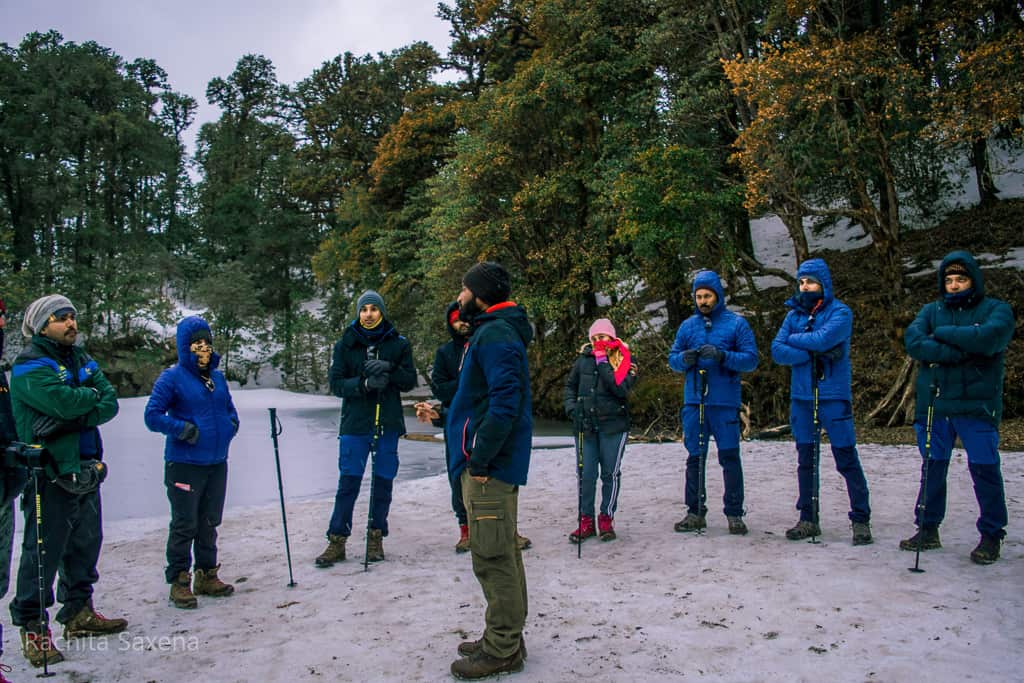 Good and Reliable Trek Guides
Another important aspect of a good trekking company is that they have reliable and certified trek guides.
This means that their guides know mountaineering techniques and are prepared for worst-case scenarios as well. They know the trail well and can safely get you to the summit and back to the base.
Also, opt for a trekking company that has locals as the trek leaders because they know their mountains the best. These trekking companies understand the power of local tourism and ensure that their trekkers are in safe hands.
Money-Back Guarantee or Similar Option
We all know that sometimes life can unexpectedly change your plans. Now, whether the trek gets canceled due to weather conditions or you have to drop out suddenly due to personal reasons, a refund policy is a great way to save your ass.
But not all trekking company offers this backout option to you. So, make sure you read the refund policy carefully before selecting a trekking company.
This is one of the reasons why I chose Indiahikes too. They had a flexible refund policy in place plus they offer you a full refund option.
The full refund option is only available if there is no chance of completing the summit. Apart from that, if for any reason you cannot complete the trek, they offer you a chance to do it again in 1 year.
What to Pack for a Winter Trek
Below, I have mentioned a list of the packing essentials that you will need on your snow trek.
Bags
Rucksack
First, you need a good rucksack for all your essentials and clothing for the trek. Make sure you get a good backpack that is both comfortable and durable.
For this trek, I owned a 32L Zwart backpack which surprisingly stored all my winter clothes and other items.
But I would definitely suggest a bigger backpack, with at least 60-75 L capacity. Currently, I own this MountTrack 75L backpack which you could consider for yourself as well.
Day Pack
Next, you will need a daypack for carrying small items during day hikes. This will be particularly useful when you reach your campsite and are going for a short exploration.
Choose a daypack that does not take much space in your rucksack and is spacious as well.
Neck and Above
Headcover – Woollen Cap
In extreme weather conditions, it is very crucial to keep your head and ears covered lest you can fall sick. You can easily buy a woolen cap or a fleece to protect your face and head.
Balaclava
The cold winds on your snow trek can leave your face numb and cold. So, make sure you have a good piece of Balaclava to protect your neck and face at all times.
Muffler
Also, have a muffler to keep your neck warm at all times. You can also choose to take a balaclava or a muffler with you on the trek.
Upper Body
You should always have 5 layers of clothing with you for your snow trek. Here is everything that you need to pack to keep yourself warm on the trek.
Thermals
The base layer for your snow trek, thermals will keep your body warm on the campsites and during the night. So, make sure you don't miss out on this necessary pair of clothing.
Choose thermals made up of merino wool as they are warm and take less space in the bag.
Sweater
Next, you will need a thick warmer or sweater for the campsite to protect yourself from the cold. You can choose to get a homemade sweater or you can buy a warm sweater for the trek.
Fleece
Another important layer to keep is the fleece layer which is lightweight and super easy to fold. Plus, it keeps you extremely warm and is perfect for wearing during the trek as well.
Down Jacket
Another important clothing item to keep is a good warm down jacket which works well for negative temperatures and is water resistant as well.
Gloves
Make sure you wear good warm gloves which are snow-proof and water resistant. This will keep your hands warm and will make it easier for you to trek on the snowy path.
Lower Body
Merino Wool Fleece
Get a merino wool fleece for your legs to keep your legs warm during the trek. This will be the base layer and you will be wearing other pajamas and layers on top of it.
Warmer
Over your base layer, wear a warmer which will give you a double layer of warmth during your snow trek.
Trekking Shoes
One of the most important things to have for your snow trek is a good pair of trekking shoes. Make sure it has a proper grip and is water and snow-resistant so that your feet are warm and comfortable during the snow trek.
Socks
Do keep at least 3-4 pairs of socks which you can change during the trek if they get wet. Also, carry merino wool socks as they will keep your feet warm and comfortable during the cold weather.
Toiletries
Toiletries Bag
Carrying a separate bag for your toiletries will make it easier to access your items on the trek. And it will also ensure that your clothes aren't ruined if accidentally your toothpaste, moisturizer, etc. are left open.
Toilet Roll
There aren't any washrooms on the snow treks. So, do carry a toilet roll for you to use near your campsites. There might be a few dry washrooms on the way but no running water so carry a roll.
Brush and Toothpaste/Mouthwash
One of the most obvious things to take with you is the brush and toothpaste. So, make sure you don't forget that. You can also carry a small tube so that you have a more compact toiletries pack with you. Another thing which you can do is take a mouthwash for your trek.
Sunscreen
At high altitudes, your skin is prone to sun damage so make sure you carry good sunscreen with you.
Moisturiser/Lip Balm
Moisturizer is extremely essential on snow treks as your skin is prone to dryness quite easily. So, choose a good moisturizer and lip balm to keep your skin hydrated and moisturized.
Sanitizer
You can't clean with water every time on the trek. So, a sanitizer is quite effective in maintaining your hygiene.
Miscellaneous
Trekking Pole
A trekking pole is definitely important when doing the snow trek as it will prevent you from slipping on the trail. Usually, you can rent these poles as well but purchasing them can often come around the same cost as renting them.
Raincover and Poncho
On a snow trek, there are high chances that it might snow suddenly so make sure you have a rain cover/poncho with you. Also, keep a rain cover for your backpack as well if you don't want your clothes to end up getting wet.
Small Towel
You won't get a chance to shower on a multi-day snow trek so make sure you pack a small towel as well.
Headlight
You definitely need a headlight to show the path at night for the washroom and inside the camp.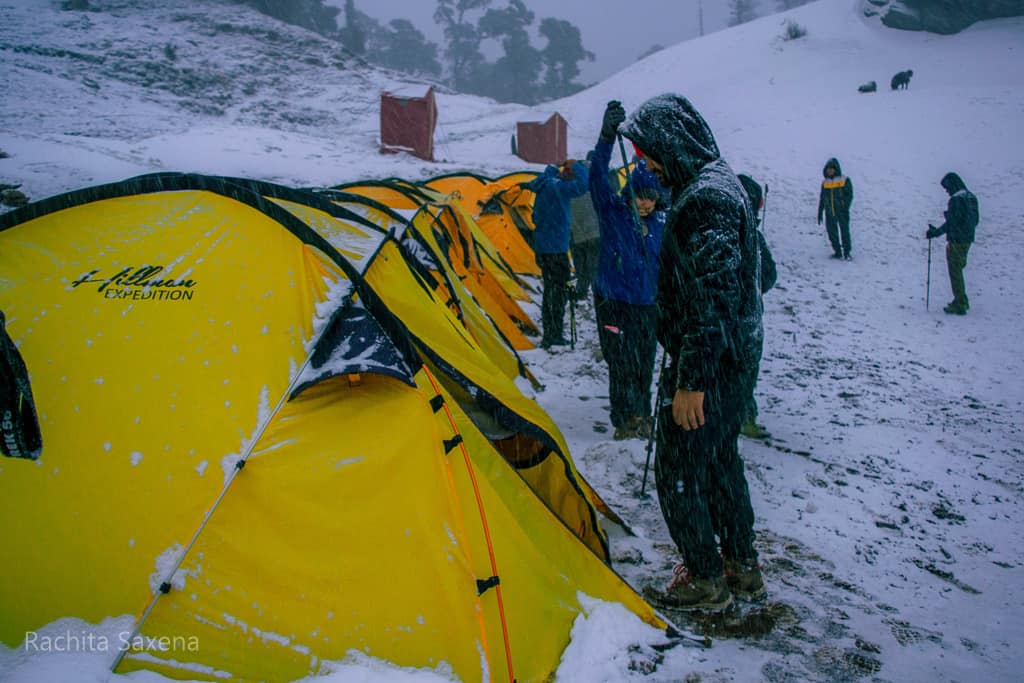 My Winter Trek Experience
My first winter trek in Uttarakhand was a challenge but because I was doing it with Indiahikes, it turned out to be really memorable.
Our trek leader, Himanshu Singla, kept motivating us throughout the trek. He made sure the whole team reached the first base and came on time without hurrying us or exhausting us.
And when we got stuck in the snowfall, they got us safely back to the base as well. And they made sure that we enjoyed our descent back even in the face of the adversities.
I didn't feel like I was missing out because the Indiahikes team had taken care of all everything. They also included Ajan Top in our itinerary because the chances of doing the Brahmatal summit were slim. Plus, the food and the facilities were really amazing.
Overall, it was a great experience for me and I would suggest everyone go on a snow trek at least once in their life.