Looking for the best places to visit in Goa? Well, look no more because this post covers all the top places to visit in north goa and south goa.
Goa, with its golden-sand beaches and palm-fringed villages, is a paradise for everyone. This perfect vacation spot will offer you plenty of beautiful and unique places to explore and rejuvenate your wanderer soul here.
From majestic forts to ancient churches, to lush waterfalls, there is everything here. If you are planning a trip to Goa, then check out our article on the top places that you can visit in Goa.
Best Places to Visit in Goa
Aguada Fort
Aguada Fort is one of the most popular Portuguese forts in Goa that was built in the 17th century as a defense against the Marathas and the Dutch invaders.
With a capacity to hold 79 cannons, this old fort was the prized possession of the Portuguese.
The fort lies between the Sinquerim and the Candolim beach and is one of the best places to visit in Goa with family. Inside the fort, you will see an old lighthouse that was constructed in 1864, the oldest of its kind in India.
Visit Aguada Fort to learn about Portuguese architectural techniques and the amazing views of the Arabian Sea.
There is also an underwater prison here that stays closed for most of the year. Plan a visit in the evening to Fort Aguada to enjoy the cool summer breeze as the sun slowly sets and disappears in the sea.
Entry Fee: Free
Camera Fee: Free
Timings: 9 AM – 6 PM
Chapora Fort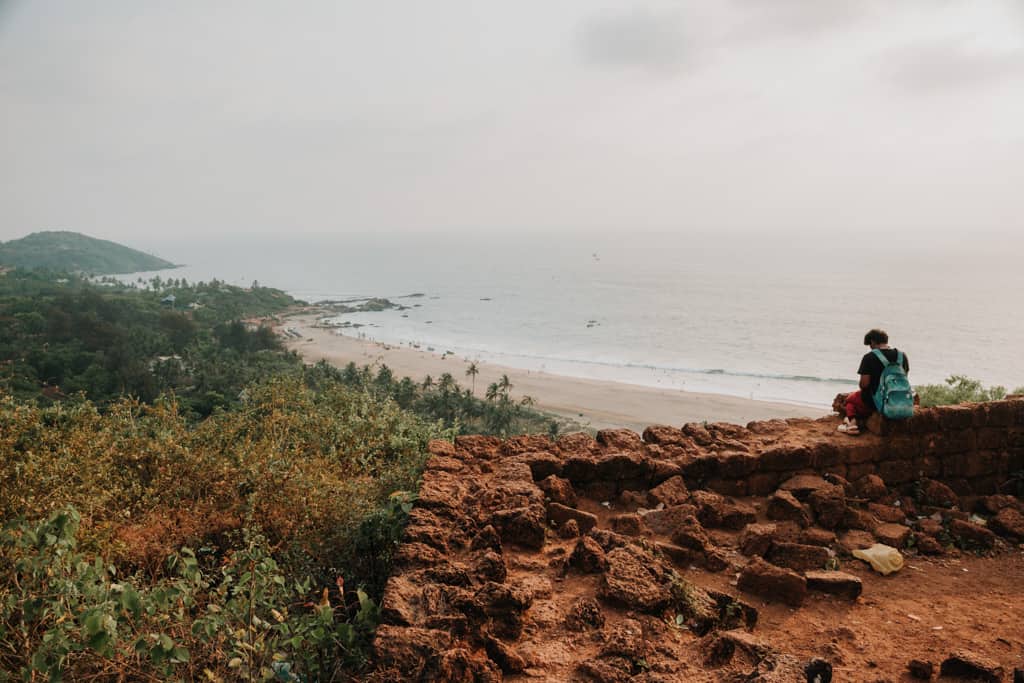 One of the best places to visit in North Goa, Chapora Fort gained popularity due to its feature in the hit Bollywood film – Dil Chahta Hai.
Travelers from all over India visited Goa and spent time at this fort which is also known fondly known as the Dil Chahta Hai Fort.
Overlooking the mighty Chapora River, this fort was constructed in 1717 and has witnessed several historical events.
Since it was a defensive fortress in the earlier days, it was the constant subject of fighting between the Marathas and the Portuguese.
You can plan a visit to this fort to enjoy the panoramic vistas around. Watch the beachgoers on the nearby Vagator and Chapora Beaches or adventurers experiencing water sports in the distance.
Entry Fee: Free
Camera Fee: Free
Timings: Throughout the Day
Corjeum Fort
Another popular island fort to visit in North Goa, Corjuem Fort was built in 1550 and has been ruled by several rulers over the years.
Due to its strategic position, it was a great defensive fort to protect Panjim which is why so many battles occurred here to take possession of this fort.
Rebuilt by the British in 1705, Corjuem Fort is a popular spot for history buffs and architecture enthusiasts.
Also, the breathtaking view of the Mapua river and the lush green countryside makes it a top attraction for the tourists in Goa.
Entry Fee: Free
Camera Fee: Free
Timings: 6 AM – 7 PM
Reis Magos Fort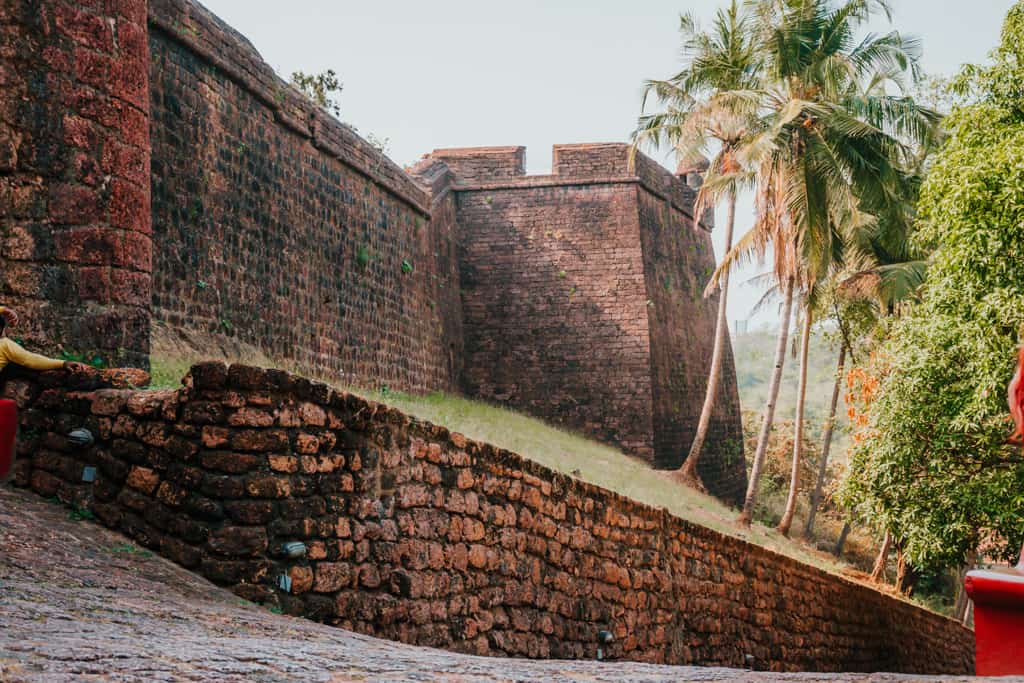 Looking for the best places to visit in North Goa? Then you have to check out this offbeat attraction in North Goa.
Reis Magos is an ancient fort that was constructed in 1551 on the banks of the Mandovi River. This fort stands on a hilltop and offers stunning views of the Mandovi River and the village of Reis Magos.
What's interesting about this fort is that it has served different roles and purposes in the last 4.5 centuries. It has served as the home for viceroys, prison, and an abandoned fort in the oh-so-many years.
If you want to visit an offbeat fort that is still more intact than the other forts in Goa, then you should check out this place. Currently, the fort serves as a museum to anyone who wishes to learn the history of this fort and Goa.
Entry Fee: 50 INR
Camera Fee: 100 INR
Timings: 9:30 AM – 5 PM (Closed on Mondays)
Cabo de Rama Fort
One of the best places to visit in South Goa, Cabo de Rama Fort is also known as The Cape of Rama.
Named after Lord Rama of Ramayana, this fort is said to be the exile place where Rama lived with his wife Sita for 14 years.
The cape was earlier a Hindu monument that was rebuilt into a Portuguese fort in 1763.
With an elaborate defense system that consists of a moat, gatehouse, and multiple bastions, this fort has changed many rulers over the past couple of hundred years.
One can visit this fort to get a look at the gorgeous architecture and to enjoy the surrounding green vistas. You can also see the famous Cabo de Rama Beach from the walls of the fort.
Entry Fee: Free
Camera Fee: Free
Timings: 9 AM – 5 PM
Fort Tiracol
Are you looking for offbeat places to visit in North Goa? If yes, then Fort Tiracol is undoubtedly one of the best places to visit in North Goa.
Since this fort has played a huge role in the independence of India, it has seen many wars over the years. In fact, Fort Tiracol has been destroyed and rebuilt once after which it has stood strong over the years.
With stunning architecture and intricate carvings, Fort Tiracol is the best tourist attraction for all the history buffs.
The fort is located on the northern tip of Goa and offers gorgeous views of the Arabian Sea. You can reach by road or take a ferry to reach the fort.
Currently, this fort has been turned into a luxury heritage hotel. Here, you can book your stay or you can dine in the restaurant while taking in the views of the Arabian Sea.
Entry Fee: Free
Camera Fee: Free
Timings: 9 AM – 7 PM
The Church of Our Lady of Immaculate Conception
Another historic church in Goa that you absolutely must visit is The Church of Our Lady of Immaculate Conception.
Dating back to the 17th century, this pristine white church is located at the top of zigzag stairs and has stunning Portuguese Baroque architecture.
The interiors of the church have colorful and bright decorations which impart peace to anyone who visits. Earlier, Portuguese sailors paid a visit to this church after their voyage to thank them for the safe journey.
This church looks beautiful at the night with the twinkling fairy lights. But if you want to see it in its full glory, then plan a visit during the feast of Our Lady of Immaculate Conception on 8th December to witness the church covered in colorful lights.
Entry Fee: 10 INR
Timings: 9 AM – 7:30 PM (Closed from 12:30 PM – 3:30 PM)
Divar Island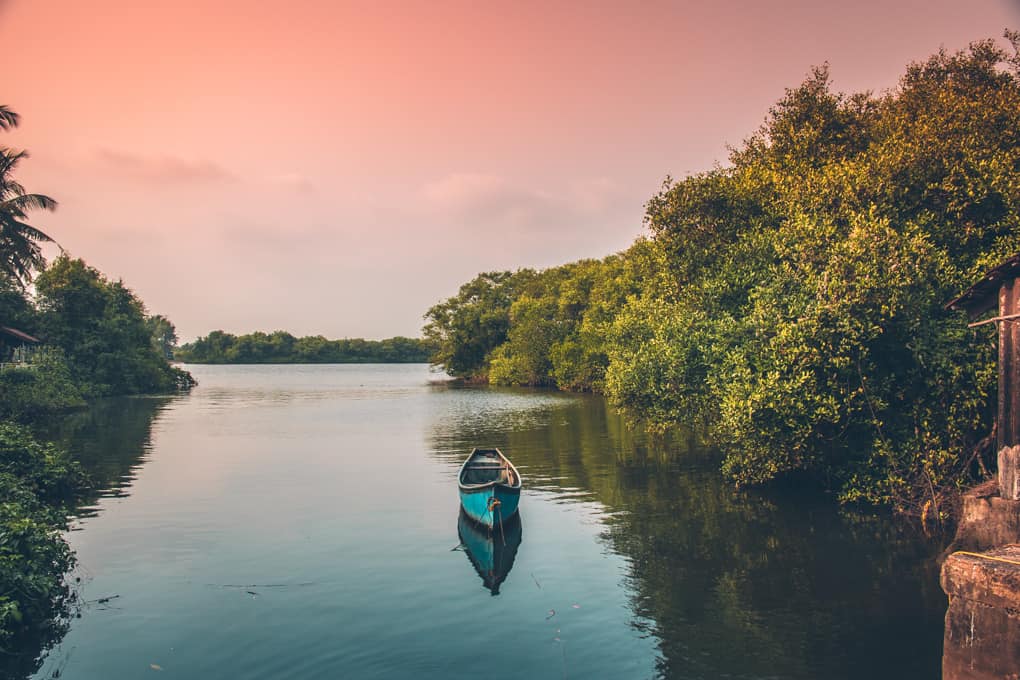 Divar Island is a gorgeous place that is slightly disconnected from the rest of Goa and offers a serene and scenic environment.
This small island is surrounded by a dense forest and has a small village where the residents live. Enjoy the beautiful hilltop views, learn more about the local culture, and enjoy the cashew fruits during your stay here.
The island can be reached through a 15-minute ferry ride that is free for everyone.
Mahadev Temple
Mahadev Temple is a 12th-century temple that is located 12 km from Mollem. It is one of the oldest temples in Goa that is dedicated to Lord Shiva and has a Shiva Linga placed on a raised platform inside the temple.
Since it is situated in a remote location, the temple has survived years of conquests by the Muslims and the Portuguese.
According to the local legend, a king cobra resides in this basalt black temple in the honor of Lord Shiva. Visit this temple to check the detailed carving inside including the lotus temple carved on the ceiling of the temple.
Timings: 8:30 AM – 5:30 PM
Sao Jacinto Island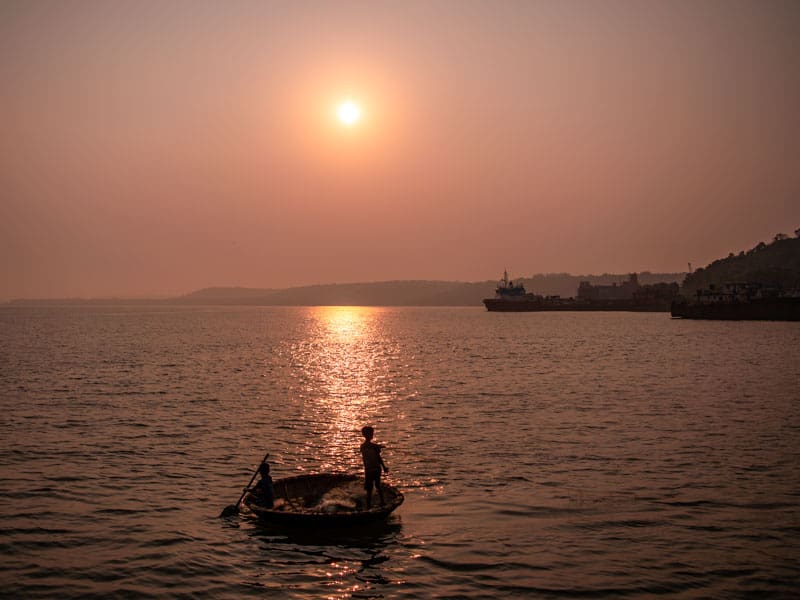 Located close to Vasco Da Gama, Sao Jacinto Island is another must-visit place in Goa that is both offbeat and beautiful.
You will find an abandoned lighthouse and a church on this island to explore. Spend time on the river banks watching the fishing boats go on about their daily life.
Try to visit during sunrise as this island offers an amazing view of the Golden Hour.
Dudhsagar Falls
Do you love visiting waterfalls? If yes, then Dudhsagar falls is one of the best places to visit in Goa in the monsoon.
Located inside Mollem National Park, Dudhsagar Falls is a spectacular four-tiered waterfall in Goa. With a height of 310 meters, this is also one of the tallest waterfalls in Goa and is a great trekking spot for travelers.
Dudhsagar means a sea of milk in the Konkani language which is exactly how this waterfall appears.
It is not easy to reach this waterfall the water and the surrounding views are definitely worth the effort.
Entry Fee: Free
Camera: Free
Timings: Throughout the Day
Grand Island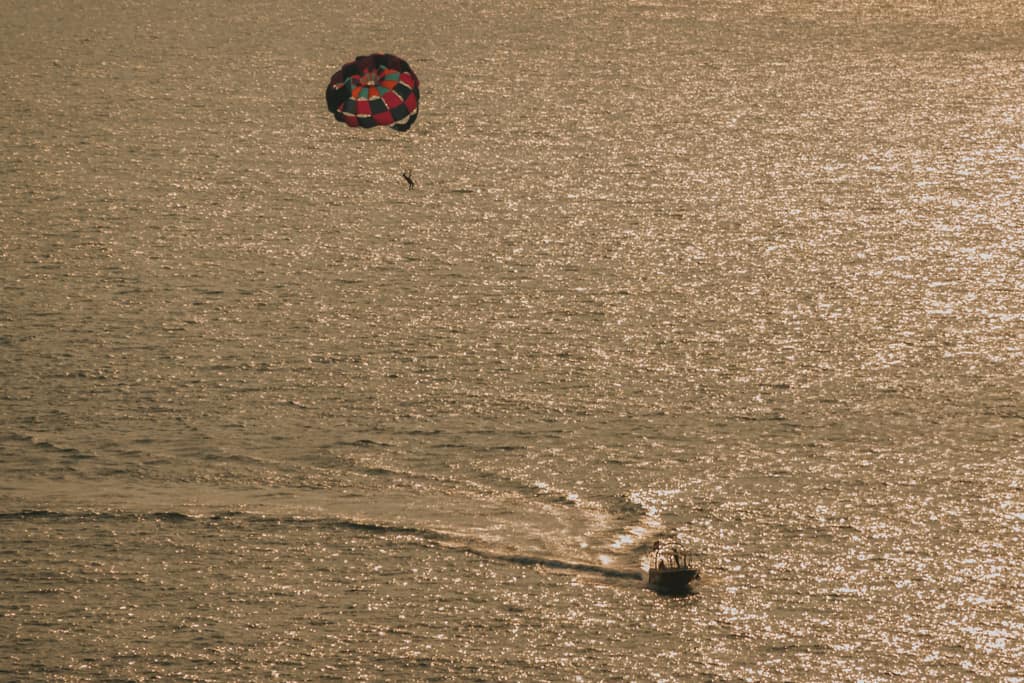 Goa is quite famous for its water activities and while different beaches offer you options, Grand Island offers you everything in a single location.
This is why it is one of the best places to visit in Goa for bachelors. You can enjoy water activities such as scuba diving, jet-skiing, banana boat rides, and more.
Snorkeling, fishing, and scuba diving in Goa are quite popular as you have so much to explore underwater.
There are some really cool shipwrecks and underwater sites to explore around Grand Island. Plan a day at this island to enjoy the underwater sights, adventurous water activities, and a delicious BBQ lunch.
Basilica de Bom Jesus
Although Goa is a popular vacation spot, many people visit this state to visit the pilgrimage sites here including Basilica de Bom Jesus.
Located in Old Goa, this basilica dates back to the 16th century and was declared a UNESCO Heritage Site in 1999. Here, you will find the remains of St. Francis Xavier.
This basilica uses a mix of Corinthian, Doric, and Baroque style architecture and has intricate carvings all over. It is also the only church in Goa without a plaster which is why you will notice monsoon effects on this structure.
Visit this attraction on the day of the Feast of St. Francis Xavier which is a nine-day novena and sees a lot of crowds every year.
Entry Fee: Free
Timings: 9 AM – 6:30 PM on Weekdays, 10:30 AM – 6:30 PM on Weekends
Fontainhas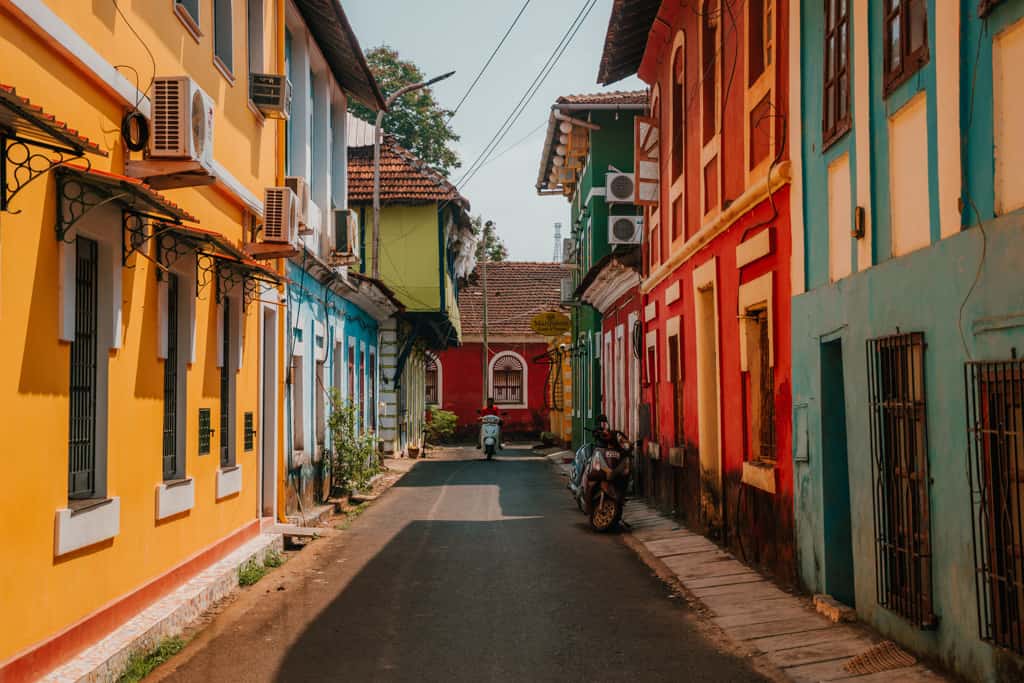 Located at the foot of Altinho Hills, Fontainhas is the old Latin Quarter in Panjim that is a top attraction to visit in this state. The main USP of Fontainhas is its Portuguese influence, especially the architecture.
The narrow winding roads, the colorful tiny villas with projecting balconies and roofs made of red-colored tiles will instantly transport you to a European city.
The only place in Goa where Portuguese is still a widely spoken language, Fontainhas was established by a Goan expatriate – Antonio Joao de Sequeira.
In 1984, this place was declared a UNESCO Heritage Site and has attracted a lot of tourists from all over the world.
Some people also call it a small part of Portugal washed up on the Indian continent. If you love heritage and lively places, then walk around the streets of the Latin Quarter enjoying the stunning architecture here.
One of the two military museums in India, the Naval Aviation Museum in Goa is another great tourist spot to visit.
This is of the best places to visit in Goa with family where you can learn about the different naval aircraft that have been commissioned over the years.
The interior of this museum looks like INS Viraat and has several galleries where you can read about the wars that the Indian Navy has been a part of.
You can also visit the room with all the naval equipment such as bombs, warheads, torpedos, and more. There is also a simulation room where visitors can enter the cockpit to experience it.
This is a great educational experience and you can end the day with a visit to the nearby beach.
Entry Fee: 20 INR
Timings: 10 AM – 5 PM
Chapel of Our Lady of the Mount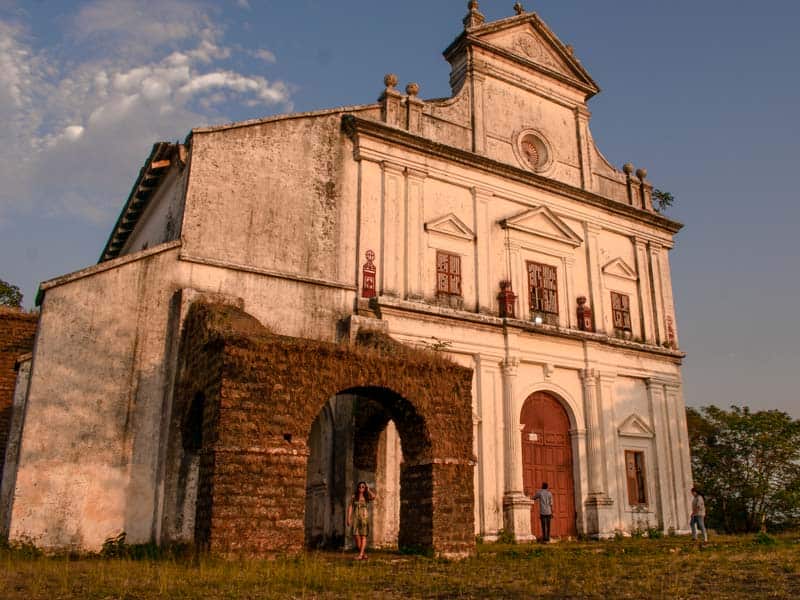 Located at a hilltop and overlooking the Mandovi River and St. Cajetan Church, the Chapel of Our Lady of the Mount is another great attraction to visit in Goa.
This place was built by Alfonso de Albuquerque after he defeated the Muslim ruler, Yusuf Shah, in 1510. And since it sits atop a hill, it offers enchanting views of Divar Island, Chorao Island, and Old Goa.
Make sure you visit this place during sunset because the evening colors from here are going to look quite mesmerizing.
And do you know an amazing fact about this place? This church has been featured in several Bollywood movies such as All the Best, Zeher, Honeymoon Travels Pvt. Ltd., and so on!
Timings: 9 AM – 7 PM (Mon-Sat), 9 AM – 12 PM (Sunday)
Salim Ali Bird Sanctuary
Named after India's top ornithologist, Salim Ali Bird Sanctuary is a hidden gem in Goa that you can visit with your kids. With 440 acres of dense mangrove forest, this place is home to diverse fauna, especially birds.
From Blue-winged teals to Pintails, to jackals, you will spot a wide range of bird and animal species here.
You can watch the birds from the nearby watchtower and spend a day here to enjoy the surrounding natural attractions.
This sanctuary is located on Chorao Island and can be visited by ferry.
Entry Fee: 10 INR – Indians, 100 INR – Foreigners
Timings: 6 AM – 6 PM
Panjim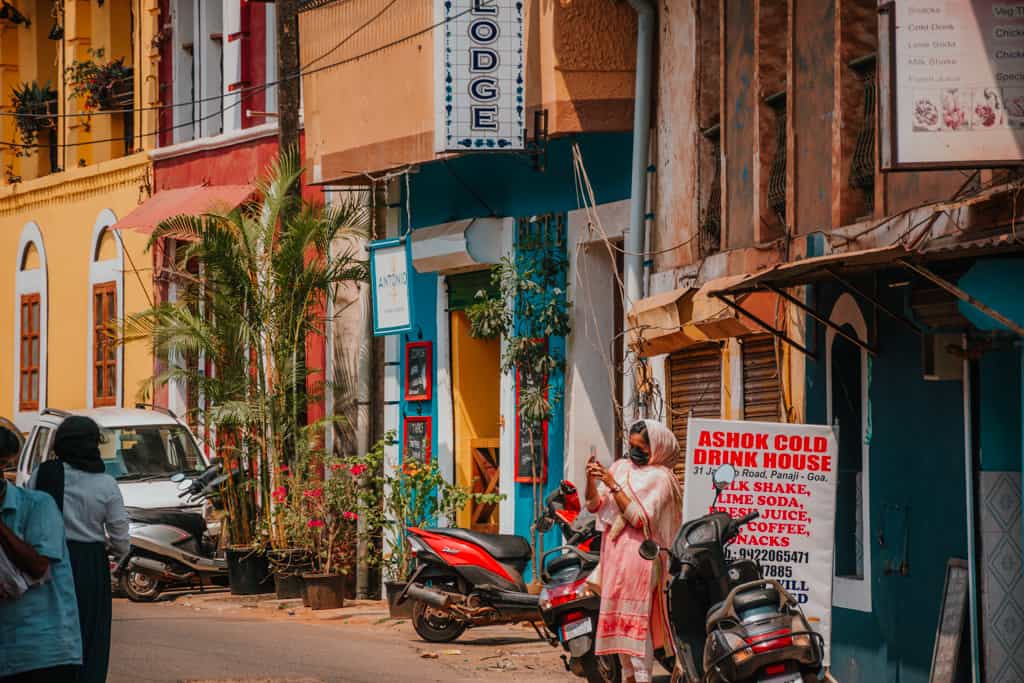 If you are traveling with friends, then Panjim is one of the best places to visit in South Goa. The capital city is a multicultural hub that boasts a laidback vibe and diverse architecture.
With a river running by its side, this is a great place to enjoy river cruises and other off-shore activities as well. Explore Panjim on foot and walk past the charming and colorful heritage homes here.
Learn about the trading history of Goa, walk around the Latin Quarter, check out the art galleries, or visit the nearby beaches. There is no shortage of places to explore in Panjim.
Sri Mangeshi Temple
Sri Mangesh Temple is a popular religious attraction in Goa for Hindus. It is one of the biggest temples in the state and dates back to the 1500s.
Over the years, many renovations and changes to the building have been carried out, a major one being in 1973.
Built during the rule of Marathas, this temple has a simple yet elegant design. Dedicated to Lord Shiva's incarnation, Bhagavan Manguesh, you will find Mangesh Linga inside the temple.
There are several other colorful statues of deities such as Lord Ganesha, Lakshminarayana, Goddess Parvati, Garuda, Bhagavati, and more.
Watch the daily rites and rituals performed here or participate in a major celebration at the temple.
Timings: 6:30 AM – 11 AM, 3 PM – 6 PM
Cola Lagoon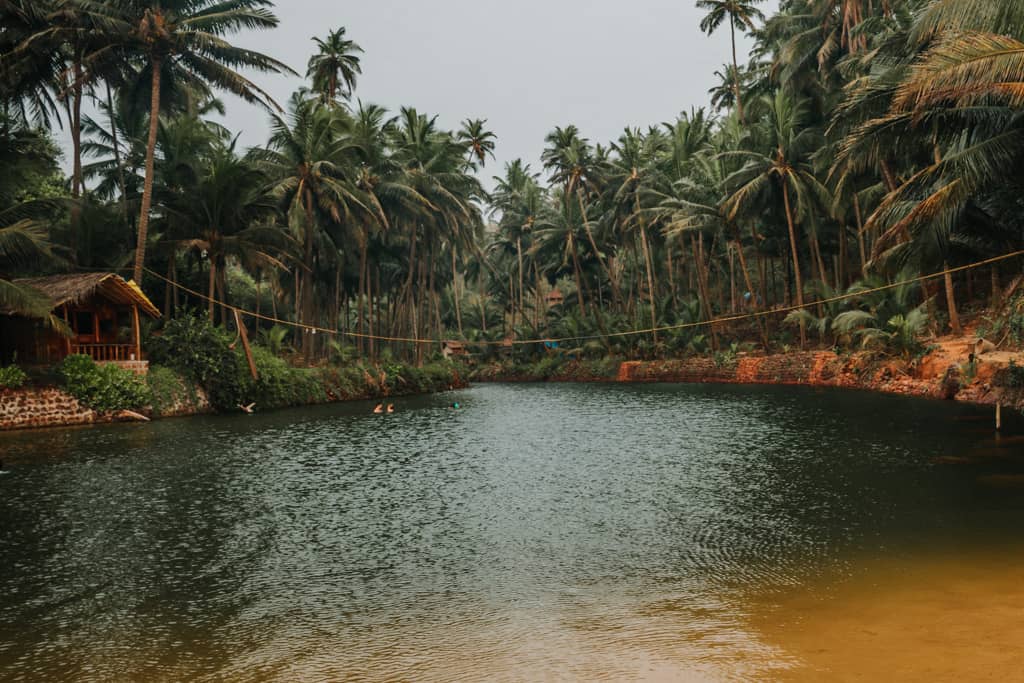 Searching for the best places to visit in goa for bachelors? Then, Cola Lagoon should be on the top of your list!
Surrounded by tall palm trees, Cola Lagoon aka The Blue Lagoon/Emerald Lagoon is a hidden gem in Goa. It is the end of a freshwater stream meeting Cola Beach and is one of the best highlights of Cola Beach.
One of the best places to visit in South Goa, Emerald Lagoon has clear green colored water that you can easily swim in. Plus, there are a lot of fun water activities to do here such as kayaking, banana boat rides, and more.
You can easily spend a few hours in this lagoon enjoying the lush greenery and the clear freshwater.
Goa State Museum
Housed in the former palace of Adil Shah, Goa State Museum is a great place to visit with family. This museum was founded in Panjim in 1977 and is a great place to learn the history and culture of Goa.
The museum holds thousands of artifacts and exhibits in the galleries which will interest people of all ages. From religion to science, the museum covers a diverse range of topics and is perfect for history buffs and art lovers.
Entry Fee: Free
Timings: 10 AM – 5:30 PM
Church of Reis Magos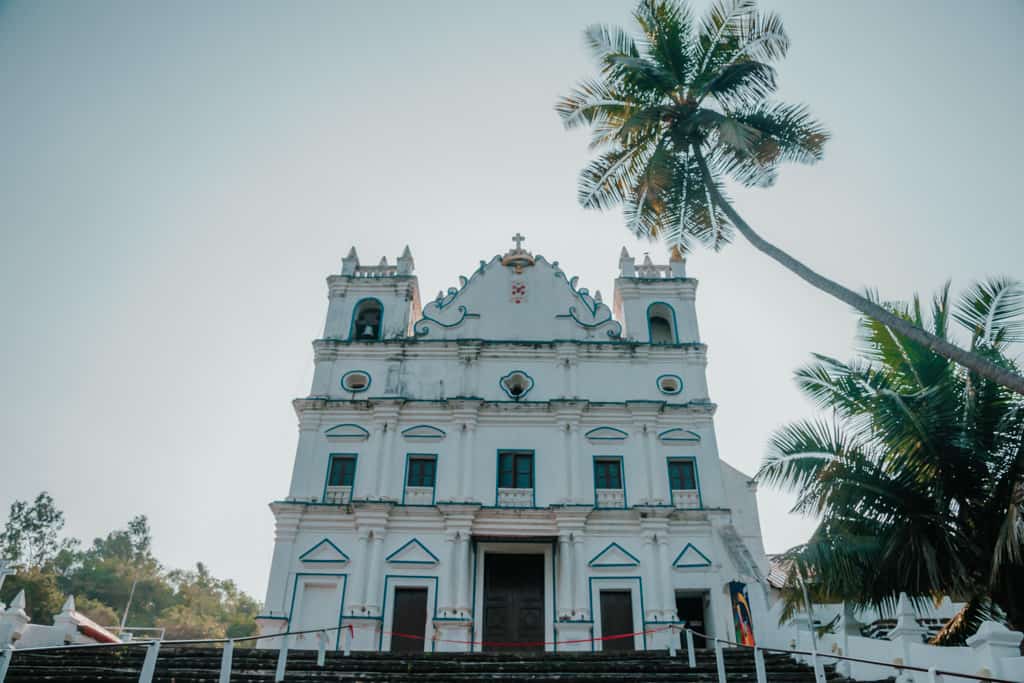 Constructed in 1555 after the building of Reis Magos, the Church of Reis Magos is another beautiful place to visit with your family.
This church is dedicated to St. Jerome and is said to have been built on the ruins of an old Hindu temple.
The church has beautiful architecture and is a good place to visit in the evenings for some peace and tranquility.
If you want to see the true Goan spirit, then visit this church on 6th January when the locals celebrate the three kings who journeyed to worship baby Jesus.
Timings: 6 AM – 11 PM
Mapusa Market
If you wish to see a glimpse of the local Goan lifestyle, then head to the colorful and vibrant Mapusa market.
Open every day from morning to evening, this market has shops and stalls that sell a wide range of goods with vendors coming from several nearby villages and states.
From textiles to edibles, you will find everything here. So, taking a stroll around the market, taking pictures of the bustling streets, and eating street food are just a few things to do around here.
Make sure you carry cash to buy goods from this market.
Timings: 9 AM – 11:30 PM
Old Goa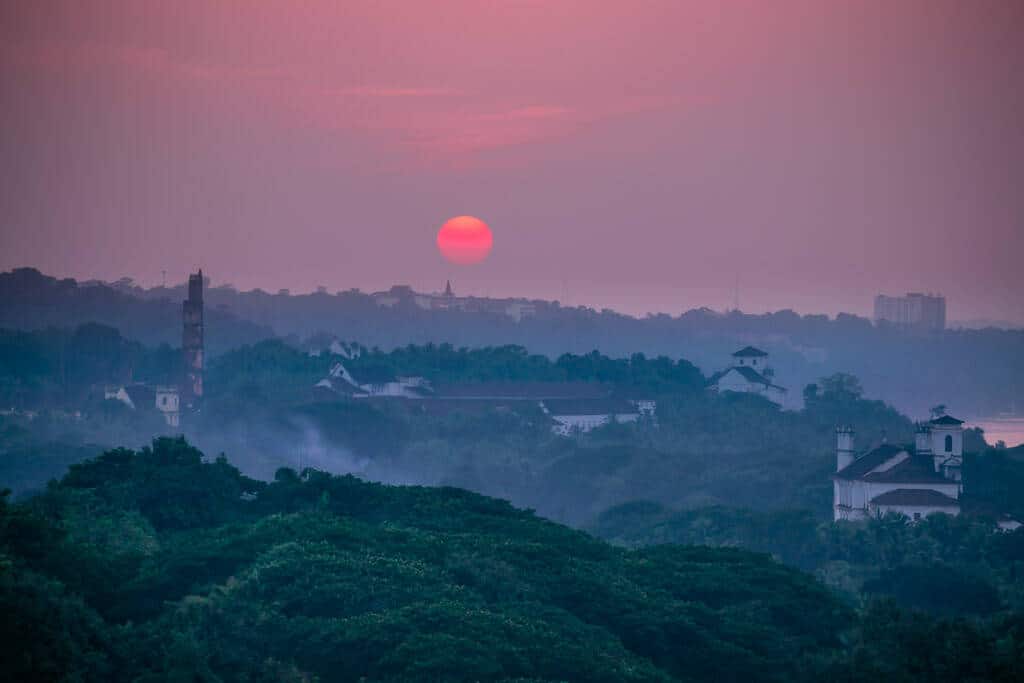 Once the capital of the Portuguese, Old Goa was founded in the 14th century and is located in North Goa. It was abandoned due to disease and has been declared a UNESCO Heritage Site several years back.
One of the best places to visit in Goa with family, Old Goa is known for its historic churches, colonial architecture, and several scenic points.
You will find homes here with Indian and European influences and many popular landmarks which attract tourists and photographers.
A few places to check out here are the Church of Our Lady of the Mount, the Chapel of St. Catherine, the Basilica of Bom Jesus, and more.
You can explore around this region on foot or by bicycle to make the most of your trip.
Parra
If you have watched Dear Zindagi, then I am sure you know the place that I am talking about.
Remember how Alia Bhat cycled through a patch of palm trees in the countryside of Goa, well Parra is the very same place where this scene was shot!
Located on the outskirts of Mapusa town, Parra is a traditional village that is known for growing delicious watermelons.
Whether you want to experience Alia Bhatt's movie moment or a quiet time in a scenic village, Parra is a great place to visit on your Goa trip.
Trust me, cycling on the narrow road while being surrounded by palm trees feels extremely surreal.
Mandrem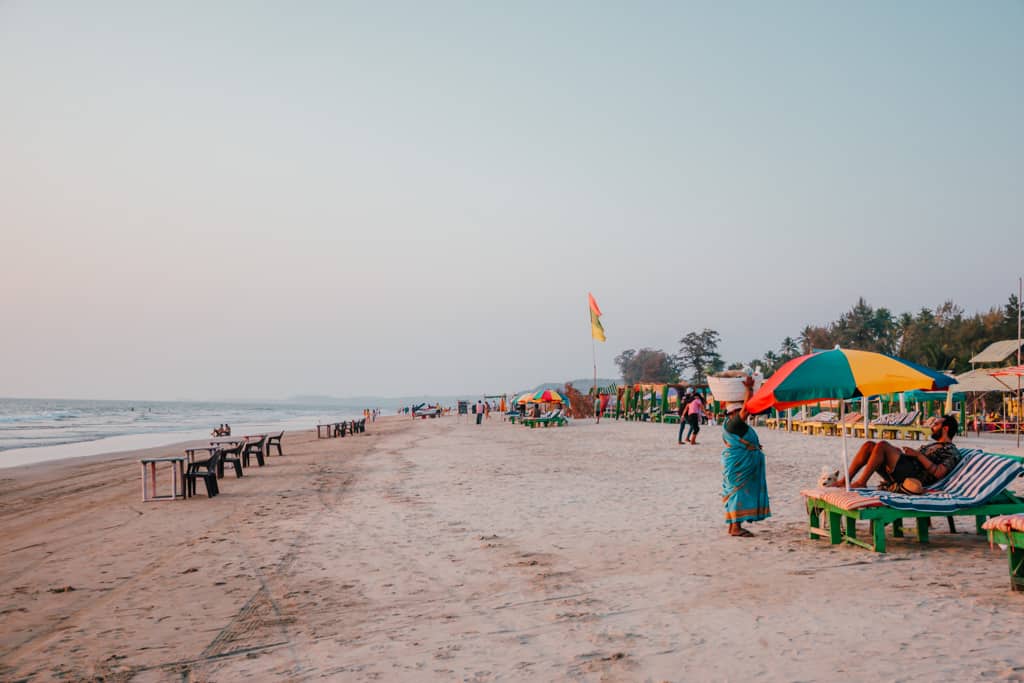 If you are looking for a quiet place to enjoy yourself with your friends, then one of the best places to visit in goa for bachelors is Mandrem. Popular for the Mandrem Beach, Mandrem is a village in the Pernem district of North Goa.
This part of Goa is known for its lush green fields and white sand beaches. Mandrem beach is quiet and peaceful and looks especially beautiful during sunset.
The best thing about this beach is that during high tide, the seawater rushes into the Mandrem Creek and gives the entire landscape a magical touch.
This place is also close to other offbeat beaches in North Goa such as Morjim Beach and Ashwem Beach. And there are lots of stalls and boutique stores where you can buy beautiful dresses, accessories, and more.
Mollem National Park
A part of Bhagwan Mahaveer Sanctuary, Mollem National Park is one of the best places to visit in South Goa. It is a popular trekking spot in Goa and is a great destination for jungle safari for animal spotting.
You can find several birds and animal species here such as Indian Hornbill, Indian rock python, King Cobra, and more.
If you love to trek, then this is one of the best places to visit in Goa in the monsoon. You can trek to Devil's Canyon, Tambdi Water Falls, Sunset Point, and many more places around here.
One of the most popular attractions in this park is the Dudhsagar Waterfalls which is one of the highest waterfalls in India.
Entry Fee: 20 INR
Camera Fee: 30 INR
Video Camera Fee: 150 INR
Timings: 9 AM – 5 PM (Last entry at 3 PM)
Arambol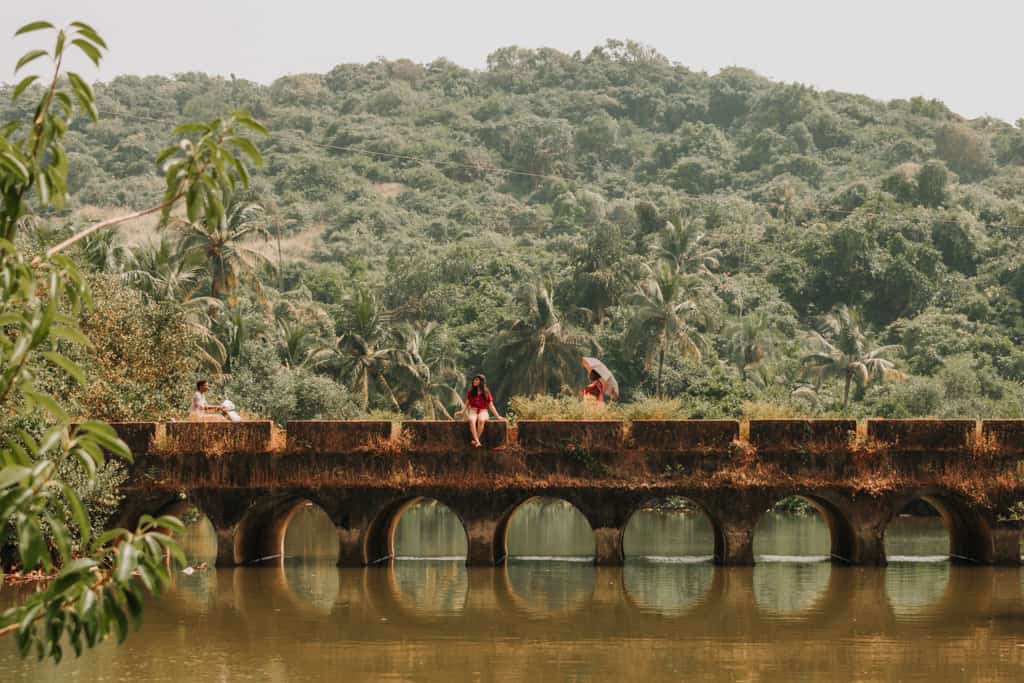 Arambol is a traditional fisherman village that has become a hub for yoga, meditation, and other activities. This place is perfect for backpackers as you can find many hostels and cheap stays in Arambol to suit your budget.
Here, you have the namesake beach where you will find shacks serving seafood, Goan cuisine, and more. One of the best places to visit in goa at night, the beach hosts a range of activities such as live music, drum performances, and more.
If you love shopping, then this is one of the cheapest places to buy souvenirs in Goa.
Apart from that, it is a paradise for hikers as well since there are several hiking trails nearby for you to explore.
You can hike to Arambol Mountain, Sweetwater Lake, and several other hidden places to enjoy the views and the ambiance around here.
Also, if you are looking to work out of Goa, then you will find lots of cafes with good WiFi in this area too.
Tito's Street
One of the best places to visit in Goa at night for partying, Tito's Street is a must-visit on your Goa trip. There are many happening clubs around here such as Mambo's, Tito's, etc. where you can dance to your heart's content.
The street is also filled with many shops and restaurants where you can buy souvenirs, clothes, etc., and then have food and drinks later.
If you want to chill on the beach, then you can head to the Baga beach from the street and join one of the beach parties there too. Overall, Tito's Street is the best place to hang out and have fun in Goa with your friends.
Saligao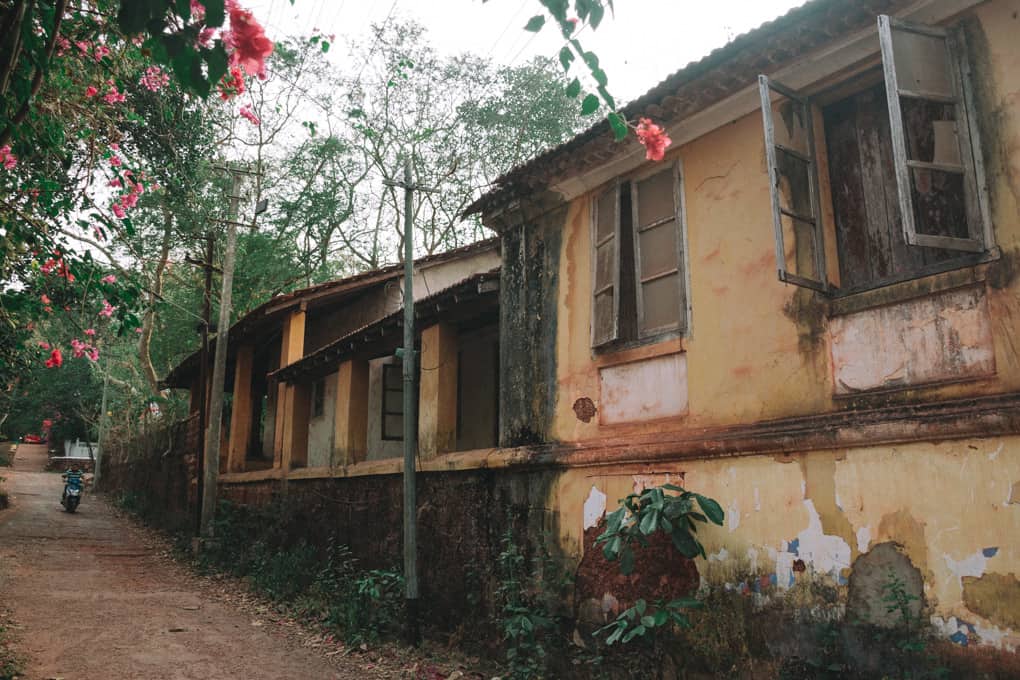 One of the quaint villages in Goa that isn't frequented by a lot of tourists, Saligao is one of the few places where you can experience the local lifestyle and culture of Goa.
Walk through the streets of Saligao to enjoy the beautiful green countryside and meet native Goans who have been living here for a few centuries.
There are many beautiful houses to witness here and several interesting local legends to hear about. Personally, I feel you need a guided tour of this village to truly understand its stories and history.
Explore the chapels, churches, and beautiful houses as you learn more about the culture of this village.
So, did you like our list of the best places to visit in Goa? Do you think we missed out on something? Let us know in the comments below!