Are you looking for an amazing resort in Ramnagar? If so, then one of the best resorts in Ramnagar that you should visit is Aahana Resort Ramnagar.
I love staying in beautiful properties around the world. I mean, who doesn't, right? However, it is safe to say that one of the most gorgeous properties that I have stayed in till now is Aahana Resort Ramnagar.
Not only is the property gorgeous, but it is also one of the few eco-friendly resorts, which is in close proximity to Jim Corbett National Park as well. And honestly, I loved my stay here.
So, in this article, I have decided to give you in-depth information about this place and why it makes such a good choice for anyone who is looking for a relaxed and comfortable weekend trip from Delhi.
Read on to know more about Aahana Resort Ramnagar and why you should choose it.
A Luxurious Stay in the Gorgeous Aahana Resort Ramnagar
About Aahana Resort
Coming from a family of Freedom Fighters, Mr. Kamal Tripathi believes in giving back to society. So, he started Aahana Resort with his wife to create a resort to provide comfort and luxury to travelers while helping out the local community.
He started the foundation for this resort in 2002 where he focused on not just creating a home for travelers but had a much bigger vision. He also tried to include the hundreds of bird species, tree species, and other flora that were available in the area.
As a result, Aahana Resort is now an ecologically responsible and sustainable retreat while being surrounded by the Jim Corbett environment.
Spread across an area of 11 acres, Aahana Resort offers different stay options and experiences to its guests while maintaining a relaxed and calming atmosphere.
The entire area is covered with trees and plants while the rooms are constructed at safe distance from each other for complete privacy.
Trust me, if you wanted a relaxed, natural experience then you should definitely plan your stay at Aahana Resort!
Website: www.aahanaresort.com
Instagram: www.instagram.com/aahanaresort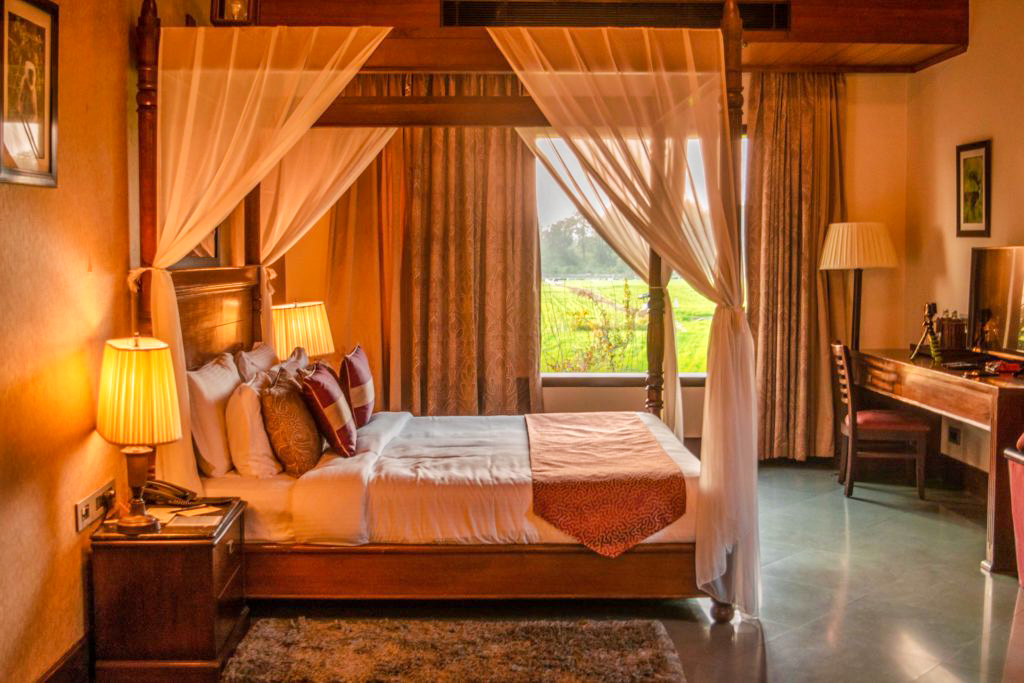 Rooms at Aahana Resort, Ramnagar
There are different types of Luxury rooms and villas available at the property that you can choose from. They have divided the rooms into 10 residential blocks under 48 living units and follow Victorian-style architecture.
Each room offers luxury and privacy to the guests. They are all equipped with an excellent AC, mini-fridge, telephone, safe deposit box, and an LCD TV.
Jims Retreat and Corbett Club rooms offer 1 bedroom with an attached bathroom and a balcony area. It can easily accommodate 2 people at a time. And Jims Retreat has space to accommodate 2 extra beds as well.
Then there is the Jungle Lore Suite which has 1 Bedroom and 1 Sitting Room along with a balcony. You can easily accommodate 2+2 people in this comfortable suite. Ranger Suite is similar to Jungle Lore but it can accommodate 2+1 people only at a time.
And for small families, Aahana Family Suite is perfect. This Suite consists of 2 bedrooms and 1 Sitting Room along with the balcony which can accommodate 4+2 adults at a time.
Finally, if you have a huge family then you can also take The Villa here. In the Villa, you have 4 Bedrooms (ensuite bathroom), 1 Sitting Room, 1 Patio, and Foyer Balconies. These rooms can easily accommodate 8+2 adults so it is perfect for friends and group trips as well.
All the balconies in the rooms either face the garden or the jungle but offers a relaxing view to anyone who stays there. Plus, the bathrooms are equipped with basic amenities like shampoo, conditioner, lotion, shower gel, dental kit, comb, hairdryer, towels, and so on.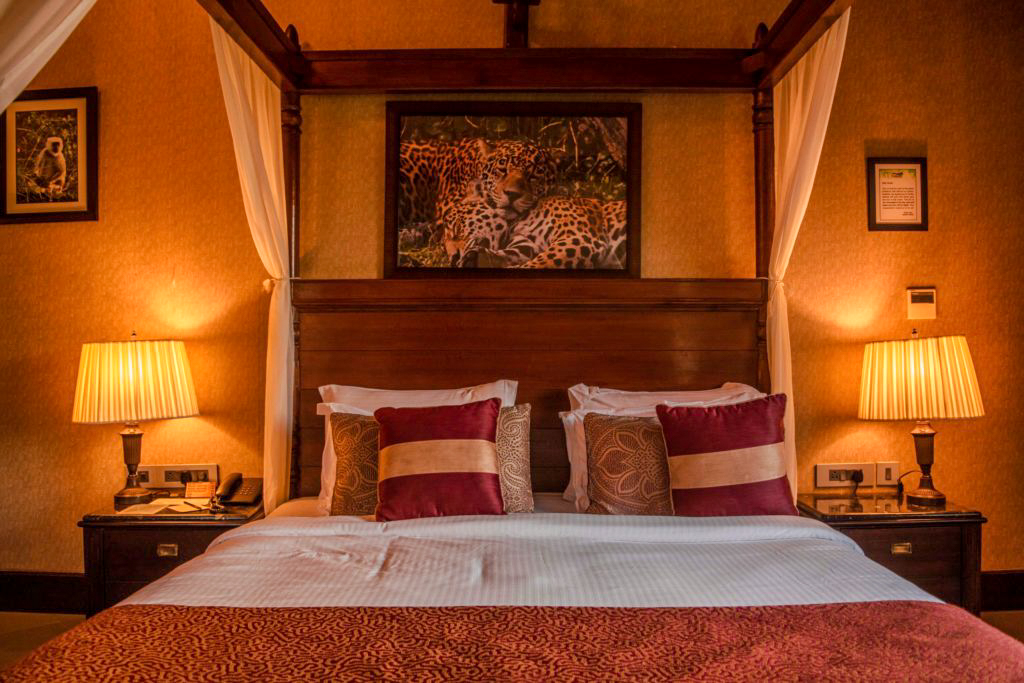 Food at Aahana Resort
As a big foodie, one of my main priorities while traveling is having good food. And while most restaurants and hotels do disappoint in this, Aahana definitely didn't disappoint me. Plus, the variety of the dishes offered here for each meal literally blew my mind.
In the morning, you have both Indian and Continental breakfast options available. Also, they have a couple of non-vegetarian dishes as well so they cater to everyone's food needs.
So, you can start your day with a delicious breakfast of ham, mashed potatoes, croissants, etc., or have desi paranthas, chole bhature, and all.
For lunch and dinner, again they serve a variety of dishes and make the most delicious Paneer and Dal Makhani. You have at least 5-6 dishes to choose from including non-veg as well.
And during the high-tea time, they serve delicious snacks and sandwiches outside the dining room, close to the swimming pool. So, you can enjoy nice weather while chilling outside with your friends or family.
But my favorite was the desserts that were served here!
They offer the most exquisite and exotic desserts here which are extremely mouth-watering. From truffles to mousse to cheesecakes, you will get a chance to taste desserts that you have never had before.
So, if you are also a dessert lover like me then you are absolutely going to love your stay here.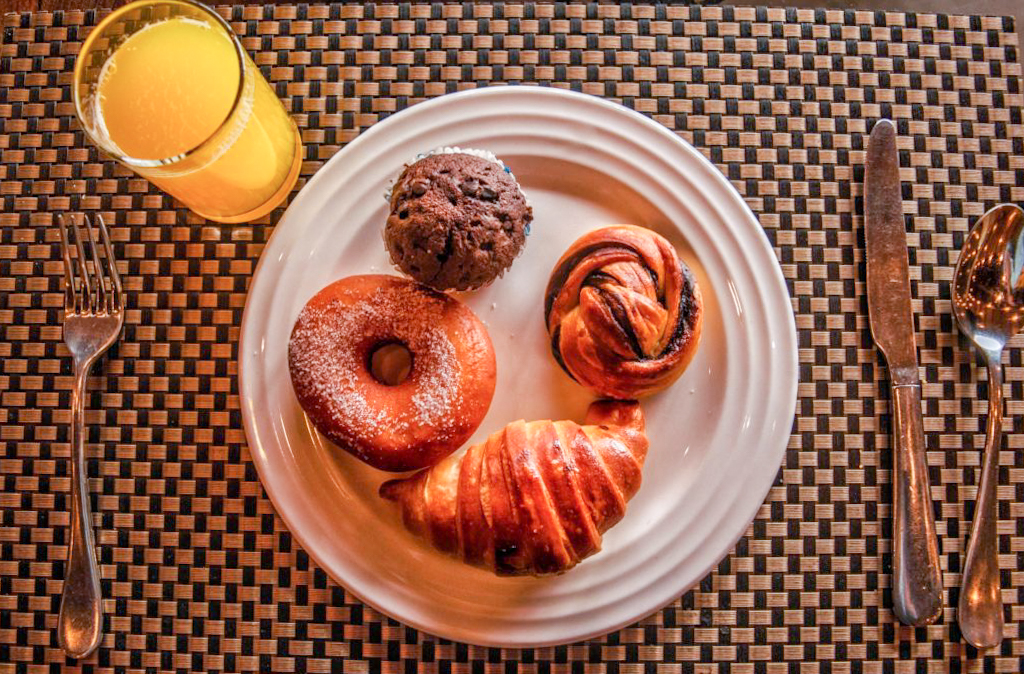 Services and Activities Available at the Resort
Apart from being a beautiful and environment-friendly property, Aahana offers a lot of services and activities as well. So, you don't have to worry about getting bored here for one second.
Swim in the Gorgeous Swimming Pool
One of the best things to do here is to sit beside the Swimming Pool and just relax for a while. They have a beautiful swimming pool which is surrounded by colorful trees and stones which lend it a nice ambiance.
And the best part they have a kiddie pool as well. So, if you are traveling with your family, don't worry. Your kids can enjoy the swimming pool as well.
The changing rooms are next to the swimming pool so, all you need is your swimming costume and you are good to go. And they do clean the water regularly so you don't have to worry about the pool being dirty as well!
Enjoy a Relaxing Spa Therapy Here
One of the top things to try out in the resort is one of their Spa or Naturopathy sessions. They have many treatments available like Massages, Yogic Kriya, Therapies, Yogic Baths, and so on.
Their Ayurvedic Full-Body Massage, Detox Sauna Bath, etc. are quite popular and effective. And I have first-hand experience with the same.
They prepare the room in a way which is comfortable and relaxing and the masseuse here are quite efficient in their job. So, by the end of the hour, you will feel refreshed and relaxed and will see and experience visible effects on your skin and body.
Apart from individual sessions, they also offer packages for Stress management, weight loss, and detoxification which can be good for your physical and your mental health. And since all the ingredients used in these therapies are organic, you don't have to worry about any side effects as well.
You can check out more information on the therapies offered here by visiting their Aahana Naturopathy Website.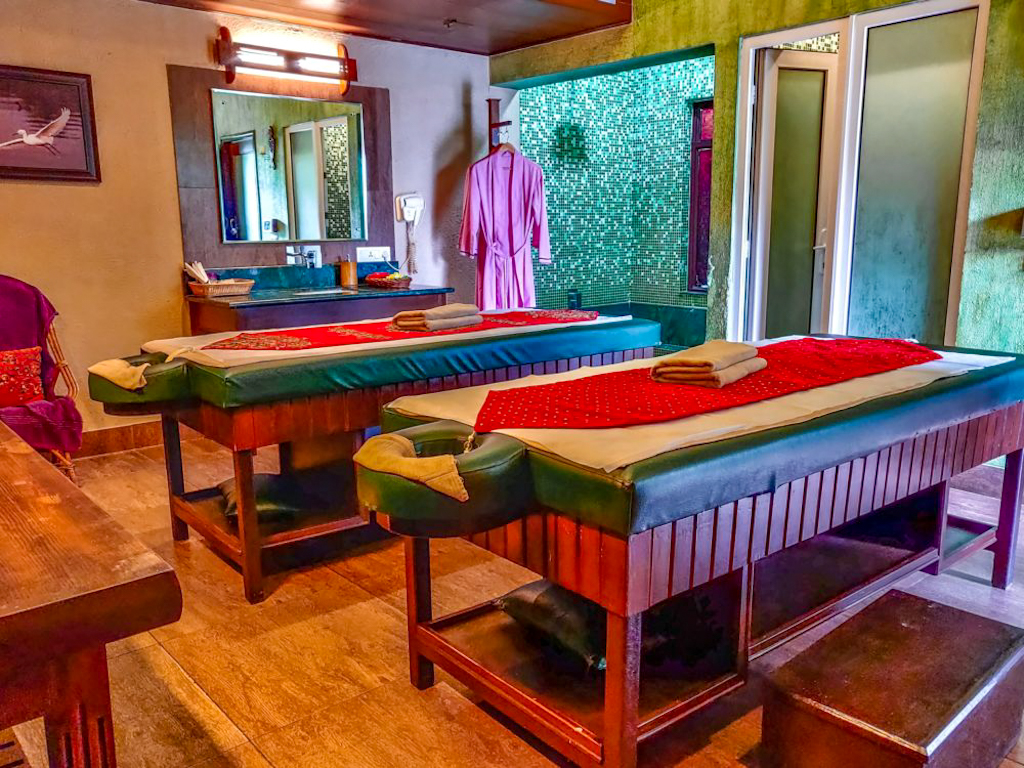 Go on a Jungle Safari
Since the resort is next to Jim Corbett Park, embarking on a wildlife safari is definitely one of the best things to do here. You can go on a Jeep Safari or a Nature Walk to discover and learn more about the flora and fauna here.
Since the Dhikala and Dhela entry gates are nearby, you can go on multiple Jungle Safaris on a trip. On these safaris, you can witness some majestic animals like tigers, leopards, and so on.
However, make sure that you inquire in advance and book your Jeep Safari as there are limited safaris on a day.
Indulge in the In-House Games or Activities
They also have a lot of in-house activities and games available which can keep you occupied during your stay here.
You simply need to place a request at the reception for these activities which include pool, table tennis, cycling, indoor games, and so on. They also have made buggy rides possible for their guests so you can request that as well. And guess what?
They have separate kids' play areas where they can play on the swings and the rides. This area is quite safe and next to the badminton court. So, you can enjoy a game or two of badminton as well while your kids keep themselves entertained.
Go for a Nature Walk or Bird Watching
Finally, as mentioned earlier, there are major areas of Aahana Resort reforested. As a result, there are a lot of bird species and tree species that can be found here.
So, you can take a walk with the local expert and learn more about the different types of plants and trees that are going on here.
The local expert will also help you identify the different types of birds which makes it a perfect activity for nature and bird lovers.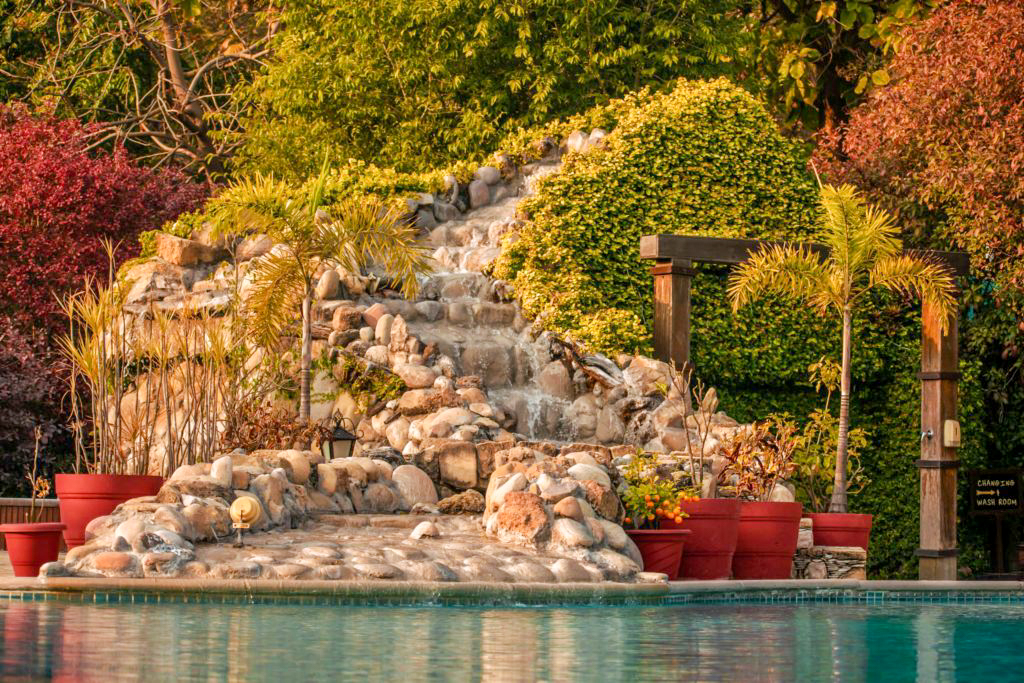 What Steps Do They Take as an Eco-Friendly Resort?
As I mentioned above, Aahana is an eco-friendly resort. But what makes them eco-friendly and sustainable resorts?
Solid Waste and Water Conservation
They have taken other essential steps to ensure that their carbon footprint stays low and there is no interference to the Corbett environment when they provide a comfortable stay to their guests.
Apart from that, they have their own Waste Management and Water Conservation plants which help them keep their carbon footprint at a minimum.
Aahana Resort owns one of the biggest water plants in Asia, Cannae Plant, which recycles wastewater to be used in gardening areas. Also, their pathways are constructed in such a way that the rainwater seeps underground and maintains the water level around the resort.
A good Solid Waste Management system is also used here. This waste management system converts all the biodegradable waste into manure to be used for gardening and organic farming.
All the non-biodegradable waste is collected and segregated and then sent for recycling. And for plastic bags and dustbins, they use used newspapers and empty paint boxes.
Conservation of Energy and Wood
What's fascinating to know is that the property has been made out of repurposed wood from Gujarat. And the resort uses CFL and LED lights which helps in saving power and reducing the emission from generators.
Also, each room is designed so that there is sufficient natural light during the daytime so that there is no need to use electricity. They also use solar energy to heat the water and a Gobar Gas Plant which is majorly used for cooking.
Maintaining Biodiversity
Finally, one of the best things about the Aahana Resort is that they have reforested a major part of the property. They also have their own organic farm and are growing their own herbs, spices, and vegetables here.
A lot of these medicinal plants and herbs are used in their Massage and Spa therapies as well. And they have their own cowshed and little dairy which they use to produce natural dairy products and serve to their guests.
They have taken many other initiatives as well to remain eco-friendly which sets them apart from many other resorts and hotels in India.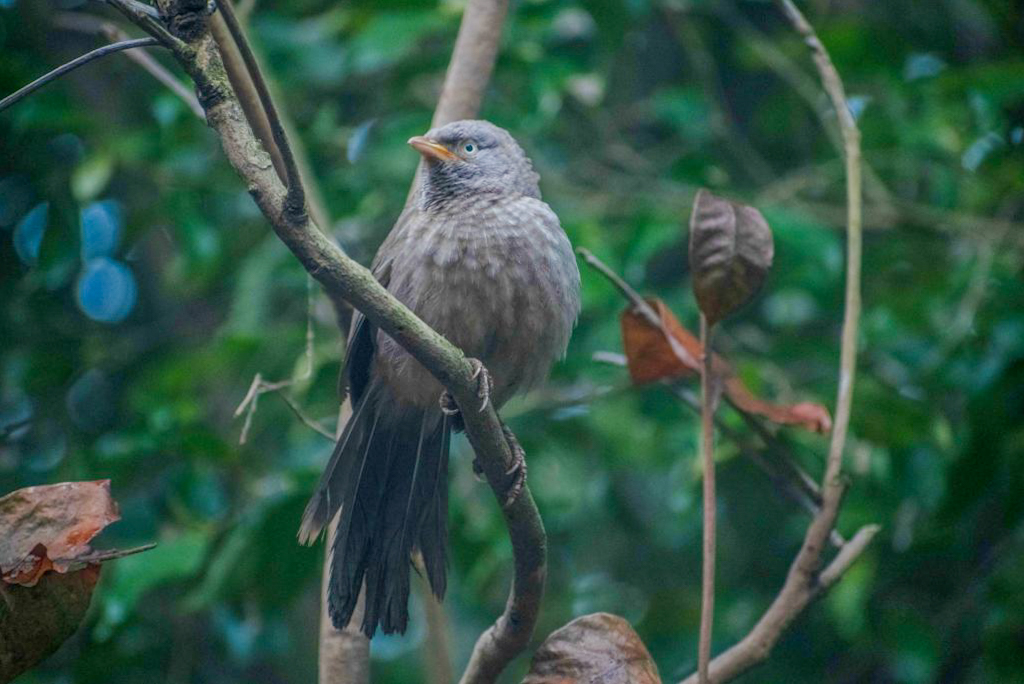 Location of Aahana Resort
Aahana Resort is located near Ramnagar village, next to the Jim Corbett National Park.
It is located in the Bijrani Zone of Jim Corbett National Park and is close to the entry gates to the park. At approximately 5 km is the Dhela Gate and at around 10 km is the Dhikala gate.
So, planning a safari to Jim Corbett is quite easy to manage but you need to book a safari at least a month in advance.
Another thing to note about the location of this resort is that it is located in a village. As a result, the property shares the border with the Bijrani Zone and the village fields.
You can wander off in the nearby fields and enjoy a breath of fresh air as well while staying here.
How to Reach Aahana Resort/Jim Corbett
Now, let's discuss one of the main questions that arise when planning a weekend trip. How to reach Aahana Resort from Delhi?
As mentioned above, Aahana Resort lies in the Bijrani zone of Jim Corbett National Park. It lies at a distance of around 60 km from Nainital, 165 km from Dehradun, and 270 km from Delhi.
So, depending on where you are starting from, you can choose the route to reach the resort and then Jim Corbett.
By Rail
The closest railway station to the resort is Ramnagar Railway Station. It is around 8 km from the resort and you can get an auto or taxi from the railway station to reach the resort.
There are regular trains to Ramnagar from a few major cities like Jaisalmer, Delhi, Mumbai, Varanasi, Moradabad, and so on.
Alternatively, you can also reach Kathgodam railway station and then take a cab to reach Ramnagar which will take around 3-4 hours.
By Air
The nearest airport to the resort is Patanagar airport which is around 90 km away. But there won't be a lot of flights to Patanagar.
Alternatively, for people coming from places other than Delhi, you can take a flight to Dehradun or Delhi and then reach Ramnagar.
By Road
There are also a lot of direct buses to Ramnagar from Delhi, Nainital, Haridwar, etc. that you can take. And if you own a car or can rent a car then driving to the resort is a good idea as well.
A cab from Delhi to Ramnagar will cost you around 3500 INR for one side.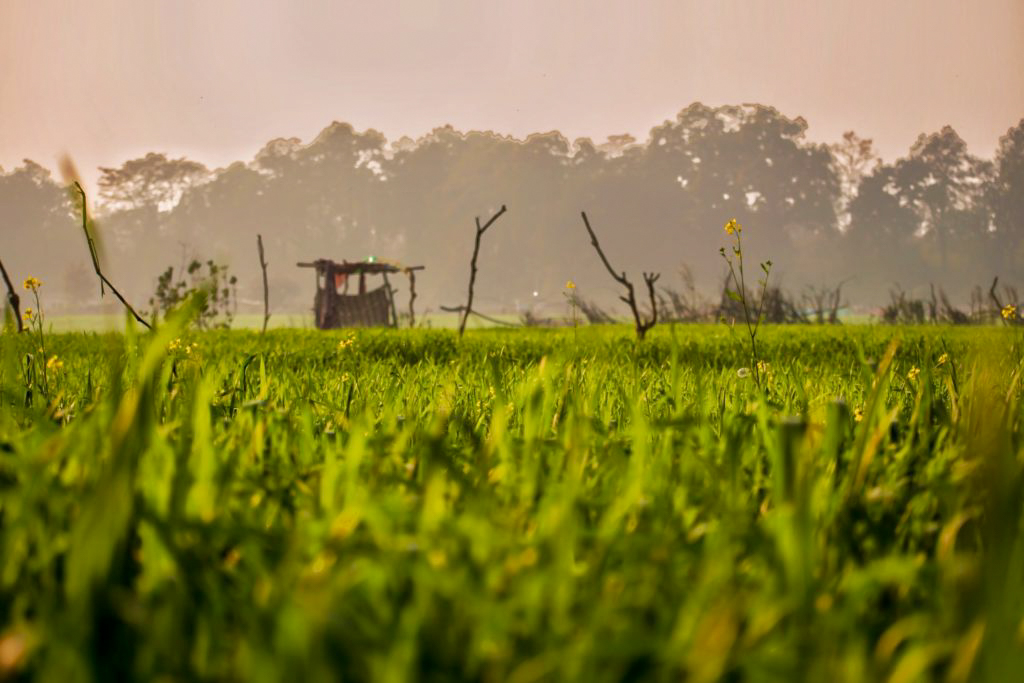 Best Time to Visit
Well, since this resort is located in Uttarakhand, you don't have a lot of restrictions in terms of the weather or climate here. Majorly it depends on the type of trip that you are planning.
Summer Season
If you wish to escape the Delhi heat or want to spot animals in the Jim Corbett Safari then summer is the best time. During the summer months, i.e., April to June, all the animals are easy to spot since they stay near the water stream.
Also, since the resort is located in a hilly area, the weather is slightly pleasant and a welcome change from the summer heat.
Winter Season
For people who wish to go on a Tiger Safari but don't want to visit during the summer, the winter season is a good time to plan. Although winters can be slightly chilly here, the resort does arrange for a nightly bonfire which is enough to keep you warm.
And you get to enjoy the fresh, morning air while being surrounded by nature.
Monsoon Season
Although during monsoon season, Jim Corbett is not open to tourists, it is still a good time to plan a trip here. This is a great time to take a break from your busy life and just enjoy some amazing Spa and Massage therapies in the resort.
My Experience at Aahana
I am sure it must be clear by now how much I loved my stay at Aahana. And if it is still not clear, then here is it! I have stayed in quite a few good properties around India but honestly, Aahana has turned out to be one of the best among them.
From a considerate staff to delicious food options, they take care of everything! Plus, I like how it is an eco-friendly resort and keeps taking the initiative to help out the locals. And not to forget the amazing Spa and Massage Therapy session that I enjoyed here.
The use of the medicinal herb oil in the therapy was clearly visible and my body definitely felt relaxed and languid after the 1-hour session. And my mother legit told me that my hair looked amazing after the head massage that I got here, so I am sure their therapies work.
Overall, it is a good stay, especially if you wish to go on the Jungle Safari and otherwise as well. So, if you are planning to splurge a little and looking for a well-deserved break then Aahana Resort is definitely a good option to consider!